Waffle Fry Spicy Pepper Bacon Poutine is a whole new take on poutine (and please, Canadians, take it easy on me for doing a riff on your classic dish, okay?). With waffle fries and bacon, this gravy-packed dish is topped with a spicy pepper goat cheese instead of classic cheese curds. This is where old flavors meet new ones, in a forkful of deliciousness.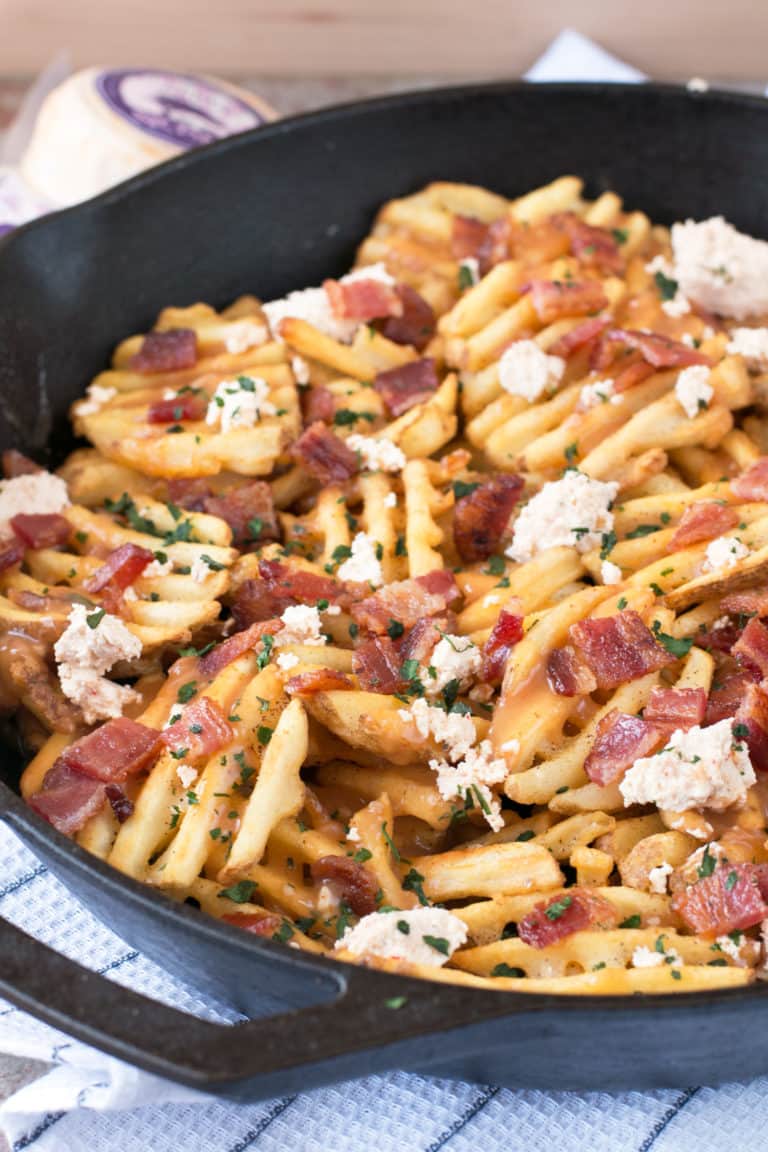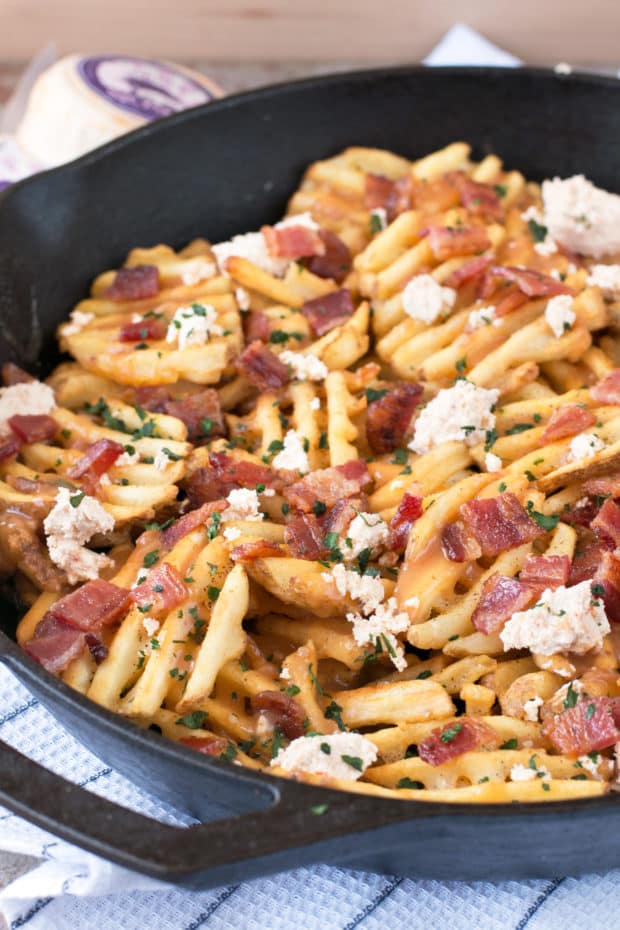 Disclosure: This post is sponsored by Cypress Grove! While I was compensated and given product in exchange for this post, as always, all opinions and the recipe are my own. Thanks for supporting the brands that support Cake 'n Knife!
I am back at the poutine game, my friends.
It's been YEARS since I made that first classic poutine for the blog (and had my mind blown by the goodness) and about a year since I made my most recent poutine (Black Porter Chili Poutine… SO bomb diggity).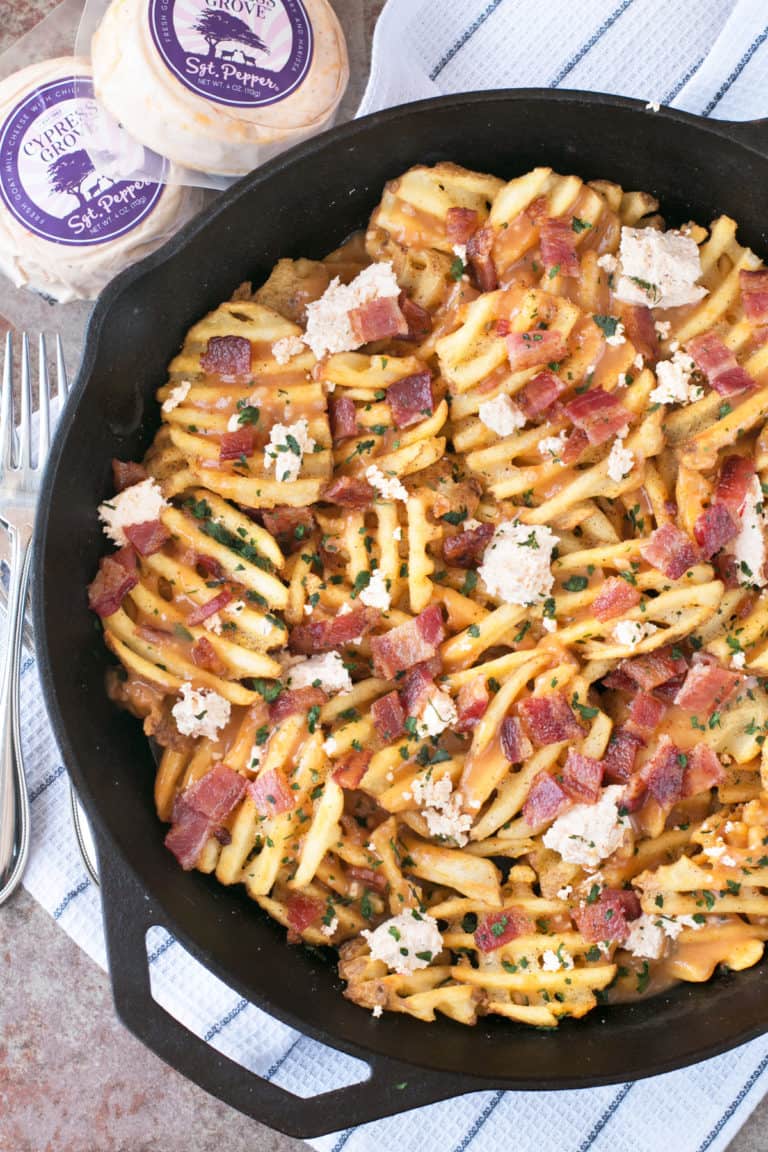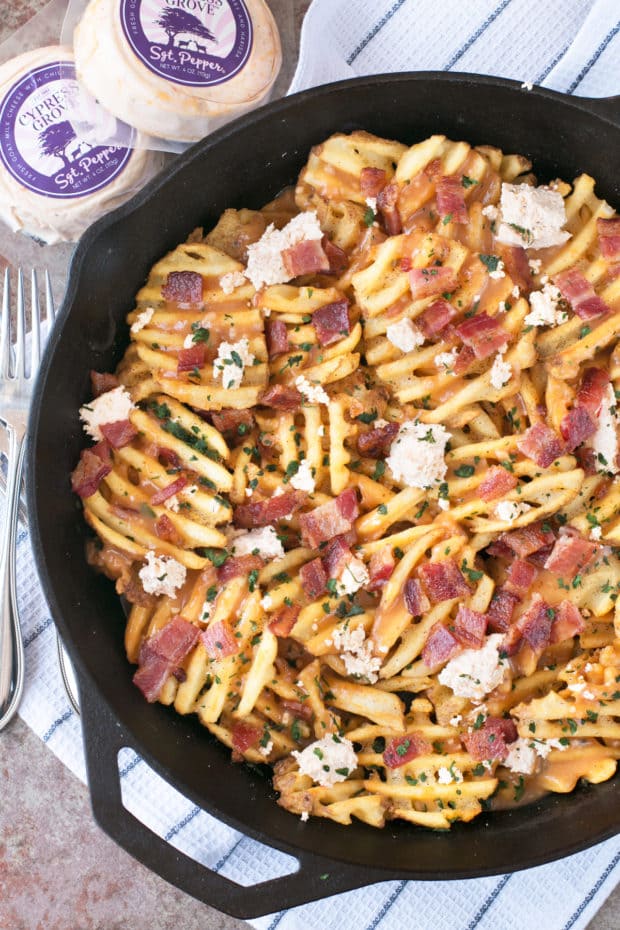 All I have been thinking since is "how can I take poutine up another level?"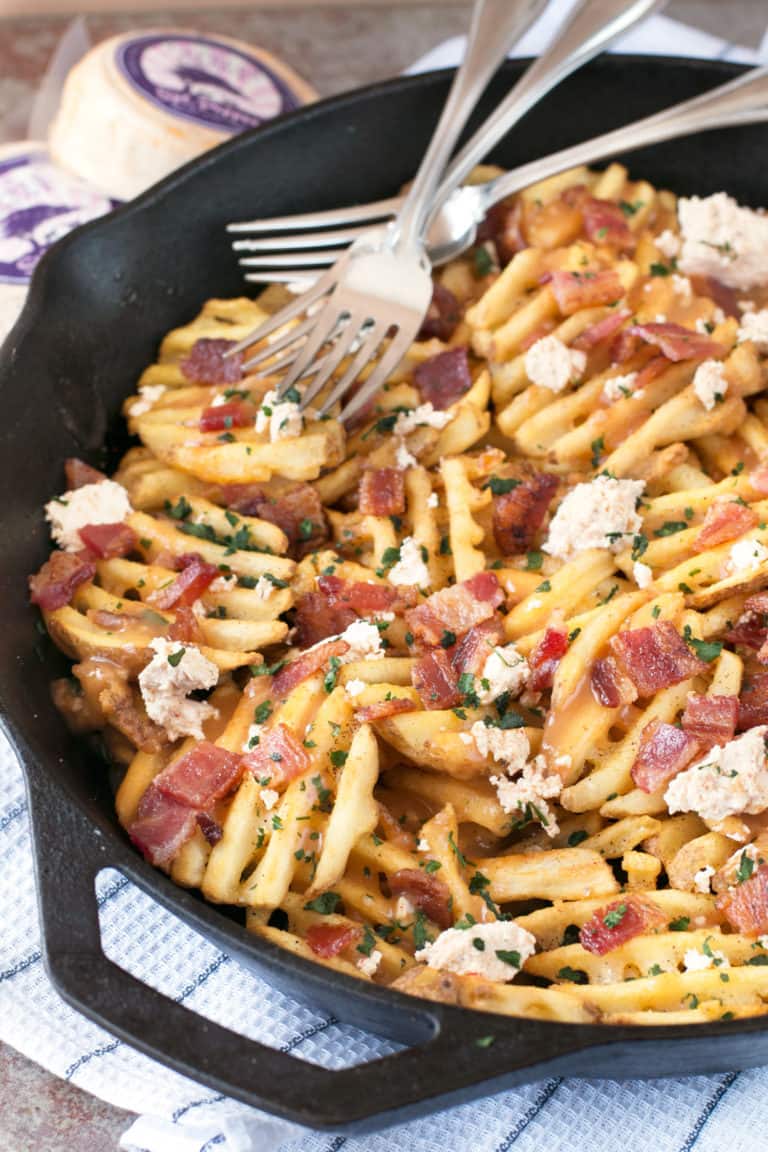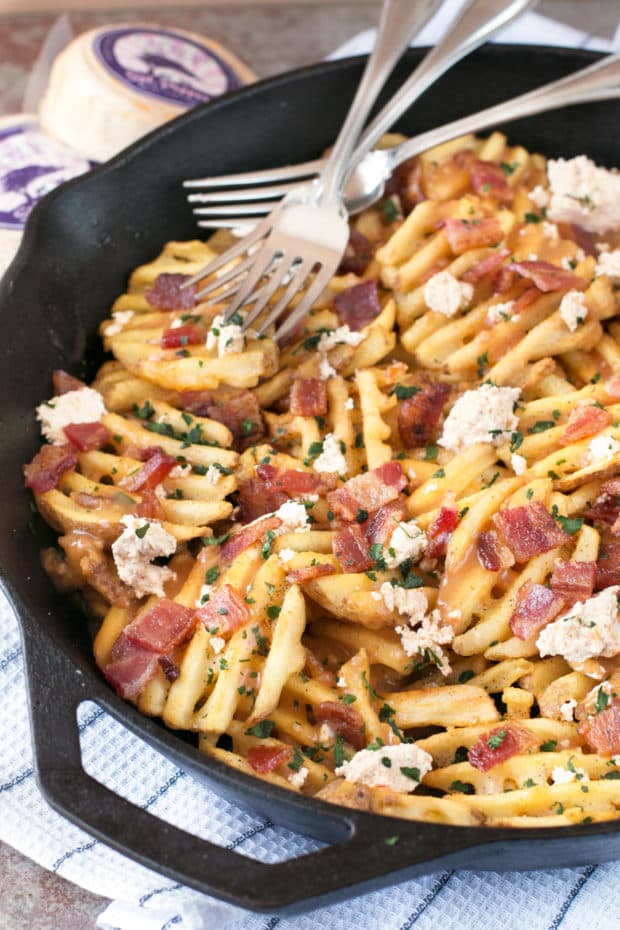 Please note that some of the links below are affiliate links. If you make a purchase through one of these links, I will receive a small commission. Thank you for supporting Cake 'n Knife!
I smothered fries in gravy and chili with cheese curds already, but that wasn't enough. This time I threw out the original recipe – well, aside from the gravy because it's perfection for poutine – and went with a whole new look.
Where did I draw my inspiration from….?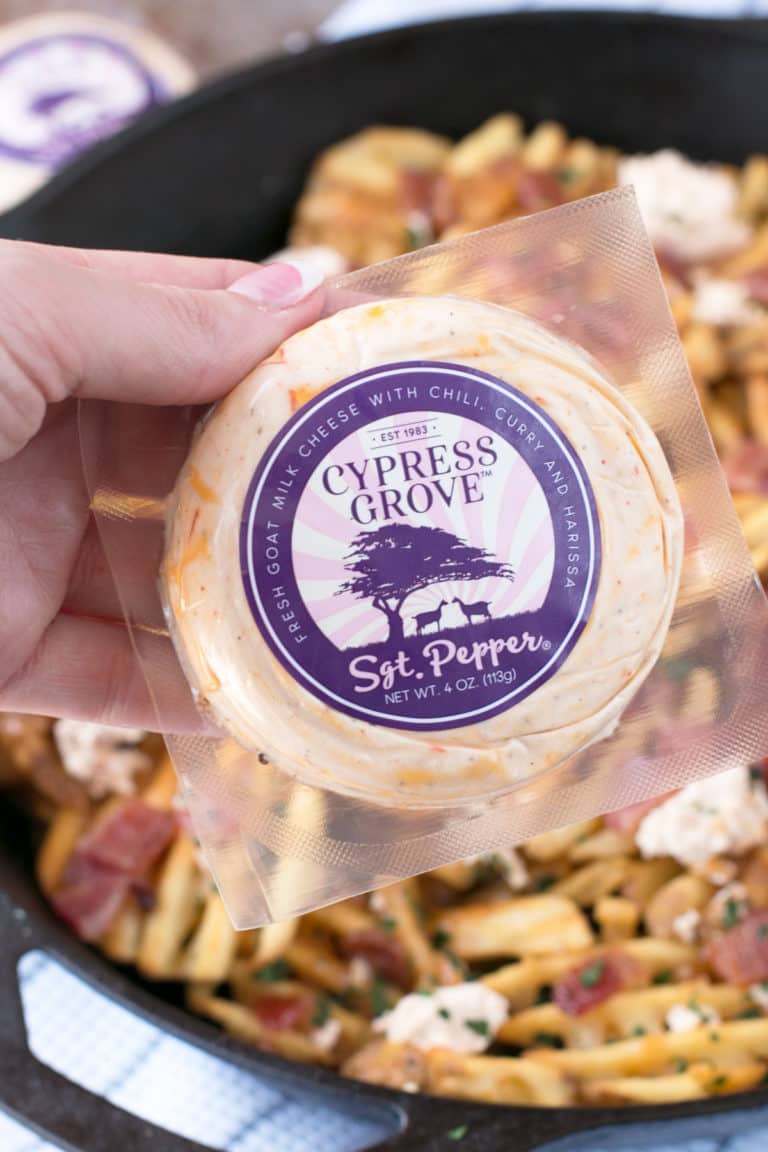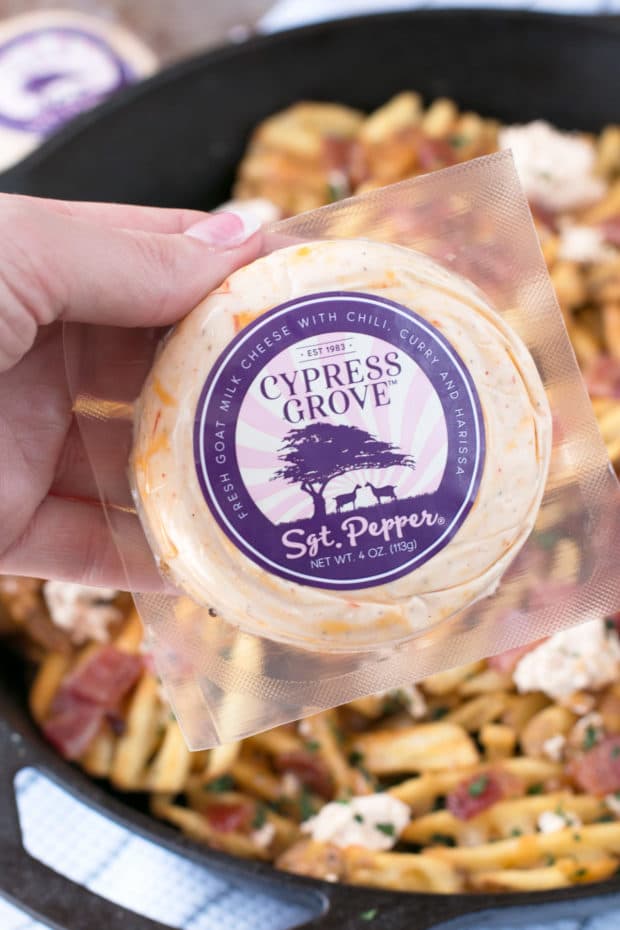 One place. Cypress Grove cheeses.
I discovered the magic of Cypress Grove at the beginning of my food blogging days. I started out being obsessed with Jessica of How Sweet It Is (ok, I'm still obsessed and a crazy fan girl. Whatever, just shush and accept it). She put Cypress Grove's Humboldt Fog on top of avocado toast and I was out the door later that day to try it for myself.
HOLY YAS. This was (and still is) the best cheese ever.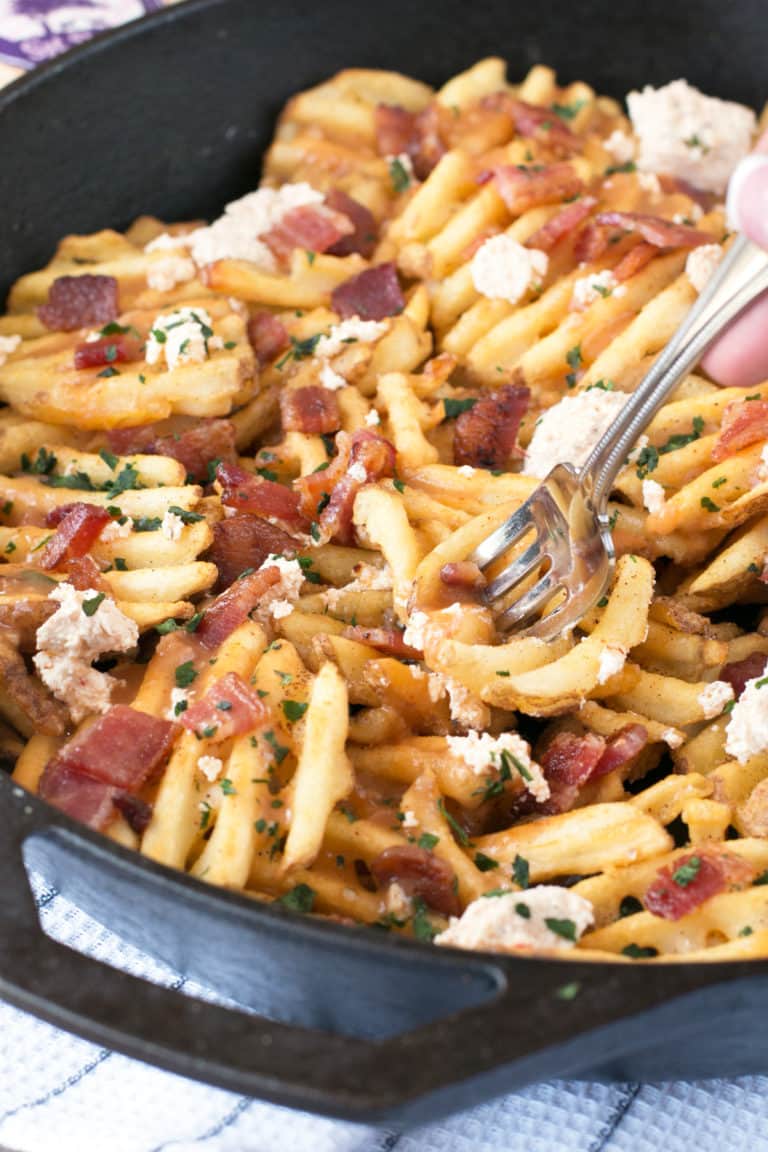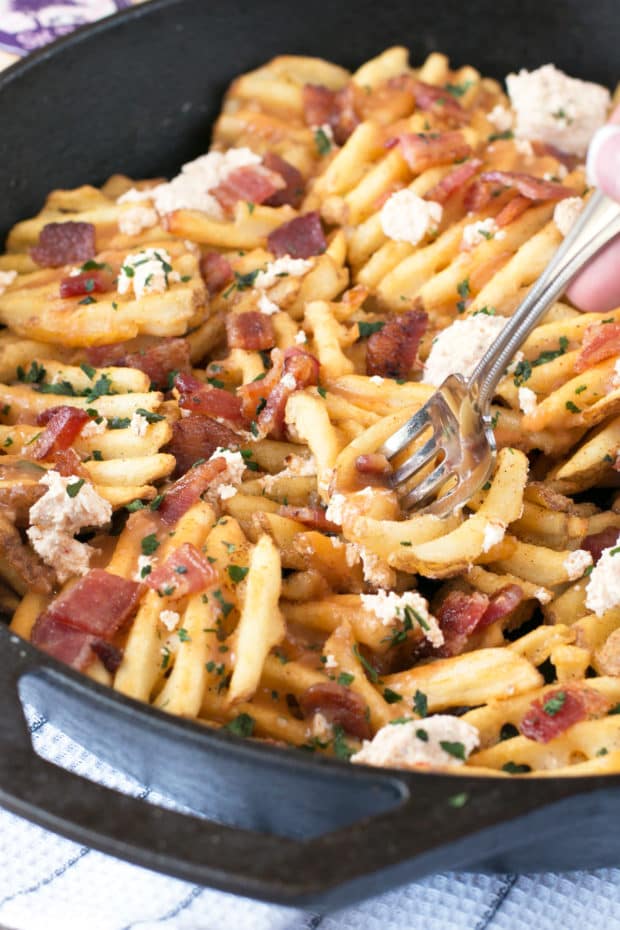 The discovery led to obsessively trying all of Cypress Grove's cheeses and my obsession with their cheeses is SO real.
The Sgt Pepper cheese that replaces the classic cheese curds on this plate of gravy-smothered fries is a punch of tangy and spicy flavors. The cheese blends with the fries, gravy and bacon in such a beautiful, creamy way.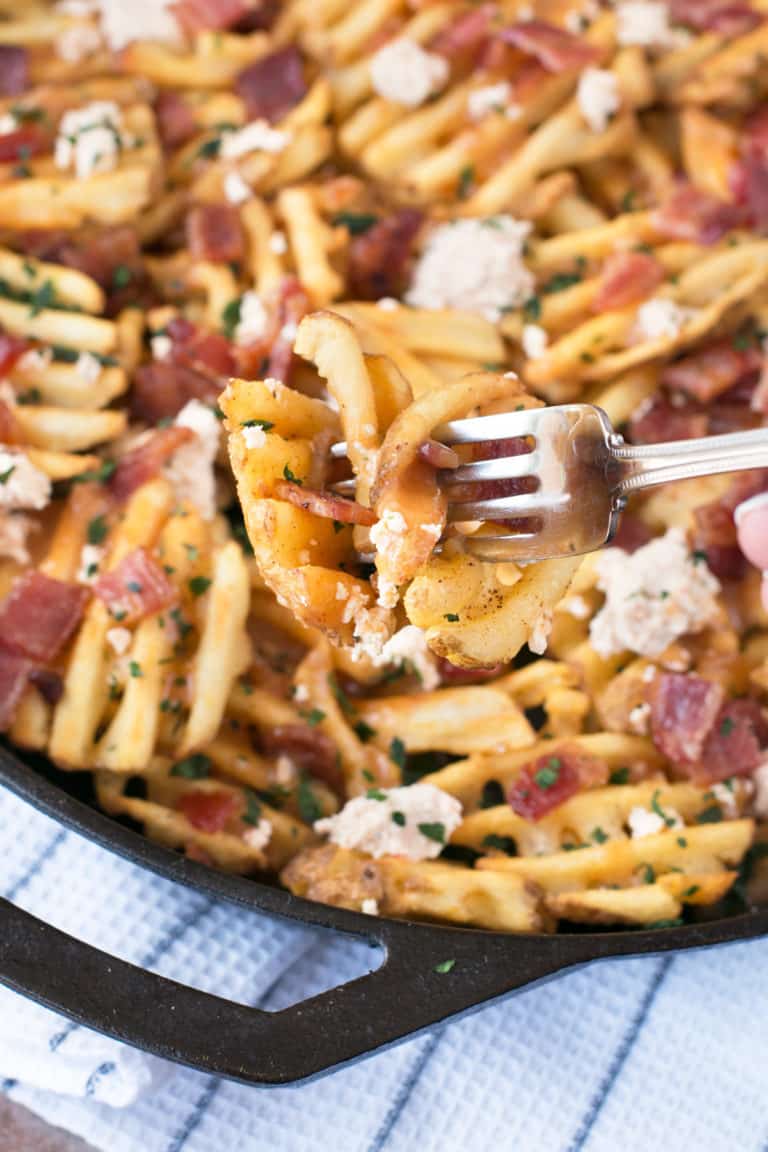 You might not share a single bite before you inhale all of it by yourself…
Which I would not judge you for doing, just so you know.
You do you. 😉
This Recipe's Must Haves
Pin this Waffle Fry Spicy Pepper Bacon Poutine recipe for later!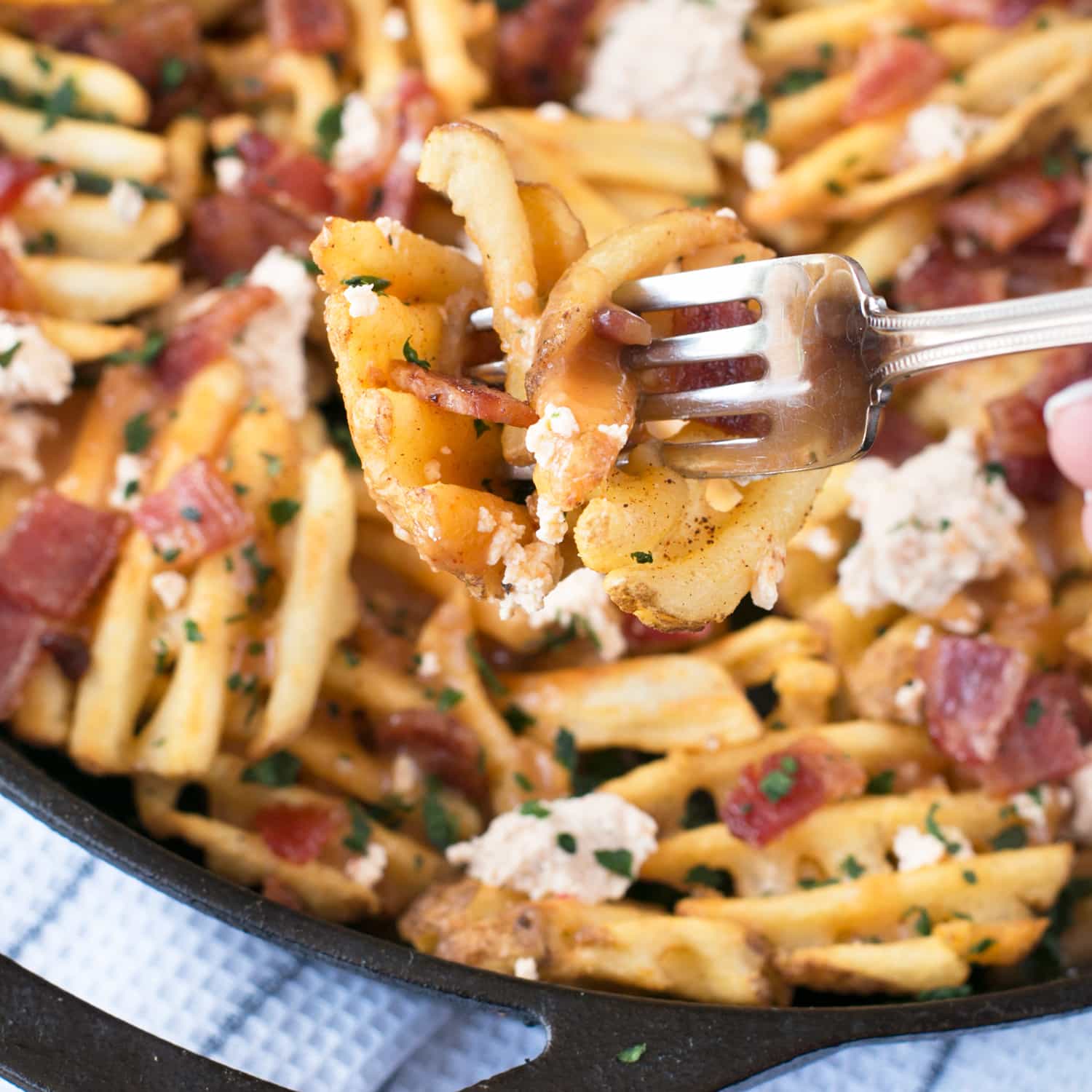 Waffle Fry Spicy Pepper Bacon Poutine
A fun twist on classic poutine, this version has waffle fries, gravy, plenty of bacon and a spicy 4 pepper cheese you won't be able to stop eating.
Ingredients
Waffle Fries
4 lbs Russet potatoes, washed and dried
Canola oil for frying
Gravy
2 Tbsp unsalted butter
2 Tbsp flour
2 cloves garlic, minced
2 cups beef stock
1/2 tsp Worcestershire sauce
1 Tbsp ketchup
1/2 tsp chipotle powder
Salt & pepper
Toppings
4 to 5 slices bacon, cooked and chopped
1 4oz package Cypress Grove's Sgt Pepper cheese, cut into 1/2-inch pieces
Garnish: freshly chopped parsley
Instructions
Using a mandoline, cut potatoes into waffle fries. Add to a large bowl and fill with enough cold water to cover the fries. Refrigerate for about 1 hour.
While your potatoes are chilling, melt butter in a medium saucepan over medium-high heat. Stir in flour until the mixture is smooth. Stir in garlic and cook until soft, approximately 2 minutes. Add stock ketchup, Worcestershire, salt, and pepper. Bring the mixture to a boil, stirring occasionally, until thickened, approximately 6 minutes. Cover and keep warm on low heat.
Pour enough oil into a dutch oven to be 3" deep. Heat over medium heat until the temperature reaches 325 degrees. Drain potatoes and dry completely with paper towels. Fry the potatoes, working in small batches, until tender and just crisp. Remove to a paper towel lined plate to drain. Cool for 20 minutes.
Increase heat to medium-high and allow oil to heat to reach 375 degrees. Fry potatoes in the same small batches, until golden brown, approximately 2 minutes. Remove to fresh paper towel lined plate and sprinkle with salt (add a dash of cayenne to the salt to spice things up!).
Add fries to a large skillet or serving bowl and pour gravy on top. Sprinkle over bacon, Sgt Pepper cheese chunks and garnish with fresh chopped parsley.