Oh. My. Gosh.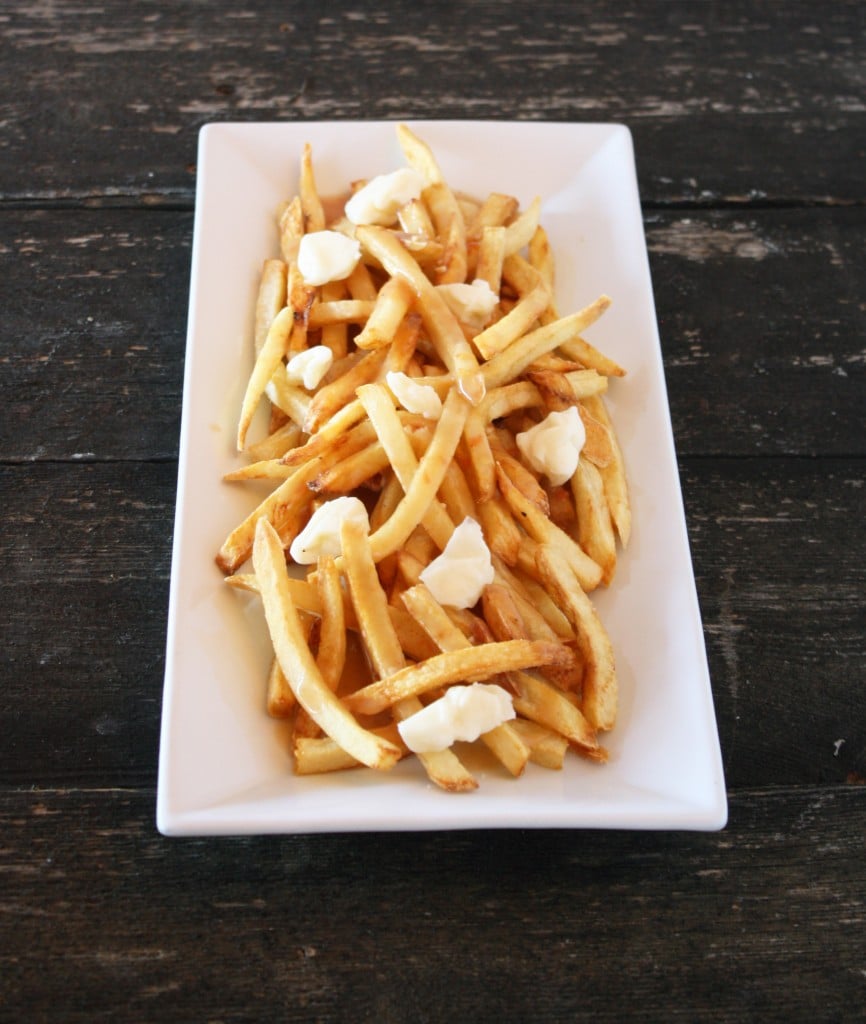 If you have never eaten poutine, you are seriously missing out on one of the most amazing foods out there. There is really no way to argue with fries, gravy, and cheese curds, is there?
I remember the first time I had poutine. Regretfully it was late in life. I went to brunch with my cousin and she was telling me what was good to order and I remember her saying something about poutine. In my mind I was like, huh?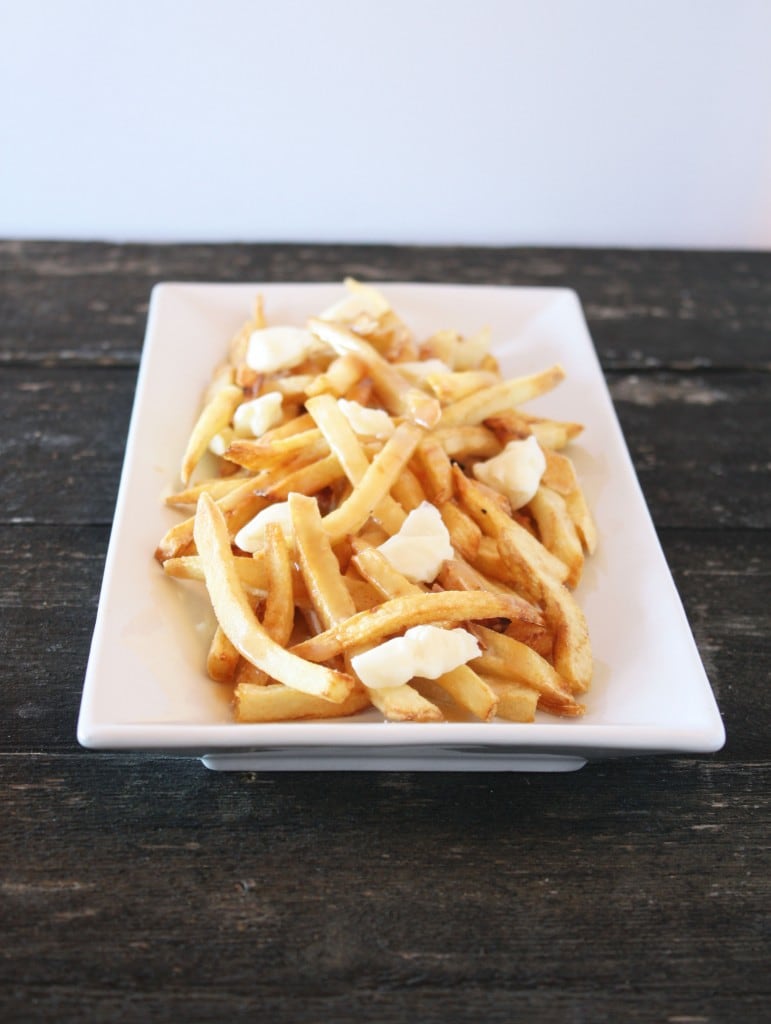 After looking at the description, my jaw hit the floor. Why had it taken me so long to know that this actually exists in real life and not just in my dreams?!?!
Of course it was ridiculously good and I basically chowed down on the entire thing, savoring each bite, finding myself infinitely disappointed that it disappeared so quickly.
Now there are tons of different ways to make poutine; the first one I ever ate came with steak and an egg. However, after a lot of taste testing (it's so great to use taste-testing as an excuse to STUFF MY FACE), I am a lover of the traditional poutine.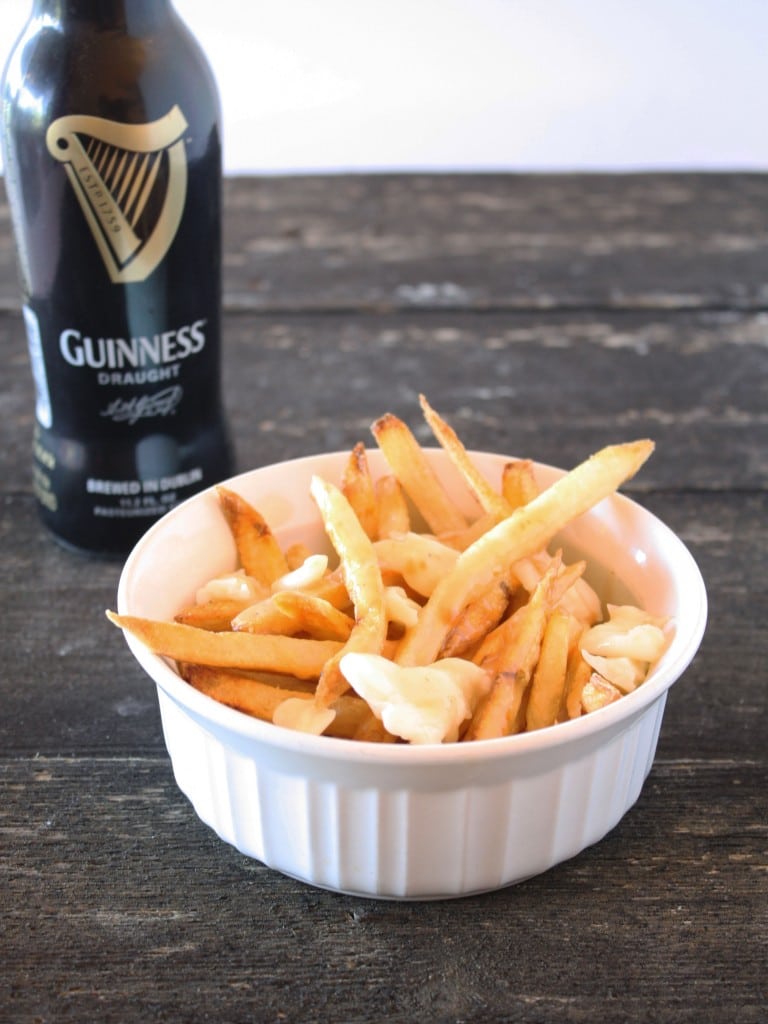 Perhaps I am a purist, perhaps I just love simplicity. Whatever the reason, this poutine will knock your socks off. And if you haven't ever tried poutine before…. be prepared for your entire world to change.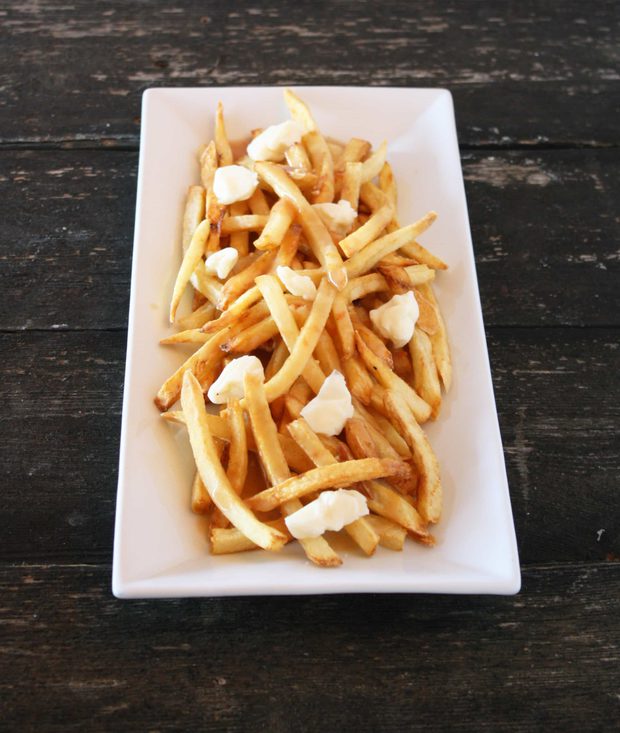 Poutine (aka Gravy Smothered Crack)
Additional Time:
1 hour
20 minutes
Total Time:
2 hours
5 minutes
French fries smothered in gravy and topped with cheese curds - it doesn't get any better than this!
Ingredients
4 lb. russet potatoes, skin-on, washed and dried
4 tbsp. unsalted butter
¼ cup flour
1 shallot, minced
1 clove garlic, minced
4 cups beef stock
2 tbsp. ketchup
½ tsp. Worcestershire sauce
Kosher salt and freshly ground black pepper
Canola oil, for frying
2 cups cheddar cheese curds
Instructions
Cut potatoes into french fry lengths (a mandoline comes in handy here). Add to a large bowl and fill with enough cold water to cover the fries. Refrigerate for about 1 hour.
While your potatoes are chilling, melt butter in a medium saucepan over medium-high heat. Stir in flour until the mixture is smooth. Stir in shallot and garlic and cook until soft, approximately 2 minutes. Add stock ketchup, Worcestershire, salt, and pepper. Bring the mixture to a boil, stirring occasionally, until thickened, approximately 6 minutes. Cover and keep warm on low heat.
Pour enough oil into a dutch oven to be 3" deep. Heat over medium heat until the temperature reaches 325 degrees. Drain potatoes and dry completely with paper towels. Fry the potatoes, working in small batches, until tender and just crisp. Remove to a paper towel lined plate to drain. Cool for 20 minutes.
Increase heat to medium-high and allow oil to heat to reach 375 degrees. Fry potatoes in the same small batches, until golden brown, approximately 2 minutes. Remove to fresh paper towel lined plate and sprinkle with salt (add a dash of cayenne to the salt to spice things up!).
Divide the fries among serving bowls, pour gravy over the top, and sprinkle over cheese curds (or if you are like me, put it all in one big bowl and hoard it all to yourself).