For me, this is the ultimate hot dog.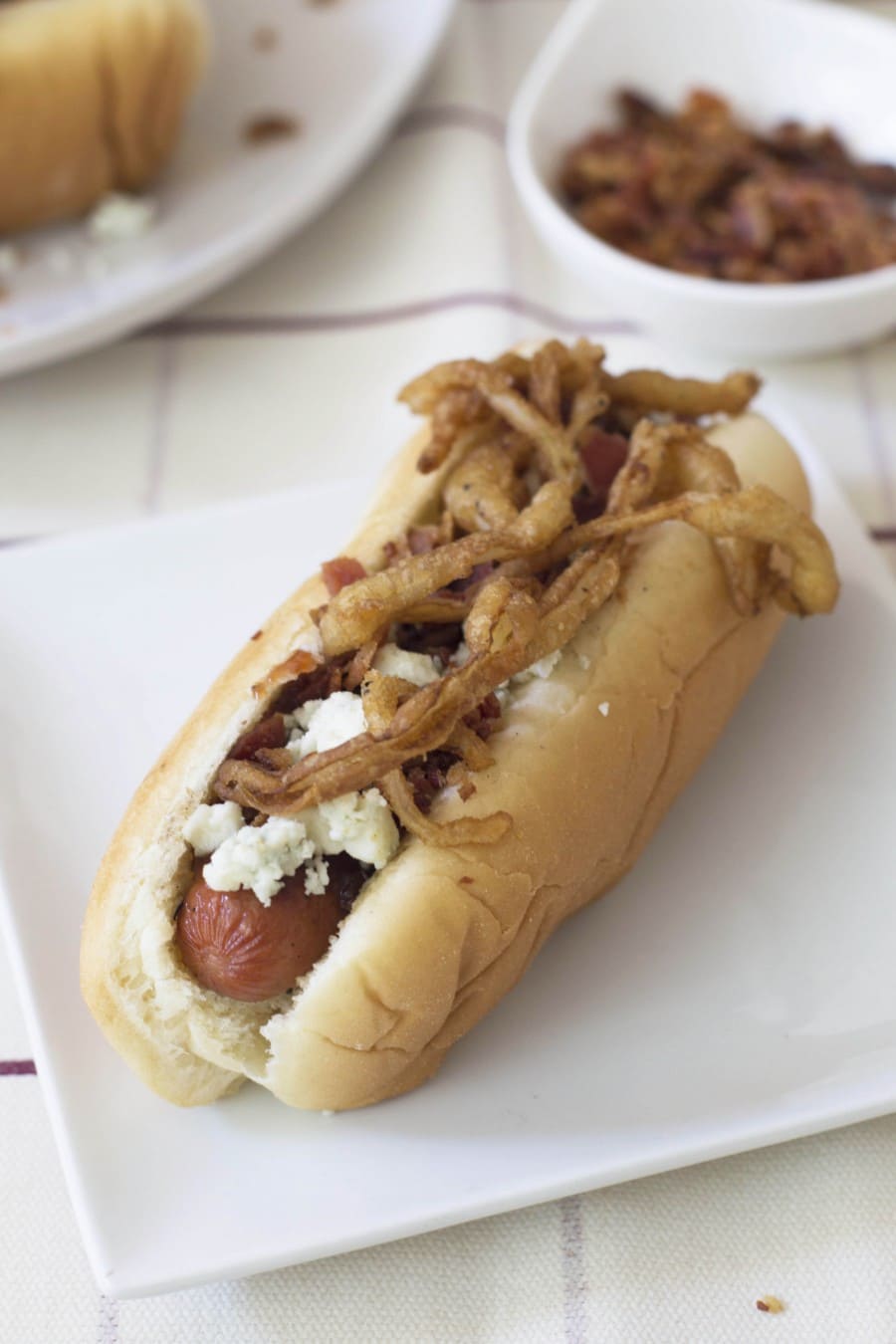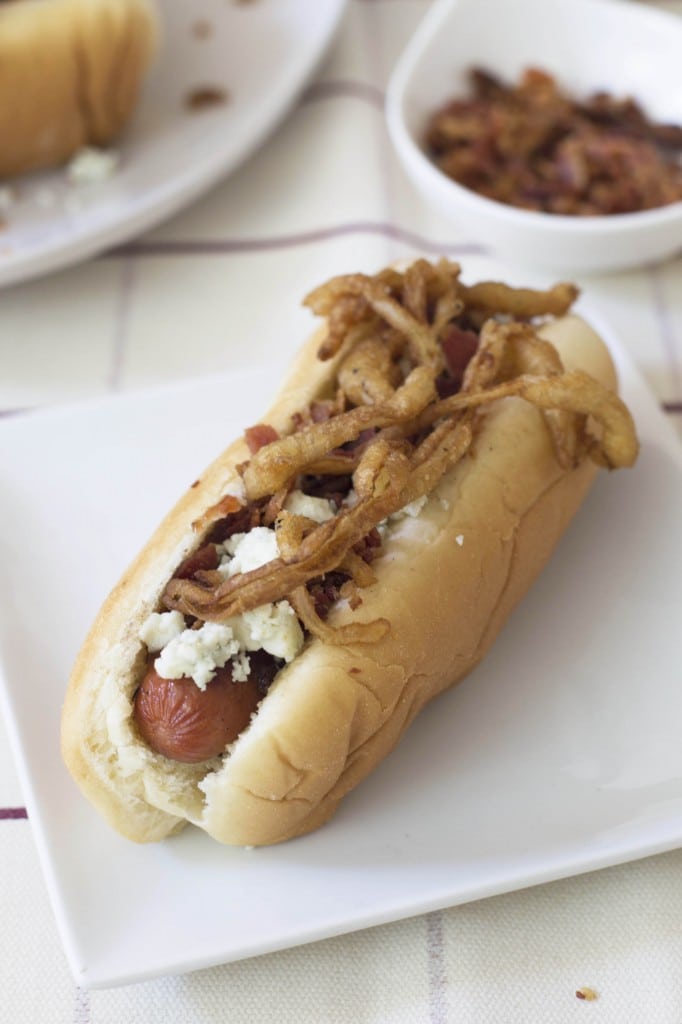 It combines all of my favorite things – fried onions, bacon, blue cheese, barbecue sauce, oh and did I mention bacon?
Speaking of bacon, did you all have a fantastic holiday weekend (yes that segway made sense in my mind)? Mine was an onslought of friends and wine and family and food and fireworks and puppy love – all equally fabulous and essentially made my long weekend complete (despite mishaps in the kitchen on Sunday… let's just not talk about that right now…). All these things just make me want to do a happy dance around the room.
*dance break*
But back to these messy, gorgeous hot dogs…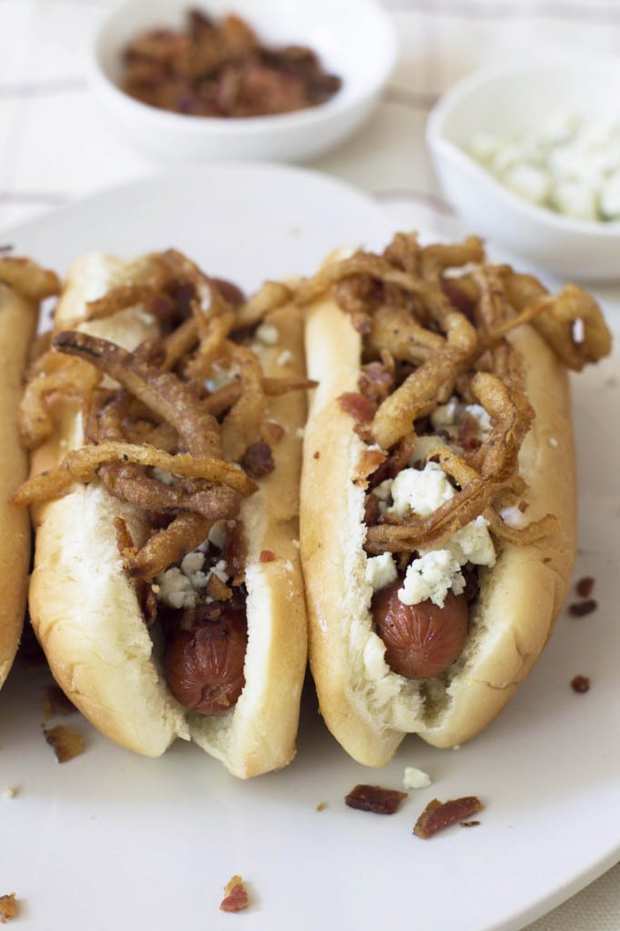 You know when you are eating a few different things together and realize that all those things together make your mouth so unbelievably happy? Well I'm convinced that every thought I have like this (essentially any thought beginning with "wouldn't it be great if I put all this on a….") turn out to be the best ideas ever. Like the time I put fried goat cheese and raspberry sauce on a slider. Or that time I stuffed a reuben sandwich inside an eggroll. Or this hot dog. JUST SO GOOD.
The true sign of how great these hot dogs is it took about 5 minutes for both my husband and I to devour one each… while standing in the kitchen… not talking… only eating.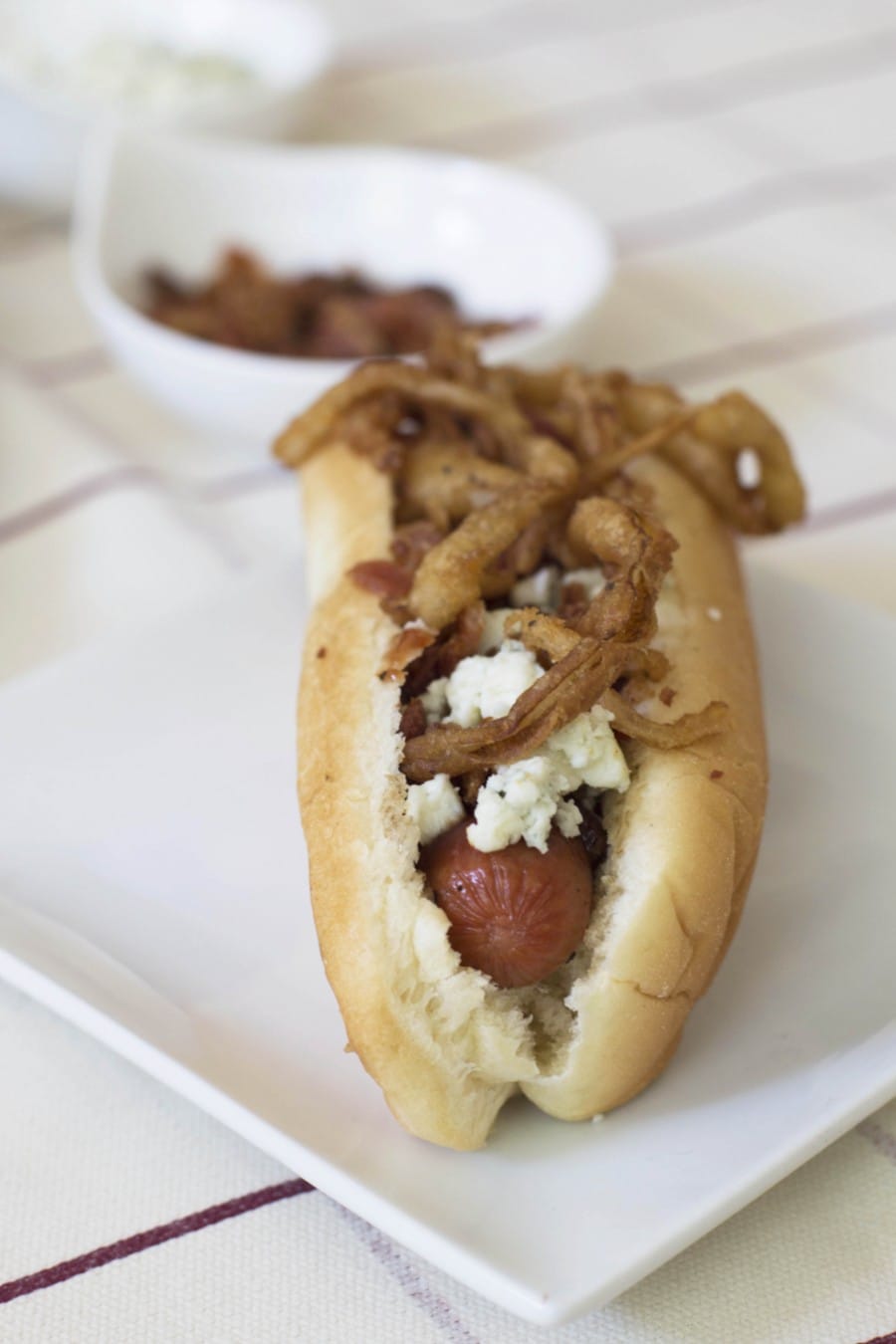 Obviously we are MFEO (made for each other – who doesn't love a good Sleepless in Seattle reference?).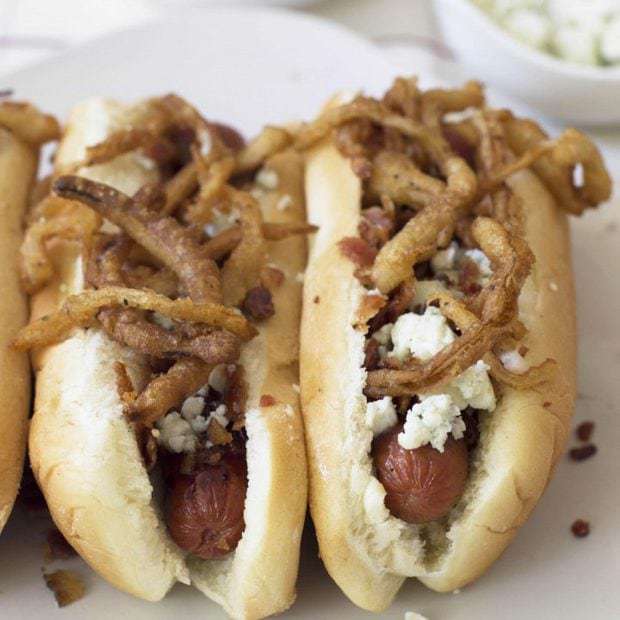 The Ultimate Fried Onion Hot Dog
The best barbecue hot dog for summer! Topped with blue cheese and fried onions, you simply can't go wrong.
Ingredients
4 hot dogs
4 hot dog buns
1 Tbsp olive oil
1/4 cup blue cheese crumbles
1/3 cup BBQ sauce
2 slices bacon, cooked crisp and chopped
Fried Onion Topping
1 onion, cut into 1/4 inch thick strips
1/2 flour
1/2 cup water
1 egg, lightly beaten
2 tsp salt
1/2 tsp baking powder
Canola Oil
Instructions
To make the fried onions, heat about 2-3 inches of canola oil in a heavy bottomed pan over medium-hight heat until it reaches 350 degrees. Combine the flour, water, egg, and baking powder in a shallow pan or bowl. Working in small batches, dip the onion slices in the batter. Make sure you shake the onion a little over the bowl to get rid of excess batter. Add battered onions to the oil and fry until crisp and golden brown, approximately 2-3 minutes. Remove to a paper towel lined baking sheet. Once all onions are fried, keep them warm in an oven set on low.
Spread the olive oil on the cut sides of each bun. Add the buns cut side down and the hot dogs to a hot grill or grill pan over medium-high heat. Cook until buns are toasted and hot dogs are warmed through, approximately 4-5 minutes. Remove from grill.
Place hot dogs in the hot dog buns. Top each with your favorite barbecue sauce, blue cheese crumbles, and a large handful of fried onions. Serve immediately.