Carbonnades à la Flamande (aka Belgian Beer Beef Stew) is a savory way to bring a little comfort back into yo' life. In honor of Bastille Day, this French stew is made with beer instead of traditional red wine, giving it a rich and slightly bitter flavor to tickle your taste buds with. Vive la France!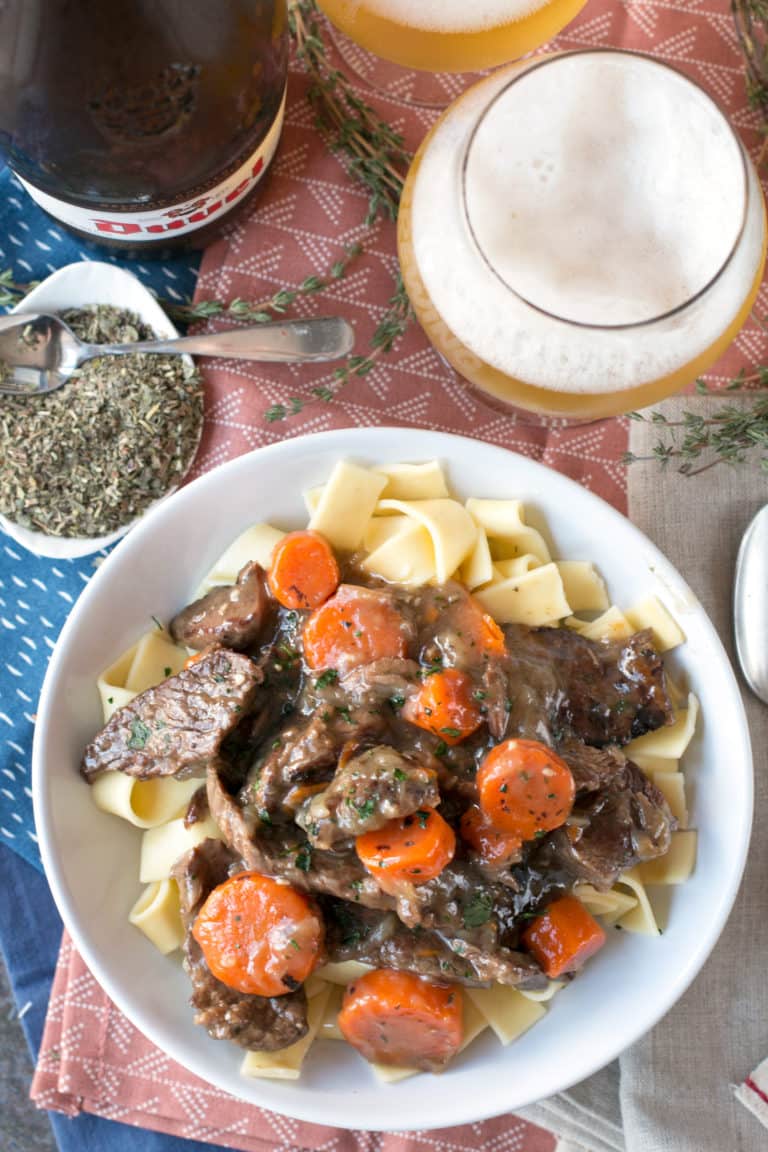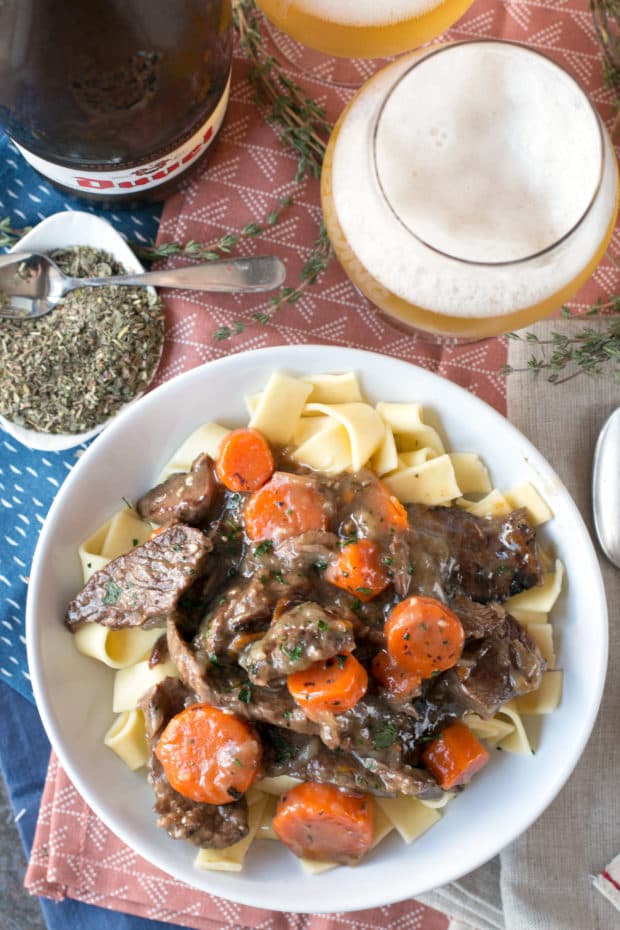 Disclosure: This post is sponsored by Sprouts. While I was compensated, as always, all opinions and the recipe are my own. Thanks for supporting the brands that support Cake 'n Knife!
Ever since I took a jaunt across the Atlantic Ocean and hit up Belgium, I have a whole new love for all Belgian beer.
From deep Trappist beers to golden ales, they are always flavorful and well- balanced!
Honestly, I've been racking my brain, trying to think of the best way to use them in the kitchen ever since I got back from Europe.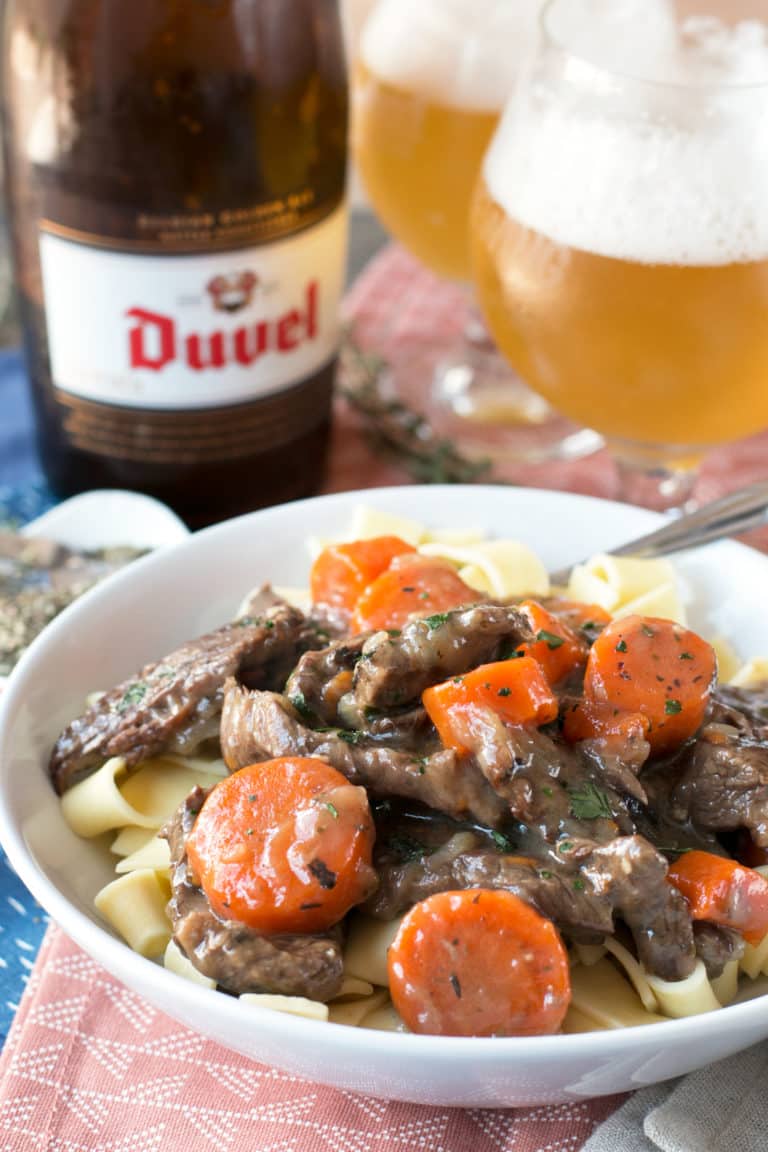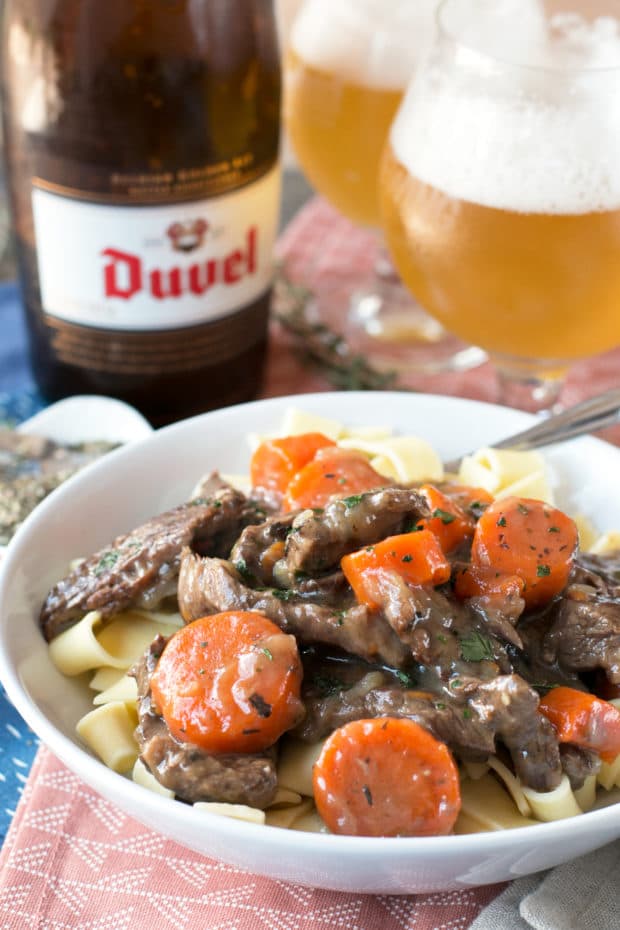 When Bastille Day got closer and Sprouts asked me to make a meal to celebrate the occasion, it all clicked in my brain!
A French beef stew with Belgian beer was just the right thing to whip up from my arsenal of French recipes that my grandmother left for me.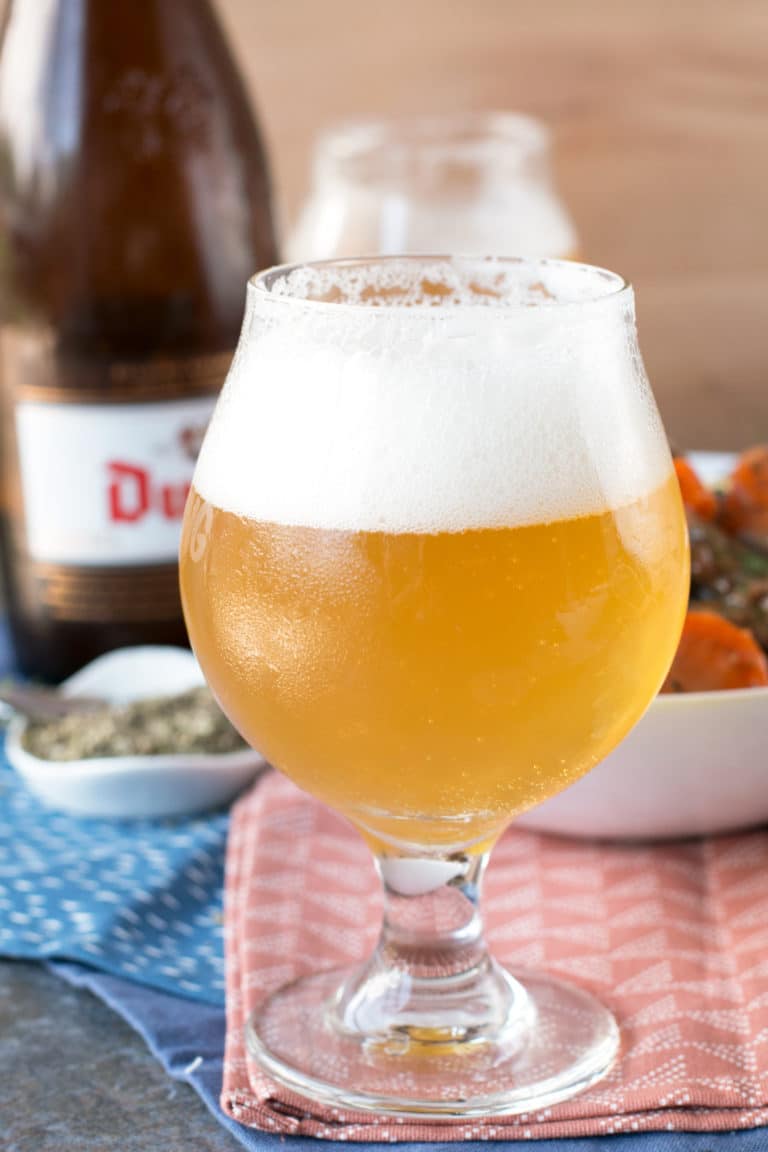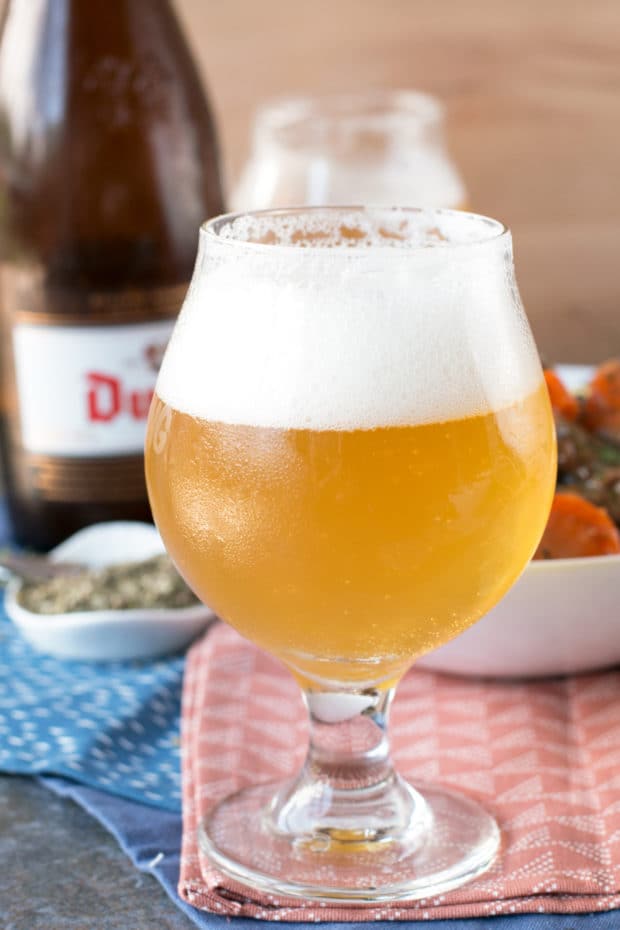 Please note that some of the links below are affiliate links. If you make a purchase through one of these links, I will receive a small commission. Thank you for supporting Cake 'n Knife!
I know you might be wondering why the heck I am bringing Belgian beer into a French recipe, but Carbonnades à la Flamande is a classic French recipe. Considering how close Belgium and France are, it's no surprise that a lot of French cultural influence can be found in Belgium, and visa versa.
With all the amazing beer being made right next door, why wouldn't you bring it into your country's cooking?!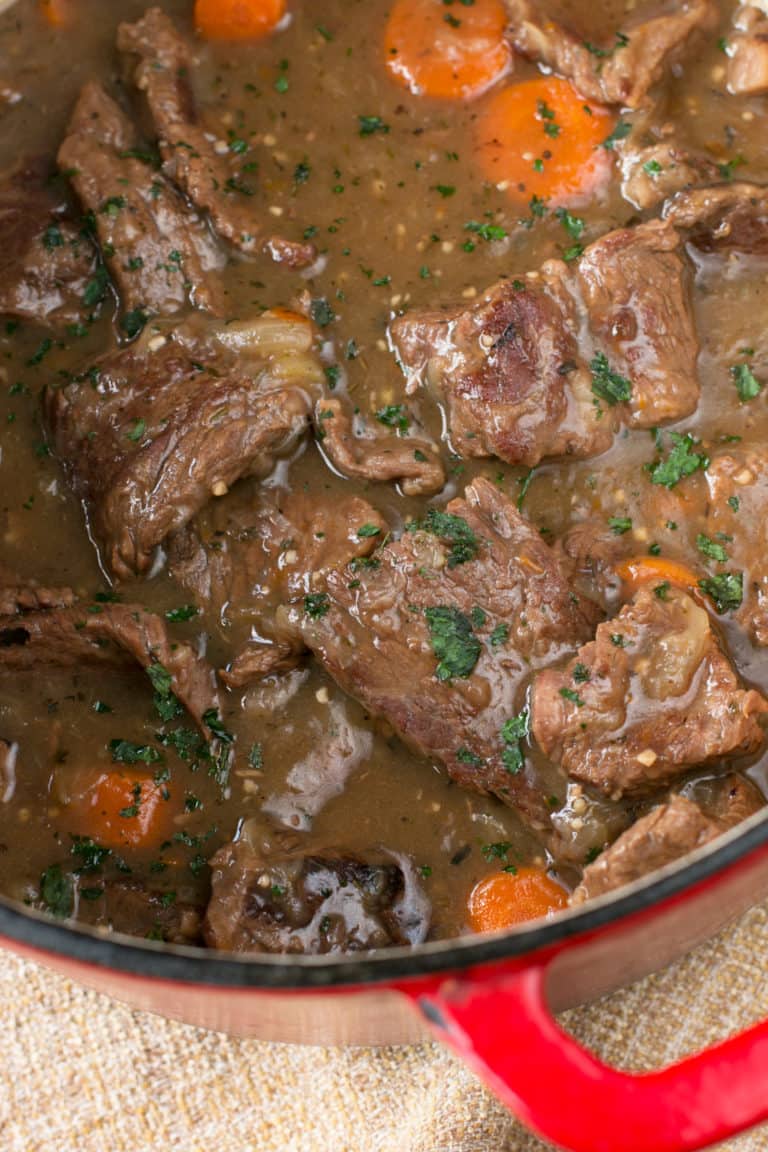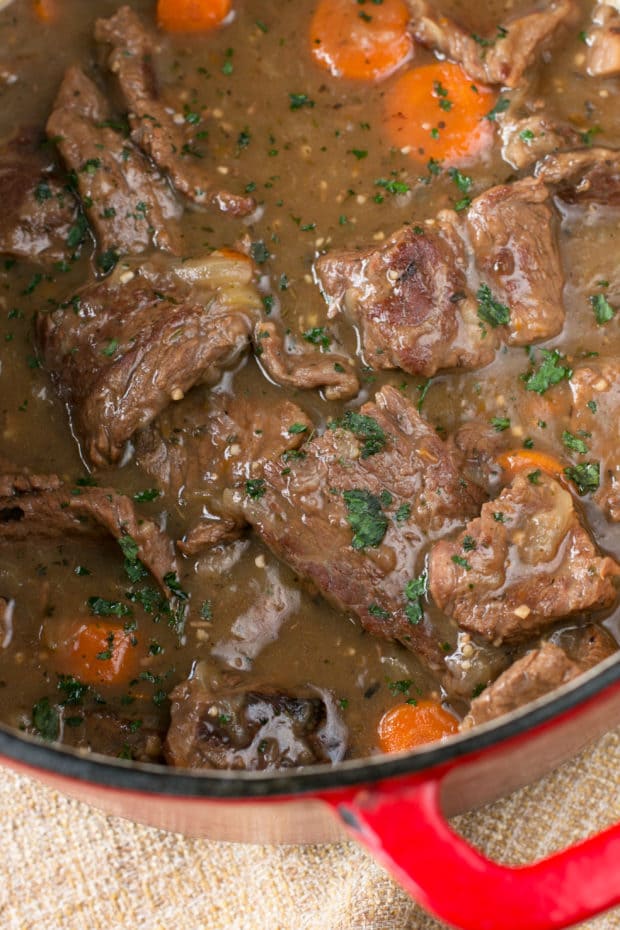 If you are familiar with the classic bouef bourguignon recipe, you already know a lot about this particular stew.
Instead of using red wine and thick chunks of beef, you use a golden ale from Belgium and thinly slice the meat so it can soak up all the rich flavors.
You might think that a stew like this is complicated, but it's actually quite simple.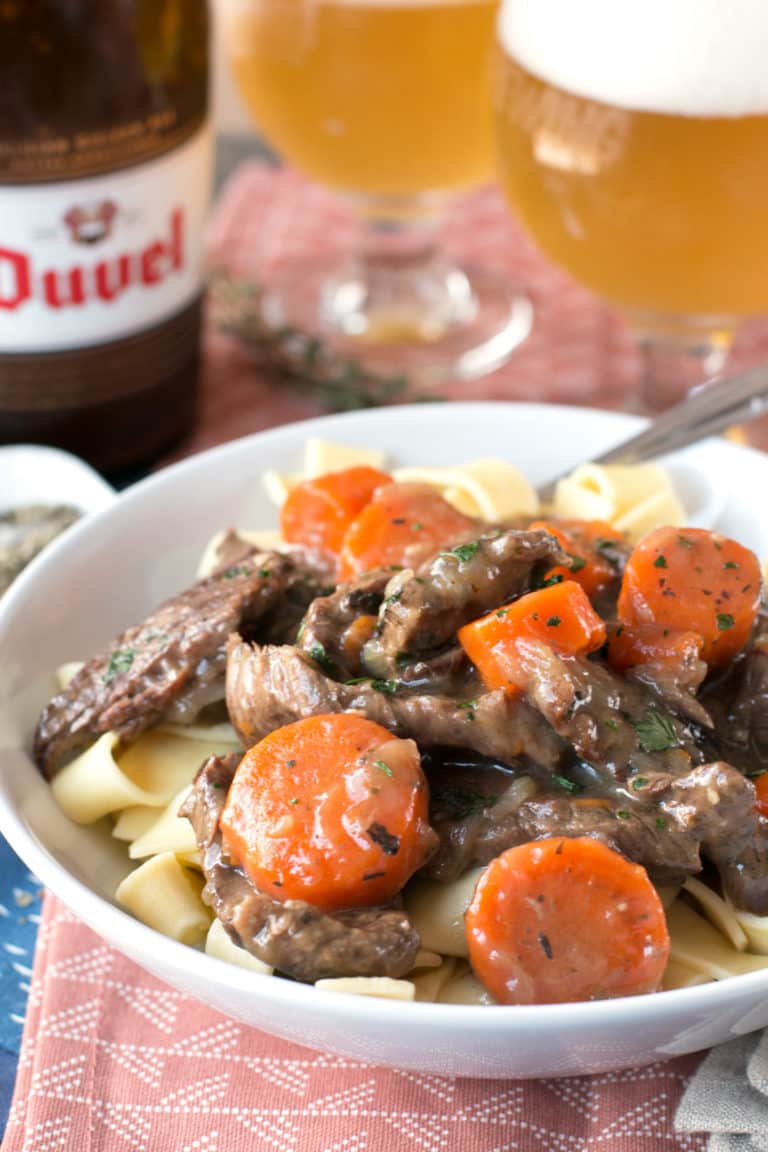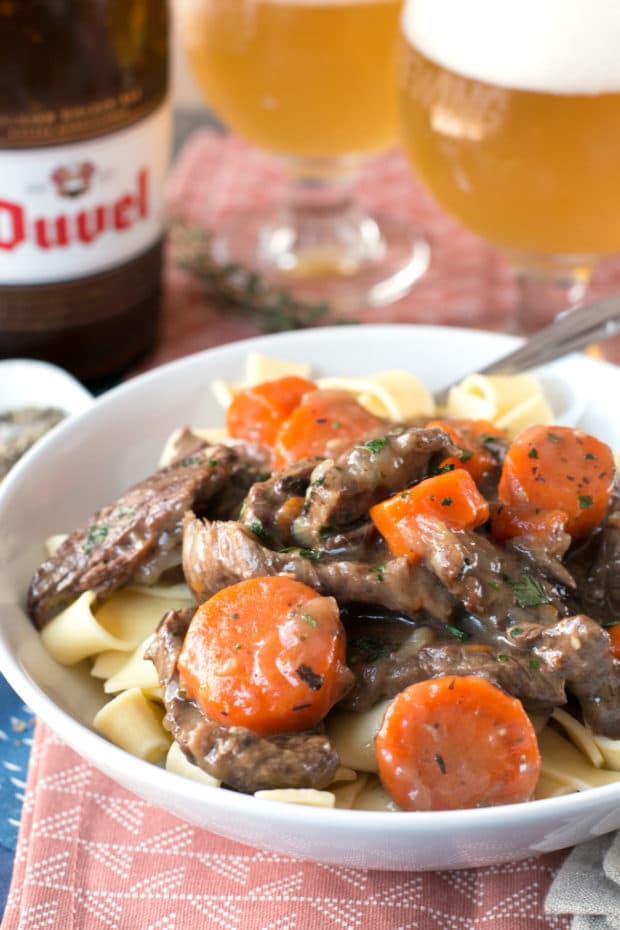 Yes, actually simple. Not just "simple" like master chefs say on TV and you think to yourself "yea right, it's sooooo simple to just make your own rosemary foam?!"
I might be watching too many "Top Chef" reruns at the moment…
ANYWAY, back to this actually simple recipe. The flavor of the stew comes from a killer combination of Belgian golden ale AND the perfect Italian Seasoning from Sprouts.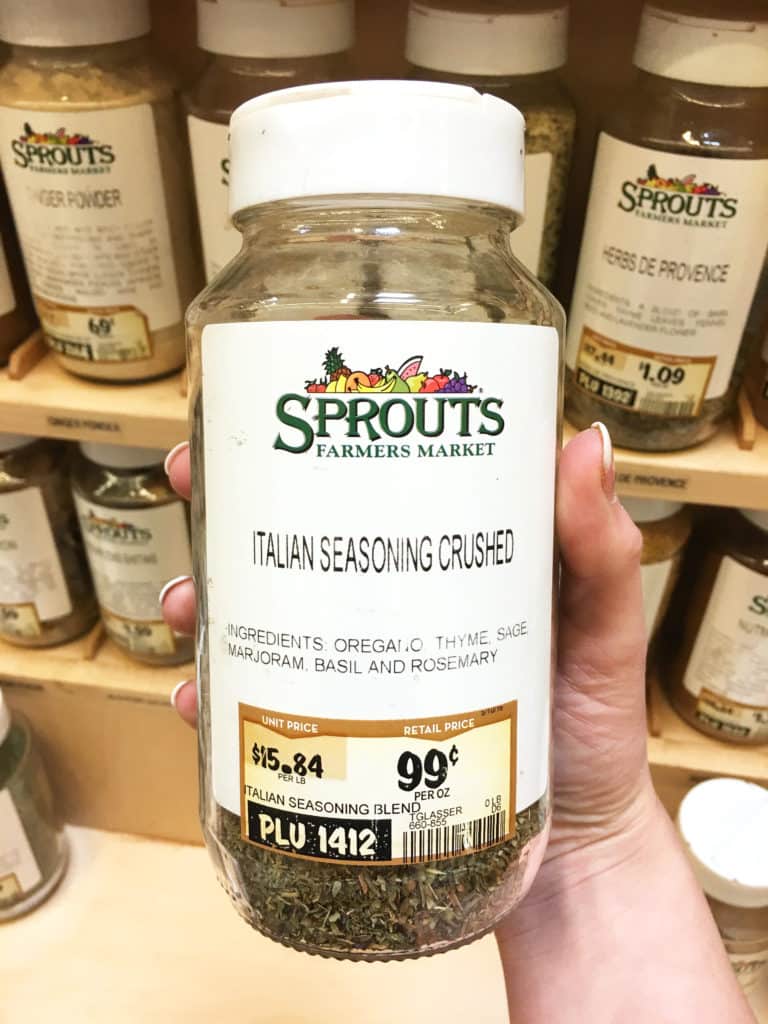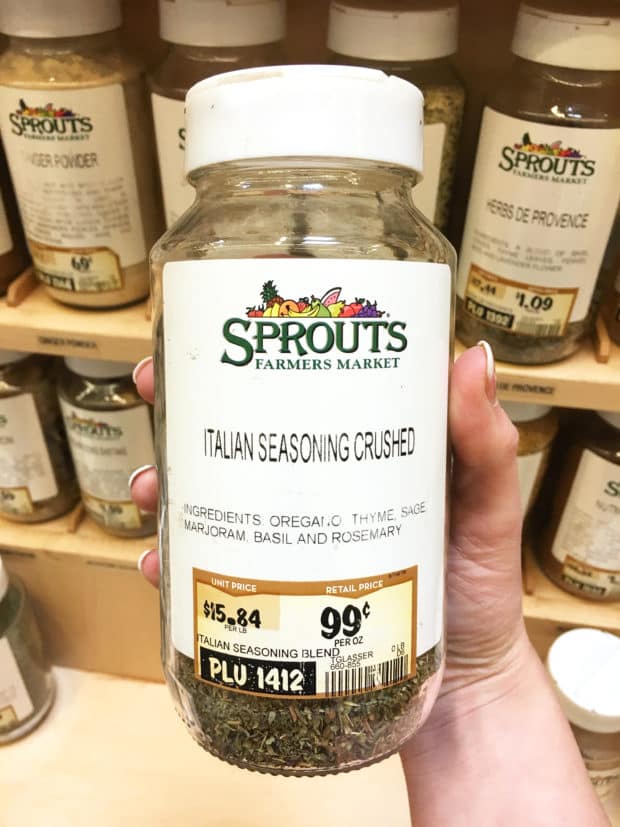 If you haven't visited the bulk seasoning section at your local Sprouts, you NEED to. It's my version of spice heaven, with all my favorite standards and some amazing combinations (like the Italian Seasoning you see used in this recipe) to use any time of year. Instead of measuring out 5 different spices, Sprouts takes care of that nonsense and gets the standard spices in one balanced spice mix.
I love the way these spices combine with the onions, carrots, garlic and beer in this stew. It's flavorful without being too overpowering, and it's rich without being too heavy.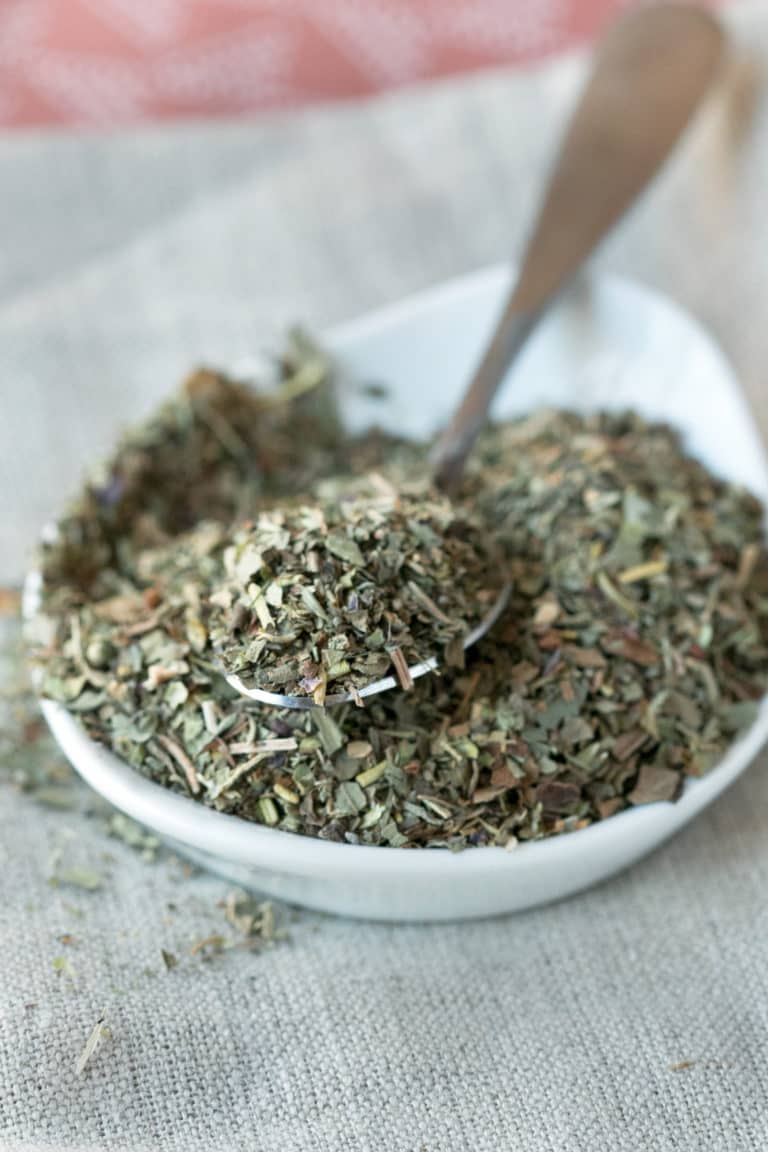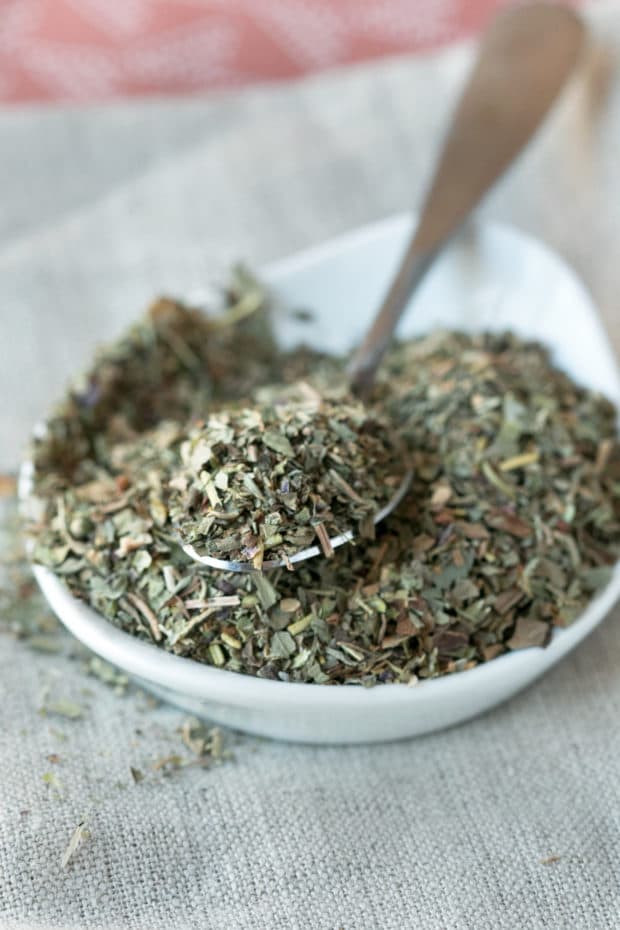 Not to mention the Sprouts beef chuck roast cooks down to such a tender and delightful mouthful of comfort, it's like stepping into a small brasserie in the middle of Paris.
Personally, I think serving this stew over buttered noodles is the best option, but you can also serve it straight up with sliced toasted bread or even with a side of crispy potatoes.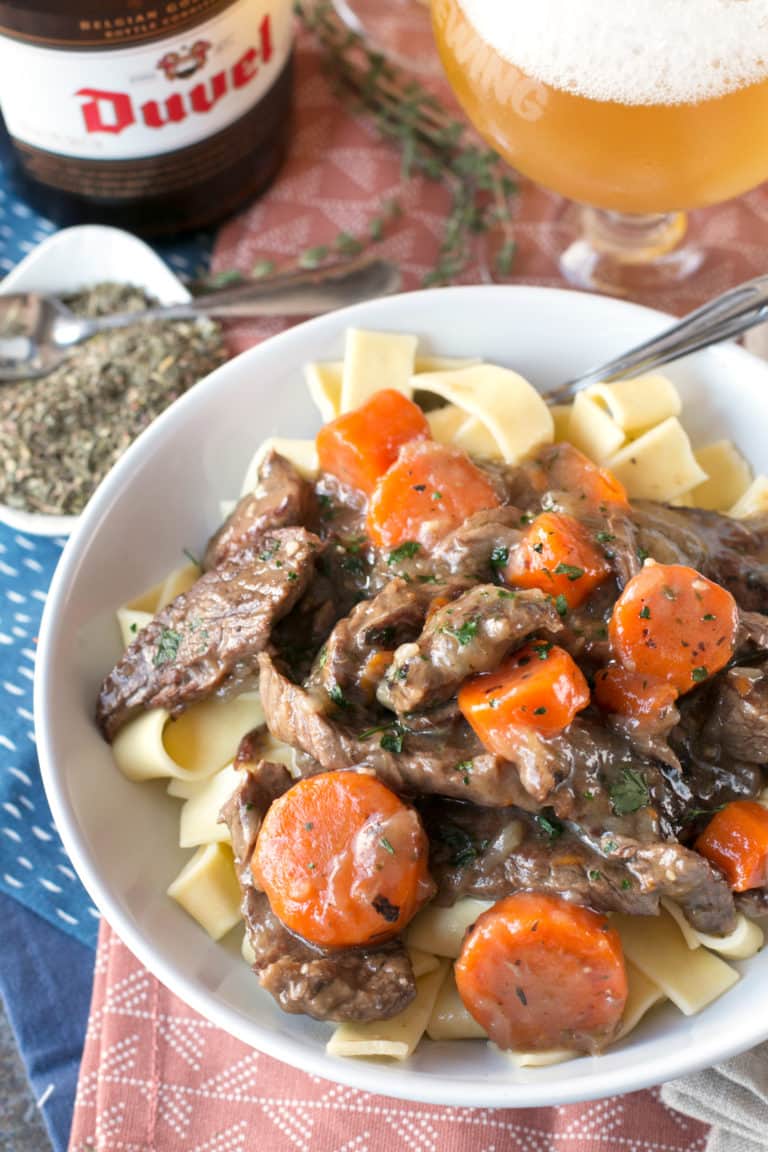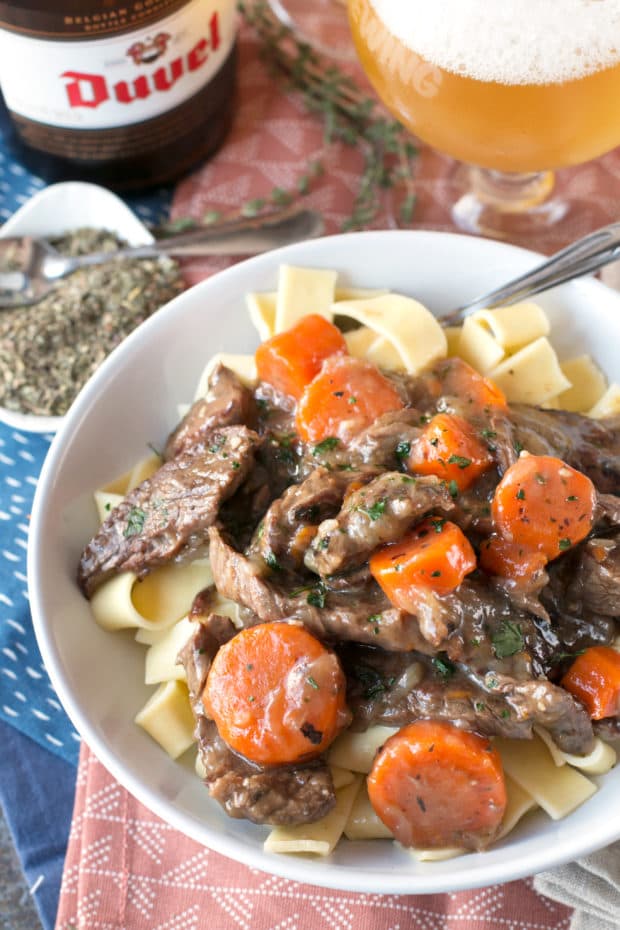 Vive la France! Vive la Belgique! Vive allllll the beer 😉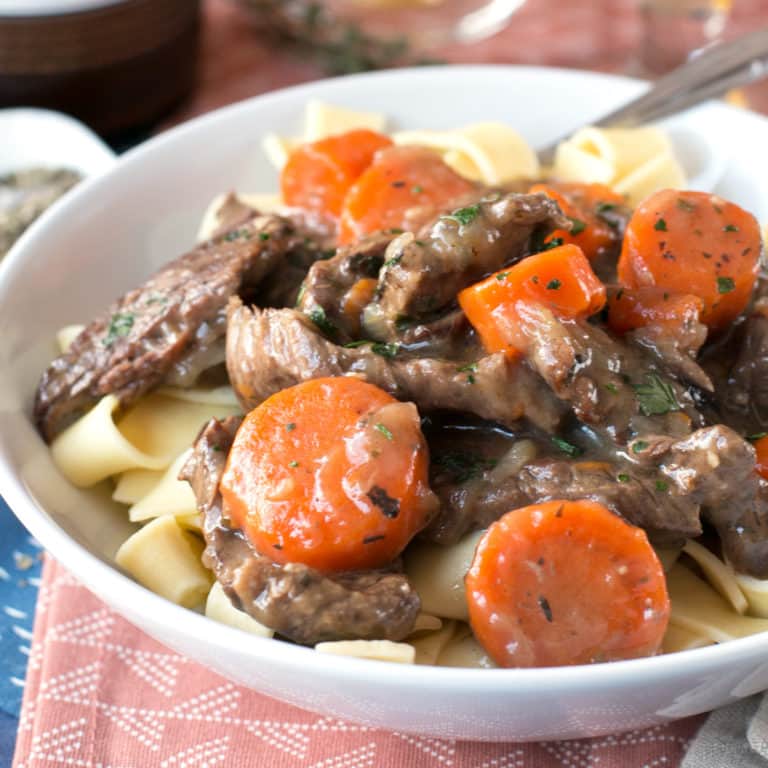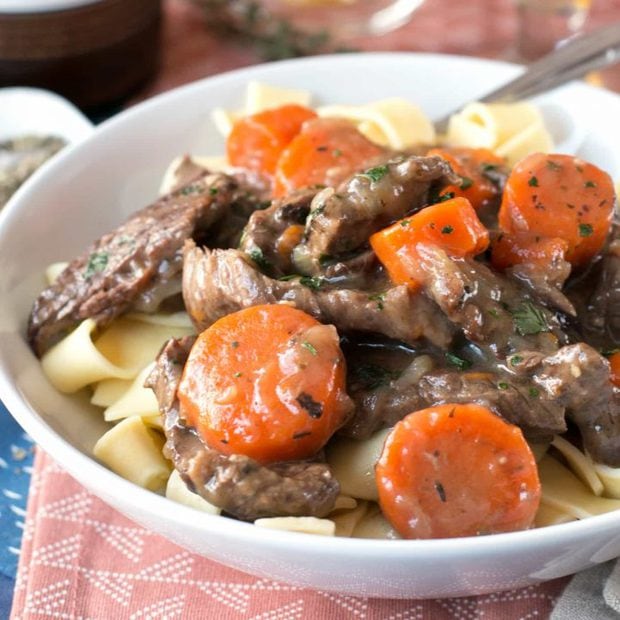 Carbonnades à la Flamande (Belgian Beer Beef Stew)
Total Time:
3 hours
10 minutes
Instead of braising the beef like a traditional bourguignon dish, this dish uses Belgian beer! Beef, onions, carrots and spices come together in this savory, slightly bitter dish that's comforting at any time of year.
Ingredients
3 lb Sprouts beef chuck roast, sliced into 2-inch by 4-inch pieces that are ½-inch thick
2 to 3 Tbsp bacon fat
2 large yellow onions, sliced
4 cloves garlic, mashed
1 tsp freshly diced shallot
1 cup beef stock
2 1/2 cups Belgian beer (I used Duvel Belgian Golden Ale)
1 tsp light brown sugar
1 bay leaf
2 springs fresh thyme
1 1/2 tsp Sprouts Italian seasoning
1 1/2 Tbsp cornstarch
2 Tbsp red wine vinegar
Buttered noodles
Garnish: chopped fresh parsley
Instructions
Preheat oven to 325 degrees.
Add bacon fat to a large cast-iron skillet. Heat over medium-high heat. Brown the beef slices on both sides, working in batches and removing to a plate once browned.
Reduce to medium heat. Stir in the onions and carrots. Brown vegetables for approximately 10 minutes, stirring frequently. Remove from heat and season with salt, pepper and garlic.
Add half of the meat to a large Dutch oven. Top with half of the onions and carrots. Add a final layer of meat, followed by a final layer of the onions and carrots.
Add beef stock to the cast-iron skillet you cooked the beef and vegetables in. Warm the broth over medium heat, stirring and scraping the bottom of the pan to get all the good bits into the broth.
Pour the warmed broth over the meat and vegetables. Top with beer. Stir in sugar, bay leaf, thyme, and Italian seasoning.
Bring mixture to a boil on the stove. Cover and place in the oven to cook for approximately 2 ½ hours.
Remove Dutch oven to the stove. Pick out thyme sprigs and bay leaf.
Stir together cornstarch and red wine vinegar in a small bowl until combined. Stir into the stew and simmer for 4 to 5 minutes over medium-high heat.
Season with salt and pepper to taste. Serve immediately.