Garlic Rosemary Steak & Potato Stacks with Red Wine Blue Cheese Sauce is a classy new take on a classic steak and potatoes dish. These crispy garlic and rosemary potato pancakes are the best base for anything, but it's classic partner just has to be that delicious steak.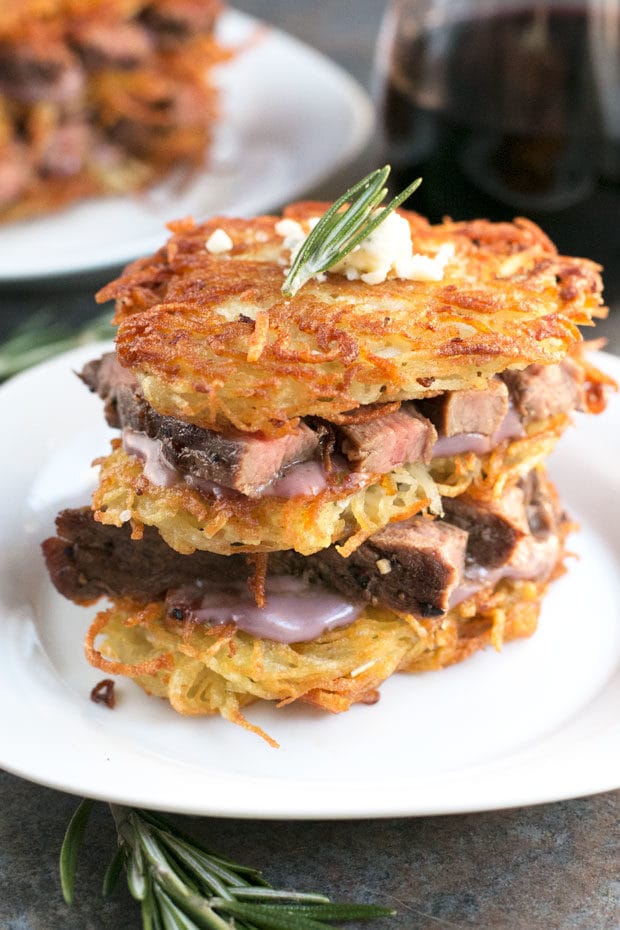 Are you ready for the best take on steak and potatoes ever?! These steak and potato stacks are quite possibly my best dinner recipe that I've ever made. The garlic and rosemary in the potato pancakes comes through so well, making them these perfect little vessels to pair with the steak and the red wine blue cheese sauce.
This is one of those special recipes that you are going to want to start whipping out when the holidays roll around. Not only does it look absolutely stunning, it's a crowd-pleaser! I mean, when you think about it, who doesn't love steak and potatoes?
After all, it's not a ton of carbs like pasta and it's not a light and feathery recipe that only the grazers will dig into. No, this meal will stick to your bones and fill you up (to balance out all that red wine) without being too heavy.
Besides, steak and potatoes is a classic dish for a reason. It's actually not that bad for you when you think about it. Especially when it comes to those delicious and nutritious potatoes! Did you know they actually have a ton of vitamin C and potassium in them? You pair all that nutrition with the protein in the steak and you've got a meal that your waistline won't be pissed at you about inhaling.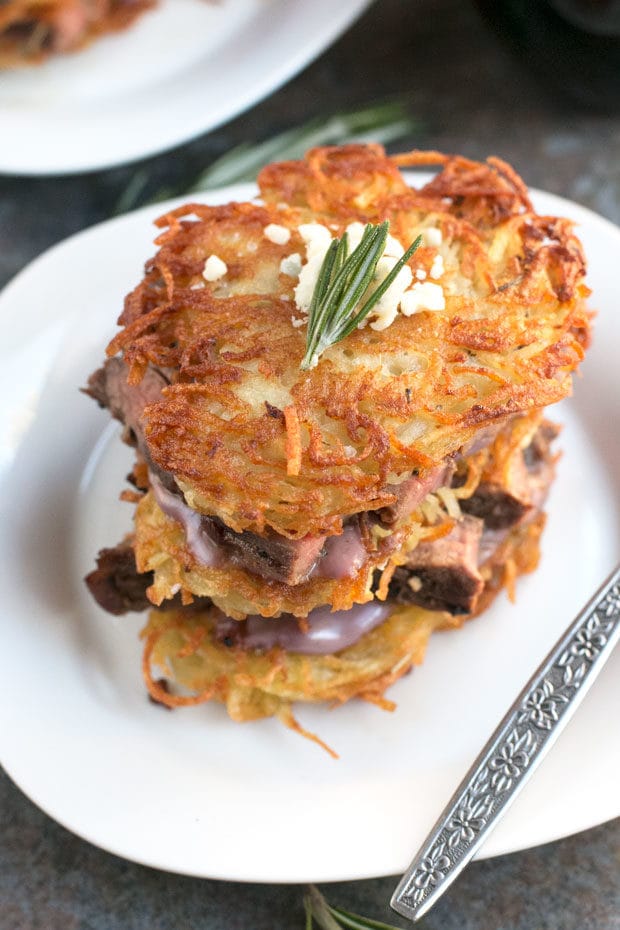 Disclosure: I received free product from Potatoes USA as part of this giveaway and post. As always, all opinions and recipe are my own. Thanks for supporting the brands that support Cake 'n Knife!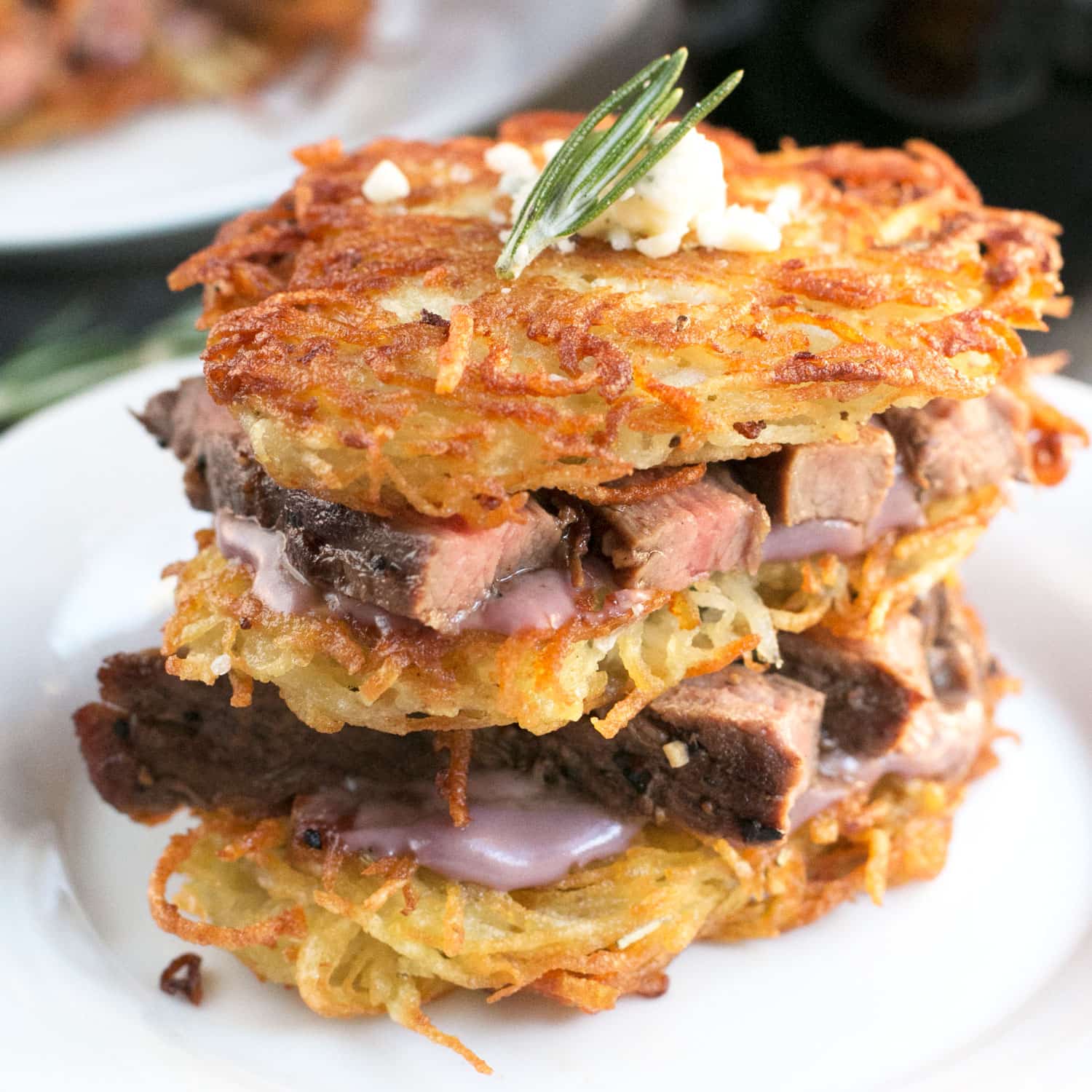 Garlic Rosemary Steak & Potato Stacks with Red Wine Blue Cheese Sauce
Steak and potatoes, made a whole new way! Decadent, luscious herb potato pancakes are stacked with buttery steak and topped with a creamy red wine blue cheese sauce.
Ingredients
2 lbs russet potatoes, peeled
½ white onion
2 eggs
3 garlic cloves, minced
2 tsp rosemary leaves, chopped
2 Tbsp all-purpose flour
¼ tsp salt
¼ tsp black pepper
1 large flank steak (approximately 1 ½ lbs)
2 tsp olive oil
2 to 3 Tbsp unsalted butter
2 sprigs rosemary
Red Wine Blue Cheese Sauce
4 Tbsp unsalted butter
½ yellow onion
4 Tbsp flour
¾ cup heavy cream
½ cup red wine
¾ cup blue cheese crumbles
Garnish: fresh rosemary, blue cheese crumbles
Instructions
Using a box grater, grate potatoes and onion into a strainer set over the sink. Drain the potato and onion mixture, but do not rinse. Add to a large bowl and set aside.
In a separate medium bowl, beat eggs with garlic, salt, pepper and rosemary. Add the egg mixture to the potatoes and onion. Add flour and mix well until combined.
Heat 1 tsp olive oil in a heavy skillet over medium-high heat. Drop in potato mixture into the pan, one heaping tablespoon at a time, and spread out into a circle. Cook until brown on both sides. Remove to a baking sheet. Once cooked, keep pancakes warm in the oven set to 175 degrees.
To make the sauce, heat butter over medium high heat in a medium saucepan. Once melted, add onions and sauté until browned, approximately 5 to 6 minutes. Whisk in flour and cook for approximately 1 minute. Stir in cream and red wine. Allow the mixture to thicken and bubble before adding in the blue cheese. Stir until melted and thick. Season with salt and pepper to taste.
In a separate heavy skillet, heat 1 tsp olive oil over medium-high heat. Season steak with salt and pepper. Once the pan is hot, add the flank steak. Cook steak for 30 seconds and then flip. Add in butter and rosemary sprigs at this time. Continue to cook, basting the steak with the butter, until cooked to desired doneness. As you cook the steak, you'll want to flip is every minute so they color evenly on both sides. Rest 10 minutes before slicing into thin strips.
To create the stacks, begin with a potato pancake. Top with 1 Tbsp of red wine blue cheese sauce. Add a couple slices of steak and repeat these layers once more, finishing with a potato pancake on top. Garnish with rosemary and blue cheese crumbles.
Pin this Garlic Rosemary Steak & Potato Stacks with Red Wine Blue Cheese Sauce recipe for later!