Please note this post contains affiliate links.
Valentine's Day Sparkling Sangria will give your romantic day extra sparkle, or will give you and your single girls something to giggle over as you swap dating war stories. Bottoms up!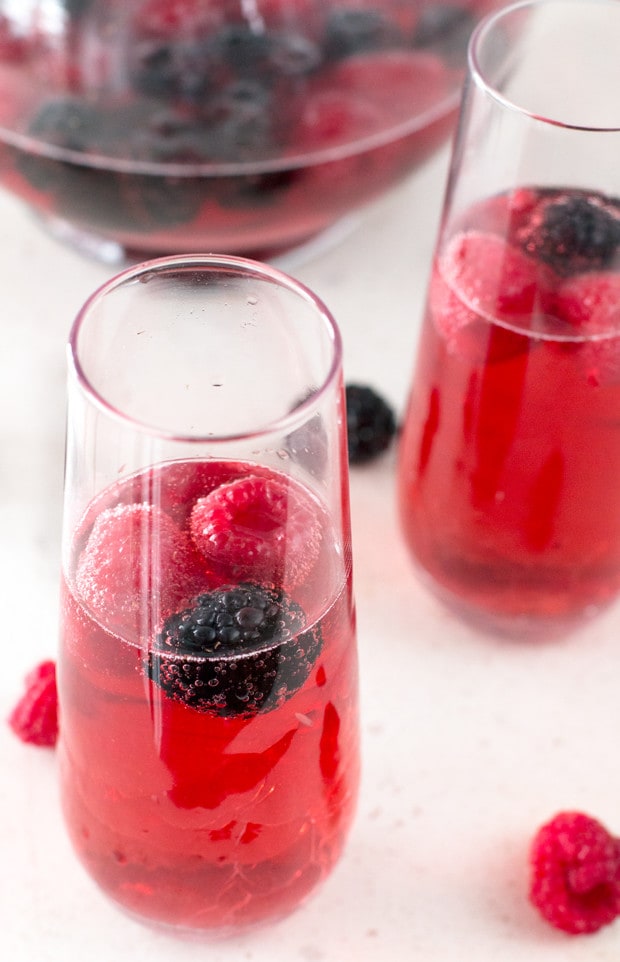 Valentine's Day is almost here… For many of you that means flowers, chocolates, and spending the night with the one you love. For me, it means a heaping double-batch of this sangria and most likely some girlish foolishness, along with a little chocolate and a whole lot of reliving the horrifying dates we've all been on in the past year.
Like the one who talked only about football the entire time, if you remember. There's also the one who was ready to have me move in with him after two dates and the one who had zero personality. Oh and let's not forget the one who didn't smile for the entire date. That one still freaks me out; who doesn't like to smile? I love smiling (finish this quote and I'll send you a huge internet hug because you're obviously my soulmate).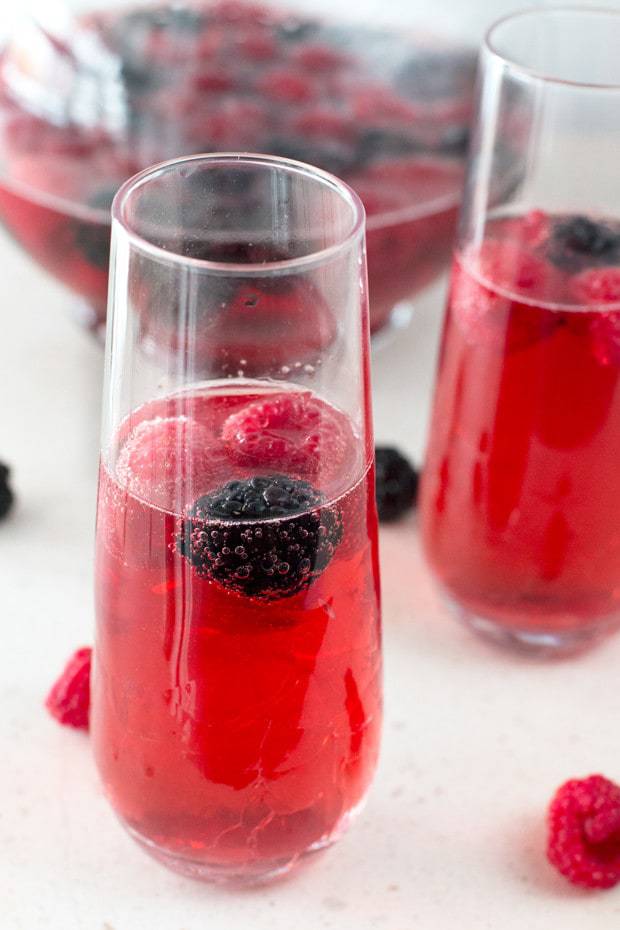 Lord, the dating world is tough, huh? I'm just being real with you all.
And since I'm being real with you, this sangria is THE Valentine's Day drink you have to have on Sunday. Well, and Friday. Heck, Saturday too while you're at it. It's sparkling, sweet, and tart so it strikes just the right chord for whatever you have planned this weekend to get the party started. The berries and extra dash of vodka bring the whole thing together in every rich, red sip.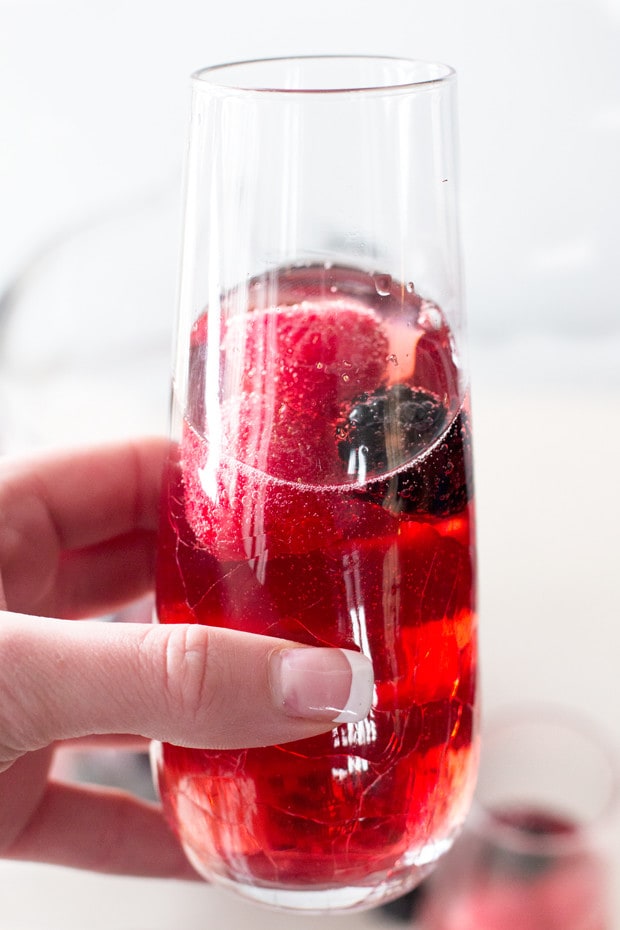 ingredients
sparkling rosé – for the sparkling rosé, I like to use one that is floral and not too sweet. I think the floral notes of a drier wine tastes really nice with the berries and brandy. If you like your rosé sweeter, you might want to omit the simple syrup. You can also try it without the simple syrup, then add in as desired!
vodka – any vodka will do here! I like to use a good middle shelf brand like Tito's or Absolut.
berries – fresh berries are best! As much as I enjoy frozen berries for smoothies or in a pinch when baking, this sangria needs the fresh berries so it doesn't alter the flavor of the sangria.
brandy – there's no specific brand you have to use, but I always recommend Hennessy as a go-to if you are unfamiliar with brandy brands.
cranberry juice – when you use cranberry juice, make sure it is 100% cranberry juice. Avoid sweetened cranberry juice cocktail.
simple syrup – I use my own homemade simple syrup! This is easy to make – just combine 1 cup water with 1 cup granulated sugar in a saucepan. Bring to a boil and stir until all the sugar has dissolved. Let cool completely and store in the refrigerator in a sealed container. Otherwise, you can purchase a brand like Stirrings.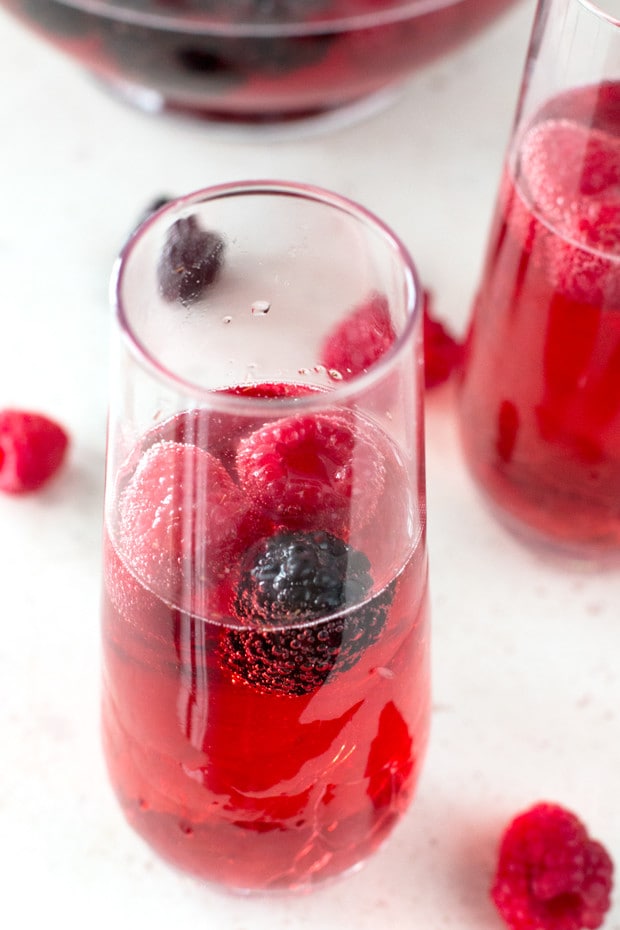 Warning: this sangria does pack a punch so be prepared…
this recipe's must-haves
I love stemless champagne flutes or coupe glasses for this sangria. It makes it a little extra elegant to put it in a fancy glass, you know?
To make the sangria, I use a pitcher or a copper pitcher. You can also use a wooden spoon to stir everything together.
here's how to make valentine's day sparkling sangria!
Make Sangria Base
The base of this sangria is made by combining vodka, berries, brandy, cranberry juice and simple syrup in a pitcher.
Chill
Let the mixture chill for at least 2 hours.
Finish
When you are ready to serve, top with chilled sparkling rosé and serve! Make sure each glass gets a few berries!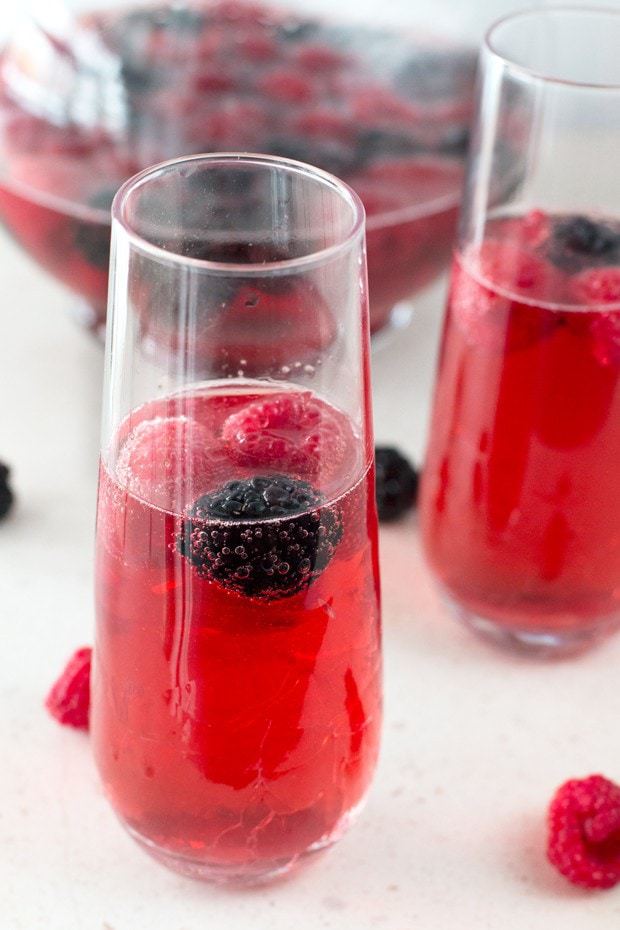 what to serve with sparkling sangria
Whether you are cuddling up with your boo by a cozy fire for Valentine's Day, or serving this sangria up with your besties for Galentine's Day, here's some ideas of things to serve with this sparkling sangria: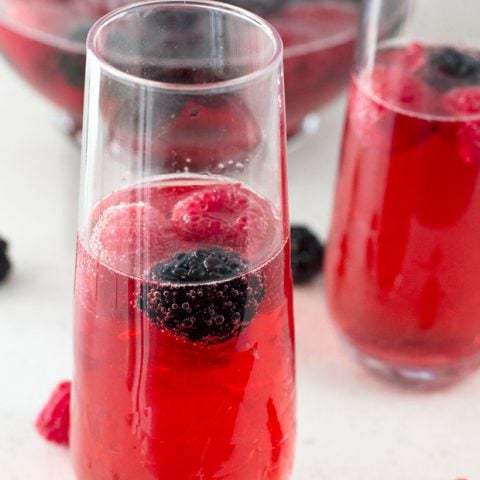 Valentine's Day Sparkling Sangria
Total Time:
2 hours
5 minutes
A sparkling rose sangria that really packs a punch so you can celebrate in style this Valentine's Day.
Ingredients
1 bottle sparkling rose
1/4 cup vodka
1 package raspberries
1 package blackberries
1 oz brandy
1 cup cranberry juice
1 1/2 oz simply syrup
Instructions
Add vodka, berries, brandy, cranberry juice and simple syrup to a pitcher and stir to combine.
Chill for at least 2 hours.
Stir in the sparkling rose when ready to serve.
Enjoy!