Next time you are in the Windy City, be sure to check out the Chicago West Loop. This 48 Hour Foodie Guide is my quick rundown of my favorite bites and sips in the West Loop. It's a side of Chicago everyone should see, even if you only have a day to pack it all in!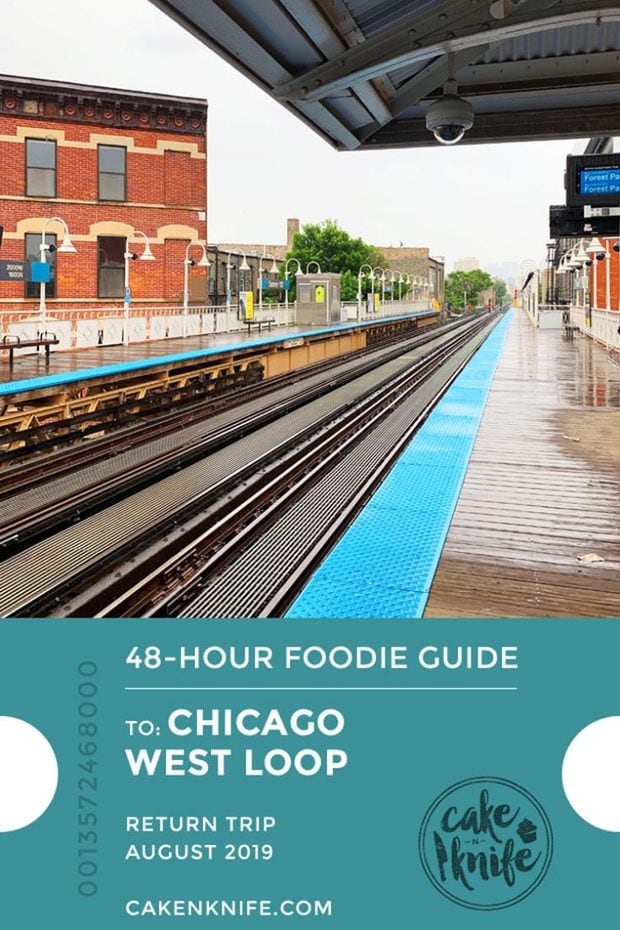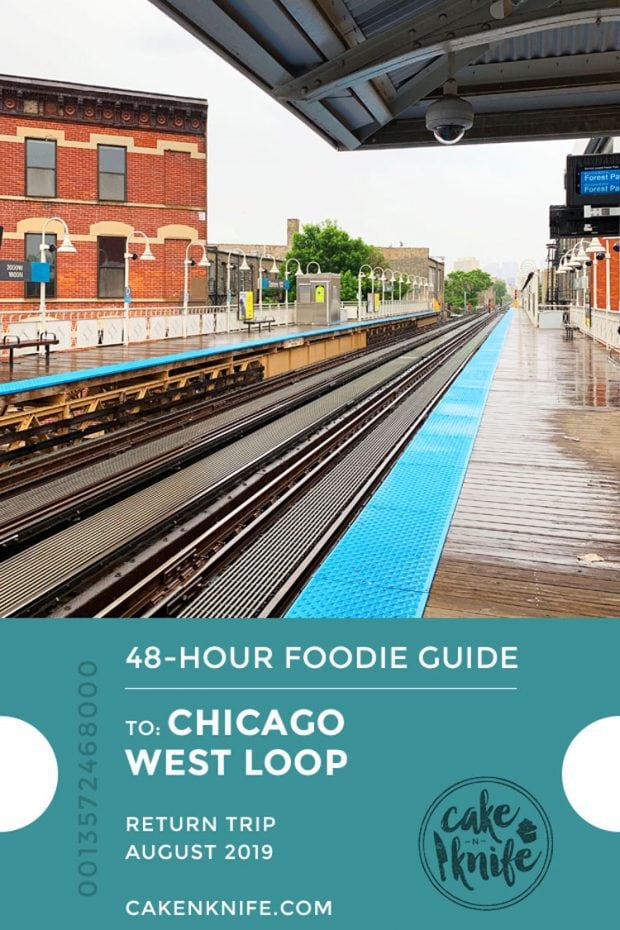 When I went to Chicago in June, let's just say it was not the week long trip we were planning on. While the first half of the trip was fantastic, halfway through we were alerted to the fact that Kya was starting a quick decline… Therefore we had to cut our trip short to rush home, and I am sure you already know how that story goes.
However, while we were in Chicago after the conference wrapped up, we had an incredible time in on of the many neighborhoods of Chicago – Fulton Market.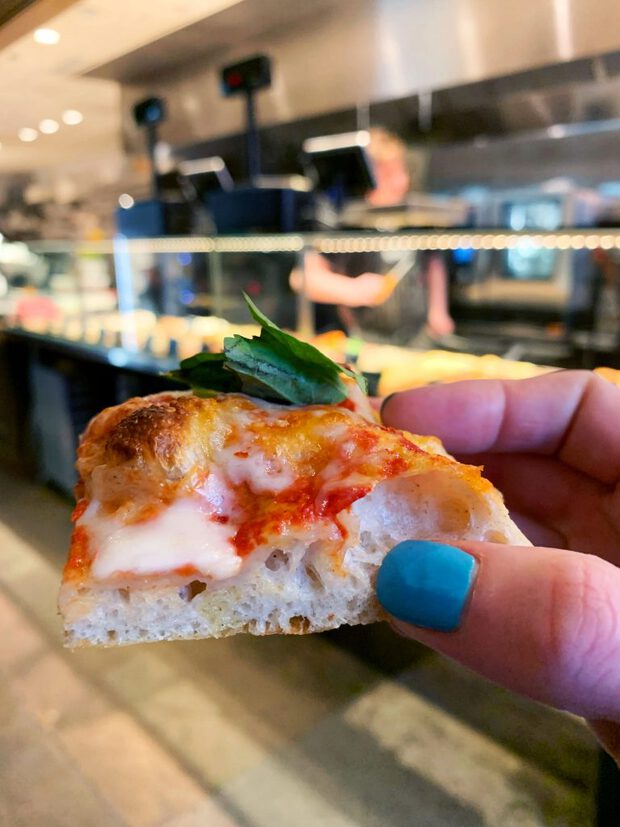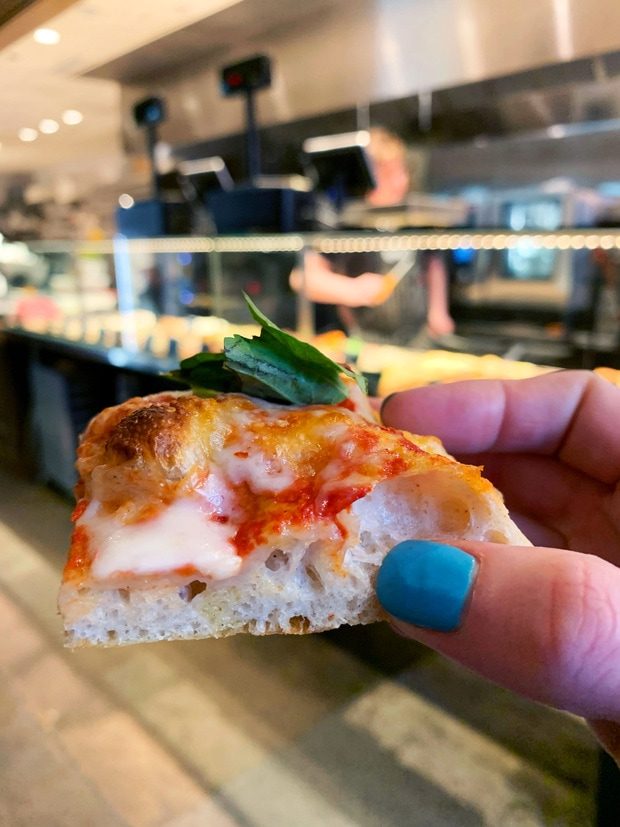 Fulton Market was a meat-packing, warehouse, and industrial district in a former life. Now however, it's a hotspot for truly incredible restaurants, bars, hotels, and shops.
The time that we spent there was absolutely intoxicating. The streets were always full of life and wandering people.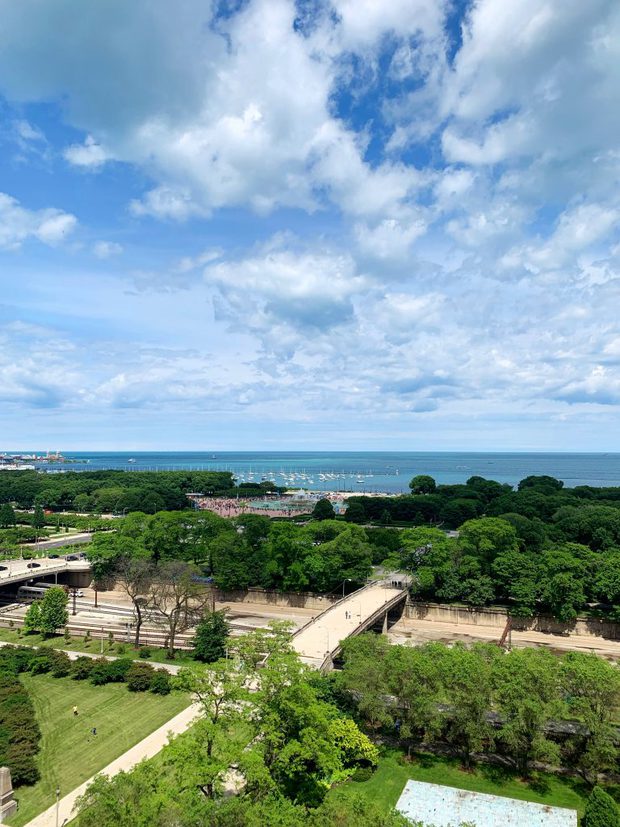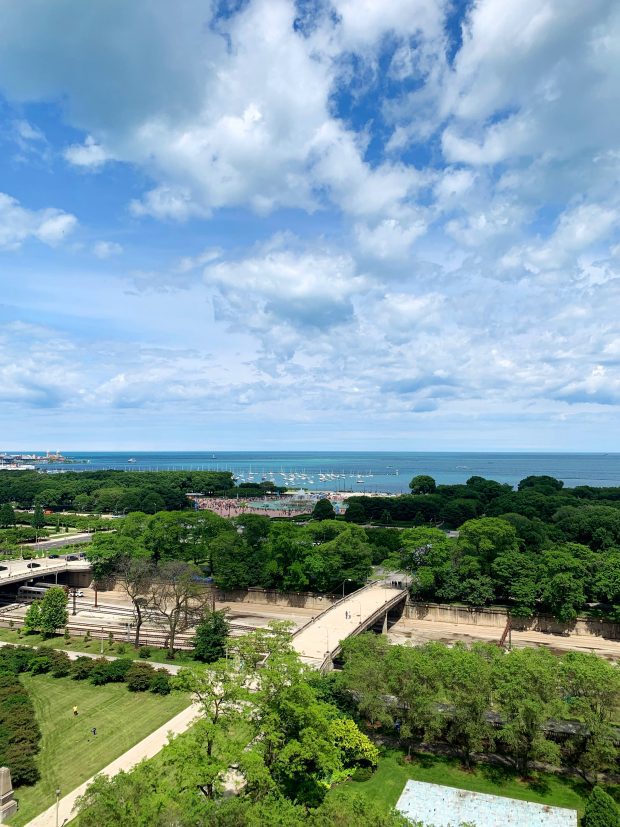 We were even fortunate enough to be there while they had a live music festival going on in the streets. If you are in Chicago and you want to eat/drink all the sincerely delicious things this neighborhood has to offer, this is the guide for you.
Whether you only have 48 hours in the Windy City, or perhaps you just want to explore the Chicago West Loop for part fo the time that you are out there, here's what all you food lovers should put on your itinerary!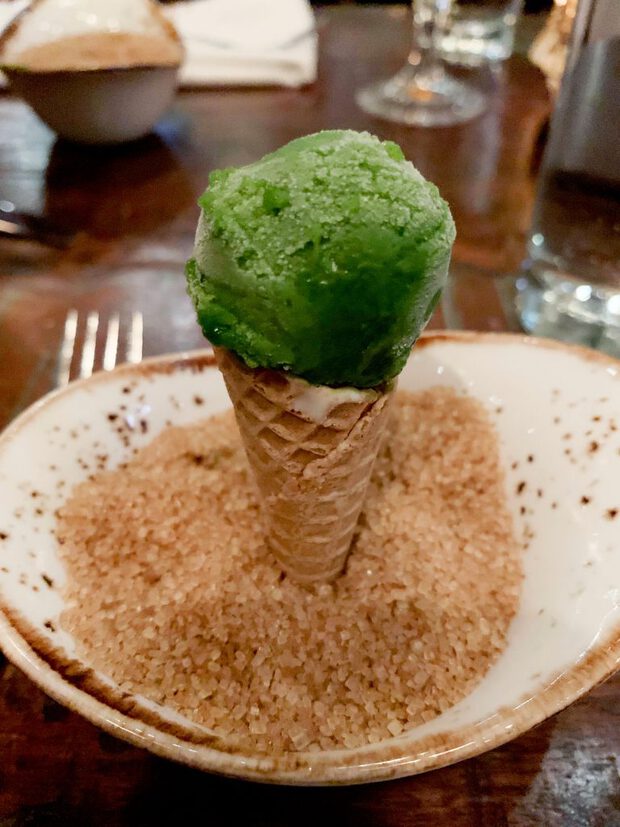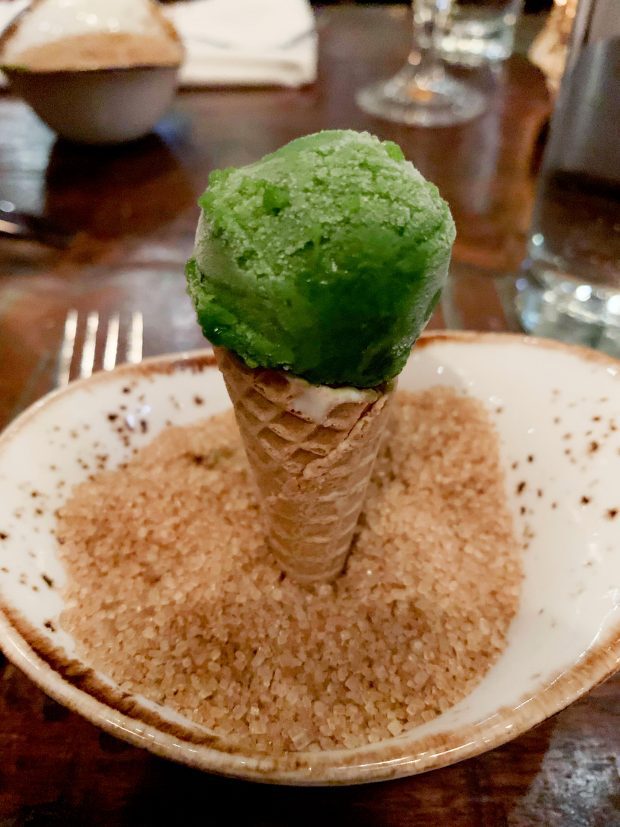 I am usually one to plan my own food tours of neighborhoods. However, sometimes you just want small bites instead of eating entrees at every single place you hit. I mean, we are all still trying to preserve those summer bods before the chilly weather hits, aren't we? 😉
Chicago Food Planet's tour "Gateway To The West Loop" was one that the Man and I truly loved. We went to five different spots over the course of the walking tour, and each of them was quite delicious. From tasting classic Italian to Roman style pizza and so much more, the experience was downright fantastic. Not only did we have a truly incredible tour guide, but getting together with a big group of strangers is right up my alley. It's like a walking community table where you really get to know the people with you.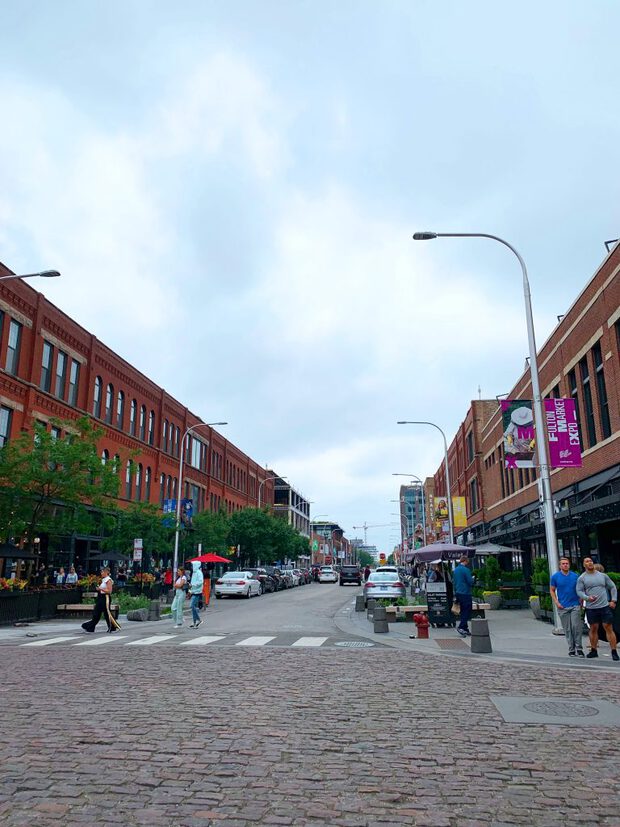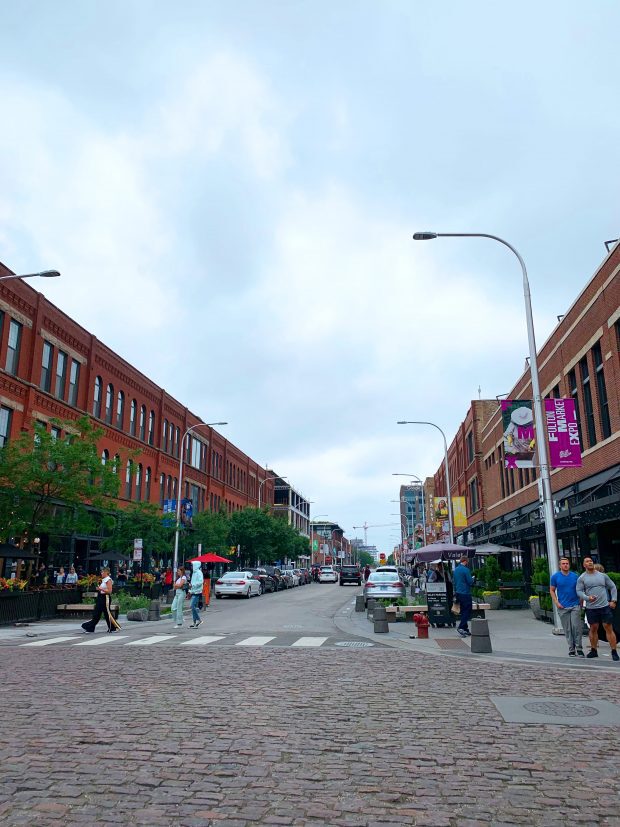 At the time I was actually pregnant and had to opt out of the booze, which I gave away and the family very sweetly gave us a gift to spend on the baby… It was just one of those special moments that you can't manufacture.
Here's some more details on my favorite bites of the exact tour. Trust me, this is one that you will not regret spending the money on. It's worth ever penny, especially with the booze pairings!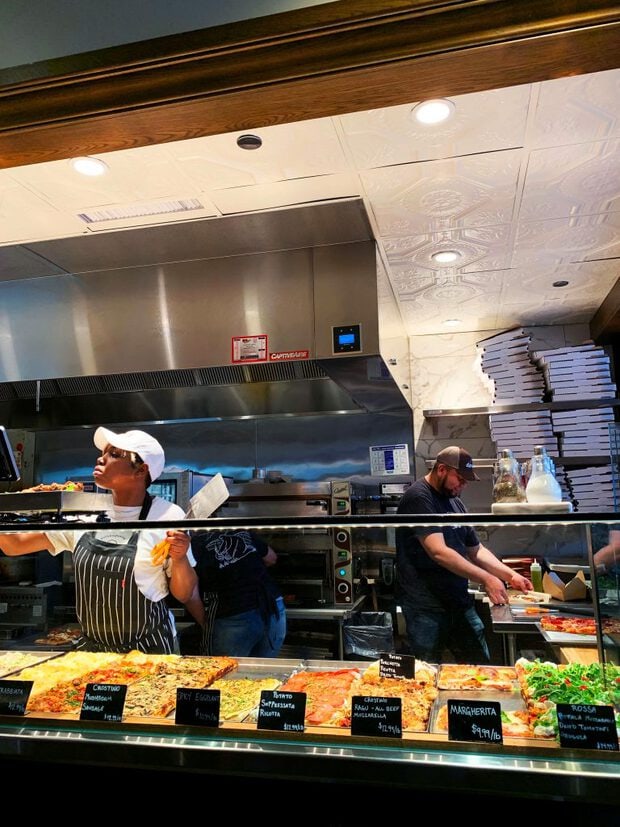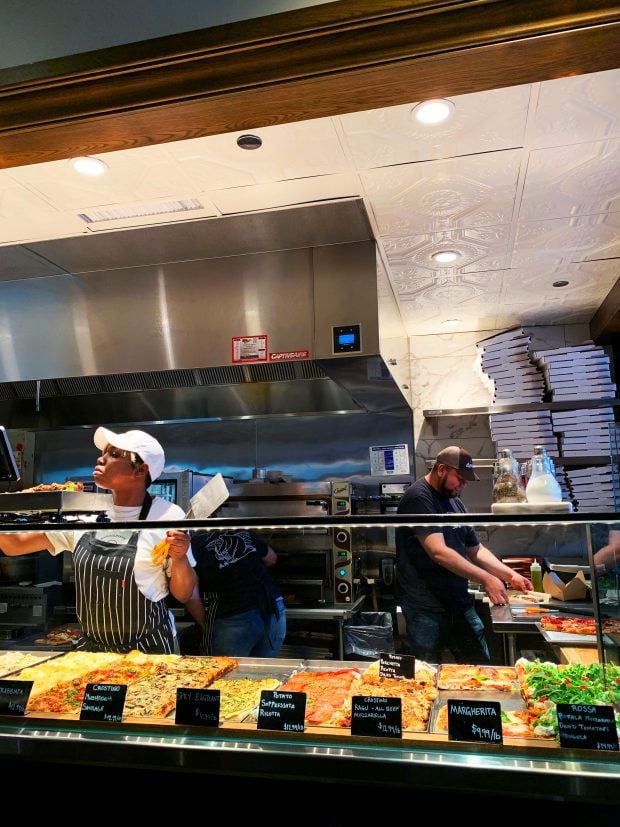 Cemitas Puebla – cemita bun (if you don't know what this is, track it down locally and eat it immediately, because it's AMAZING) stuffed with a bunch or stuff, pulled chicken chipotle avocado and cheese. The recipe traced back to Tony Anteliz's family in Puebla, Mexico and you can taste the authenticity.
Bonci – Roman style pizza by the pound. It was very similar to what I found in the streets of Rome when I lived there. The fluffy crust brought me right back to the streets of Rome…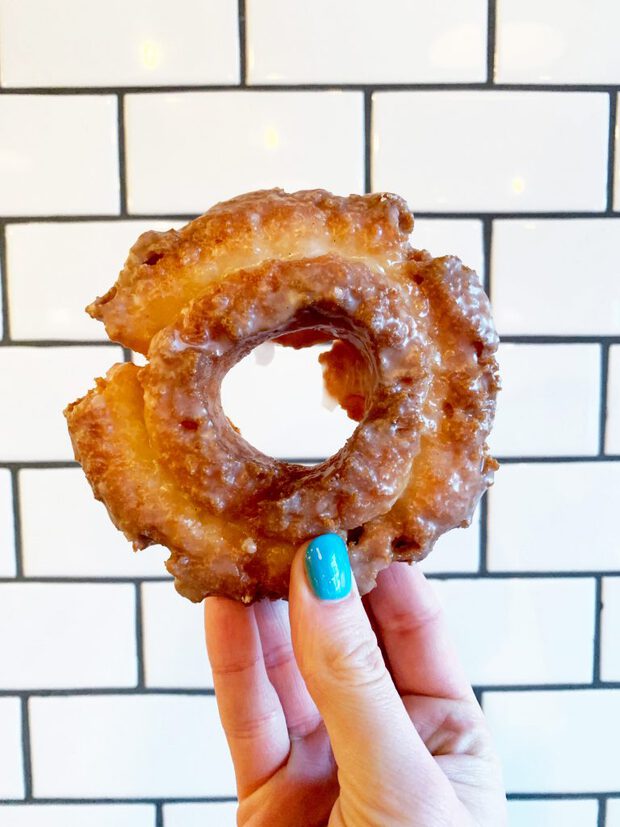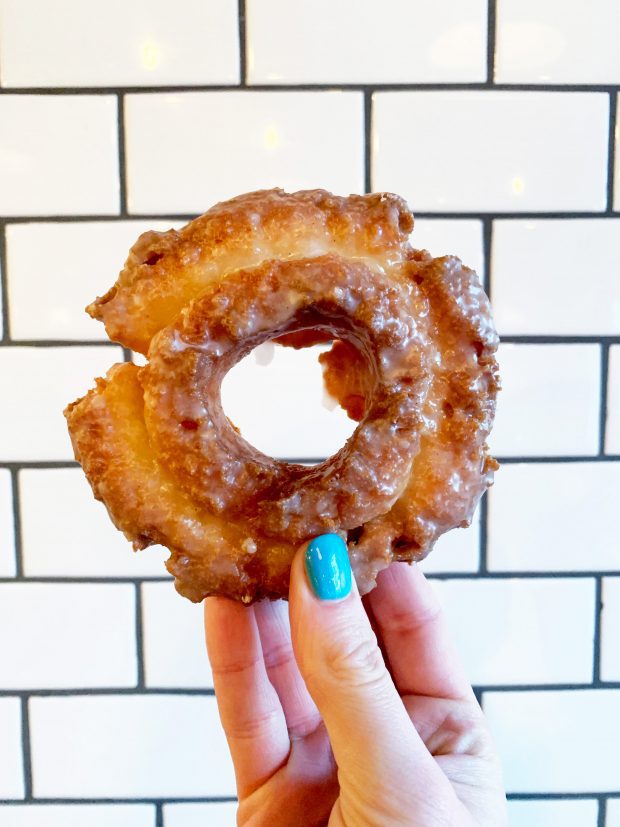 Do rite donuts – This is simple food, done right. The old fashioned buttermilk doughnut had the best texture I've ever had in a doughnut. The moist inside even stayed that way through our last-minute road trip home the next day (and was just the comfort food I needed!).
Kuma's Corner – They are actually coming to Denver so I'm super excited about that! It's a super unique spot with a metal and horror movie theme to go along with the killer burgers. Sitting there watching Walrus (seriously horrifyingly bad horror film) with local beer and a beef slider topped with pulled pork is forever seared into my memory. It was dripping with greasy goodness and I am just SO READY for their appearance in Denver!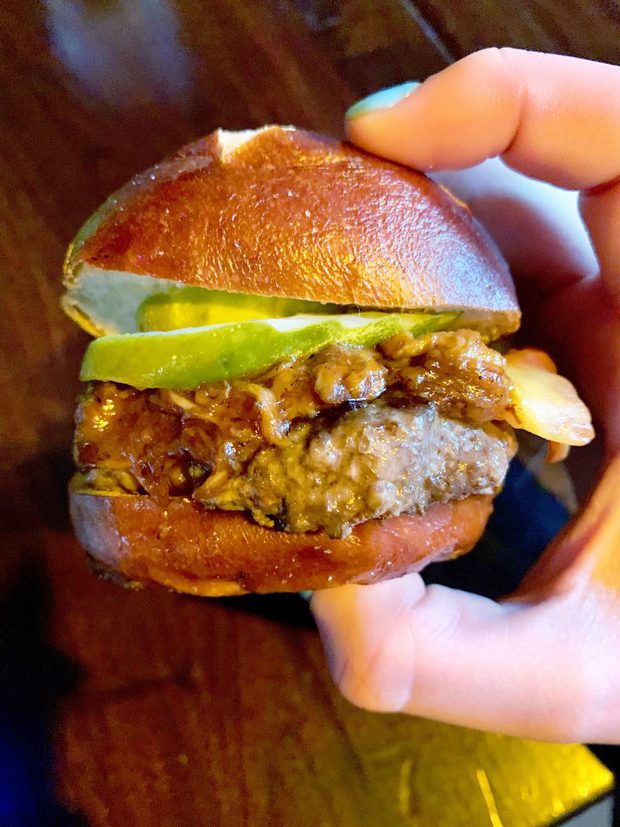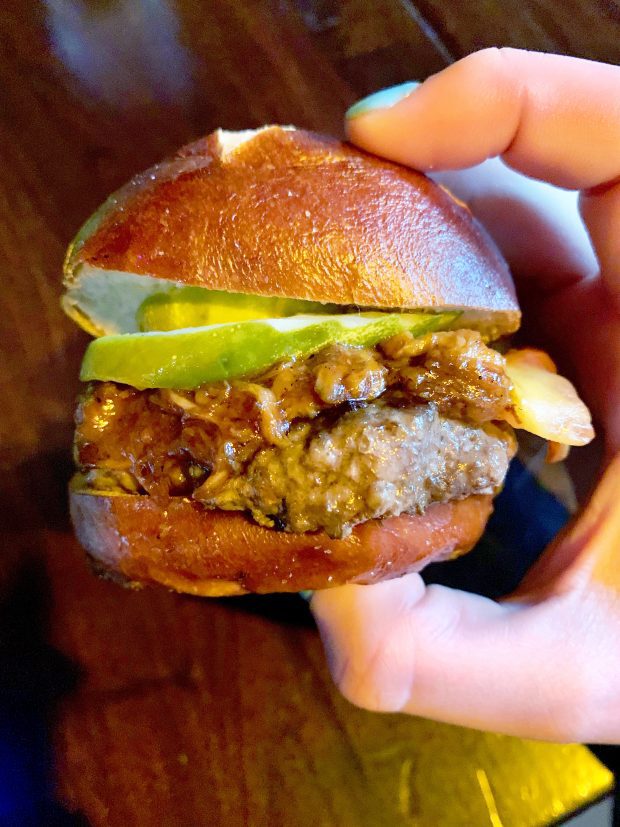 Must-Have Coffee Fix
LIMITLESS is a killer cafe in Fulton (they also have a spot in River North if you are up that way. They have everything from a charcoal latte (the one I really wanted to get but wasn't sure about being pregnant at the time), lavender latte, rose latte, super greens latte, and the golden milk latte (which is the one I indulged in).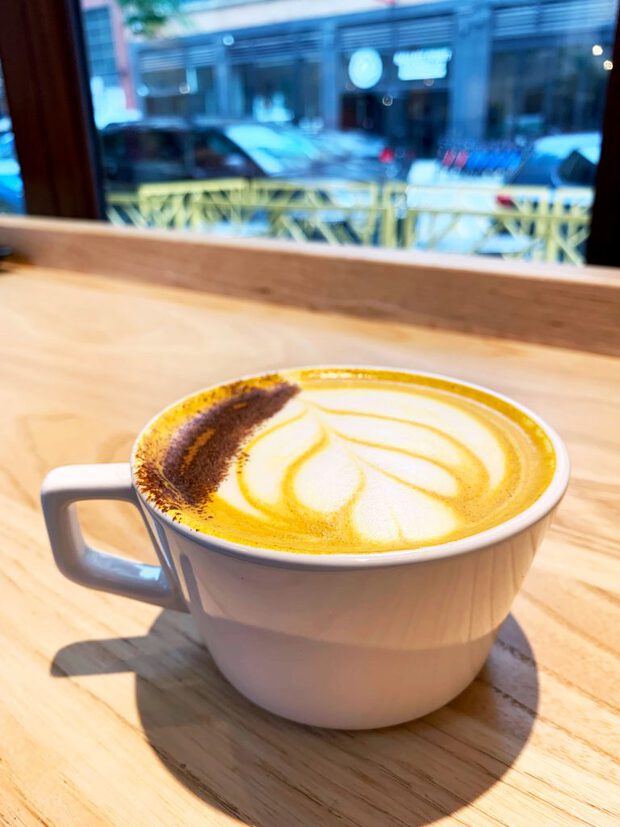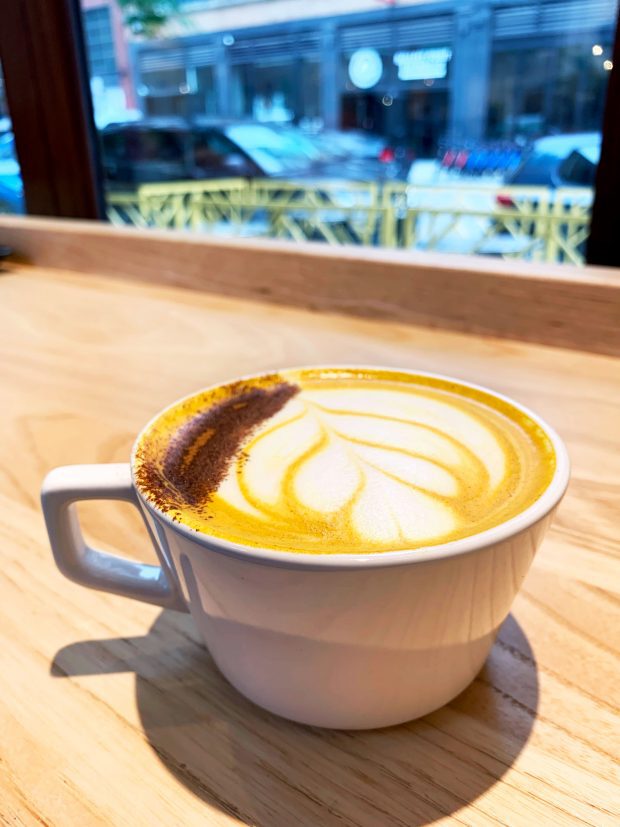 It had turmeric, ginger, black pepper, vanilla, pink salt, cayenne, honey, milk, and a topping of cinnamon – simply put the most amazing concoction I've had (you know, without espresso and all!).
The spice lingered on my tongue and brought me a nice bit of comfort in the morning when I couldn't order my normal latte.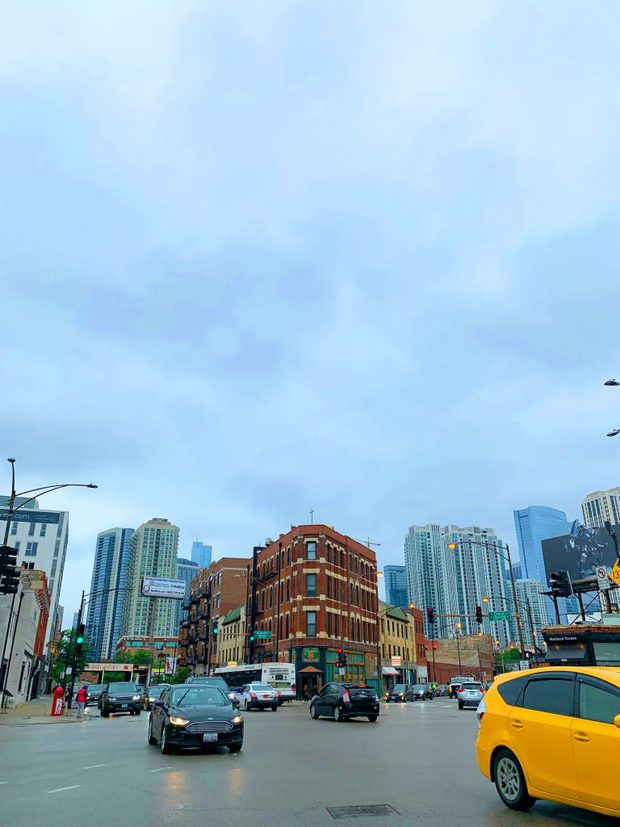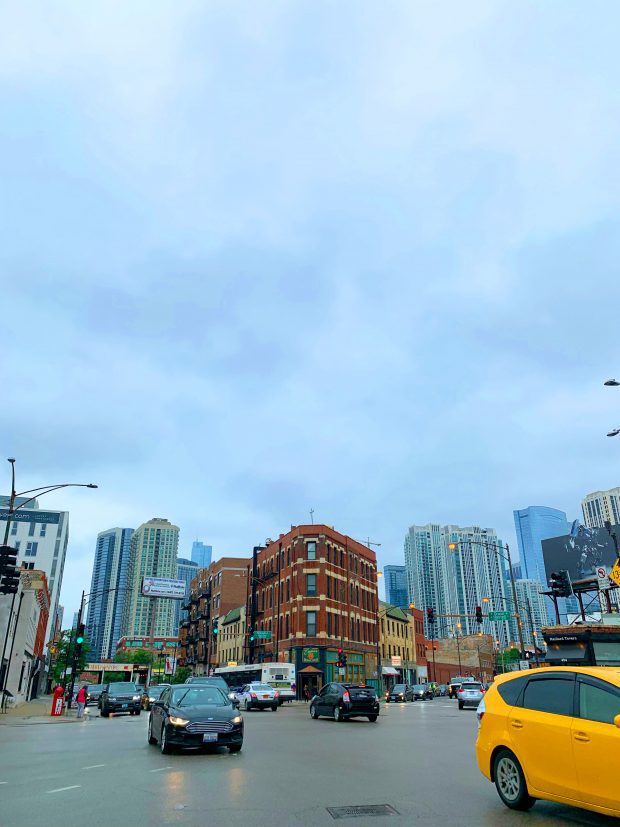 Fulton Market Kitchen

For Dinner
From the moment you walk into Fulton Market Kitchen, get prepared to eat with your eyes and not just your taste buds. I found the romantic scene in the high ceiling main room make the restaurant feel more intimate with small tables and cozy chairs made just for two. Of course the rest of their tables can accommodate any gathering size. The whole space envelopes you even with such soaring ceilings.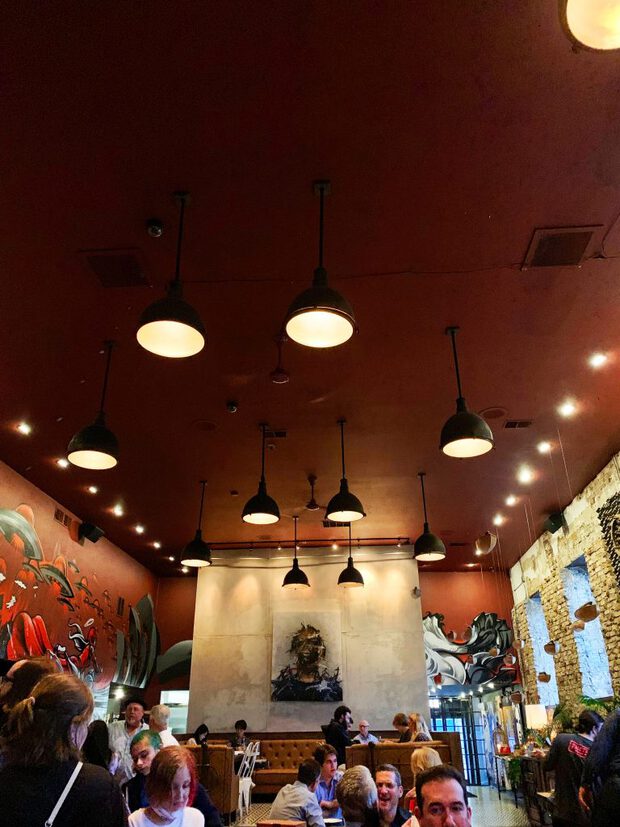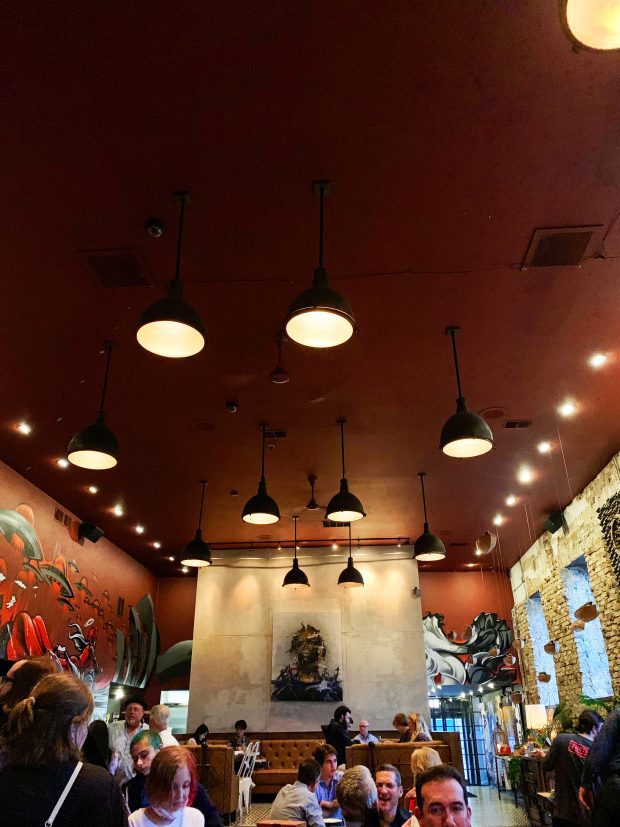 The art on the walls varies from thought provoking to cheeky (see if you can find Batman!), with stunningly colorful murals that are both eclectic and funky.
It's such a fun spot, and it's not just do to the incredible staff and engaging space! The food is downright luscious… I mean it, it was truly one of those meals that floored me. I still can taste the sourdough bread dipped in the beef fat jus candle that slowly melted into tomato jam. The tomato jam was sweet and spicy, mingling with the savory jus that I really wanted to drink straight out of the bowl (even if it did mean I would risk my hair catching on fire).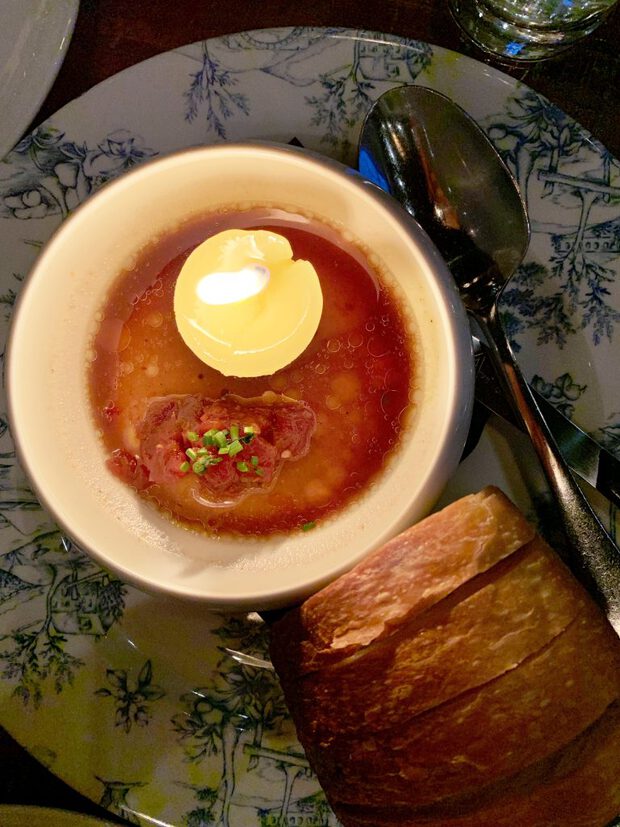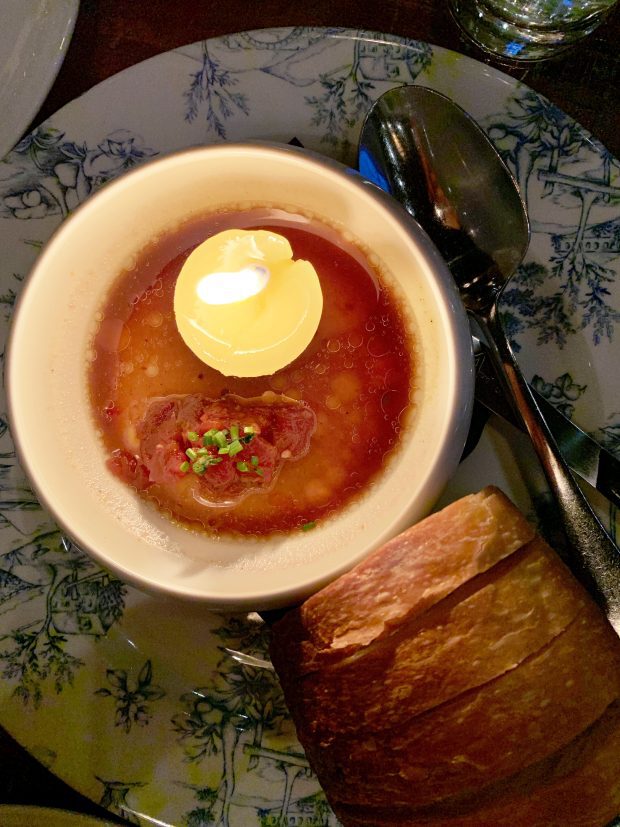 Another real highlight of the meal? The dry aged bolognese with cavatelli… OH MAN. The sauce had this depth of flavor that was velvety and deep. I have to quote the Man here because his description was so on point – "it's a Barry White song."
Yes, yes it sure is. The warm rich comfort of the sauce pairs with the chewy homemade noodles and a burst of freshness from the herbs. The creamy sauce has this smoke to it with the meat in the sauce because of all the trimmings of the dry aged beef they use for other dishes. I think I need to try to recreate this at home… Lord knows I can't age beef. BUT I am sure there's something I can do to make a version at home? I simply MUST have that flavor again!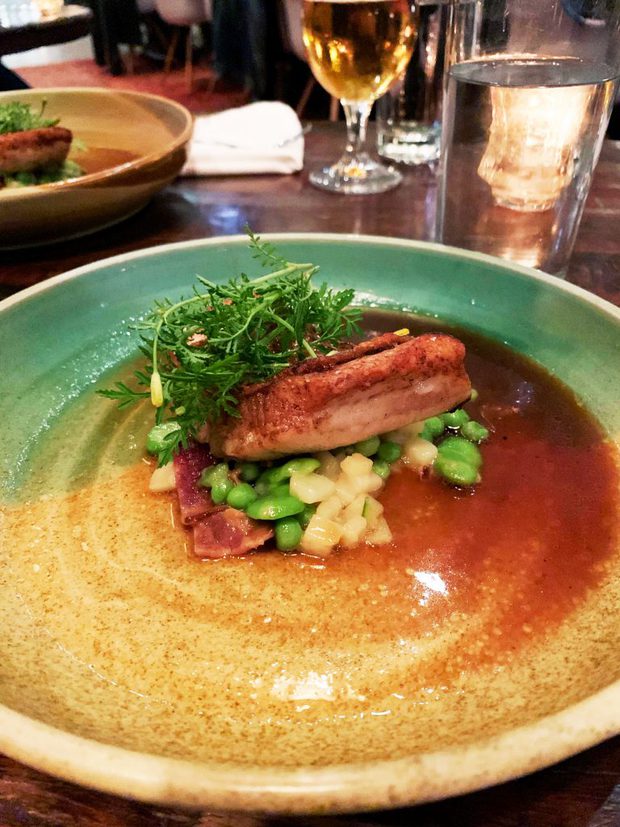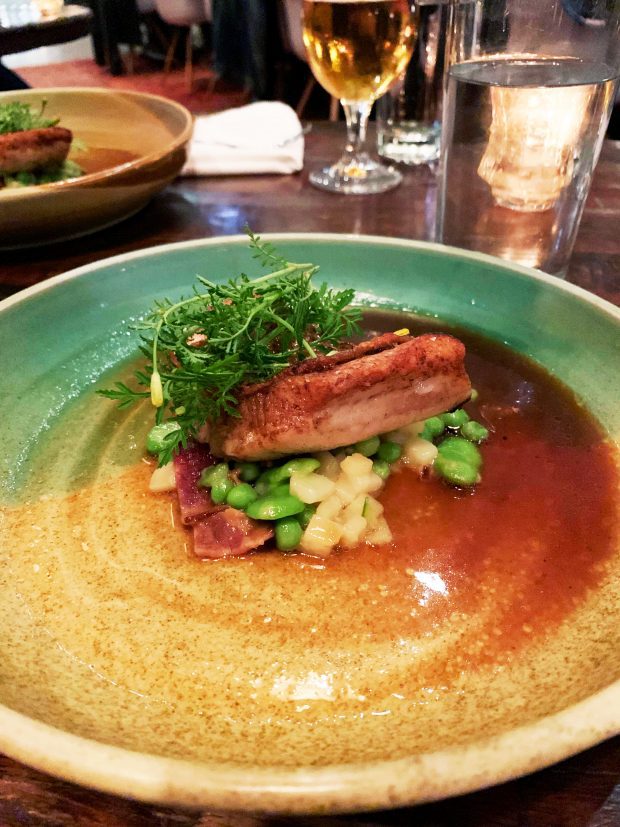 I don't eat much walleye, but there's was served with pork jus and a bacon vegetable ragout with peas and potatoes… Smoky, salt, and savory, I've never had a fish that was so hearty!
Finally, dessert… Both were absolutely spectacular. First the ice cream filled mochi… I've only had regular mochi before, but with ice cream in the center. Holy WOW this is a new dessert that I am now obsessed with. I mean that sincerely. I've been buying ice cream filled mochi from my local store every week now as my dessert treat. It's not as good as the homemade version here obviously. The apricot ice cream and strawberry jam with amaretto zabailogne really jumped off the plate. The Man and I were fighting over the last bite!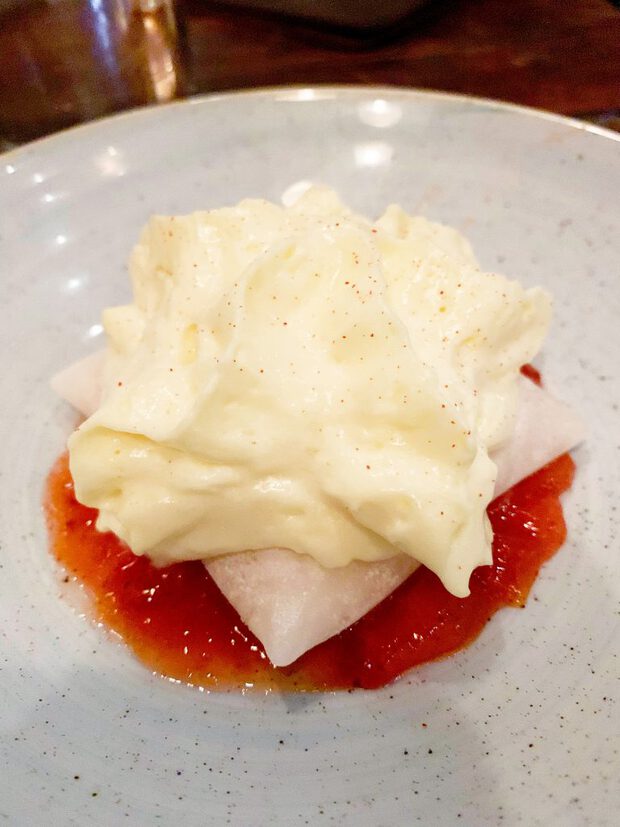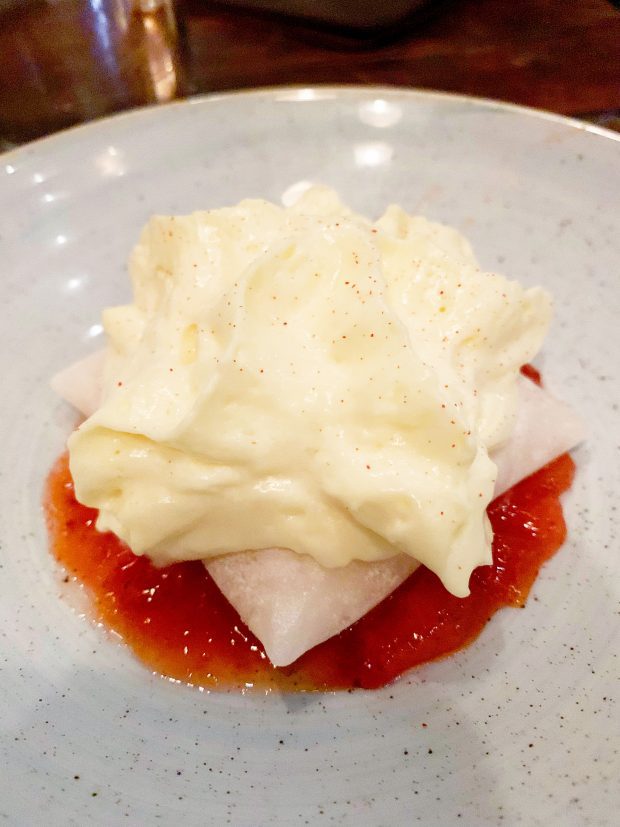 The other dessert that made me wanna swoon was the s'mores in a jar. There was chocolate ganache. It had graham cracker. There was marshmallow. Then the whole jar was filled with smoke that releases out into your nostrils as soon as you open it. It reminds you of the campfire and the taste is infused into the dessert as well. It's better than any s'more you could ever make at home.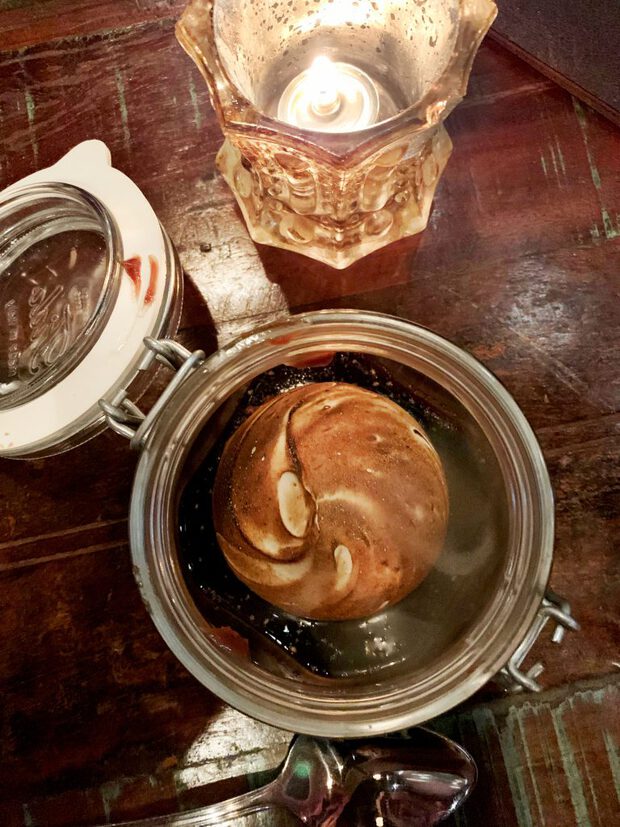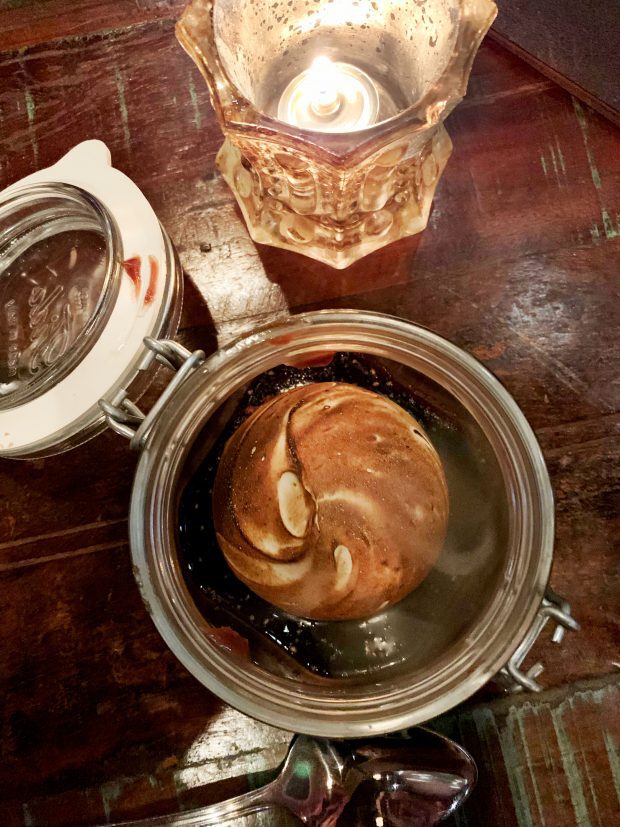 Other Highlights
Below are a few other highlights if you happen to have more time to squeeze in for the West Loop.
Carnivale – we went here for dinner at the end of the Mediavine Conference we were in town for and it was fantastic. Lots of great flavor and bold drinks, as well as live dancing. It was just so vibrant!
Girl & The Goat – if you know Stephanie Izard, you know of her first big hit out here in Fulton Market. We didn't get a chance to go, but it's on my list for when we go back.