Please note this post contains affiliate links.
A Strawberry Rhubarb Gin Fizz is just the refreshing, seasonal cocktail for your next happy hour! Made with a homemade strawberry rhubarb simple syrup, this cocktail is packed with fruity and floral flavors. Make it for your next gathering or any random cocktail hour at home!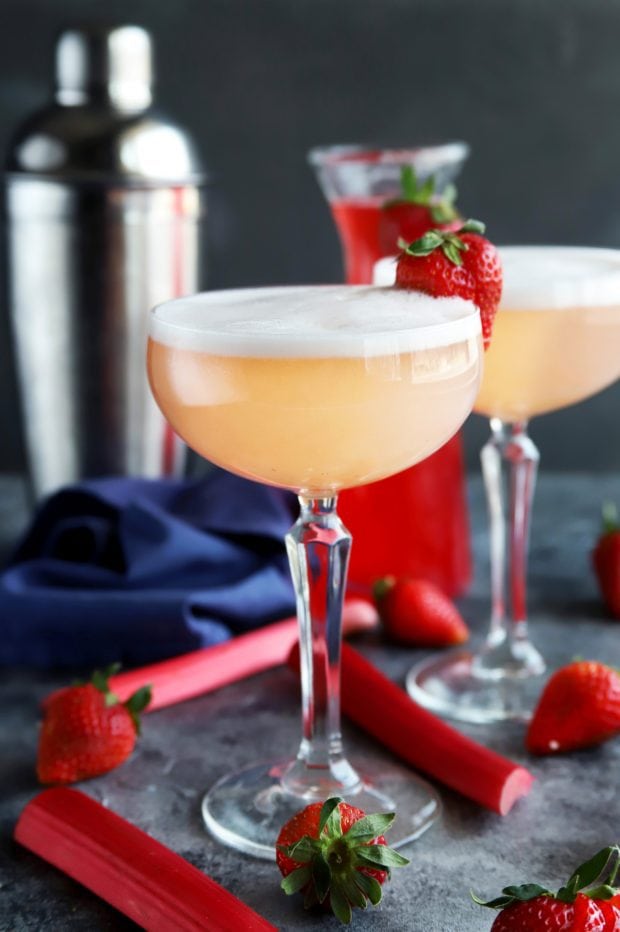 Please note that some of the links below are affiliate links. If purchases are made via these links, I will receive a small commission.
Rhubarb is here and it is glorious…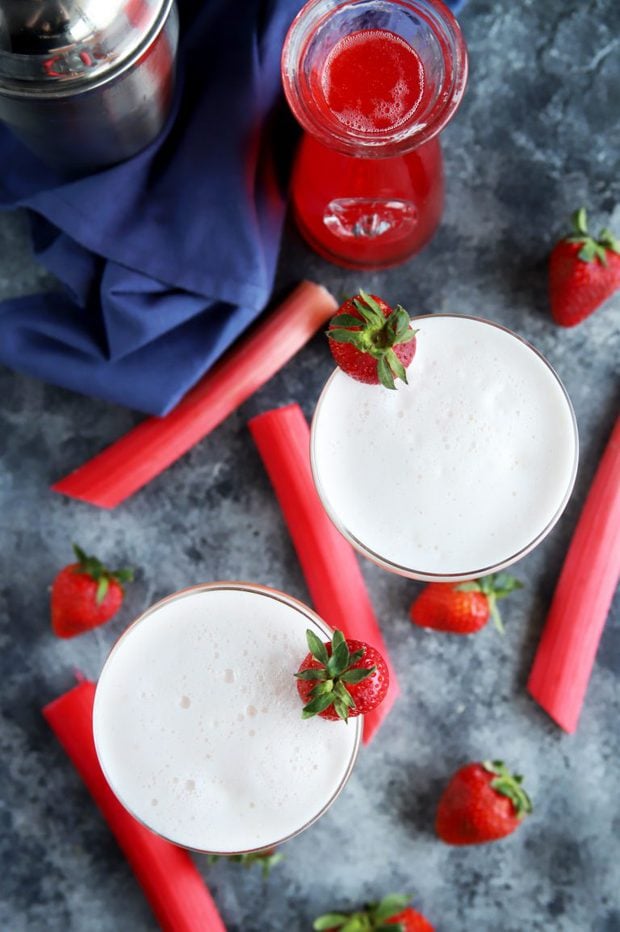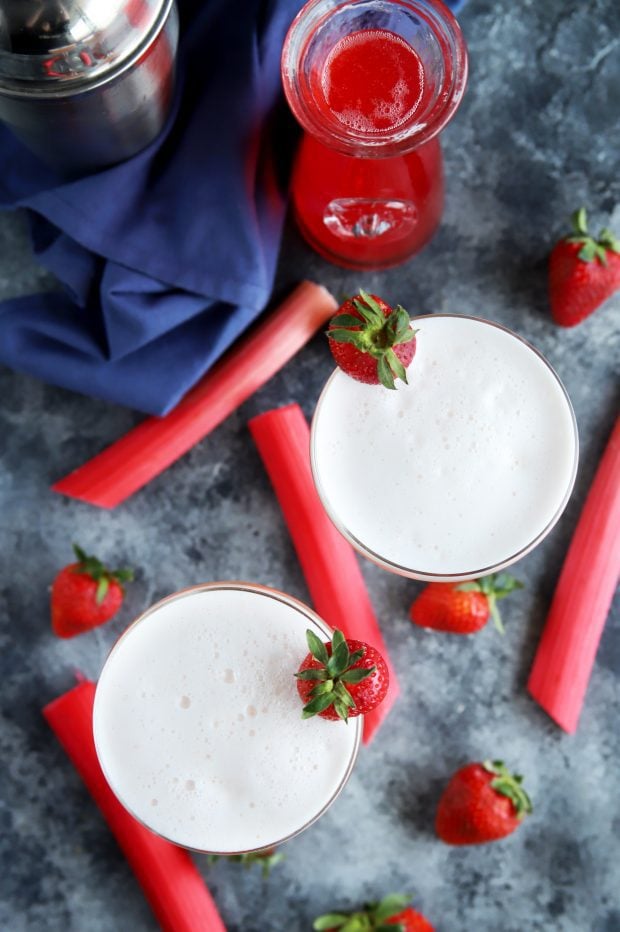 I love rhubarb season – you should see the size of the rhubarb stalks at the store this past week. They are HUGE.
So I am planning on making all my favorite rhubarb recipes from now until those pretty pink stalks are no longer available on the store shelves!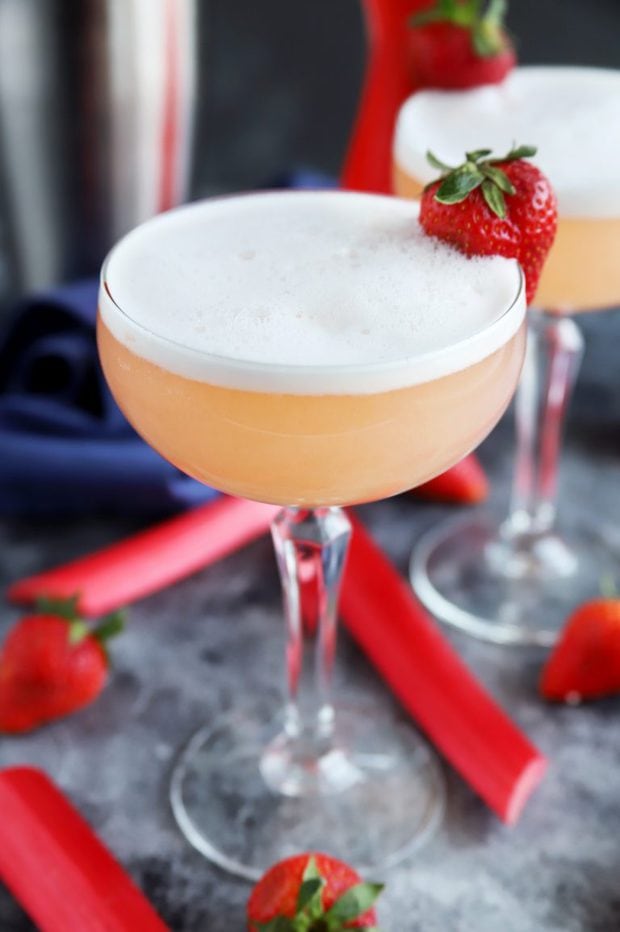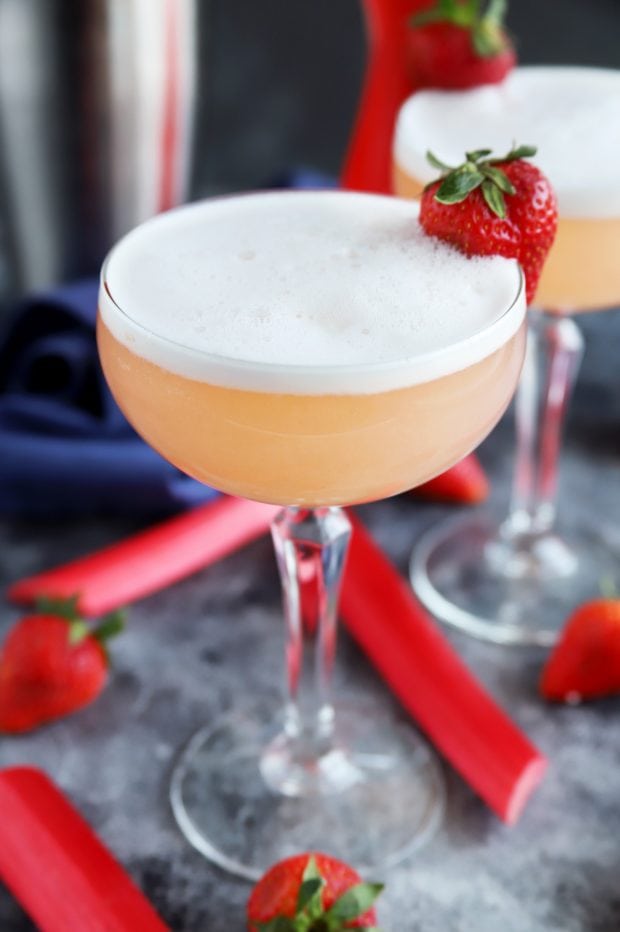 I am finally out of my haze from this week. I don't know why I was stuck in it, but I'm feeling like a normal human being again (well, as normal as I can be!).
Personally, I believe it's all because of the rhubarb hitting the shelves. It screams spring to me and that's all I need in the world right now!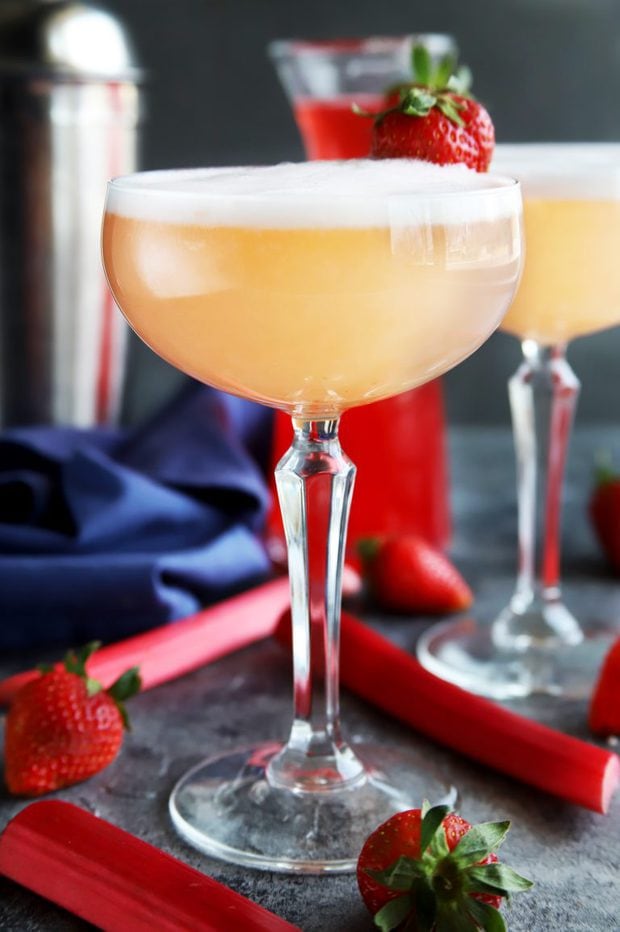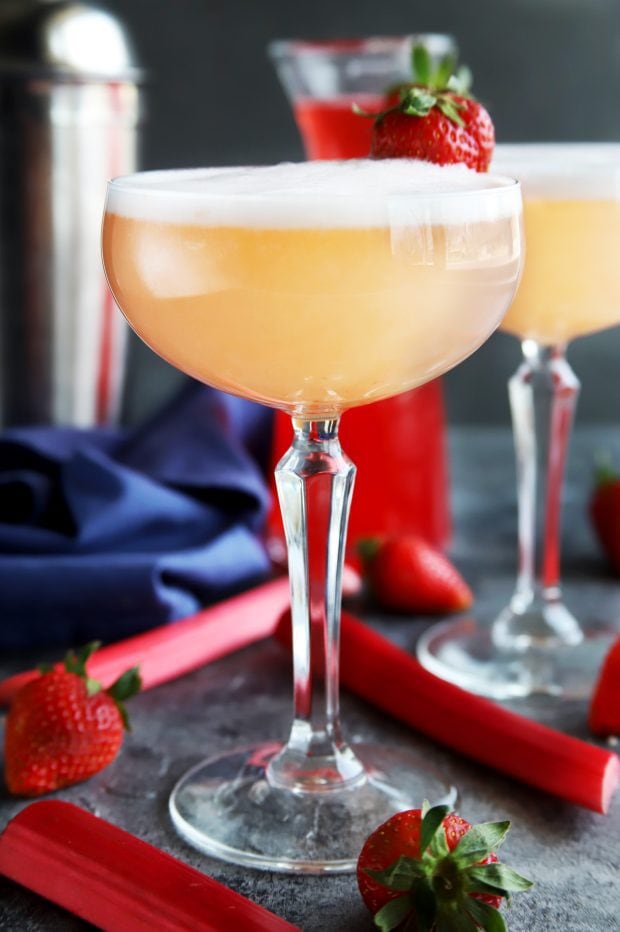 Rhubarb and strawberry is such a classic combination for desserts, so why not throw that sweet, fruity flavor in a cocktail?
A classic gin fizz is the ideal cocktail for the merging of these flavors. The subtle juniper flavor in the gin compliments the flavor of the fruit-infused homemade strawberry rhubarb simple syrup.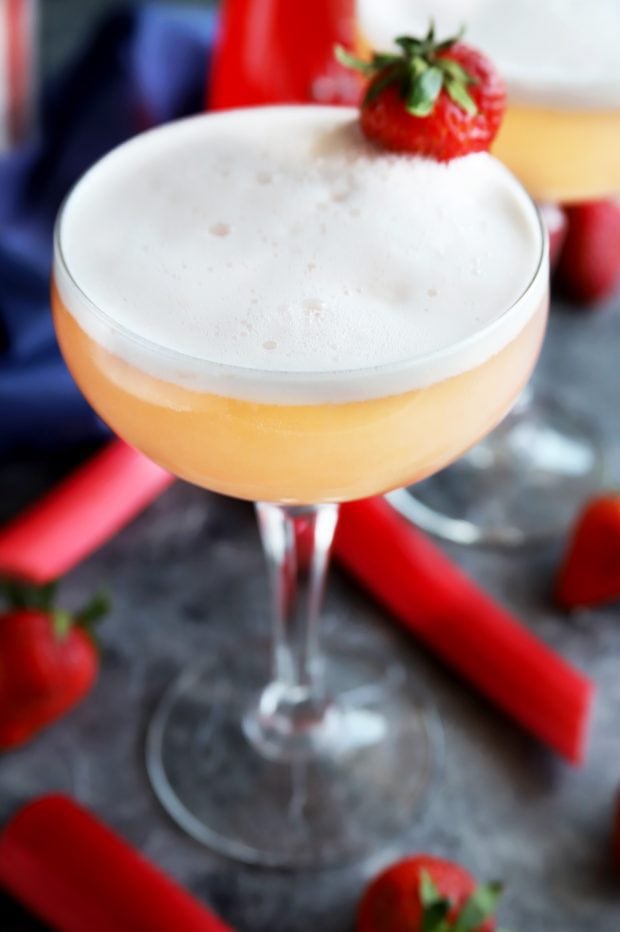 Then you get a little zing of lemon to bring some acidic notes in, brightening up the entire drink.
This is definitely my new favorite cocktail and will remain my favorite until I run out of this homemade simple syrup.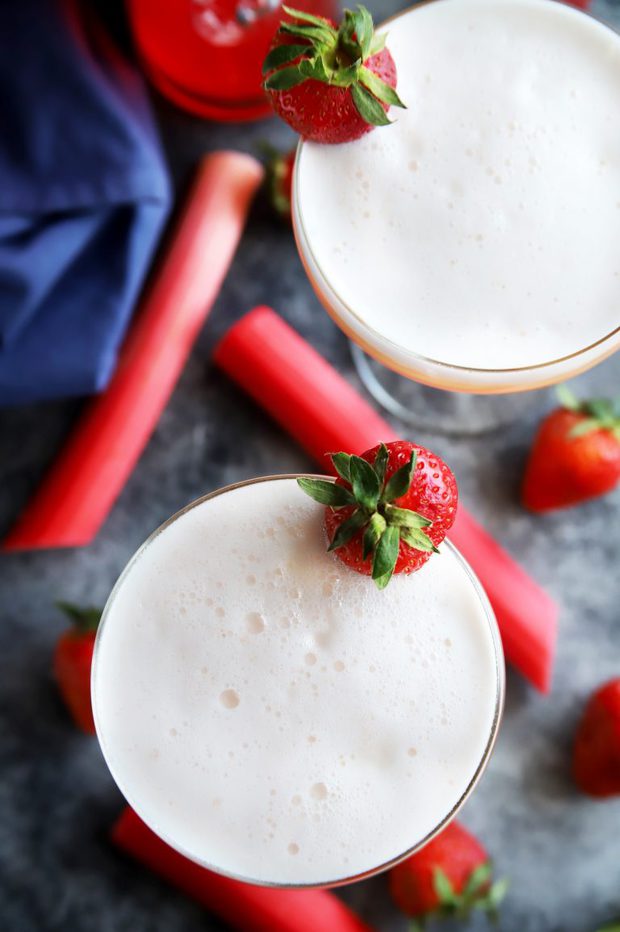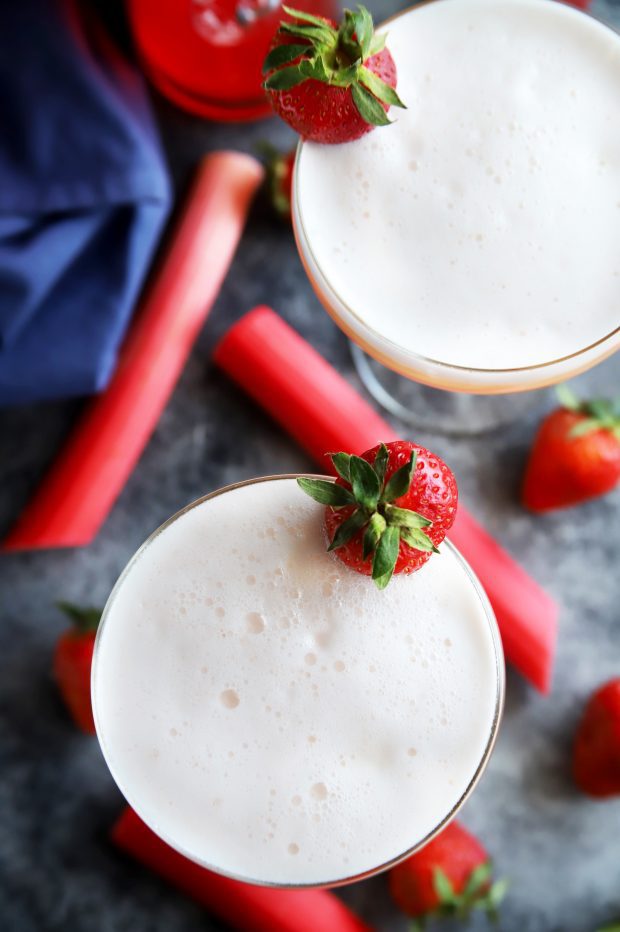 When I serve this cocktail, I feel like a truly elegant hostess.
No one has to know that it was insanely easy to make, after all.
It's the cocktail to bring out for garden parties, Easter, Mother's Day, and any old Friday night when you feel like elevating your cocktail hour routine.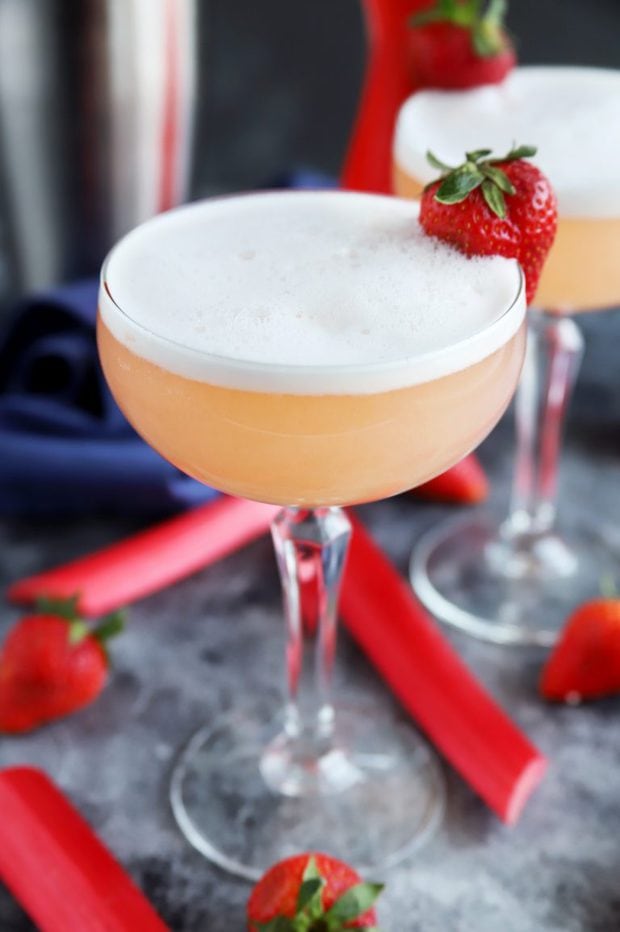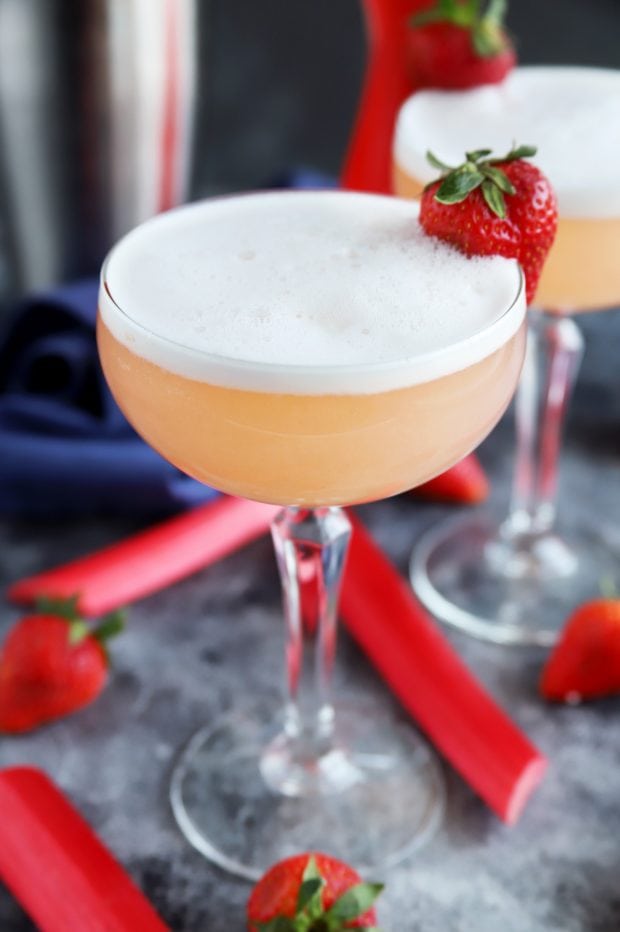 Want more strawberry rhubarb deliciousness in your life? Check out some of my favorite recipes below!
Strawberry Rhubarb Old Fashioned
Strawberry Rhubarb Champagne Cocktail
Note: you can totally use frozen strawberries and/or frozen rhubarb to make the simple syrup for this cocktail if required! I know it can take a while for some places to get rhubarb when the season hits, and that it also sells out really quickly. If you do use frozen fruit, be sure to thaw it and then strain it before adding to the simple syrup recipe!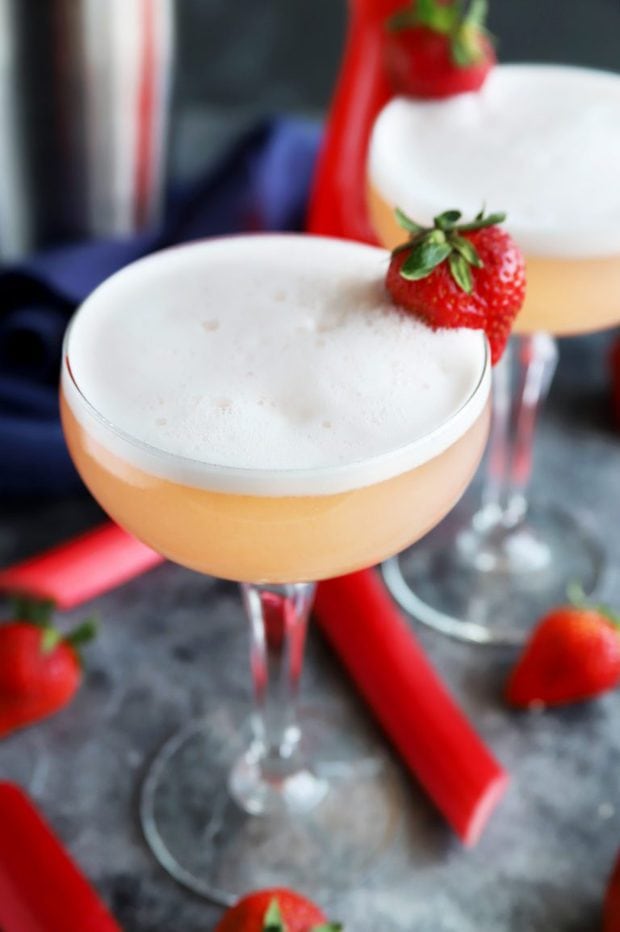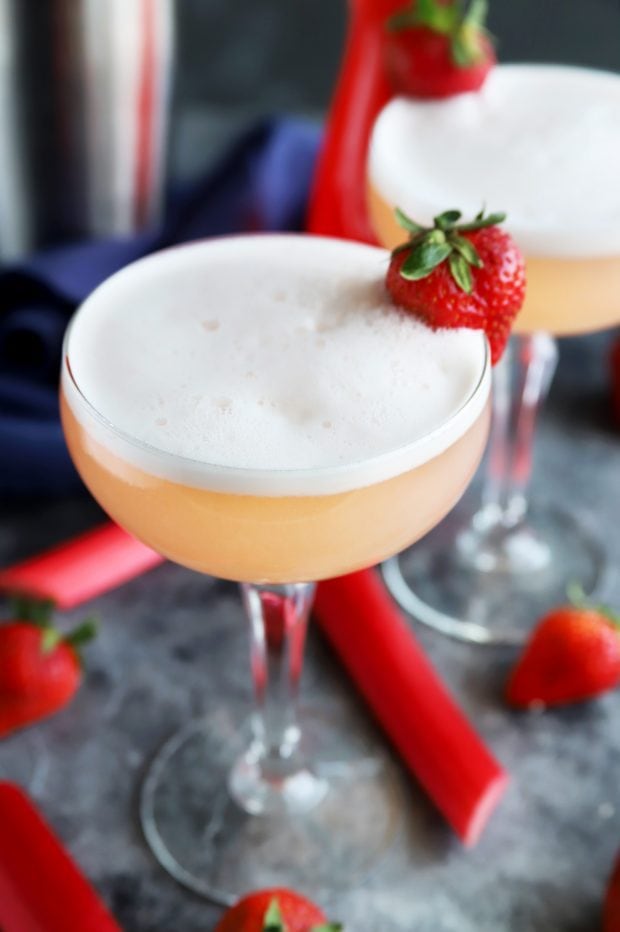 This Recipe's Must Haves
To get the look you see in this post, pick up a set of these coupe glasses to serve this elegant gin fizz in. They are super affordable and look absolutely divine. I always get compliments on them!
If you need a standard shaker for your home bar, I love to refer people to this Boston cocktail shaker. It works for any cocktail that needs to be shaken.
You'll need a cocktail strainer to pour this cocktail. Don't worry, even when you strain the cocktail, you'll still get the lovely foam top. You can always reach back into the shaker for extra foam with a bar spoon if you so wish!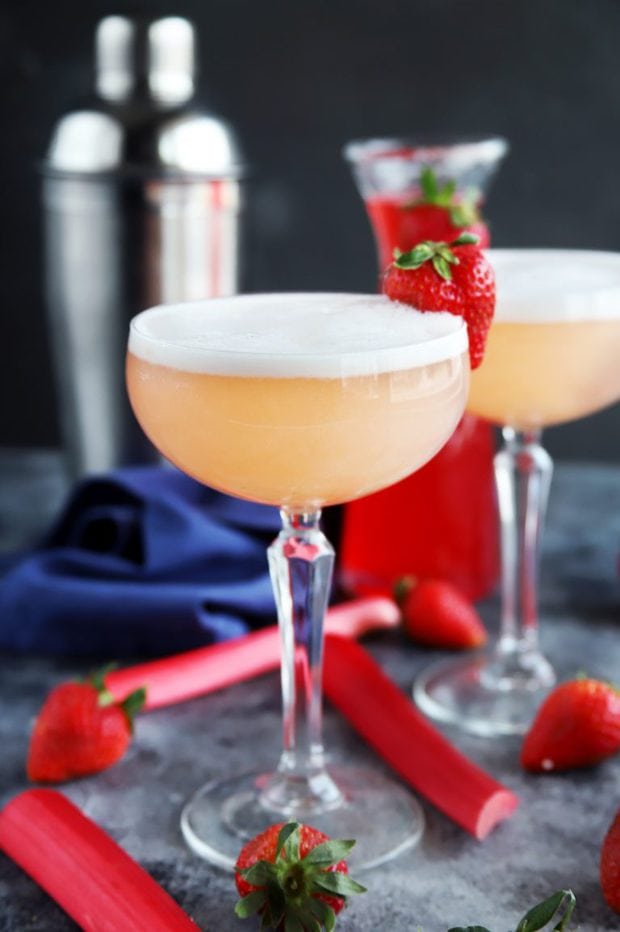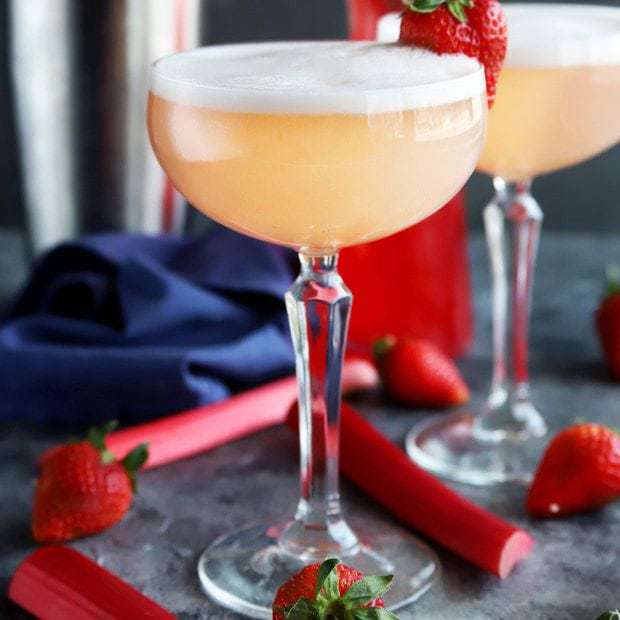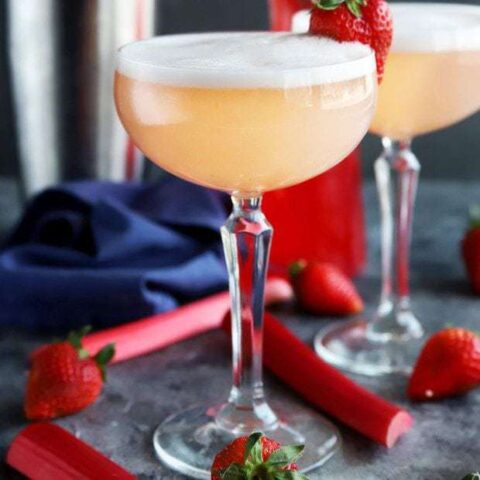 Strawberry Rhubarb Gin Fizz
Rhubarb and strawberry enhance the classic gin fizz in this cocktail recipe.
Ingredients
4 oz gin
2 oz fresh lemon juice
2 egg whites (about 1/2 oz)
2 oz club soda
Instructions
Place gin, lemon juice, Homemade Strawberry Rhubarb Simple Syrup, and egg whites to an empty cocktail shaker.
Shake for about 10 seconds.
Add a handful of ice to the shaker. Shake very well.
Strain into a chilled cocktail glass and top with club soda.
Serve immediately.
Recommended Products
As an Amazon Associate and member of other affiliate programs, I earn from qualifying purchases.