Triple Layer Chipotle Chicken Queso Nachos with Fried Jalapeños are the ultimate nachos to load up with at your football watch party. The spicy, smoky white queso covered chicken with layers of cheese, chips and fried jalapenos are just the snack everyone will love while gathered around the television. Whip up a batch and root for your favorite team!
This post has been sponsored by Frito-Lay. All thoughts and opinions are my own.
With Super Bowl LII just around the corner, it's time to start thinking about what you are going to be serving for your watch party!
Tailgating at home (aka "homegating") is one of those things that I try to perfect. As much as I would love to have a spot in the parking lot at the local football stadium for tailgating at every game, I am not a season pass holder…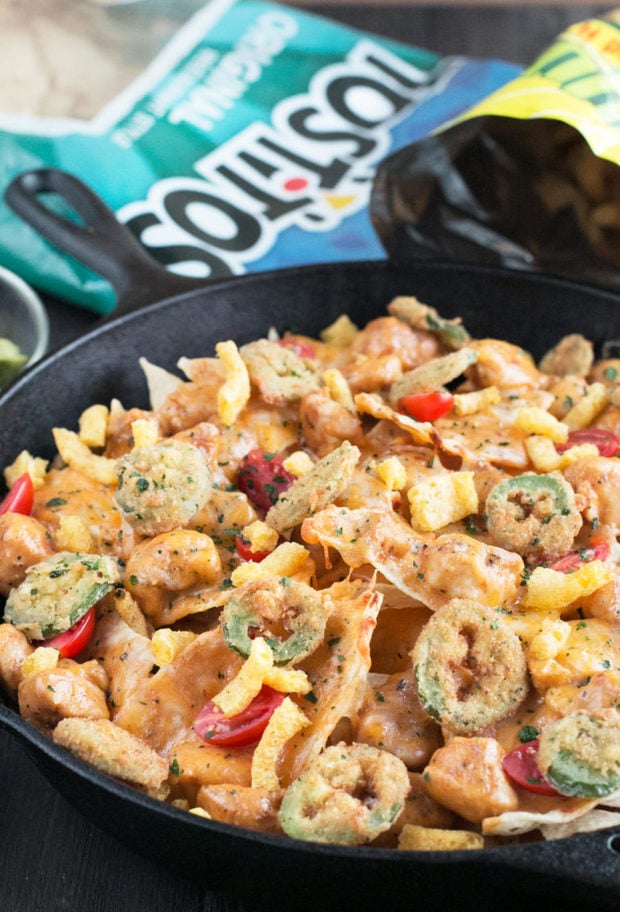 Alas I shall have to hope they come into my hands before I am too old to go, but with the waiting list being about 50 years long, I am not so sure it's happening.
So watch parties at home are the way to go! Honestly I kind of prefer it because you can enjoy all those crazy commercials, chat without being overwhelmed by loud music and cheering, and you have the best seats in the house with all your friends and family.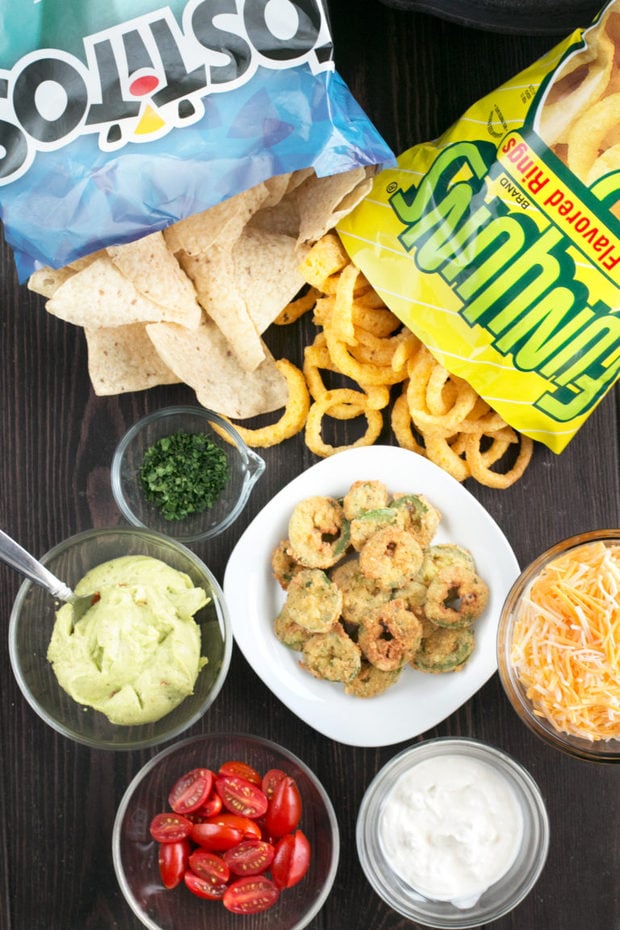 Please note that some of the links below are affiliate links. If you make a purchase through one of these links, I will receive a small commission. Thank you for supporting Cake 'n Knife!
For me, nothing says football watch party like shareable foods. From pull apart breads to chicken wings to nachos, it's all that delicious, flavorful snack food that's meant to feed a crowd that gets me drooling and in the mood for some serious FOOTBALL.
If you are anything like me, Frito-Lay products are a staple in your house. I mean, at the very least you are constantly buying those TOSTITOS® Original Restaurant Style Tortilla Chips to dip in endless flavors of salsas, guacamoles and queso dips, am I right?!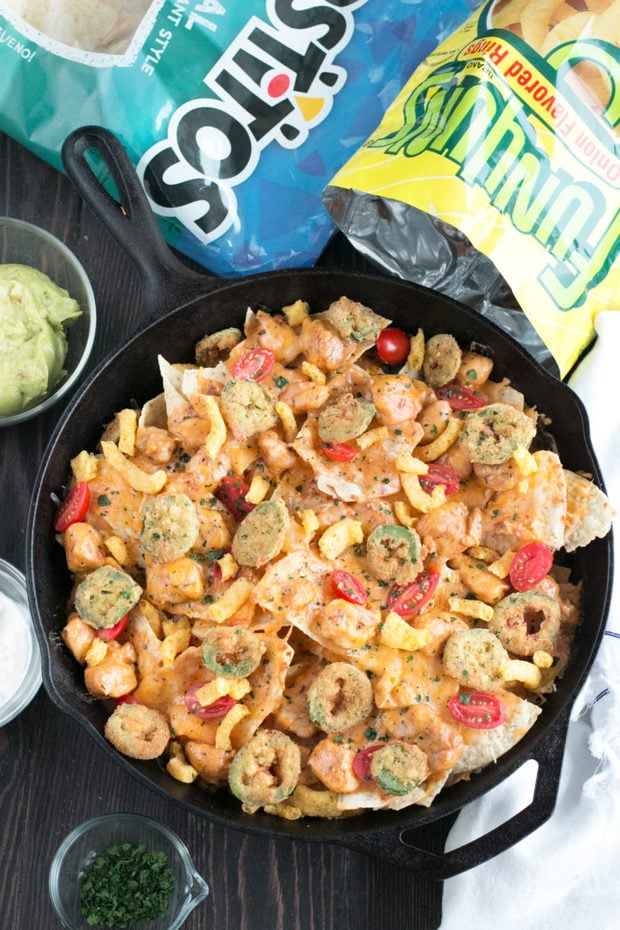 Those tortilla chips are in my house all. the. time.
They have just the right texture and flavor to make you feel like you are at your favorite Mexican spot, right in your own home!
My personal favorite thing to make with TOSTITOS® Original Restaurant Style Tortilla Chips are nachos.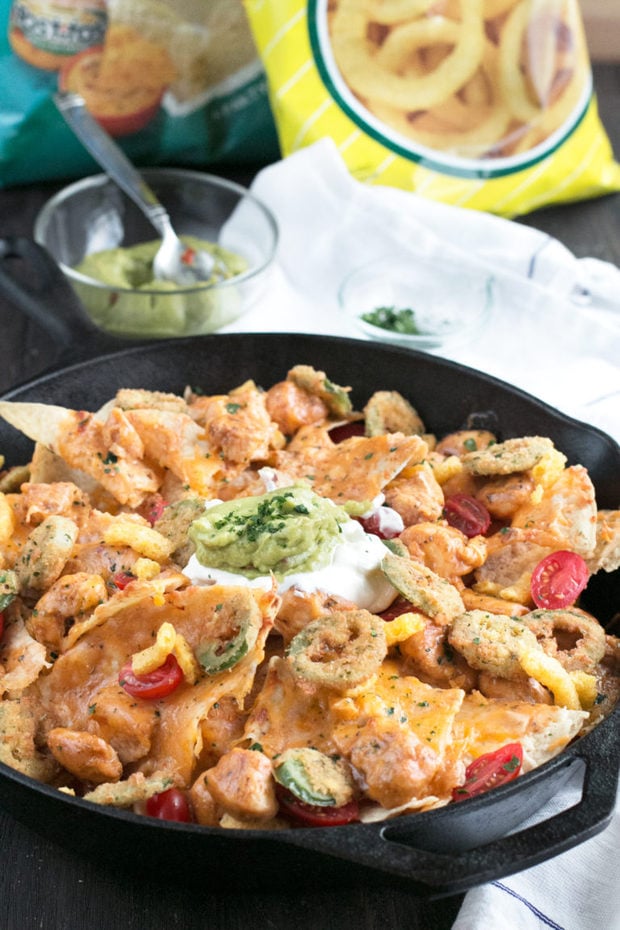 DUH.
However Super Bowl LII needs more than some plain ol' nachos. No, this kind of event needs something MUCH more.
May I introduce the best nachos you'll eat in 2018?
With two layers of TOSTITOS® Original Restaurant Style Tortilla Chips covered in cheese, plus a layer of juicy, chipotle chicken smothered in white queso, three layered nachos are the bomb dot COM.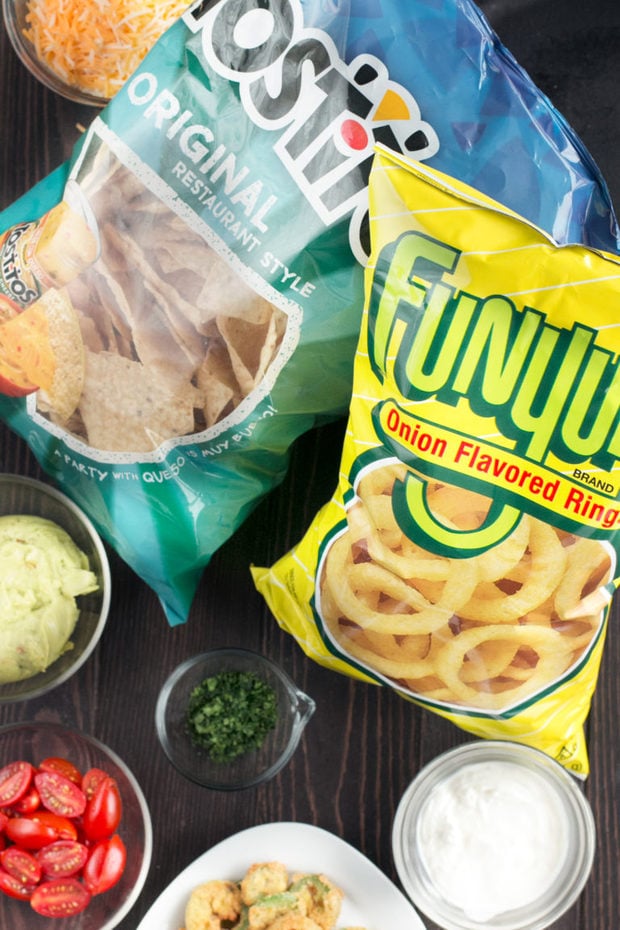 Not to mention I top this all off with homemade fried jalapenos (yea, that's right), cherry tomatoes, sour cream and guacamole!
With Frito-Lay brands in your home for Super Bowl LII, you are guaranteed to have the best watch party of your life. I mean, especially when you are topping nachos with FUNYUNS®… I'm just saying, you all are never going to enjoy nachos the same way ever again 🙂
Just watch this video, and you'll see EXACTLY what I'm talking about!
Be sure to also head over to the Frito-Lay Pinterest page for more ideas on what to make for game day! I swear some of these recipes I won't be able to wait until my watch party to try. Way too good and way too drool worthy!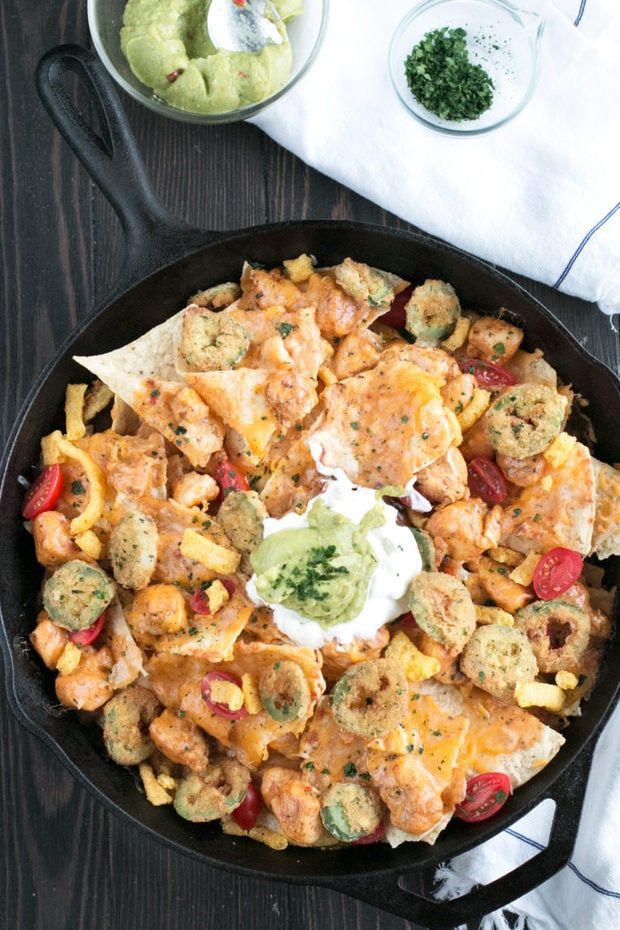 This Recipe's Must Haves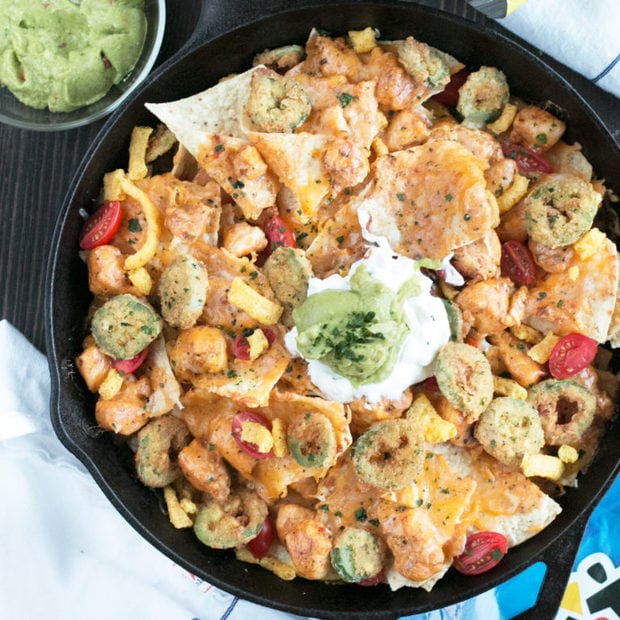 Triple Layer Chipotle Chicken Queso Nachos with Fried Jalapeños
Spicy, smoky white queso covered chicken with layers of cheese, chips and fried jalapeños... Are you drooling yet?
Ingredients
Chipotle Chicken
1/2 tsp ground chipotle chili pepper
1/2 tsp garlic powder
1/2 tsp onion powder
1/2 tsp ground coriander
1/2 tsp paprika
1/2 tsp black pepper
1/2 tsp cumin
1/2 tsp oregano
1/2 tsp salt
1/4 tsp cayenne pepper
2 tsp canola oil
2 large boneless, skinless chicken breasts, cut into 1-inch cubes
White Queso Sauce
3/4 cup milk
1 1/2 cup shredded Monterrey Jack
1 1/2 cup shredded white American cheese
1/2 tsp red pepper flakes
1/2 tsp garlic powder
1/4 tsp salt
1/4 tsp pepper
Fried Jalapeños
1/3 cup all purpose flour
1/3 cup original breadcrumbs
1 egg
2 jalapenos, sliced
Vegetable oil
Toppings
1 ½ cups shredded Mexican cheese
1 cup halved cherry tomatoes
Freshly chopped cilantro
Sour cream
Guacamole
Instructions
Preheat oven to 375 degrees F.
In a small bowl, stir together spices for the chicken. Add spices and cubed chicken to a large bowl. Toss to coat. Set aside.
Heat skillet over medium-high heat. Add canola oil and once hot, add chicken. Cook until chicken is golden brown and cooked all the way through. Remove from heat and set aside.
In a medium saucepan, heat milk for the queso over medium heat until simmering. Stir in cheeses, red pepper flakes, garlic powder, salt and pepper. Cook over medium heat until the cheese is melted. Pour the queso over the cooked chicken and stir to coat. Keep warm on low.
For the fried jalapenos, add breadcrumbs to one small bowl and egg to another small bowl. Lightly beat egg with a fork. Dredge the slices of jalapeno in breadcrumbs, then egg, then breadcrumbs again. Add to a clean plate. Add vegetable oil to a small skillet over medium-high heat until approximately 1-inch deep. Once hot, add the dredged slices of the jalapenos. Fry until golden brown, approximately 1 to 2 minutes per side. Remove to a paper towel lined plate. Set aside.
In a large cast iron skillet, spread a layer of TOSTITOS® Original Restaurant Style Tortilla Chips. Top with one-third of the shredded cheese. Spread another layer of TOSTITOS® Original Restaurant Style Tortilla Chips and another third of the cheese. Top with queso chicken and the final third portion of the cheese.
Bake for 15 to 20 minutes.
Top with cherry tomatoes, fried jalapenos,

FUNYUNS®

, and cilantro. Serve with sour cream and guacamole.