Please note this post contains affiliate links.
Pumpkin Spice Beignets with Salted Caramel Drizzle are the fluffy pumpkin breakfast you've been looking forward to all summer long. These melt-in-your-mouth beignets are topped with a decadent salted caramel sauce so you can go ahead and treat yo'self.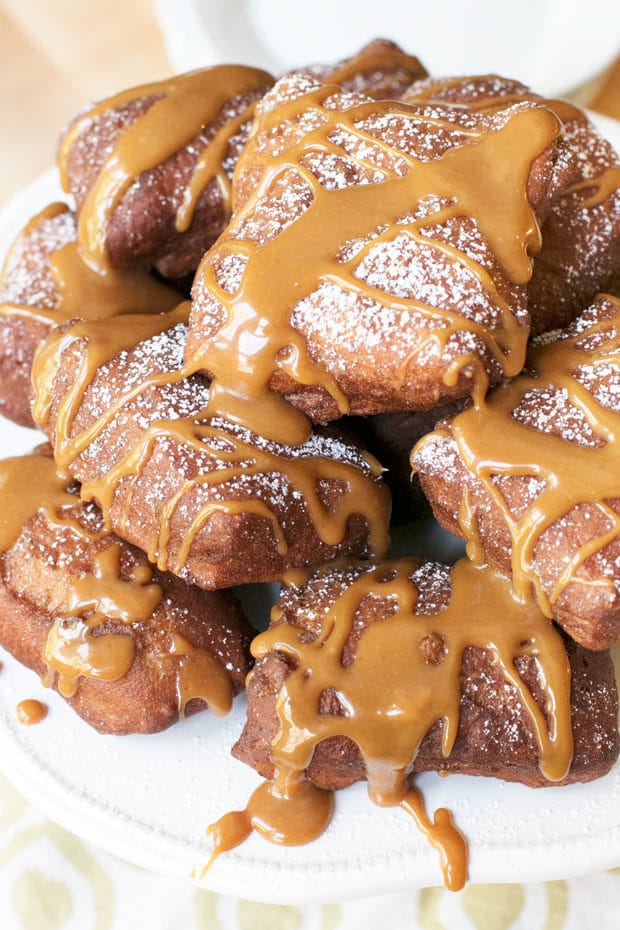 Oh hiiiii there… I made you breakfast this morning, and I'm pretty dang sure you're gonna want in on this. It's pumpkin spice everything season and even though I'm not a PSL junkie, I do love my pumpkin spice fix right about now.
You all know what I'm talking about – you wait for it all summer long so when September rolls around, you are READY.
I have been feeling this more and more as I get older. Perhaps it's because I'm getting hotter in the summer? Or maybe it's just because I want to be buried under blankets FOREVER all the time?
All I know is that I am SUPER ready for the chilly weather, pumpkin and apple things, and all the bonfires and hot cider.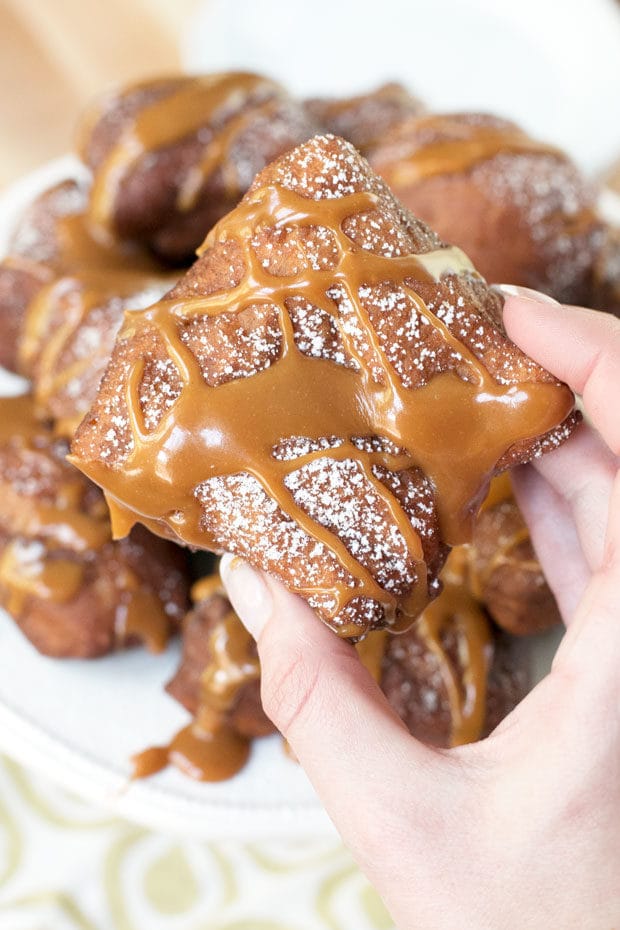 Now I've never been to New Orleans to have the most amazing beignets in the entire world, but there is a place here in Denver called Lucile's that I'll hit if I really want to treat myself to an epic brunch. Their beignets are these light, fluffy pillows of magic that you literally cannot stop shoveling them into your mouth. So I had to make some at home, but instead of the the regular beignets, I wanted something that would send me right into fall mode.
The leaves might not be turning yet, but if PSLs are being served at Starbucks, that means only one thing…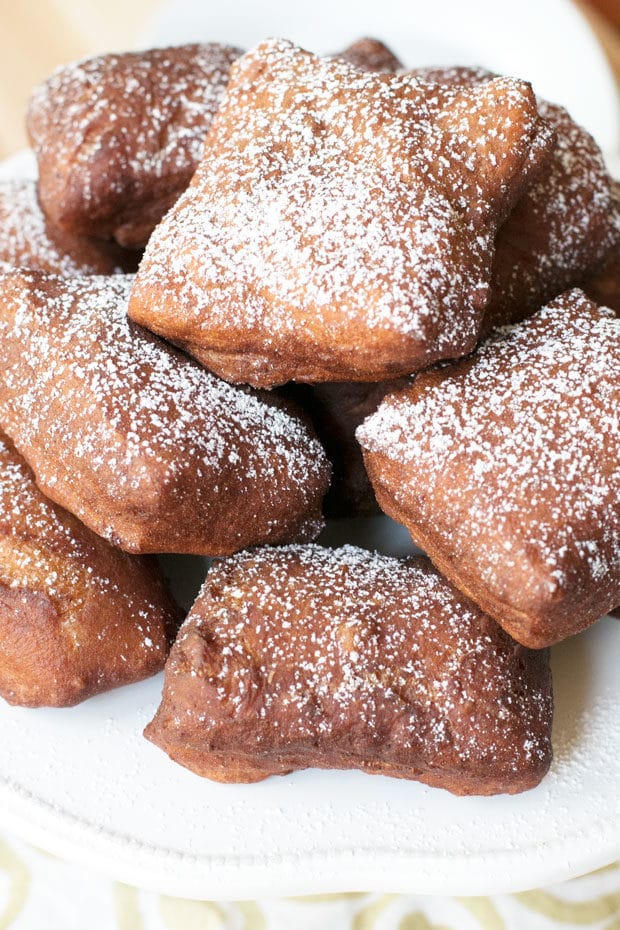 All the pumpkin spice things! They melt in your mouth with every bite, and have just the right amount of sweetness to start your day off right. Then I went ahead and drizzled some salted caramel over all of it, because why not? The salted caramel gives just the right contrast to the sweetness in the beignets…It's everything you could ever want to wake up to on a September morning.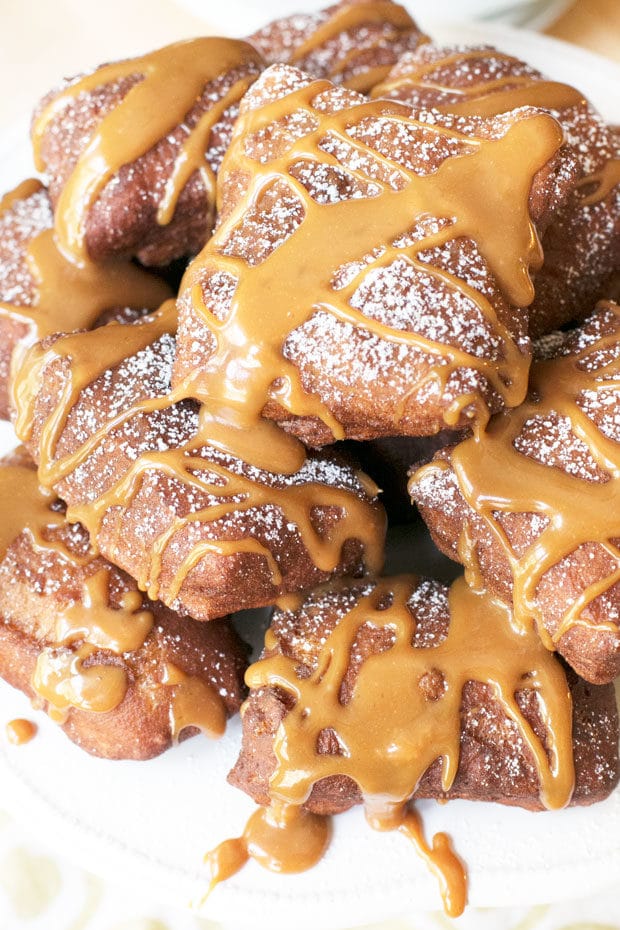 Just so YES. It's time to start putting on that extra holiday weight early… isn't it? Now pass the coffee and let's pretend like today isn't Tuesday.
This Recipe's Must-Haves
Compared to some of my other recipes on the site, this recipe is a wee bit more involved in terms of equipment. To start, you'll need a saucepan to make the dough and also one to make the salted caramel drizzle that goes on top.
A set of mixing bowls (the largest bowl specifically) is what will allow you to finish making the dough.
I love rolling out the dough on a marble pastry board with a marble rolling pin because it makes it so much easier!
You'll also need a large pot or a dutch oven to fry up these beignets, as well as a spider strainer to easily remove them to paper towel-lined plates.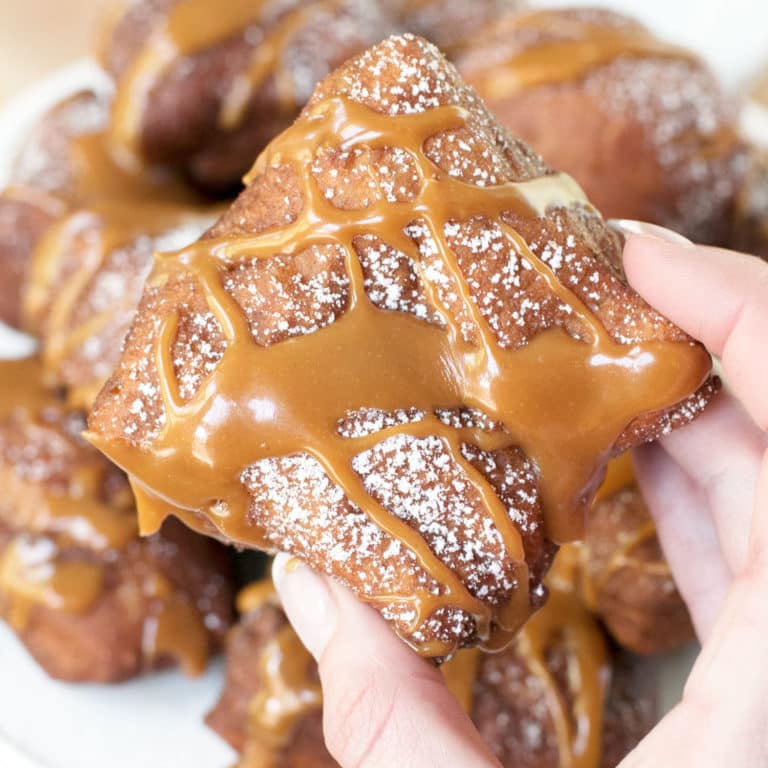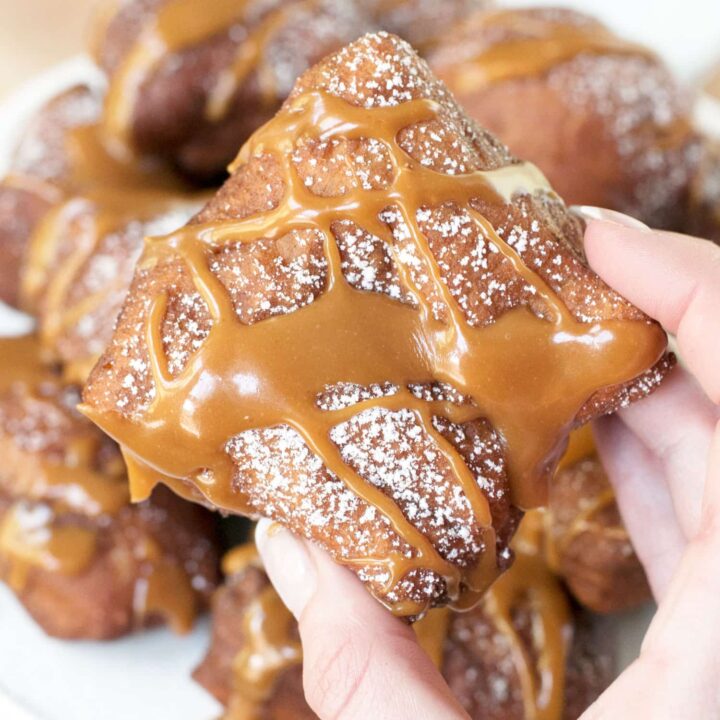 Pumpkin Spice Beignets with Salted Caramel Drizzle
Additional Time:
1 hour
5 minutes
Total Time:
1 hour
35 minutes
Pumpkin spice and everything nice goes into these insanely addictive fluffy beignets! The sauce on top just makes them totally swoon-worthy.
Ingredients
3/4 cup milk
1 1/2 cups buttermilk
3 tsp rapid rise yeast
3 Tbsp sugar
3 1/2 cups flour
1/2 tsp baking soda
2 tsp ground cinnamon
1 1/2 tsp ground ginger
1 1/2 tsp ground nutmeg
1/2 tsp ground allspice
1/2 tsp ground cloves
1/4 tsp salt
Canola oil
Salted Caramel Drizzle
1/2 cup sugar
3 Tbsp unsalted butter
1/3 cup heavy cream
1 tsp salt
Confectioners' Sugar
Instructions
In a medium saucepan over medium heat, warm milk until it begins to simmer. Stir in buttermilk and pour the mixture into the bowl of a stand mixer fitted with a dough hook. Stir in year and sugar, let rest 5 minutes.
Add flour, baking soda, salt and spices to the bowl. Mix on low until the dough comes together, approximately 3 to 4 minutes. Cover tightly with plastic wrap and let rise for an hour.
In a deep, heavy bottomed pan, heat 2 inches of canola oil to 375 degrees.
Turn out dough on a floured, flat work surface. Roll dough out to 1/2 inch thickness and cut into 1 1/2 to 2 inch squares.
Working in batches, fry the beignets in groups of 4 or so, cooking until golden brown, approximately 2 to 3 minutes. Remove with a slotted metal spoon to a paper-towel lined baking sheet.
To make the caramel sauce, heat sugar for the caramel in a medium saucepan over medium heat, stirring constantly. Once it becomes a liquid and turns amber in color, add butter, stirring carefully until melted as it will bubble up! Gently add heavy cream, stirring constantly carefully (it'll bubble up again!). Allow to boil for 1 minute and then remove from heat.
Stir in the salt and cool slightly before using.
When ready to serve, dust with confectioners' sugar and drizzle over salted caramel.
Recommended Products
As an Amazon Associate and member of other affiliate programs, I earn from qualifying purchases.