Southwestern Avocado Egg Rolls have all the classic southwest flavor you love and are the crispy, spicy snack you won't be able to resist.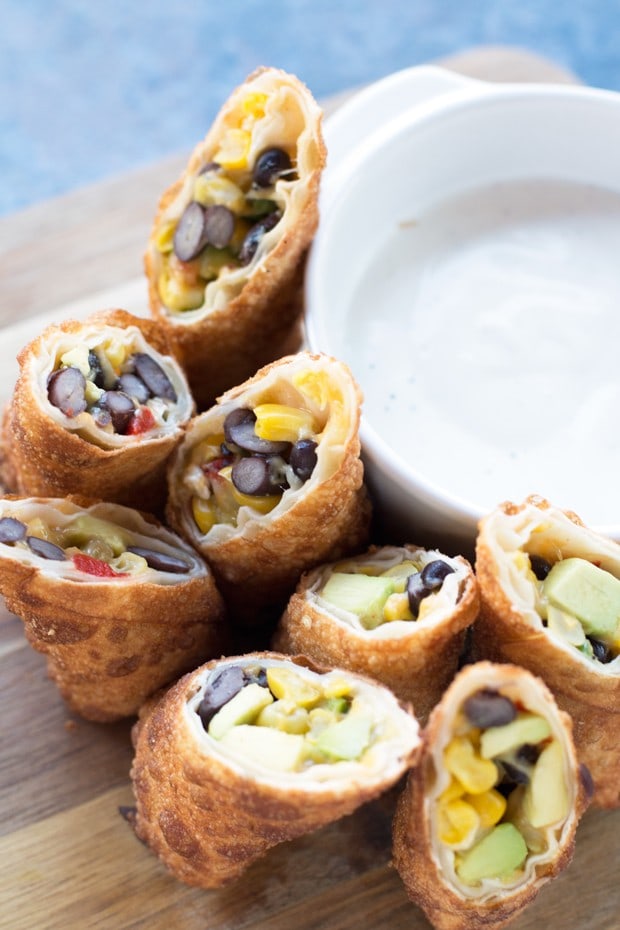 So you want to know a fun little habit I've recently picked up?
Procrastination.
If you know anything about me and my occasionally OCD self, you know that procrastination is not in my vocabulary. Or at least it wasn't until now. I used to never understand how anyone could put off what could just be taken care of right now!
Apparently a switch flipped in the past few months because procrastination is my new favorite thing, but only in one area. My blog. Last week was a beautiful example because I posted…. NOTHING. *face palm* I've kind of been stressing about it all weekend to be honest. Granted I was at Eat, Love, Sandals in Jamaica meeting amazing blogger friends and learning so much from each of them. Still, I didn't open up my laptop once (for shame, I know).
Well I'm paying for that procrastination now with a mountain of work. Thankfully I actually got back in the yesterday so I could bring you this mouthwatering southwestern avocado egg roll recipe! I went with comfort food because nothing else was going to get me back in the kitchen.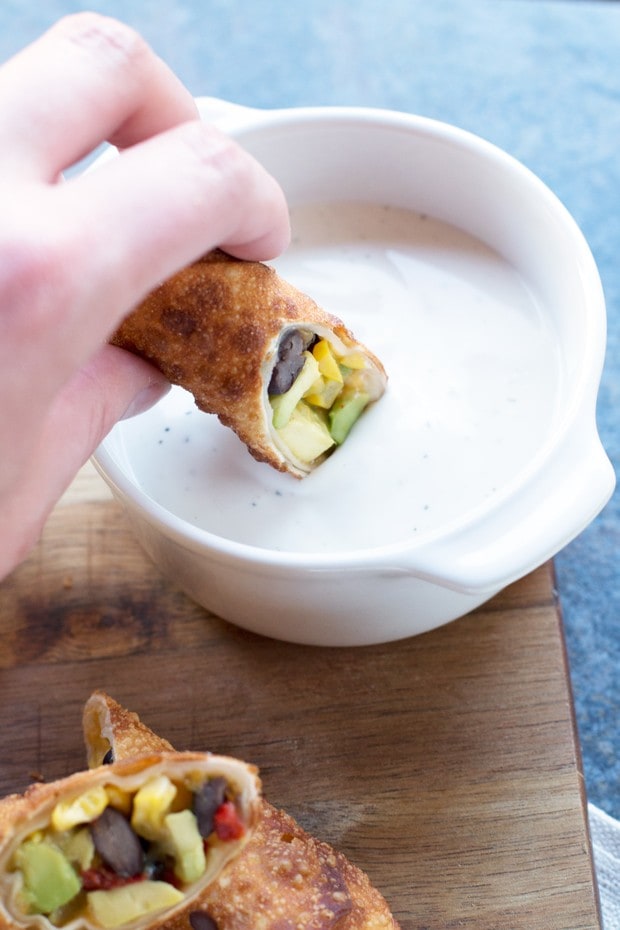 You all know about my love affair with avocado… I've finally graduated from only making guacamole! Aren't you proud?
Southwestern avocado egg rolls are hands down my favorite egg roll I've ever made. I've packed them with avocado, jalapeno, corn, roasted red peppers and black beans so you get spicy, sweet, and savory flavors with a ton of texture. I dunk mine in a heaping bowl of ranch (it's easy and tastes SO good), but you can liven up that ranch dressing by adding an avocado, blended until smooth.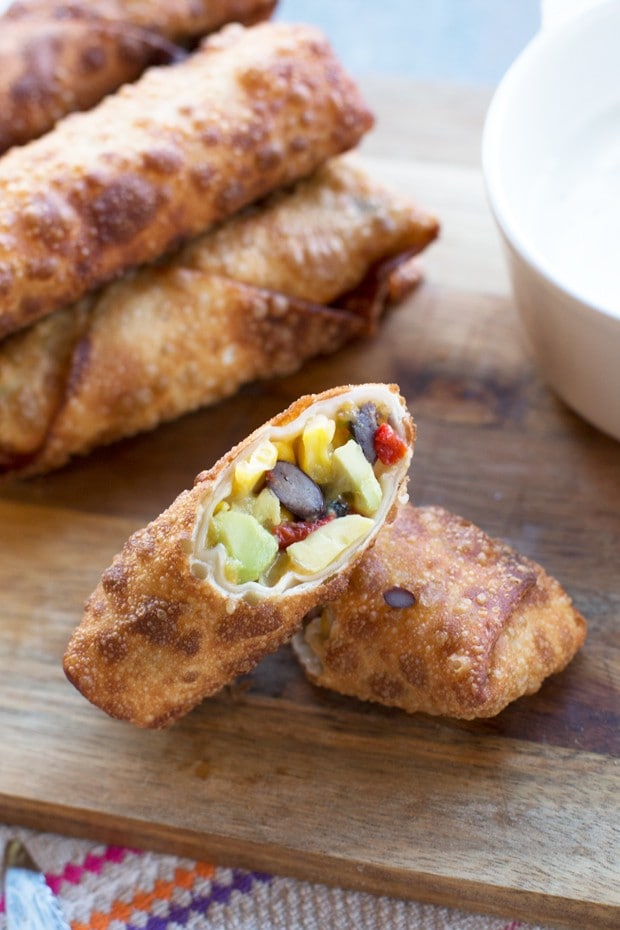 In my world, there's no such thing as avocado overload. Just saying…
You missed me a little, didn't you….? I know you did. 😉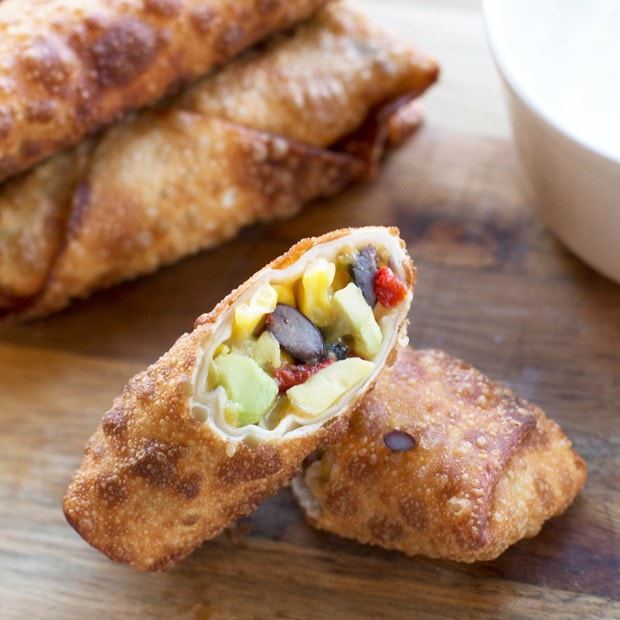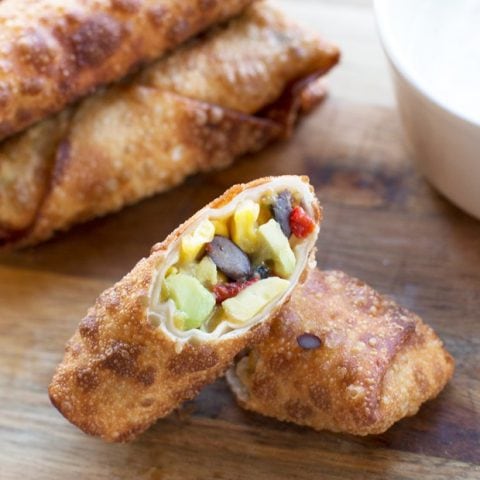 Southwestern Avocado Egg Rolls
Yield:
15 to 18 egg rolls
Packed with black beans, corn, avocado and jalapeño, these crispy and spicy egg rolls are irresistible.
Ingredients
15-18 egg roll wrappers
1/3 cup corn (frozen and thawed, or canned and drained)
1/3 cup canned black beans, drained (I prefer to buy the seasoned kind)
1/4 cup roasted red peppers, chopped
1 avocado, pitted and chopped
1 jalapeno, seeded and diced
1/8 tsp garlic powder
1/8 tsp cayenne pepper
1/8 tsp cumin powder
1/8 tsp salt
3/4 cup shredded cheddar jack cheese blend
1 Tbsp cornstarch
1/4 cup cool water
Ranch dressing for serving
Instructions
In a large bowl, combine corn, black beans, red peppers, avocado, jalapeno, spices and cheese. Gently stir to combine.
To wrap your egg rolls, start with a clean, flat surface. Lay one wrapper so one of the corners is facing you (like a diamond). Dip your fingers in the cornstarch water and spread on each edge of the egg roll wrapper. In the corner closest to you, spoon 1 to 1 ½ Tbsp of the filling into the center. Lift the bottom corner up and begin to roll away from you, making sure you tuck the corner under as you roll. Once you are halfway up the wrapper, fold in the left side and then the right side towards the center. Continue rolling away from you until only the final corner is ready to roll. Dip your fingers in the cornstarch and water mixture you made earlier and brush it over the final corner. Finish the roll, brush a little more of the cornstarch mixture along the seam, and place seam-side down. Make sure you roll the egg rolls tightly. If they are too loose, they will fall apart when you fry them.
To fry the egg rolls, fill a pot with 4-5 inches of cooking oil. Heat the oil to 350 degrees. Gently add the egg rolls to the hot oil, frying no more than 3 or 4 at a time, turning occasionally. Fry until the egg rolls are golden brown on all sides, approximately 2 minutes. Place on paper towels to drain and cool.
Serve immediately with ranch dressing.