Sun-Dried Tomato Carbonara from Thug Kitchen 101 is a brilliantly simple, complex meal that comes together in 20 minutes. It's great for a Meatless Monday dish or whenever you are craving a good carb fest but don't have a ton of time.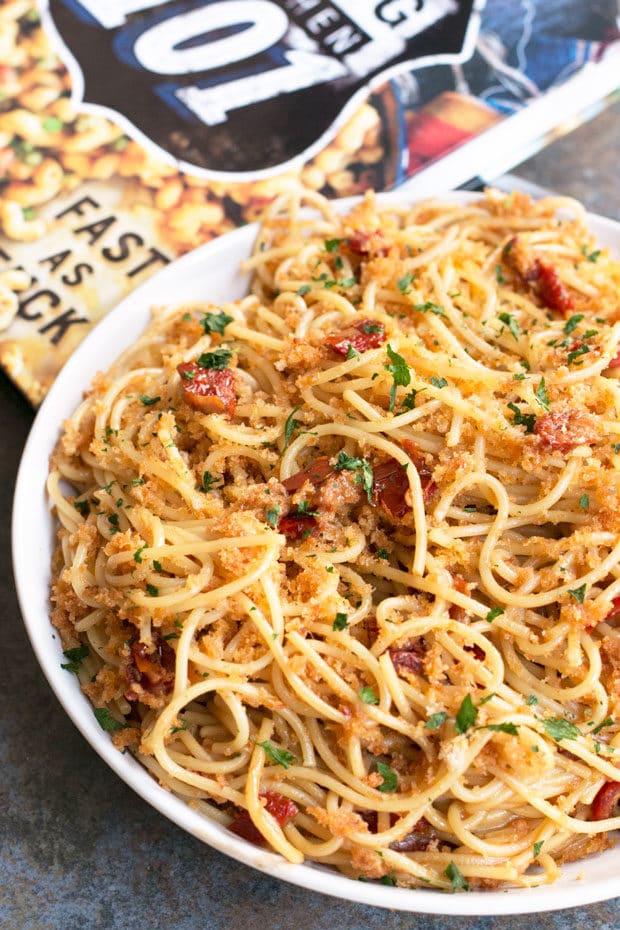 I remember the first time I ever saw a Thug Kitchen cookbook. I was browsing a bookstore, trying to find a good cookbook for a friend who doesn't always have a ton of time to cook and likes pretty straightforward stuff. The cover of their first cookbook caught my eye and after the first page I was hooked.
I ended up buying it for my friend… and another copy for myself. The plant-based bloggers over at Thug Kitchen are one of the few who have a truly intense voice.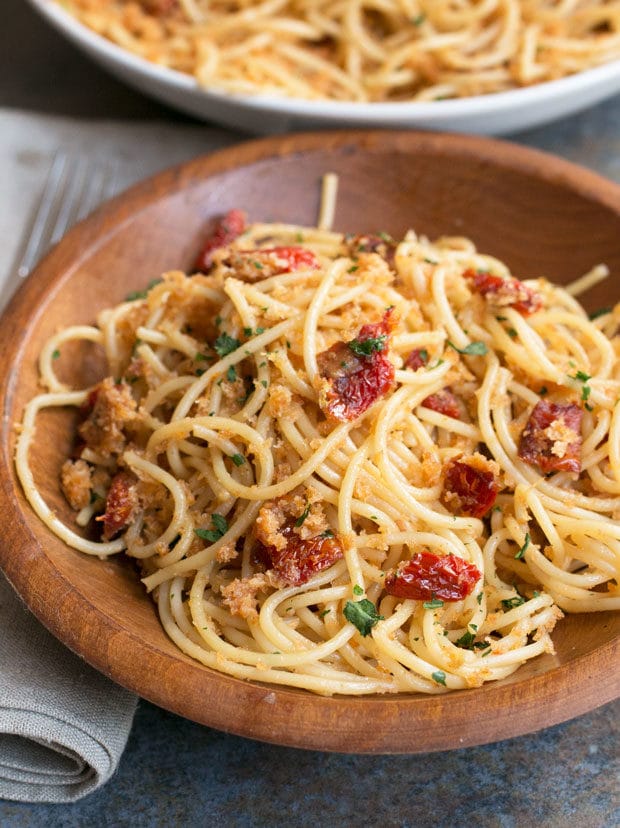 You KNOW when you are reading a recipe from Thug Kitchen. It's straightforward, unapologetic and perfectly conversational – with all the cursing that us food bloggers usually try to edit out of our daily posts.
When I saw that Thug Kitchen was coming out with their third cookbook, I was obviously excited. Nothing could have prepared me for the awesomeness that is this book though. Not only is it hilarious and approachable, it's mostly one-pot quick healthy (yes actually healthy) dishes that will get you on track with eating better.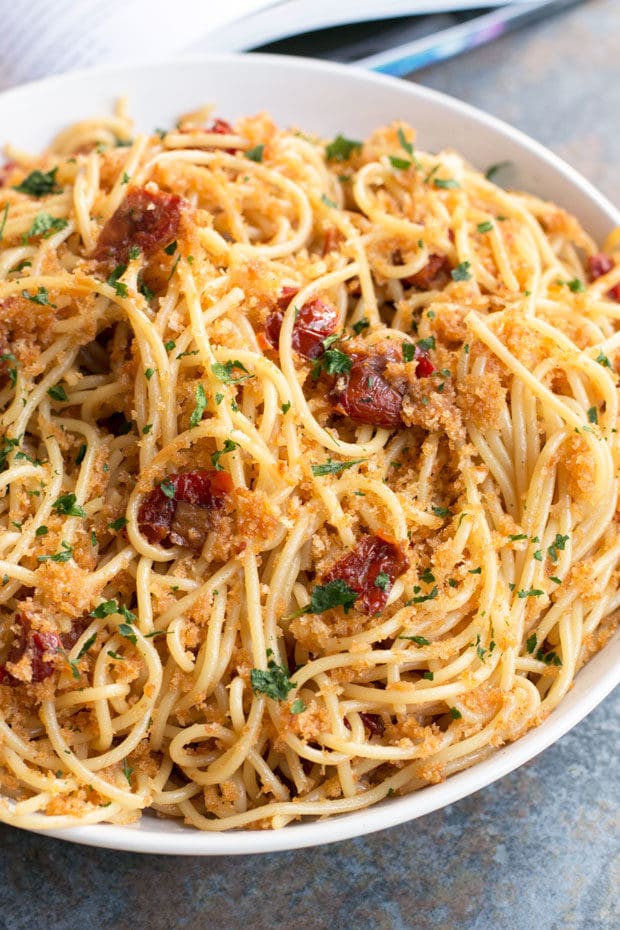 Except you won't feel like you are shoving kale and chia seeds down your throat every meal. Instead, this cookbook embraces plant-based recipes without seeming too "holier than thou" or expecting you to hit the health store for obscure ingredients.
For the rare obscure ingredient, you can find it hilariously explained in a section of the book in the back.
The recipe I had to try first was this Sun-Dried Tomato Carbonara. No, it is not a true carbonara, but you won't give a crap about the technicality once you take that first bite (and it's SO much easier to nail perfectly than a traditional carbonara!). The rehydrated sun-dried tomatoes pack a punch of flavor and the panko pasta topping (you'll have to pick up the book to get in on THAT deliciousness) gives some crunch texture to liven the whole thing up.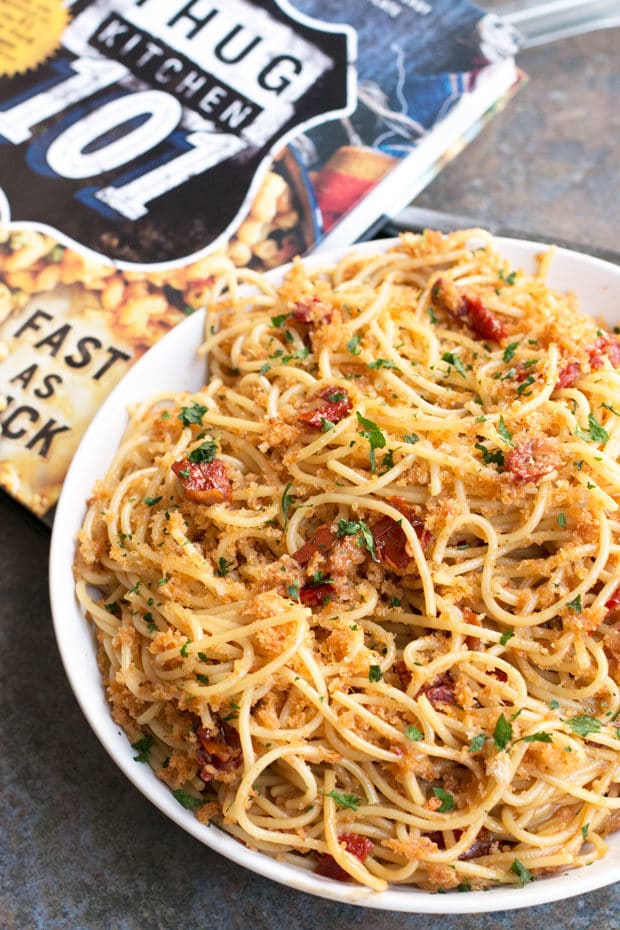 Thug Kitchen 101 is on sale now! It hit stores today so make sure you grab it ASAP. Your palate and your belly will thank you, I promise.
Disclosure: I received a complimentary copy of Thug Kitchen 101 in exchange for an honest review. As always, all opinions are my own!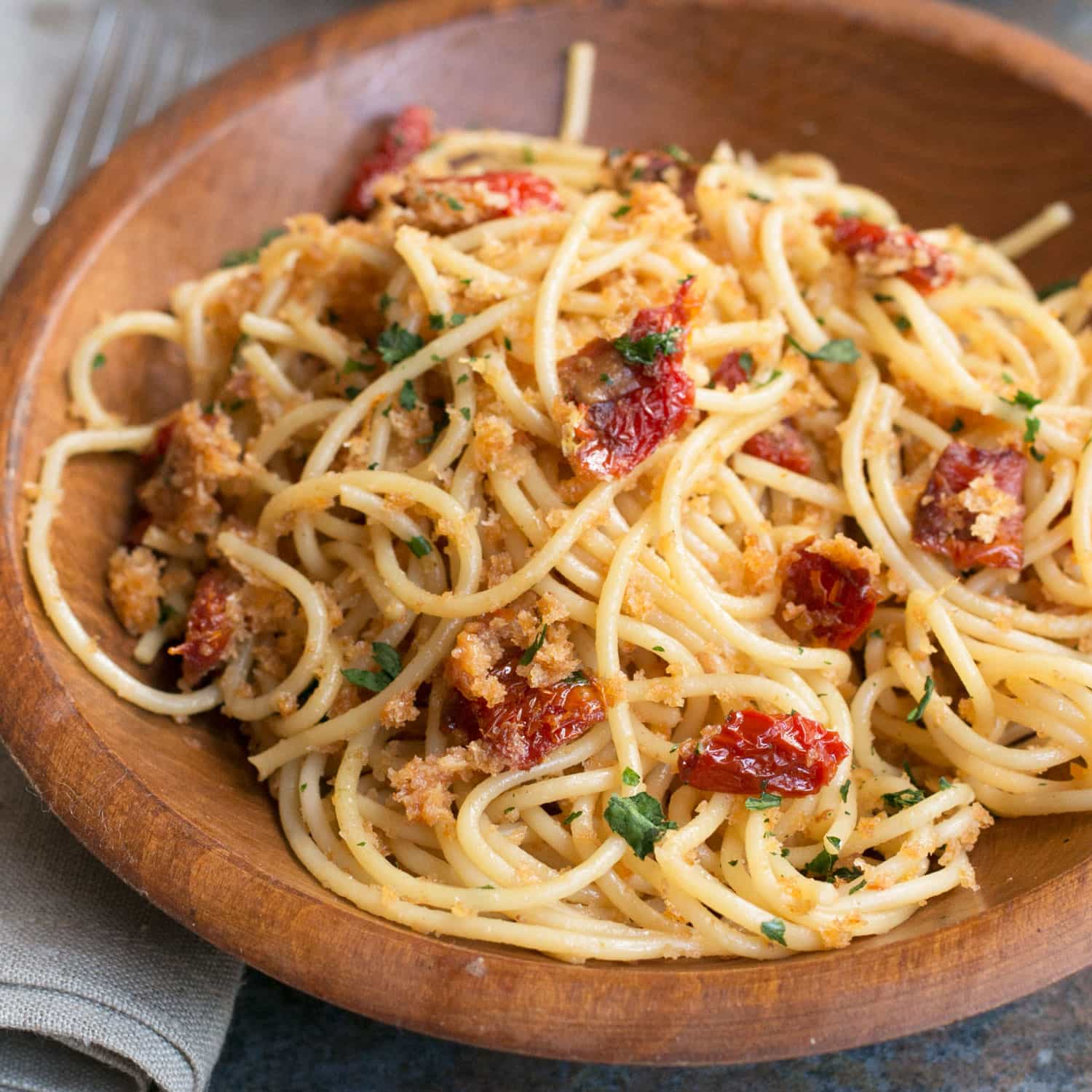 Sun-Dried Tomato Carbonara
We know you're looking a these ingredients and thinking, "Where the fuck do they get off calling this carbonara?" PREPARE TO BE KNOCKED ON YOUR ASS.
Ingredients
1/2 cup chopped sun-dried tomatoes
1/4 cup warm water
1 Tbsp red wine vinegar
1 Tbsp soy sauce
2 Tbsp liquid smoke
1/4 tsp garlic powder
1 lb noodley pasta, such as spaghetti
1 Tbsp cornstarch
2 Tbsp cold water
2 Tbsp nooch (nutritional yeast)
2 Tbsp olive oil
1 cup Panko Pasta Topping
Chopped parsley
Instructions
Make the smoky tomatoes: throw the sun-dried tomatoes, warm water, vinegar, soy sauce, liquid smoke and garlic powder all together in a bowl. Make sure the tomatoes are mostly covered and let that shit rehydrate while you cook the pasta.
Make the pasta: in a big-ass pot of boiling water, cook the pasta according to the package instructions.
Meanwhile, in a small glass, mic together the cornstarch and cold water until the cornstarch is all dissolved and there aren't any chunks.
When the pasta is done cooking, drain that shit but save 1 cup of the starchy pasta water. Pour the pasta water into the cornstarch mixture and whisk in the nooch until everything is mixed up and you remain chunk free.
Throw the same big pot you cooked the pasta in back on the stove and warm up the olive oil over medium heat. Fish out the rehydrated tomatoes from the marinade with a fork and toss them into the pot. Stir them around so they get a chance to warm and firm up for a bit, about 2 minutes. Fold in the cooked pasta and drizzle over the cornstarch mixture. Stir that around for about 30 seconds and you'll see it start to thicken up a little and start coating the noodles. Remove from the heat and fold in the panko pasta topping. Serve that shit right away and top with some parsley if you're feeling fancy.
Buy the Thug Kitchen 101 cookbook for yourself by clicking below!

Pin this Sun-Dried Tomato Carbonara recipe for later!