Please note this post contains affiliate links.
Stir Fry Pasta is my new favorite way to dish up a classic meal and ditch the takeout. This healthier pasta is the ideal flavorful weeknight meal the whole family will drool over.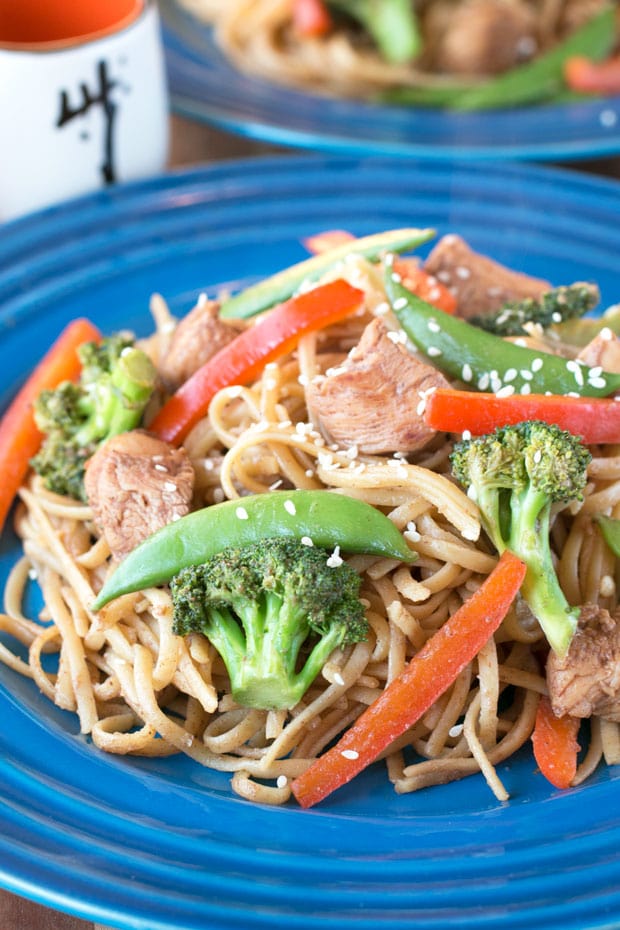 When you start out a new year, it's kind of impossible to resist the temptation to hop on the "diet train"… So often I will find myself eating super healthy out of nowhere and then about a week later I'm starving, grumpy and shoveling chips into my mouth by the handful.
Suffice to say I've learned my lesson, especially since that one time my friend Jen and I tried the detox from HELL that we could only make it a few days into before realizing that it just wasn't worth the pain and unhappiness of not enjoying GOOD food.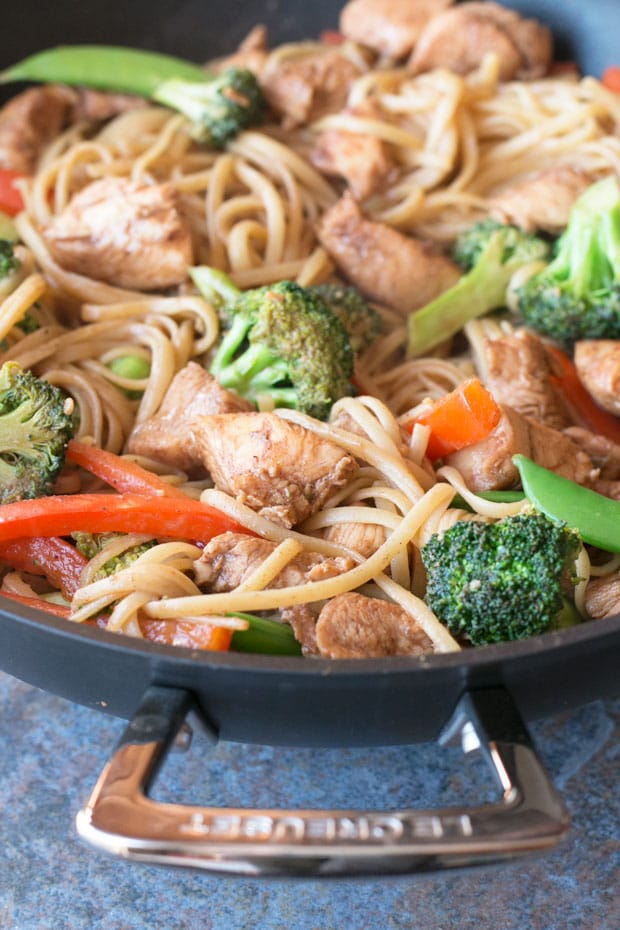 I swear I've never been so freaking grumpy in my life. The burger I ate when I broke the cleanse is still one of the best I remember eating, like, EVER.
So instead of pushing my body the brink of healthy exhaustion, I am taking all things in moderation and lightening up meals where I can.
Stir Fry Pasta is the prime example of my favorite lightened up dish of the new year. Instead of loading up my pasta with a heavy meat sauce and all the cheeses, I'm using a healthy and colorful stir fry to enhance my noodles! I modified my favorite stir fry recipe and created this pasta version in its honor.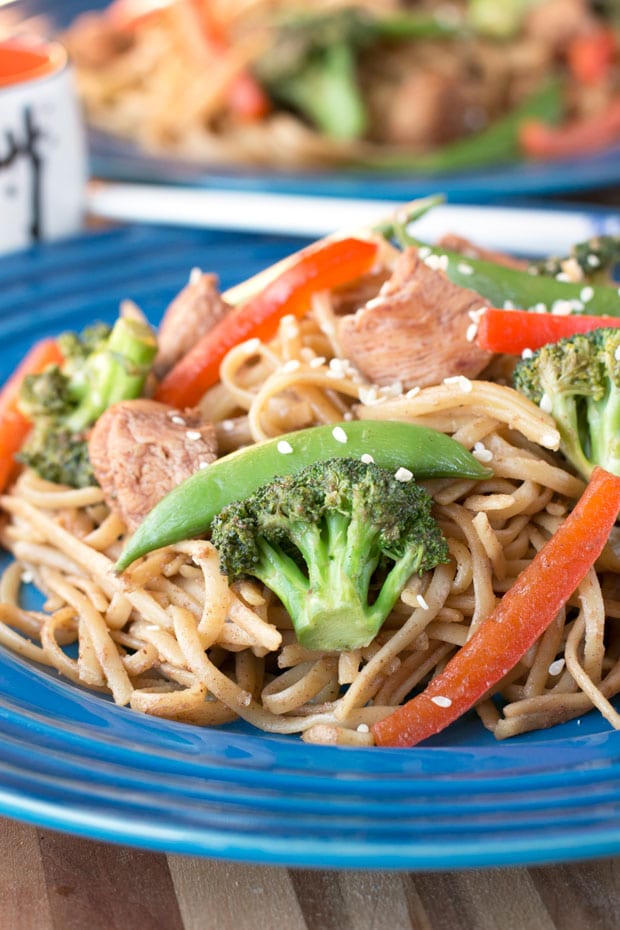 Trust me when I say, the magic is in the sauce. There's so much flavor that gets into the chicken when you marinade it, and then the marinade turns into the sauce for the whole noodle dish to really amplify the savory umami flavor.
I used to make my stir fry in a regular ol' pan when I was without a wok, but the moment this Le Creuset Stir-Fry Pan entered my life, it's all I can cook my stir fry dishes with. Not to mention fried rice, simmering meats and anything else you can think of to use it with. The non-stick surface makes it a dream to clean and the entire pan holds in the heat so everything cooks that much faster. Plus it's lightweight so I don't have to haul around a giant heavy pan all over my kitchen. With as much cooking as I do, that's a miracle in my book.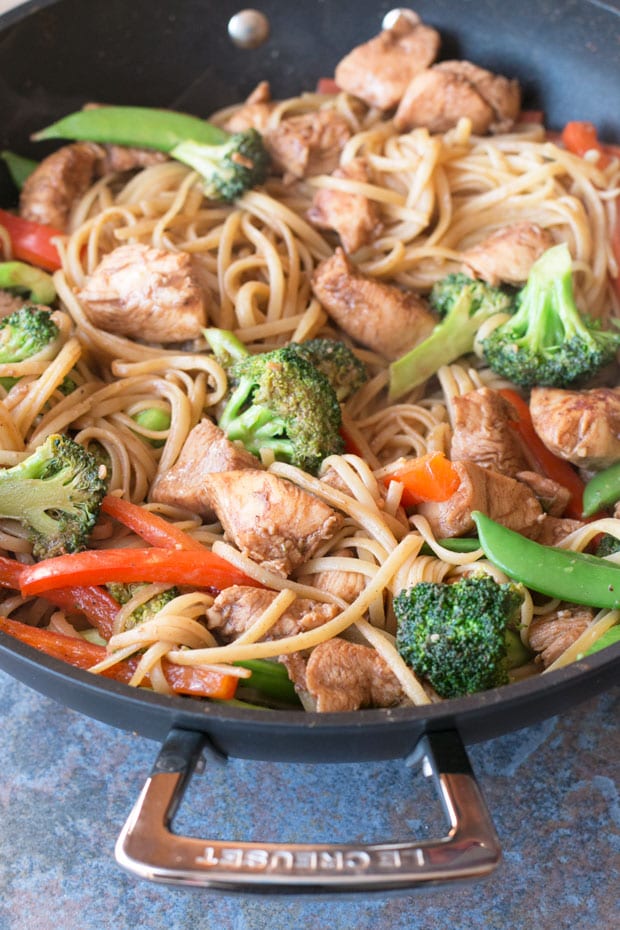 To start your cooking year off the right way, Le Creuset is giving away one of their killer stir-fry pans to one lucky Cake 'n Knife winner! They're also being oh-so generous and adding four dinner plates from the Le Creuset dinnerware collection to bring extra color and vibrancy to your dinner table.
I've been obsessed with these plates since they were released. I mean just LOOK at that gorgeous color… The food jumps off the plate!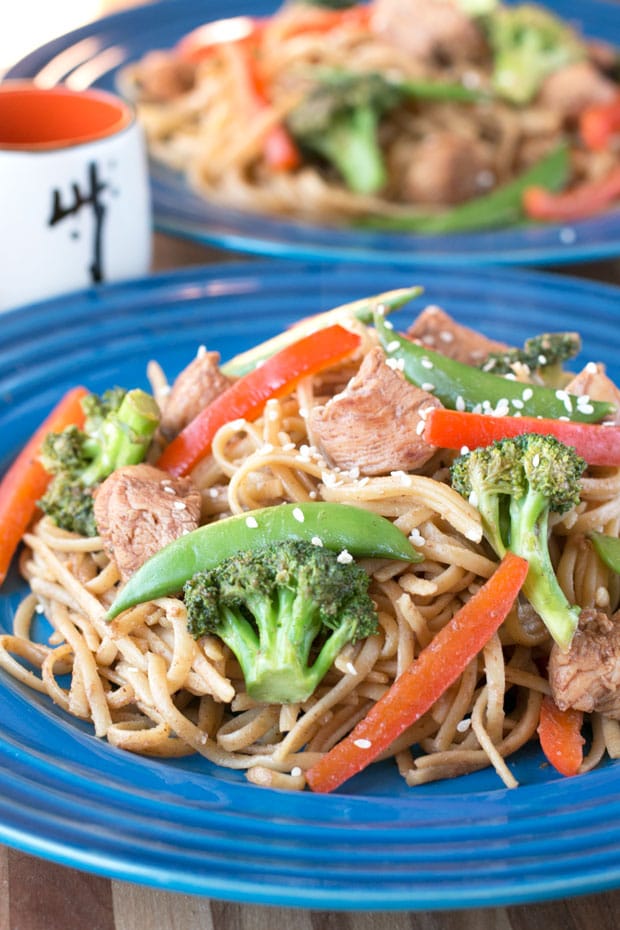 Enter the giveaway below the recipe and be sure to pin this killer pasta to cook up next week for dinner!
Disclosure: I received free product from Le Creuset as part of this giveaway and post. As always, all opinions and recipe are my own. Thanks for supporting the brands that support Cake 'n Knife!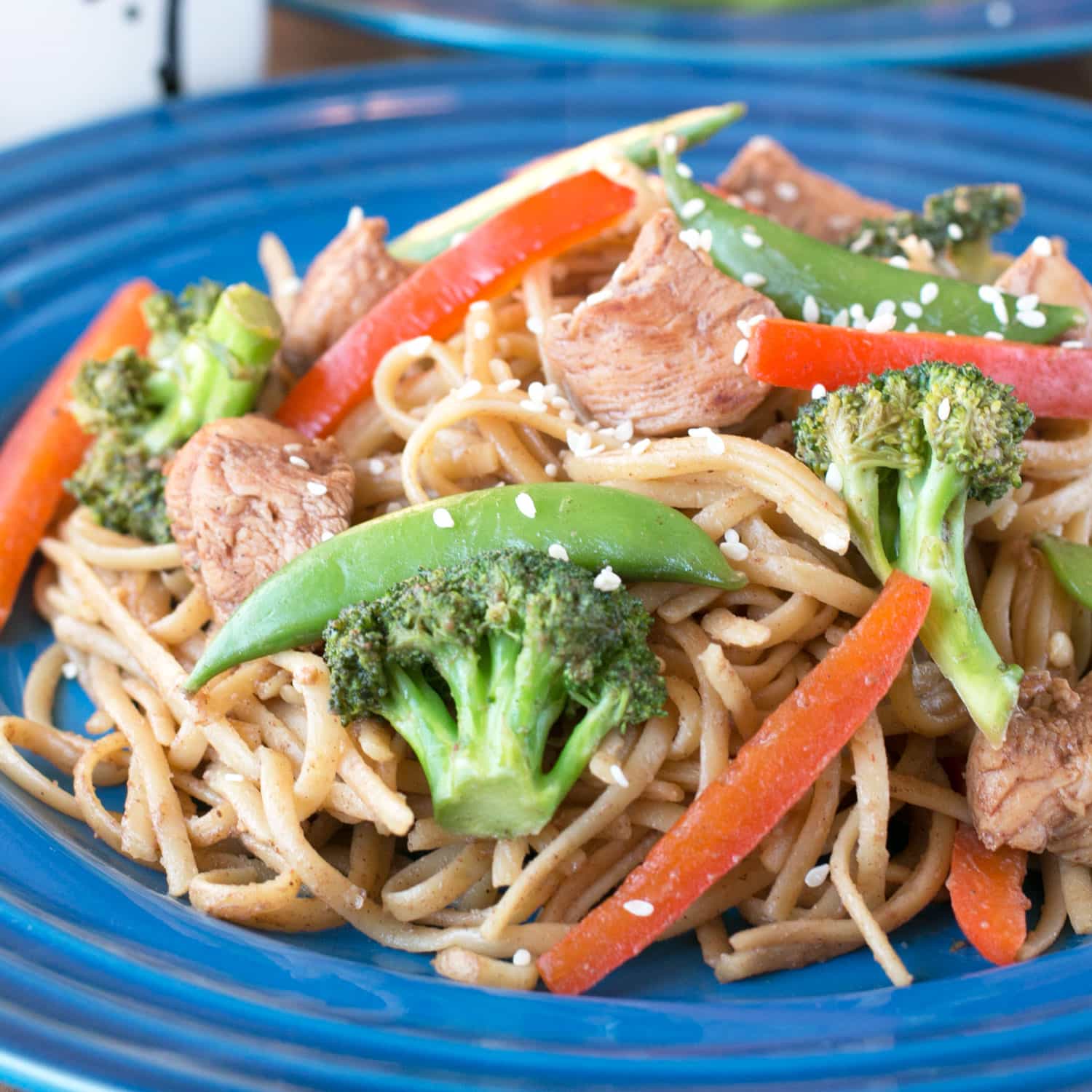 Stir Fry Pasta
Flavorful stir fry is dished up over pasta to make the most epic weeknight meal ever!
Ingredients
1 lb linguine
2 boneless, skinless chicken breasts, cut into 1-inch cubes
1 cup broccoli florets
1 red bell pepper, seeded and cut into strips
1 cup snap peas
1 tsp olive oil
Sesame seeds
Sauce
1/4 cup soy sauce
1 Tbsp honey
1/2 Tbsp grated ginger
1/2 Tbsp mirin
1 Tbsp hoison sauce
2 cloves garlic, minced
1 tsp sesame oil
1 tsp Sriracha
1/2 Tbsp Chinese Five Spice
Garnish: sesame seeds
Instructions
In a medium bowl, whisk together ingredients for sauce. Add chicken to the bowl and marinade for 15 minutes.
In a large pot of boiling water, cook linguine according to instructions on the package. Drain and set aside.
Heat Le Creuset Nonstick Stir Fry Pan with 1 tsp olive oil over medium-high heat. Once hot, remove chicken from marinade (keeping the sauce) and cook in the pan for approximately 2 to 3 minutes. Add vegetables to the pan and cook until fork tender, approximately 2 to 3 minutes.
Add pasta and sauce, stirring to combine all ingredients. Cook for approximately 2 minutes. Serve immediately and garnish with sesame seeds.
Pin this Stir Fry Pasta recipe for later!