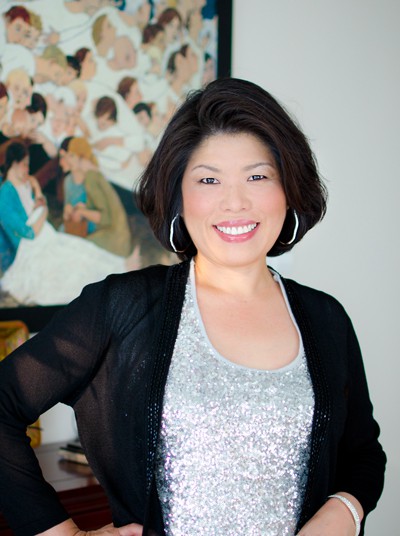 I'll be honest with you all, I have literally no experience with Korean food. I haven't eaten too much and I have never attempted to cook Korean dishes. When I decided to add Korean to the Mastering Global Cooking series, I knew I would have to track down an expert to make sure I didn't completely lose my way! Thankfully, the lovely, talented Holly at Beyond Kimchee took the time to chat with me about Korean cooking!
First tell us a little about you and your blog:
I am a Korean native housewife and a homecook. My blog, Beyond Kimchee, is about easy home-style Korean cooking and other cuisines that I enjoy cooking at home.
What sparked your passion for cooking and sharing your food with others?
I was not much of cook until I got married and started a family. I realized food becomes a very important part of family life and started self-training how to cook everything from studying cookbooks and trying out many recipes. I find great joy in sharing food with others.
Growing up in Korea, what was your favorite meal as a child?
Around the month of February, the month the first full moon of the year appeared at night, my mother always cooked steamed crabs, roasted sea weed, and many different vegetable side dish called "namool" which can turn into bibimbap dish. It was my favorite meal of the year because I got the steamed crab only once a year.
In your opinion, what really makes Korean food unique from other cuisines? What do you think it has to offer?
Korean food is healthy. We eat a lot of vegetables both fresh and blanched. Koreans don't use much oil when cooking. Also we use many different varieties of fermented condiments and dishes which provide good bacteria for your body.
What are some techniques that cooks should be familiar with to be successful with Korean cooking?
Hand tossing and slicing! Koreans don't use many kitchen gadgets. Your hand is the best tool. Especially with vegetables, you need to use your hand to toss the vegetables with seasonings.
What are some of the essential ingredients in popular Korean dishes?
Chili, garlic, sesame oil, soy sauce, fish sauce, bean pastes (chili paste and soy bean paste), etc.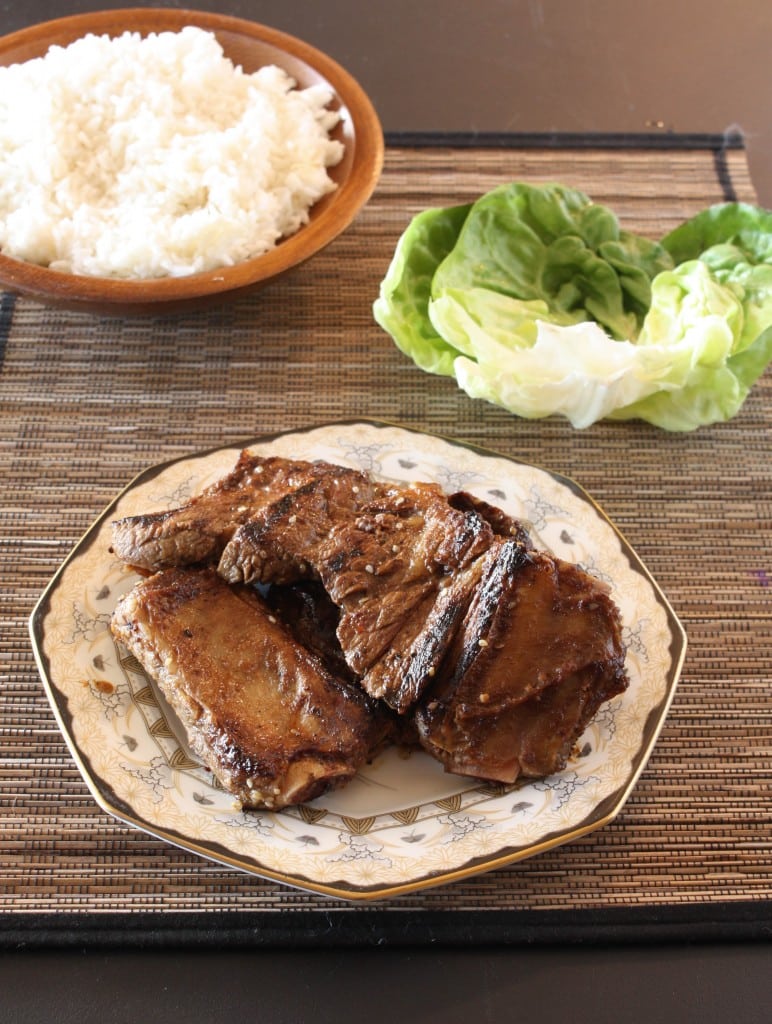 I have been thinking about attempting to make my own kimchi, but I am pretty intimidated by the idea. Do you have any secret cooking tips in making and/or preserving kimchi?
Be prepared to be failed once or twice! Authentic method of Kimchi making is not easy, especially with salt brine. I made 3 episodes of authentic Kimchi making posts on my blog a couple of years ago. However, if you tried once and got the sense of how the process proceeds, you will make fine kimchi from then on. Homemade is far better than store-bought!
I also have posted several other easy method of kimchi making as well for those who are not experienced in traditional kimchi making. I would recommend to start with easy method first, then move on to more traditional recipe.
What are some of the more extreme Korean foods?
There is dish called "ganjang gaejang", which is raw crab with either soy sauce brine or spicy paste. Most Koreans love it but non Koreans can't get to feed themselves "raw crab". Although it looks raw (because uncooked) but the salt brine actually kills the bacteria to sterilize the crabs.
Another dish is called "san nakji". You dip the live baby calamari in the tangy spicy sauce and eat. You have to be very cautious when you try them because it can chock you. The calamari is alive and moves around inside your mouth.
If you had to choose, what would be your ultimate full course Korean meal?
I highly recommend anyone who visit Korea or upscale Korean restaurant in major city to try a course called, "han-jeong-shik (한정식)". It is a full course meal with loads of little dishes from salads, vegetables, meat & poultry, seafood, and finish with rice and stew followed by Korean dessert.
Thank you again for a wonderful interview Holly!!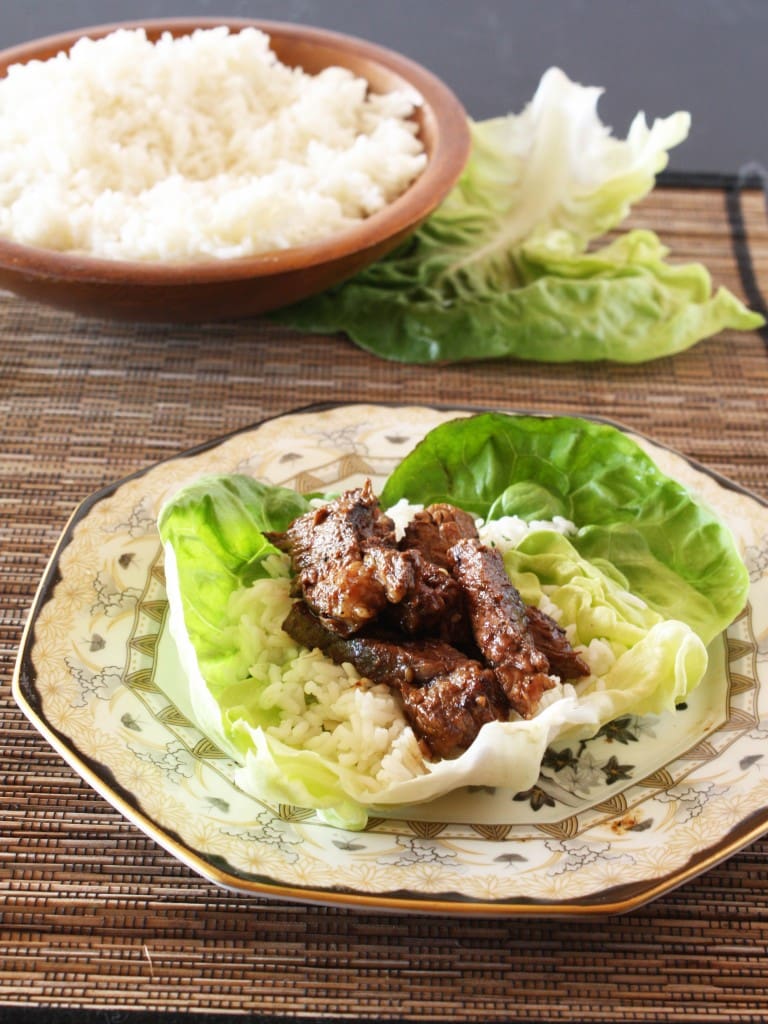 For my first dish, I decided to go with something pretty simple to at least get to know Korean flavor combinations. Korean short ribs have always looked so delicious and I have to say, I was amazed when I tried them. They are packed with flavor and when you wrap them up with rice and lettuce, it's the perfect meal.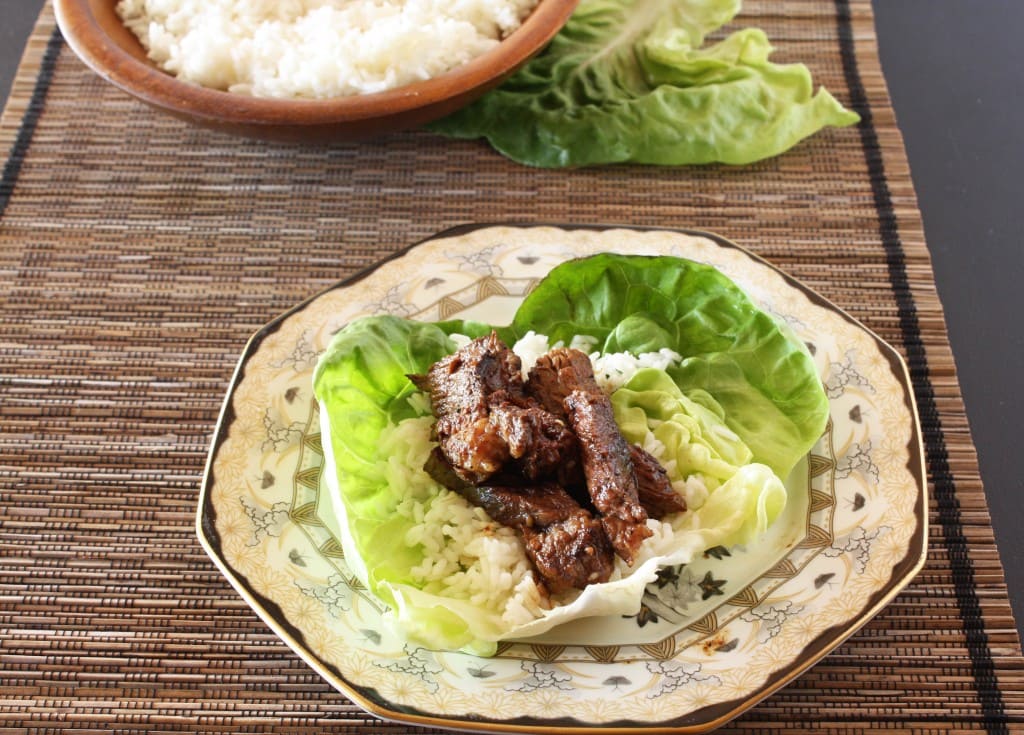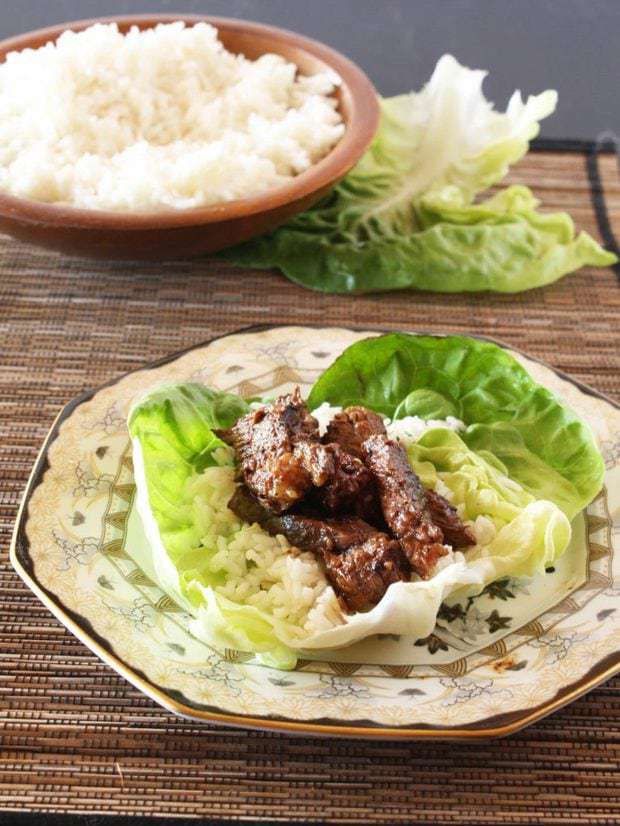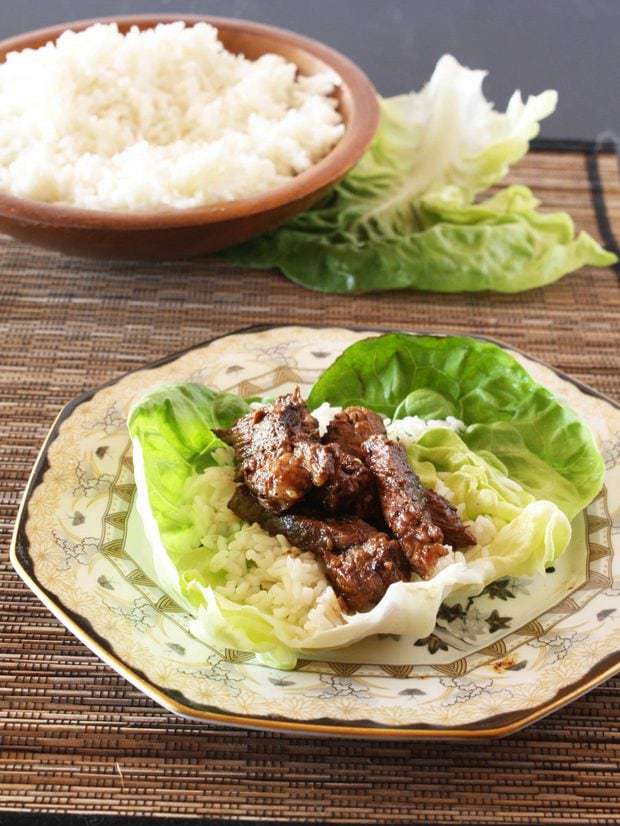 Traditional Korean Short Ribs
Delicious Korean short ribs marinated overnight and served with rice and lettuce.
Ingredients
1 lb beef short ribs
1/4 cup sugar free applesauce
3 Tbsp soy sauce
1/2 cup club soda
Juice of 1/2 lime
1 Tbsp honey
1 tsp ground ginger
3 cloves garlic, minced
1 Tbsp sesame oil
1 Tbsp sesame seeds
Pinch red chili flakes
Rice and lettuce for serving
Instructions
Rinse the ribs in cold water and dry with paper towels.
To filet the ribs, cut each rib away from the rack staying close to one of the bones. Then cut along the bone horizontally, stopping 1/2" from the edge. Open the rib up like a book. Cut another horizontal cut on the meat side, stopping 1/2" from the edge. You should be able to now lay the meat side on a cutting board. Repeat these steps so you have a third side. Repeat with the remaining ribs. If you have smaller ribs, you may only need to filet them once.
Combine all ingredients and marinate them overnight in a ziploc bag in the refrigerator.
Grill the ribs over medium-high heat for 5 minutes per side. As they cook, brush on some the marinade. Serve with rice and butter lettuce to make a wrap (SO delicious!).