I feel like there is a lot of pressure put on people for office potlucks.
Though it's not required, people are expected to bring something. If you don't, well you aren't making any new friends. If you do bring something, you are at least in the club, but if you bring something you bought from the store, those who put effort into making something turn their noses up at you ever so slightly. Oh and if you make something and it sucks, everyone will be talking about it.
After months and months of buying things for the potluck, the pressure finally got to me…
I caved.
Thus, the whole "healthy living" thing was put on hold for this ridiculous chocolate peanut butter mess. Peanut butter and chocolate is the one combination that no one can badmouth. Unless you hate chocolate.
And if you hate chocolate, you are dead to me anyway so I don't care if you don't like my food.
(Too harsh? Probably… but I put it out there so there's no taking it back now.)
I can't tell you how happy I was to share these wonderfully rich brownies. Because we all know if the entire pan was left at my house, they would be gone in a couple of days…
I like to imagine they would last a couple of days.
It would really be hours.
Seriously.
Ugh I even started eating these brownies for breakfast the other morning… I had to physically pry the fork out of my own hand to stop myself from eating them all (I know, I know, so many issues…).
So for the love of all that is holy, if you make these brownies, please share them. With me. You can mail them to me. Even if they melt in the 90+ degree weather sitting on my porch before I get home, I will still devour the melted awesomeness.
This, my friends, is what we call no self-control.
In case you were wondering.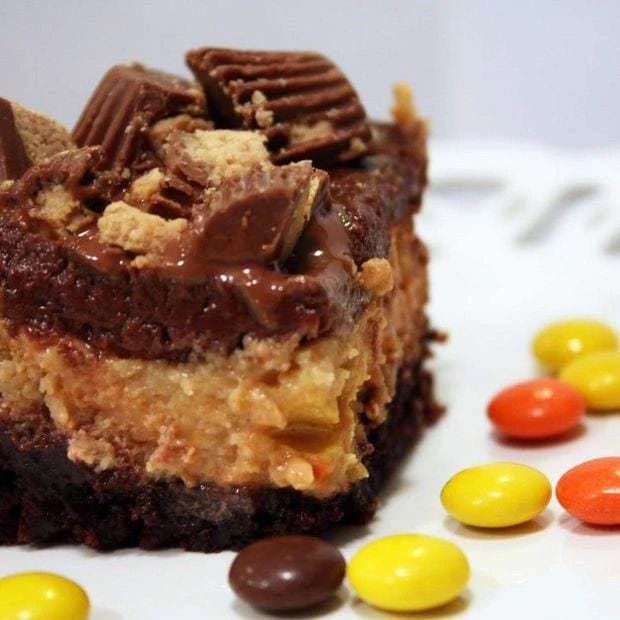 Sinfully Rich Reese's Cheesecake Brownies
Additional Time:
30 minutes
Total Time:
1 hour
20 minutes
An overload of peanut butter and chocolate in every mouthful!
Ingredients
19.5 oz box of chocolate fudge brownie mix
8 oz cream cheese, softened
14 oz can sweetened condensed milk
1/3 cup creamy peanut butter
12 oz package of Reese's Pieces candies
12 oz bag milk chocolate chips
3 Tbsp whipping cream
12 large Reese's Peanut Butter Cups, chopped
Instructions
Preheat oven to 350 degrees. Lightly grease a 9x13 inch pan with cooking spray.
Prepare the chocolate fudge brownie batter according the directions on the package. Spread the batter in an even layer in the pan. Set aside.
Beat the cream cheese in a large bowl with an electric mixer until fluffy. Pour in sweetened condensed milk and peanut butter, beating until smooth. Fold in Reese's Pieces. Pour the mixture over the brownie batter and spread carefully in an even layer.
Bake for 40 minutes, until the top layer is set and golden brown on the edges. Cool for 30 minutes in the refrigerator.
In a small microwavable bowl, combine chocolate chips and whipping cream. Microwave on high for 1 minute and stir to combine. If the chips aren't melted, microwave an additional 30 seconds. Spread over the top layer. Sprinkle over the chopped Reese's Peanut Butter Cups and refrigerate until the top layer is set.