Raspberry Mint Sparklers are bubbly, tart and a little sweet making them ideal for a ladies' night toast! The fresh mint and raspberry combination with champagne is a delight for your taste buds.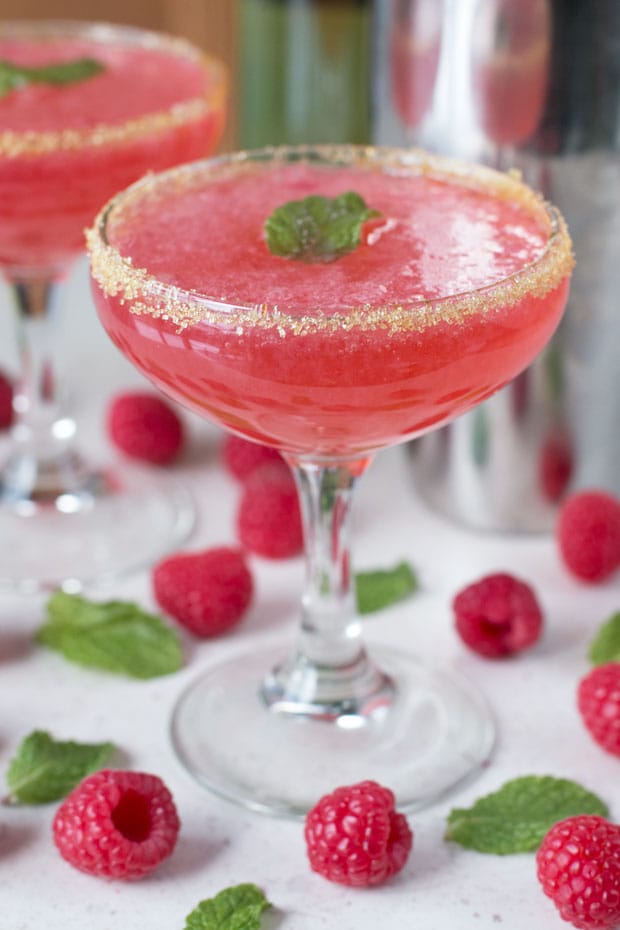 You guys!! I made a pretty pink drink!!
It's been WAY too long since I've had a night with just the ladies and I think it's all coming out in this pink deliciousness that you see in front of you.
I can just imagine being with all my gals, round of raspberry mint sparklers in hand, toasting the New Year tomorrow night. Heck, I'll probably be busting out this delightful little cocktail throughout the rest of the summer.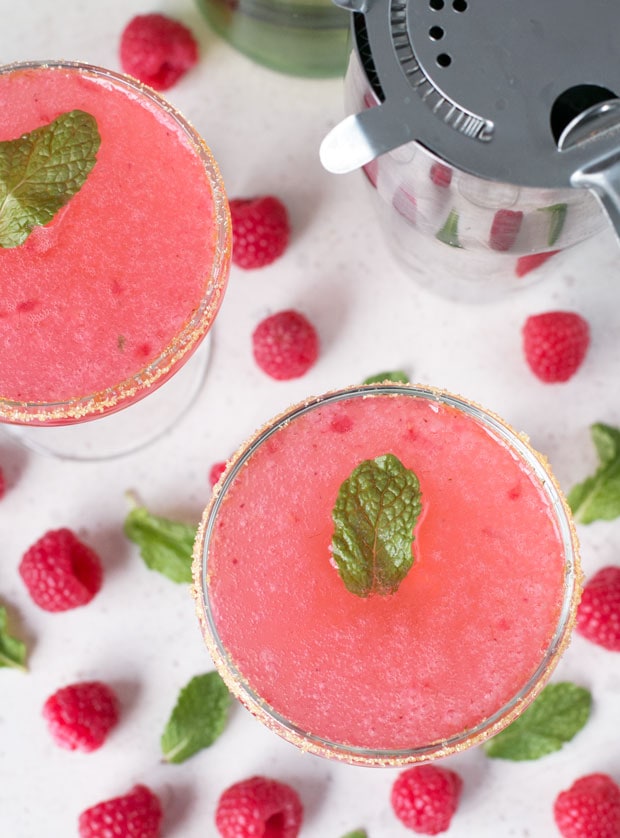 Don't you just love cocktails that can work in any season?!
So I've been thinking a lot about resolutions this week and I have come up with… none. Seriously, I am having trouble thinking of one. I mean there's the obvious I'd like to get back to the gym and I want to continue developing my business but beyond that, I can't really think.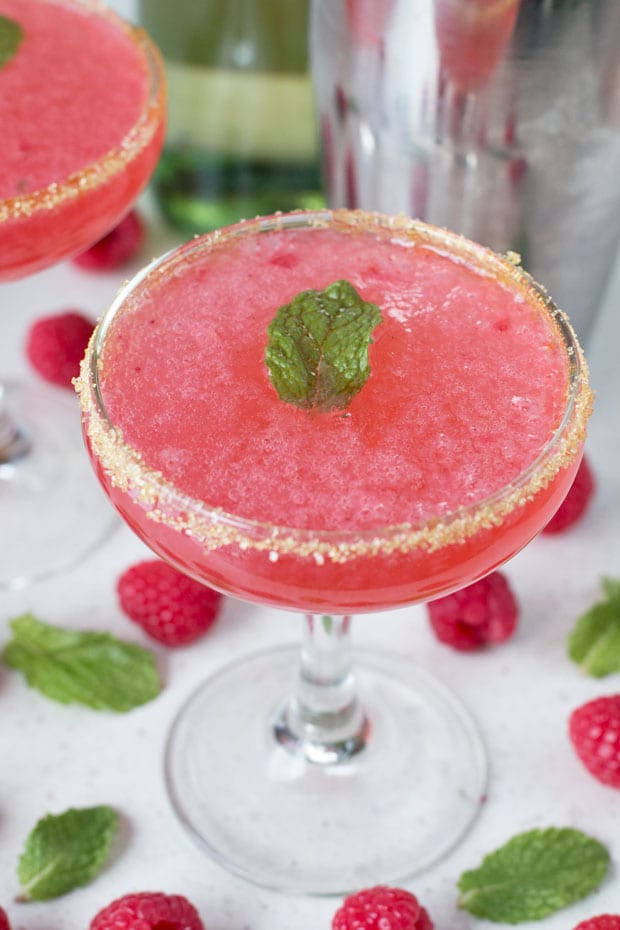 What are your resolutions? Does anyone even make resolutions anymore or have we all finally reached the point where we are just making goals whenever we push ourselves to?
Anyway…. I digress, yet again.
You don't have to rim these raspberry mint sparklers in gold sugar if you don't want to, but I think it adds just the right touch of extra sparkle and fun to make a truly memorable night (and cocktail!).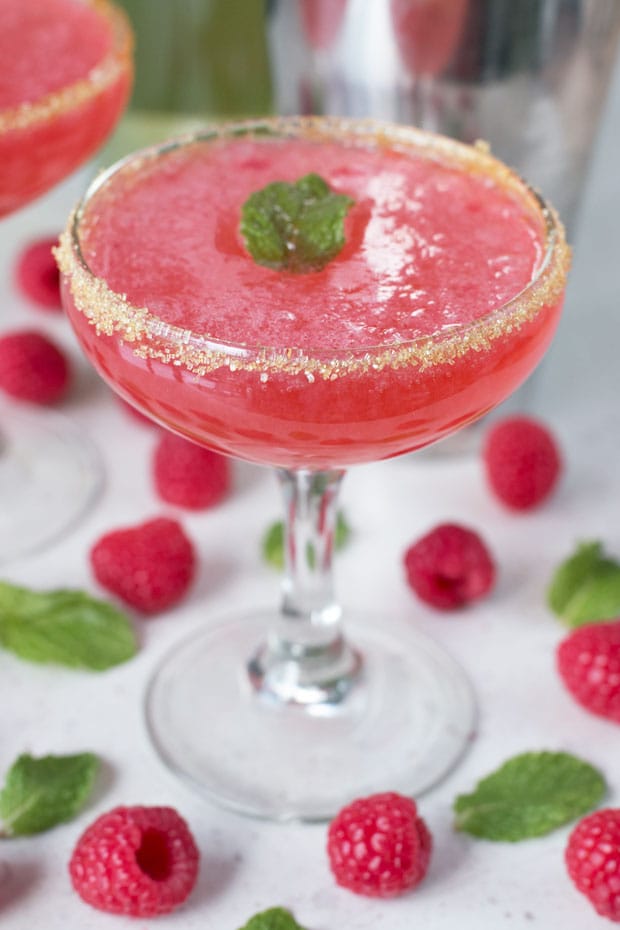 I mean, if your gal pals don't think you are classy AF already, this cocktail will definitely seal the deal for ya. 😉
That's 100% what I'm doing here because I have three other bestie gal pals that are also sharing their fav cocktails to ring in the New Year today! It wouldn't be a proper final recipe of 2016 send off without a myriad of cocktails to choose from now would it? Check out their links and cocktails below!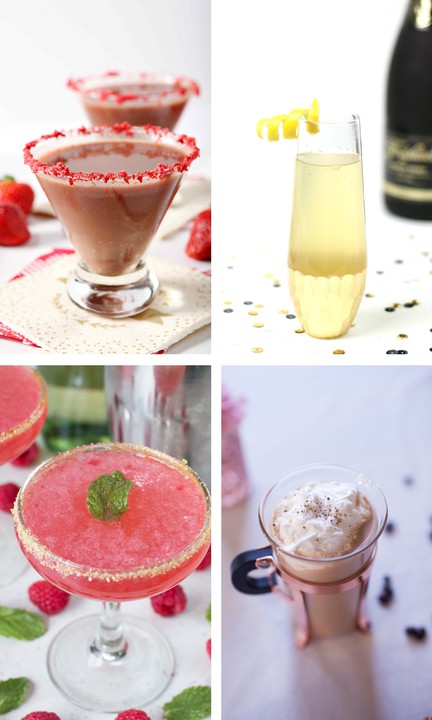 Skinny Chocolate Covered Strawberry Martinis from Erin @ The Speckled Palate
Elderflower French 75 Cocktail from Susannah @ Feast + West
Irish Coffee with Hazelnut Whipped Cream from Madison @ A Joyfully Mad Kitchen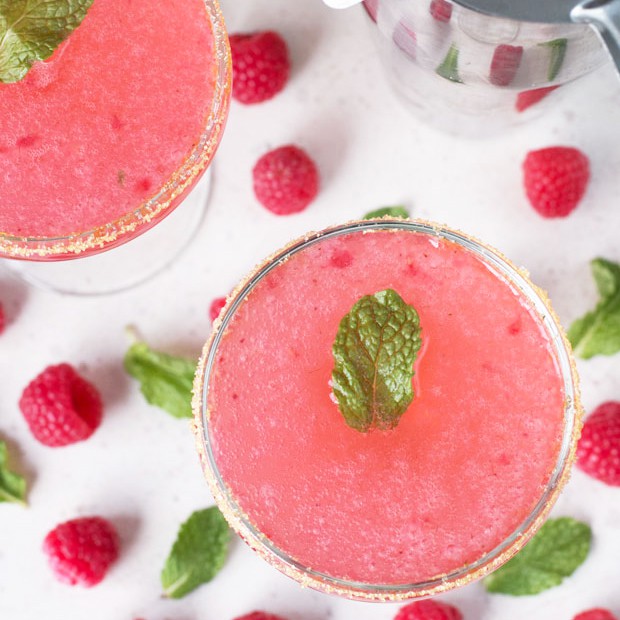 Raspberry Mint Sparklers
Bubbly, tart and tangy, these cute little drinks are ideal for a girls' night!
Ingredients
10 raspberries
6 mint leaves
4 oz vodka
1/2 oz simple syrup
1/2 oz lime juice
Champagne
Gold sugar
Instructions
Rim champagne flute or cocktail glass with gold sugar.
In a shaker, add raspberries, mint leaves, simple syrup and lime juice. Muddle together well. Fill shaker with ice and add vodka. Shake until chilled.
Strain into a champagne flute or cocktail glass. Top with champagne. Serve.
Pin this Raspberry Mint Sparklers recipe for later!