Crunchy Chicken Gyro Sandwiches are my fun twist on one of my favorite Greek meals! Adding in the crunchy pita chips makes the healthy sandwich come to life with texture.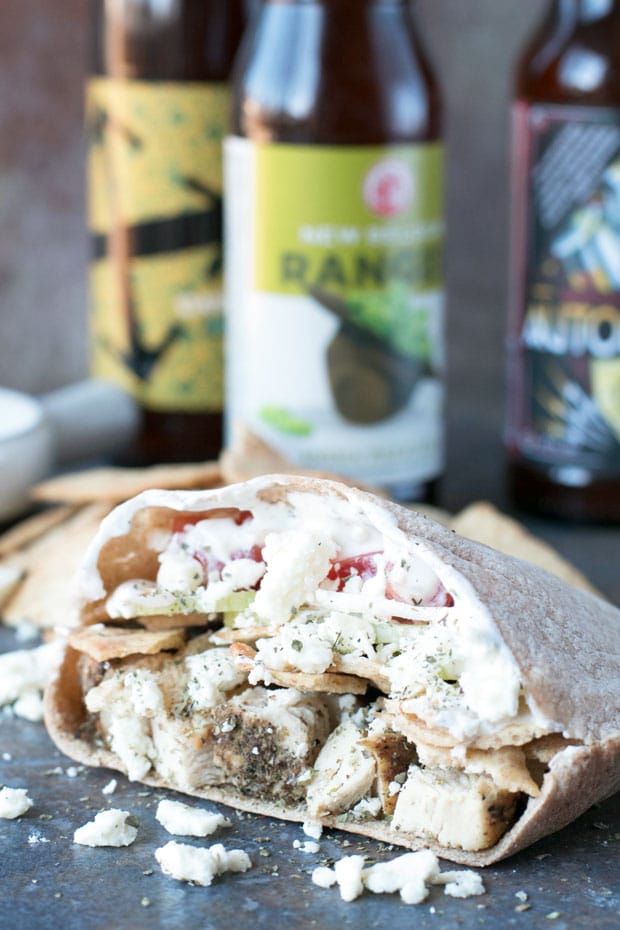 Welcome to 2017, friends! If you are anything like me, you are trying to make just a few more healthy decisions as the New Year gets into full swing.
I can't lie and say that I am on the diet train for real real. Let's be real, the image of me making kale smoothies every day and eating salad for lunch is a bit comical.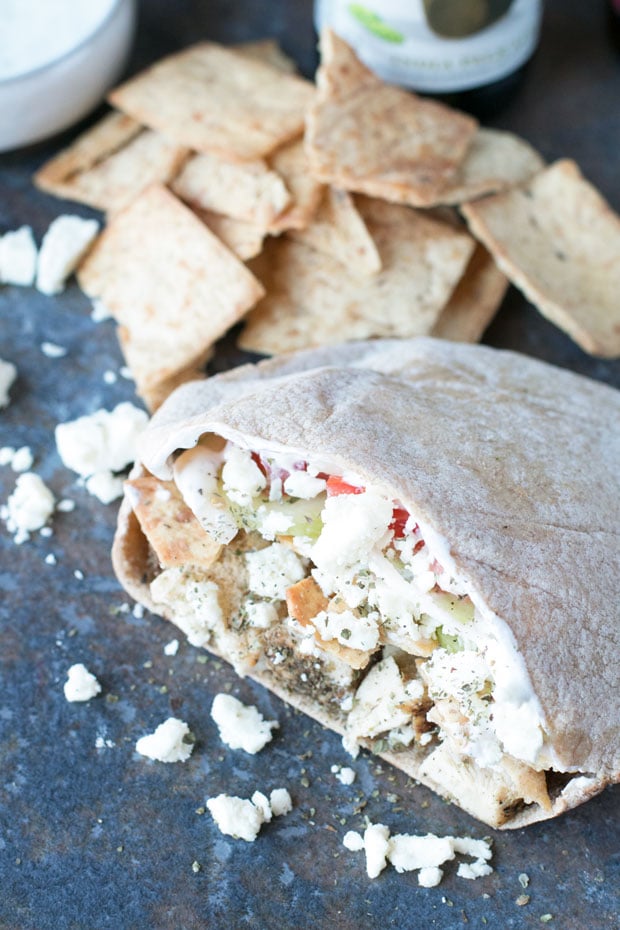 There are little moments where I can at least find some balance in my life when it comes to eating a little better, and one of those moments is stuffed into the big ol' pita pocket you see here.
Just look at all the goodness that's stuffed inside that pocket of love…
It's just… so… YUM YUM.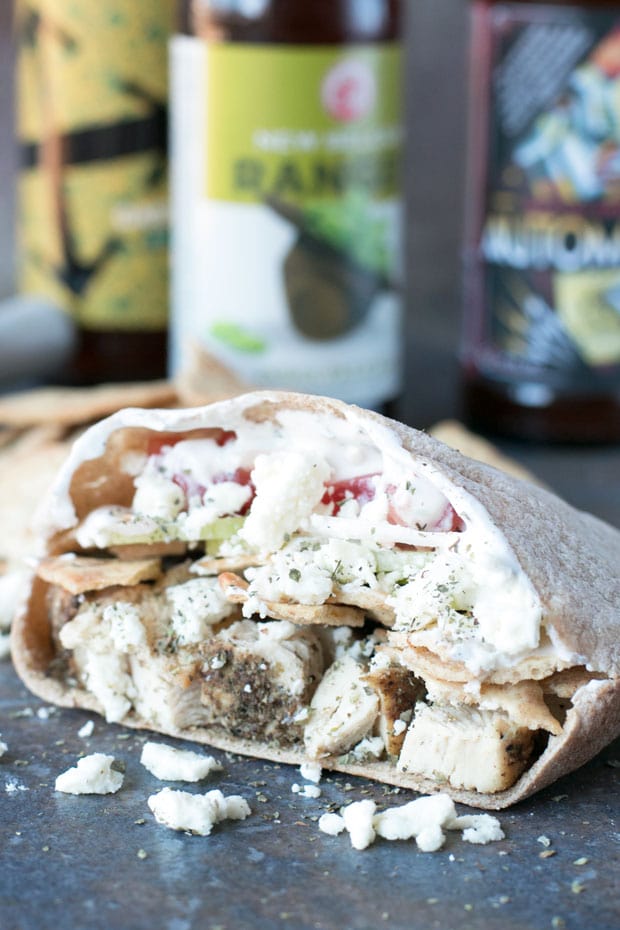 Yes, there's cheese and a creamy sauce and crunchy pita chips stuffed in there too, but I would hardly compare it to the unhealthiness that lies in the Italian meatball sub that I am currently craving (with ALL the extra cheese… because indulgence is a wonderful, magical thing…).
Truthfully it all the herbs that I've rubbed the chicken with for this sandwich that make it come to life in each bite. It's fresh and light, and when paired with the vegetables and sauce, you feel like you are eating a much better version of a salad.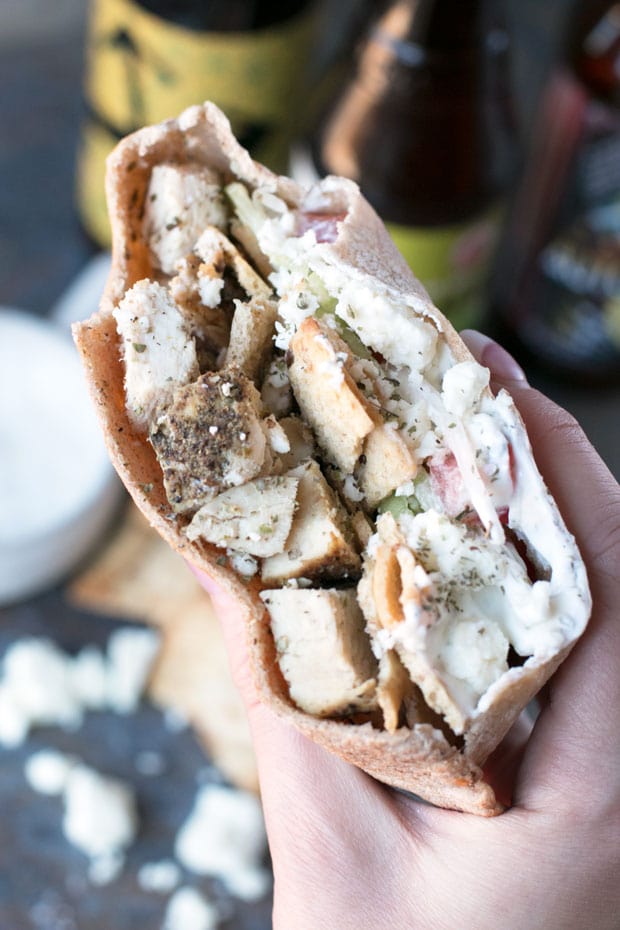 Thankfully there's some carbs in there to make sure you don't feel like you are a rabbit eating only vegetables though…
Let's be real, a week of that nonsense will have you running back to burgers, fries and chocolate shakes in no time flat.
If you are looking for another sandwich to chow down on, this pulled pork burger is a must-make.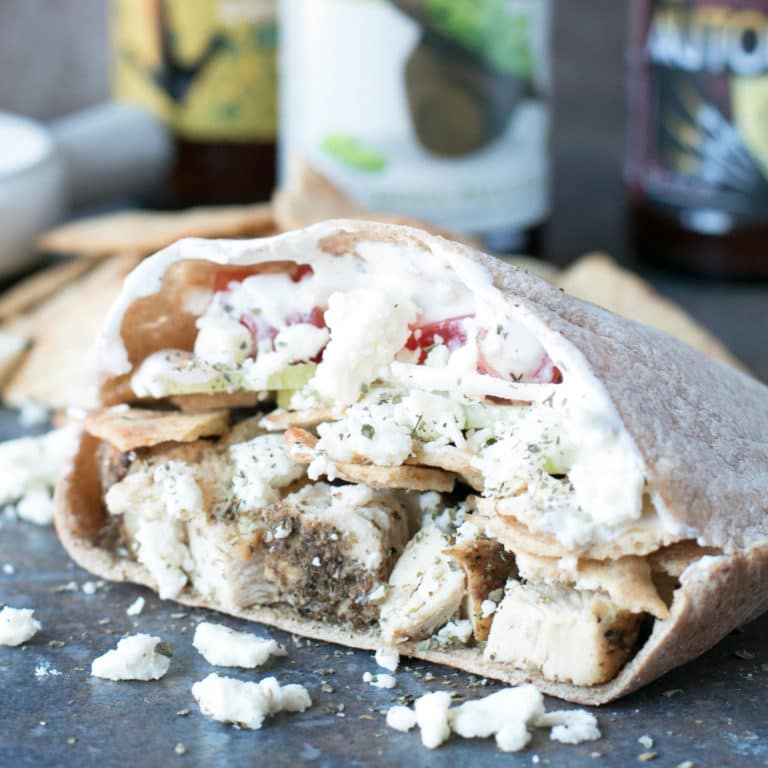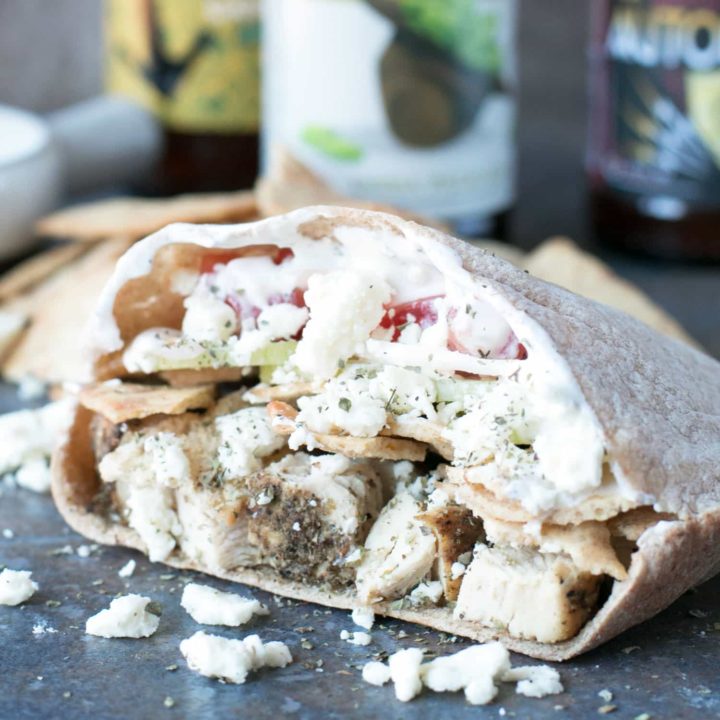 Crunchy Chicken Gyro Sandwiches
All the spices and flavors you love from a traditional gyro, with some crunchy pita chips to tie it all together even better than the classic!
Ingredients
Chicken
2 large boneless, skinless chicken breasts
1 tsp dried marjoram
1 tsp dried rosemary
1 tsp dried thyme
1 tsp black pepper
1 tsp ground cumin
1/4 tsp za'atar
Creamy Sauce
1/3 cup greek yogurt
1/4 cup sour cream
1 Tbsp lemon juice
1/2 tsp dried marjoram
Sandwiches
1/2 cucumber, peeled and sliced
1 tomato, chopped
1/2 sliced onion
1/2 cup pita chips
Whole pitas
Feta crumbles
Instructions
Preheat oven to 400 degrees. Grease a small baking dish with butter.
In a small bowl, stir together marjoram, rosemary, thyme, pepper, cumin and za'atar. Rub chicken breasts with spice mixture.
Place chicken breasts in baking dish and bake for 10 to 15 minutes until cooked through. Rest chicken 10 minutes before cutting into bite-size people.
In a small bowl, whisk together ingredients for the sauce. Set aside.
Cut the top off of each pita to form a large pita pocket. Loaded up the pita with chicken, cucumber, tomato, sliced onion, pita chips, and feta. Top with the sauce and sprinkle a little extra marjoram on top. Serve.
Pin this Crunchy Chicken Gyro Sandwiches recipe for later!