Pesto Green Pizza is my way to get your greens in while also eating one of my favorite foods – PIZZA. With a homemade pesto, this meal gives you a giant burst of flavor that totally satisfies. There's kale, arugula, peas, and more!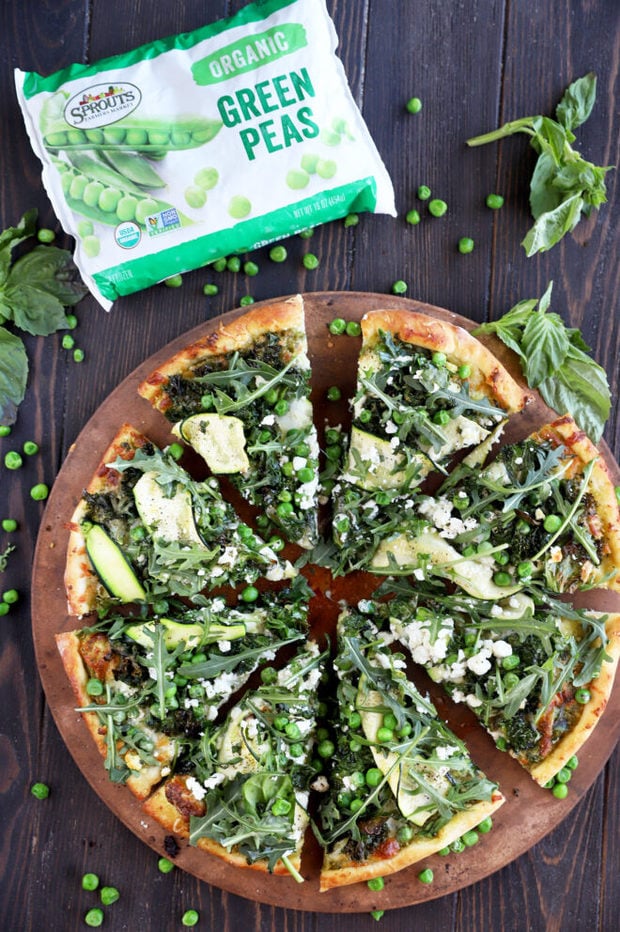 Disclosure: This post has been sponsored by Sprouts. As always, all opinions are my own. Thank you for supporting the brands that support Cake 'n Knife!
You all might be wondering, why the heck is she putting greens on pizza? This is Meghan we are talking about, right?
Ok, I know in the past I have been pretty against greens. I'll use them here and there, but I used to avoid them like the plague as many of you well know.
Well, I am a whole new woman this year. For some reason, kale and arugula are my JAM right now. Especially when the kale is cooked and crispy.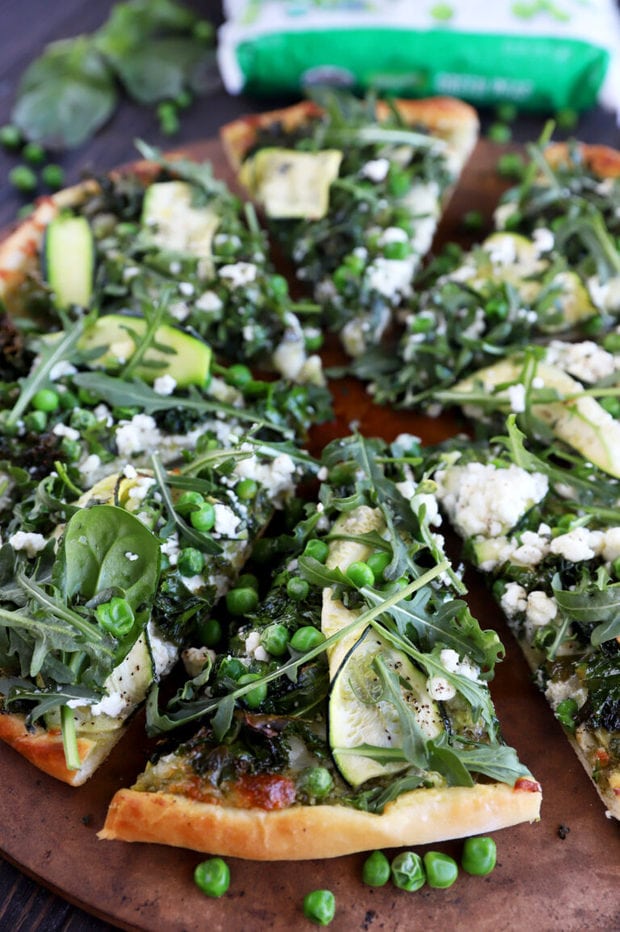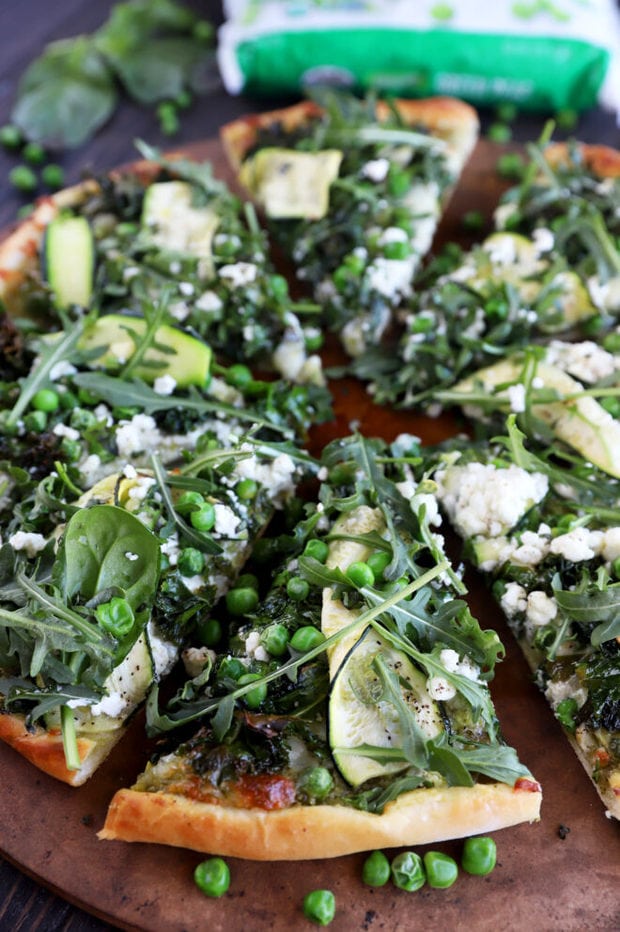 This pizza has it all for spring green goodness. For the sauce, we're making a homemade pesto that'll totally blow your socks off. It comes together in like, 2 minutes. Seriously.
You then top that with some cheese and a base of kale that gets baked on the pizza, making it crispy and delicious along with some thinly sliced zucchini. After you take that freshly baked pizza out of the oven you get to pile on the arugula for a peppery bite.
My favorite green element of this pizza, though?
THE PEAS.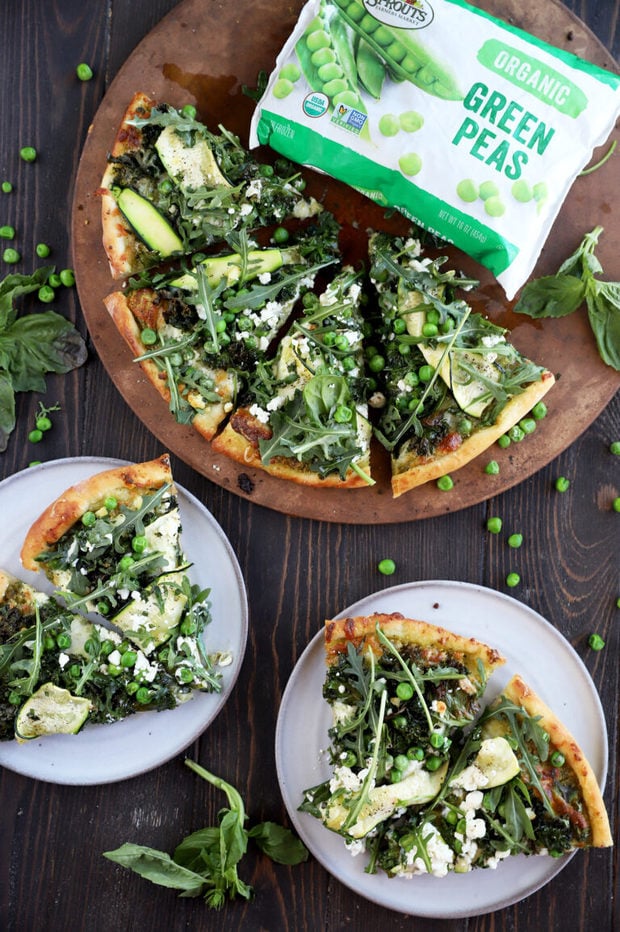 Peas get a bad wrap in my opinion. They just aren't used enough and in the springtime, they are such a fantastic complement to any of the produce that is in season. Which is exactly why I added them to this pizza.
Personally, I like to use the organic peas from Sprouts for my recipes, whether it's this pizza, a pasta dish, or even making those peas into a sauce like a pesto. The best part about these peas is that they taste fresh, even though they are frozen.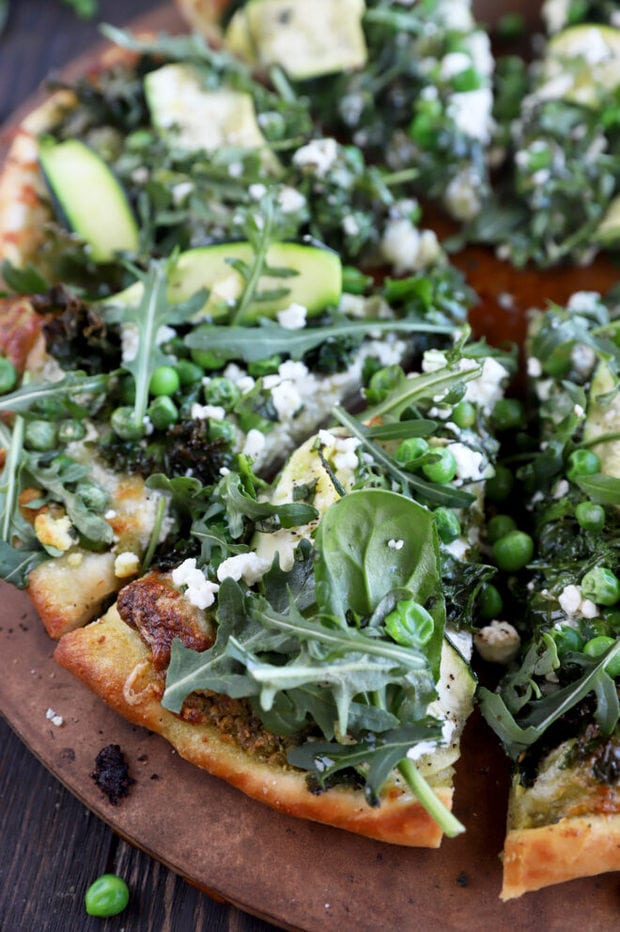 All you have to do is warm them up in the microwave, or thaw them on your countertop. Sprinkle them over the pizza and in every bite, you get that pop of freshness that only peas can provide.
Sprouts also has a bunch of other frozen products to take advantage of, from veggies to fruits (which I use extensively in my smoothies – or mixed frozen cocktails, HA!). The best part is I find a lot of frozen fruits at Sprouts that I can't find readily available elsewhere like bananas and mango.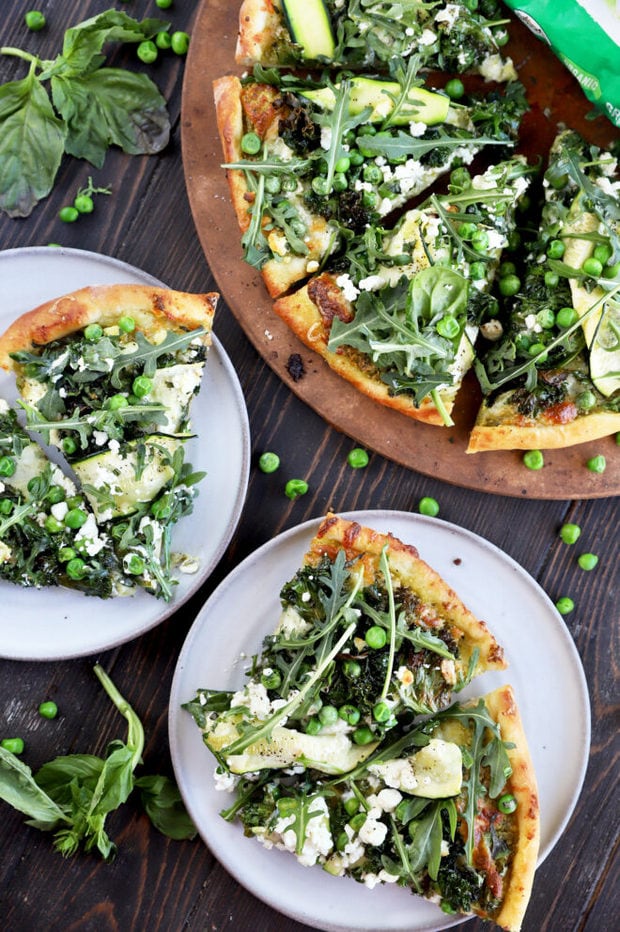 This Recipe's Must-Haves
For this recipe, you'll need a food processor or high speed blender like a Vitamix to make the pesto.
You will also need a set of mixing bowls to mix together the kale with oil and seasoning.
I love using a marble rolling pin to roll out my pizza dough because it makes the job a breeze.
If you haven't invested in a pizza stone, now's the time! It makes for the best cooked pizza crust ever.
Finally, instead of a typical pizza cutter, I love using pizza scissors to get the perfect cut for every slice.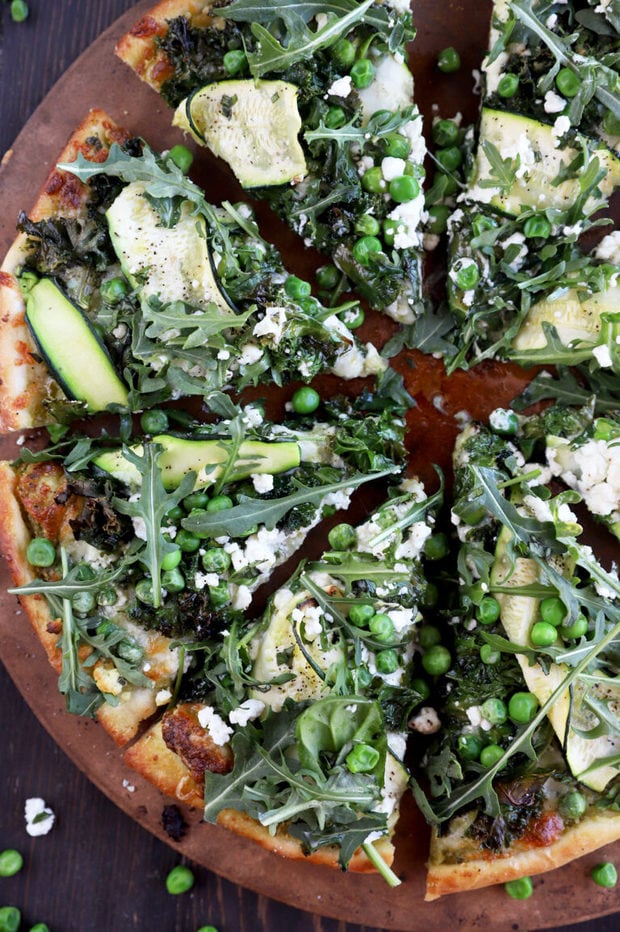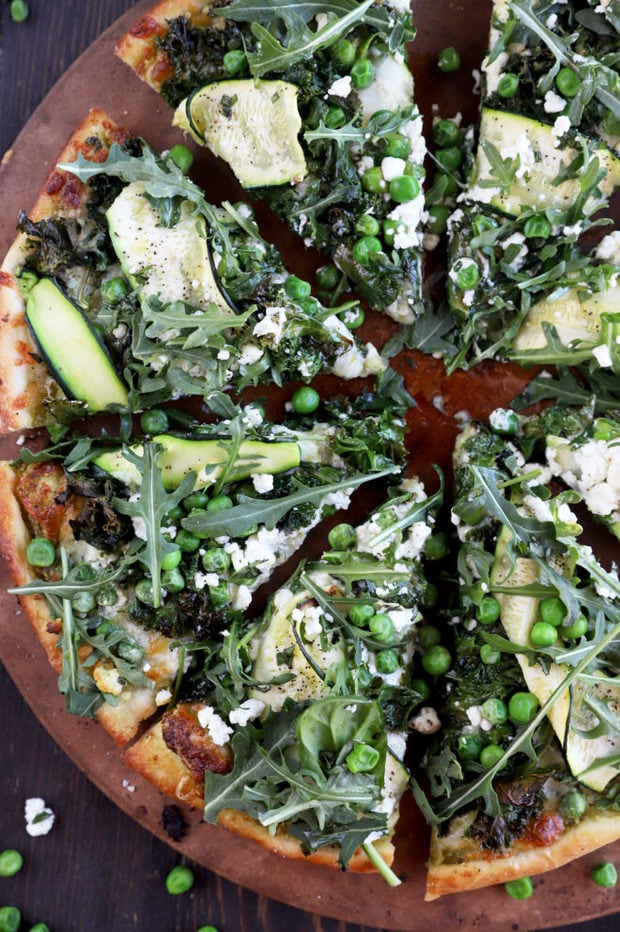 How To Make Pesto Greens Pizza
Make Pesto
The pesto comes together quickly in a food processor or high speed blender! You throw the ingredients in and blend it up. SO EASY.
Bake Pizza
Pizza dough gets topped with that pesto, then a layer of cheeses (I like to use fontina and mozzarella, but you can just use one or the other if you prefer!), some goat cheese, followed by kale and thinly sliced zucchini.
This all gets baked up until the kale is crispy and the zucchini is cooked through.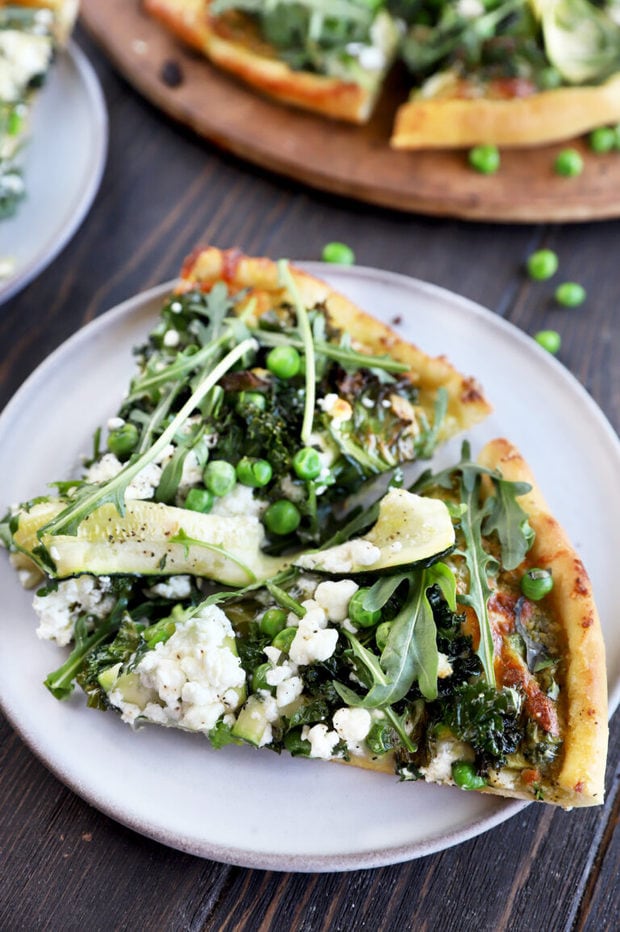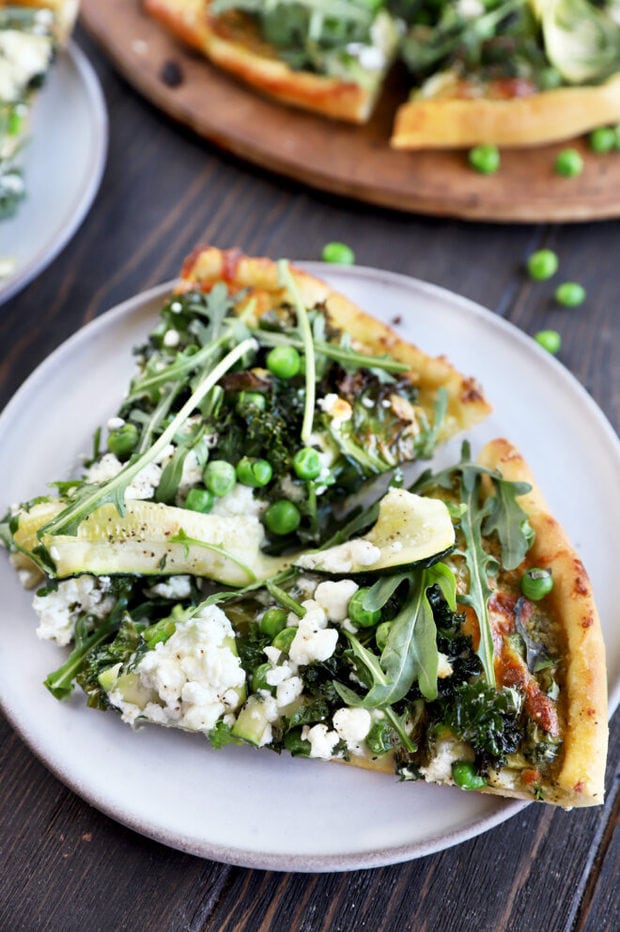 Top It Off
Now come the rest of the greens and cheese! Top the pizza with a nice helping of arugula and a sprinkle of Sprouts organic peas. Finish it off with some goat cheese and you are ready to dig in!
For more pizza inspiration, check out my pizza recipes page!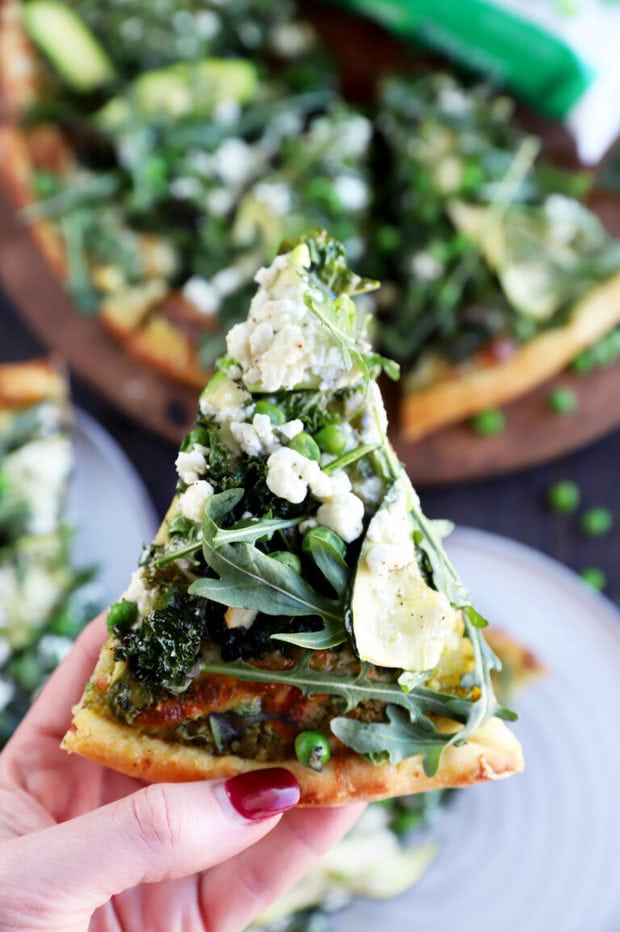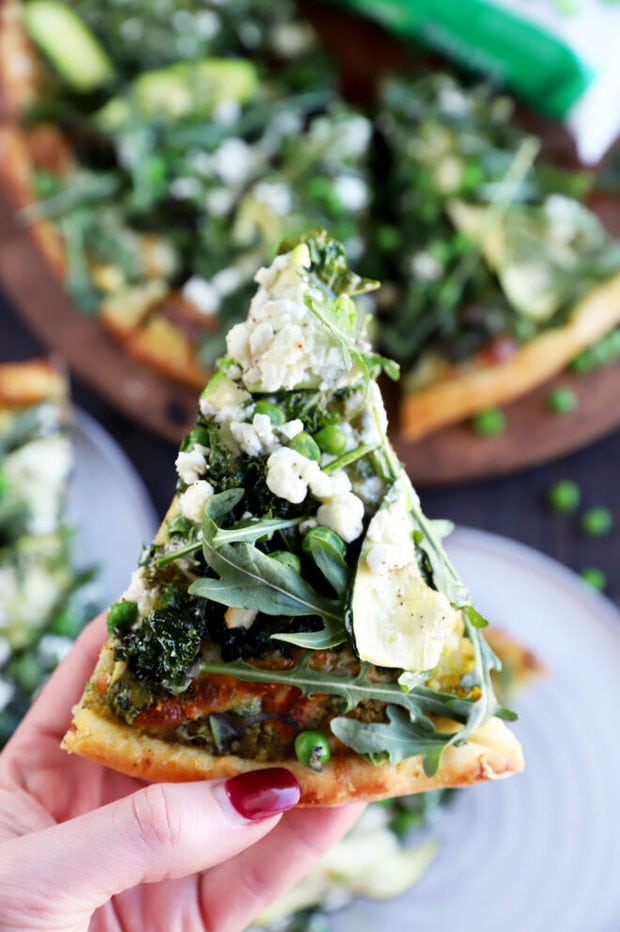 Do I have to make the homemade pesto?
If you don't have the time, or happen to have some leftover pesto in the fridge, you can totally use premade! The homemade pesto tastes a lot better, but if you are in a rush and wanna skip that step, go for it.
Can I use gluten-free crust?
Of course you can! This recipe is already vegetarian, so why not make it gluten-free as well. You can use a crust like cauliflower crust even if you want to! PACK IN THE VEGGIES.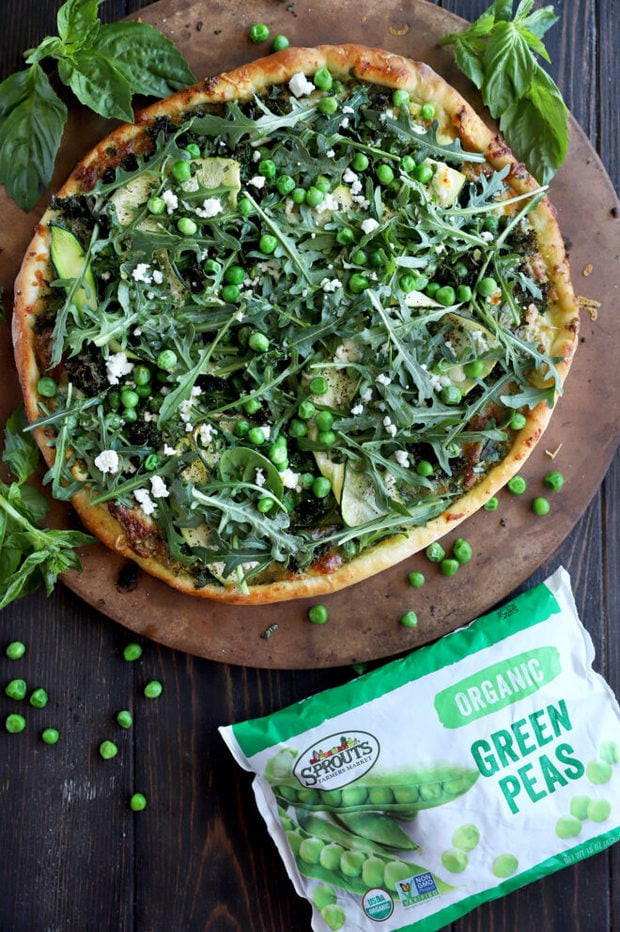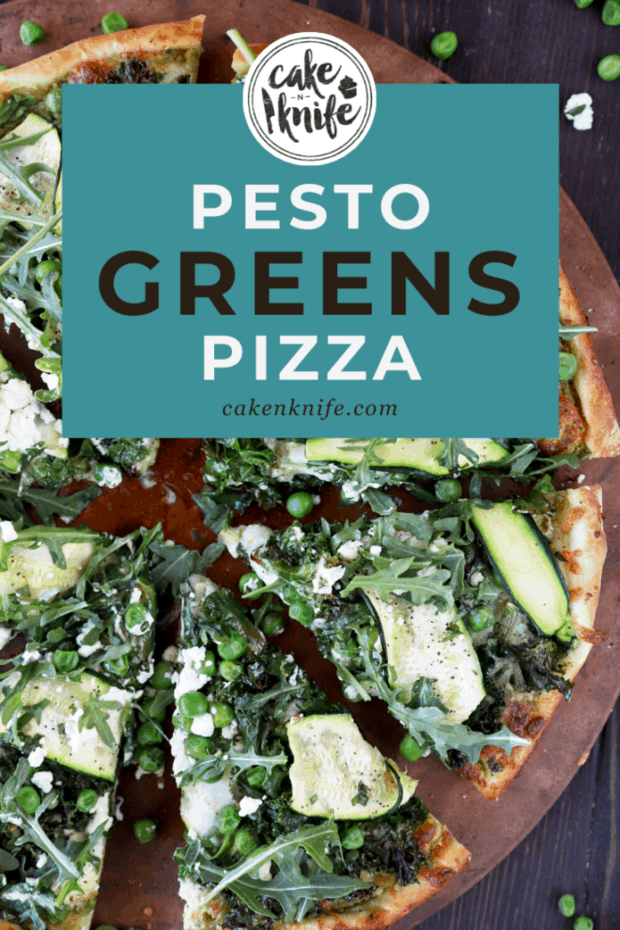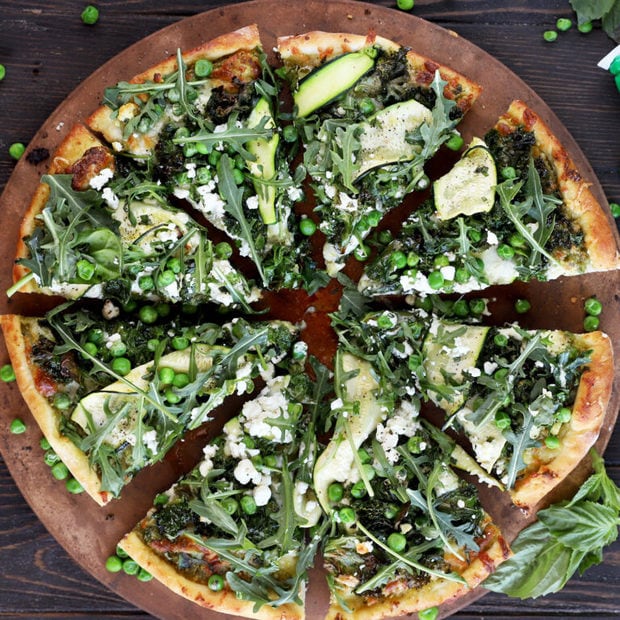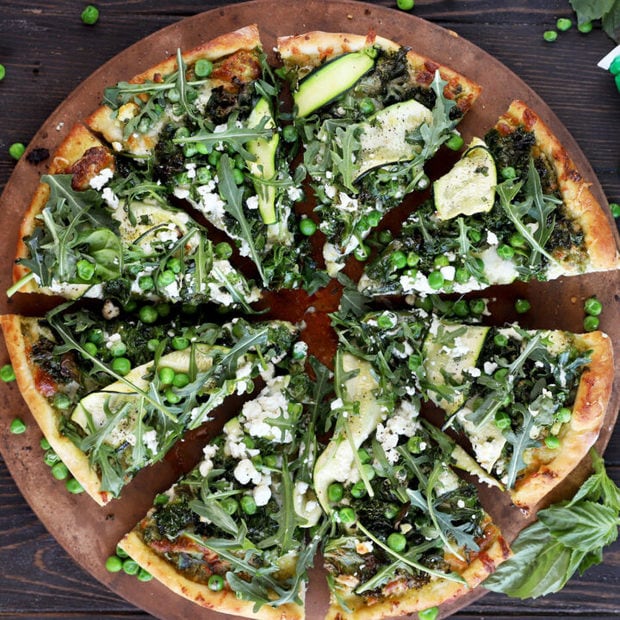 Pesto Greens Pizza
Kale, zucchini, peas, arugula, and a homemade quick basil pesto with plenty of cheese is what makes this pizza special!
Ingredients
Basil Pesto
1 1/2 cups fresh basil leaves
1/4 cup pine nuts
1/4 cup freshly grated parmesan cheese
2 cloves garlic
1/4 cup olive oil
1/2 tsp fresh lemon juice
1/4 tsp salt
1/4 tsp fresh ground pepper
Pizza
1/2 tsp olive oil
1/4 tsp salt
1/4 tsp black pepper
1 1/2 cups chopped kale
1 lb pizza dough
3/4 cup shredded fontina cheese
3/4 cup shredded mozzarella cheese
1/2 cup goat cheese crumbles
1 zucchini, thinly sliced into strips
1 1/4 cups Sprouts Organic Frozen Peas, thawed and drained
1 cup arugula leaves
1 Tbsp freshly chopped basil leaves
Instructions
Preheat oven to 450˚F. Set a pizza stone or baking sheet in the oven as it preheats.
To make the pesto, add basil, pine nuts, cheese, and garlic to a food processor or high-powered blender. Blend until everything is chopped up. Process the mixture on low, then slowly pour in the oil, scraping down the sides as needed. Add lemon juice, salt, and pepper, pulsing until combined and smooth. Set aside.
Add kale to a small bowl with olive oil for pizza, salt, and pepper. Toss to coat and set aside.
Roll out dough on a lightly floured surface until it is a 12-inch circle. Remove pizza stone or baking sheet from oven. If using a baking sheet, line it with parchment paper. Add dough circle to the pizza stone or baking sheet.
Spread dough with pesto, leaving a border for crust. Top with fontina cheese, mozzarella cheese, and half the goat cheese. Top with kale and then add shaved zucchini. Sprinkle with salt and pepper.
Bake for 10 to 15 minutes, until the crust is golden and the kale and zucchini are beginning to char. Remove from the oven and top with peas, arugula, and chopped basil.

Recommended Products
As an Amazon Associate and member of other affiliate programs, I earn from qualifying purchases.