Mini Nutella Cinnamon Rolls are warm, gooey and packed with chocolate hazelnut flavor. You can't go wrong with a few of these and a cup of coffee in the morning!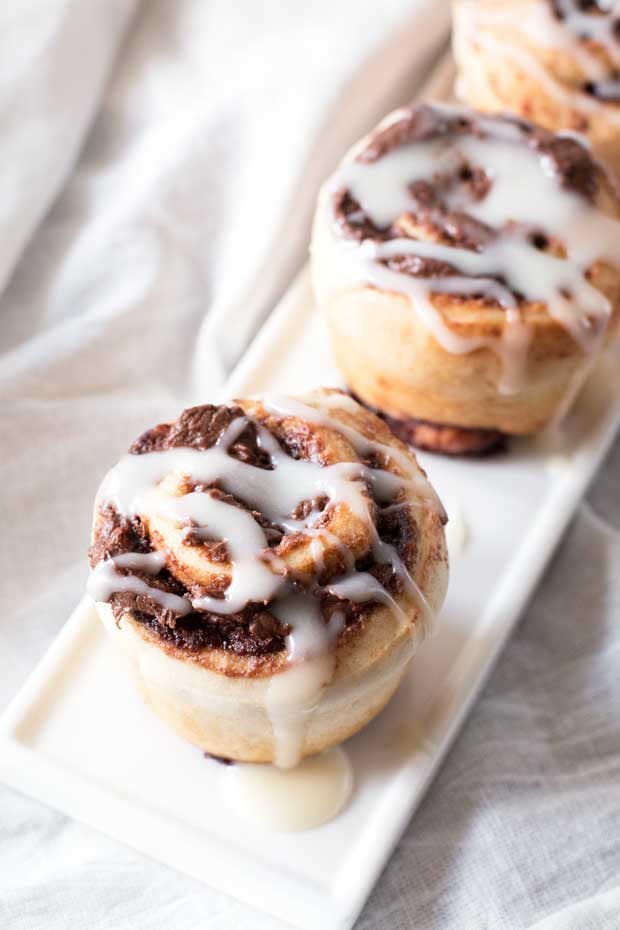 So what do you do when the weather is supposed to be crap all weekend and you might get snowed in?
You bake. Not just any baking though, you bake with Nutella and cinnamon. Then your home turns into a chocolate hazelnut cinnamon filled explosion that you can revel in while you pretend that you don't have to shovel anytime soon.
At least that's how it goes in my head.
I am crossing my fingers, toes, eyes and anything else I can cross to make sure it doesn't snow this weekend. I'm just so DONE with the snow, not to mention I have an event (Bacon & Beer Classic for those of you that want to join in Denver!) on Saturday that I've been looking forward to for months. Worst timing ever weather.
I am just hoping it's another case of rain and the weather people got it wrong… Keep your hopes up for me, it's supposedly setting in tonight… AH.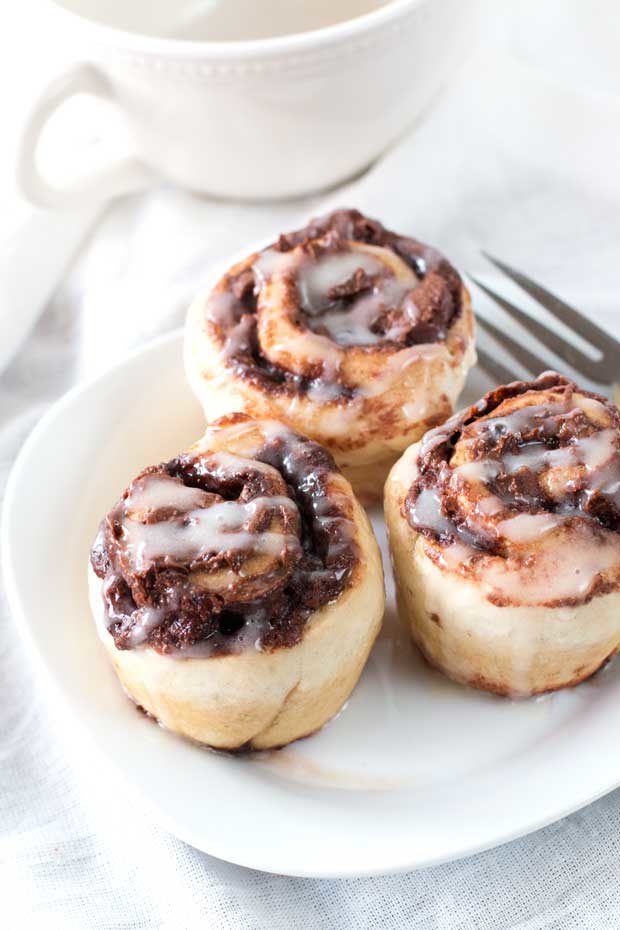 Thankfully I have a massive pile of these mini Nutella cinnamon rolls to keep me company if I do get snowed in on Sunday. These rolls are the only cinnamon rolls I plan to make for the next few months (you know, until my attention is pulled to another recipe, per usual). You all know Nutella from a jar is one of my favorite desserts, so getting some into my breakfast routine is basically the next level of addiction.
I suppose there are worse things than warm, gooey, chocolatey cute cinnamon rolls to snuggle up with under a heated blanket right? Add in the Kya snuggles and….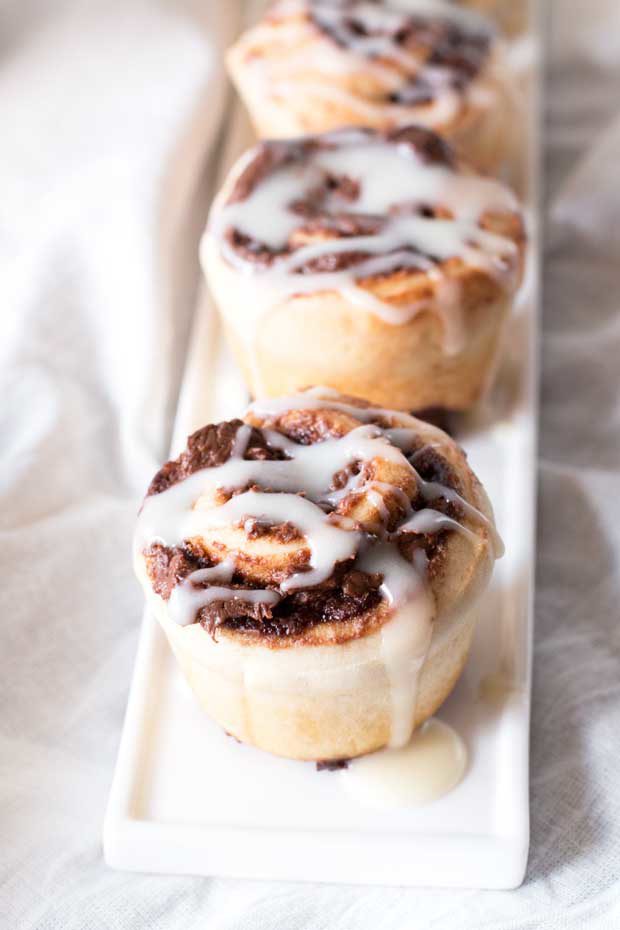 Ok so maybe I could deal with this. Just not on Saturday, ok universe?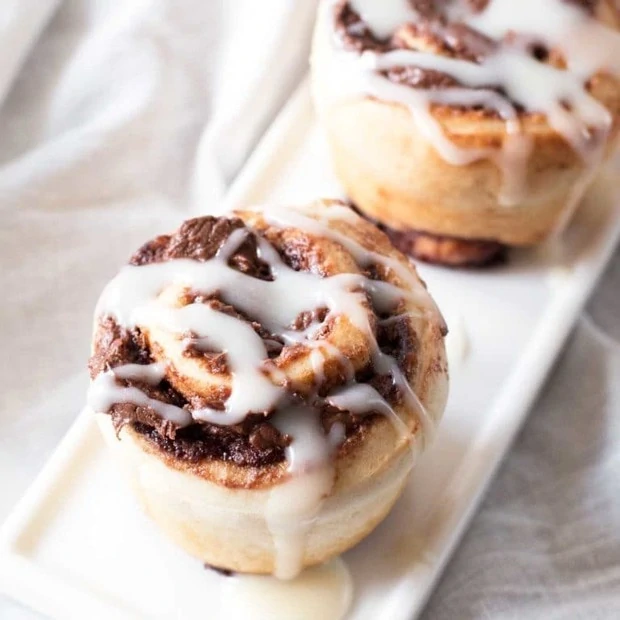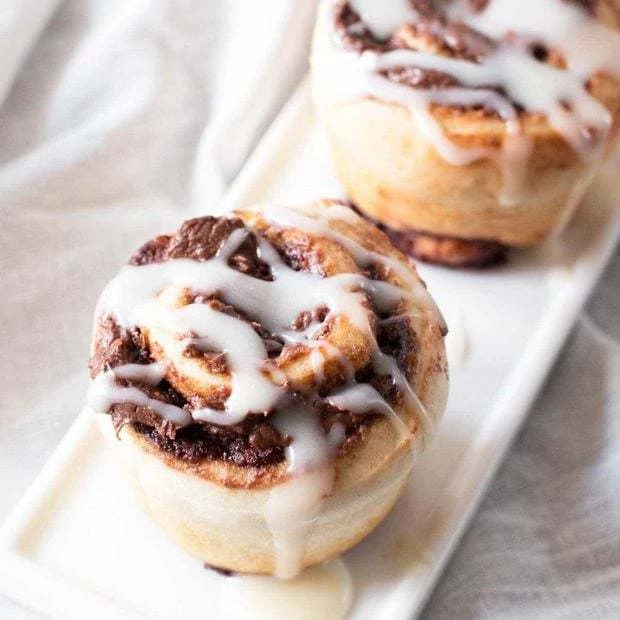 Mini Nutella Cinnamon Rolls
Yield:
Makes 20 to 24 rolls
Additional Time:
10 minutes
Nutella and cinnamon come together in the perfect marriage in these little bites of breakfast heaven.
Ingredients
Dough
1 1/3 cups warm water
1 Tbsp active dry yeast
2 Tbsp agave
3 1/2 cups flour
1 tsp salt
Filling
1 cup Nutella
1 1/2 Tbsp ground cinnamon
Glaze
3 Tbsp melted unsalted butter
1/2 tsp vanilla extract
3/4 cup confectioner's sugar
3 to 4 Tbsp milk
Instructions
Preheat oven to 375 degrees. Grease two 12-cup muffin pans and set aside.
In the bowl of a stand mixer fitted with a dough hook, combine water, yeast and agave. Stir and let stand for 5 minutes, until nice and foamy.
Add flour and salt to the yeast mixture and knead on low, increasing speed slowly to medium for 5 minutes. Remove dough and allow to rise for 10 minutes on a flat floured surface.
Roll the dough out into a 9x15-inch rectangle and trim as needed to create a perfect rectangle. Spread the dough with Nutella, then sprinkle with ground cinnamon. Tightly roll the long side in, creating a long log, pinching the seam so it has a tight seal.
Using a sharp knife, cut the log into 24 equal pieces. Place each roll in a muffin cup.
Bake 15 to 20 minutes, until cooked through and golden brown.
While the rolls are baking, whisk together the ingredients for the glaze, adding more milk as necessary to reach desired consistency. Drizzle the rolls with the glaze once they are out of the oven. Serve warm.