Kimchi Fried Rice, or as Koreatown: A Cookbook calls it "Our Mildly Insane Kimchi Bokkeumbap" is quite possibly my favorite weeknight meal of the entire YEAR. It's ridiculously flavorful, super simple and quick to make, and adding an egg on top basically makes it heavenly.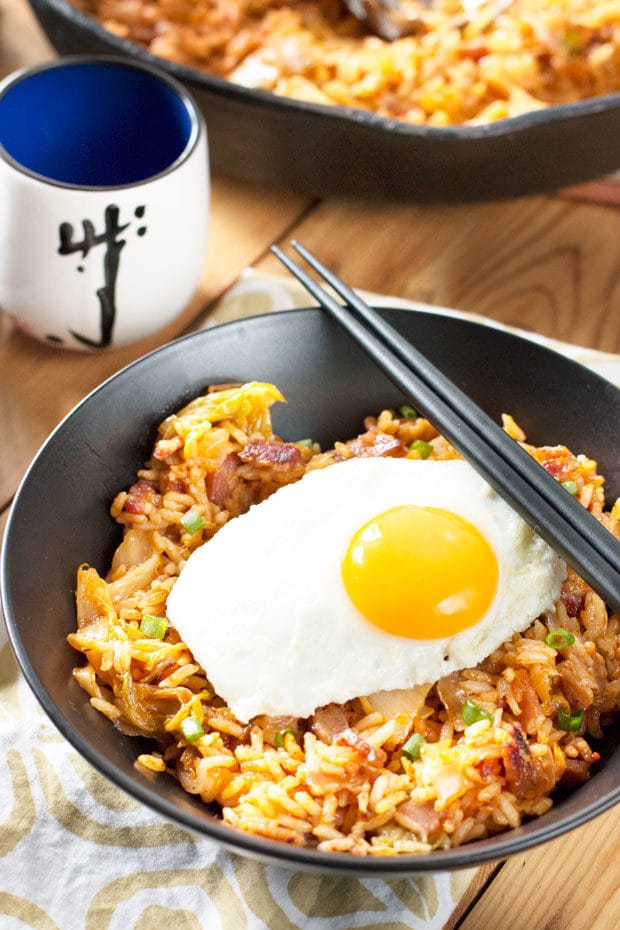 In an effort to get myself more acquainted with cuisines that are outside my comfort zone, I went directly for Koreatown for my next cookbook review. I'm not sure if it's because of my previous obsession with PSY, my affinity for soju, or my overall lack of experimentation with kimchi and gochujang that hooked me into this cookbook, but after the introduction, I was in deep.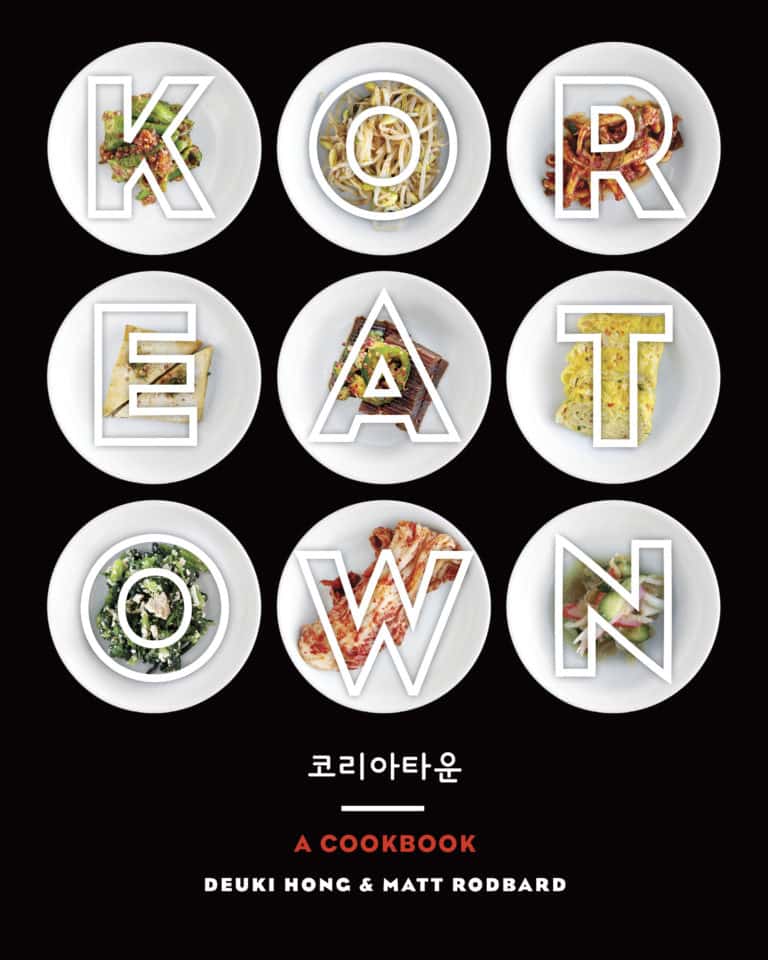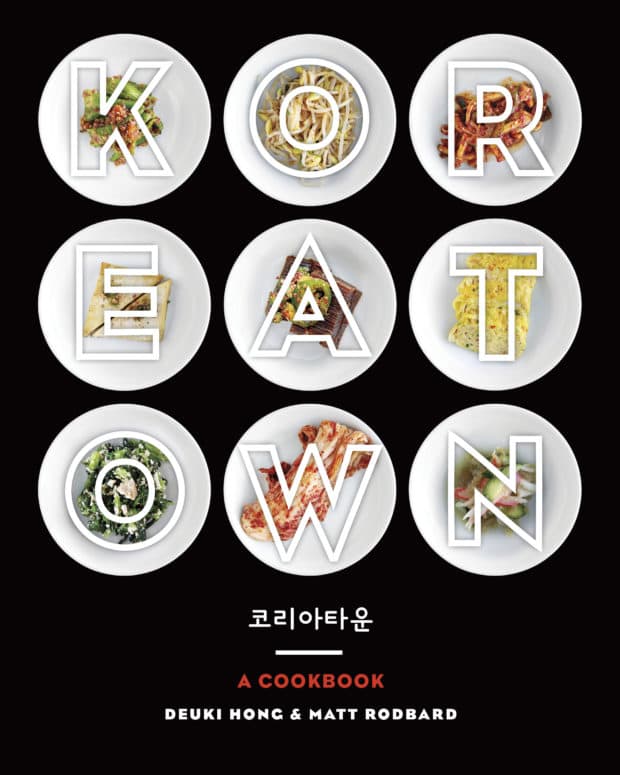 As someone who has no clue what they're doing with Korean flavors, except what I've heard on Top Chef and a handful of other foodie shows, this book was ridiculously approachable. Not only do the recipes break things down in a way that won't intimidate any cook, there is a whole introduction section that takes you through every funky, fermented ingredient that you might not be familiar with (especially if you grew up in white bread suburbia like myself, HA).
I only recently got on the Korean BBQ train with a particular restaurant here in Denver, and their kimchi is something I now crave. So when my eyes laid on this kimchi fried rice recipe, I knew I had to try that one first.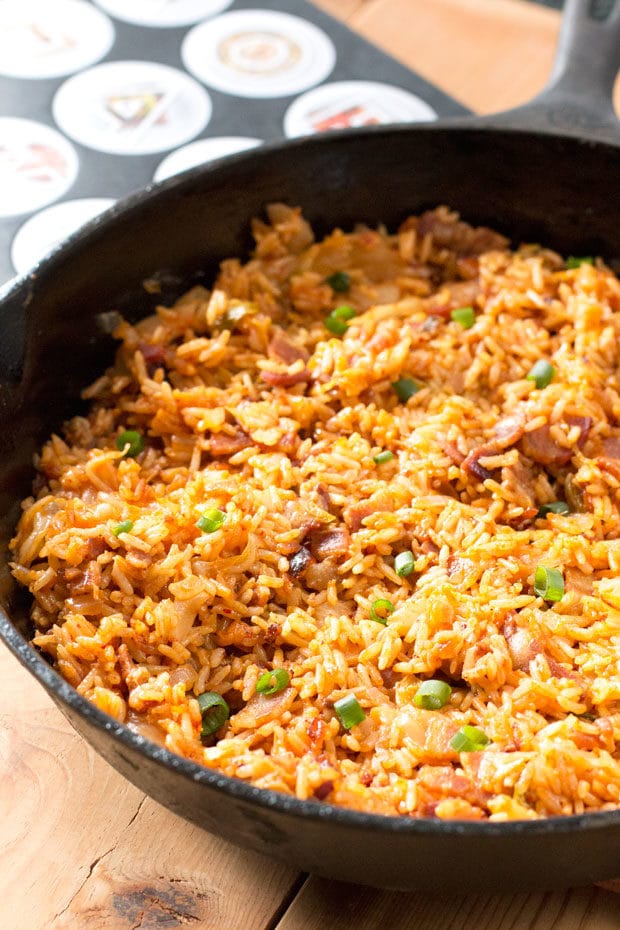 The recipe itself is so simple and comes together in less than 30 minutes, but the flavor… Oh my gosh you guys, the flavor… It literally explodes in your mouth, in a way that I haven't experienced quite enough in my short 29 years on this Earth. There's depth, brightness, savoriness and umami flavors that permeate the entire dish, leaving you dying for another bite before you even finish the one that's in your mouth.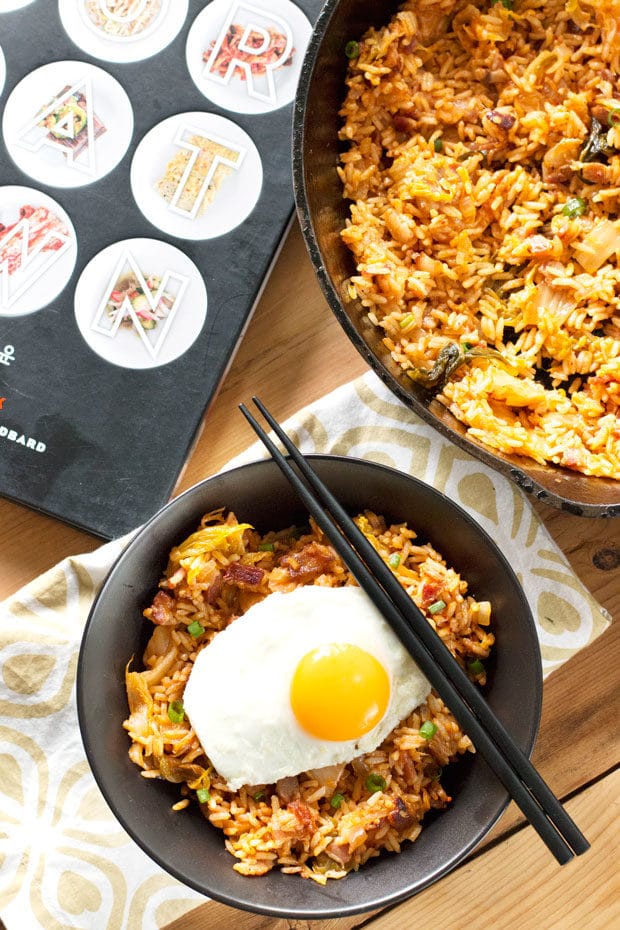 Douse the whole thing in a sunny-side up egg and WOW. This is the kind of comfort food I wish I had when I was growing up. Sorry mom…
If you are thinking about really diving into Korean cuisine, this is the one place I would recommend starting. Plus you'll even get a guide to SO many ingredients that you probably fly by whenever you pop into the Asian market in your neighborhood.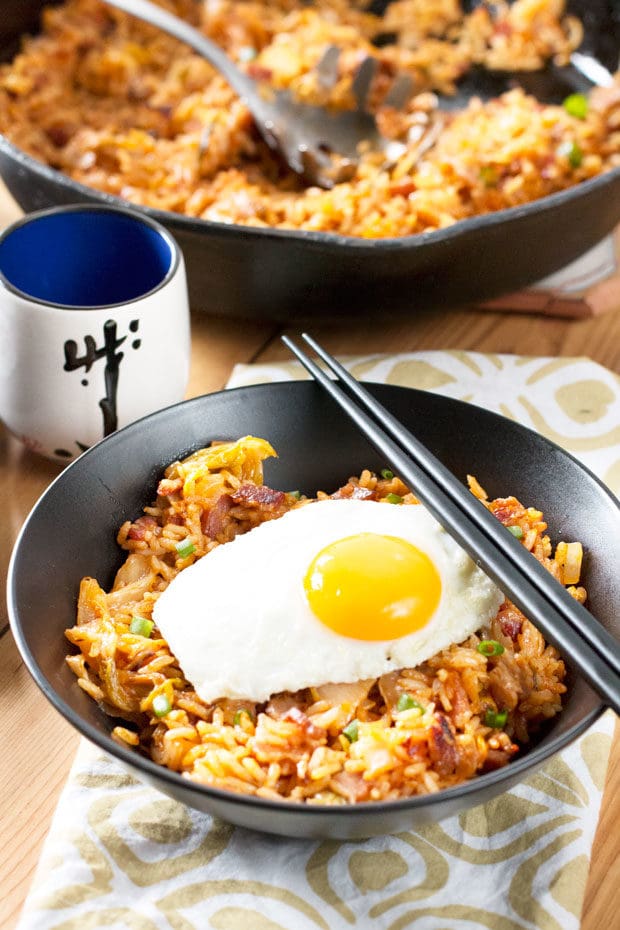 Just try this recipe and trust me, you'll be SOLD.
Disclosure: I received a copy of this book from the publisher/Blogging for Books in exchange for my honest review. I received a copy of this book from the publisher in exchange for my honest review.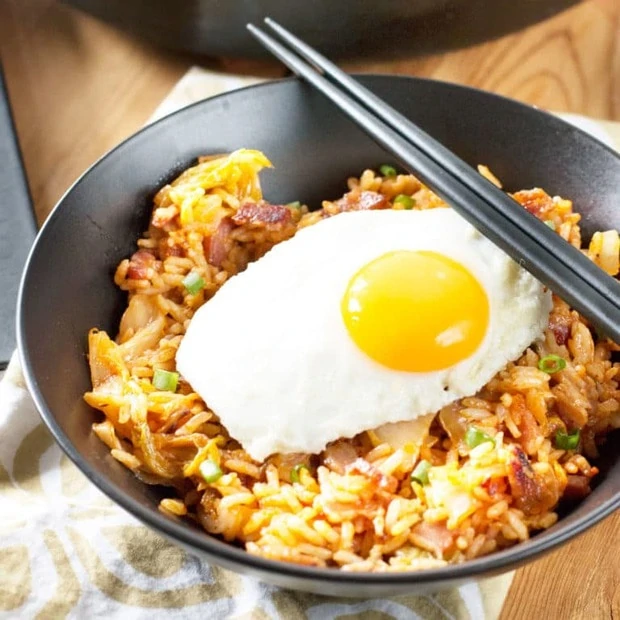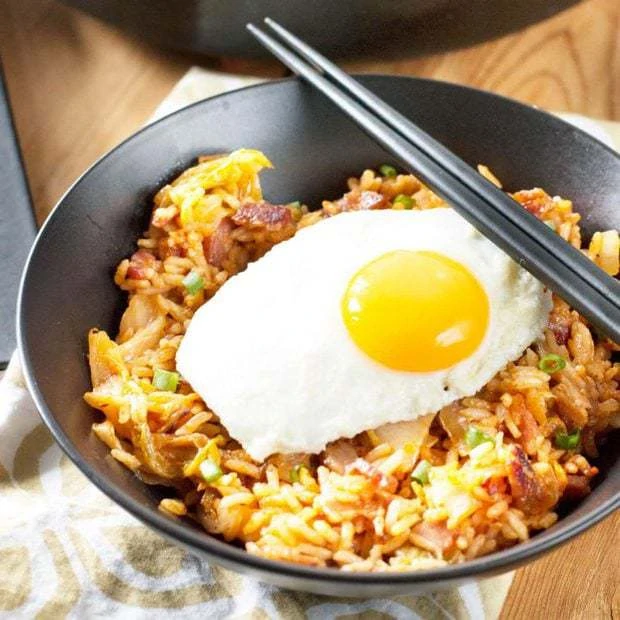 Kimchi Fried Rice
Bacon. We kept coming back to bacon when talking about this kimchi fried-rice recipe. Bacon is quintessential Americana. Our kimchi fried rice needed bacon, and for months we tested and were continually disappointed that the essence of bacon—Americana!—was being muted by either too much rice or too much kimchi. Then it came to us. We needed to use more bacon! Like a lot more. Like how French chefs view mashed potatoes: equal parts butter and potatoes. That's scary, right? Also scary good.
We went that direction here and by the grace of god and Allan Benton did this ever work. The crispy rice unites with the decadent gochujang butter, while the bacon is there just being wonderful. And remember, the key to good fried rice is using cold day-old rice, which is nice and dried out and gives you a much better fry. So the next time you order takeout, get an extra order of rice and keep it in the fridge for a day or so. And if you didn't plan ahead, no sweat. Make some rice and lay it out on a sheet tray and freeze until cold.
Ingredients
1/2 lb of slab bacon, roughly chopped
1 medium onion, cut into small dice
2 garlic cloves, minced
1-inch knob of ginger, minced
1 1/2 cups chopped extra-aged Nappa Cabbage Kimchi (recipe in cookbook or store-bought works here too!)
2 cups cooked rice, preferably day-old
1 Tbsp gochujang
2 Tbsp butter, softened
2 eggs, fried sunny-side up
2 scallions, sliced thin
Instructions
In a large skillet, wok or cast-iron pan over high heat, cook the bacon, stirring, until fat is fully rendered and the bacon is barely starting to crisp. Pour out all but 2 tablespoons fat.

Add onion, garlic and ginger and sauté for 1 minute, or until very aromatic. Add chopped kimchi and rice and sauté, stirring frequently, for 4 to 5 minutes, or until very hot. Drop the heat to medium-low and flatten the rice with your spatula. Continue to cook until the bottom layer is crispy, about 2 minutes; think Spanish paella here. The longer you leave it, the more crispy the bottom will become, but be careful not to burn the garlic.

While the rice continues to crisp, in a small bowl mix together the gochujang and softened butter.

Serve from the pan or wok, topped with fried eggs, sliced scallions and gochujang butter.