Well I'll be honest with you, this one took me a few tries.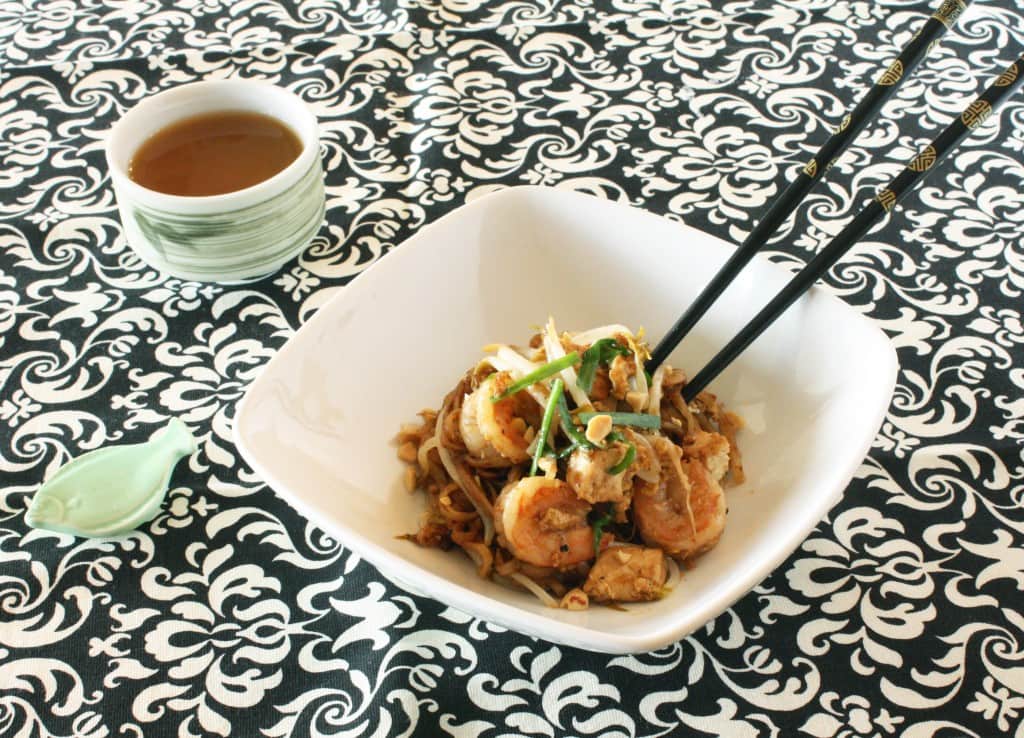 Of course I was not really familiar with Pad Thai before I made it, unlike my hubby who loves this dish more than any other food in the world. So I had to do some research and found a great place in Denver that makes wonderful Pad Thai, so wonderful my hubby actually liked it. I figured that was a good starting point before I go making my own Pad Thai!
Actually making Pad Thai takes a bit of practice in my opinion. The first time I tried it, I had no idea what to expect and it ended up being a bit of a disaster with very chewy noodles (I can say now I actually understand how to work with rice noodles!). However, the second try went a lot smoother since I was more familiar with the ingredients and I remembered the process so I got myself organized better.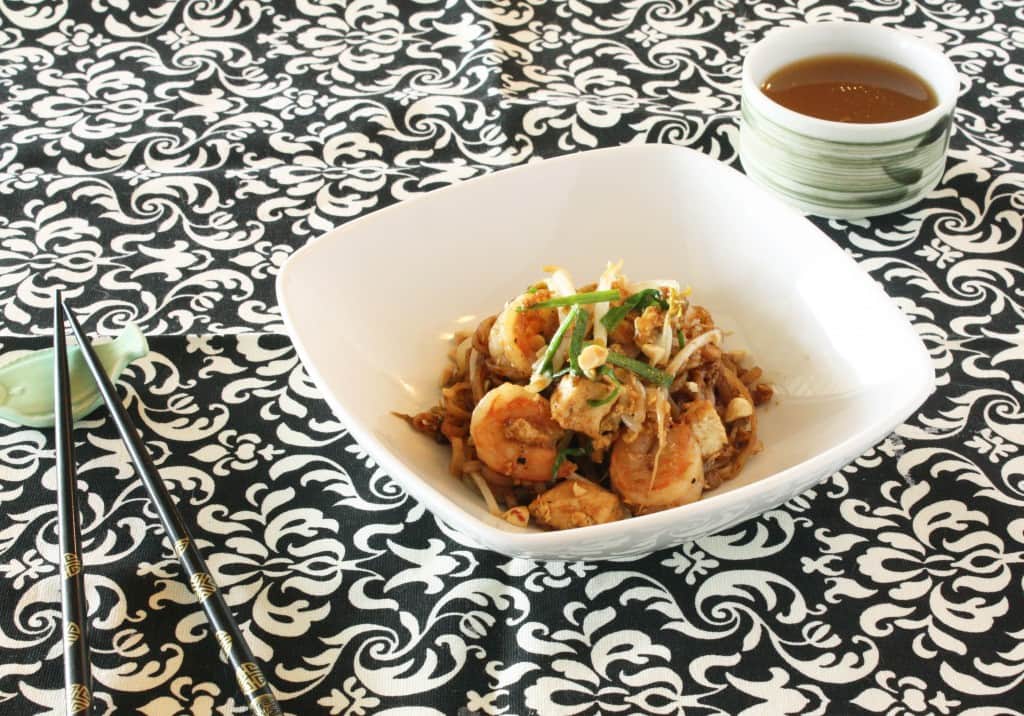 I will be honest with you, Pad Thai is easy to make once all the ingredients are ready. The two things that tripped me up the first time was making tamarind purée (I ended up using a sieve because I wasn't getting anywhere with just my hands) and the rice noodles (which I had the wrong size of and therefore didn't soak them long enough so all the cooking in the world wouldn't make they soft). When you get down to the actual cooking, it's over in a flash. Before you know it you are done and looking at your pan like, "wait, that was it? Really?"
If you really want to make Pad Thai from scratch, I highly recommend reading up on Pad Thai over at SheSimmers. This is the most detailed tutorial I have ever seen (thank you Sherri for recommending it!) and it comes in 5 parts:
Part Three: Notable Ingredients
Part Four: Sauce and Seasonings
Below I have outlined the recipe from SheSimmers (with a few changes I made). Note: several of these ingredients you will need to find at your local Asian market (for those of you in Denver, I hit the one on the corner of Alameda and Federal).
Also prepare yourself to multi-task, i.e. stir noodles while stirring something else in the same pan. Don't worry, it's all explained below.
Pad Thai may not be the easiest thing to make the first time around, but with a little practice, boy oh boy is it an awesome recipe to have in your back pocket.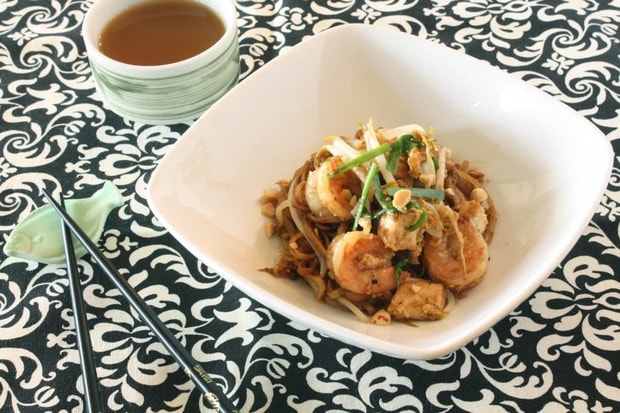 So tell me, do you think you will try to make Pad Thai??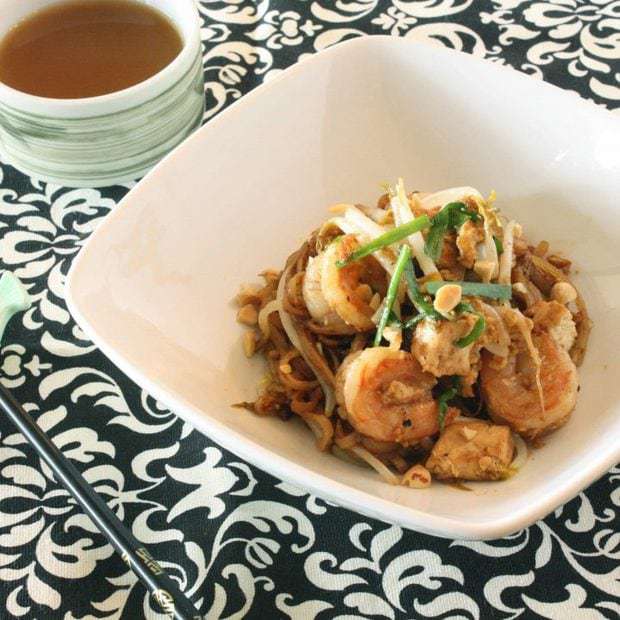 Pad Thai
Additional Time:
25 minutes
Although a little challenging to master, this pad thai recipe is detailed and will produce fantastic results!
Ingredients
1/2 cup plain vegetable oil
4oz 2 to 3 millimeters wide dried rice noodles (soaked in room temp water for 20 to 30 minutes and drained)
2/3 cup Pad Thai sauce (see recipe below)
1 Tbsp shrimp paste in oil
2 cloves garlic, finely chopped
1 shallot, finely chopped
1/4 cup small dried shrimp (shell-on)
3/4 cup firm tofu, chopped into bite sized pieces
1/2 lb shrimp, peeled and deveined
2 large eggs, cracked into a bowl
6-7 stalks of Chinese chives, blades cut into 1" pieces
2 cups bean sprouts
Chopped dry-roasted peanuts, dried red pepper flakes, sugar, fresh limes for garnish
Sauce
3/4 cup fish sauce
1 1/2 cups palm sugar, finely chopped
1/4 cup brown sugar
14 oz block of tamarind (which you will turn into tamarind pulp, you can also buy tamarind pulp but it's cheaper to make it yourself)
Instructions
Prepare the tamarind pulp by soaking the tamarind block in 14oz of lukewarm water for approximately 20 to 25 minutes. Push through the sieve, discarding the veins, membranes and seeds leftover. The block of tamarind will leave you will just the right amount of pulp for the sauce.
For the sauce, add the tamarind pulp and other ingredients to a medium saucepan. Cook over medium heat until the sugar dissolves. Once dissolved, remove the sauce from heat and cool.
Mix together the chives and bean sprouts in a medium bowl and set aside.
In a large skillet or cast iron pan over medium-high heat, heat half of the vegetable oil. Once hot, add the noodles, followed by the sauce and shrimp paste. Stir constantly to mix everything together. Keep the noodles moving all the time (here's where the multitasking begins!).
In approximately 30 to 40 seconds, the noodles will have softened. Push them to one side and add remaining vegetable oil to the empty side. Add garlic, shallot, dried shrimp, tofu and shrimp to the vegetable oil side of the pan.
This is what SheSimmers calls "the critical point of the process." Do what you can to a) keep the noodles moving constantly to prevent burning, b) get the shrimp to cook about partially and c) make sure nothing sticks to the bottom of the pan (even the little bits!).
When the shrimp begins to turn opaque on both sides, make a well in the middle. Add the eggs to the well. Break and scramble the eggs with two spatulas and let them cook on one side before breaking into smaller pieces. Make sure nothing else in the pan is burning during this time.
Once the eggs are cooked, everything else in the pan should be cooked as well. Remove from heat, add in a couple handfuls of the chive/bean mixture and give everything a quick stir. Serve immediately.
Top with chopped peanuts. Season to taste individually with extra fish sauce, lime juice, sugar, and dried red pepper flakes.