Please note this post contains affiliate links.
Slow Cooker Creamy White Chicken Chili is a comforting, flavorful soup that you will want to warm up with every night. The combination of chicken, green chiles, and beans with cream cheese and heavy cream makes for a variety of textures with just the right amount of spice. Plus it comes together in the slow cooker, so it's the easiest recipe ever!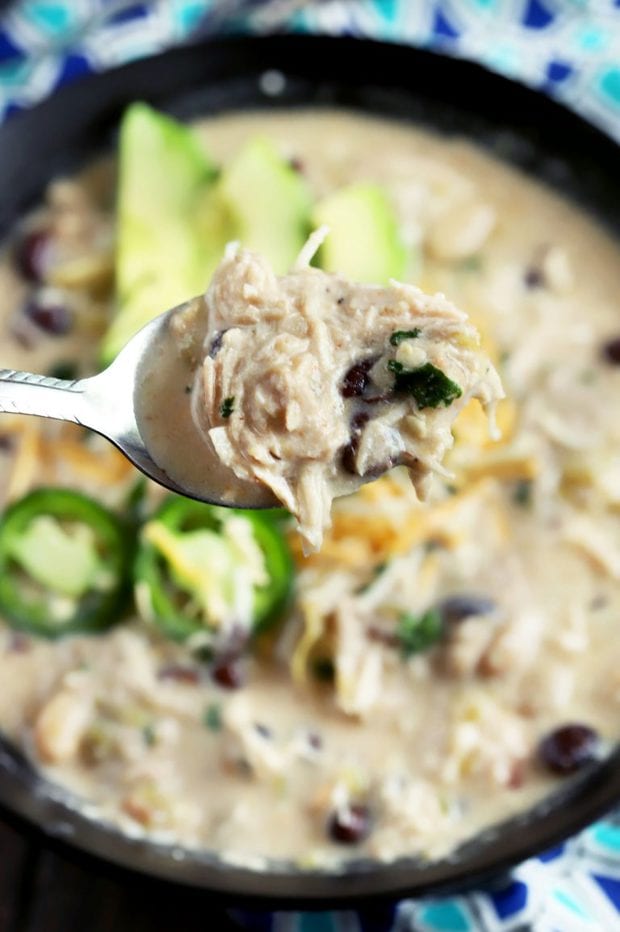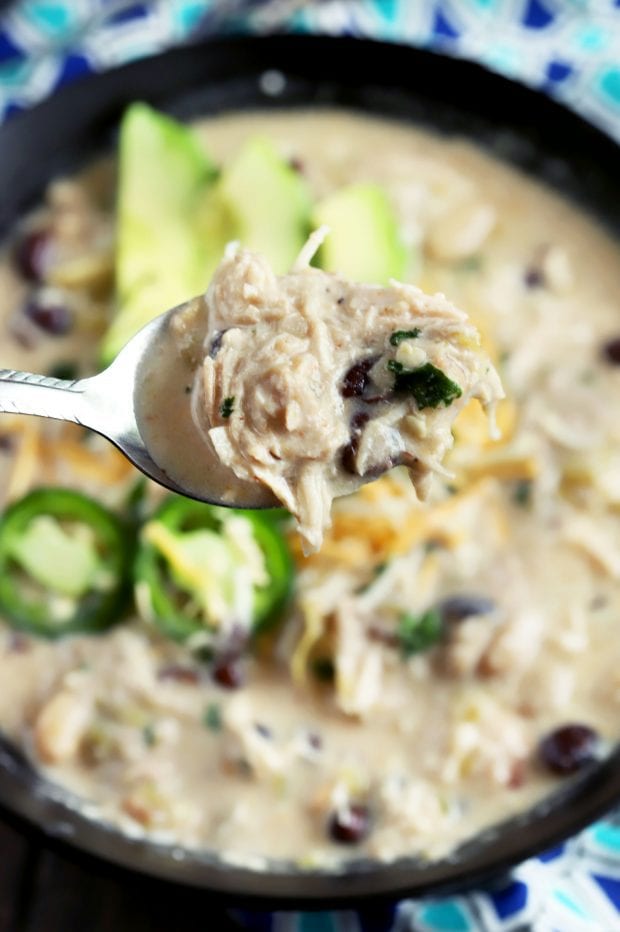 I am deeeeeeeeep into chili mode over here.
Now that it is refreshingly cool and we are about a week into October, I feel reinvigorated. There's something about the change in seasons that sets my soul on fire with happiness, particularly when it comes to the summer to fall transition.
It is finally the time to dive into comfort food face first, and that means one thing to me.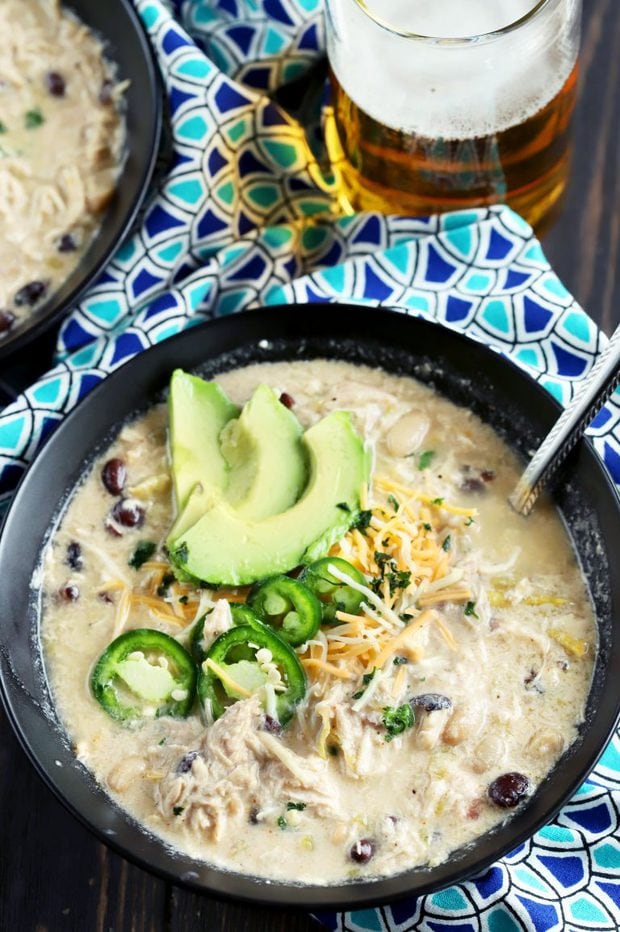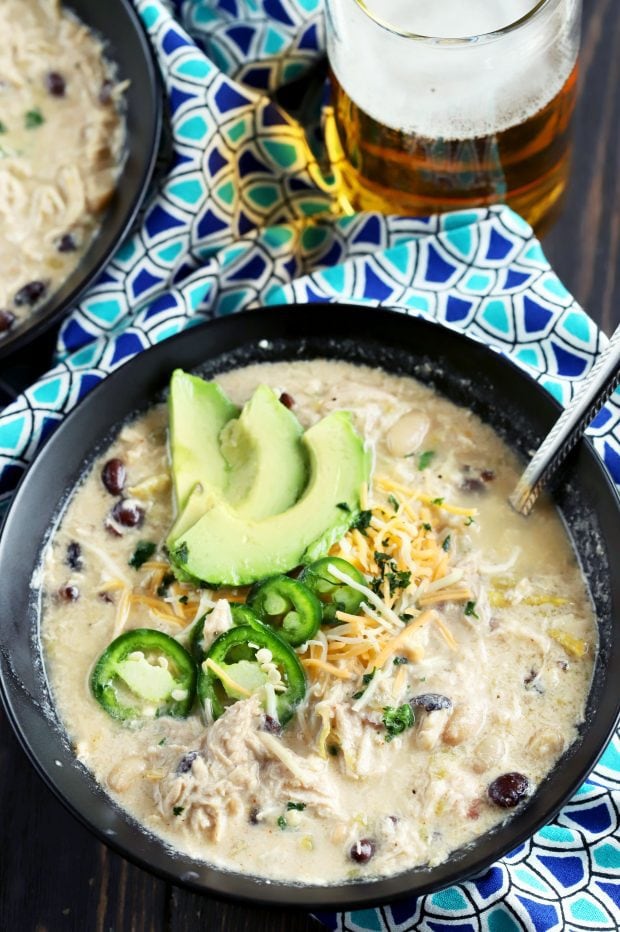 All. The. CHILI.
I have to admit, there was a time I didn't enjoy chili. This I have to attribute back to my college days when I was broke AF. At that time a microwave potato plus a can of chili and cheddar cheese was a "good homemade meal."
Yea, I know. Not exactly my finest moment. This was before I knew what cooking for myself and good food really was. Don't judge me too harshly ok?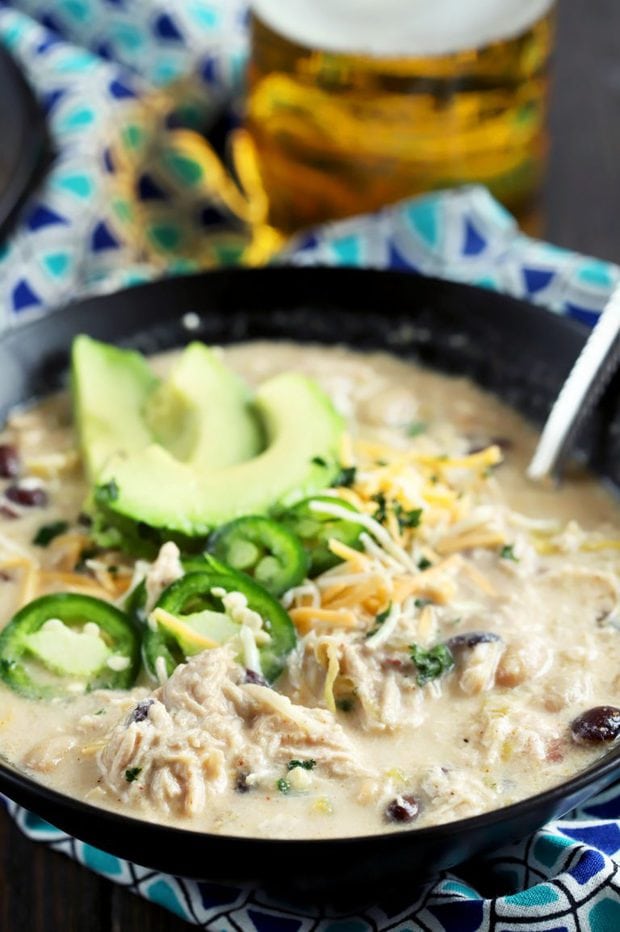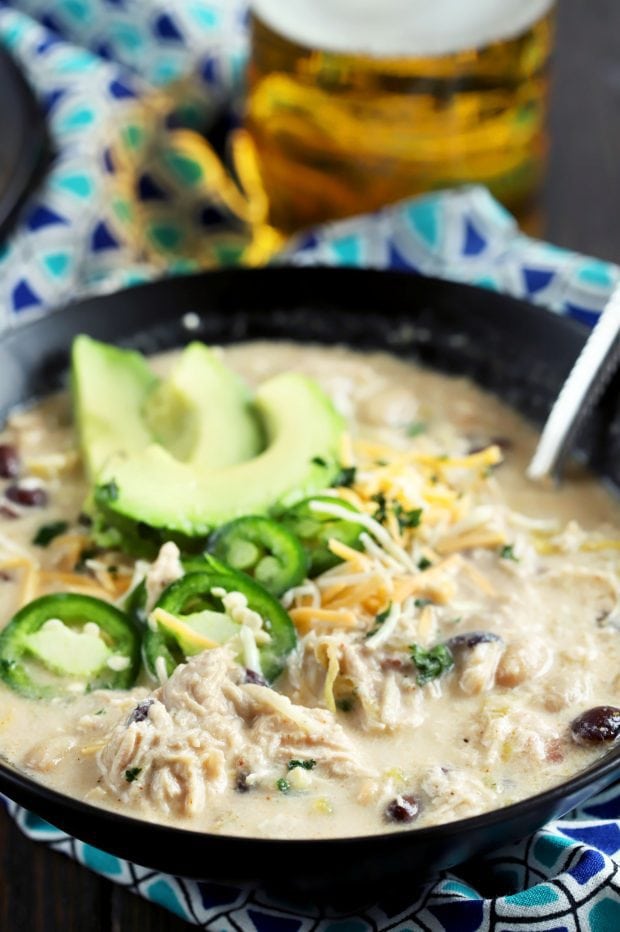 Once I learned how to make true, made-from-scratch chili, my mind was blown. It was like I discovered a piece of my soul that had been missing all my life.
I know I sound like how I usually do when speaking of guacamole, but chili truly is my comfort food on a chilly night.
A bowl of piping hot chili, mixed in with a variety of toppings and filled with a bunch of different textures and flavors is as good as life gets in my book.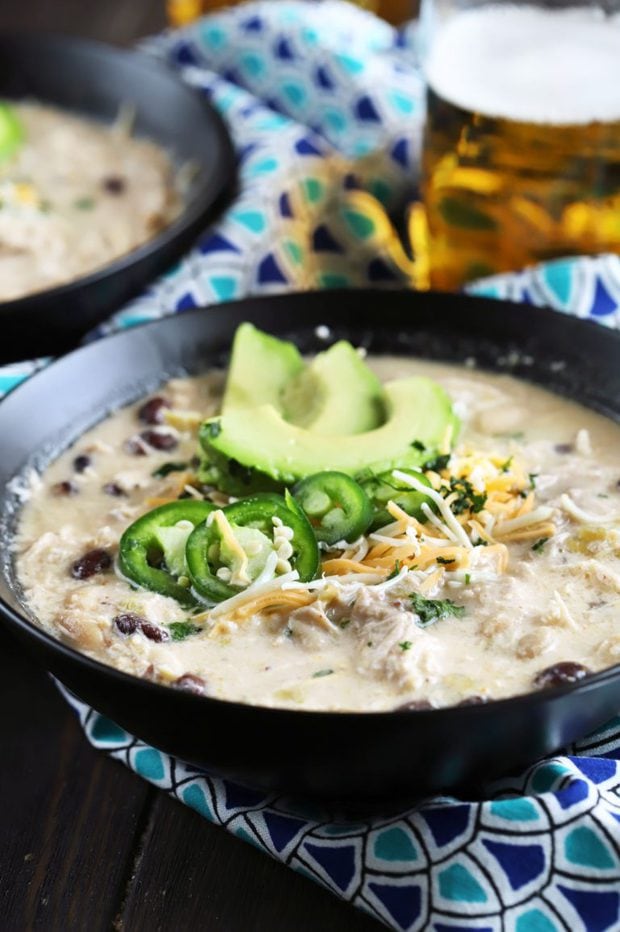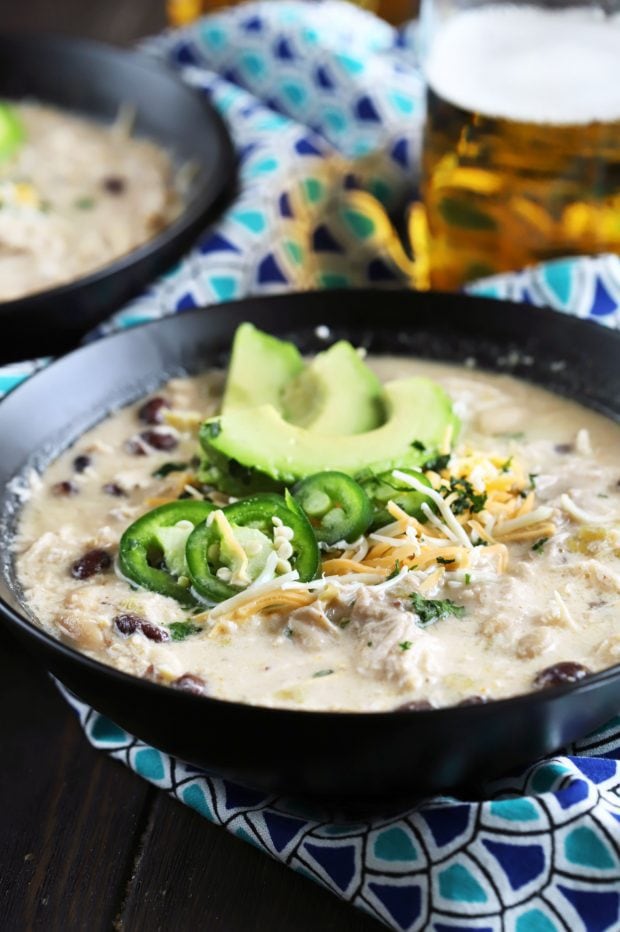 I used to only make one kind of chili, but for the past few years, I've been experimenting with different flavor profiles.
This year, I think I have gone a ittle chili crazy, but every new recipe I make has been SO incredible I simply can't stop myself from sharing it with you.
If you like to add tons of cheese in your chili, you are going to totally swoon over this creamy, dreamy chicken chili because you understand the importance of that sumptuousness in every single spoonful.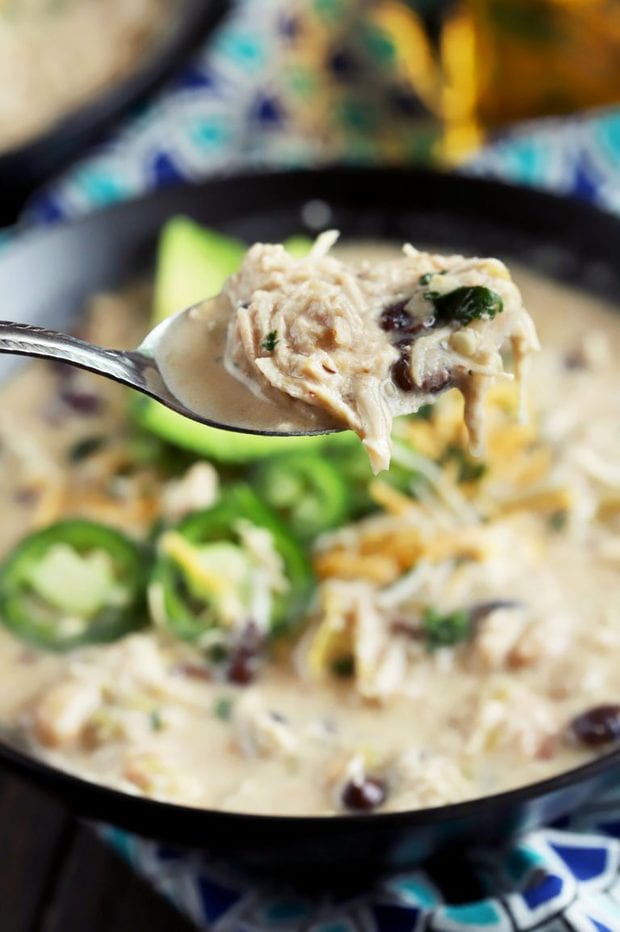 There are so many layers of flavors and textures in this recipe. You get a slow cooked flavorful chicken that's cooked for hours so it becomes so unbelievably tender. The beans and green chiles provide the texture, as well as a touch of heat.
Then you get the tang of cream cheese and extra boost from heavy cream so that it becomes a creamy bowl full of goodness.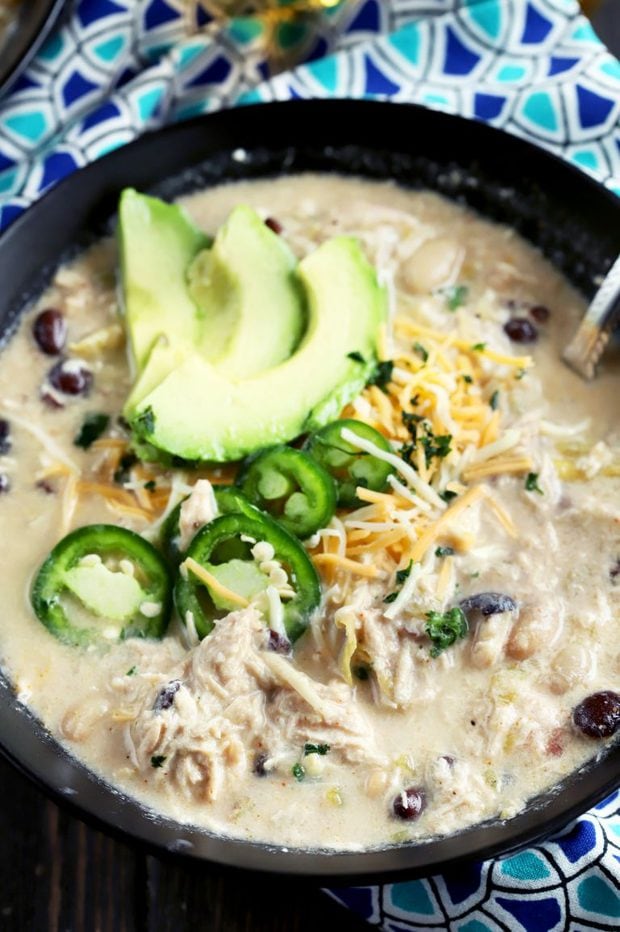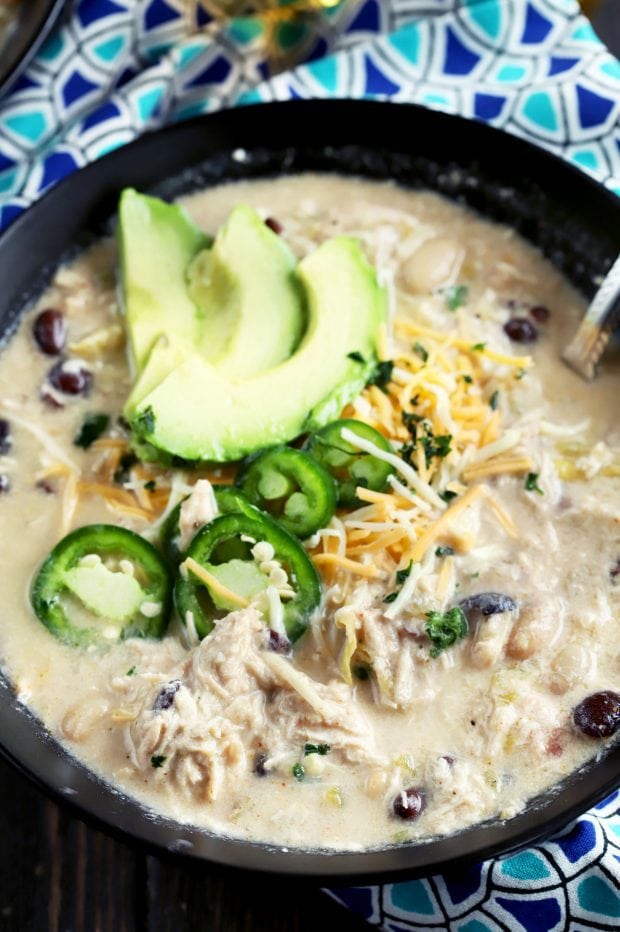 Top the slow cooker creamy white chicken chili with added cheese and jalapeños! Add sliced avocado on top and it becomes an extra hearty dish! You are going to want to dive into the moment you get home from work.
So what's your ultimate comfort food for the fall season??
This Recipe's Must Haves
The must-have for this recipe is obviously the oh-so amazing Instant Pot Ultra. It's a slow cooker. Also, it's a pressure cooker. It is my number one fave appliance ever. YOU NEED ONE.
This wooden spoon is all you need to stir up the pot of goodness that is this chili!
A chef's knife is one of those knives that is a must for any cook. It's the best multi-purpose knife to have in your collection.
If you are anything like me, you need a giant cutting board when cooking. This one is just the thing for you to spread out and really get those knife cuts right.