Guinness Beef Stew Pot Pies are full of Guinness flavor, portioned just right for you and your friends and family. Pair it with a Guinness during your St. Patrick's Day celebration and you're off to the ultimate start to your holiday. Nothing says Ireland like a Guinness, after all.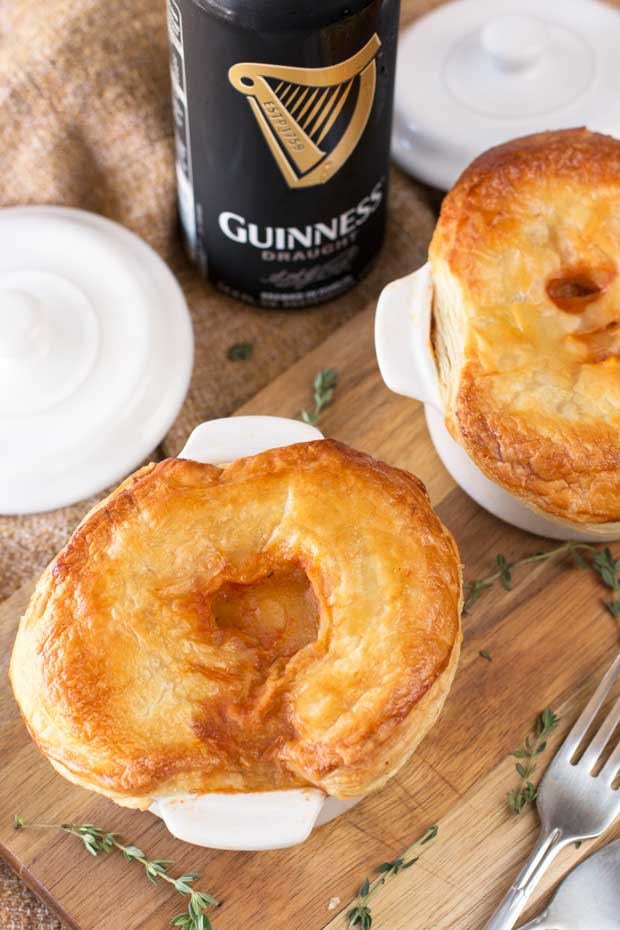 Fancy a Guinness?
There's magic in these little pot pies, that's all I can say. Just like the magic of St. Patrick's Day.
Of course, I have yet to find a leprechaun and his pot of gold, but every St. Patrick's Day a little magic always seems to happen. It could be the magic of the perfect night or even the magic of waking up the following day without a hangover.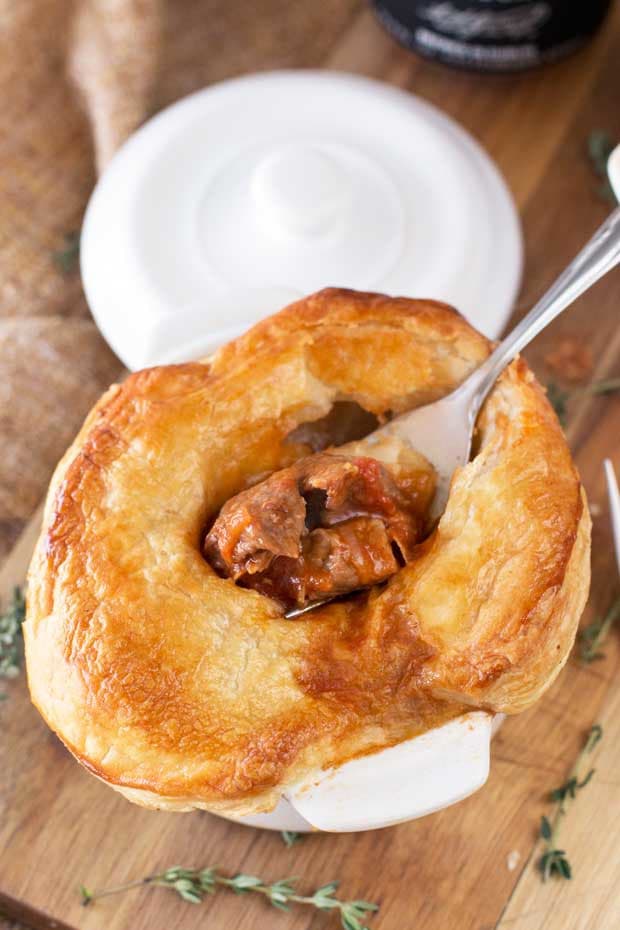 That latter is the kind of magic I'm hoping for this year, if I'm being honest… Waking up without a hangover when you know you really should have one is the best feeling in the world.
You can actually enjoy the day without wanting to die and you don't feel an ounce of regret for the horrible amount of drinks you put in your body the night before. It's like a rare and elusive unicorn that you can only catch a glimpse of once before it runs away, never to be seen again.
I'm just going to believe that I can see this magical unicorn more than once. It will happen, it will happen, it will happen….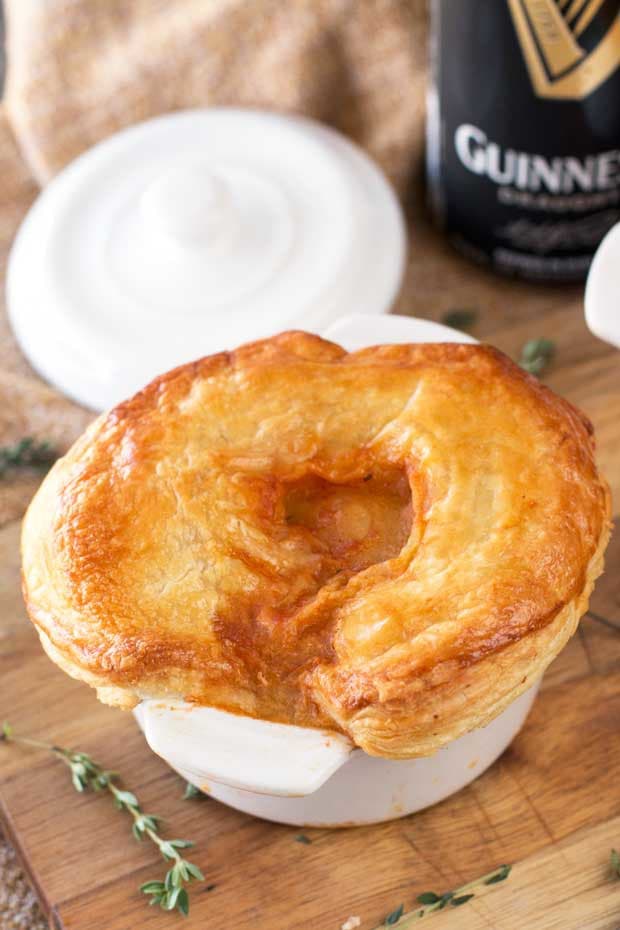 Being half Irish, I'll take any excuse to bust out some heritage (well and also to drink, thanks family tree).
These Guinness Beef Stew Pot Pies are a delicious and hearty taste of Ireland that'll form the right base layer you need before you head out drinking all night. The flavor of the Guinness mellows out as you cook it, but still comes through just enough to make every bite a little taste of beer-soaked heaven.
Plus, these make the BEST midnight snack when you finally manage to stumble home after all the bars have shut down. Just sayin'.
For another tasty pot pie, try this bouef bourguignon pot pie!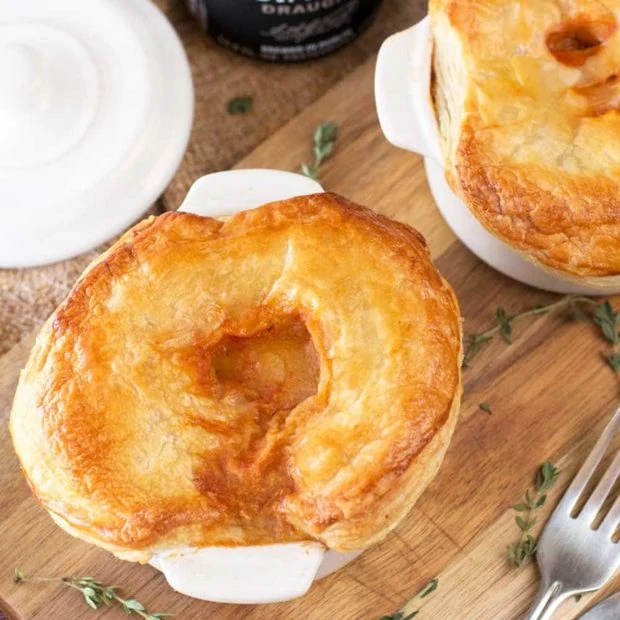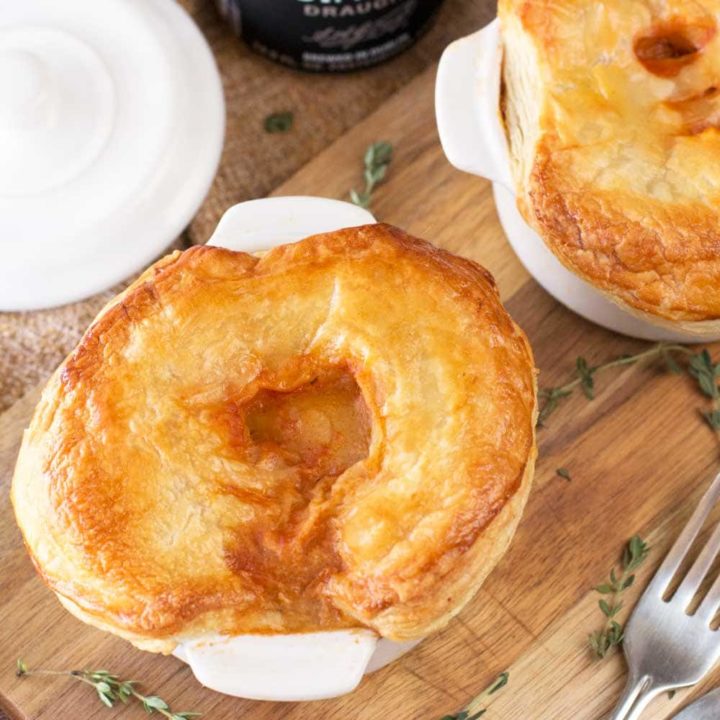 Guinness Beef Stew Pot Pies
Total Time:
1 hour
5 minutes
Hearty Guinness beef stew is popped into little pot pies for an individual serving of Irish comfort.
Ingredients
1lb stewing beef
1 Tbsp all-purpose flour
1/2 tsp salt
1/2 tsp black pepper
1 Tbsp olive oil
2 cloves garlic, minced
2 carrots, peeled and chopped
2 stalks celery, chopped
1/2 yellow onion, chopped
1 large gold potato, chopped
1 28oz can crushed tomatoes
12oz Guinness
1/2 Tbsp Worcestershire
1 bay leaf
1 tsp chopped fresh thyme
Pinch red pepper flakes
2 sheets puff pastry
1 egg, lightly beaten
Instructions
In a medium bowl, toss the beef with flour, salt and pepper to coat.
Heat olive oil in a large Dutch oven or heavy-bottomed pan over medium-high heat. Once hot, add the beef and brown on all sides, approximately 3 minutes. Remove the beef to a plate and set aside.
Add garlic, onion, carrot, celery, and potato to the pot. Stir and cook until tender, approximately 2 minutes. Stir in the crushed tomatoes, beef, beer, Worcestershire, and spices.
Cover and stew over low heat for one hour. Season with salt and pepper to taste, then cool completely for at least 30 minutes.
Preheat oven to 425 degrees F.
Add the stew to small baking dishes such as cocettes or you can make this in a large baking dish if desired.
Slightly roll out the puff pastry and cut into rounds that will hang over the edge of the baking dishes slightly. The best way to do this is turn the dish upside-down on the pastry and cut out around the dish, leaving a 1/2" border.
Brush the edges of the cocettes with the beaten egg and top with the pastry pieces. Brush the tops with the egg wash and cut small slits in the top.
Bake 20 minutes or until top is puffed and browned. Serve immediately.