Please note this post contains affiliate links.
Loaded Nacho Egg Rolls with Queso Dip are the fried version of your favorite loaded up snack! All the beef and vegetables you love on your nachos are rolled up and fried, then dipped into a creamy queso dip. If this doesn't scream game time snacking WIN for you, I don't know what else could!
Nachos and I have a sort of love affair going on.
Whether it's loaded up with tons of beef and veggies, or it's a simple thrown-together version with only the basics because it's 1am and all I have in the house, I am sincerely and profoundly in love.
What's not to love?
Carbs. Cheese. Meat. Salsa. Hot sauce. Veggies. So much goodness on a plate, and you don't really have to work that hard to make it all pretty.
So why not roll it all up inside a roll and fry it to shake things up?
That's right people, I'm back on the egg roll train, and let me tell you… it's soooooooo gooooooooooood.
Loaded nacho egg rolls are something out of my happiest mash up fantasies. All the beefy goodness, plus tons of veggies and spices, are rolled up tightly and fried until golden brown. Then you dunk that sucker in a gooey vat of queso dip and take a crispy bite…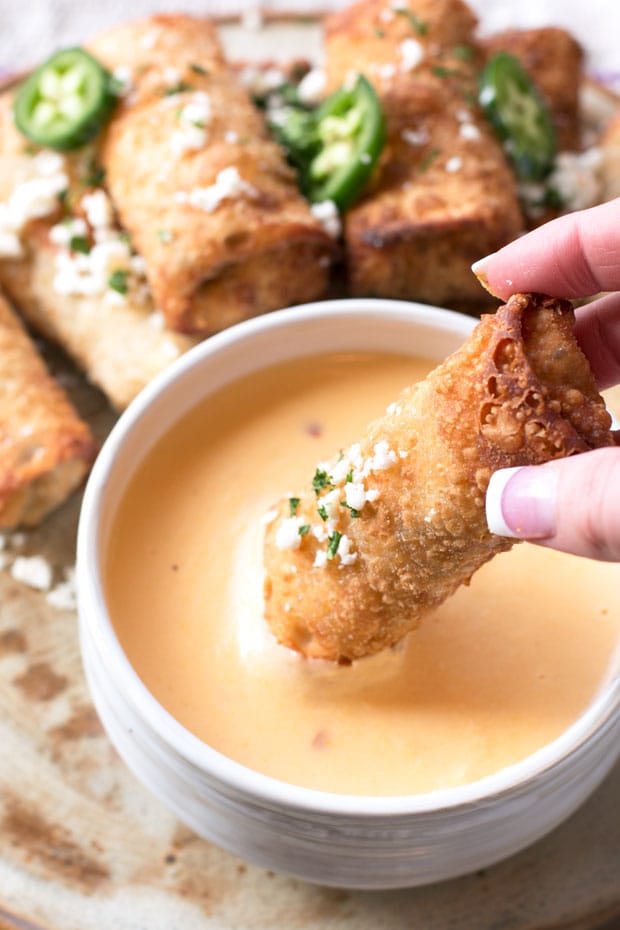 *mind explodes*
Are you drooling yet?
Now I know that all those finely diced veggies look like they are a pain in the butt to deal with. Trust me, if you are doing it by hand, it IS a pain.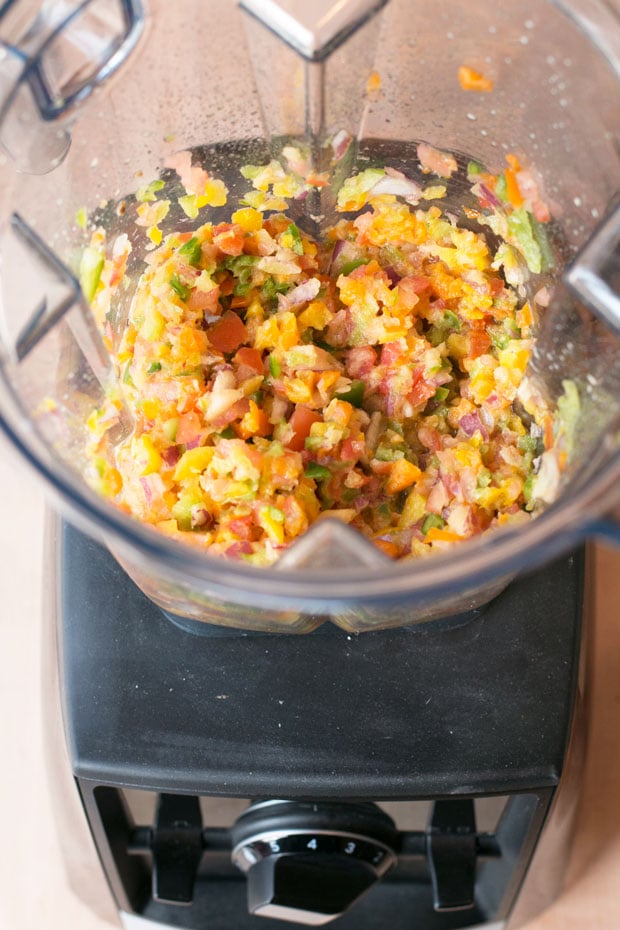 That's when I turn to my trusty Vitamix. I just received one of their new Vitamix Ascent Series blenders and holy wow, it's basically my new go-to machine for eve-ry-thang. This thing makes the smoothest sauces, the finest chopped veggies and even the most delicious desserts in mere seconds!
I used it to dice up all the vegetables for these egg rolls. Literally 4 or 5 pulses of the blender later and BAM (as Emeril would say!), you have it all perfectly diced in a bowl. No chance of getting a little nick or cut from a knife in this scenario. As one of the clumsier cooks in this universe, that's a huge change for me in my everyday life.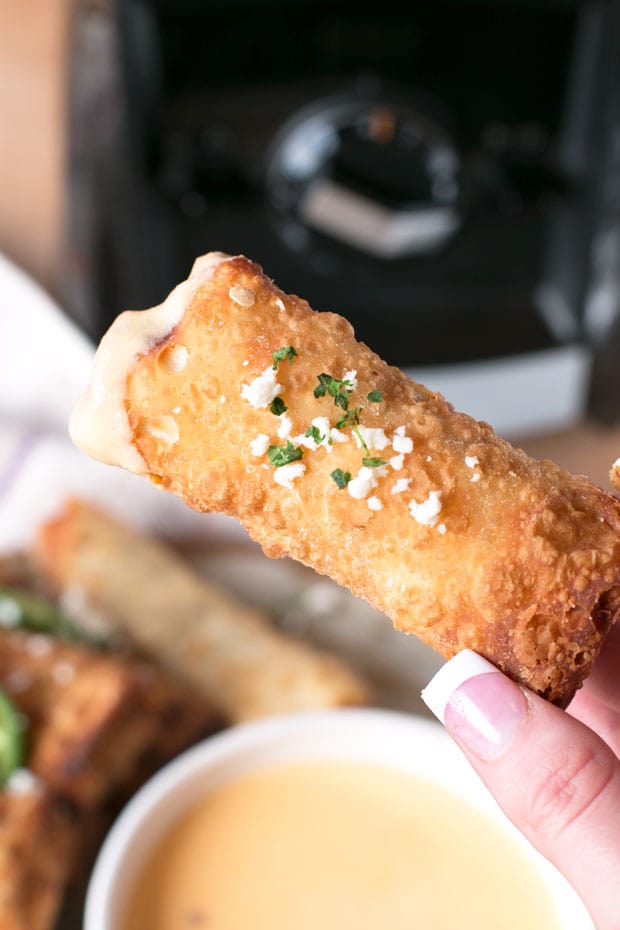 The new Ascent series even comes with a freaking timer so you never over (or under) blend. One of the coolest things about this blender is that they also have interchangeable bowls.
What does that mean?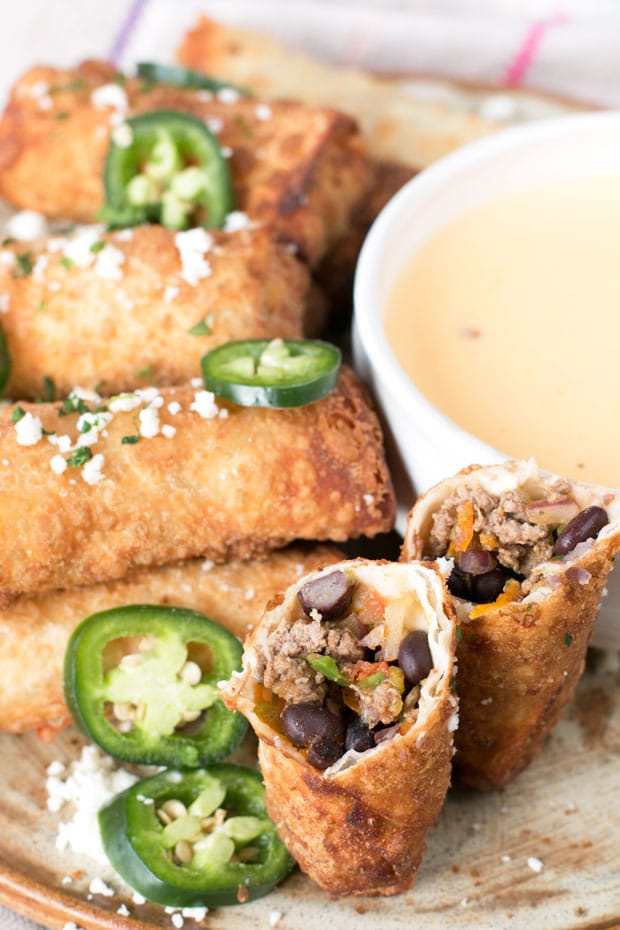 You can make a batch of these nachos using the biggest container, and then swap it out for a smaller container to make a smoothie or a cocktail or any small batch thing your little heart desires. AH these accessories are coming out this spring and I am literally counting the moments until they are out so I can get them all.
Disclosure: This post is sponsored by the Vitamix. While I was compensated with product for this post, as always, all opinions and the recipe are my own. Thanks for supporting the brands that support Cake 'n Knife!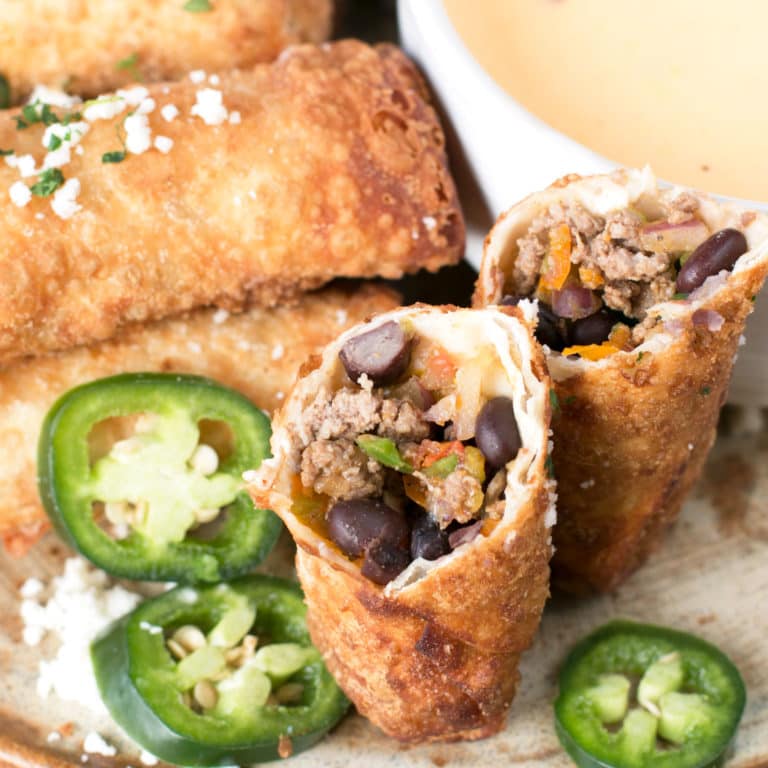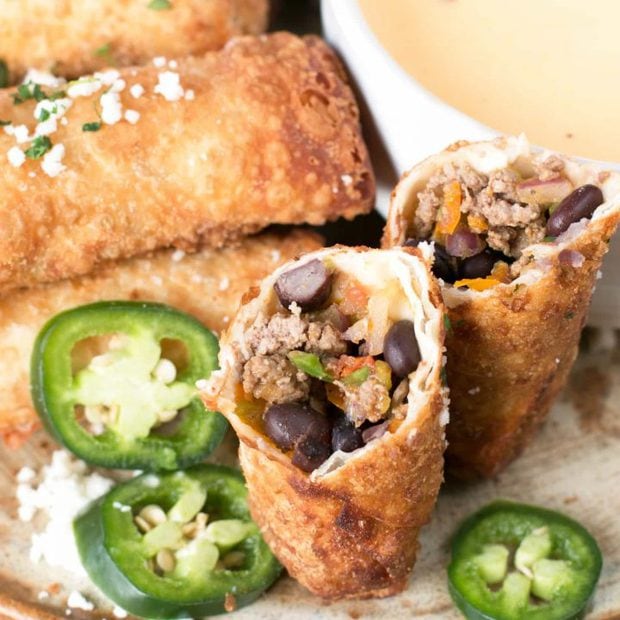 Loaded Nacho Egg Rolls with Queso Dip
All the ingredients you love from loaded nachos, wrapped up and fried for your queso-dipping please!
Ingredients
Loaded Nacho Filling
1/2 red bell pepper, roughly chopped
1/2 green bell pepper, roughly chopped
1/2 yellow bell pepper, roughly chopped
1 jalapeno, seeded and roughly chopped
2 Roma tomatoes, seeded and roughly chopped
1/2 red onion, roughly chopped
1/2 cup black beans
1/2 lb ground beef
1/2 tsp garlic powder
1/2 tsp cumin
1/4 tsp cayenne pepper
1/4 tsp salt
1/4 tsp pepper
Egg Rolls
10 egg roll wrappers
1/4 cup cold water
1 Tbsp cornstarch
Vegetable oil for frying
Queso Dip
1/2 cup milk
2 cups shredded cheddar cheese
1 tsp red chile pepper flakes
1/2 tsp garlic powder
1/4 tsp salt
1/4 tsp pepper
Instructions
In a medium saucepan, heat milk for the dip over medium heat until simmering. Stir in cheese, chile pepper flakes, garlic powder, salt and pepper. Cook over medium heat until the cheese is melted. Keep warm over low heat until ready to serve.
Add bell peppers, jalapeño, tomato, and red onion to the Vitamix Ascent Series Blender. Pulse on Speed 4 until the vegetables are all evenly chopped up, approximately 4 to 5 times.
In a medium skillet over medium-high heat, brown ground beef with garlic powder, cumin, cayenne, salt and pepper. Stir in chopped vegetables from the Vitamix. Cook for approximately 1 to 2 minutes to soften the veggies slightly. Cool for 5 minutes off the heat.
Pour the cooked meat and vegetables mixture into a large bowl. Stir in black beans.
To wrap your egg rolls, start with a clean, flat surface. Lay one wrapper so one of the corners is facing you (like a diamond). Dip your fingers in the cornstarch water and spread on each edge of the egg roll wrapper. In the corner closest to you, spoon 1 ½ to 2Tbsp of the beef and vegetable filling into the center. Lift the bottom corner up and begin to roll away from you, making sure you tuck the corner under as you roll. Once you are halfway up the wrapper, fold in the left side and then the right side towards the center. Continue rolling away from you until only the final corner is ready to roll. Dip your fingers in the cornstarch and water mixture you made earlier and brush it over the final corner. Finish the roll, brush a little more of the cornstarch mixture along the seam, and place seam-side down. Make sure you roll the egg rolls tightly. If they are too loose, they will fall apart when you fry them.
To fry the egg rolls, fill a pot with 4-5 inches of cooking oil. Heat the oil to 350 degrees. Gently add the egg rolls to the hot oil, frying no more than 3 or 4 at a time, turning occasionally. Fry until the egg rolls are golden brown on all sides, approximately 2 minutes. Place on paper towels to drain and cool.
Serve immediately with queso dipping sauce.
Pin this Loaded Nacho Egg Rolls with Queso Dip recipe for later!