Please note this post contains affiliate links.
Instant Pot Carne Asada Chili is rich and hearty, making it perfect for cold winter days or anytime you are craving classic comfort food. The carne asada flavor comes through in every meaty bite! Serves 4 to 6.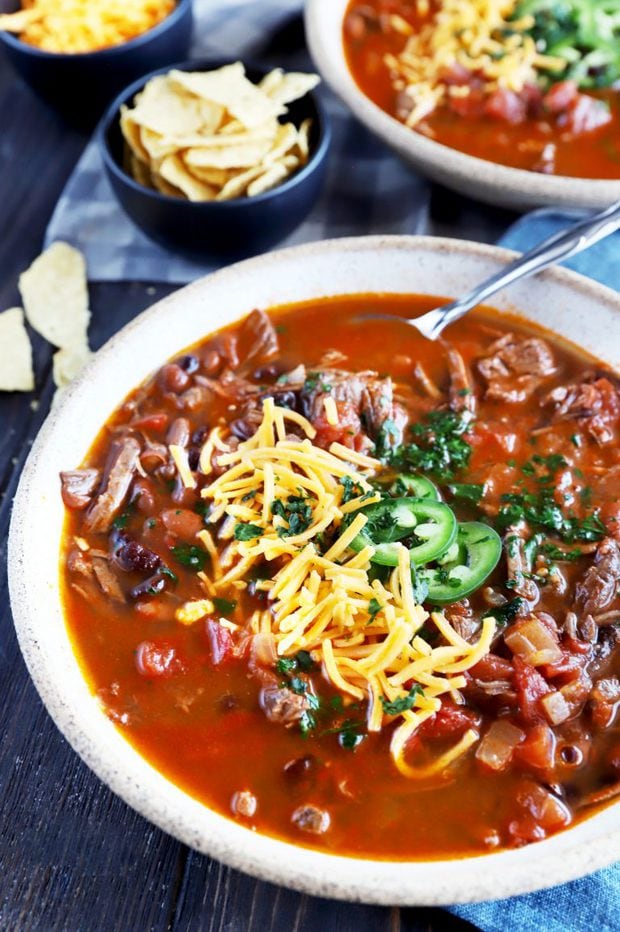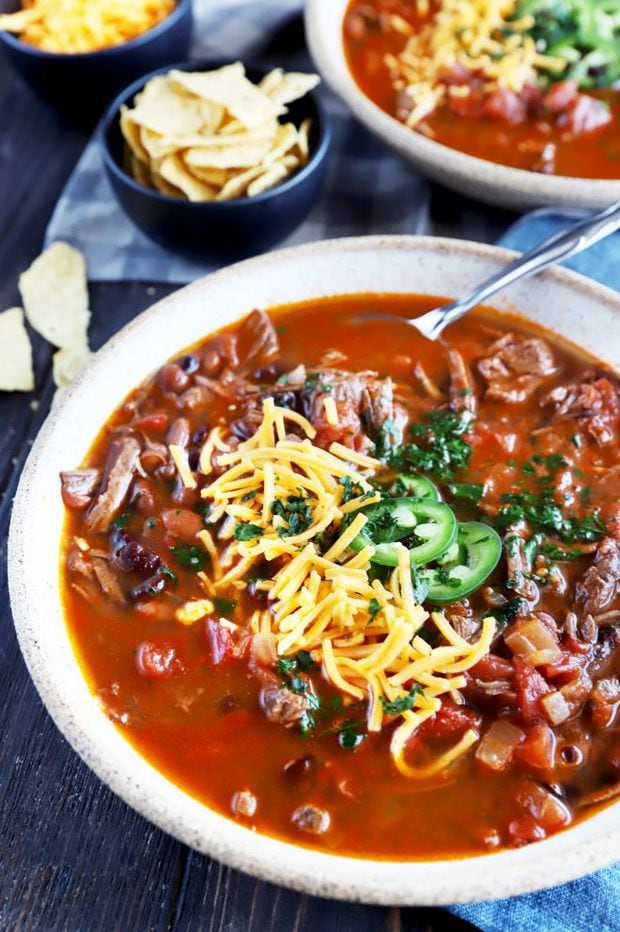 It's weird, but this year I am all about the cold temps. Normally, this time of year, I am ready for the temperature to start trending upward and getting excited for Spring.
Perhaps it's the lack of sleep and the coziness of our home, but I am still loving this cozy little world we are existing in at the moment.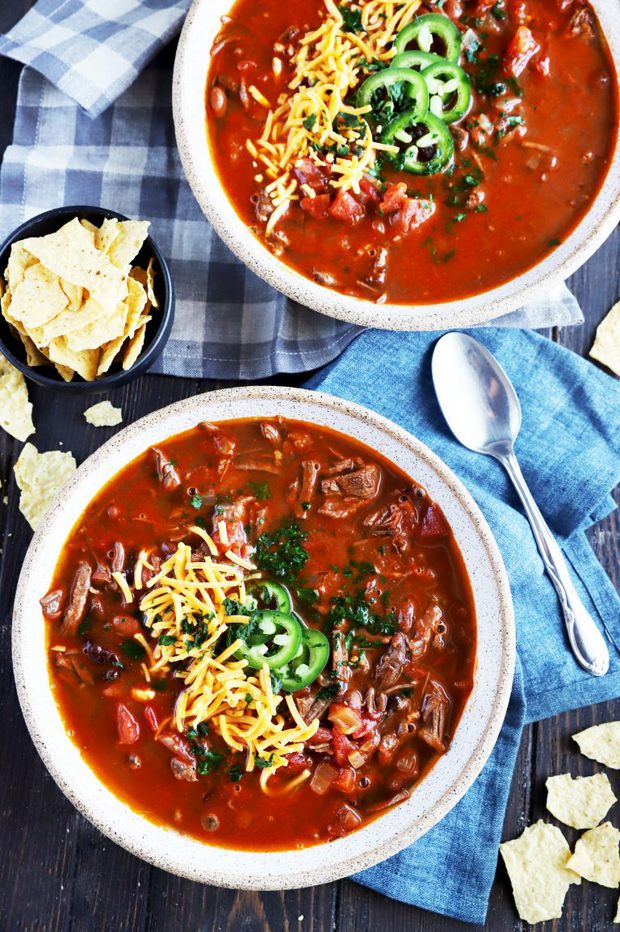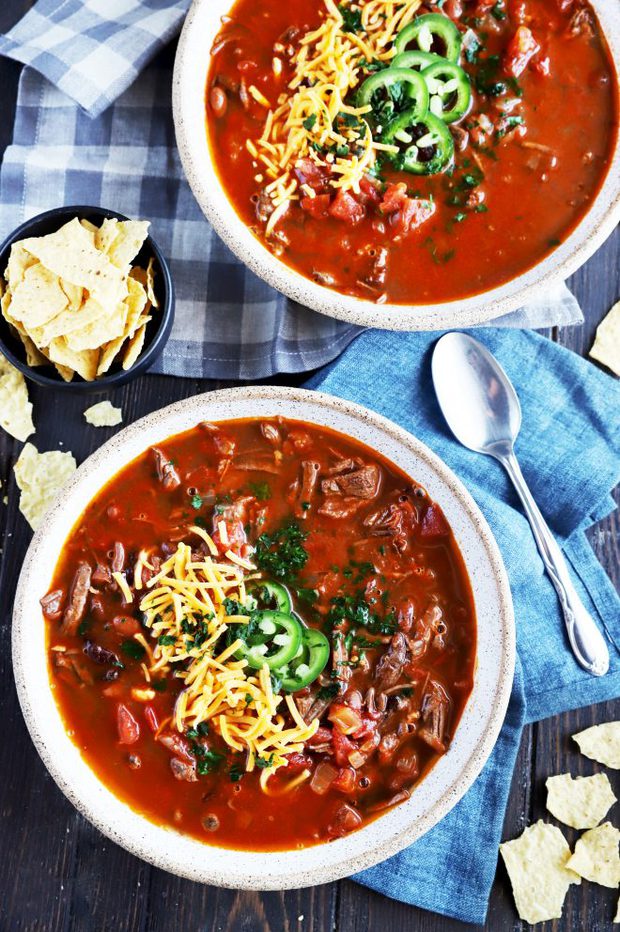 That's why I had to pull out another chili recipe.
I used to not be a big fan of chili, but once I got into grad school, it became an obsession. It might have been because the stress of all that reading and writing. Or perhaps it was just the desperate need to pig out and find a way to keep myself in the kitchen to procrastinate.
Regardless, I fell in love with chili at that time in my life and it's an obsession that continues to this day.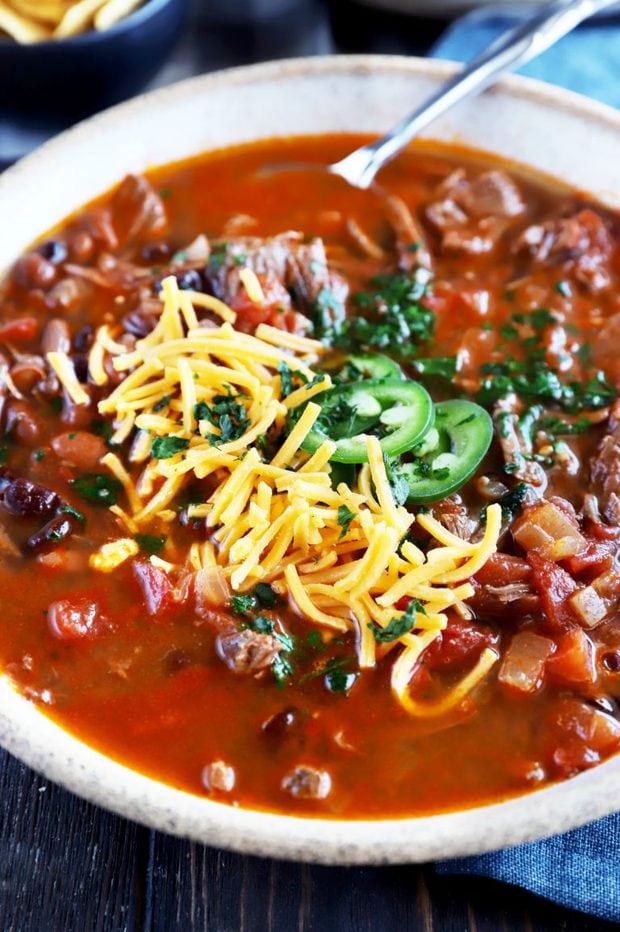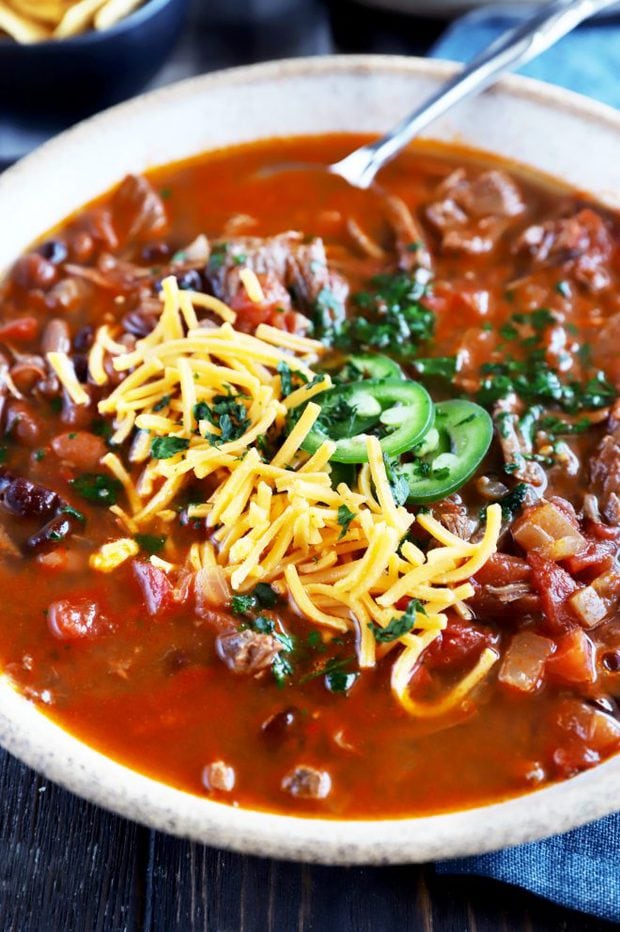 Usually I use ground beef in my chili, but this year I wanted something even heartier (plus I'm supposed to be getting all this yummy red meat into my system per the doctor's orders).
This Instant Pot carne asada chili is so full of flavor, it's the ideal way to warm up for the rest of the winter weeks. The combination of meat, spices, beans, tomatoes and beer (because DUH, beer makes all soups better) is rich and full of depth.
Plus it's even better the longer it sits, so your leftovers are guaranteed to be even better the next day!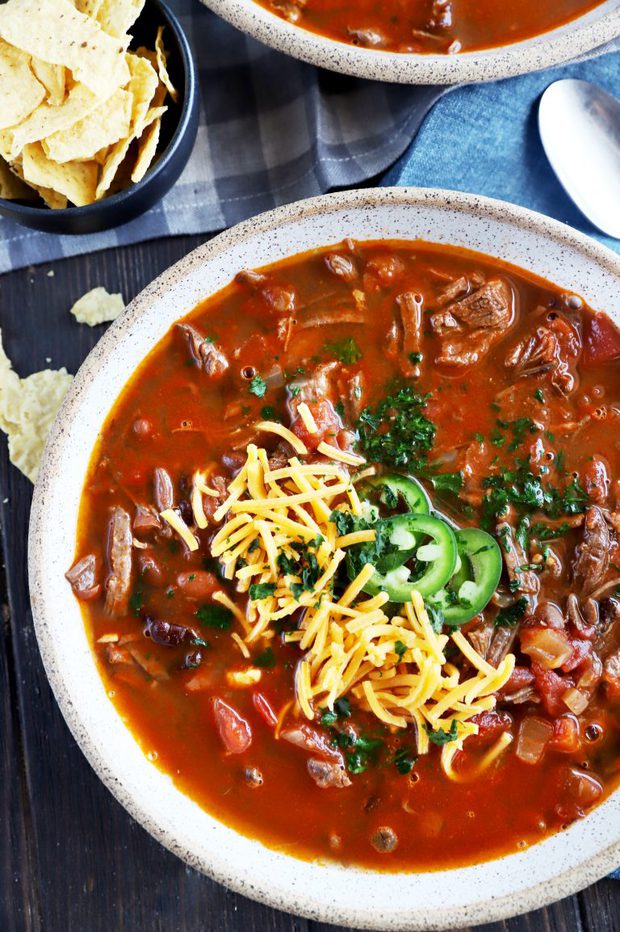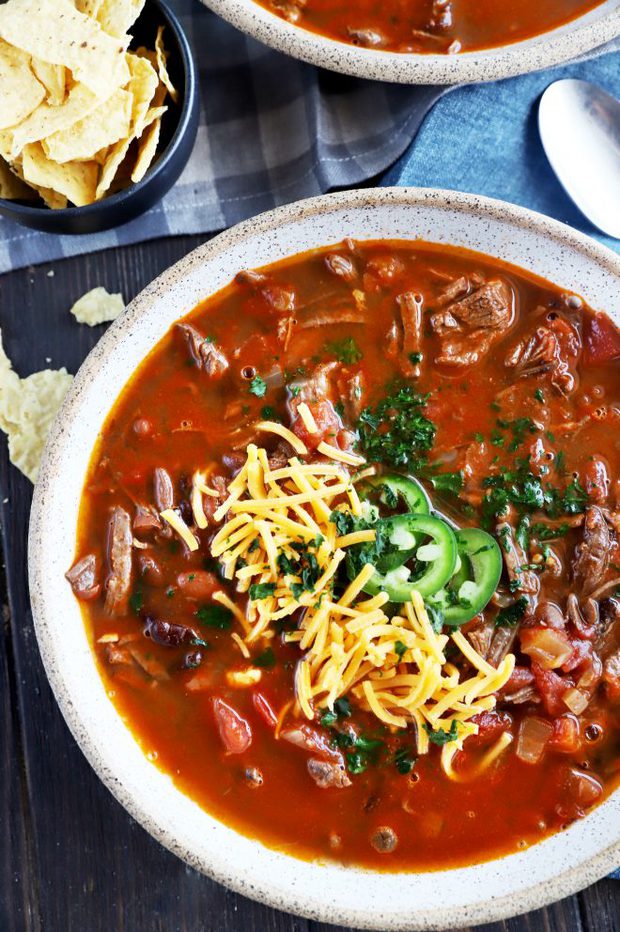 this recipe's must-haves
Grab your Instant Pot! I personally love the Instant Pot Ultra because it has all the bells and whistles I need while keeping it simple.
You will also need some tongs (I love these clongs) and a wooden spoon to mix everything together in the Instant Pot.
Finally, you'll need a cutting board and a couple of forks to shred up the meat when it's done cooking.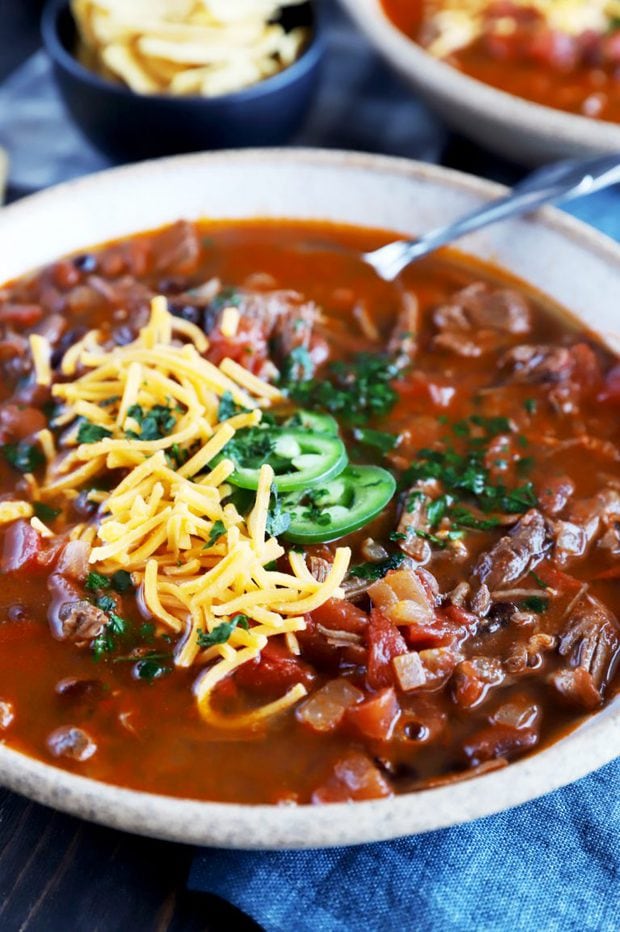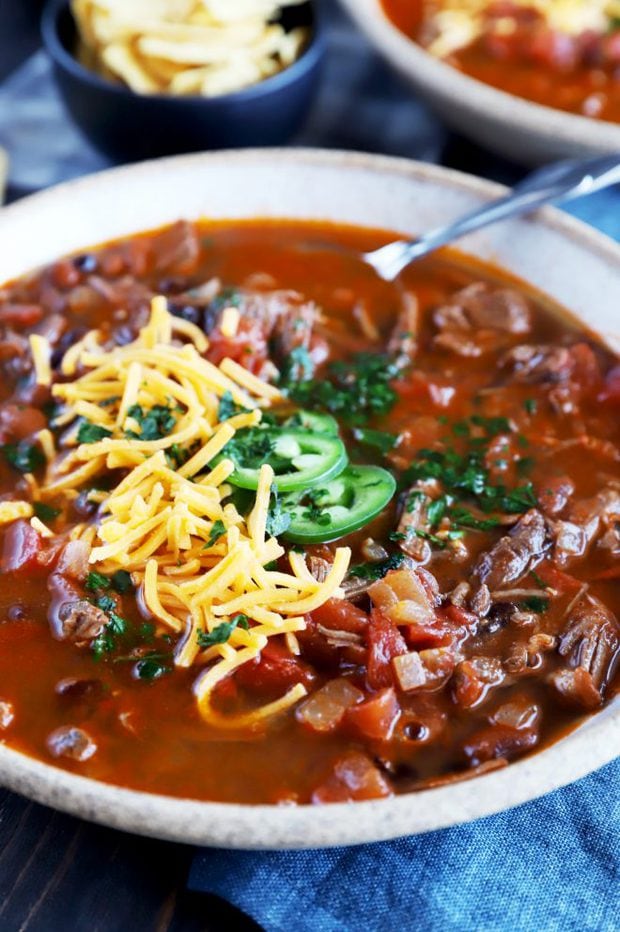 here's how to make Instant Pot Carne Asada Chili!
Sear Steak
Start by heating up some oil in the IP insert and once it's hot and shimmering, add the seasoned steak. Sear the pieces on all sides, which will take you about 5 to 6 minutes. I was able to sear everything in one batch, but if you are working with a smaller IP you may need to work in batches.
Saute Onion
Once the steak is seared and removed, it's time to add more oil and the onion. Cook the onion until it's softened, about 3 to 4 minutes. Add the garlic, cooking briefly until fragrant and then turn off the Instant Pot.
Add in the liquids, using a wooden spoon (I like one with a flat edge because it scrapes easier) to get anything off the bottom that might have stuck during cooking. This is a very important step because if anything is stuck to the bottom, the Instant Pot will think the soup is burning!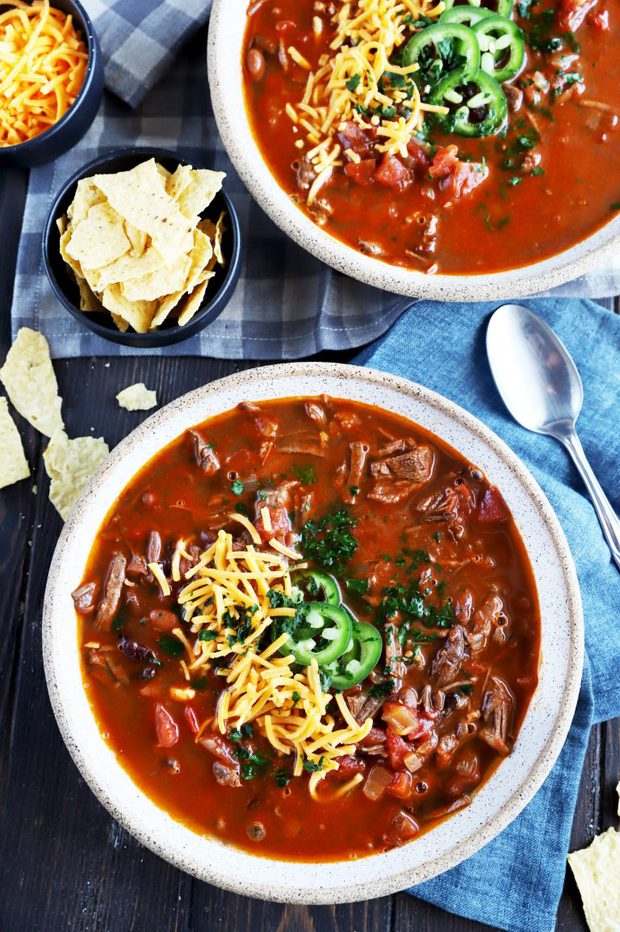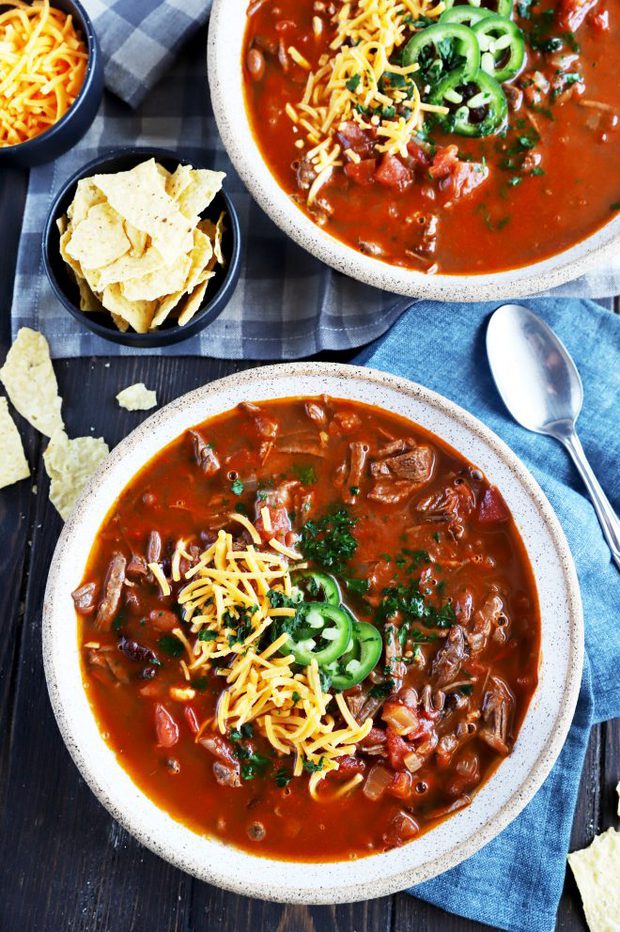 Pressure Cook
Stir in all the remaining ingredients and add the meat back to the mixture as well. Once you've given everything a good stir, cover and cook for 30 minutes on Manual high pressure.
When the timer goes off, let it naturally release for 10 minutes before releasing any remaining pressure manually.
Shred and Serve
Remove the chunks of meat to a cutting board and shred using a couple of forks. Stir the shredded meat into the soup and serve with your favorite toppings!
Need some more inspiration for tasty soups? Check out my soups and stews recipe page!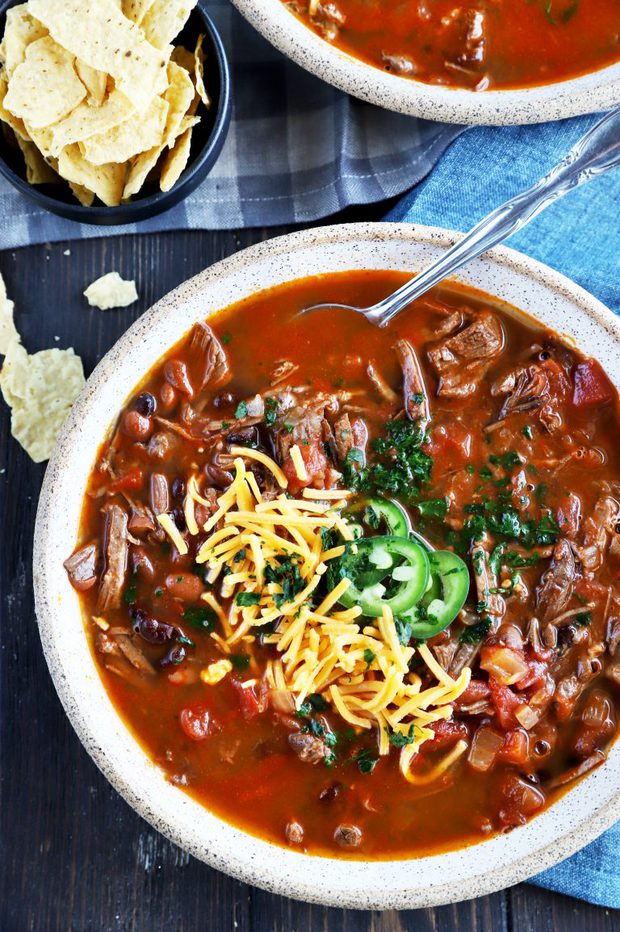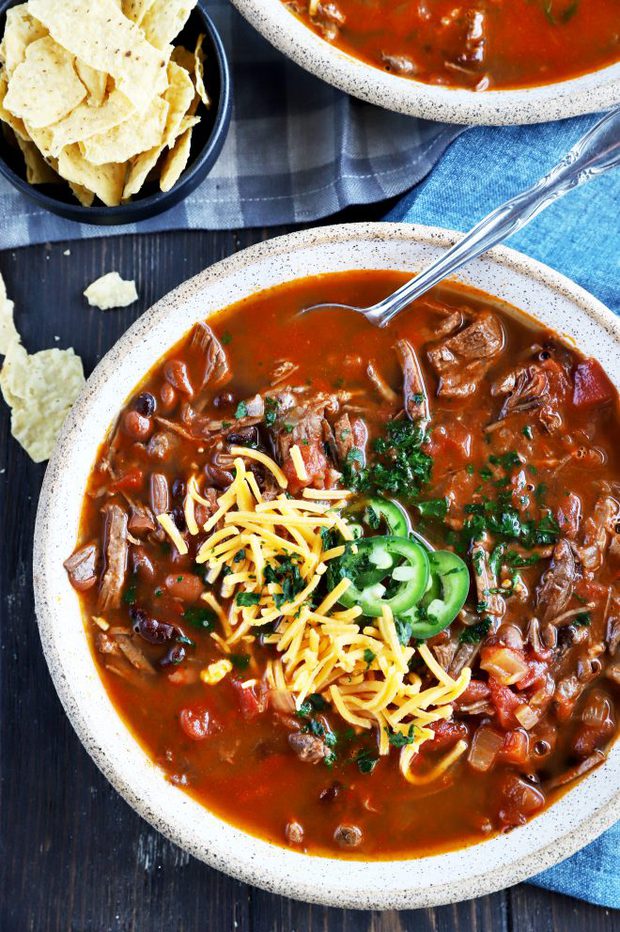 what kind of steak should I use?
For this particular soup, I prefer using either skirt steak or flank steak. However you can also use ribeye, but I find the other less expensive cuts are even better.
how can I make this soup spicier?
If you like things super spicy, just amp up the amount of cayenne in the mixture. I'd call the spice level in this recipe mild/medium, so add another 1/4 tsp to 1/2 tsp to the mix depending if you want it medium/hot or hot.
what kind of beer is best?
I like to use a lager for this recipe, especially a Mexican lager made by a local brewery.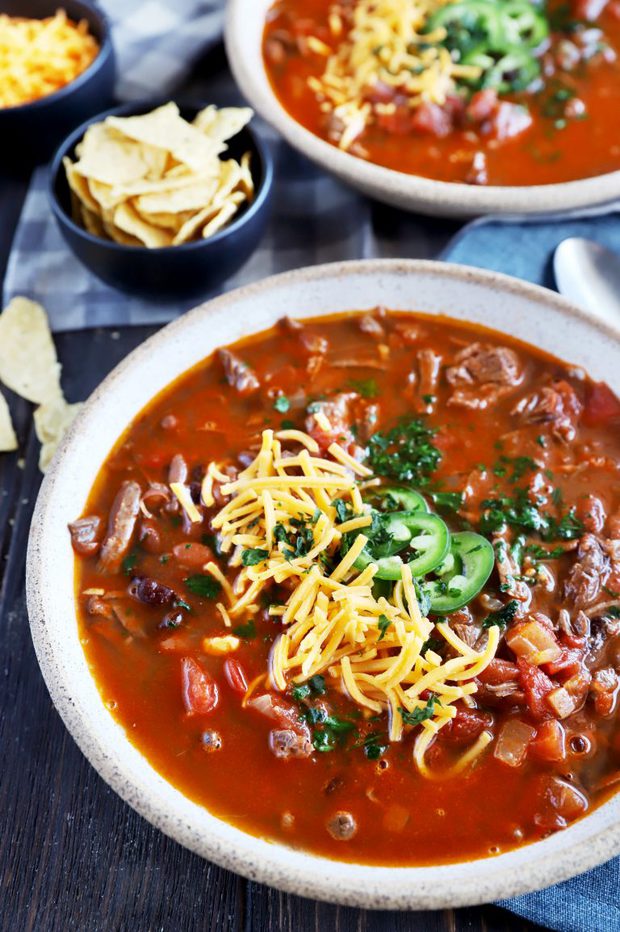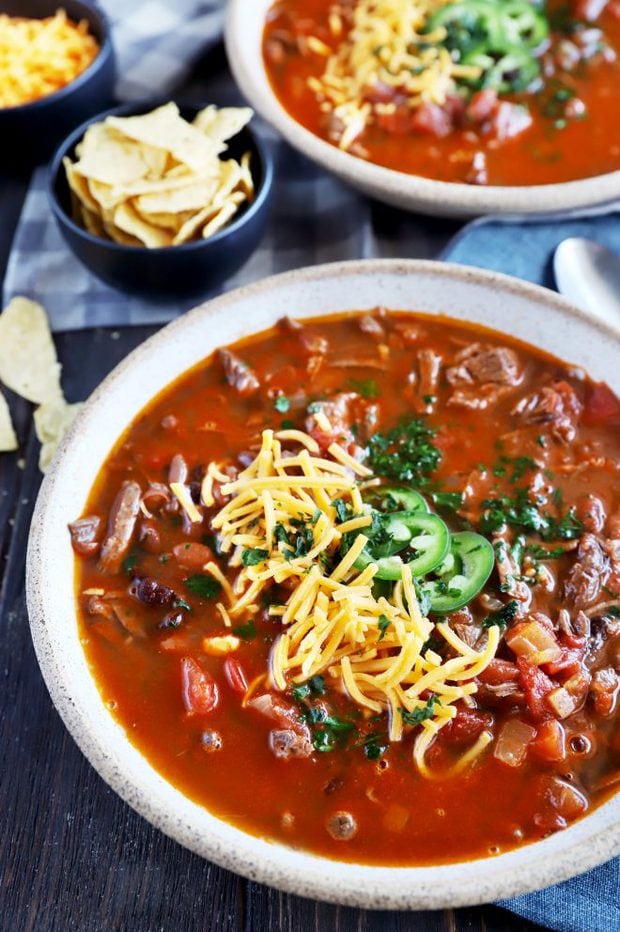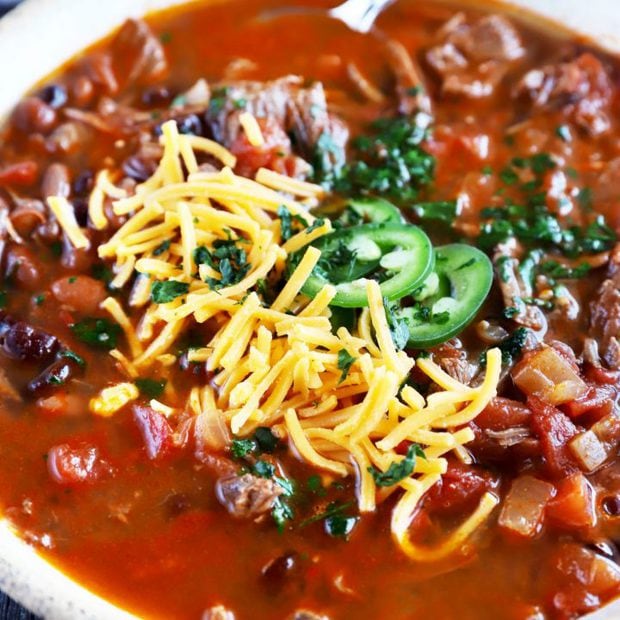 Instant Pot Carne Asada Chili
Additional Time:
10 minutes
A hearty and meaty chili with the bold carne asada flavor you love!
Ingredients
2 Tbsp olive oil
2 lbs skirt steak or flank steak, cut into 4 large chunks
1/2 tsp salt
1/2 tsp black pepper
1 large onion, finely chopped
4 cloves garlic, minced
3 cups chicken stock
12 oz beer (I like to use a lager)
2 Tbsp lime juice
2 Tbsp chili powder
1 Tbsp unsweetened cocoa powder
1 tsp smoked paprika
1 tsp ground cumin
1/2 tsp cayenne pepper
1 14.5oz can hot chili beans
1 14.5 oz can black beans
1 28oz can fired roasted diced tomatoes
2 Tbsp tomato paste
Toppings
Shredded cheddar cheese
Fritos
Lime wedges
Sliced jalapeños
Freshly chopped cilantro
Instructions
Set Instant Pot to the Saute function and add 1 Tbsp oil to the insert.
Season steak chunks with salt and pepper. Once the oil is hot and shimmering, add steak and sear on all sides. This will take about 5 to 6 minutes total. Remove steak to a plate.
Add in remaining Tbsp oil and onion. Saute, stirring occaionally, until softened, about 3 to 4 minutes. Stir in garlic and cook until fragrant, about 30 seconds. Turn off Instant Pot.
Stir in chicken stock, beer, and lime juice. Use a wooden spoon with a flat edge to scrape the bottom of the insert well. Make sure you scrape up any browned bits that got stuck!
Stir in all remaining ingredients and add the meat back to the mixture, nestling the chunks into the soup.
Seal, set to Manual and cook on High pressure for 30 minutes. Let naturally release pressure for 10 minutes, then manually release any remaining pressure.
Remove the chunks of meat to a cutting board and shred using two forks. Return the shredded meat to the soup, stirring well to combine.
Serve immediately with your favorite toppings!
Recommended Products
As an Amazon Associate and member of other affiliate programs, I earn from qualifying purchases.