If you've ever wanted to see Milan as a tourist and a local, all in a couple of days, all you need is a "Moon Milan & Beyond" and your appetite! In this 48 Hour Foodie Guide to Milan, you'll see how one book covers everything you could possibly need. The Fashion Capital is so much more than designer shopping, and there are incredibly tasty secrets to discover there and beyond.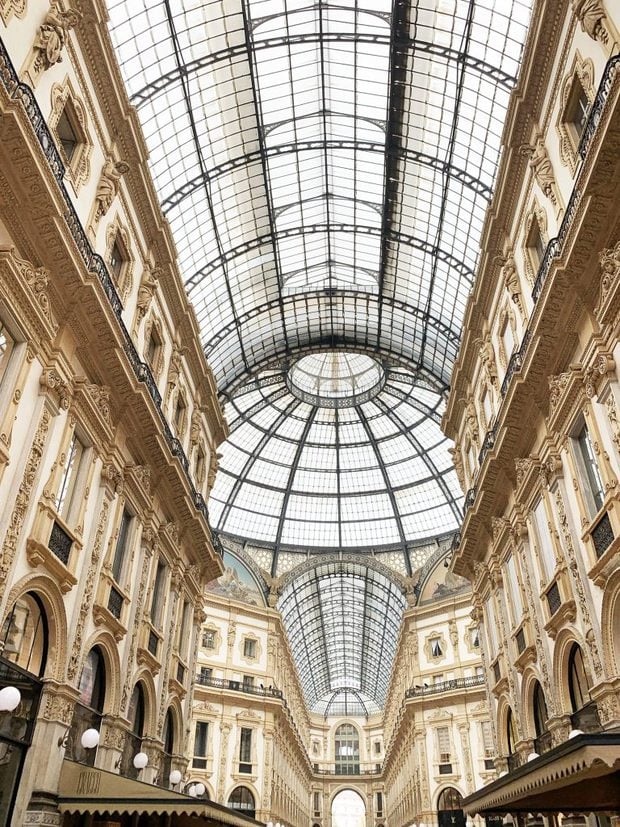 Disclosure: This post is sponsored by Moon Travel Guides. As always, all opinions are my own. Thanks for supporting the brands that support Cake 'n Knife!
I am sure many of you know this, but I studied abroad in Rome in college. It was one of the most magical times in my life, filled with art, architecture, the Italian language, wine, and (most importantly) FOOD.
Rome is the place where my passion for food was reignited, and this year, the Man and I decided to venture back to Italy for the first time together. We usually try to hit cities that neither of us have been to, so in addition to Venice (where I had traveled to during my time abroad), we added Milan and Lake Como to the list so we could embrace the opportunity to drive through Italy together.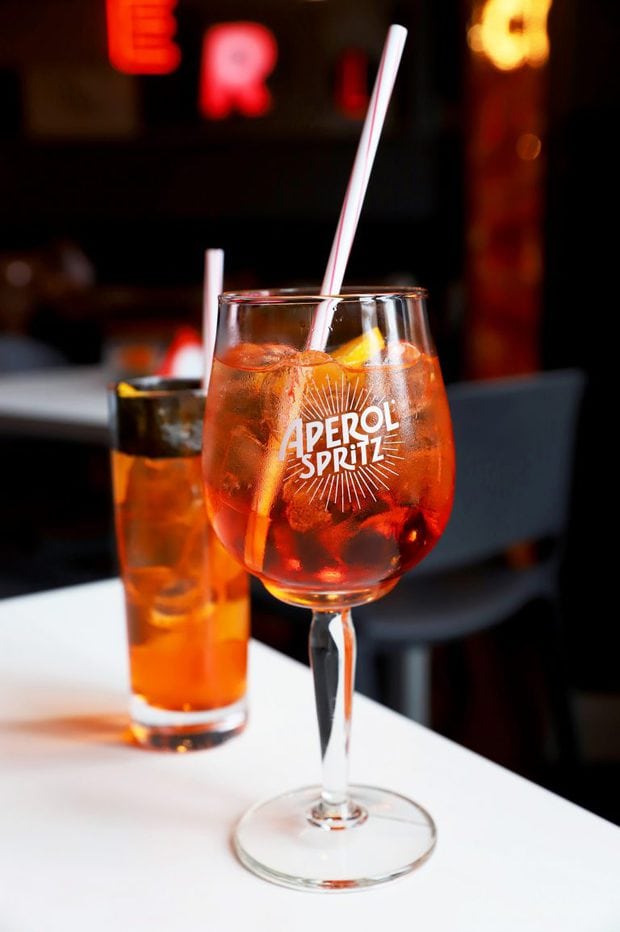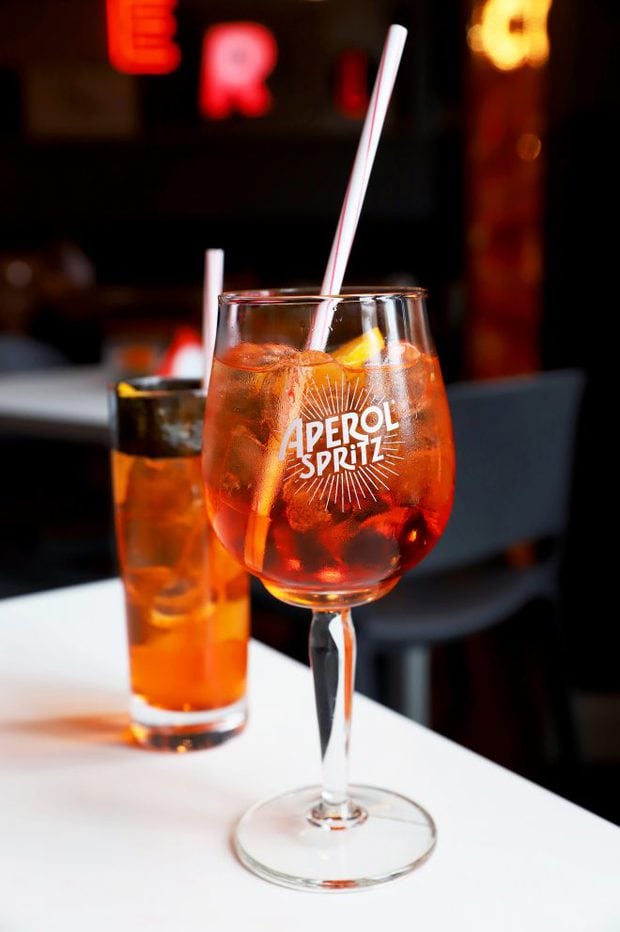 Honestly, I wasn't sure what to expect from Milan.
I've always wanted to go to the Duomo, but outside that, I only knew that it was the Fashion Capital of the world.
You all know that I am a crazy planner. I LOVE planning trips and I will scour books and websites for months before setting out on an adventure like this one. Usually it takes a plethora of research to find the right balance between hitting all the well-known tourist spots, but also discovering the local recommendations that aren't so easily found. I haven't found a guidebook that covers it all before…
That is, until I read through Moon Travel Guides.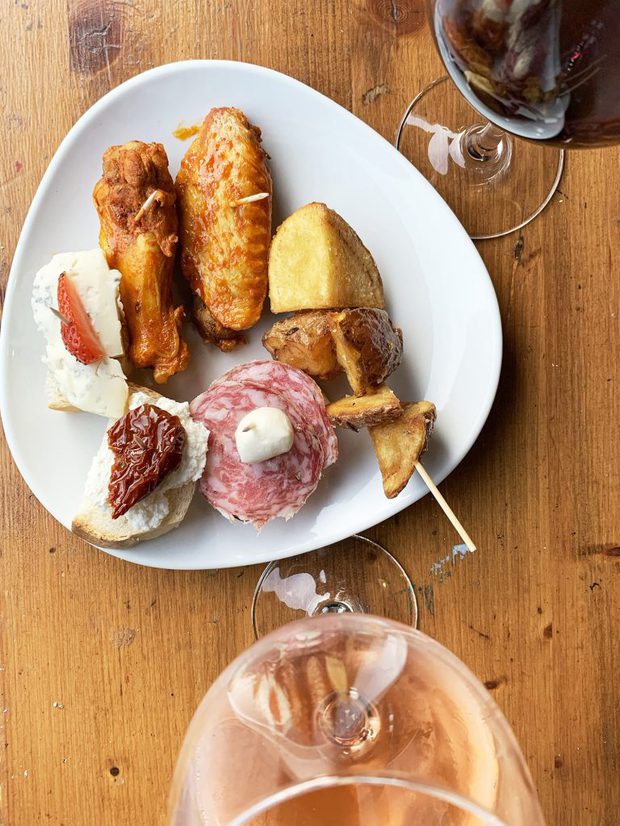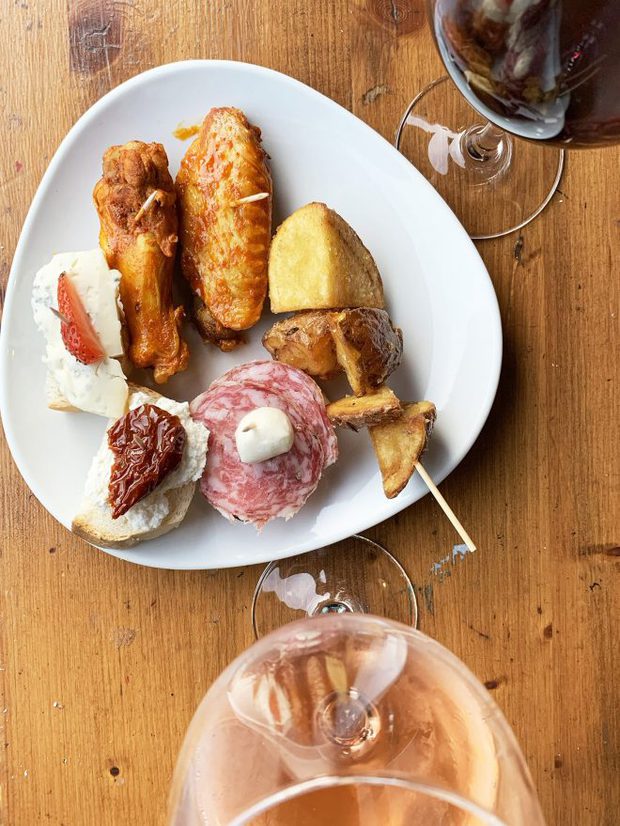 Moon Milan & Beyond is the ideal balance of a guide to Milan between tourist highlights and local experiences. I think almost every single page is now dog-eared in my well-worn copy of the book. This isn't just a book with a list of places to go, eat, drink, and sleep. Of course, it has all those things, but it also has experiences.
This is what the Man and I are always looking for. We want to immerse ourselves in the culture of every city we visit, and I never thought in a million years that one book would have it all to offer.

Here's the top 5 things I loved about Moon Milan & Beyond:
1. The "Best Of" Itineraries
In the beginning of each book, there's a very detailed section that outlines how to make the most of your time in each of the locations covered in that particular book. Instead of just saying "spend 2 days in Milan and 1 day in Lake Como", the Best Of guides go into fantastic detail from where to have breakfast before going to the Duomo to hidden shopping areas. It's a travel planner's dream.
2. The City Itineraries
Oh, you thought there would be only one set of itineraries in the Moon guidebooks? Think again! Each city breaks down into even further detail itinerary ideas, including ones that highlight spending a day like a local. We did this for both Moon Milan & Beyond, as well as Moon Venice & Beyond. They were hands down a couple of our favorite days in Italy.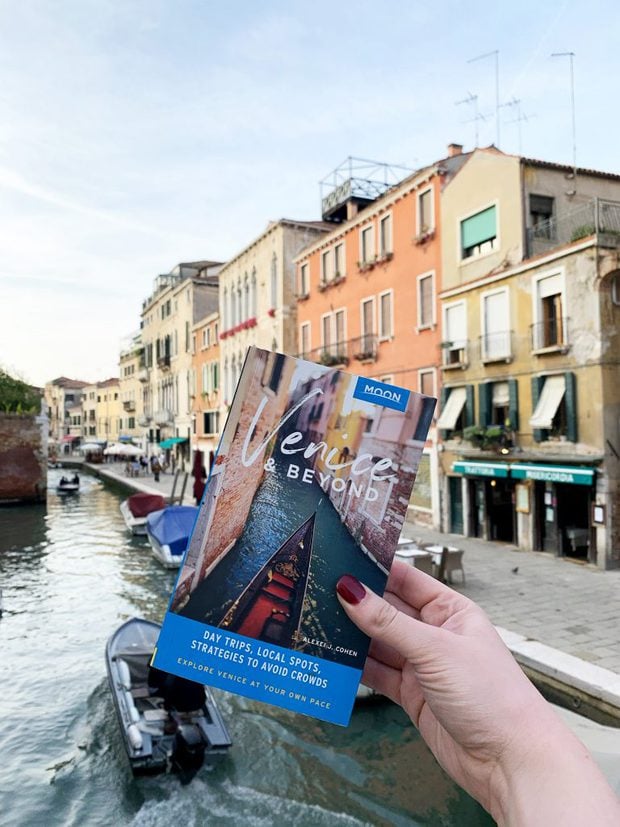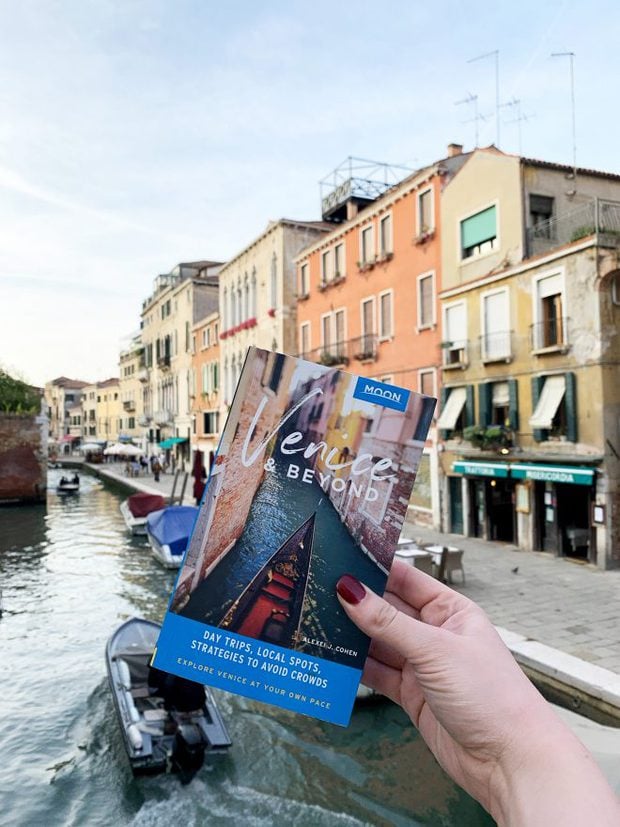 3. The Maps
For a guidebook, the maps are pretty darn handy because they don't just show you one overall map. Instead, you get several. There are ones that highlight where each neighborhood is in Milan, and then this gets boiled down even further to a map for each neighborhood. On top of this, there is a map dedicated to the itineraries provided for each city, so you can see how they are laid out on a map. Also, there's a map in the back of each book, that you can remove and stash in your purse or pocket for easy access.
4. The Authors
Each Moon guidebook has an expert author, and it isn't the same one for every single book. Moon Milan & Beyond is written by an ex-pat from Arkansas who moved to Milan years ago. I adored her lively ideas and unique experiences because we were able to discover things we would have never stumbled upon on our own.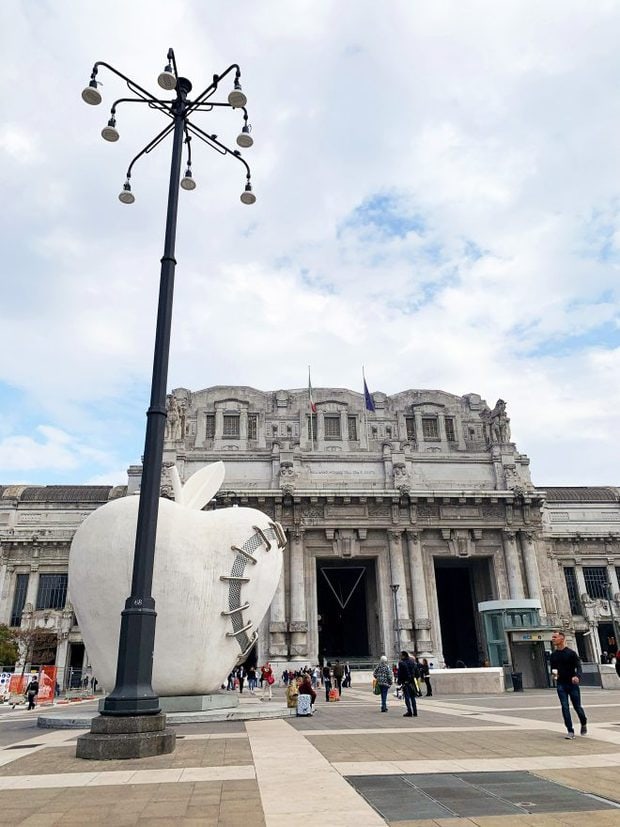 5. The Variety
Moon guidebooks provide a vast variety of recommendations in this guide to Milan, from food and drink, to art and architecture, to fashion and shopping. There's a little bit of something for every passion in these books, but there are plenty of new experiences to push you into truly experiencing a destination, instead of just breezing through and observing it.
So let's dive into our favorite spots in this guide to Milan, shall we? These are the places that you simply cannot miss when you come to Milan. We actually did Milan in 48 hours, so it is totally doable. I would recommend tacking on maybe another half day or full day if you want to go at a slower pace. Also be sure to add in a few days for Lake Como, which is also highlighted in the book. I'll highlight some of those favorites towards the end of this guide to Milan post as well.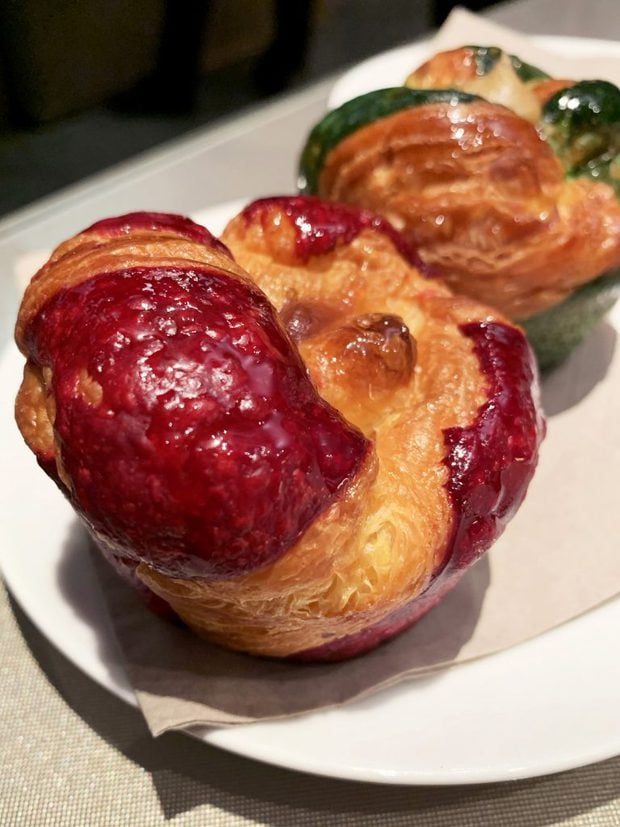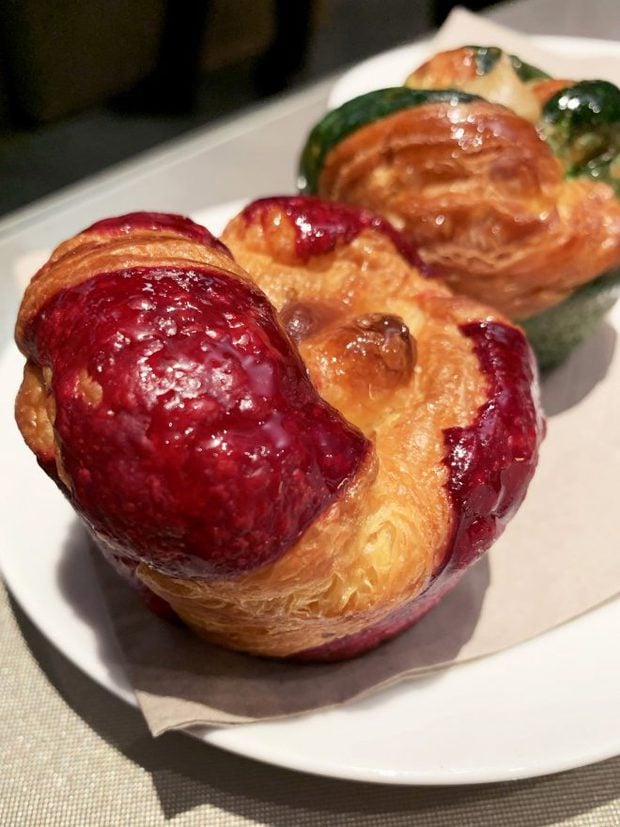 To Eat
Armani Caffé
For breakfast, there's no beating the coffee and pastries at this upscale cafe. We had pistachio and raspberry filled sweet brioche with our espresso while we hid from the massive downpour happening outside. It's a very luxurious cafe, fitting in with the luxurious shops surrounding the area.
La Libera
This was one of the best full meals the Man and I had in Italy. We usually bopped around from place to place, snagging aperitivo at amazing prices (more on that in a moment), but we really wanted a Milanese meal before we left. On our last night we walked into La Libera and found ourselves completely swept away. Classic jazz flowed through the air in the small restaurant filled with white linen topped tables. It was full of tradition and amazing food, included ricotta stuffed zucchini blossoms and the best spaghetti I've ever had. Paired with a chianti, we never wanted to leave. It books up so get a reservation, or go right when they open to sneak in before the crowds hit (which is exactly what we did since we had an early flight the next morning!).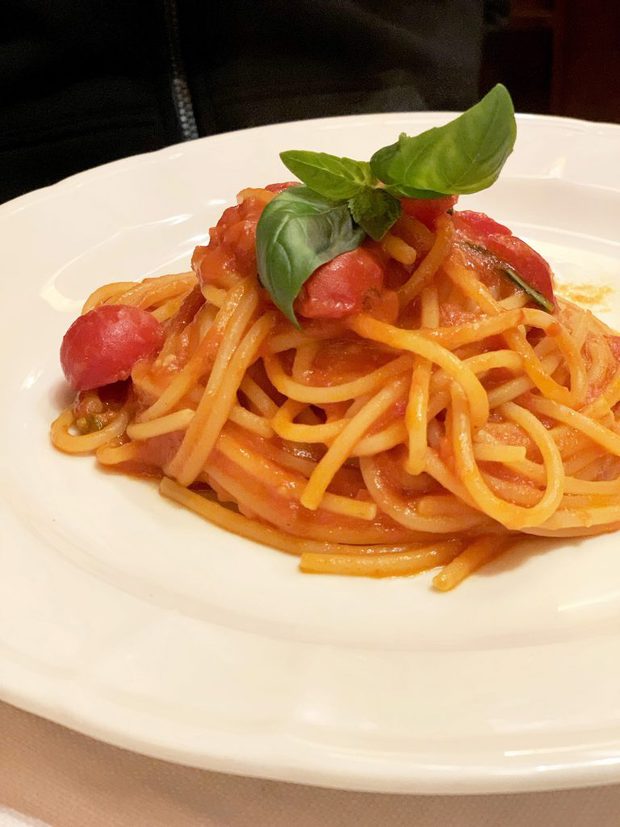 Maya Bar & Navigli
My favorite experience in Milan? Strolling down the canal in Navigli, stopping in place after place for aperitivo. As you'll read in Moon Milan & Beyond, aperitivo is a must when you are in Milan. Navigli is the place to go to avoid the tourists and people-watch. We started out at Maya Bar based on the recommendation in the book. It did not disappoint. The food spread was breathtaking and we tried a little bit of everything. After that we made a stop at Mag Cafe (a must for amazing cocktails!) and then we let the night take us wherever it wanted to.
There are so many different bars featuring cocktails, wines, and amazing snacks along this canal. You can easily make a meal out of the experience, which is exactly what we did.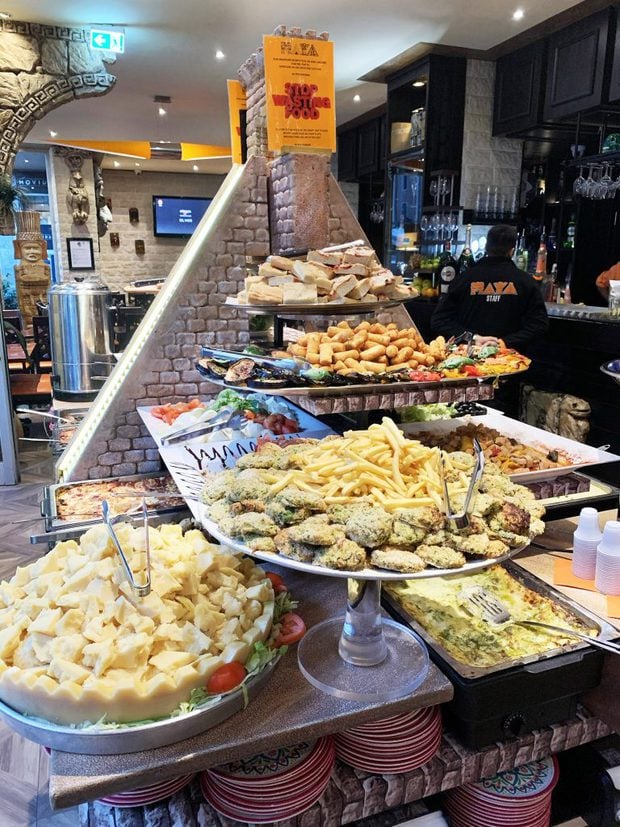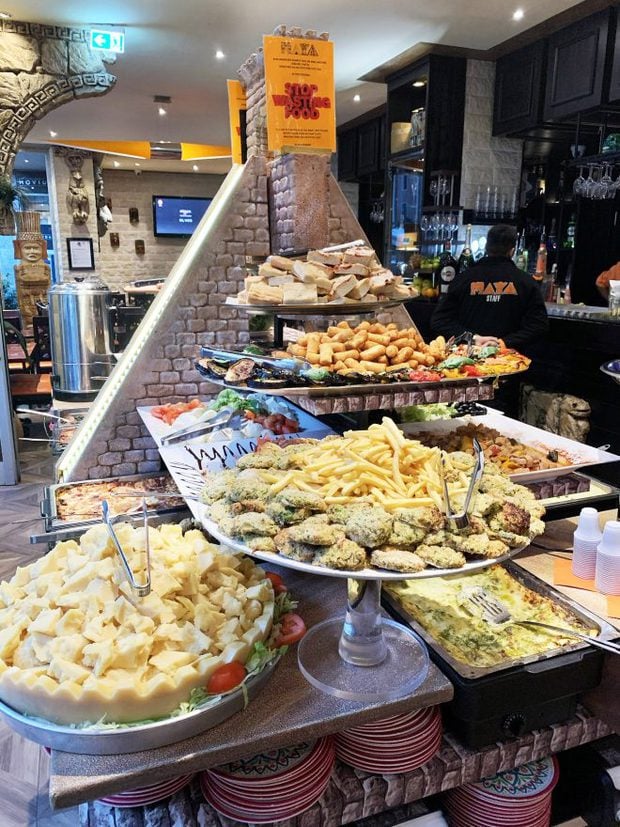 Peck
Peck is a gourmet food shop that you simply cannot miss when you are nearby visiting the Duomo di Milano. You can stop in for lunch at Ristorante Al Peck, shop for foodie items to enjoy later, and drool over the display cases (just not on them, they frown on that…). We didn't eat at the restaurant on the first floor, but we did stop into the cafe for a glass of wine and we could smell the deliciousness from our seats.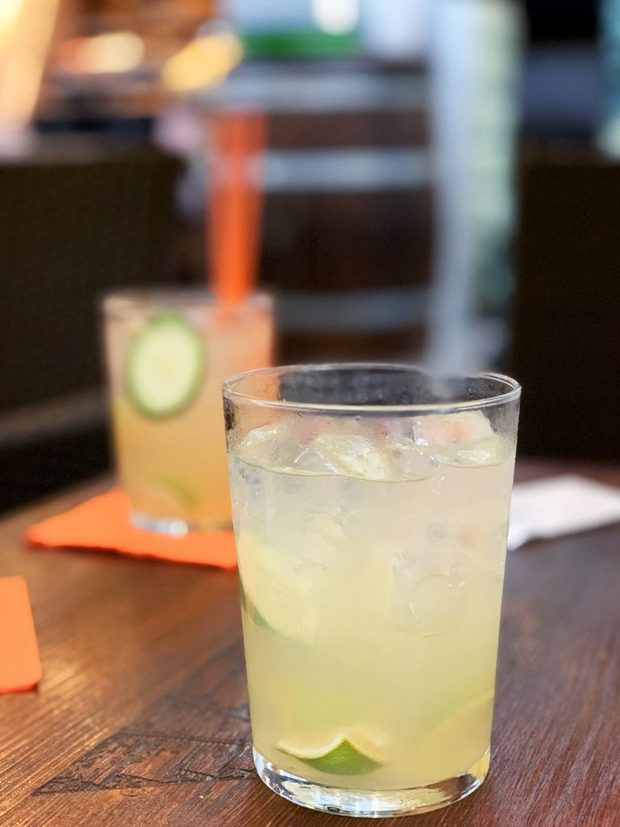 To Drink
Mag Cafe
Even if you aren't hitting Mag Cafe for aperitivo, you should still check it out for the cocktails. This actually ended up being one of our favorite cocktail spots. We swung around to it at the end of the evening when we were in Navigli. Reasonable prices and a great atmosphere, especially if you are sitting outside on the patio.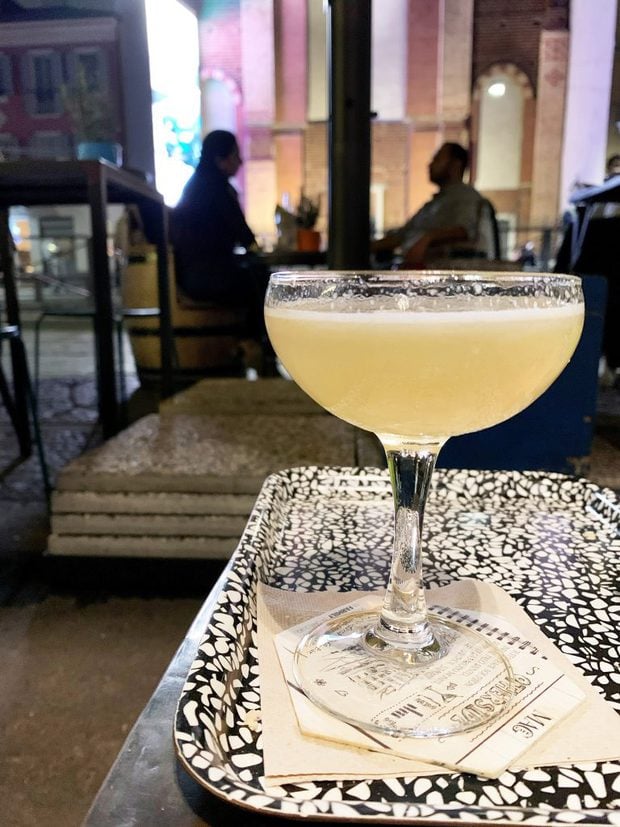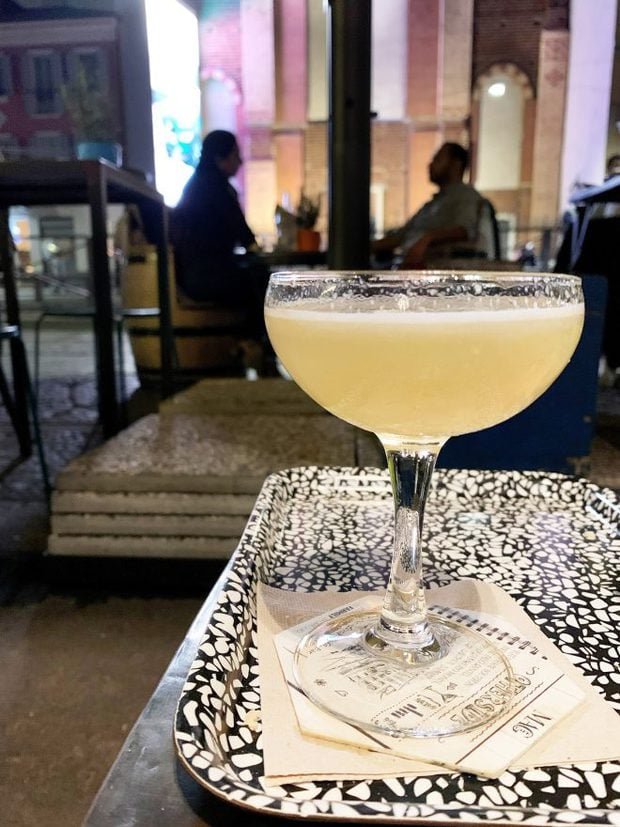 Terrazza Aperol
If you aren't drinking at least an Aperol Spritz a day in Milan, you are doing it wrong. Aperol Spritzes were my drink of choice from Venice to Lake Como to Milan, but none made it better than Terrazza Aperol. We unfortunately hit Milan when it had endless rain, so we didn't get to sit on the gorgeous patio that overlooks the Duomo and the square below. However, the cocktails were so darn tasty, who needs the view from outside? We sat inside near the windows, took in the gorgeous colors of the Duomo's exterior, and enjoyed the pops of orange and funky decor inside.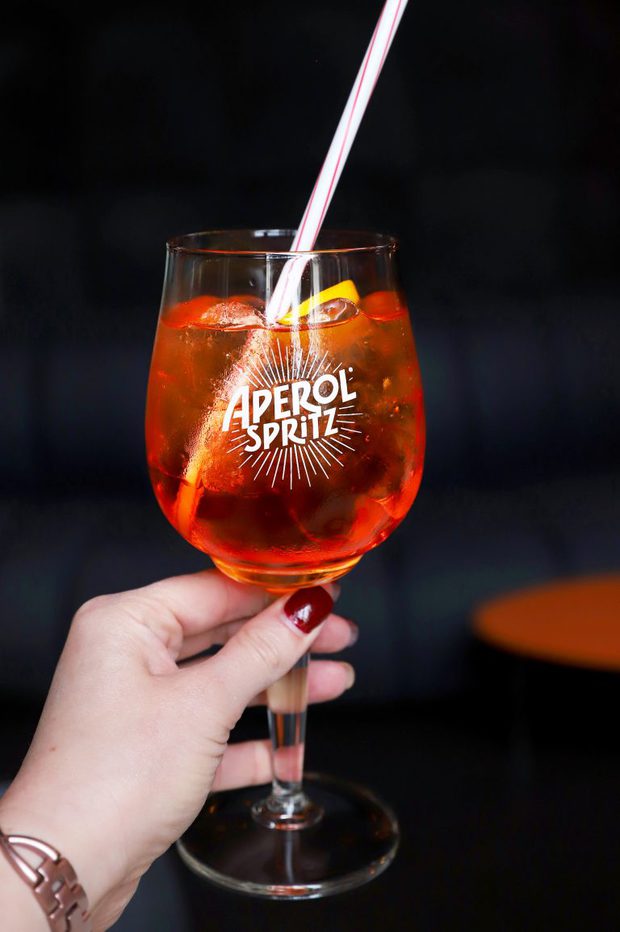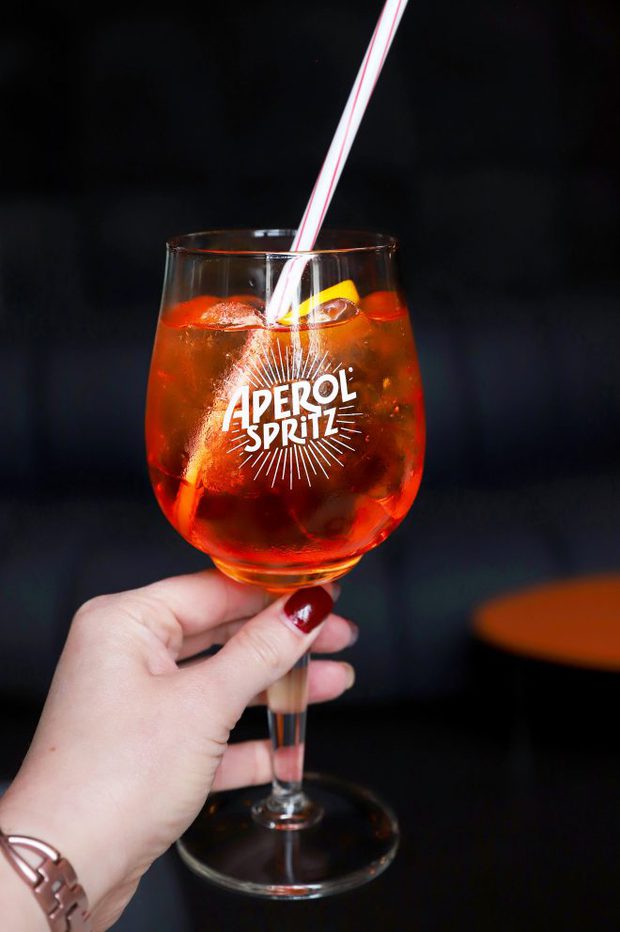 To See
Duomo di Milano
A visit to Milan would be incomplete without a visit to the Duomo di Milano. This is Italy's largest church and the third largest in the world. When you step inside, it literally takes your breath away. Honestly, photos cannot do it justice because you simply cannot understand the enormity until you are there in person. The intricate design and detail is worth the ticket price alone.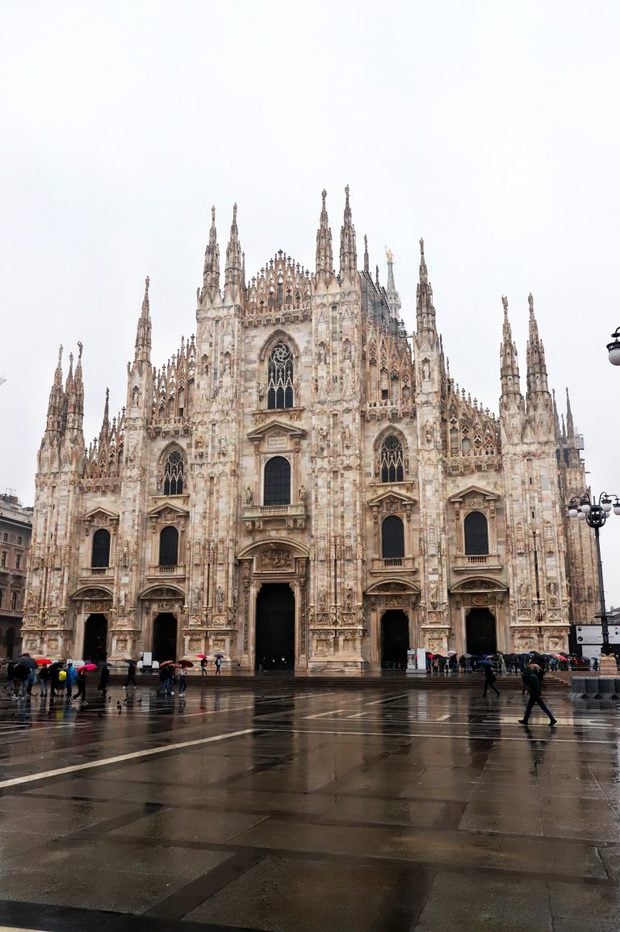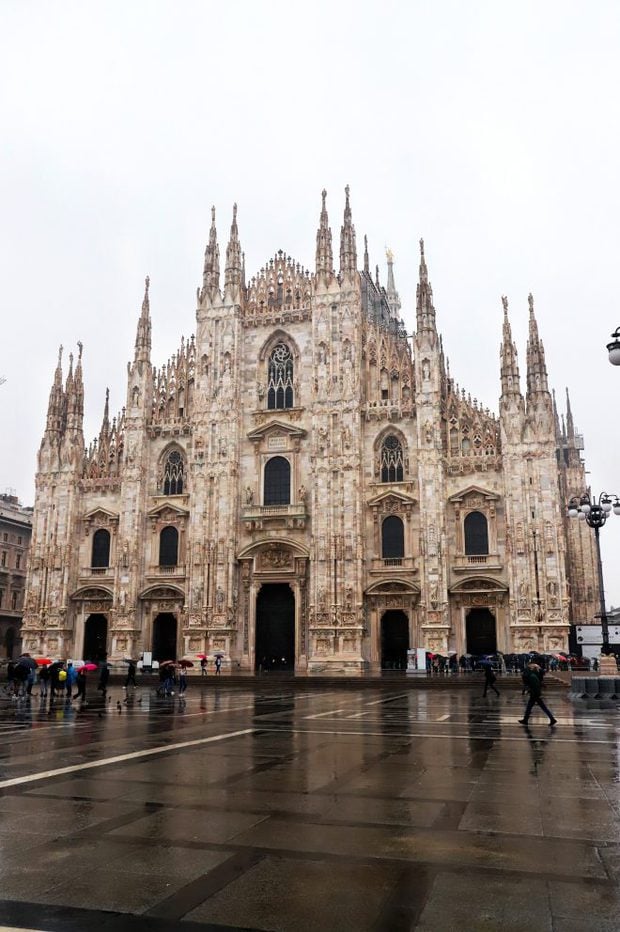 Corso di Porta
If you want to experience more of Milan like a local, take up the recommendation in Moon's guide to Milan to walk along Corso di Porta. The shopping there is unique and funky, including boutiques, bookshops, and so much more. This is where the Man and I became totally enthralled with the culture. Definitely make a stop into Verso for coffee and book shopping. They have some incredible art prints, notebooks, and so much more. If you want a quick snack or lunch, try stopping into one of the many sushi shops along the street.
Via Montenapoleone
Want to do some shopping? Be sure to hit up the most luxurious street – Via Montenapoleone. Unfortunately, we were plagued with too much rain to truly enjoy a stroll along the street. However, the street is home to the fashion titans like Gucci and Louis Vuitton, so if you have money to spend, this is the place to go.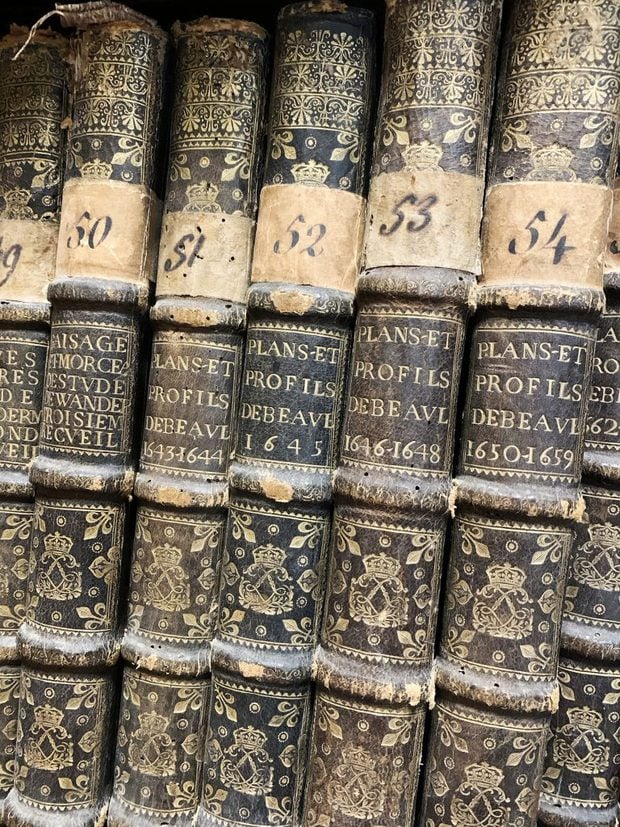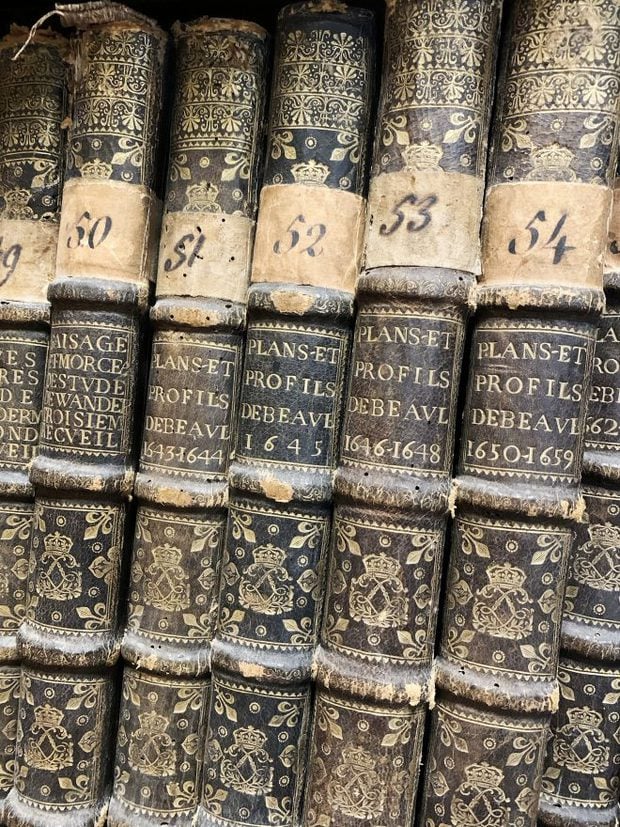 Isola District
A bit off the beaten path, Isola is recently redesigned area in Milan, boasting avant garde shopping and some truly tasty treats to indulge in. There's art deco buildings, street art, and more in this rejuvenated area. For those of you who want more of a local feel, this is an area that deserves a closer look.

If You Have More Than Two Days… Go To Lake Como
Going to Lake Como was at the top of my list for Italy. I've seen it in pictures and every single photo takes my breath away. Being in Lake Como was like stepping into a postcard. With it being so close to Milan, we had to go there (and thus it has to be included in this guide to Milan).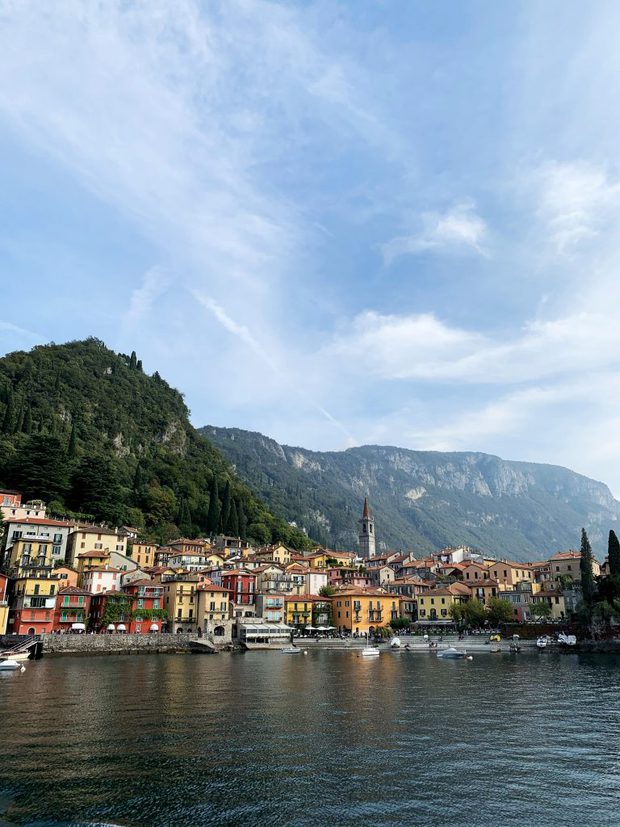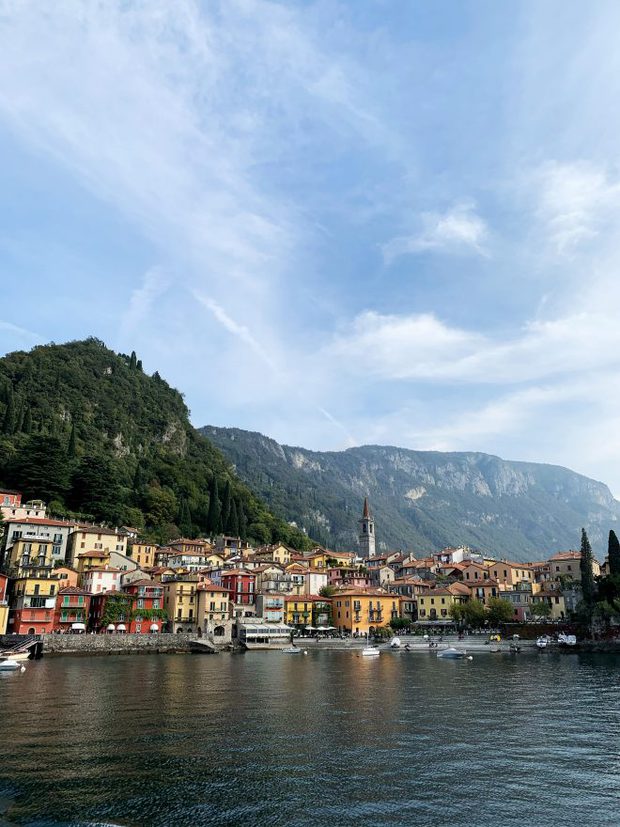 We stayed in a small apartment in Bellagio with a view of the lake, and it was like a dream. Bellagio is the ideal place to make your home when you visit Lake Como because it is quaint, quiet, and feels a lot less touristy than other cities along the lake. If you do stay in Lake Como, be sure to stroll down to Punta Spartivento. There is a gorgeous scenic view where all three branches of the lake meet.
Take a bottle of wine and some snacks. Then climb the stairs down to the rocky beach along the lake to enjoy the serene beauty, away from the tourists.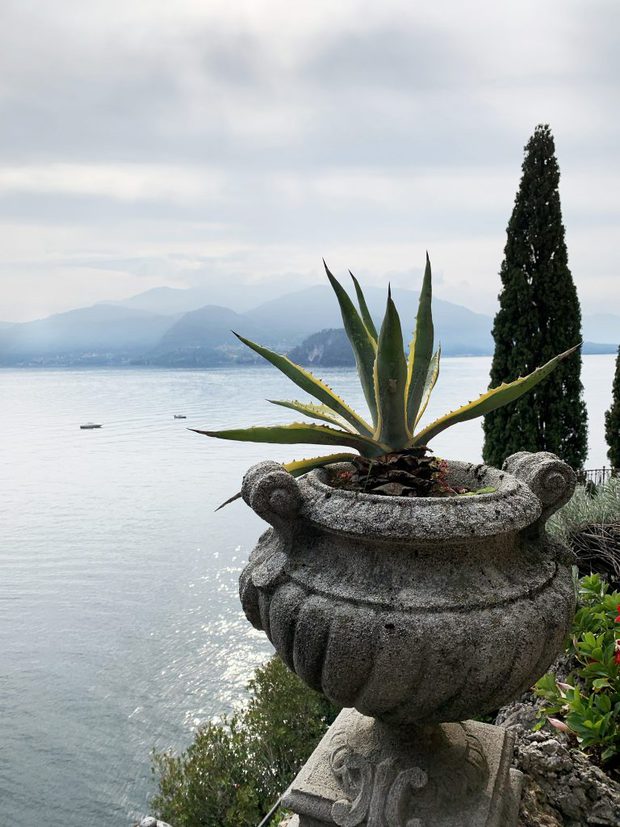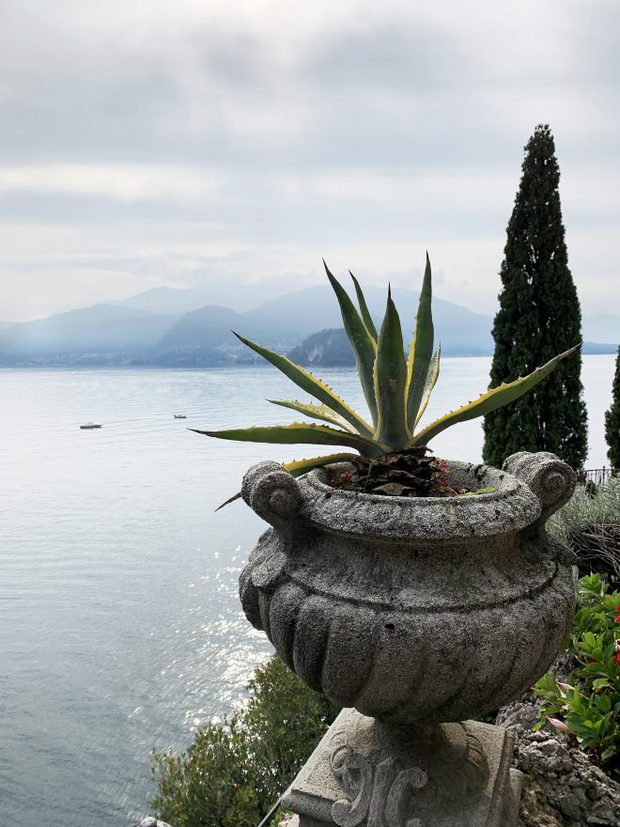 We spent a day hopping around to different towns along the lake, including Varenna and Menaggio. There we ended up exploring palace gardens and taking in the lake views from the ferry between towns. Another day we spent driving out to Lake Como (oh, if you are renting a car and driving to Lake Como, make sure it's a smaller car.
Those roads are tight and windy, and somewhat terrifying for the larger cars…), where we visited the Duomo di Como (free!) and enjoyed a truly incredible lunch at Osteria L'Angolo del Silenzio per Moon's recommendation.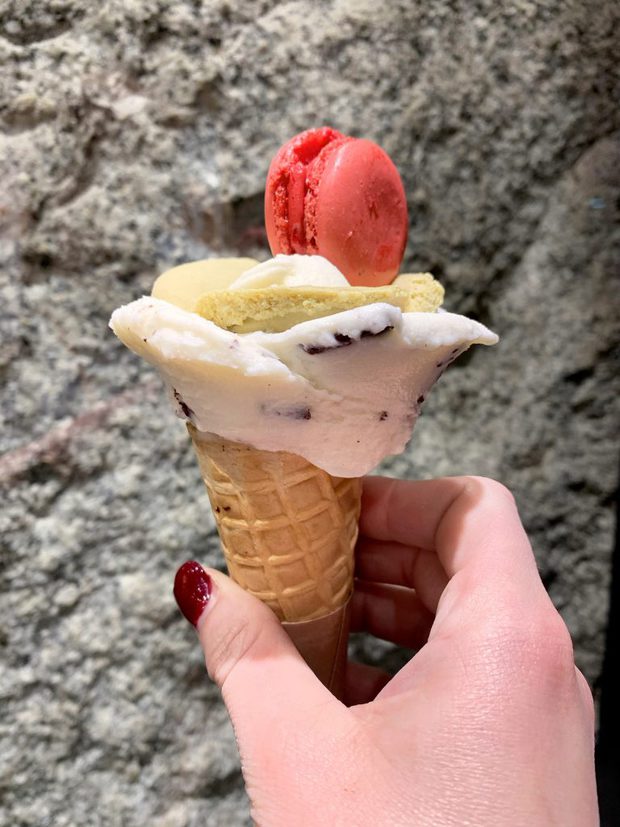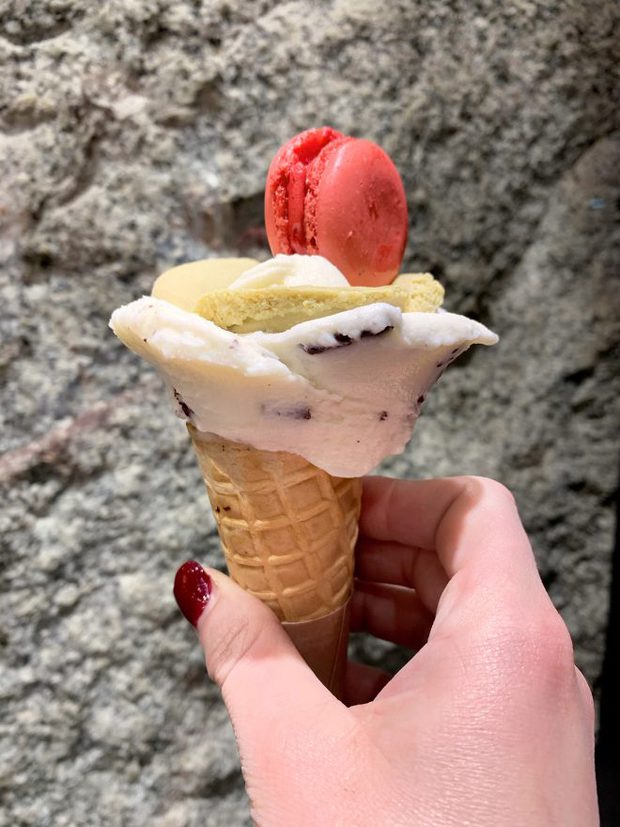 Moon guidebooks really went above and beyond my expectations with all of their recommendations. There wasn't one thing I didn't like in our travels to Venice, Lake Como, and Milan that came from the books we read.
Do you have any questions about my guide to Milan, places to stay, or additional recommendations for Milan and beyond? Tell me in the comments below!