This is the perfect time of year to take advantage of the surplus of gorgeous, fresh fruit I see everywhere. As soon as the bags of cherries begin overflowing from the bins at the grocery store, that's when I know it's finally time to start enjoying all the fresh berries and cherries I can stuff in my mouth.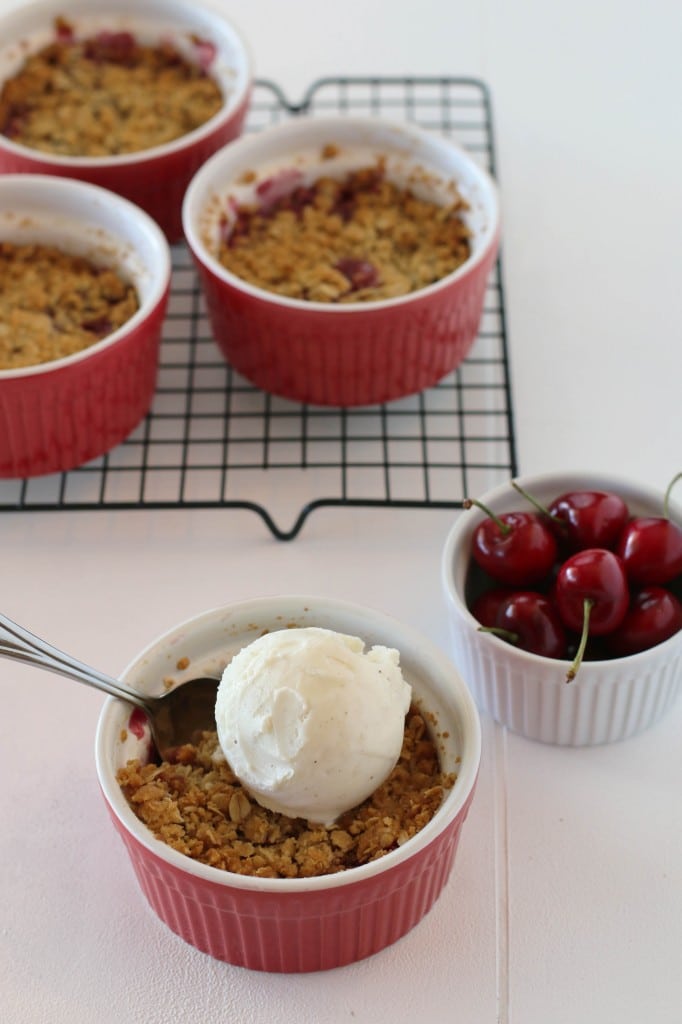 Nothing does a cherry justice like a warm, gooey crisp. When you pull it out of the oven, all bubbly and golden brown on top, a sweet, tart smell fills your kitchen. I am instantly transported back to those classic 50's era images of mothers pulling cherry pies out of their ovens to cool on windowsills (just like my American Doll Molly's mother did! Oh I hope I didn't just completely date myself with that comment…).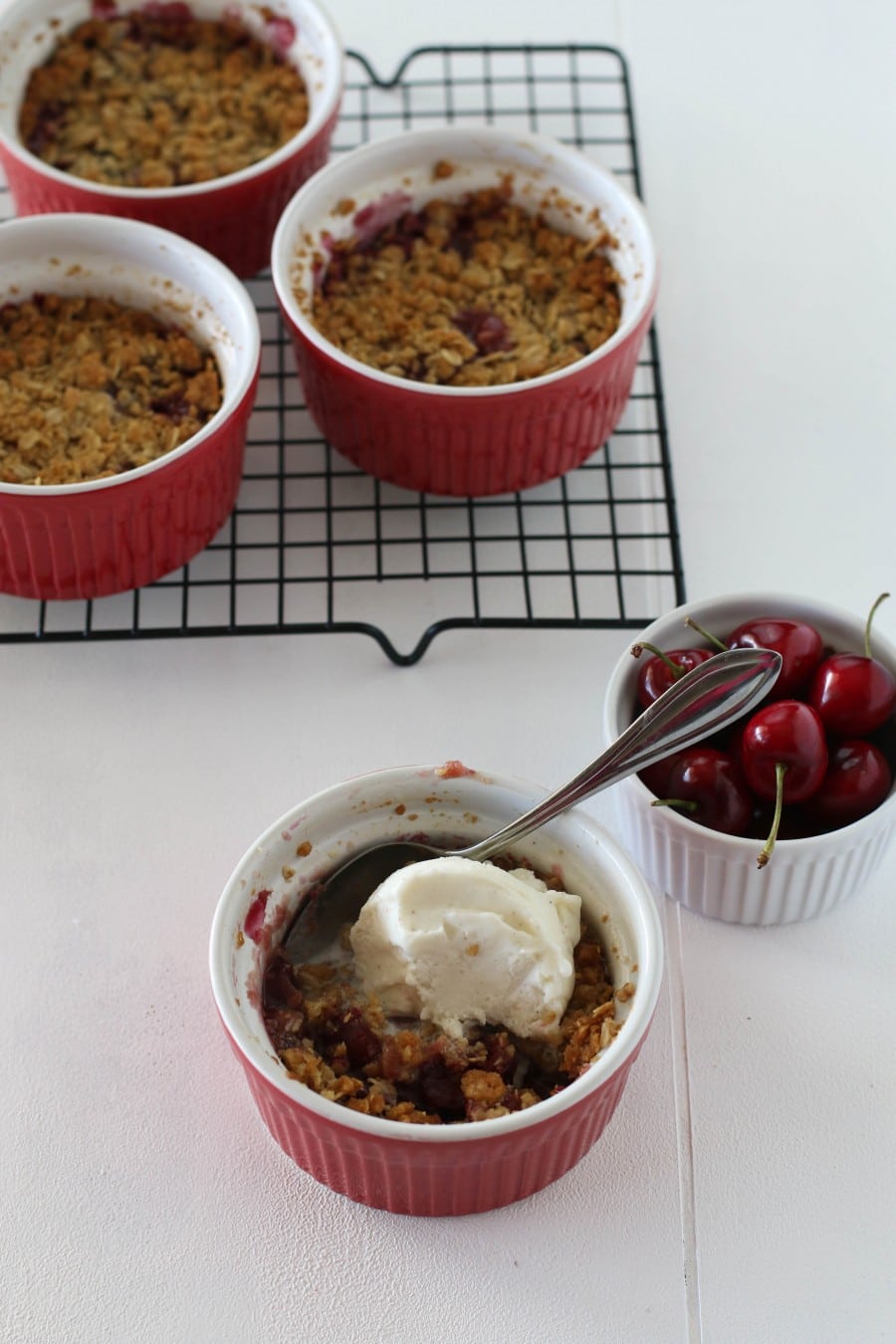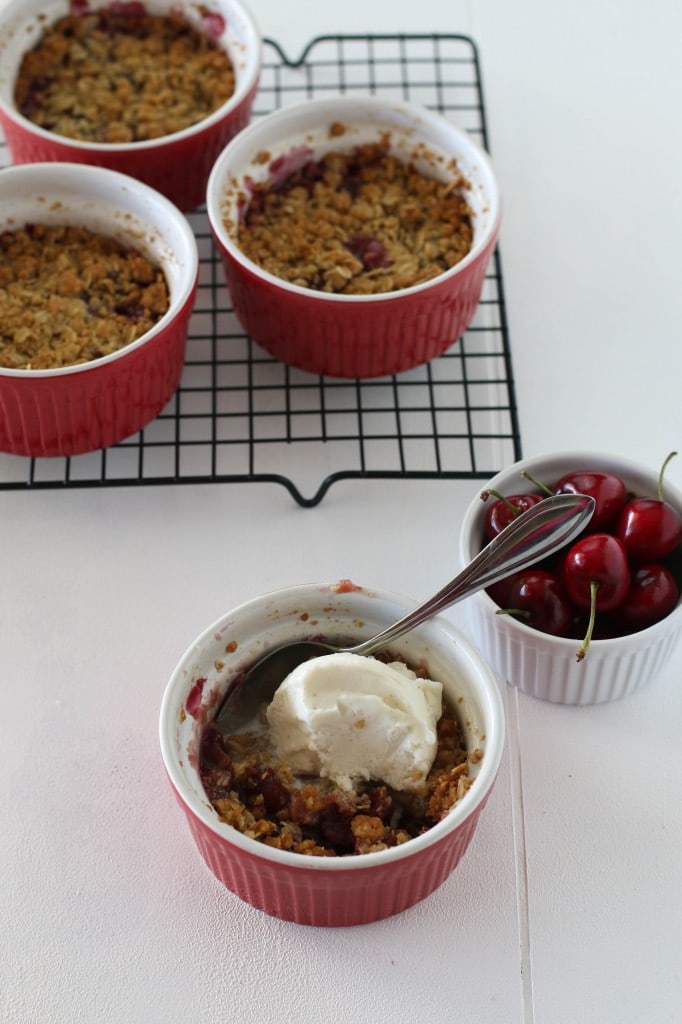 I had to make my own version of the classic cherry crisp with white. Dessert without chocolate is a foreign concept when it comes to my brain stomach. I can honestly say that a day doesn't go by without me eating chocolate. I swear I inherited my grandfather's sweet tooth. I still remember him slipping me candies and chocolates before dinner whenever I went to visit. It was always our little secret, and every time I go to make something sweet, I still hear him saying "shhhhhh" in the background with a little wink and a smile.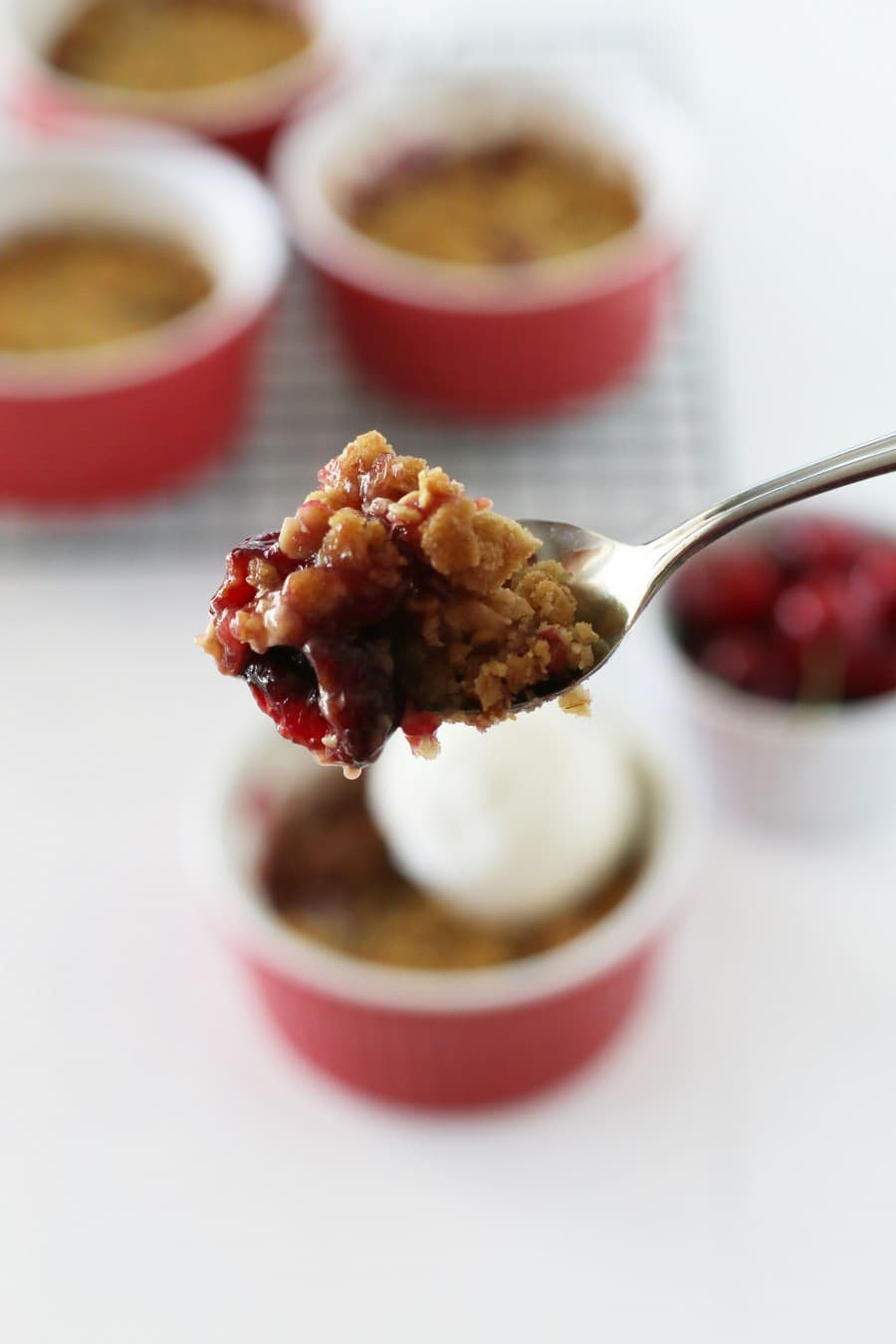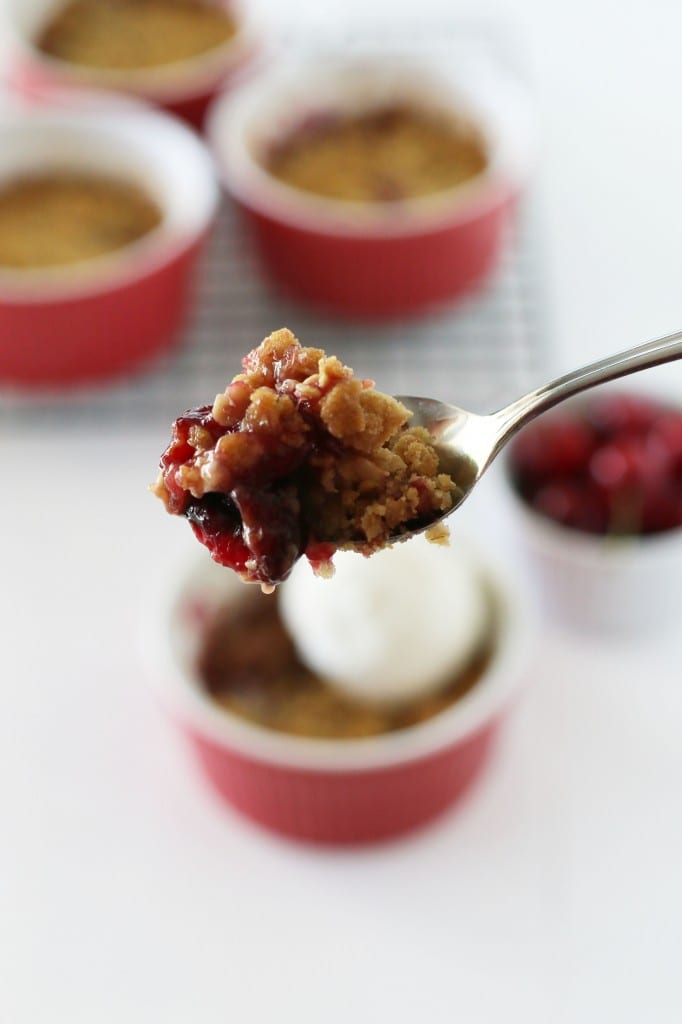 Adding the white chocolate to this crisp makes it feel just like that little secret I would keep with my grandfather. The perfect balance of rich and bright flavors from the chocolate and cherries make you feel like you are eating something truly special – just the right amount of decadence to make you want to sneak a few bites before dinner.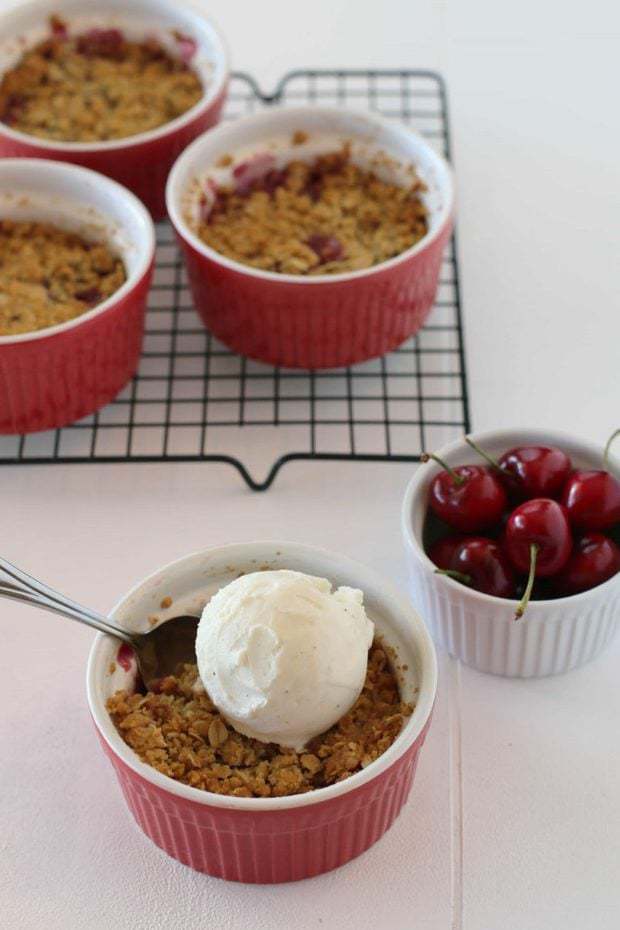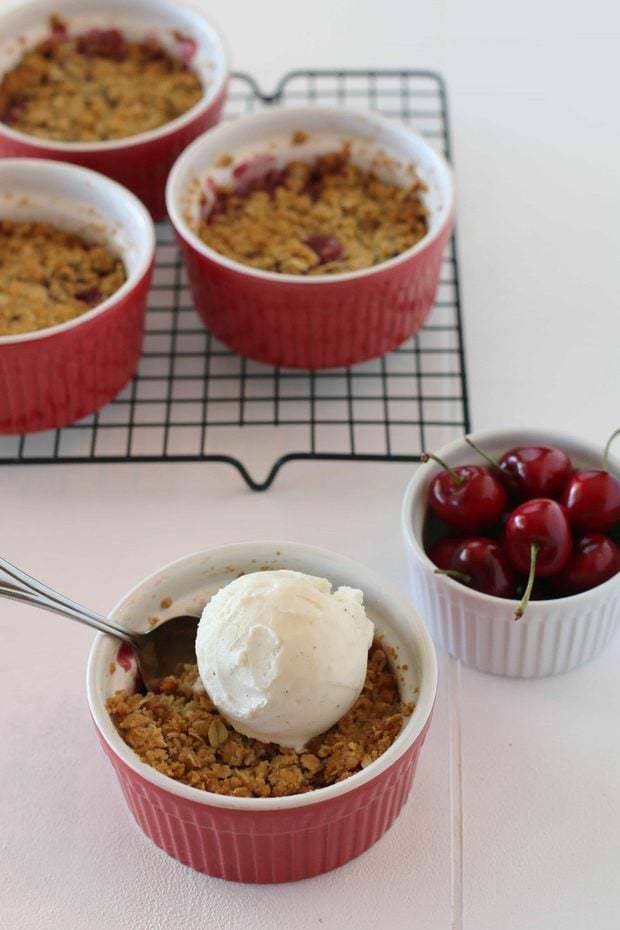 Individual White Chocolate Cherry Crisps
Yield:
4 individual crisps
Cherry and white chocolate combine to create a warm, bright filling with a crisp streusel topping. Just the right amount of decadence to end your summer meal.
Ingredients
Topping
1/3 cup flour
1/2 cup old-fashioned oats
1/2 stick (or 4 Tbsp) unsalted butter, chilled and cut into small cubes
1/3 cup light brown sugar
Filling
1 lb cherries, pitted and halved
3/4 cup white chocolate chips
1 Tbsp sugar
1 Tbsp flour
Instructions
Preheat oven to 375 degrees. In a large bowl, mix together 1/3 cup flour, oats, butter, and brown sugar. Mix ingredients together with your hands, pinching the butter between your fingers so it mixes evenly with other ingredients. Once the mixture has formed moist clumps, transfer the streusel topping to the refrigerator to chill.
In a medium bowl, combine cherries, chocolate chips, sugar, and 1 Tbsp flour. Toss until combined. Evenly distribute the cherry mixture between 4 soufflé ramekins (5" in diameter). Remove the streusel topping from the refrigerator and evenly divide between the 4 ramekins. Make sure the streusel topping is covering most of the cherry mixture beneath. Place the ramekins in the oven and cook for 25 to 35 minutes, until the filling is bubbling and the topping is golden brown. Remove from oven. Serve warm with vanilla ice cream.