Now that I am back in Denver after a whirlwind trip to Europe, I am really feeling summer.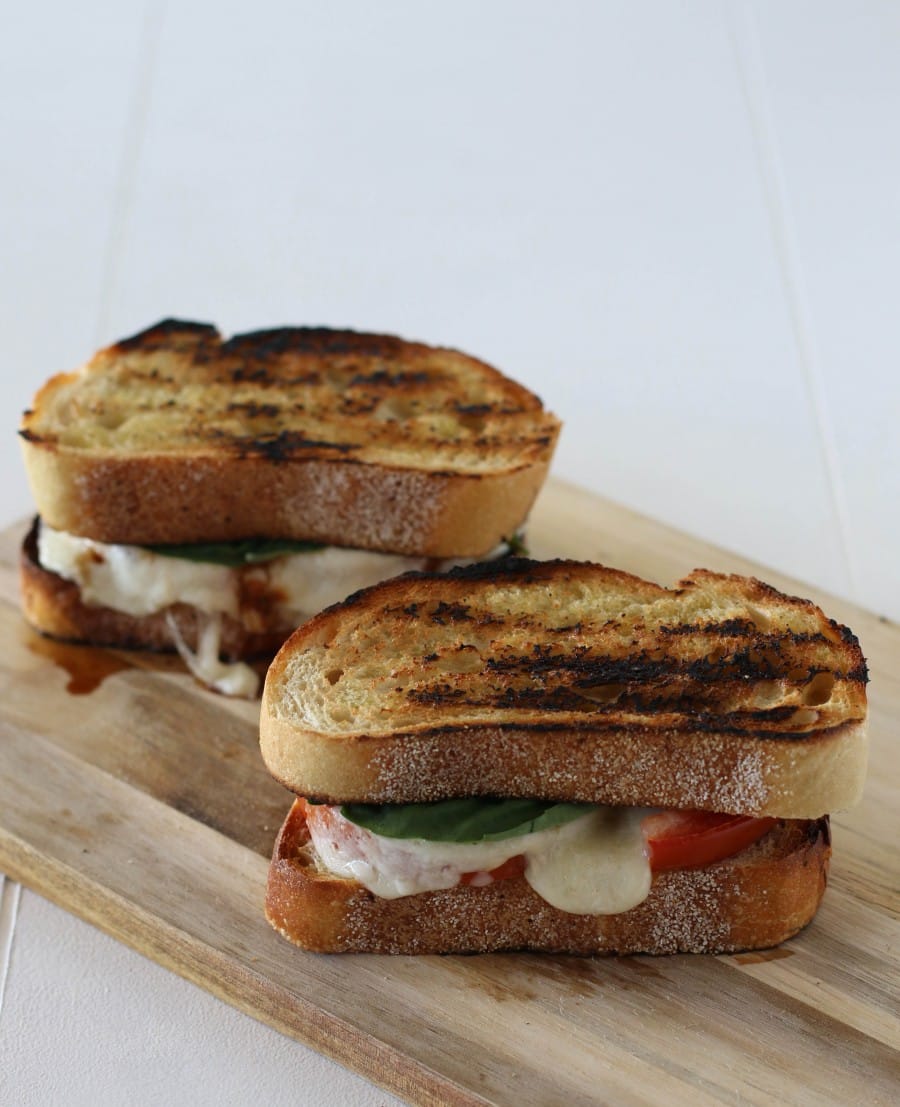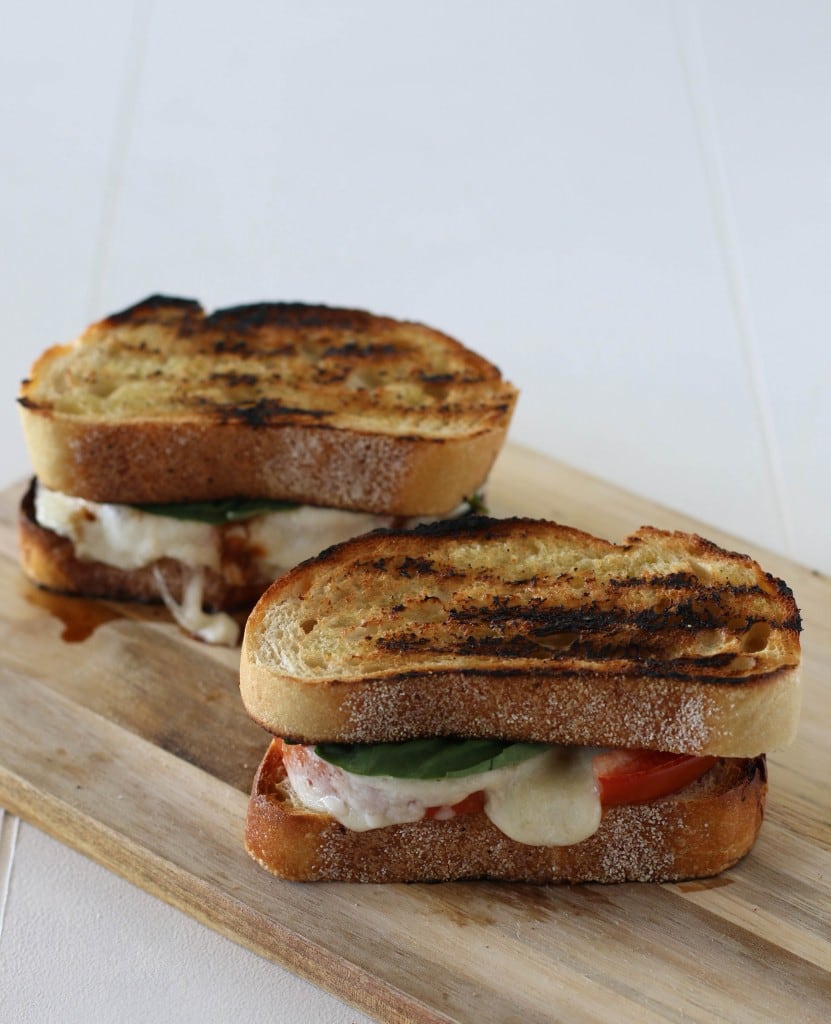 Not only because of the intense 80+ degree days we have been having, but my body has been craving those brighter flavors of summer. I am especially dying over anything grilled. Our neighbor has had his smoker going every day for the past week and our fan sucks those smoky rich flavors so they permeate throughout our house. You would think I would get sick of the smell, but every-so-often I catch a whiff and I am transported to a zone of complete relaxation.
Somehow I found myself in the middle of craving bright, light flavors and the richness that grilling brings out of so many foods. Then the light clicked on and it was so simple. Take my all-time favorite salad and shove it between thick grilled bread – boom, done.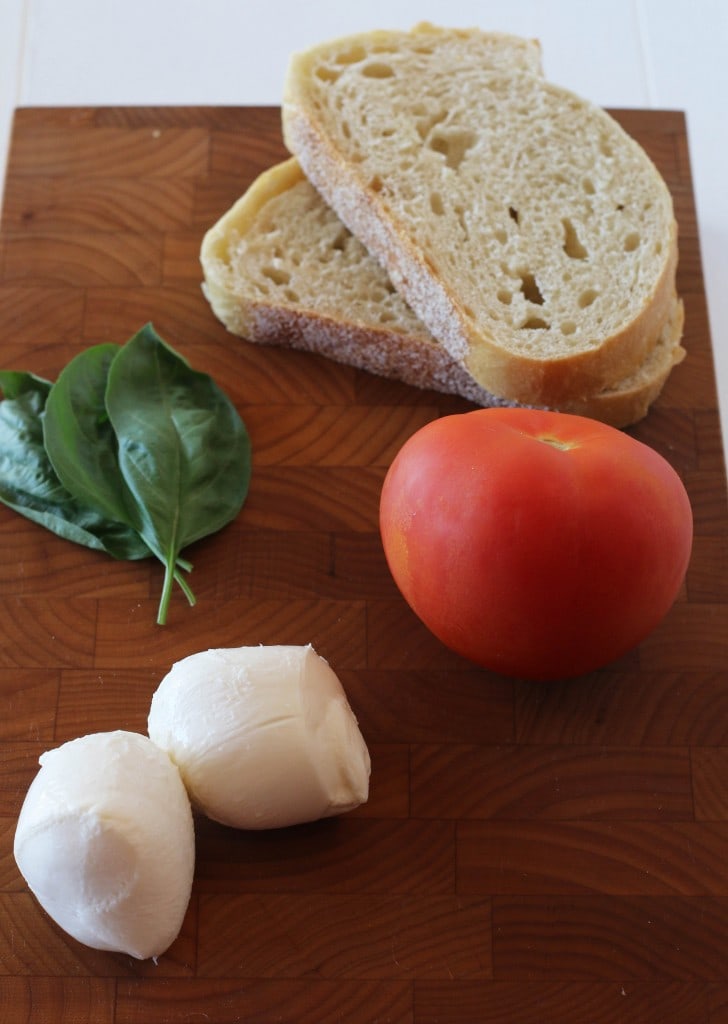 I think the real distinguishing factor of an amazing sandwich is when you hear that crunch as you bite into it. Whether the sound comes from crispy onion rings, ripe lettuce, or a grilled piece of bread, I get such satisfaction when I hear it. The crunch seems to fill my ears and then it immediately makes way for the "mmmmm" sound that follows.
All the flavors I love from a caprese salad are amplified by simply melting the mozzarella and adding a couple thick, crunchy pieces of country bread. You still taste all the bright notes of a classic caprese, but in a grilled sandwich it becomes warm and inviting.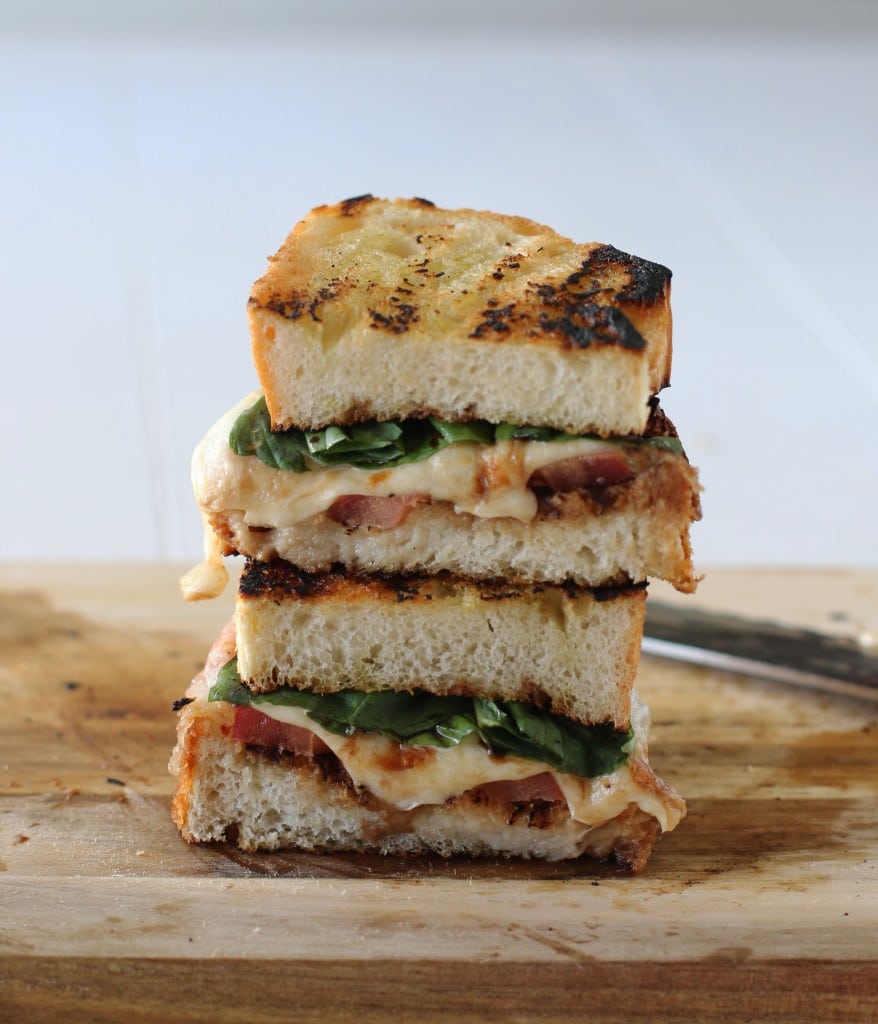 Doesn't it scream well hello there, wouldn't you like to enjoy me on the patio with a glass of chilled white wine and your favorite book?
Sounds like heaven to me. 🙂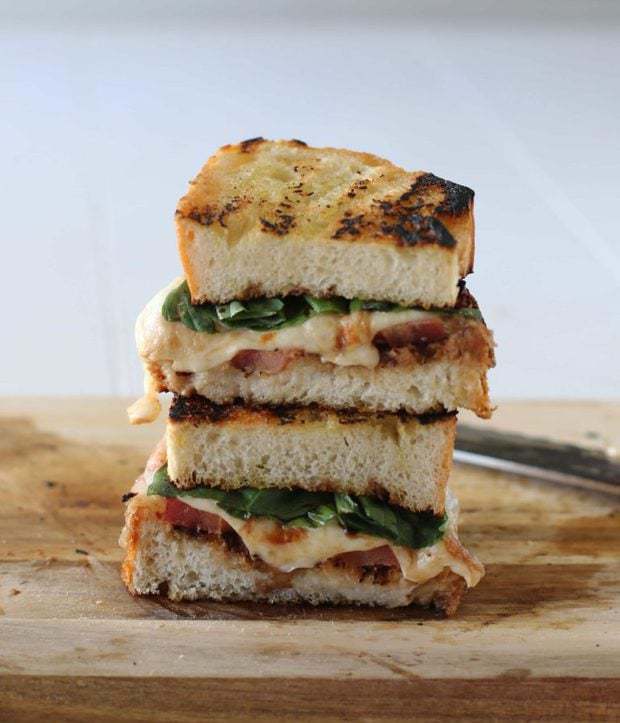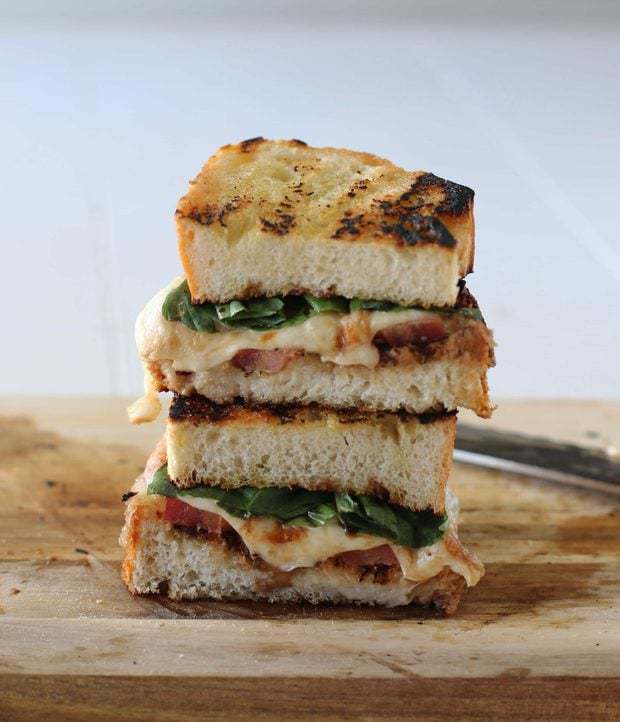 Grilled Caprese Sandwich
All the flavors of a caprese salad are stuffed between two crunchy, grilled pieces of bread to make the ultimate summer sandwich.
Ingredients
4 thick slices of country bread
2 Tbsp olive oil
1 small, ripe tomato, thickly sliced
6-8 leaves fresh basil
2 small balls of fresh mozzarella, thickly sliced
1/4 tsp salt
1/4 tsp pepper
Instructions
Get your grill nice and hot, or heat up a grill pan over medium-high heat. Spread a 1/4 Tbsp of olive oil onto one side of each slice of bread. Place the slices of bread, olive oil-side down, onto the grill or grill pan. As the bread is grilling, spread a 1/4 Tbsp of olive oil onto the face-up sides of the bread slices. Grill the slices of bread approximately 2 minutes per side, or until each side is golden brown and slightly charred. Remove from heat.
I like to get nice black grill marks on mine, so I cook mine just a little bit longer.
Place 2 of the 4 slices of bread on a lined baking sheet. Evenly distribute the mozzarella between the two slices and place the baking sheet in the oven under the broiler (on high). Watch closely until the mozzarella is melted and starting to brown on top, about 3 to 4 minutes. Remove pan from broiler.
Add 2 to 3 slices of tomato on top of the melted mozzarella on each slice. Sprinkle salt and pepper evenly over the tomato layer. Top each sandwich half with the leaves of basil and then drizzle with balsamic vinegar. Place the two remaining grilled slices of bread on top. Serve immediately.