Chocolate Pistachio Baklava with Bourbon Orange Honey Syrup is a chocolaty, citrusy, and boozy take on the classic dessert. The nutty and chocolate-packed filling is layered between crispy, buttery phyllo, then topped with a bourbon-enhanced syrup that brightens up those rich and earthy flavors. Deeeeeelish!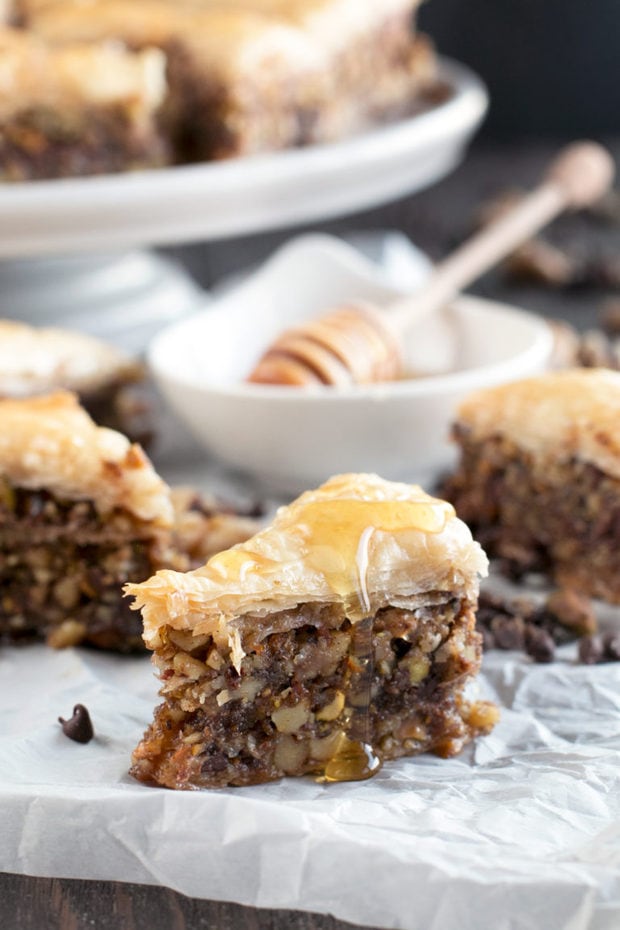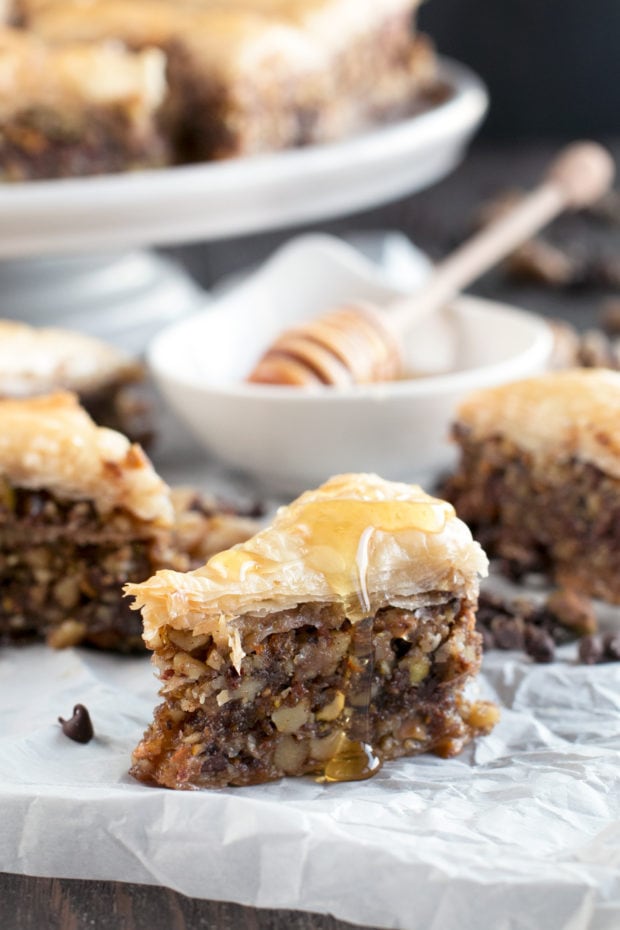 Please note that some of the links below are affiliate links. If you make a purchase through one of these links, I will receive a small commission.
If you haven't had baklava before, it's time to whip out the phyllo dough and butter, because you are seriously missing out.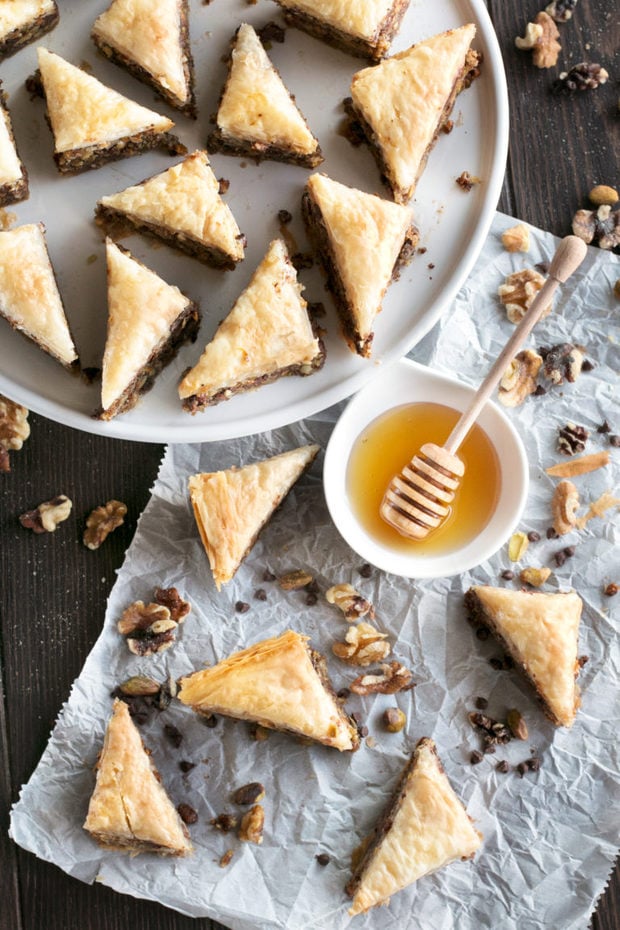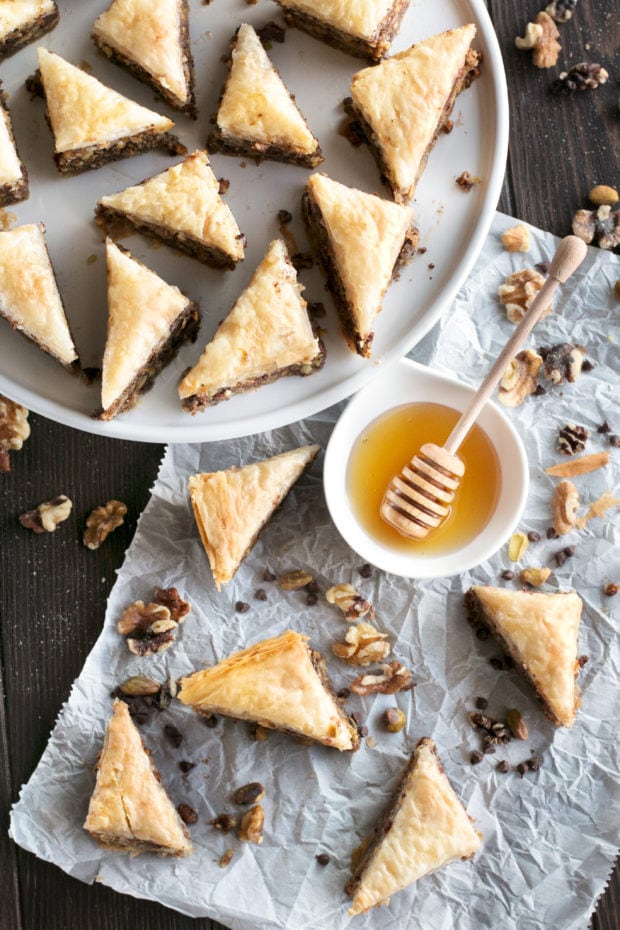 Sticky, sweet, rich in flavor, and oh-so delicate, baklava is one of those desserts that may seem intimidating to master, but it honestly ISN'T.
The one key to it is… patience.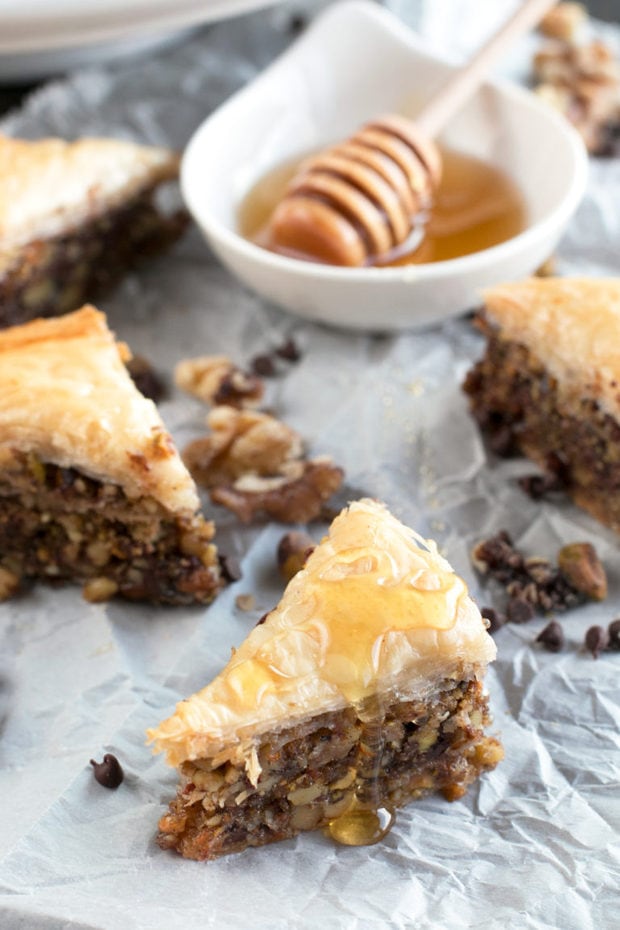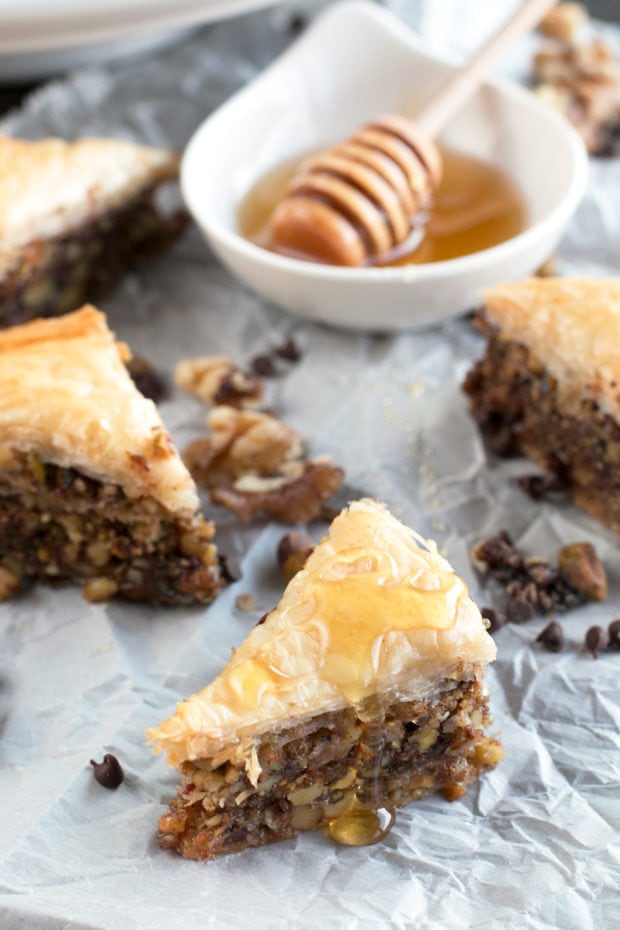 If you rush through all the layers of phyllo, you will inevitably break the delicate pastry sheets and drive yourself insane trying to piece them together in the last layers so the top doesn't look like a hot mess.
You just have to work slow and steady, carefully and purposefully. It's much easier than you think! Once you hit the third of fourth layer, it'll just run like clockwork 😉
This post is totally inspired by my cousin Becca, though I'm pretty sure she has no idea… lol.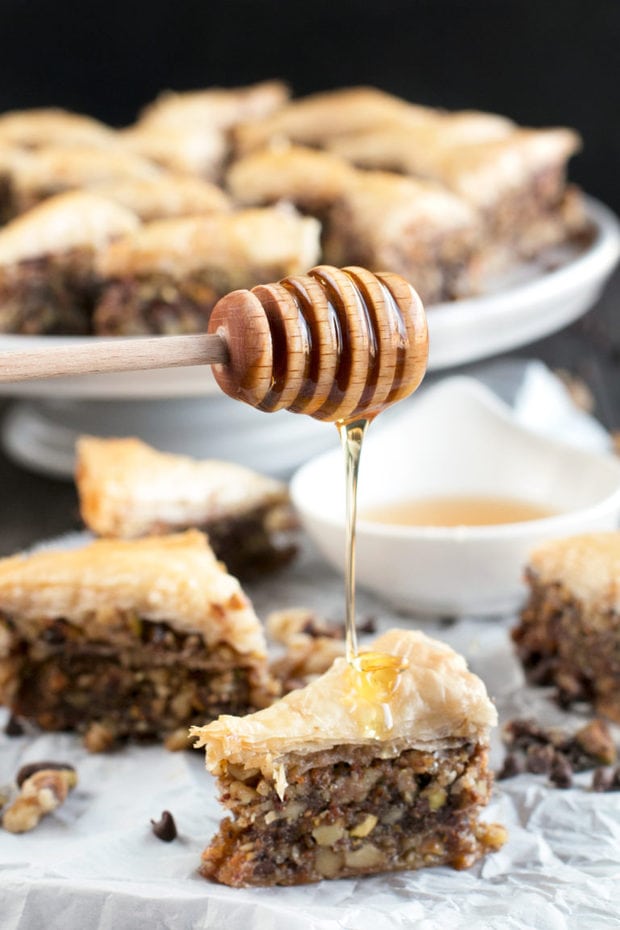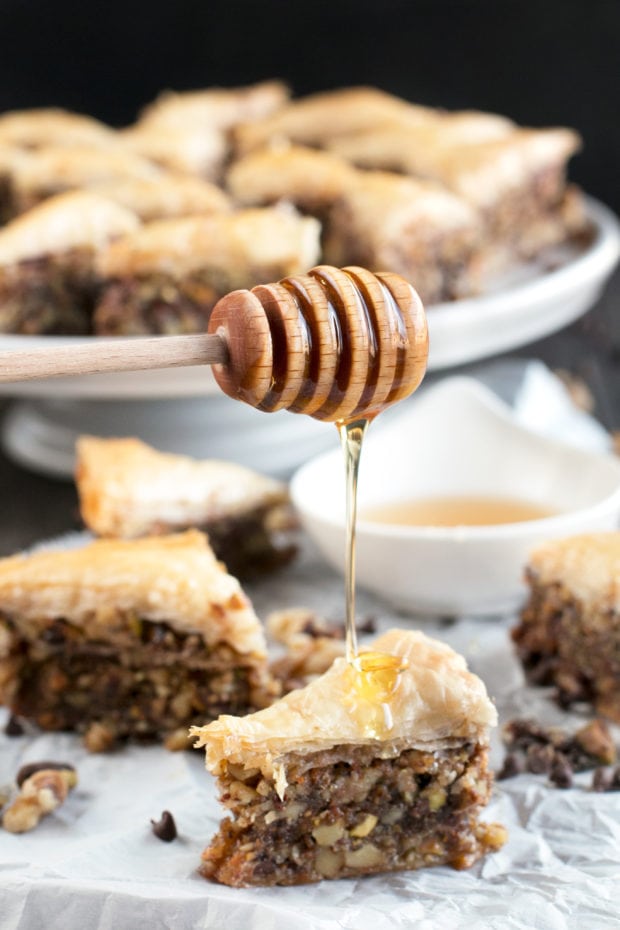 She's off to college now, but those last years of college she worked in a restaurant and was in charge of making the baklava. Now, I never had a chance to try this oh-so magical baklava (my mom RAVED about it all the freaking time), so since I missed my change, I decided I needed to make it myself 😉
Of course, I couldn't JUST make baklava. I had to add in pistachio. And chocolate. Plus it needed a hit of citrus. And booze.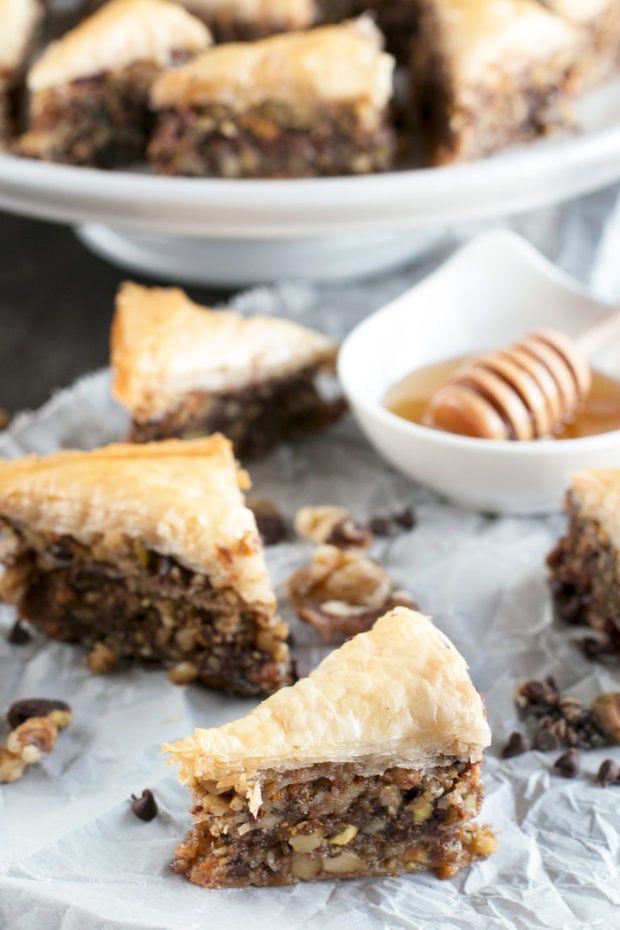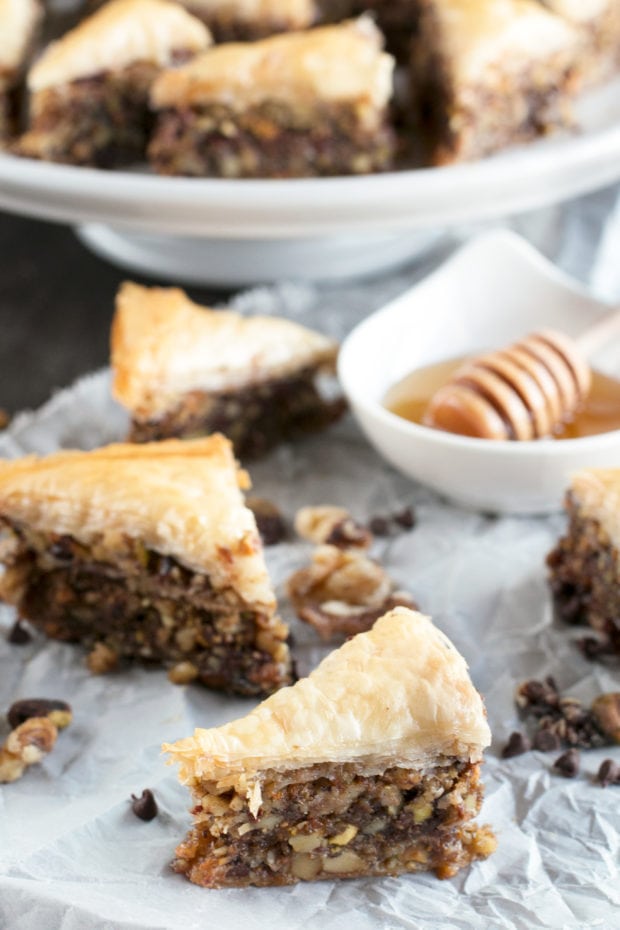 Obvi.
I love how the chocolate and pistachio come together to make baklava even more rich and earthy than it normally is. When you top it all with a sweet and sticky bourbon orange honey syrup, it's just the right balance of sweet, rich, crispy, chocolate and a touch of brightness at the end!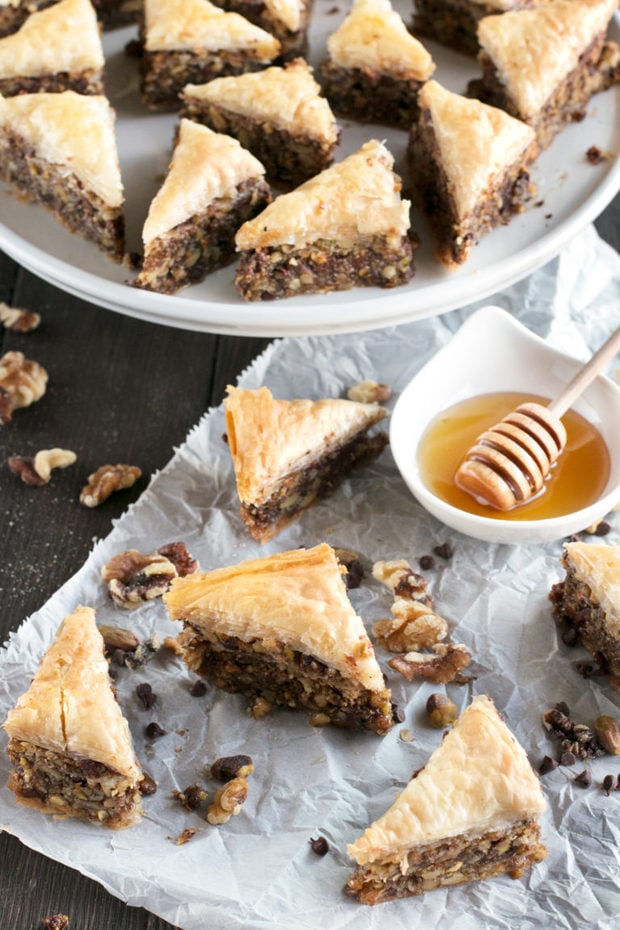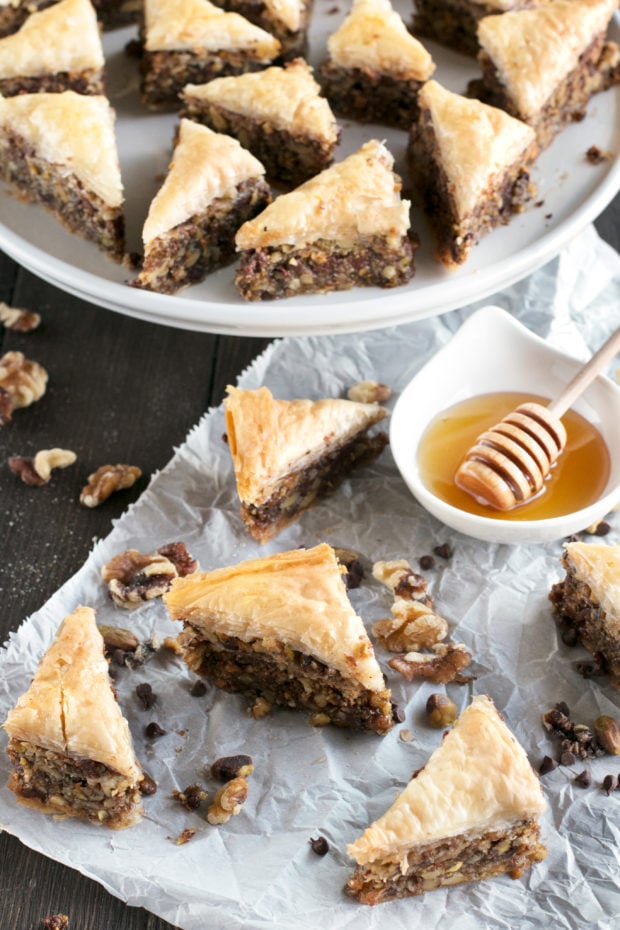 Not to mention, this recipe makes a big batch so it's fantastic for parties or for sharing with friends and family!
This Recipe's Must Haves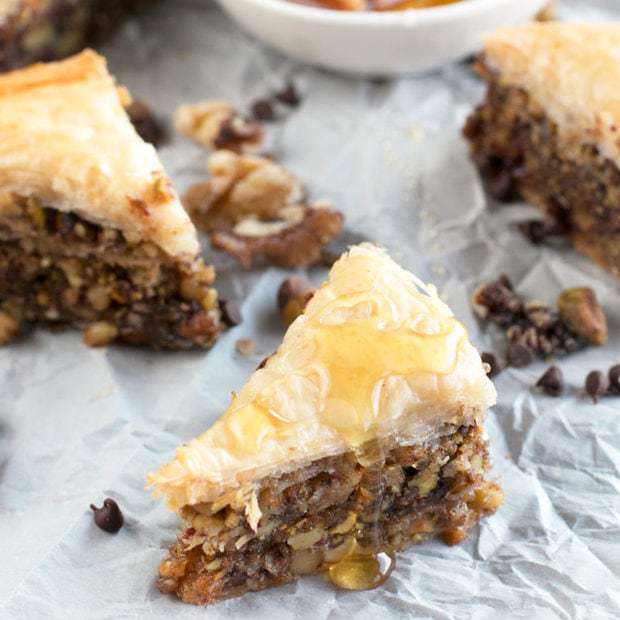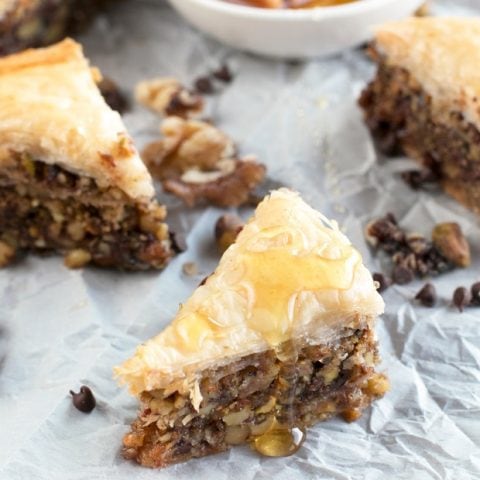 Chocolate Pistachio Baklava with Bourbon Orange Honey Syrup
Take baklava to the next level with chocolate, bourbon, and orange for a rich, smooth and citrusy flavor!
Ingredients
Baklava
20 sheets phyllo dough, thawed
1 cup unsalted butter, melted
Chocolate Pistachio Filling
1 lb walnuts
1/2 lb pistachios
1 cup mini chocolate chips
1 1/2 cups dark brown sugar
Zest of 1 orange
2 tsp ground cinnamon
1 tsp ground cardamom
1 tsp ground ginger
1/8 tsp salt
Bourbon Orange Honey Syrup
1 cup granulated sugar
1 cup honey
1/2 cup water
Juice of 2 oranges
1 1/2 oz bourbon
Instructions
Preheat oven to 375 degrees F.
In the bowl of a food processor, add walnuts and pistachios. Pulse a few times until chopped fine.
In a medium bowl, combine nuts, mini chocolate chips, brown sugar, orange zest, cinnamon, cardamom, ginger and salt.
Use the melted butter to butter the bottom and sides of a 9x13-inch pan.
Lay down one sheet of phyllo, and brush with melted butter. Repeat this process until you have seven layers. Top with one cup of the nut mixture. Layer and butter three more layers of phyllo. Reserve 1 cup of the nut mixture.
Use the remaining nut mixture to cover the layers of buttered phyllo. Layer and butter three more layers of phyllo. Add the remaining cup of nut mixture in an even layer.
Layer and butter the remaining phyllo layers on top of the final nut mixture layer. Cut the top layer of phyllo into desired pattern. I found cutting vertically into four rows, then horizontally into five rows, and finally cutting each square on the bias. It makes for perfect little triangles!
Bake for 30 minutes, or until golden brown. While it bakes, make the syrup. Once baked, remove from oven and cool.
To make the syrup, combine sugar and water in a small saucepan. Cook over medium heat until it's bubbling and all the sugar has dissolved. Stir in honey. Remove fro heat, add orange juice and bourbon. Cool.
Top the cooled baklava with bourbon orange honey syrup. Cut and store in an airtight container.