Getting a healthy, comforting meal into one skillet is my ultimate goal during any work week.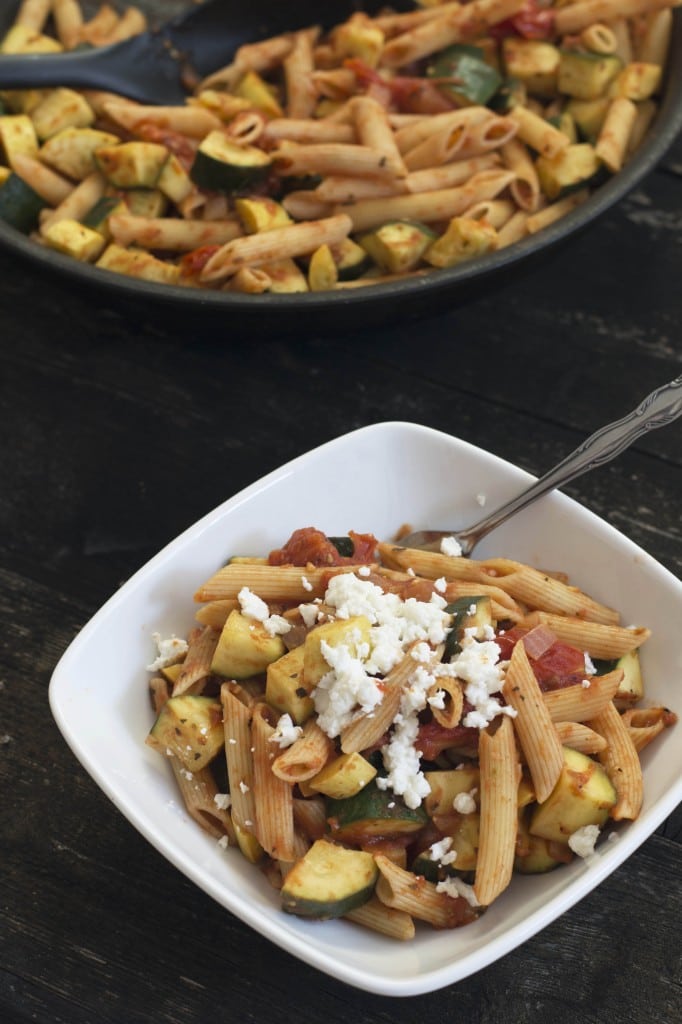 Not only does it make cooking that much easier after a long day at the office, it also means fewer dishes for me to do after dinner. Lately by the time I finish dinner, I am completely dead and heading to bed. So one dish to clean versus three is so much more appealing…
It's been an uphill battle as of late to keep my life in check. For the last few weeks everything has been piling up and no matter how quickly I try to dig myself out, more and more gets added to the top and I am suddenly back where I began. I know it's so much better to be busy than bored, but right now a week of boredom isn't looking so terrible!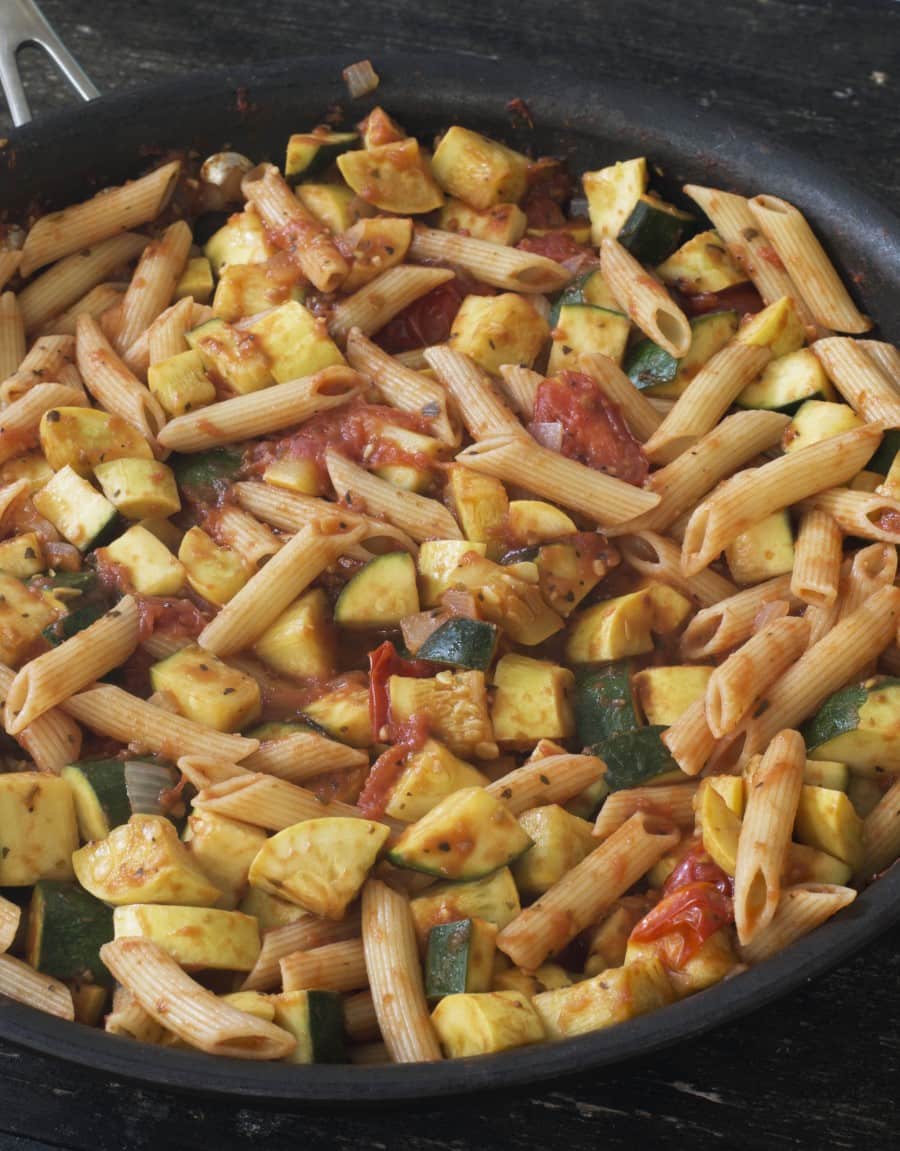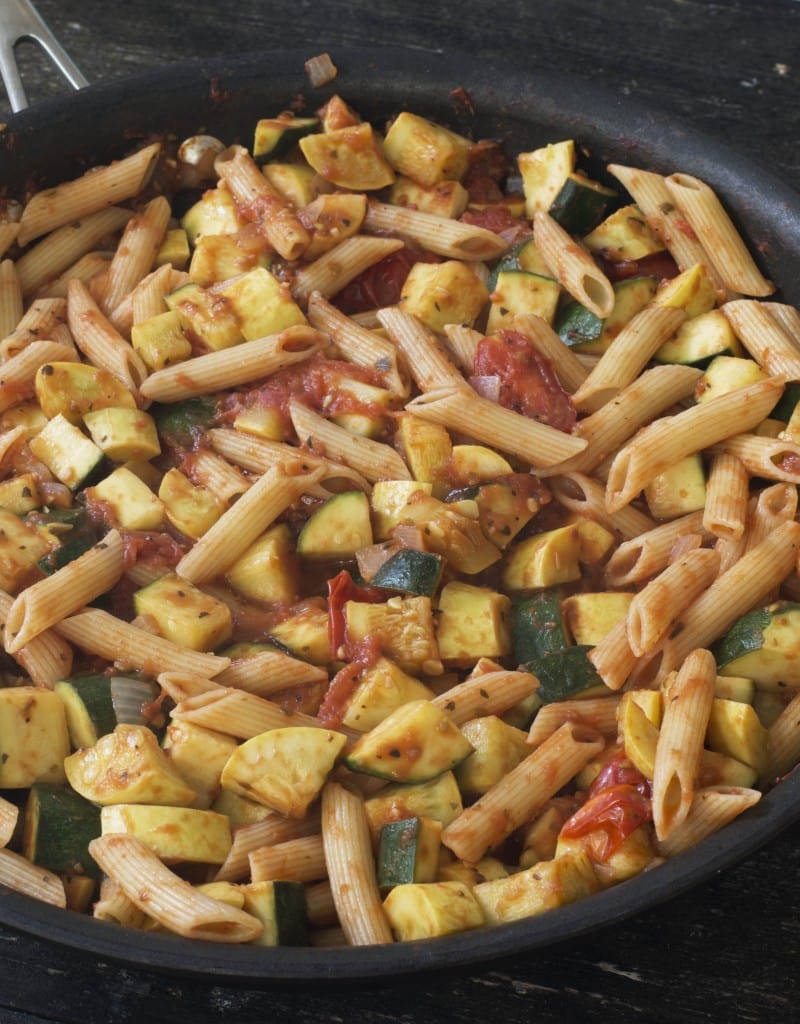 Thankfully I have no shortage of inspiration – if anything being pushed to my breaking point has sharpened my recipe development and I have soooooo many ideas I want to share with you all!! GAH I wish I could just unload them all on you right now, but I am pretty sure that would be a bit too overwhelming. You know how much of a mess I am so it would all be gibberish at this point (p.s. who knew how to spell gibberish because I sure didn't – thank goodness for spellcheck, right?!).
This pasta skillet really pulls together all my favorite vegetables (not to mention CHEESE) and is the perfect summer comfort food in my book. It's always hard for me to track down a good comfort food in the summer since most of my go-to comfort foods include winter items such as chili or hot cocoa.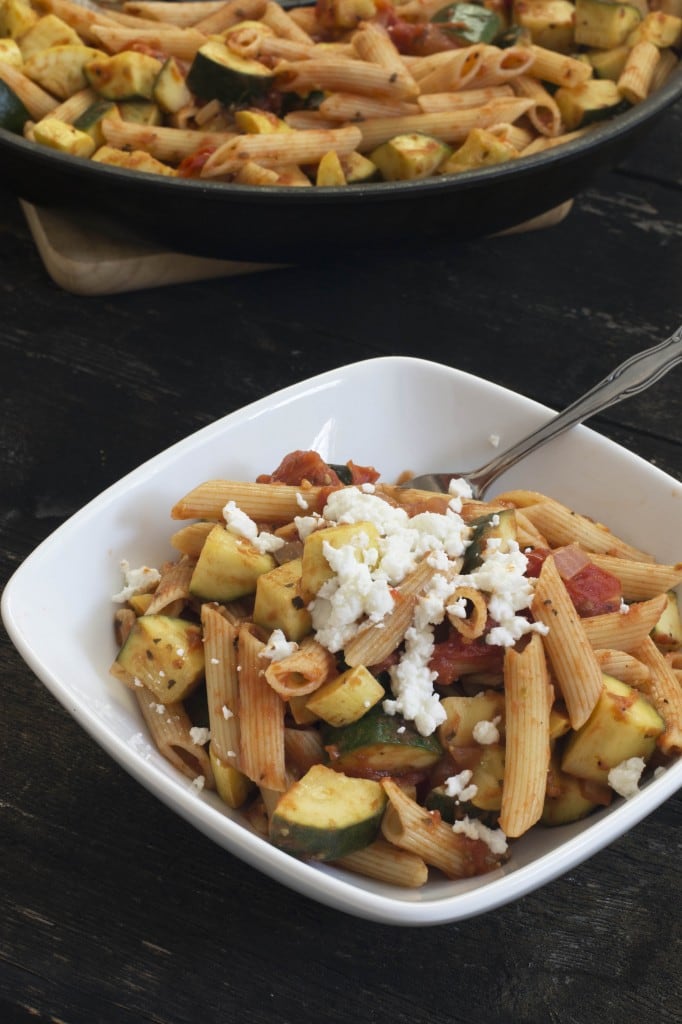 Dinner in 30 minutes is a wonderful thing. 🙂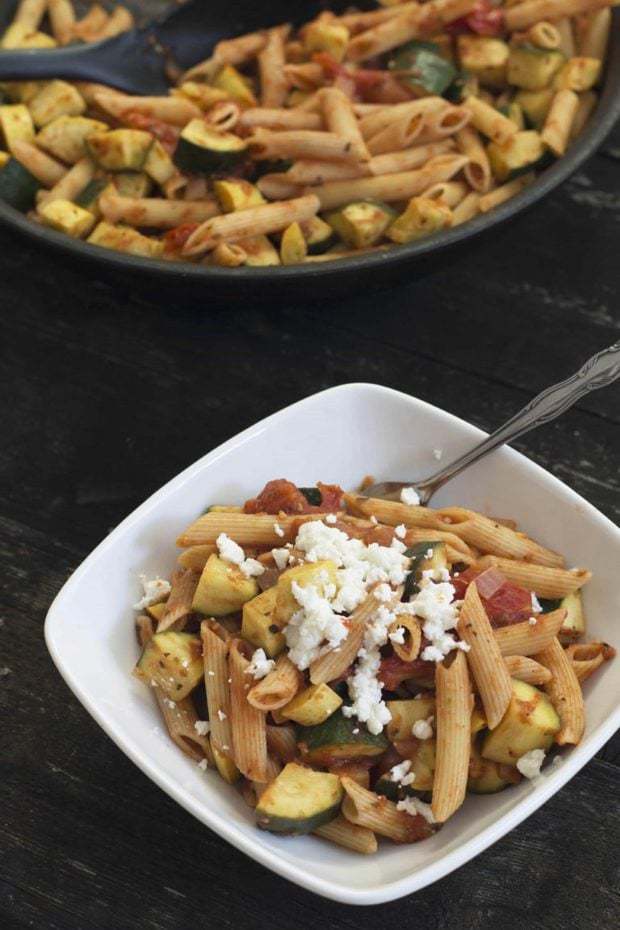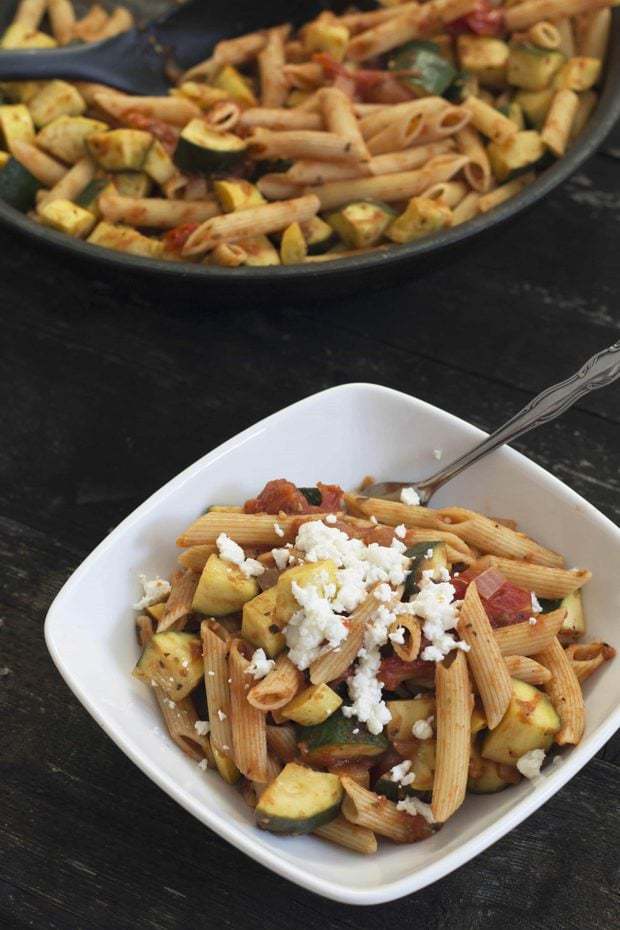 Ratatouille Skillet
My summer comfort skillet is both full of delicious flavor but also is a healthy option that comes together in 30 minutes.
Ingredients
1 Tbsp olive oil
2 cloves garlic, minced
1/2 white onion, diced
2 cups cherry tomatoes, halved
1 cup tomato puree
1/2 Tbsp dried basil
1/2 Tbsp dried oregano
1 tsp salt
1 tsp pepper
2 small zucchini, chopped into ½" pieces
2 small yellow squash, chopped into ½" pieces
2 cups penne pasta, cooked until just under done
Crumbled goat cheese
Instructions
In a large skillet, heat the olive oil over medium-high heat. Once the oil begins to shimmer, add the garlic and onion. Cook until the onions are softened and beginning to brown, approximately 5 minutes.
Add the cherry tomatoes to the skillet and cook until softened, approximately 5 minutes. Add the basil, oregano, salt, pepper and tomato puree to the skillet. Stir to combine and cook for about 6 to 10 minutes to develop the flavors of the sauce.
Add the chopped zucchini and yellow squash. Turn heat down to medium and cover and cook until the zucchini and squash are fork tender, approximately 10 minutes. Finally, add the partially cooked penned pasta. Give the skillet a good couple of tosses (or stir a few times). Continue to cook over medium heat until the pasta is cooked through, approximately 1 to 2 minutes.
Serve immediately with crumbled goat cheese on top.