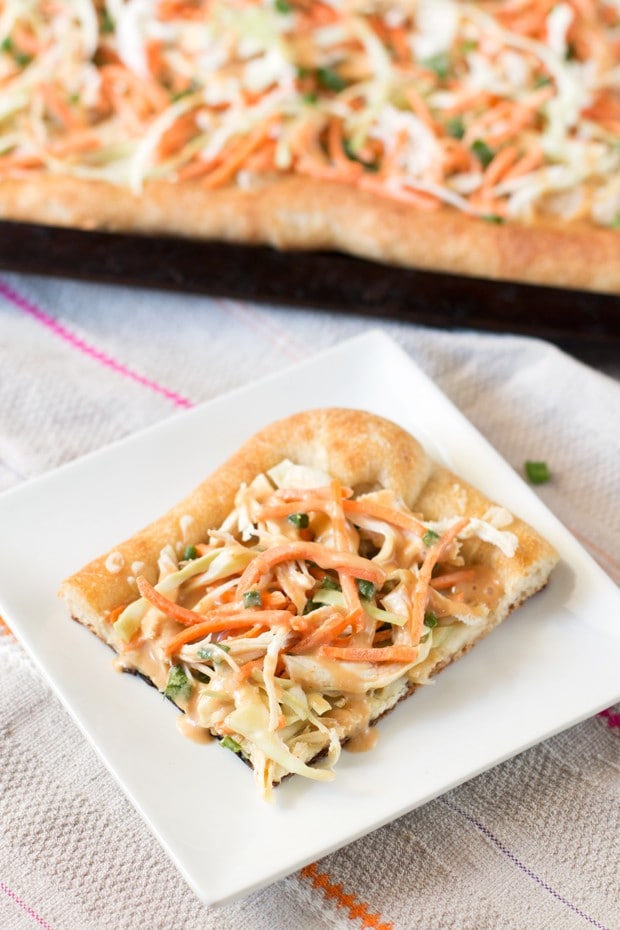 A couple of weeks ago I went to a Thai cooking class where I finally learned how to cook pad thai without completely killing it (big success for me, let me tell you). While I was in class, we made a peanut sauce that I am still drooling over. Seriously, I'm sitting here typing and literally salivating at the thought of this peanut sauce. It was so SO good… I might have dreams about it… Don't judge!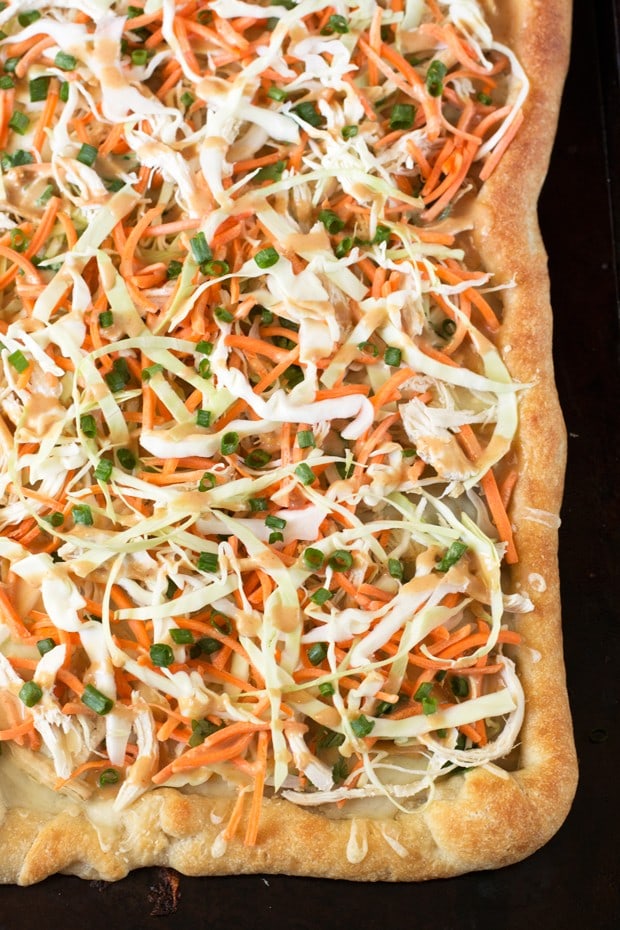 I've been trying to think of a way to share it with you that isn't me just slathering it on anything I can find. Of course, pizza was the only solution that made sense. Because pizza is always the right choice (anyone who thinks otherwise, kindly shush).
The key is to not have any sauce leftover after the thai chicken pizza is done. I mean it, you have to use every single drop of it on this pizza. Ok, so the pizza will probably be fine if you don't use alllllllll the sauce. However you might find yourself standing in the glow of your refrigerator at midnight, spoon in hand, willing yourself to resist shoving yet another spoonful of leftover sauce in your mouth.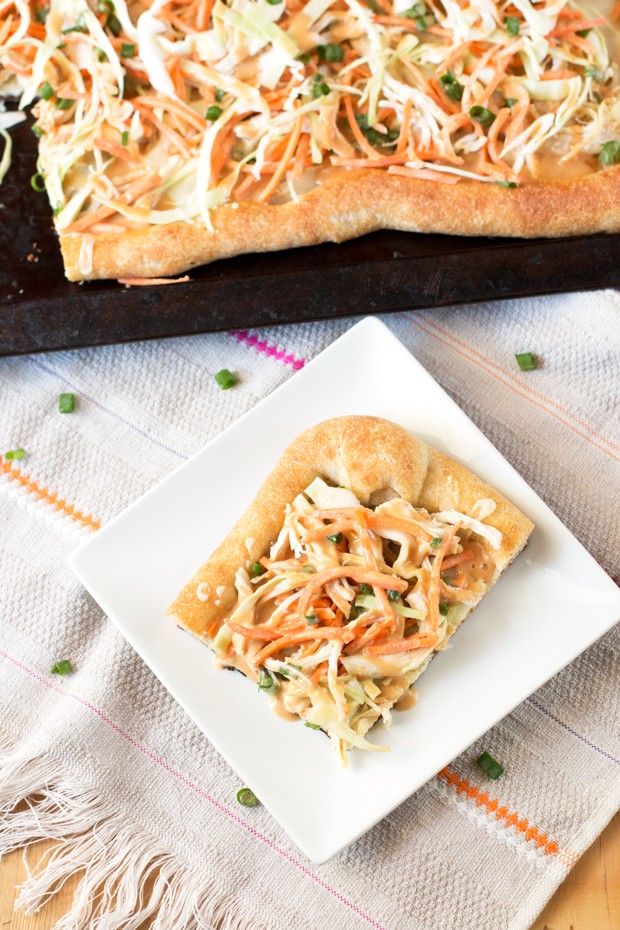 I'm just looking out for you, you know.
The peanut sauce has a hint of spice and despite the richness, the thai chicken pizza doesn't taste overindulgent. The fresh veggies and chicken brighten up each bite so you almost feel like you're eating a salad. Almost. Can we go ahead and call this a "healthy" pizza? I am going to go with a resounding "YES" on that one, if only to make myself feel better about eating the entire thing by myself over the course of two days.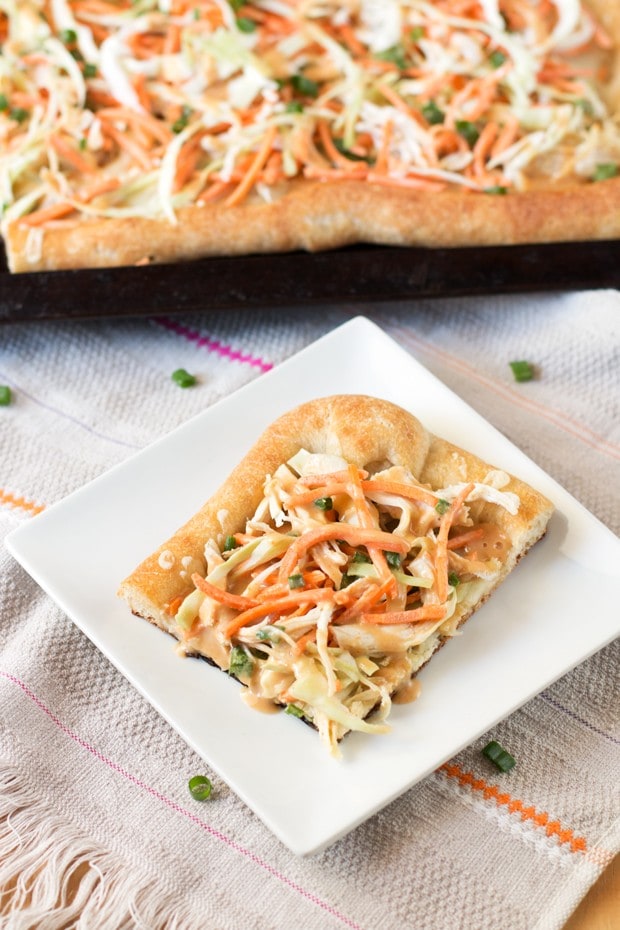 I'm sorry, did I say I was going to stick to this whole diet thing? HA.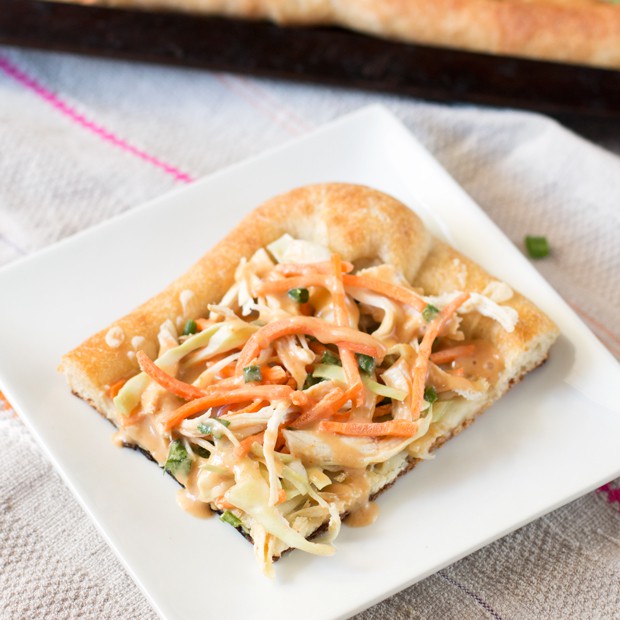 Thai Chicken Pizza
This Thai Chicken Pizza is made infinitely better with the best peanut sauce you'll ever taste.
Ingredients
Peanut Sauce
3/4 cup coconut milk
2 Tbsp brown sugar
1/2 to 1 tsp red curry paste (depending on your level of spice preference, for a small kick start with 1/2 tsp)
1 tsp minced lemongrass
1/4 cup creamy peanut butter
3/4 tsp fish sauce
Pizza
1lb thawed pizza dough
2 cups shredded chicken
1 cup mozzarella cheese
1 cup shredded cabbage
1 cup shredded carrots
1/4 cup cilantro, chopped
Diced green onion
Instructions
Preheat oven to 425. If you have a pizza stone, add it to the oven to heat.
For the peanut sauce, combine coconut milk, brown sugar, curry paste and lemon grass in a medium saucepan and bring to a boil over medium heat. Cook for one minute. Add peanut butter, fish sauce, and coconut milk mixture into a blender and blend until smooth. Refrigerate until ready to use.
Roll out pizza dough into a large rectangle, creating a crust by slightly rolling up the edges if desired. Bake on a pizza stone or a rimmed baking sheet for approximately 10 minutes, or until golden brown and cooked through.
Remove the crust from the oven. Spread a thick layer of peanut sauce on the crust (there will be a little leftover) and top with the chicken and mozzarella cheese. Return the pizza to the oven and bake for 3 to 5 minutes, until the cheese is melted. Top with cabbage, carrots, cilantro, diced green onion and any leftover peanut sauce.