Grilled Pulled Pork Tex Mex Stuffed Avocados
Grilled Pulled Pork Tex Mex Stuffed Avocados are a fun way to get your grill on without getting too unhealthy. With a kiss from the grill, the avocados get a little char before being stuffed with saucy pulled pork, peppers and an avocado crema.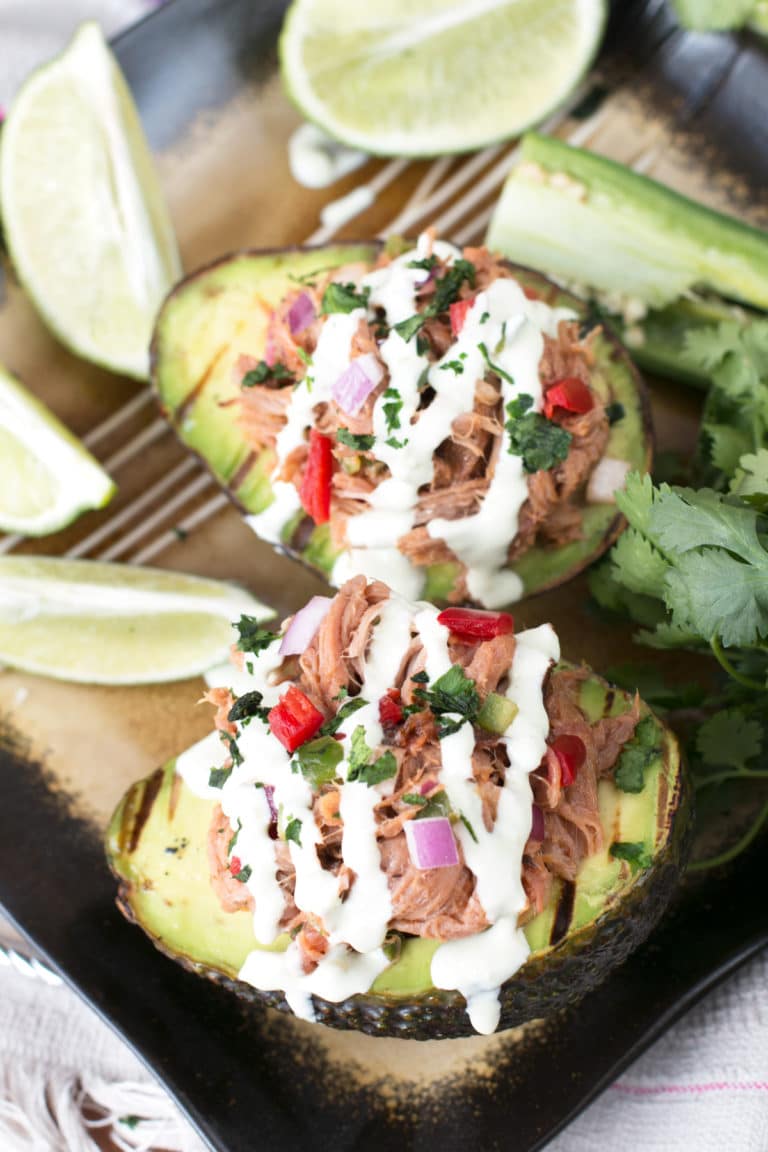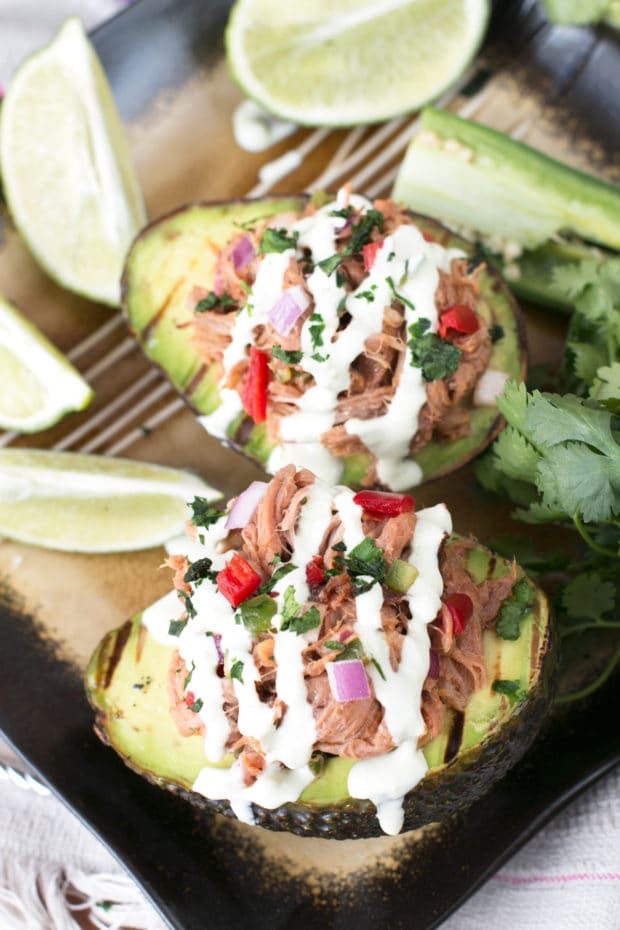 I have the hardest time figure out good lunches these days.
I used to have a system, where I would eat basically the same thing for lunch (some sort of grilled cheese) every day with a varying side of fruit and vegetables. Of course, this routine got old really quick.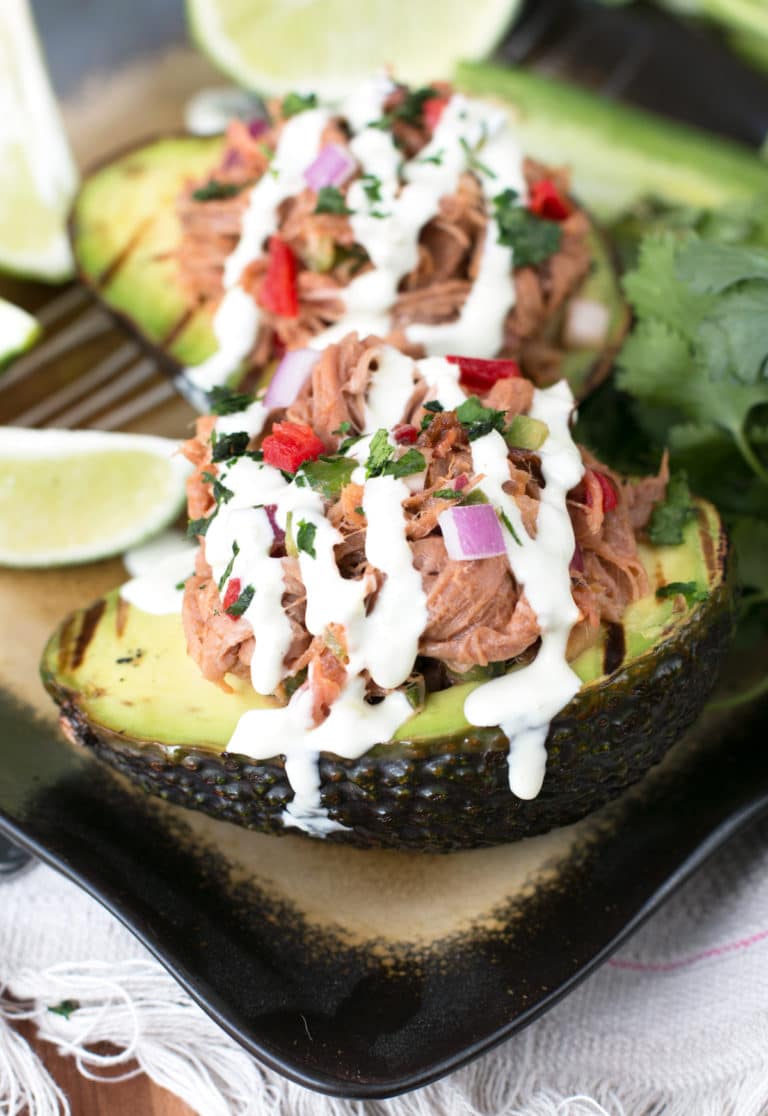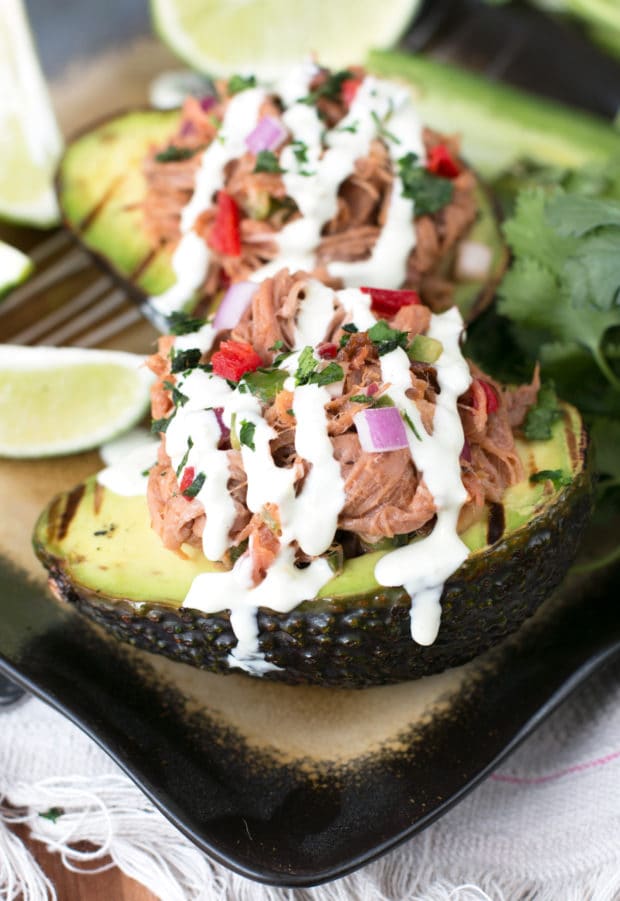 Please note that some of the links below are affiliate links. If you make a purchase through one of these links, I will receive a small commission. Thank you for supporting Cake 'n Knife!
Then I devolved to simply devouring leftovers from all my cooking adventures and while this was delicious, it left me without dinner and a whole new dilemma of cooking for me (plus one).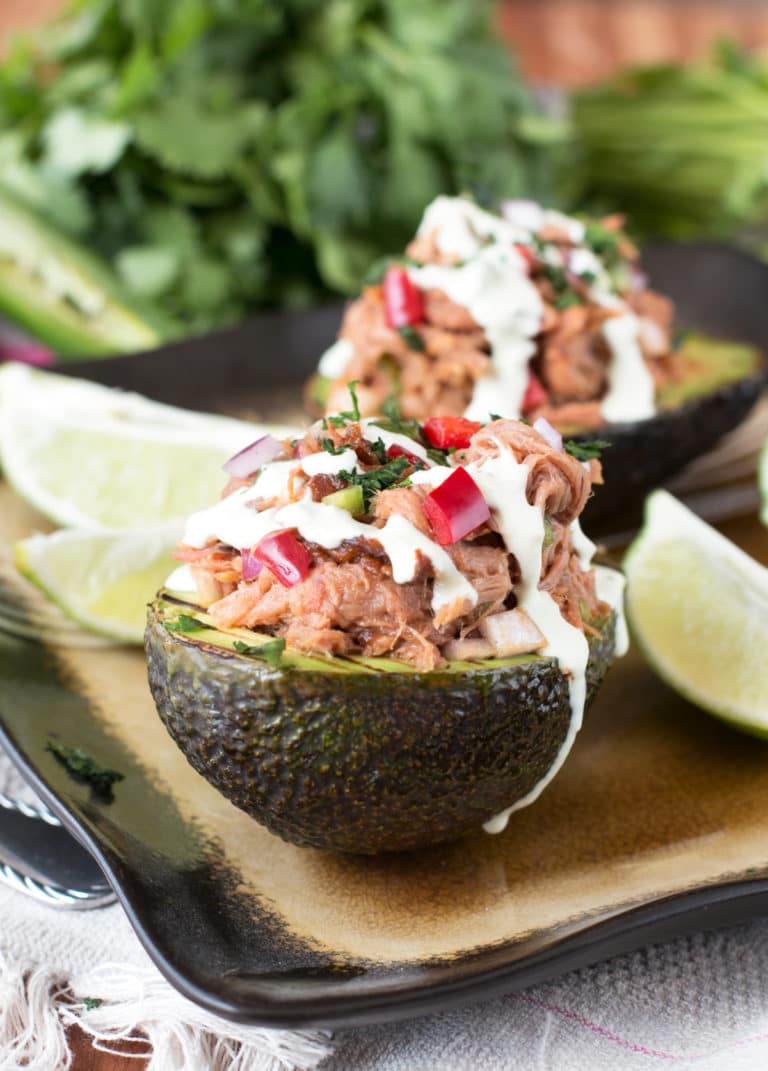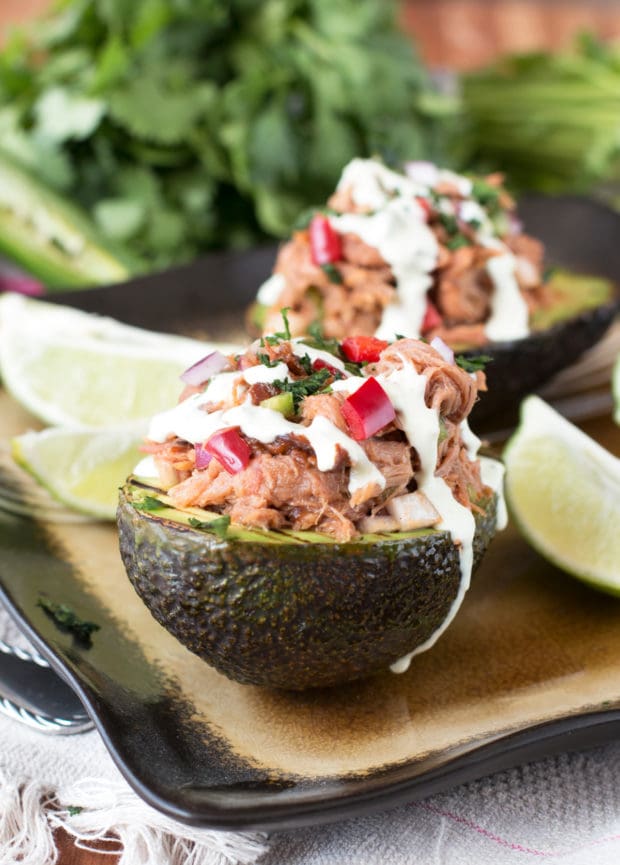 Discovering grilled avocados was the best moment of the last couple of weeks. I had grilled avocado with some grilled chicken at a local restaurant, and wowza. The grilled avocado just popped off the plate and the creamy, charred goodness enhanced everything I love about the avocado.
Stuffed avocados haven't truly been on my radar before, but now that I know the magic of grilled avocados, these Grilled Pulled Pork Tex Mex Stuffed Avocados are right smack dab in the lunch bulls eye for me.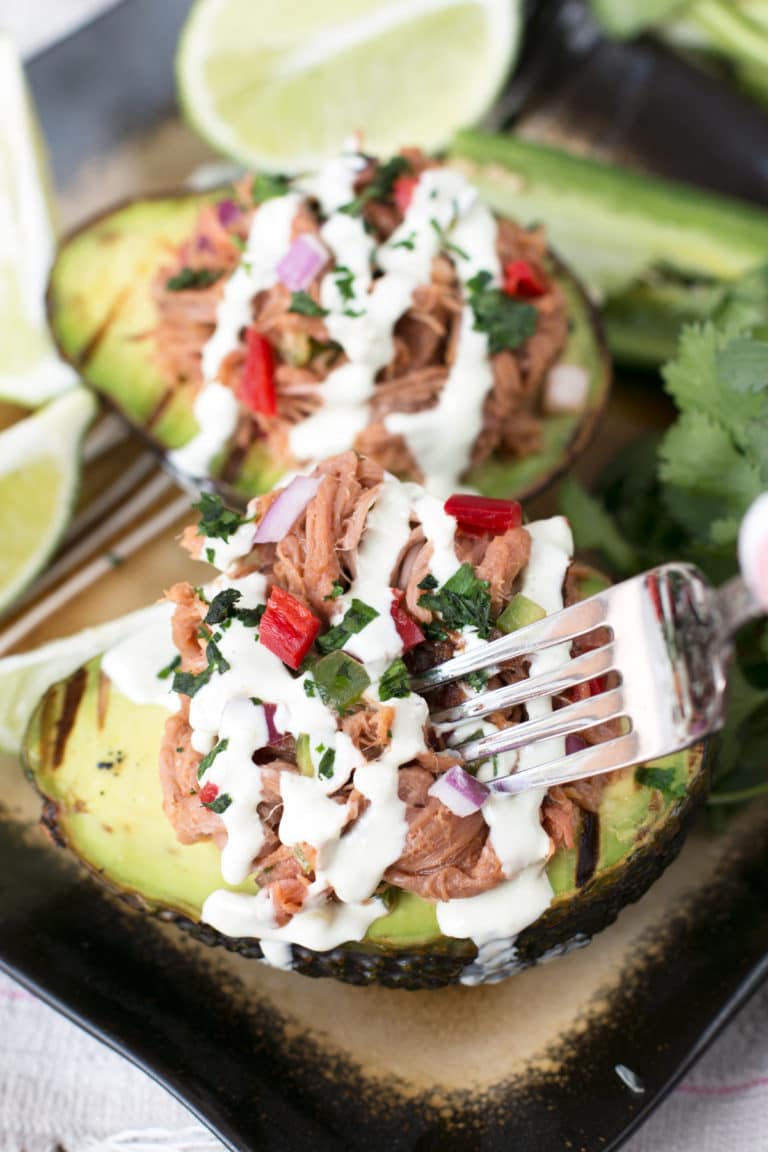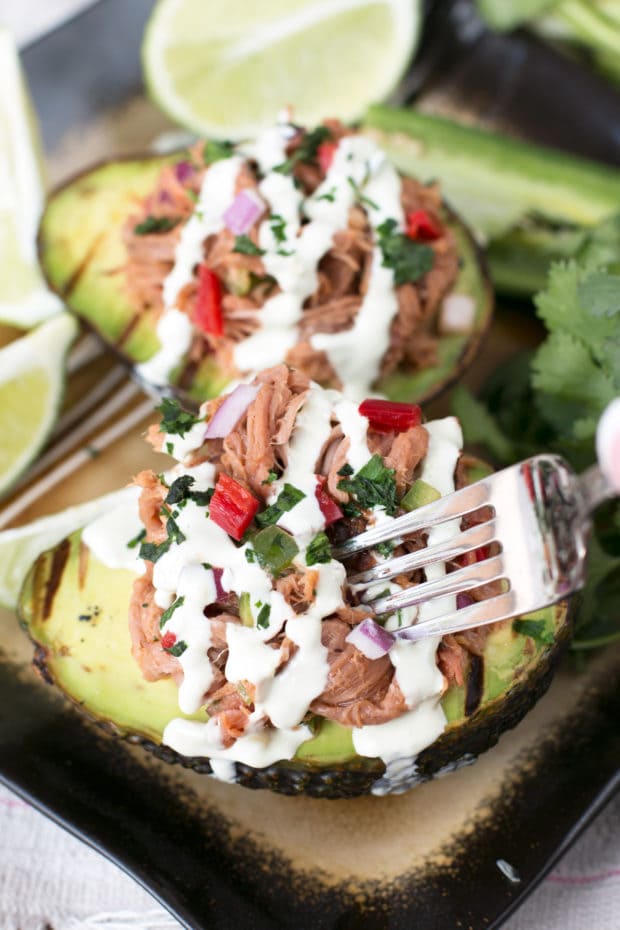 If you have leftover pulled pork, this lunch is the ideal candidate for the summer months. Simply grill off an avocado, stuff it with pulled pork, peppers and a little seasoning, finisghing it off with a drizzle of creamy avocado crema (yes, avocado on avocado IS a match made in heaven).
The overall recipe comes together in just 10 minutes, so it's great for a quick lunch! Filling, creamy, a little spicy and packed with protein so it'll keep ya full well into the dinner hours of the evening.
You've wanted another reason to get grilling, haven't you?
You're welcome.
This Recipe's Must Haves
Pin this Grilled Pulled Pork Tex Mex Stuffed Avocados recipe for later!