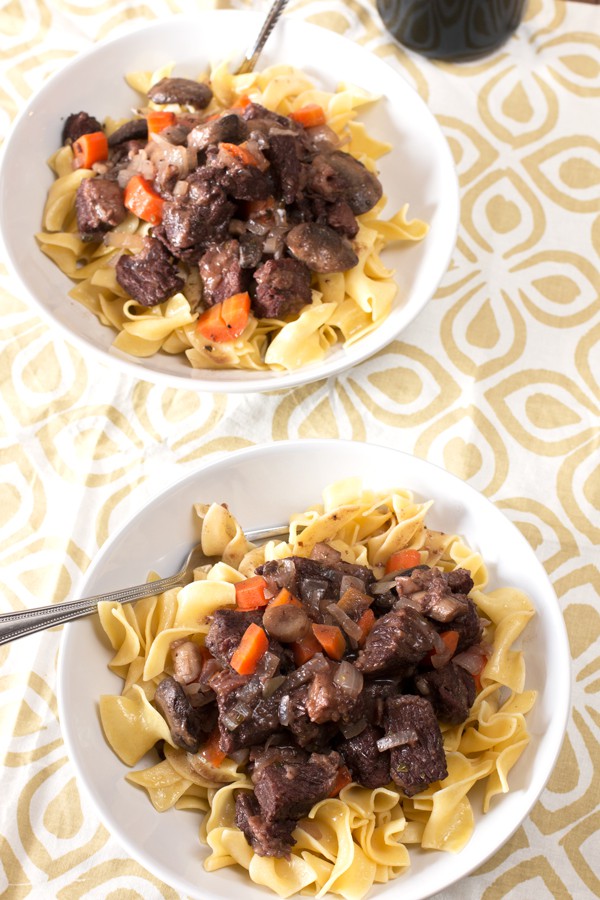 A heaping bowl of stew is how I am finding comfort this week…
So far, the week hasn't started off great. I killed a chocolate pound cake on Sunday (by killed I mean seriously KILLED) and for some reason, this one isn't rolling off my back like other kitchen disasters do. I am feeling a bit "off" for some reason – not sure if it's the full speed collision Kya, our furry baby, had with the back of my head or the bipolar weather we are experiencing in Denver.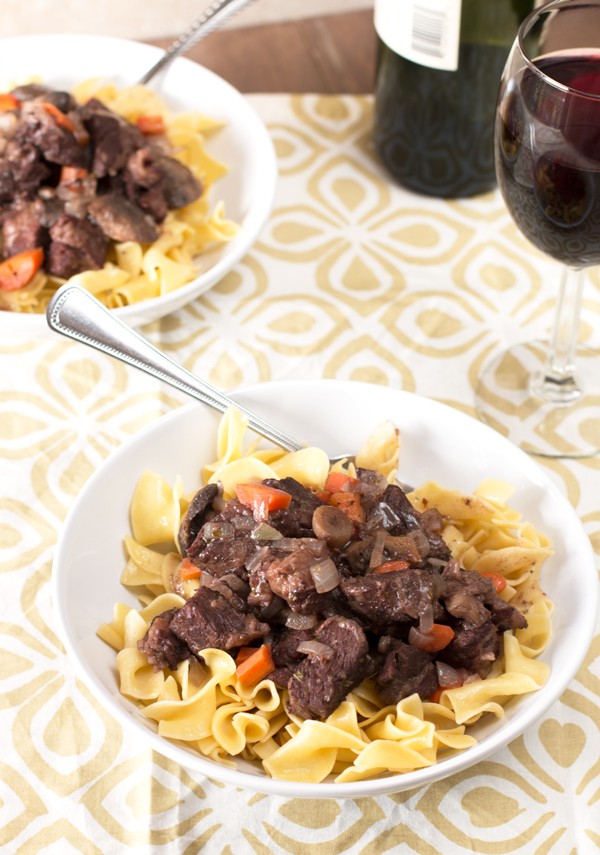 I think it's the weather – it's just…. grey.
It did help that we completely overhauled our office this weekend with new desks and matching bookcases (I feel like a grown-up!). I finally have space that extends beyond the area dedicated to my laptop and monitor! I am anticipating a productive 2015!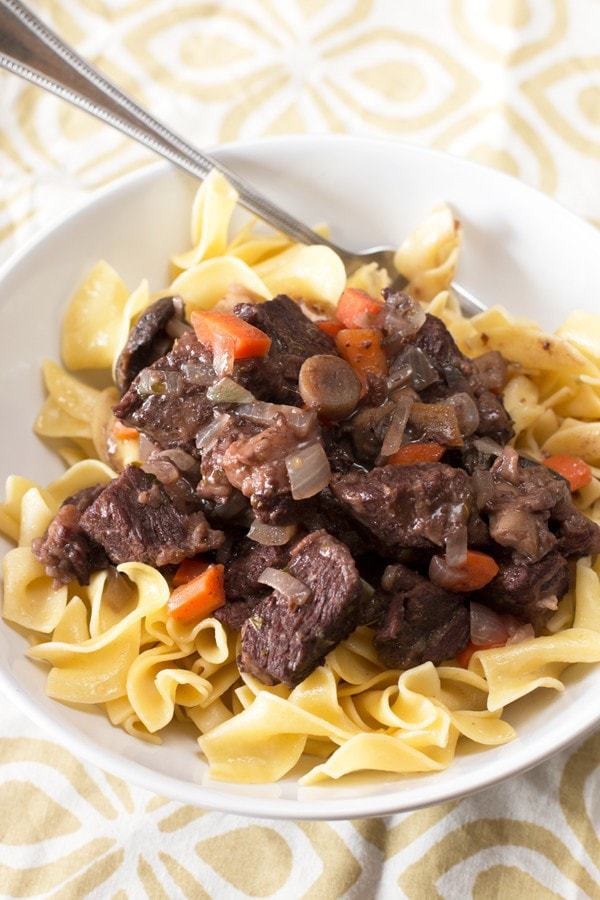 Despite the ups and downs of this past weekend, this stew was there to make me feel all warm and cuddly again. I love serving this over a big pile of buttered noodles because it's the perfect extra helping of carbs to keep full and warm. The cold, grey weather becomes almost bearable when I am devouring piping hot spoonfuls of this rich, hearty stew.
Stay warm everyone!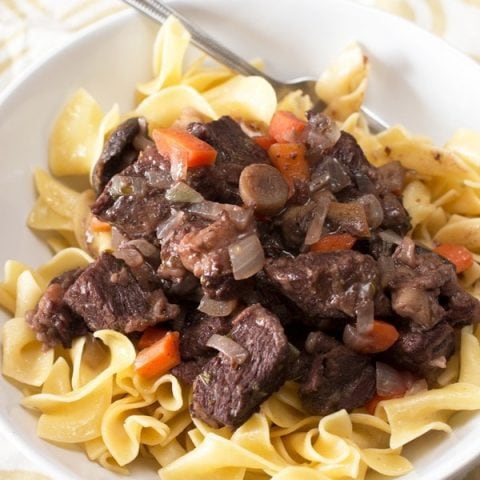 Braised Short Rib Stew with Red Wine & Mushrooms
Cook Time:
2 hours
50 minutes
This is the kind of stew you pull out in the dead of winter to fight the cold-weather blues. Only a few simple steps to a delicious, hearty meal!
Ingredients
3 to 3 1/2 lbs short ribs, cut into 1 inch pieces
1/4 cup flour
3 Tbsp olive oil
2 cups dry red wine
1 cup beef stock
6 carrots, peeled and diced
1 onion, diced
1/2 lb sliced white button mushrooms
2 Tbsp thyme leaves
2 Tbsp oregano
2 bay leaves
Salt & pepper
Instructions
In a large bowl, toss the short rib pieces with the flour until each piece is coated.
Heat the oil in a large dutch oven over medium-high heat. Add the meat and brown on all sides, working in batches until complete. Discard excess oil, but do not scrape off the browned bits at the bottom (reserve them in the pan).
Add the meat back to the dutch oven with the red wine. Bring to a boil and cook until the liquid is reduced by half, approximately 8-10 minutes. Add the beef stock and simmer on low until the meat is tender, approximately 2 hours.
Skim the fat off the top and add the carrots, onion, mushrooms, thyme, oregano, and bay leaves. Continue to cook on low until the vegetables are tender, approximately 30 to 35 minutes. Season to taste with salt and pepper. Be sure to pick out the bay leaves before serving!
Serve warm over cooked egg noodles or mashed potatoes.