Please note this post contains affiliate links.
Vegetable Tempura Udon Soup is a traditional Japanese pairing of crispy, lightly battered vegetable tempura and smooth, umami-filled udon noodle soup. It's a comforting meal that's wonderfully light, making it perfect for warm or cold weather. Once you master the art of vegetable tempura, you'll be hooked!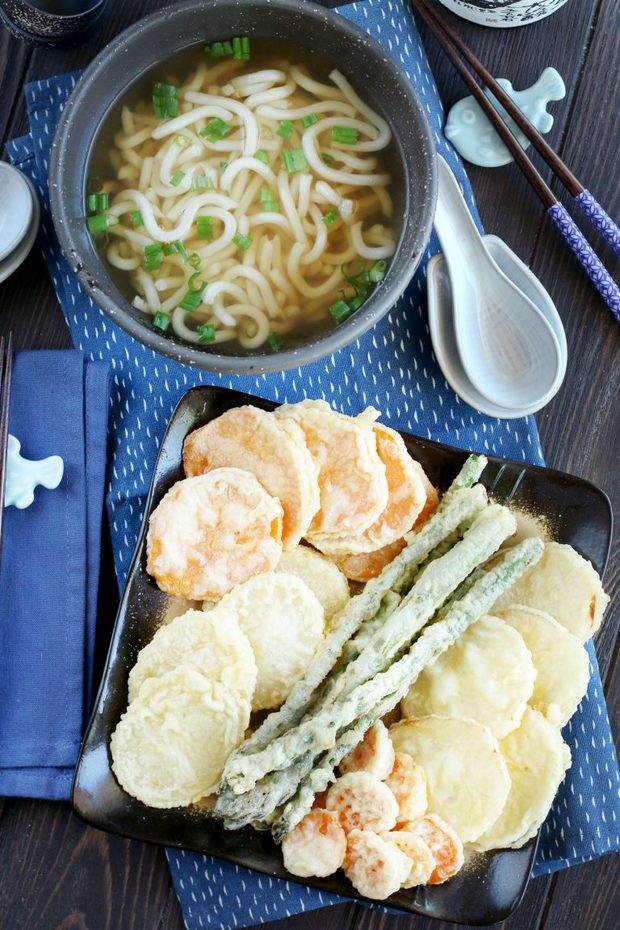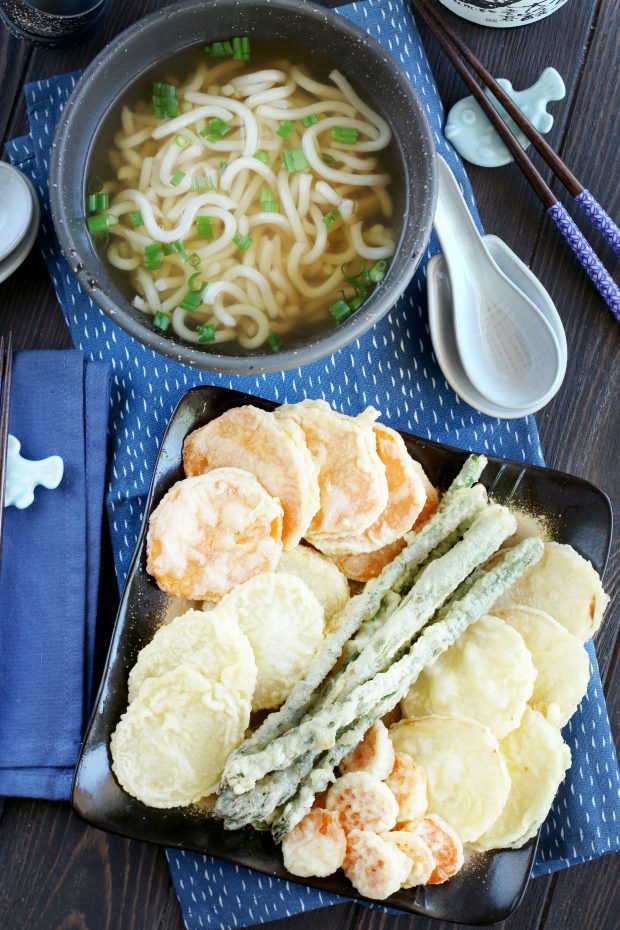 Please note that some of the links below are affiliate links. If you make a purchase through one of these links, I will receive a small commission.
Japan is a magical place full of wonder and excitement.
I have been dreaming about visiting Japan for years now, and when the Man made that dream a reality this year, I can quite honestly say I have never been happier in my life.
The culture, the language, the food… It was all just as miraculous as I imagined it would be, if not more.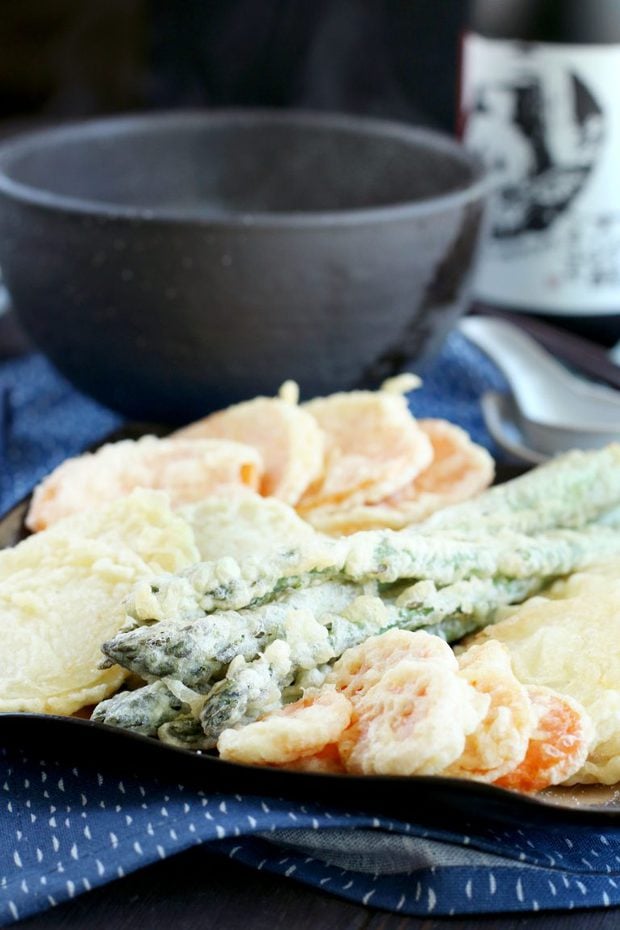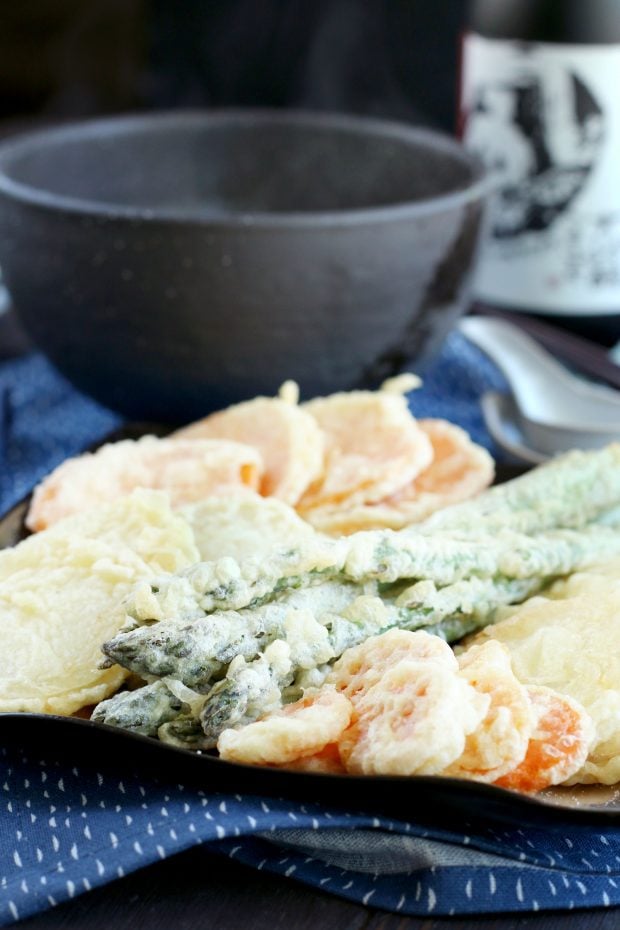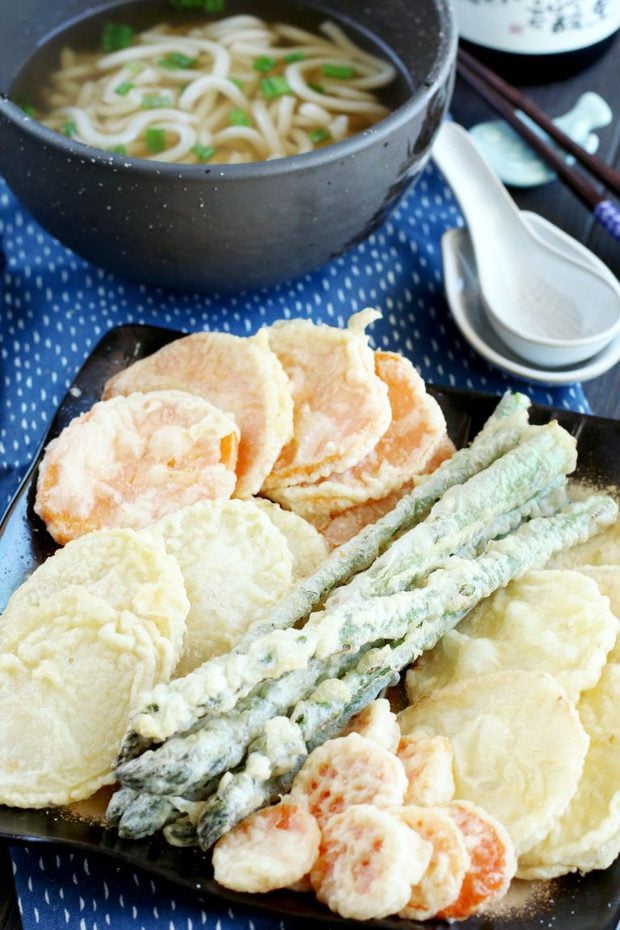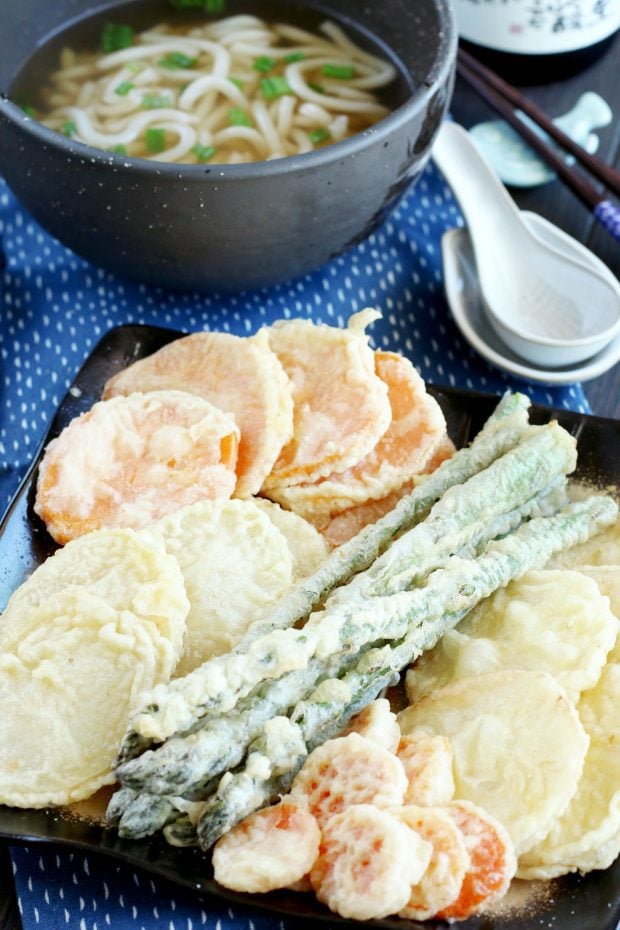 So of course we brought back as much of that Japanese inspiration to incorporate in our kitchen on the daily.
One of those recipes, aside from ramen of course, that I have been dying to make is this vegetable tempura udon soup.
We randomly happened upon a spot in Kyoto that was serving up udon noodle soup and tempura, and this was my first experience with the combination. Honestly, we were just starving and after days of walking and needing to eat something comforting before getting on the train to Osaka, the noodle soup sounded just like the new food we needed to try in that moment.
HOLY WOW we totally lucked out at this tiny random spot. It was hidden off on a side street north of the main market area, and I just melted into my chair with happiness.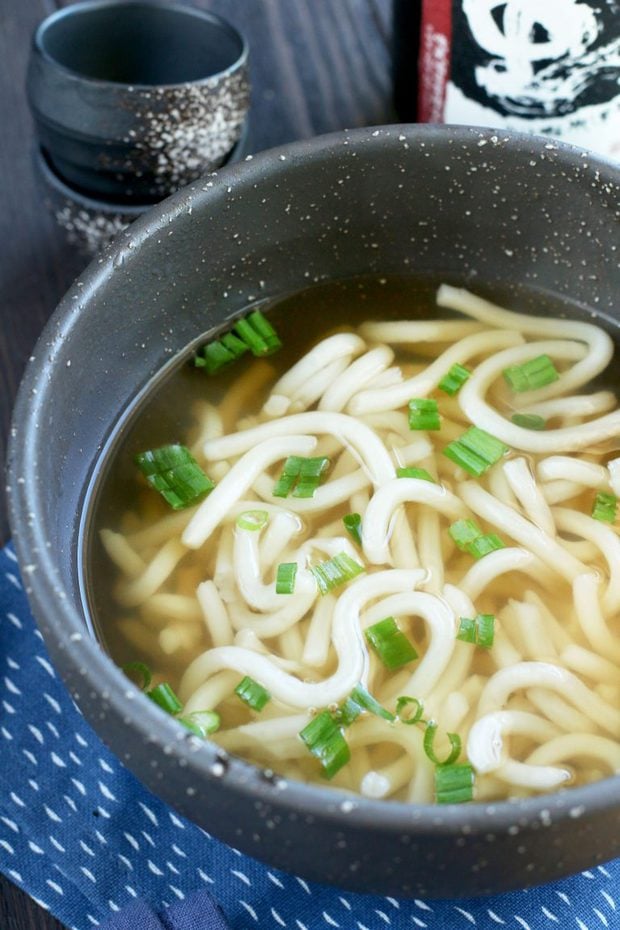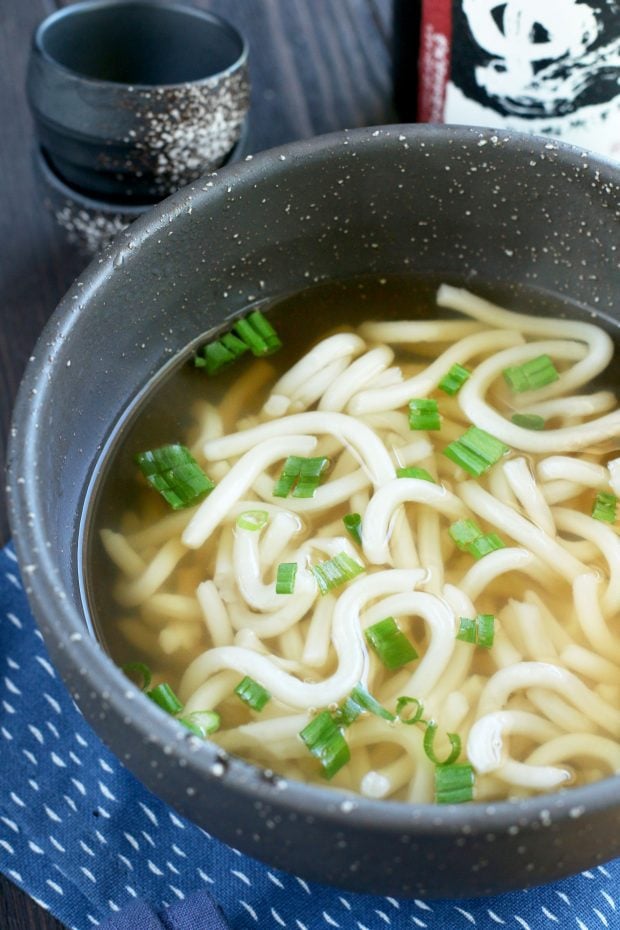 It was the crispy, lightly fried tempura.
It was the umami-filled udon noddle soup that was so simple, yet oh-so flavorful.
It was the first glass of crisp, chilled white wine I'd had in a week, at a point when I was burnt out on sake and beer.
All of these elements came together to form a lunch that I will never forget.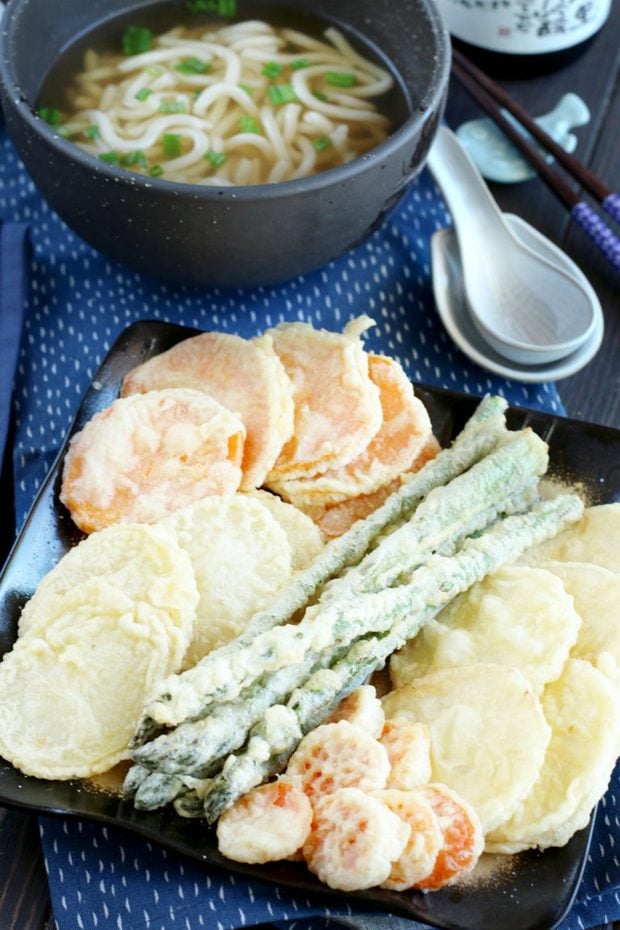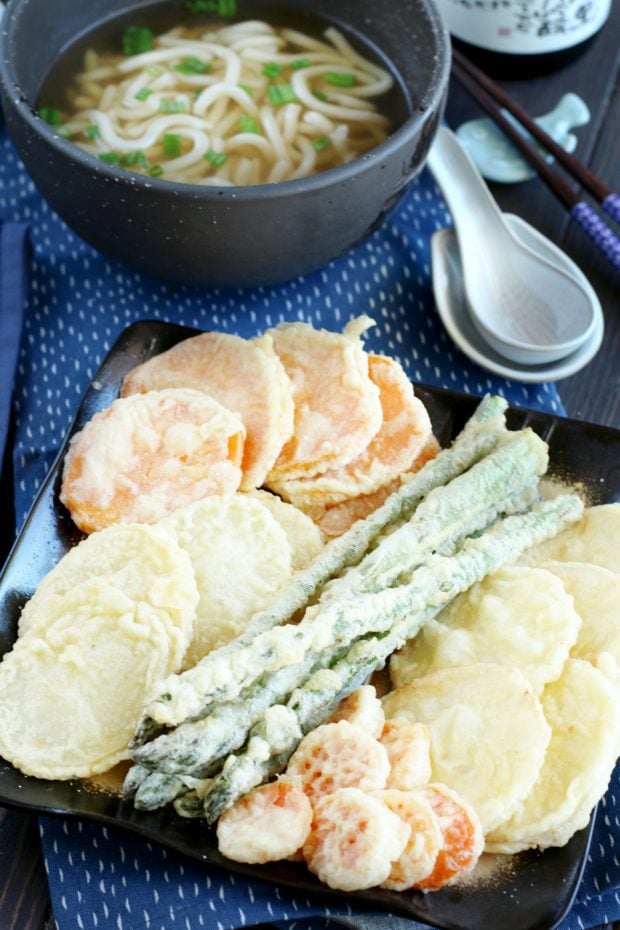 I was a little nervous about making this dish at home, primarily because getting the perfect batter mixture seemed somewhat intimidating. However, after researching the basic some basic recipes and trying a few different variations of measurements, this batter was just the right one to use.
The light batter came out just like I remember it from that little shop in Kyoto!
It's ideal for making the vegetable flavors come out in full fresh flavor, with a crispy exterior, to pair with the soothing udon noodle soup.
Trust me when I say, it's a great recipe to pull out for guests!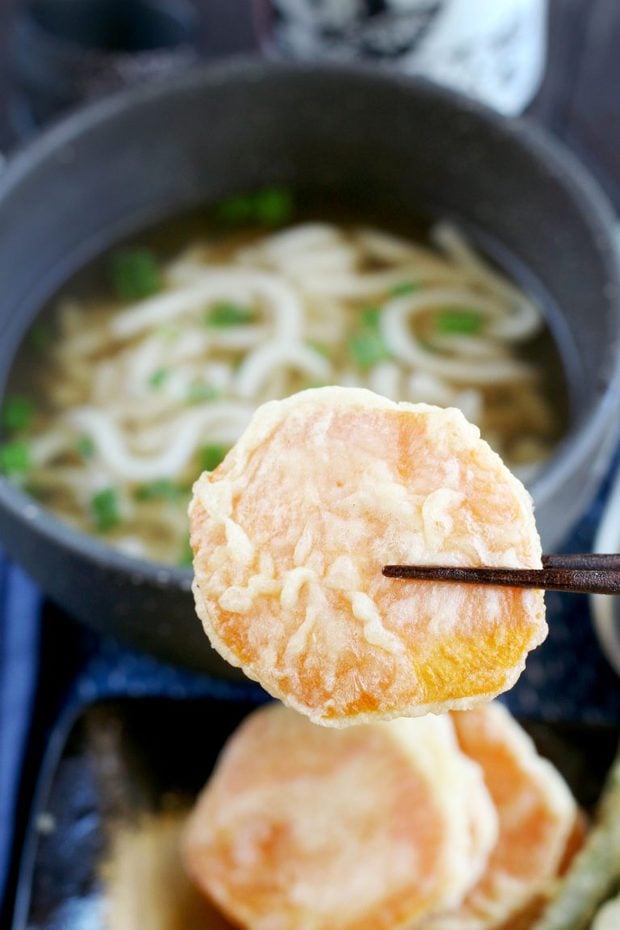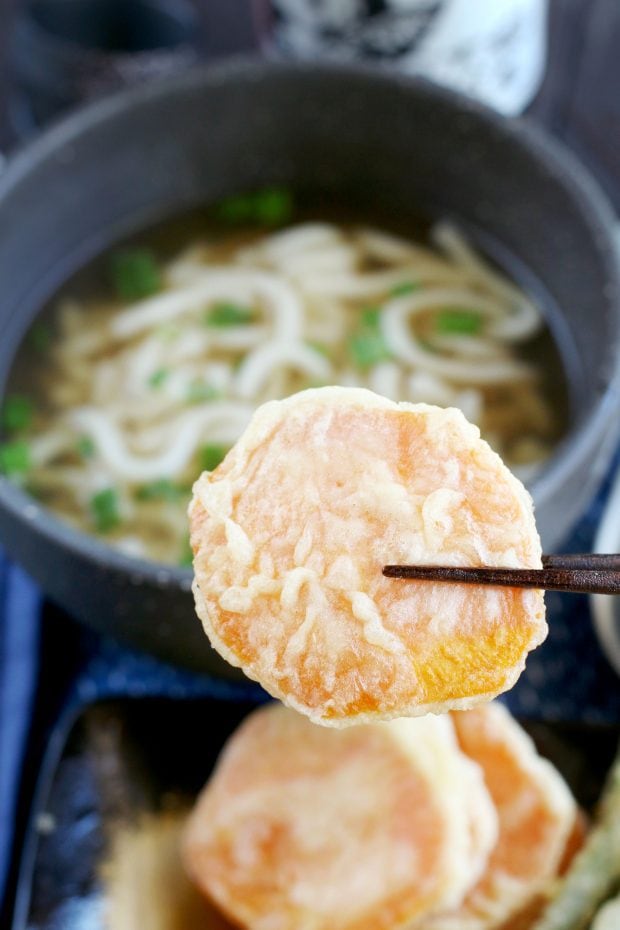 This Recipe's Must Haves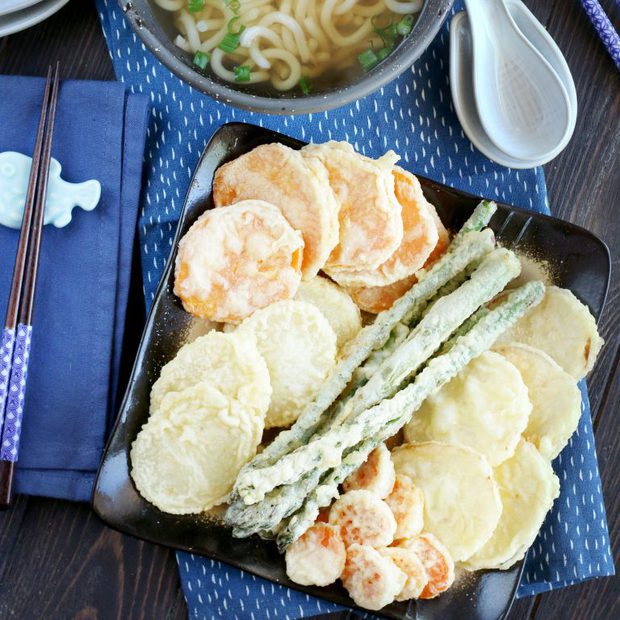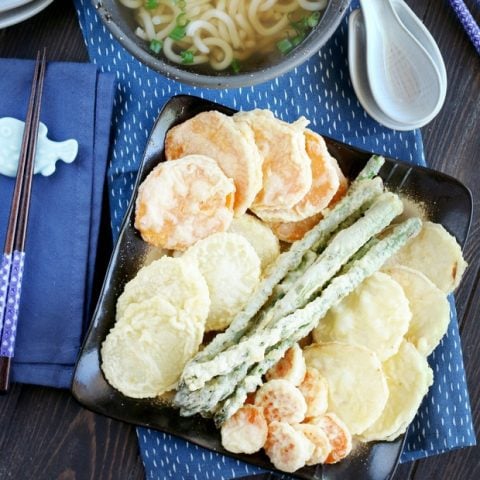 Vegetable Tempura Udon Soup
Crispy, lightly battered vegetables paired with smooth, umami-filled udon noodle soup is just the texture explosion you've always wanted in your life! Mastering the art of tempura has never been easier.
Ingredients
Tempura Vegetables
1 bunch asparagus, trimmed
1 sweet potato, peeled
1 turnip, scrubbed
1 potato, scrubbed
3 carrots, peeled
Tempura Batter
1 egg
5 1/2 oz flour
7 oz ice cold water
1/4 tsp fine sea salt
Canola oil
Udon Soup
4 1/2 cups cold water
2 palm-sized pieces kombu
1 1/4 Tbsp bonito flakes
1 1/2 Tbsp sake
2 Tbsp mirin
2 Tbsp soy sauce
1/2 tsp salt
7 oz fresh udon noodles
4 spring onions
Instructions
Start by making the soup. To do so, you will need to soak the kombu pieces in the cold water for the soup in a large pot overnight.
When ready to cook, bring the water to a boil. Scoop out the pieces of kombu just before the water begins to boil.
Once the water is boiling, sprinkle in the bonito flakes. Turn off the heat and allow flakes to steep in the liquid for 10 minutes.
Strain the stock through a fine mesh sieve, returning the strained liquid to the pot. Bring to a boil again over medium-high heat, and stir in sake, mirin, soy sauce and salt. Season to taste with additional soy sauce and mirin. Once boiling, add the fresh udon noodles.
Cover and cook for 30 seconds to 1 minute until they are cooked through. Keep warm over low heat until ready to serve.
Using a mandoline set to 1/4-inch thickness, slice the sweet potato, turnip, potato and carrots. Set aside.
Fill a pot approximately 2 inches deep with canola oil. Heat over medium heat to 360 degrees F. Be sure to keep the oil at this temperature throughout the frying process, adjusting your heat up or down as required.
While the oil heats up, add egg, flour, cold water and salt for the tempura batter to a medium bowl. Whisk for one to two minutes, until smooth. Place this bowl in a second, larger bowl filled with ice to keep the batter cool.
When the oil it hot, use stainless steel chopsticks to dip the various vegetables into the batter and then carefully place them into the hot oil. Working in batches of approximately 5-7 pieces per pot, without overcrowding, fry the vegetables for about 3 minutes until the pieces are a light golden brown.
Remove the pieces to a sheet pan lined with paper towels. Serve tempura vegetables immediately with the udon noodle soup.
Notes
*The key with tempura is to serve it hot and freshly fried! I like to serve it as I cook up the batches, but if you want a little more formal serving, fry half the vegetables and serve. Then continue with the other half once the first half dwindles a bit.