Bacon Gorgonzola Mussels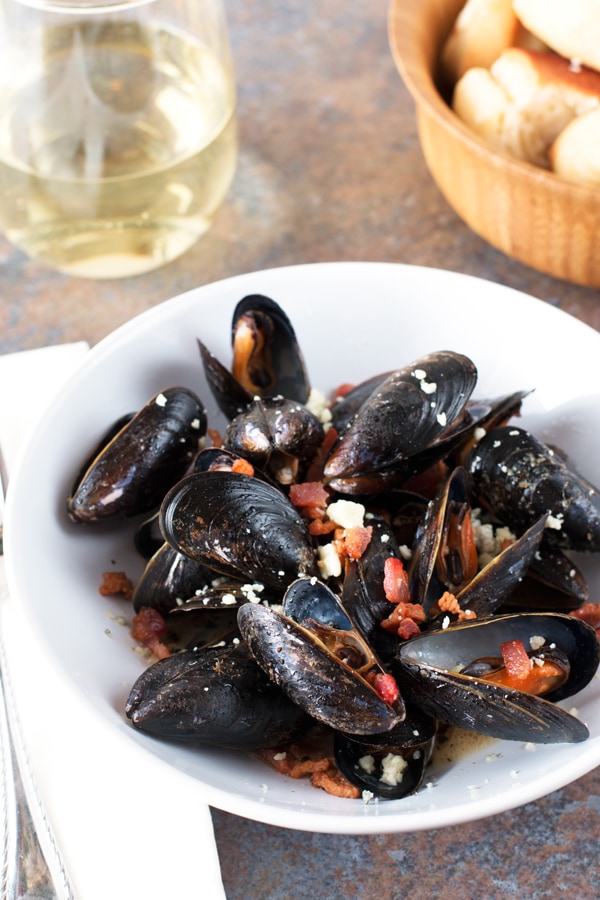 Well hello 2015, it's so wonderful to meet you! Shall we dine over some ridiculously luxurious mussels and get to know each other a bit?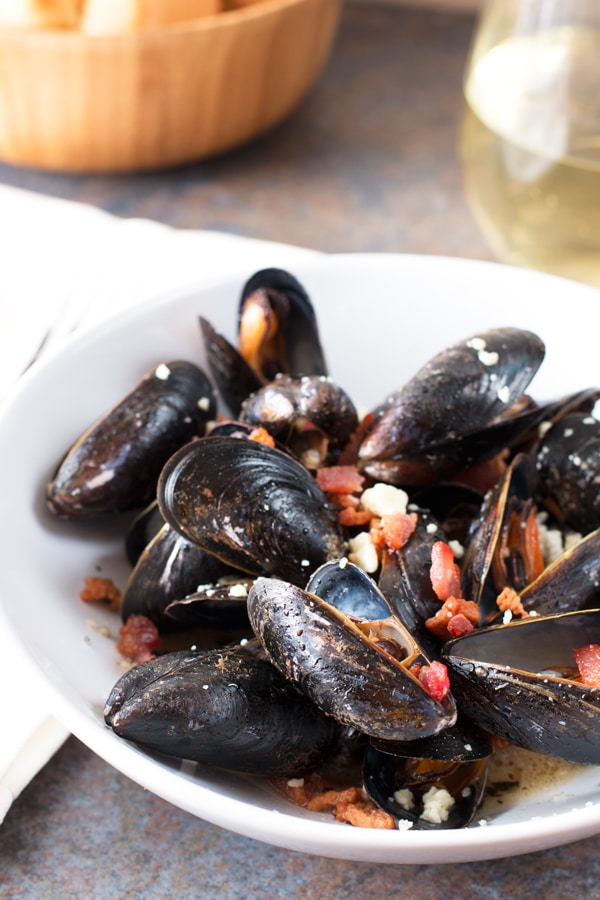 I love ordering a large bowl of mussels for dinner whenever I can. When Ben and I were in Ireland, we stopped in a local pub for lunch and to break the pattern of fish and chips, I ordered mussels. Moments later I was greeted with the biggest bowl of mussels I've ever seen in my life. Sitting there with my Bulmers (oh how I miss it…), sopping up broth with toasted bread and taking in the pub life is one of my favorite memories from the trip.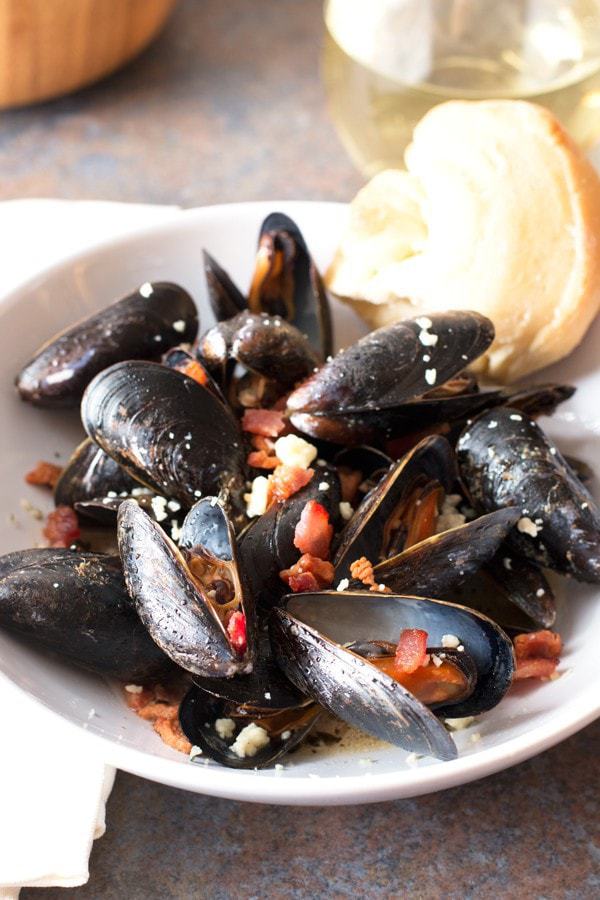 I realized a couple weeks ago that I hadn't enjoyed a large serving of mussels since Ireland and that needed to be remedied immediately. You all know about my love affair with bacon and smelly cheeses, so I had to work those in somehow. The broth with these mussels has such a sumptuous umami-filled liquid that flavors the mussels and is accented perfectly by the sharp gorgonzola cheese.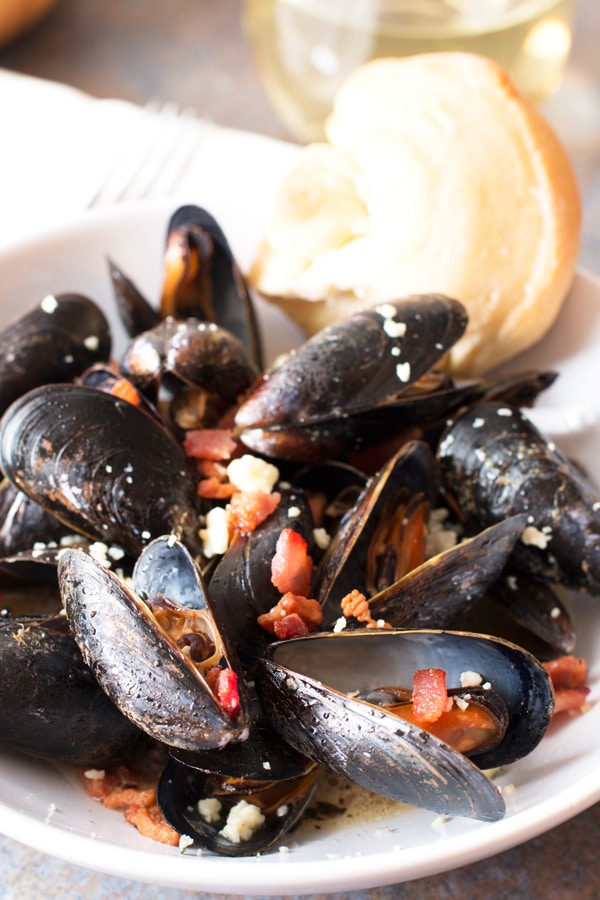 If I could dive into a bath with these mussels and eat my way out, boy oh boy would I…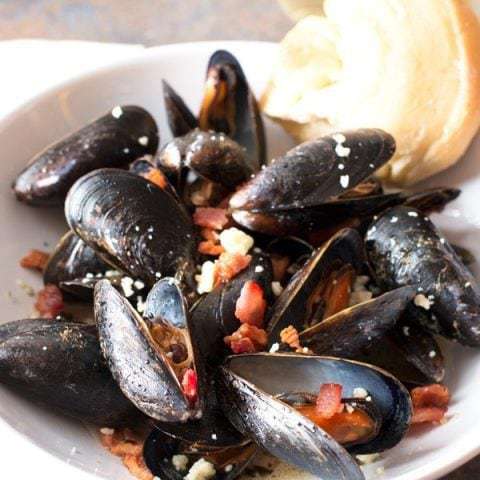 Bacon Gorgonzola Mussels
Yield: 4 to 6 servings
Prep Time: 40 minutes
Cook Time: 15 minutes
Total Time: 55 minutes
Mussels cooked in white wine are taken to the next level with crispy bacon, bacon fat, and pungent Gorgonzola cheese.
Ingredients
3lbs mussels
2 quarts cold water
1/3 cup flour
2 Tbsp butter
2 Tbsp olive oil
4 cloves garlic, diced
5 slices thick-cut bacon, chopped
1 Tbsp thyme leaves
1 cup white wine
2 tsp salt
1 tsp pepper
Pinch red pepper flakes
1/3 cup Gorgonzola crumbles
Instructions
In a large bowl, combine the cold water and flour. Stir until flour is incorporated. Add the mussels and allow to rest for 30 minutes to help release the sand from the shells. Drain, remove the beards from the shells, and discard any shells that are not firmly closed. Set usable mussels aside.
In a large pot, melt the butter with olive oil over medium-high heat. Add the garlic and brown for approximately 1 minute. Add chopped bacon and cook until crisp, approximately 5 minutes. Drain approximately half of the bacon fat out of the pan (this will help prevent the broth from being too greasy).
Add the thyme, wine, salt, pepper, and red pepper flakes to the pot. Bring the mixture to a boil, then reduce to a simmer over medium heat. Add the mussels to the broth, cover the pot, and cook for approximately 8 to 10 minutes. Remove from heat and discard any shells that have not opened.
Sprinkle the Gorgonzola over the mussels and serve immediately with bread.