Breakfast Italian Nachos are piled high with everything you'd want out of breakfast and nachos, but Italian-style. The alfredo cheese sauce on top alone will have you coming back for seconds!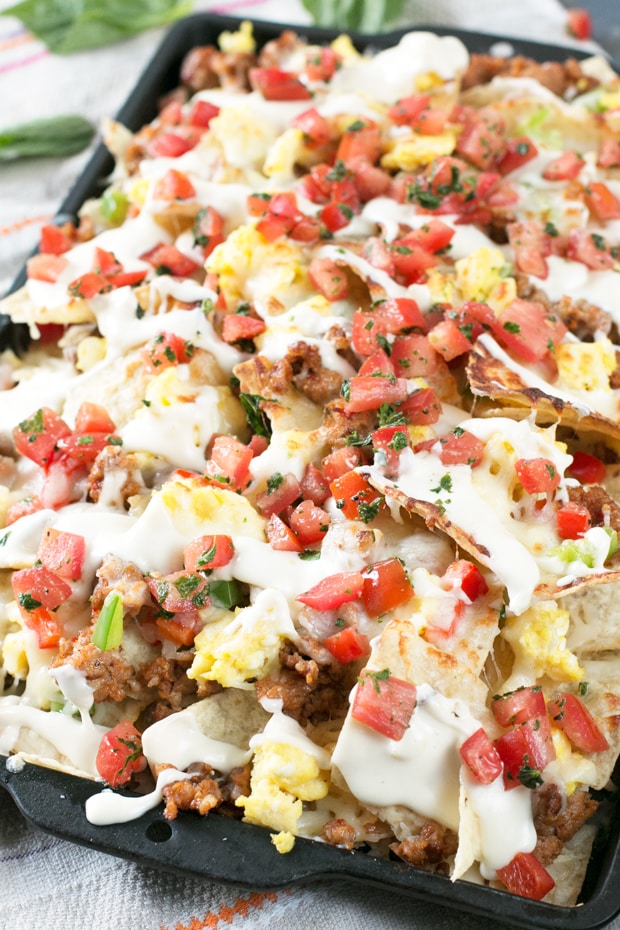 I think I am becoming a breakfast person.
*gasp*
I know, it's one of those things that you'd never think I would write. I've complained endlessly to you all about how I don't like to eat too early in the morning, how I hate cooking in the morning and how I used to even hate eggs.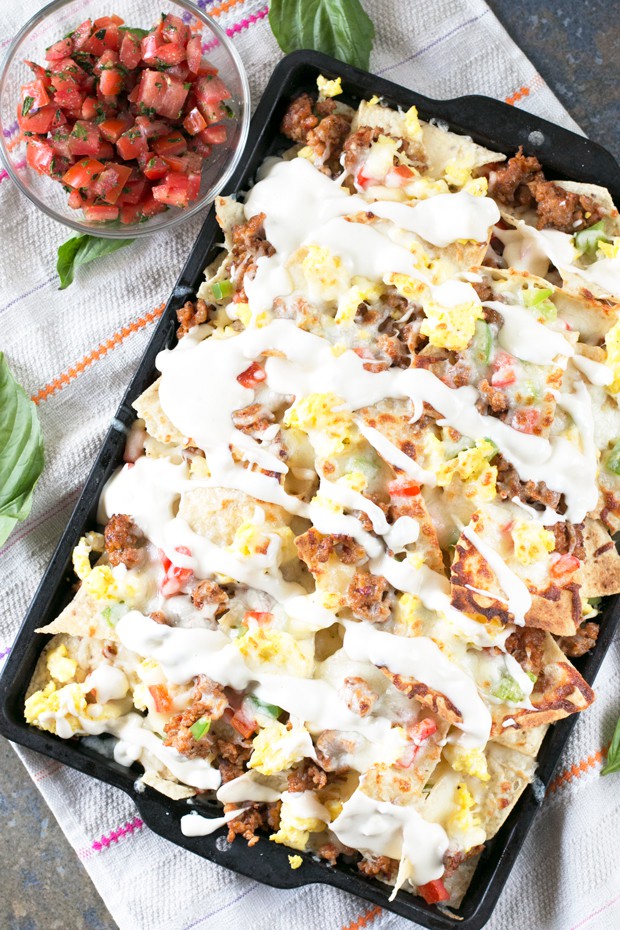 The eggs thing is a work in progress, but I'm seriously starting to come around. Hardcore.
I generally gravitate towards breakfast foods that are Mexican. It's a habit I fall into whether I'm hungover or feeling right as rain when I wake up in the morning. Breakfast burritos, taquitos and nachos are on a constant breakfast rotation in my kitchen.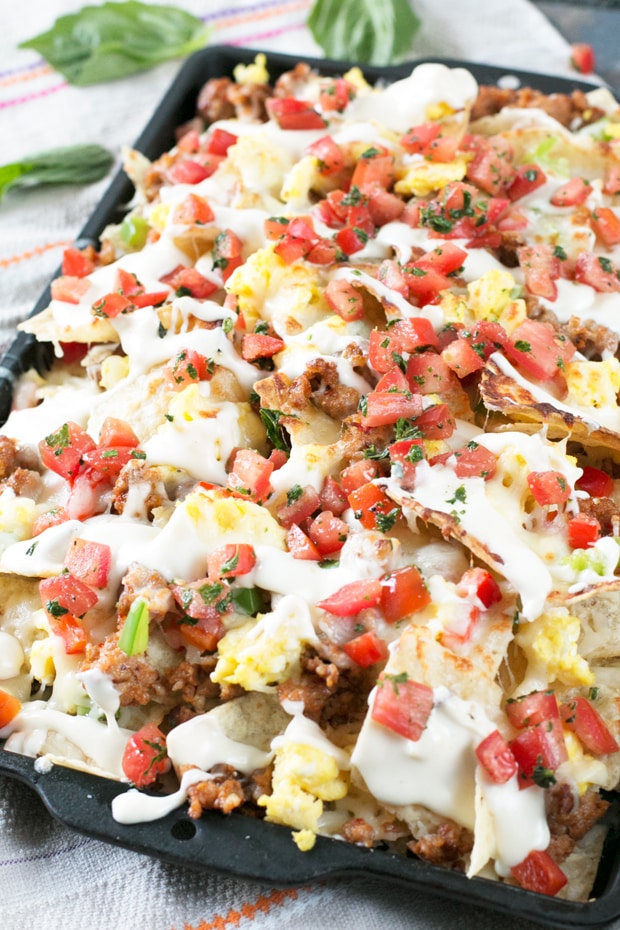 Instead of singing the same exact old song every morning, I wanted to mix up my normal breakfast nacho routine and start channeling one of those cuisines that is ever so near and dear to my heart.
Italian.
Italian is my soul food. You would think it would be Mexican, but truly it's Italian. All those months spent in Italy basically sealed the deal for me. Not to mention I actually started cooking for myself when I was living in Rome.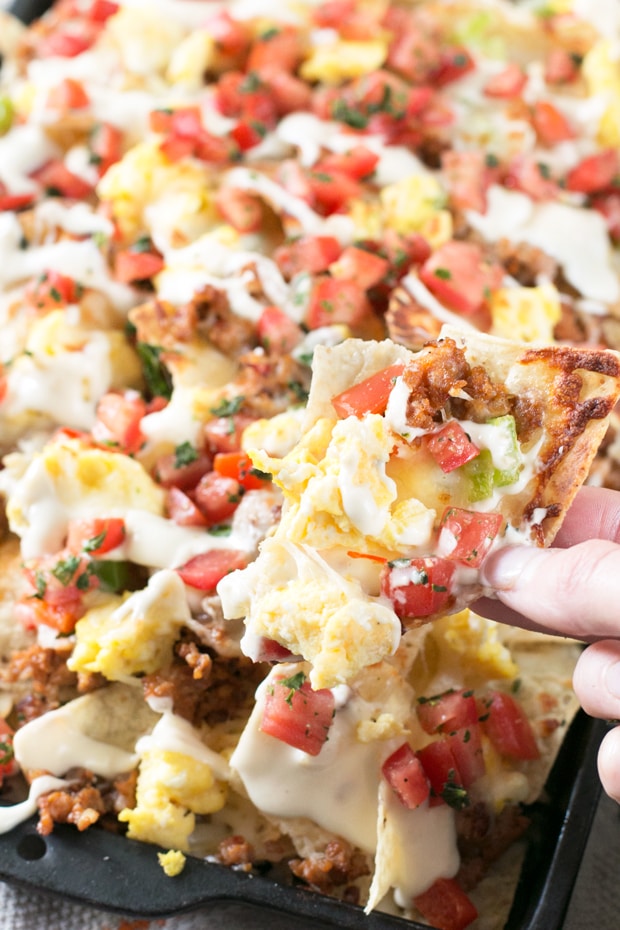 I'm sure it might be hard to believe, but I was hardly a skilled cook between the ages of 18 and 21. I lived off of boxed mac and cheese and the crappy dorm food, plus a hefty serving of processed foods. Then I went to Italy and learned how to use all those fresh vegetables and herbs.
That's what I folded into this dish. It's the fresh, bold Italian flavors that I fell in love with in Italy, piled high on chips with plenty of cheese and a creamy alfredo cheese sauce that I have started to put on eve-ry-THING.
Seriously, it's the only thing you need to start your day off the right way. For real real.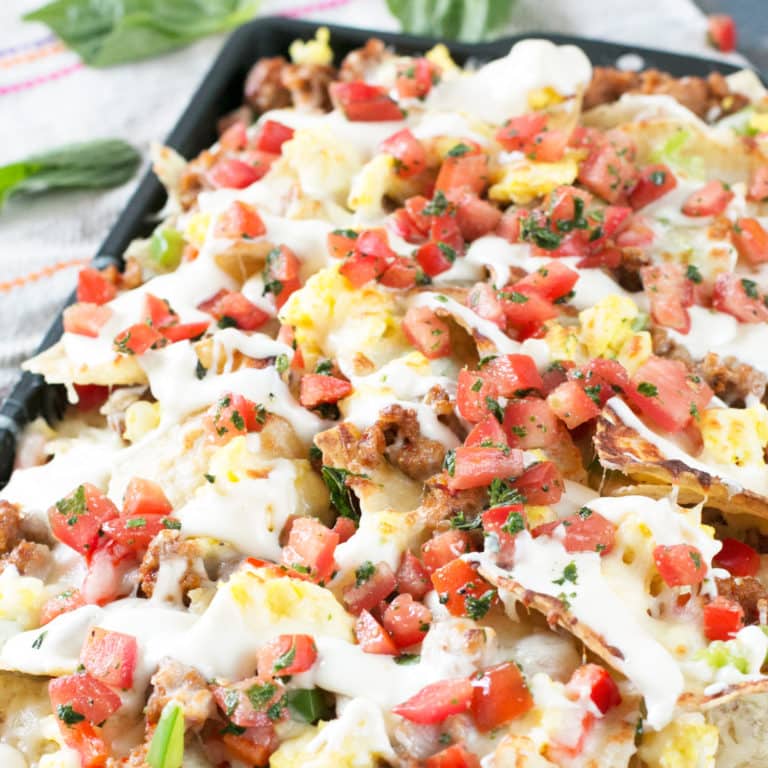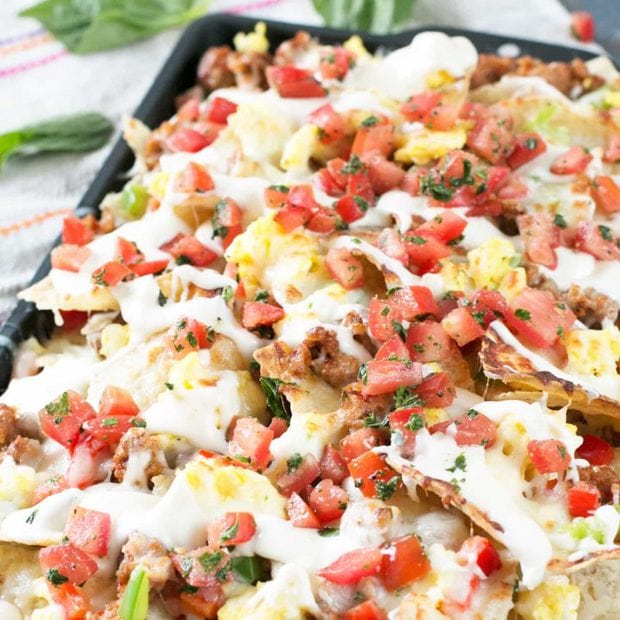 Breakfast Italian Nachos
These nachos are loaded up with all your favorite breakfast flavors, with a fun Italian twist!
Ingredients
4 cups tortilla chips
1 cup hot italian sausage, cooked
5 eggs, scrambled and cooked
1 cup mozzarella cheese
1/2 green bell pepper, chopped
1/2 red bell pepper, chopped
Lemon wedges
Italian Salsa
2 roma tomatoes, seeded and chopped
1 Tbsp basil, chopped
1 tsp lemon juice
2 garlic cloves, minced
1/4 tsp salt
1/4 tsp pepper
Alfredo Cheese Sauce
2 Tbsp butter
1 clove garlic, minced
2 Tbsp flour
1 cup half and half
3/4 cup Parmesan cheese
1/2 tsp salt
1/4 pepper
Instructions
In a medium bowl, stir together chopped tomatoes, basil, lemon juice, garlic cloves, 1/4 tsp salt and 1/4 tsp pepper for the Italian salsa. Set salsa in the fridge until ready to serve.
In a medium saucepan over medium-high heat, melt the butter for the alfredo cheese sauce. Add the garlic and brown 30 seconds. Whisk in 2 Tbsp flour and let cook until brown and bubbling, approximately 1 minute. Pour in half and half, whisking as you add it. Cook until the sauce is thick and coats the back of a spoon.
Stir in parmesan cheese, salt and pepper until the cheese has melted. Keep warm until ready to serve. Note: if you want your sauce a little thinner, simply stir in more half and half until it reaches the desired consistency.
To make the nachos, add half of the tortilla chips to a sheet pan or oven safe skillet. Top with half of the hot Italian sausage, half of the eggs, half of the bell peppers, and half of the mozzarella cheese. Repeat these four layers again.
Broil on low until the cheese is gooey and melted, approximately 4 to 5 minutes. Make sure the bottom layer of cheese has melted too!
Top with alfredo cheese sauce and Italian salsa. Serve with lemon wedges and extra chopped basil.