Cheesy Bacon Ranch Chicken Egg Rolls with Creamy Buffalo Dipping Sauce may be a mouthful to say, but they are a mouthful of deliciousness in every bite. The cool, creamy ranch dip in the egg rolls packs in the flavor and perfectly compliments the spicy kick in the dipping sauce. It's a game day win, every time!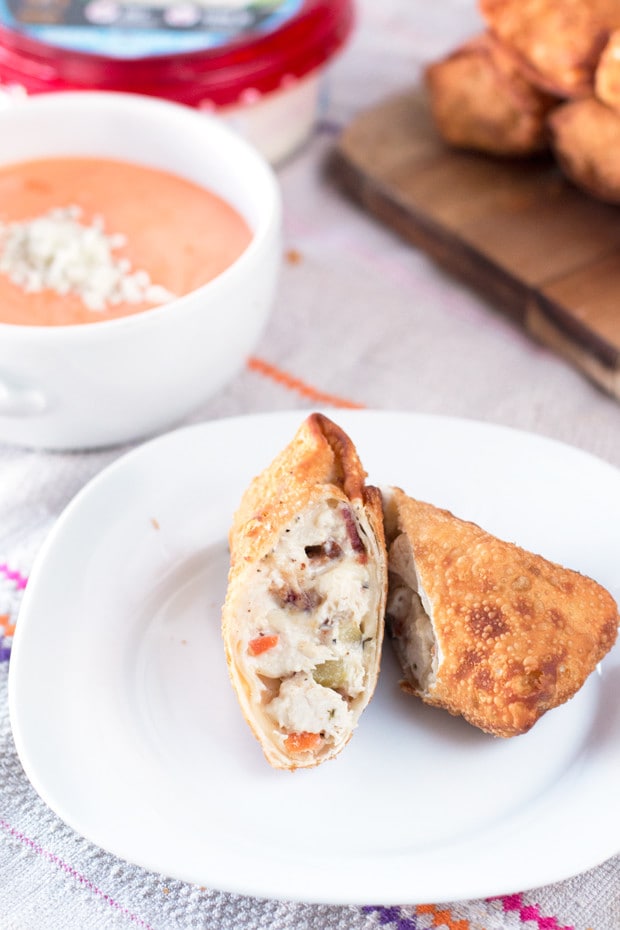 This post is sponsored by the bomb dot com folks at Sabra!
What's happening this weekend? Denver Broncos are going to beat those Pats, that's what. It's the second the last game of the season and I am morphing into full-on tailgating food mode. All I plan on eating for the next two weeks is tailgating food, because once the Super Bowl is over, I can kiss the perfect excuse for a cheat day goodbye.
Is it bad that I think of football in terms of food more than I do the game itself…?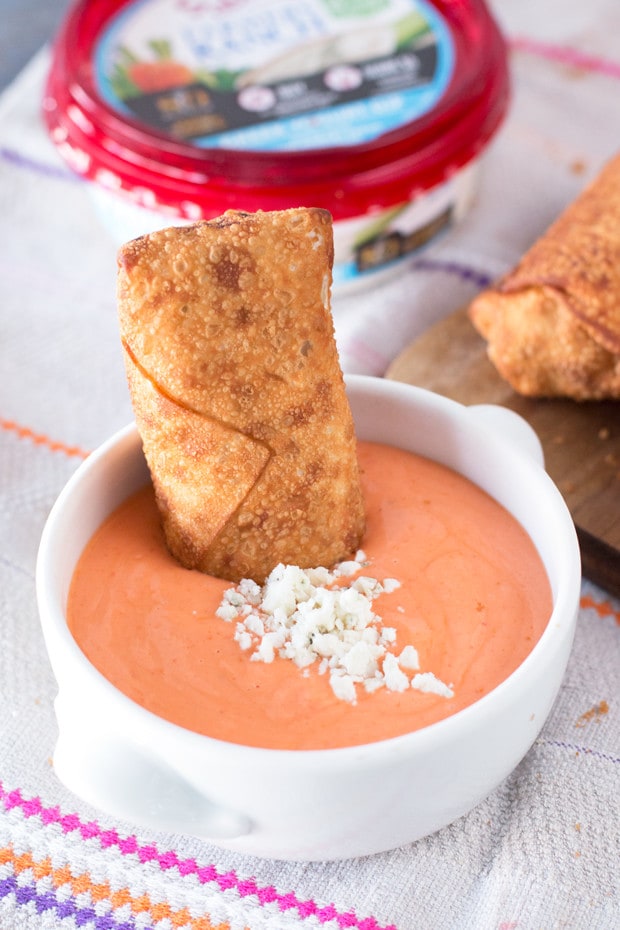 Instead of hitting you with yet another buffalo chicken wing recipe with ranch dipping sauce, I am bringing you an even better take on those classic game day flavors. I packed these bad boys with chicken, cheese and my secret ingredient… Sabra's Farmer's Ranch Greek Yogurt Dip. It's the one ingredient that'll bring all the ranch flavor you want to the party. Plus it makes these egg rolls extra creamy inside, so you can't help but groan with happiness after every bite. Pair that with the fiery buffalo dipping sauce and you feel like you're eating an amped up version of chicken wings.
Buffalo chicken wings on crack – boom, new name officially decided.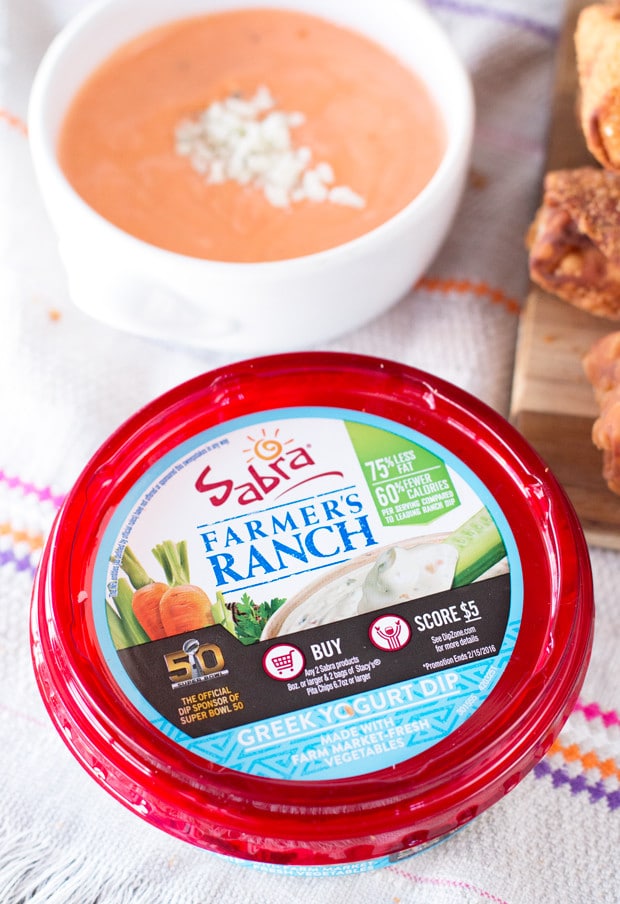 Bust these out on game day and everyone will be falling at your feet. They'll beat those dinky chicken wings and dip any day.
So I'll just be over here stuffing my face with as many as I can all weekend long. I'm hoping it'll help me forget the epic soreness I am currently living with, courtesy of my friend Jess who tortured me earlier this week at the gym. Yep, still feeling the pain. Thanks girl.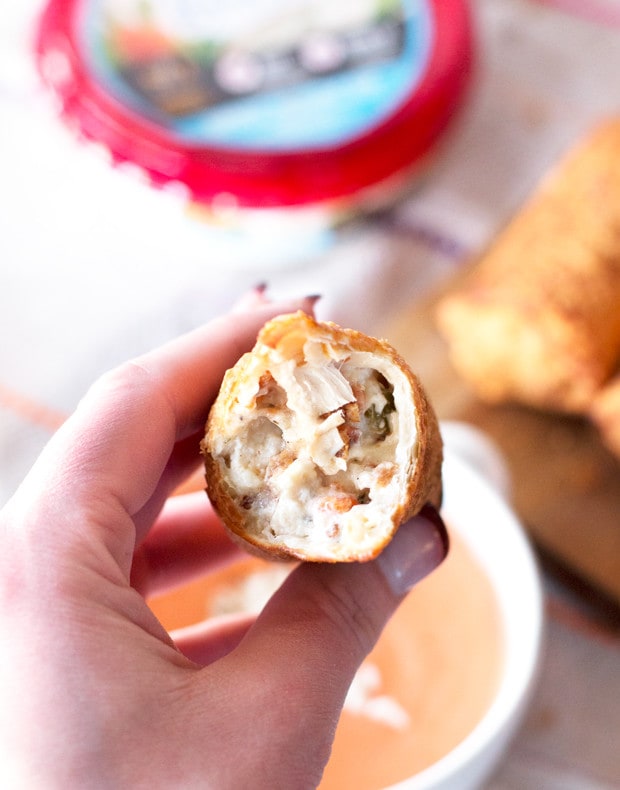 BONUS DEAL! There's a killer deal happening and it's just in time for the Super Bowl! Hit up Sabra's Buy, Snap, Score promo (EXPIRED) where you'll get a $5 gift card if you buy Sabra and Stacy's together before 2/15/2016. You might want to pick up that ranch dip… Just sayin'.
Disclosure: This is a compensated post in collaboration with Sabra Dipping Company. All opinions are my own, per usual!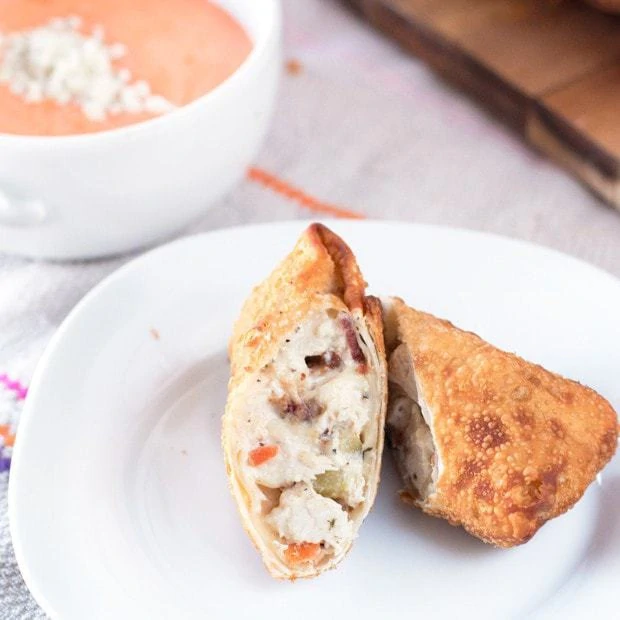 Cheesy Bacon Ranch Chicken Egg Rolls with Creamy Buffalo Dipping Sauce
Fried pockets of creamy, cheesy, ranch-packed love with a spicy dipping sauce that has a serious kick.
Ingredients
Egg Rolls
20 egg roll wrappers
2 cooked, boneless chicken breasts, cut into 1/4-inch cubes (approx. 2 cups)
5 slices of bacon, cooked and roughly chopped
2 cups Sabra Farmer's Ranch Greek Yogurt Dip
3/4 cup Monterrey jack cheese, shredded
2 tsp garlic powder
1/4 tsp salt
1/4 tsp pepper
1 Tbsp cornstarch
1/4 cup cool water
Frying oil
Dipping Sauce
5 Tbsp hot buffalo wing sauce (1-2 Tbsp less if you don't like too much spice, 1-2 Tbsp more if you want to burn your face off)
1/2 cup mayonnaise
1/2 tsp honey
1/4 tsp garlic powder
1/4 tsp salt
1/8 tsp pepper
Blue cheese crumbles (optional)
Instructions
To make the dipping sauce, whisk together all sauce ingredients and pour into desired serving dish. Sprinkle with blue cheese crumbles, if desired, and set in fridge until ready to serve.
In a large bowl combine cubed chicken breast, bacon, ranch Greek yogurt dip, cheese, garlic powder, salt and pepper. Stir to combine and make sure everything is incorporated.
To wrap your egg rolls, start with a clean, flat surface. Lay one wrapper so one of the corners is facing you (like a diamond). Dip your fingers in the cornstarch water and spread on each edge of the egg roll wrapper. In the corner closest to you, spoon 1 ½ Tbsp of the ranch chicken filling into the center. Lift the bottom corner up and begin to roll away from you, making sure you tuck the corner under as you roll. Once you are halfway up the wrapper, fold in the left side and then the right side towards the center. Continue rolling away from you until only the final corner is ready to roll. Dip your fingers in the cornstarch and water mixture you made earlier and brush it over the final corner. Finish the roll, brush a little more of the cornstarch mixture along the seam, and place seam-side down. Make sure you roll the egg rolls tightly. If they are too loose, they will fall apart when you fry them.
To fry the egg rolls, fill a pot with 4-5 inches of cooking oil. Heat the oil to 350 degrees. Gently add the egg rolls to the hot oil, frying no more than 3 or 4 at a time, turning occasionally. Fry until the egg rolls are golden brown on all sides, approximately 2 minutes. Place on paper towels to drain and cool.
Serve immediately with the creamy buffalo dipping sauce.
Pin this Cheesy Bacon Ranch Chicken Egg Rolls with Creamy Buffalo Dipping Sauce recipe for later!