The month of December is all about family in my corner of the world. Since I have a pretty good amount of Irish blood in me, and Christmas was always the biggest holiday, I thought it would be perfect to get back to my Irish roots for Mastering Global Cooking this month.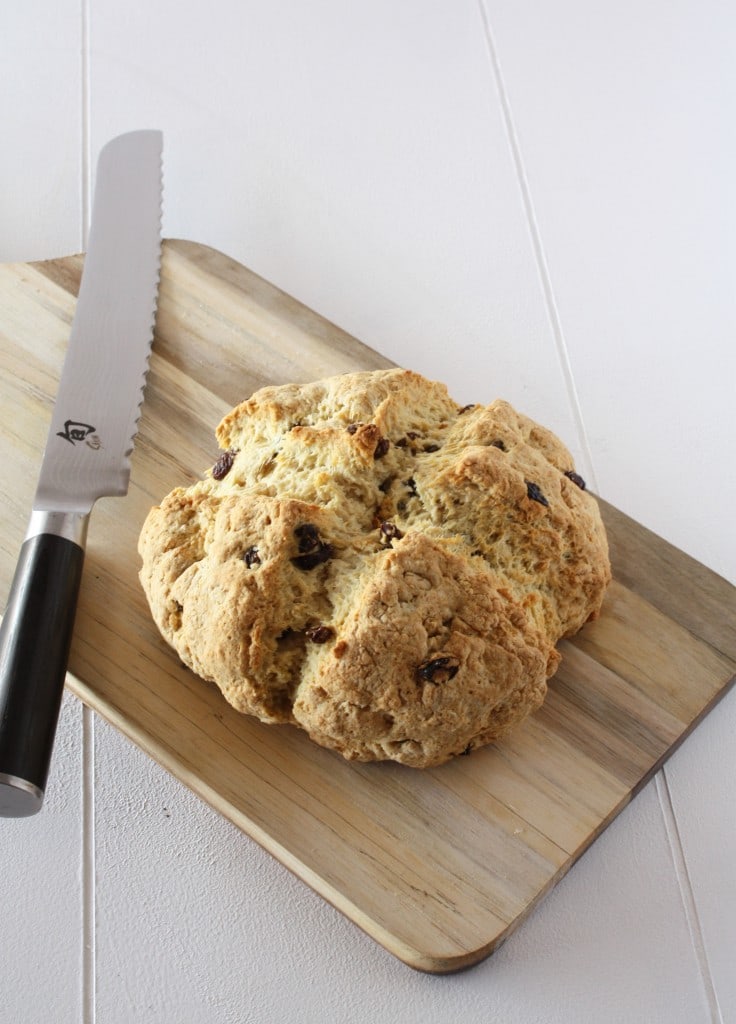 Today I am thrilled to introduce to you Caítríona from Wholesome Ireland. She lives in Ireland and shecertainly knows her way around the kitchen as you can tell from her amazing blog! I am so grateful that she took the time to chat with me about food so without further ado, could you tell everyone a bit about yourself and your blog?
I'm a "stuck at home Mom" to 2 small boys & a stepmom to a teen as well. I say stuck at home as it was never in the grand plan for me to be at home, I'd always intended to work while raising children but the recession put paid to that. I started blogging 4 years ago and in 2012, I got my own domain and started from scratch with Wholesome Ireland. The blog is about how I feed my family on a tight budget and the parenting rollercoaster. Truth be told, I just wear my heart on my sleeve.

Where did you first learn to cook?
I don't remember learning to cook really. There was never a lesson. My paternal grandmother and my own mother are huge food influences. Early food memories include shucking pea pods on the doorstep, helping to make the Christmas cake on a step stool and getting involved in all the meals that had to be made. I first made a family meal at age 7, risotto if you're interested!
What is the inspiration behind your recipes?
Definitely produce and what's in season. We grow our own food to save on costs so tend to eat a glut of fresh food when it's ready and I've no more space in the freezer. This week for example it's all about raspberries. I draw on food memories to recreate tastes and flavours from my childhood that I enjoy. Also I was lucky enough to live in the Middle East when I was a child for a short while so I'm likely to be using the fresh ingredients that we have to make a batch of mezze than classic Irish food.
How would you describe traditional Irish food?
We enjoy a wealth of top quality food in Ireland – amazing meat and dairy products, fresh fruit and vegetables. Nowadays traditional Irish food is about making the most of these ingredients. Great food, cooked well is certainly a tradition in our family. Some of our favourite breakfasts are homemade soda bread with a smear of yellow Irish butter and a dribble of local honey or organic porridge oats with creamy milk and a drizzle of that honey again. They're not complicated dishes but the individual ingredients sing together in chorus. That's the beauty of our traditional food.
What are the top 3 dishes that you consider staples of this cuisine?
It's all about the key ingredients so soda bread made with buttermilk, champ made with butter & potatoes or maybe an apple crumble with fresh cream.
What sets apart Irish this cuisine from other cuisines?
The quality of the ingredients, how local they are and the freshness. I can buy fish, meat, fruit and vegetables all of which were caught/grown or produced within 5 miles of my house. It's no hardship to cook with food which is such great quality.
If you had to choose, what would be your ultimate full course Irish meal?
Ah just one? That's a dreadfully hard decision! I'd probably go with a platter of fresh and smoked seafood with Dublin Bay Prawns, Queen Scallop Ceviche, Oak Smoked Organic Salmon, pickles, homemade bread and a salad of herbs and leaves. To be eaten as a shared dish around a big table. Washed down with some foraged elderflower cordial and then for dessert a big dish of local berries, which are all in season at the moment, topped with a dollop of Irish cream
Gah I could use some Irish cream right now in my coffee…
For my first attempt at traditional Irish food (I know, I really should have had experience with it before considering my heritage!), I decided to go as traditional as I could and bake up some soda bread made with buttermilk (which I smeared in butter and OMG).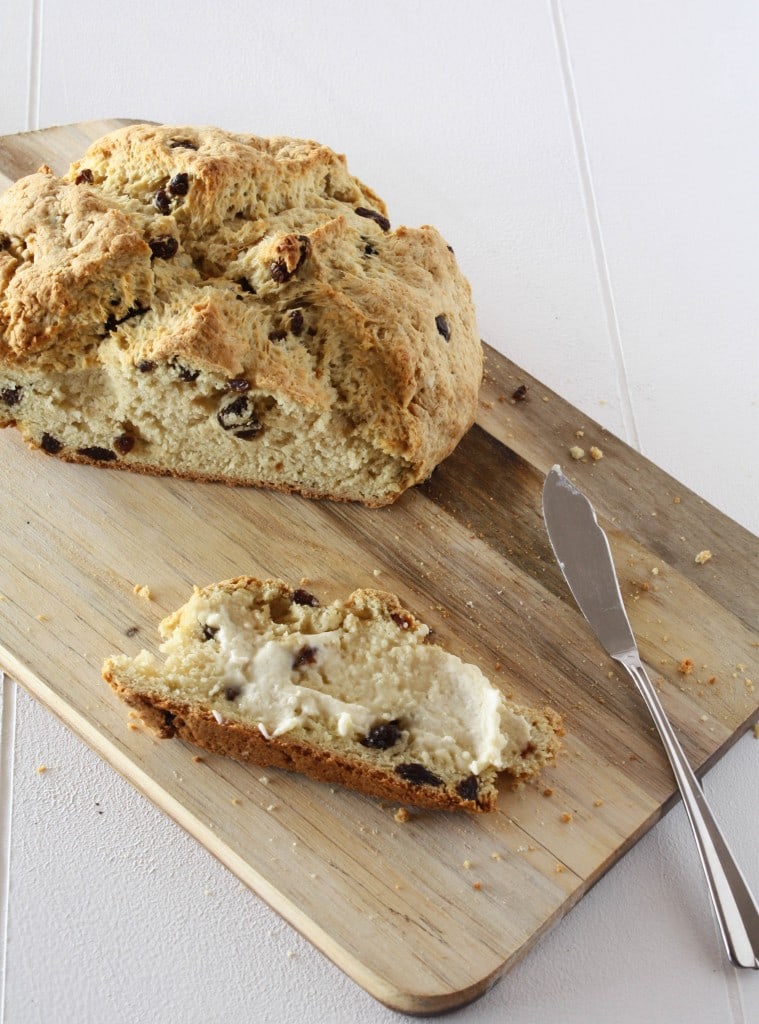 I think this bread has a new permanent place on my menu at home. It's SO easy (there's no waiting for the dough to rise) and it tastes so wonderful!
For those of you that don't like raisins, feel free to leave them out. However I love the little bursts of sweetness you get from them in each bite!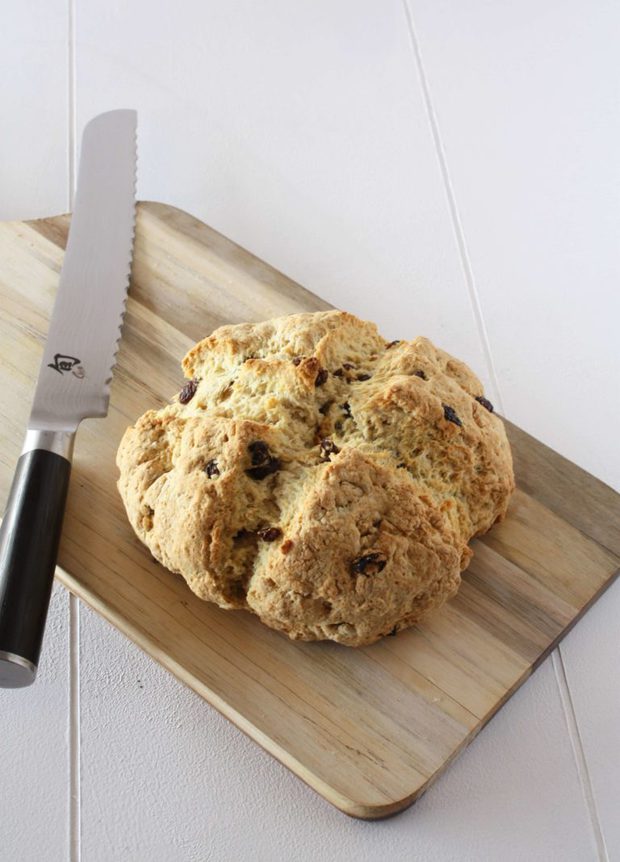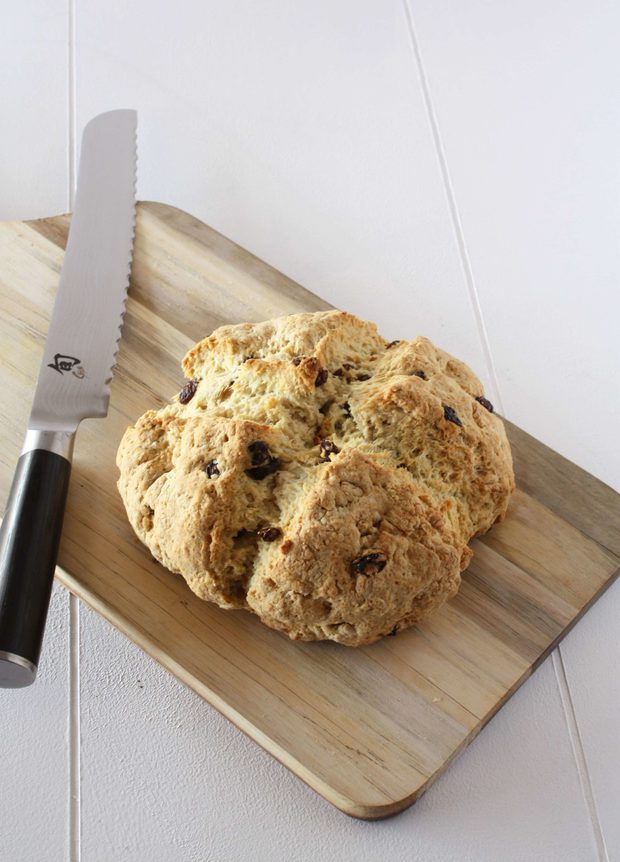 Traditional Soda Bread
Traditional Irish soda bread doesn't get better than this. Grab some Irish butter and enjoy!
Ingredients
2 cups all-purpose flour
2 Tbsp sugar
1 tsp baking powder
1 tsp baking soda
1/4 tsp salt
3 Tbsp butter
1/3 cup raisins
3/4 cup buttermilk
Instructions
Preheat oven to 375 degrees. Line a baking sheet with a silpat or lightly grease.
Combine flour, sugar, baking powder, baking soda, and salt in a large bowl. Using your hands, mix in the butter until the mixture resembles coarse crumbs. Stir in raisins and buttermilk until the dough is evenly combined.
Turn dough out onto a clean, lightly floured work surface and knead until smooth, approximately 2 minutes. Shape dough into a ball and place on the baking sheet. Cut a cross on top of the dough, approximately 1/4" deep.
Bake for 30 to 40 minutes, until golden brown.