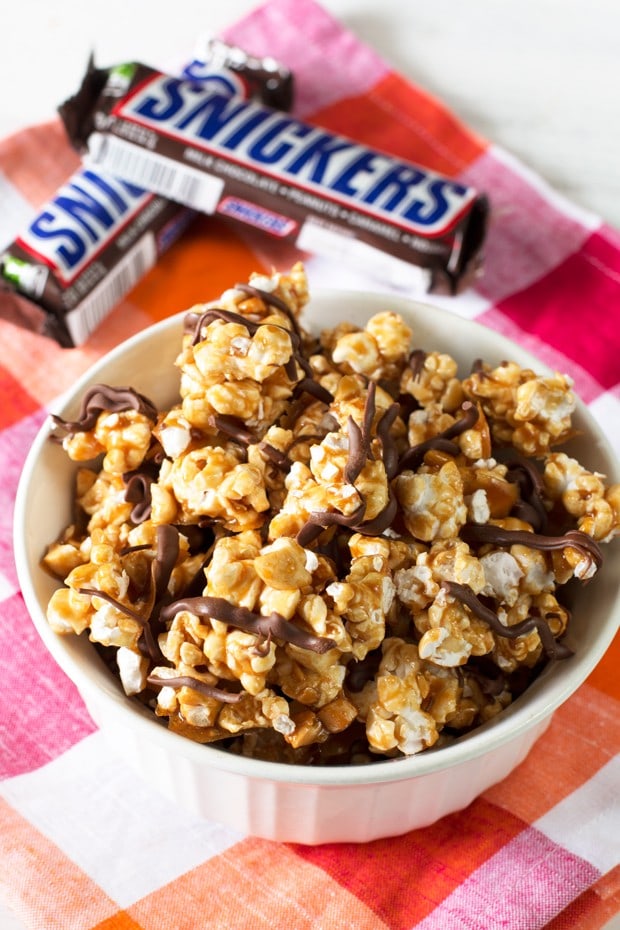 It's POPCORN WEEK! You know what that means? So many delicious popcorn recipes throughout the week PLUS a giveaway! It's time to get excited folks 🙂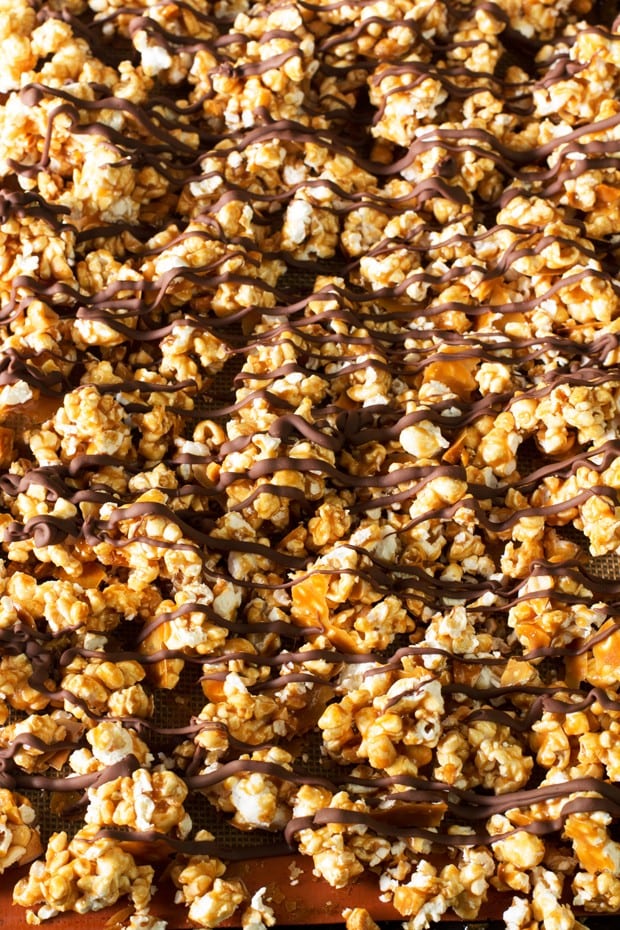 I reallllllllly struggled between savory and sweet popcorn for this week. When it finally came time to make the decision (i.e. just a couple of days ago because procrastinating decisions is a specialty of mine), I went with my gut, which at the time was screaming for chocolate. I reached in the junk food drawer (oh yes, I have one of those) and there it was, a big ol' Snickers bar just begging to be eaten.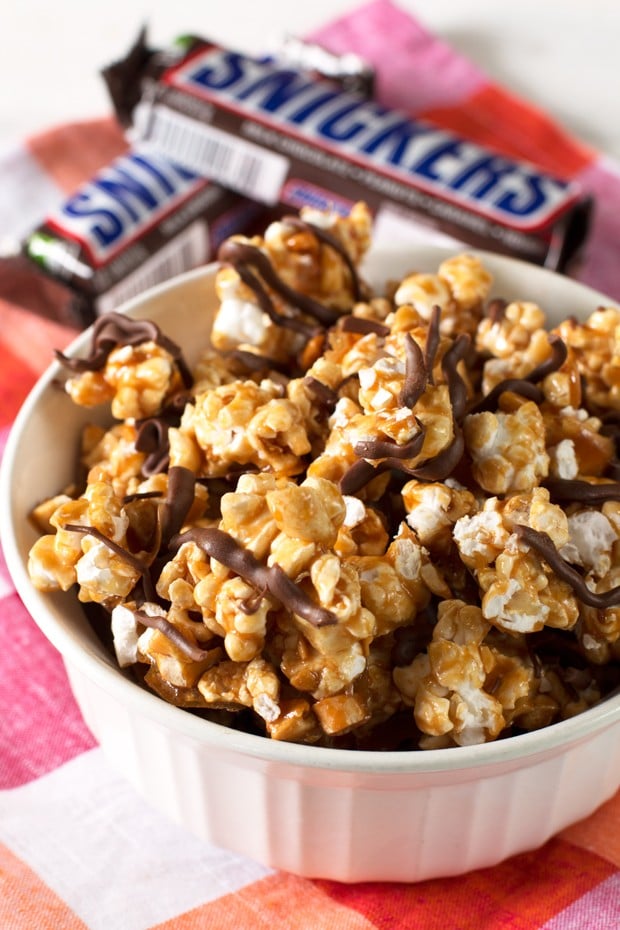 So why not Snickers popcorn, right?
This recipe is SO addictive, I am literally trying to stop myself from getting up and going to grab yet another handful. It has all the chocolate, peanut and caramel goodness that go into a Snickers, but with an added salty, crunchy popcorn bonus.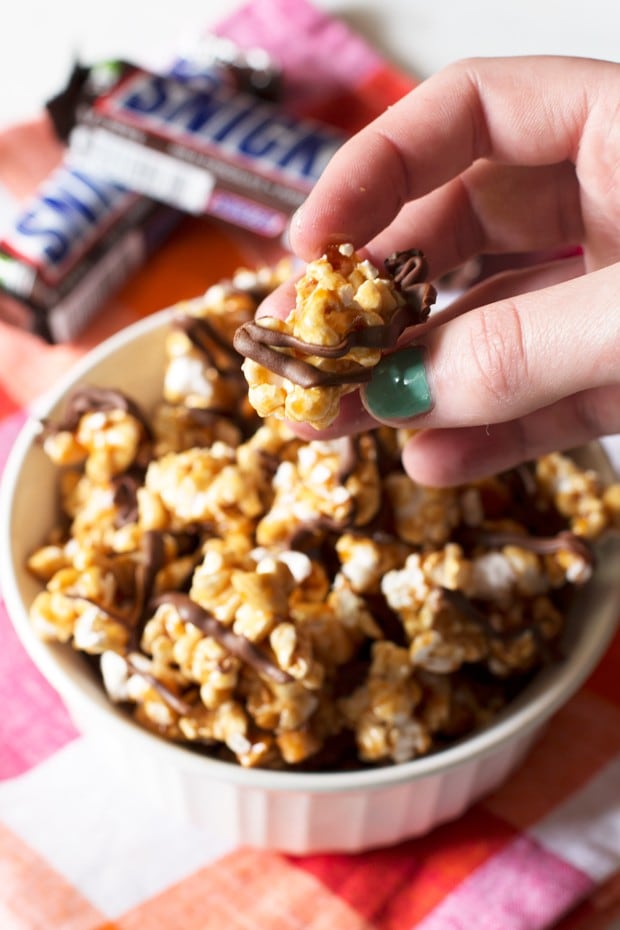 Now that I have your full attention on popcorn, did I happen to mention that there are 14 other bloggers this week featuring popcorn recipes?! *mind blown* After you make this popcorn, get to scrolling to the bottom of the post for the details (oh and that whole GIVEAWAY thing… jus' sayin').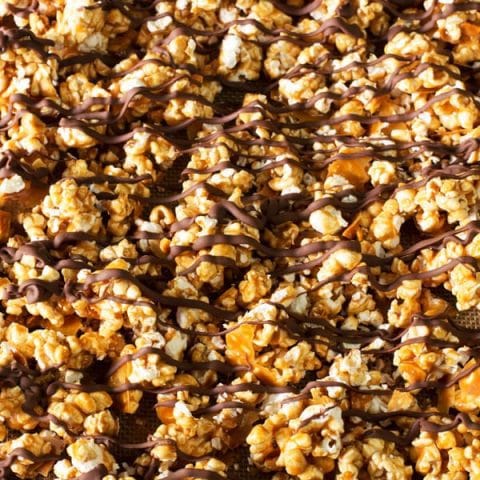 Snickers Popcorn
All the caramel, chocolate and peanuts you love in a Snickers, packed in with crunchy and salty popcorn.
Ingredients
3 oz plain, natural popcorn, unpopped
5 oz milk chocolate chips
Caramel Coating
1/4 cup heavy cream
1 1/2 cups sugar
1/4 cup water
2 Tbsp light corn syrup
1/2 cup chopped peanuts
1/4 tsp salt
Instructions
Preheat oven to 300 degrees.
Prepare the popcorn according to the instructions on the bag. Pour popcorn into a large bowl, making sure to pick out any kernels that didn't pop before adding it to the bowl. Spray two spatulas with cooking spray and set aside.
Add sugar, water and corn syrup to a large saucepan and heat over medium-low until the sugar dissolves, stirring occasionally. Increase heat to high and boil without stirring until the mixture becomes a deep amber color, approximately 10-13 minutes. Remove from heat immediately and add cream (note the mixture will bubble up on you!). Stir until blended. Quickly stir in the peanuts and salt. Drizzle the caramel right away over the popcorn mixture and toss with the prepped spatulas until evenly combined.
Line a rimmed baking sheet with foil and coat with nonstick cooking spray (or use a Silpat).
Carefully transfer the caramel corn to the sheet and spread out in an even layer, being very careful not to touch the caramel with your bare hands.
Place caramel corn in oven and bake until caramel is shiny and coats popcorn, tossing mixture occasionally, approximately 20 minutes. Cool completely, tossing every so often to break up large clumps. While the caramel corn is cooling, heat the chocolate in a microwave-safe bowl in the microwave for 30-second increments, stirring in between, until it is all melted. Drizzle over the caramel corn and let the chocolate set in the refrigerator, approximately 20 minutes.
There are 15 of us total this week featuring our favorite popcorn recipes. A few will be revealed each day, so keep an eye on these blogs and our hashtag #popcornisforbloggers throughout the week!
Beth at bethcakes // Amy at Club Narwhal // Abby at The Frosted Vegan // Nick at Macheesmo // Linda at Brunch with Joy // Meghan and Cake 'n Knife // Erica at The Crumby Cupcake // Molly at Hey There Sunshine // Meredith at Meredith Noelle // Katie at Twin Stripe // Sarah at The Sugar Hit // Erin at The Speckled Palate // LeAndra at Love and Flour // Heather at Sugar Dish Me // Susannah at Feast + West
I would also like to take this opportunity to thank Cabot Creamery and Bob's Red Mill for generously sponsoring Popcorn Week!
We're giving away a big movie night prize pack that's worth more than $115! See the Rafflecopter below to enter to win this amazing set. The prize pack includes:
Giveaway rules:
Enter the giveaway through the Rafflecopter widget below. Everyone gets a free entry! You can enter multiple times, up to 18 additional entries by following the giveaway sponsors on social media. (If you've followed in the past, that counts! Just enter the info as prompted.) All entries will be verified. No purchase is necessary to win.
The giveaway is open until Friday, July 17, 2015 at 10 a.m. EST. One winner will be chosen at random and emailed within 48 hours. Winners must claim prize within 48 hours of initial contact. The retail value of the prize is $117. Prizes shown in the graphic are the only ones available.
Open to U.S. residents with a valid shipping address only. Must be 18 years of age as of July 6, 2015.