Please note this post contains affiliate links.
This Inverted French Baguette Grilled Cheese with Chunky Tomato Jalapeño Jam is going to change everything you think you know about grilled cheese sandwiches. The combination of cheeses is pure perfection and the crusty bread makes for the best vehicle. Inverting the bread makes it easy to toast on the stove or in a panini press!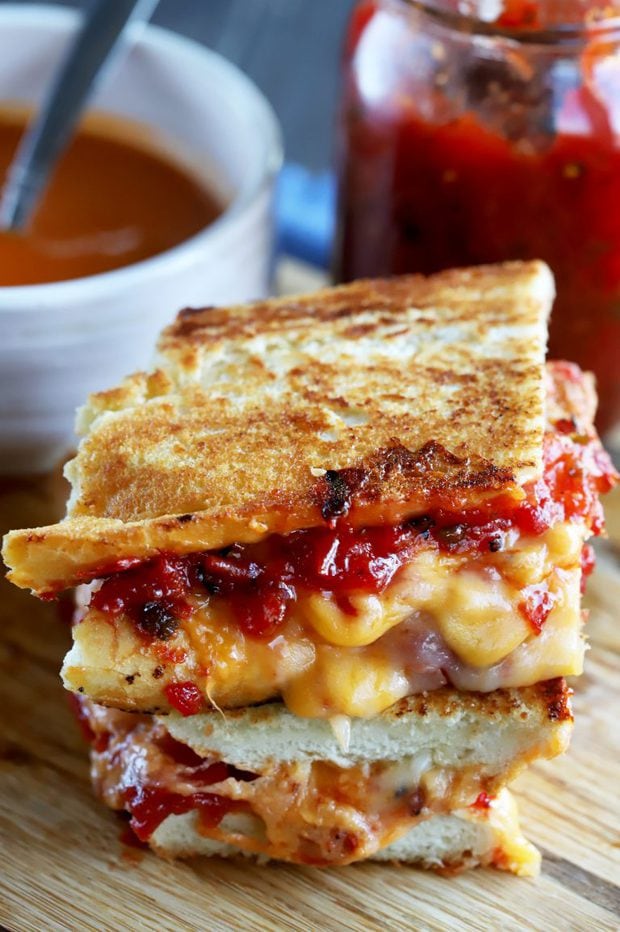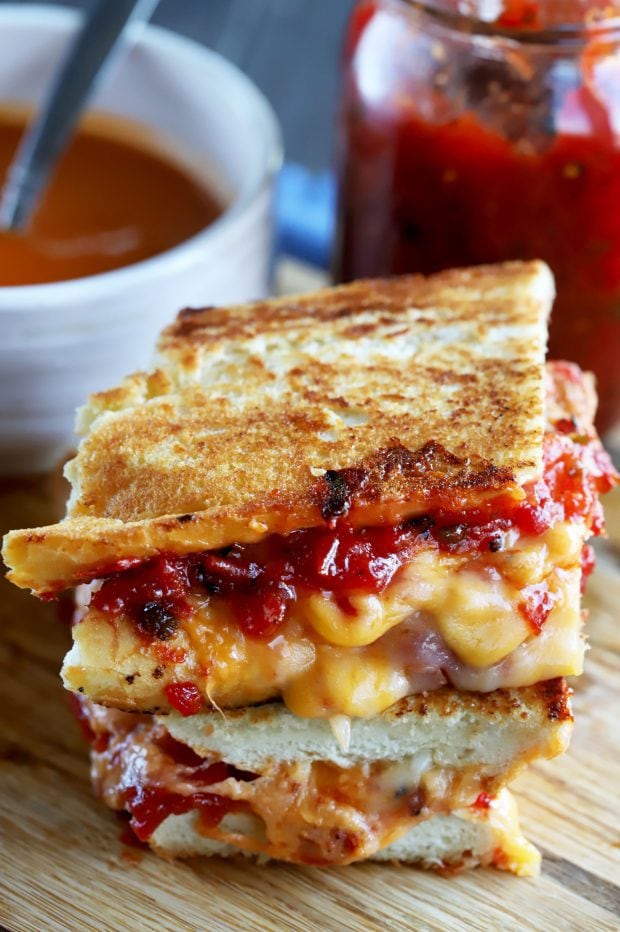 Please note that some of the links below are affiliate links. If you make a purchase through one of these links, I will receive a small commission.
OMG OMG OMG OMG OMG OMG OMG.
This is the BEST FREAKING SANDWICH in the entire world.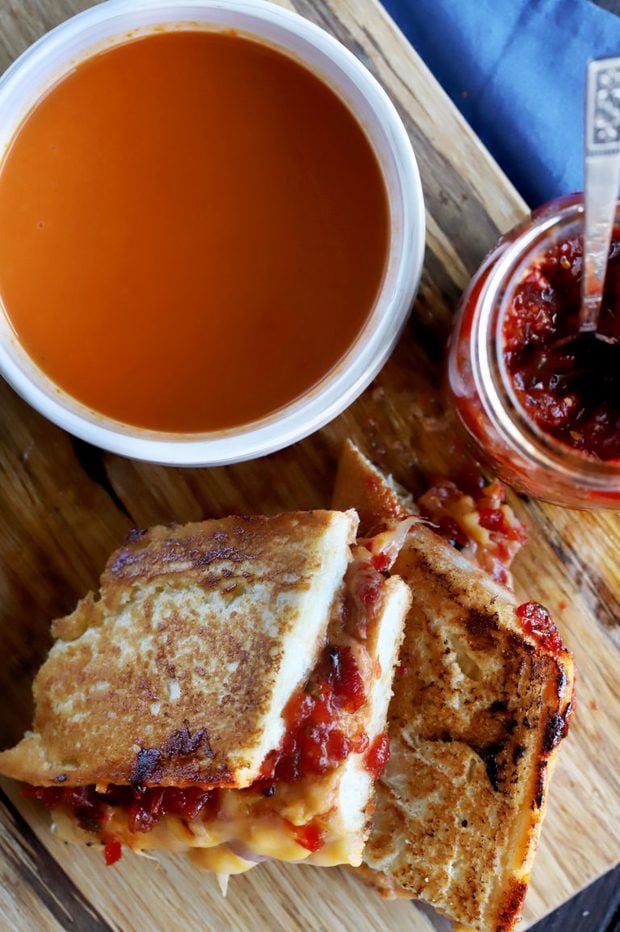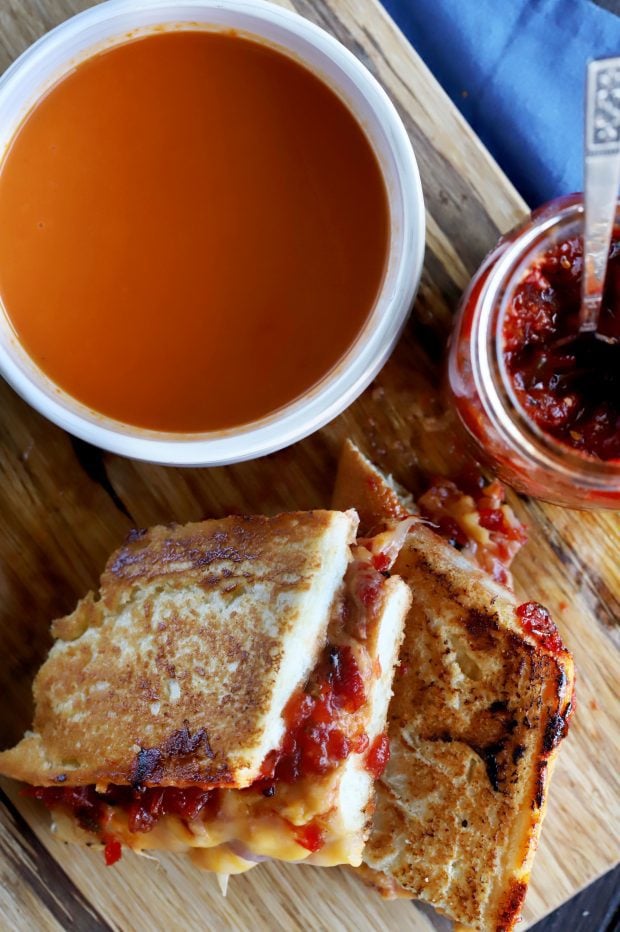 I know I say that things are the "best" a lot of the time. However, up until this point, my grilled cheese game has not been on point. Now, I can confidently say it damn well is.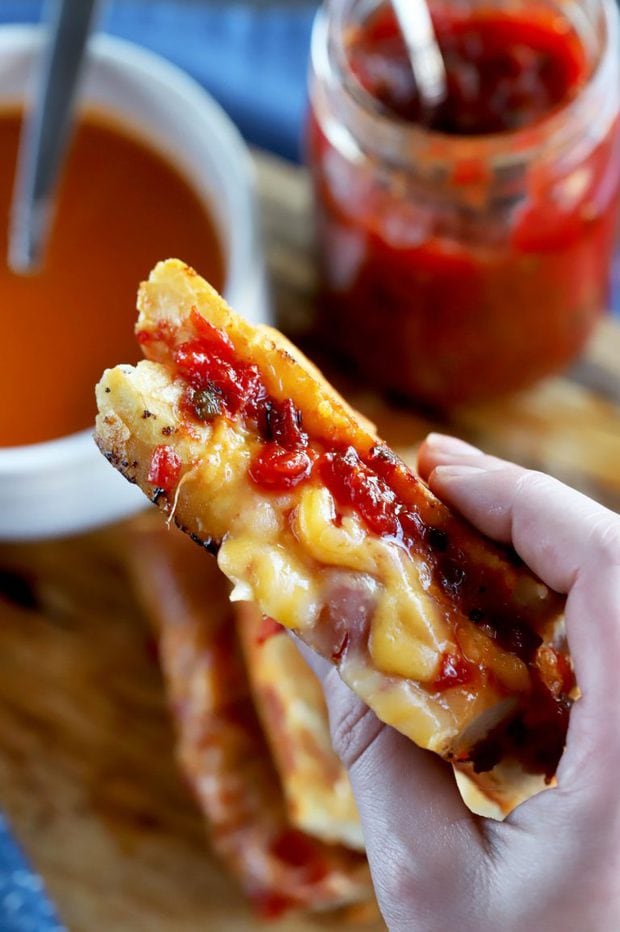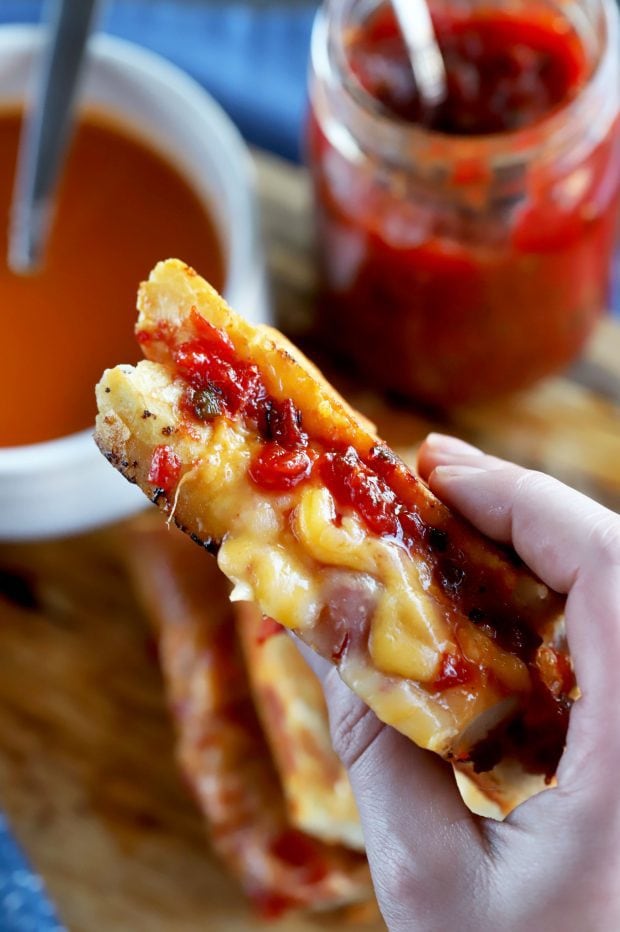 Let's start by me saying I LOVE BREAD. Bread is my comfort food (well really, all carbs are), and a French baguette is on the top of that list.
When I was in college, I used to spend my meager money on a freshly baked French baguette and eat it for dinner along with olive oil and balsamic vinegar. It was not the healthiest meal in the whole world, but on those days where I was stressed, it felt like a piece of heaven.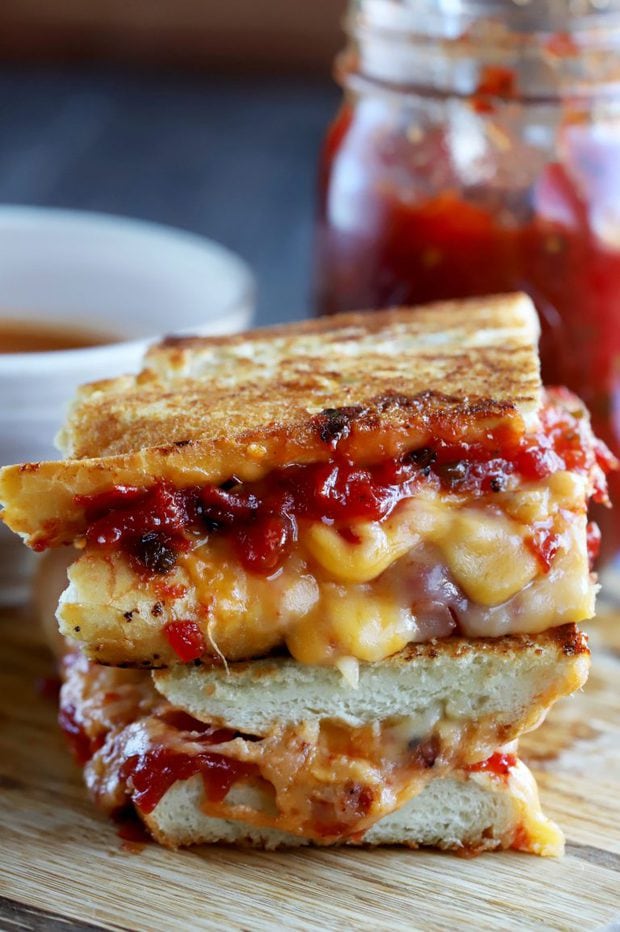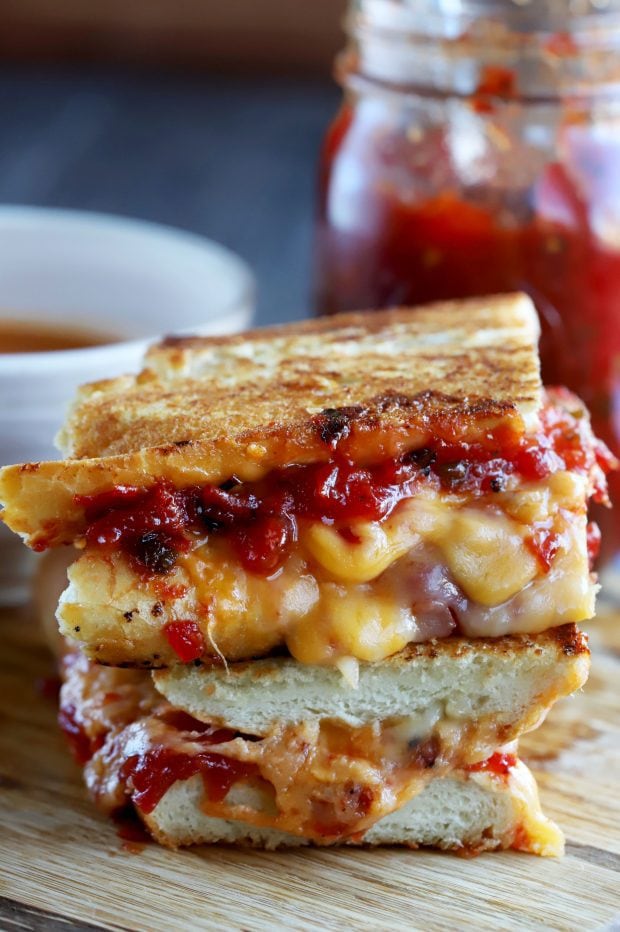 Naturally, making a French baguette the vehicle for a grilled cheese is something I've always thought about doing.
However, the logistics seems all wrong. The outside is already crusty and it's not flat, so how do you put that in a skillet and melt the cheese properly without ending up with a piece of bread that is too crusty on the outside?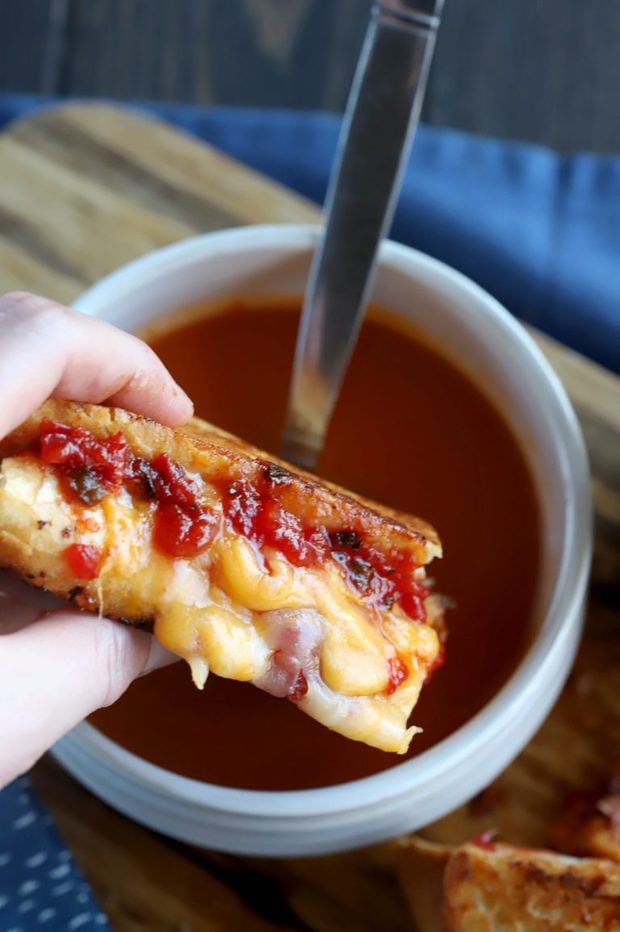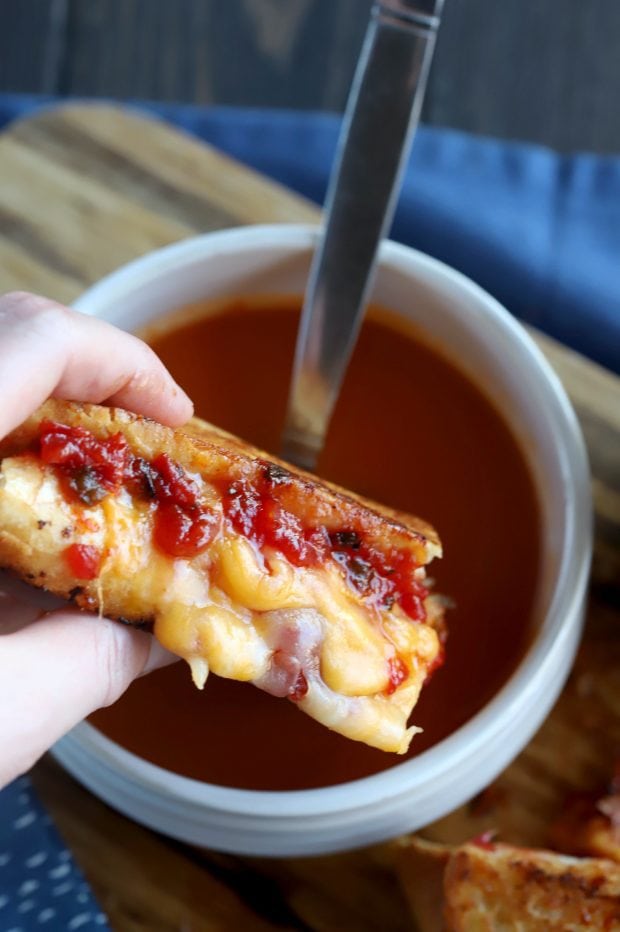 THAT my friends is the genius of this sandwich.
Instead of adding the cheese to the sliced sides of the baguette, we are going to invert it so it's inside-out.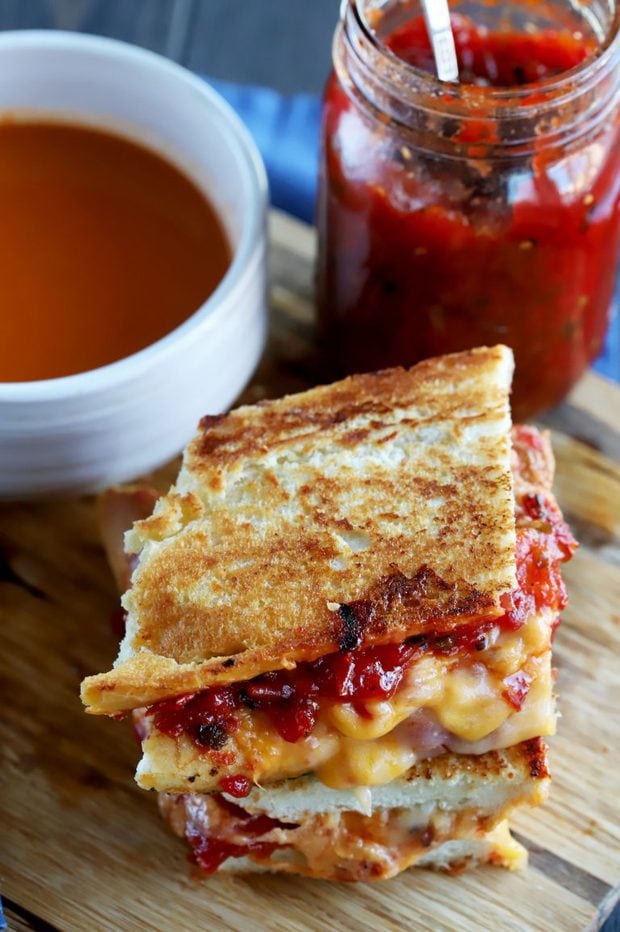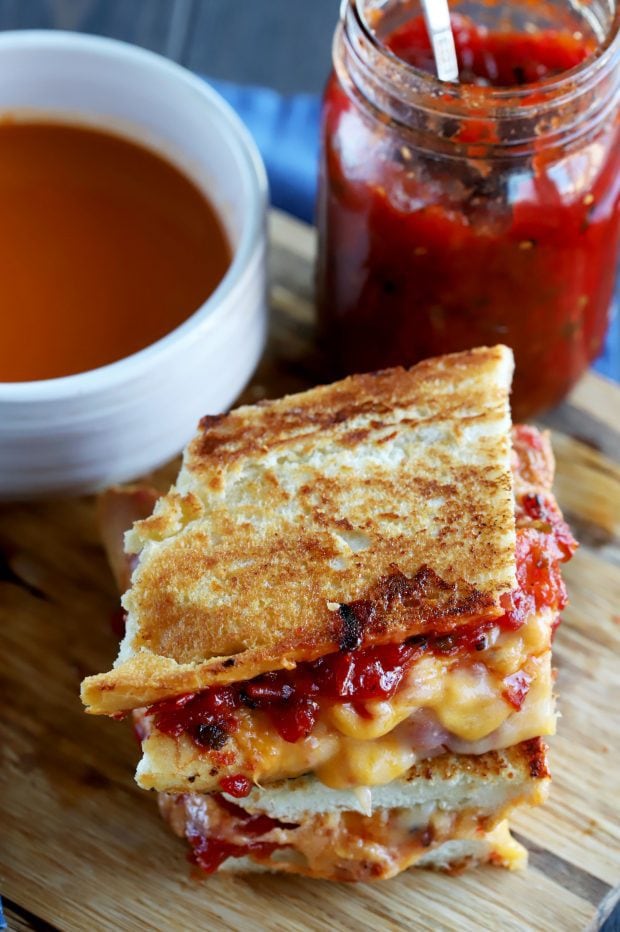 Voila! Just like that you have the flat sides on the outside, making it infinitely easier to make your sandwich. The biggest advice I have is to put the bottom piece of the baguette on the bottom when you start cooking the sandwich. The bottom of a baguette is usually flat so you have that to work with to pile up the jam and the cheeses. Then when you flip it, it'll already be sticking together as the cheese melts.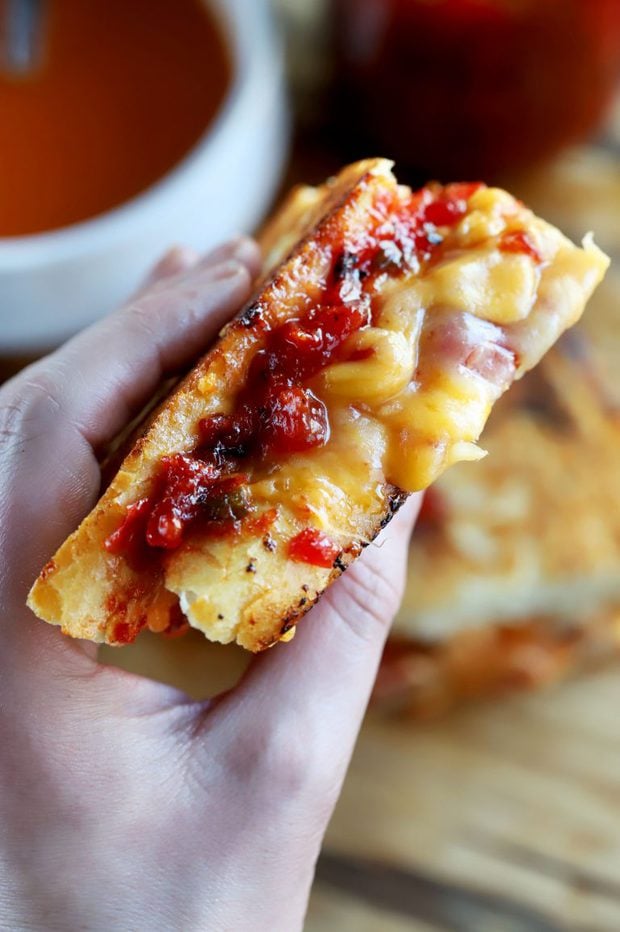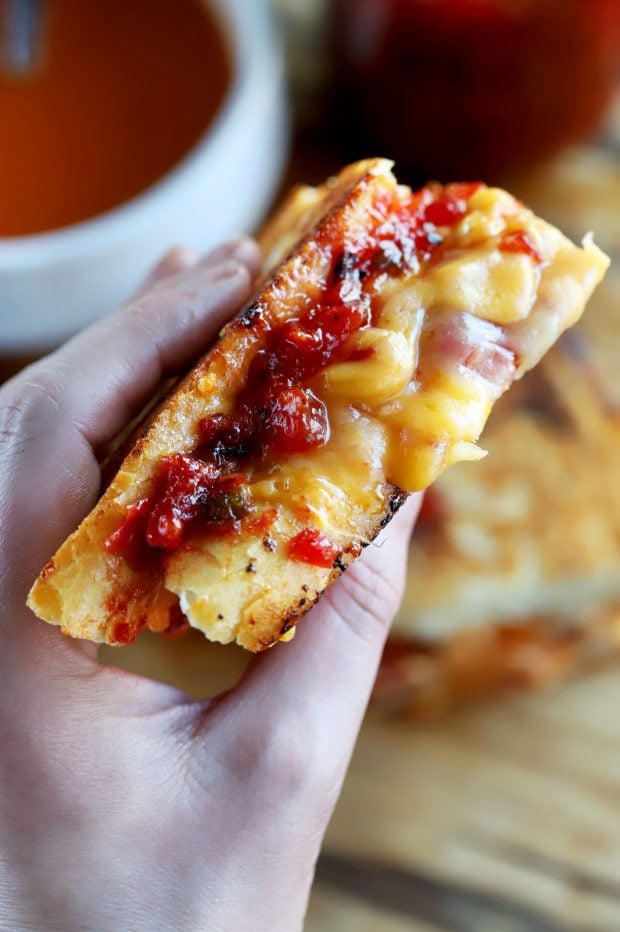 OH and the tomato jalapeño jam is a MUST. The sharp cheddar and Monterey jack cheese are a killer combination. However, it's the sweet, spicy and tangy jam puts this sandwich over the freaking top.
Serve it with warm tomato soup, or simply on its own. It's the best dang take on the classic comfort food recipe you've ever had.
Just take my word for it.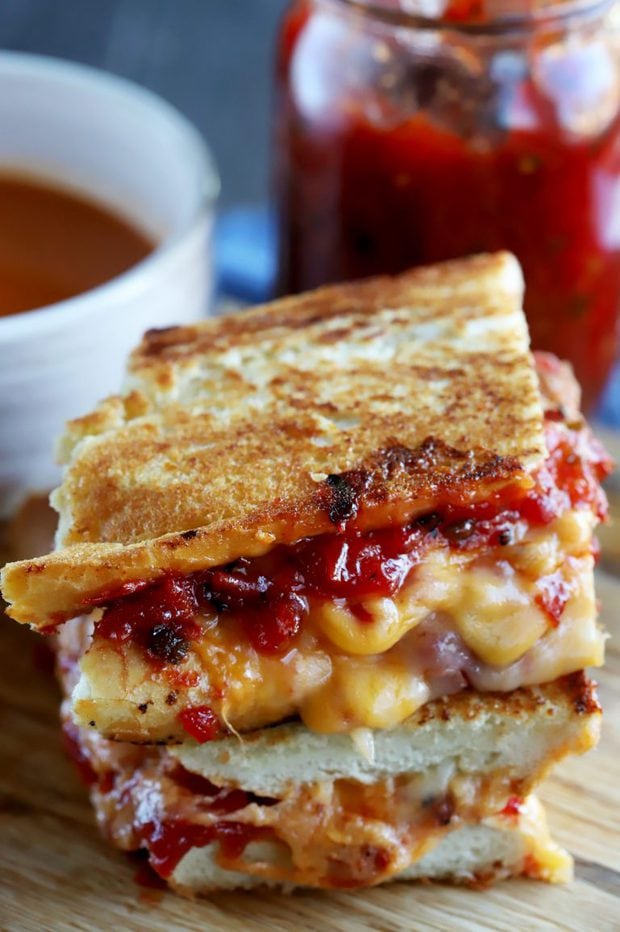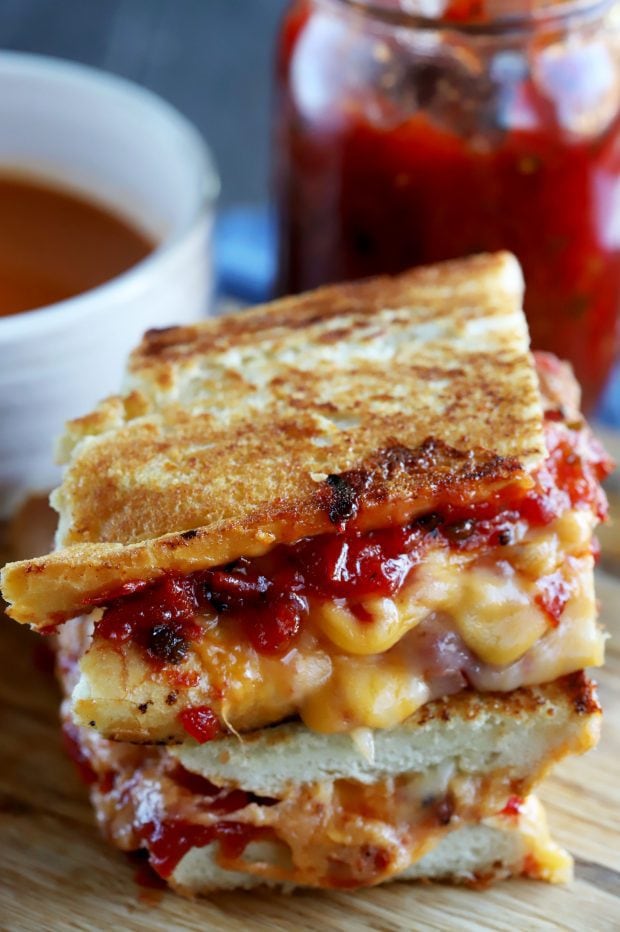 This Recipe's Must-Haves
To cook the tomato jam, check out this elegant and oh-so durable All-Clad SS Copper Core 5-Ply Bonded Dishwasher Safe Saucepan with Lid/Cookware
! I am dying to get my hands on the whole set…
I always use my Le Creuset Signature Iron Handle Skillet, 11-3/4-Inch
to cook my grilled cheese sandwiches. It retains the heat AND it is so easy to clean!
There's lots of chopping needed for this recipe, so I love to rely on this Wüsthof Classic Chef's 2 Piece Starter Knife Set
.
To slice the bread and to perfectly slice your sandwiches in half, definitely consider the Shun Classic 9-Inch Bread Knife
. It's my fave bread knife EVER.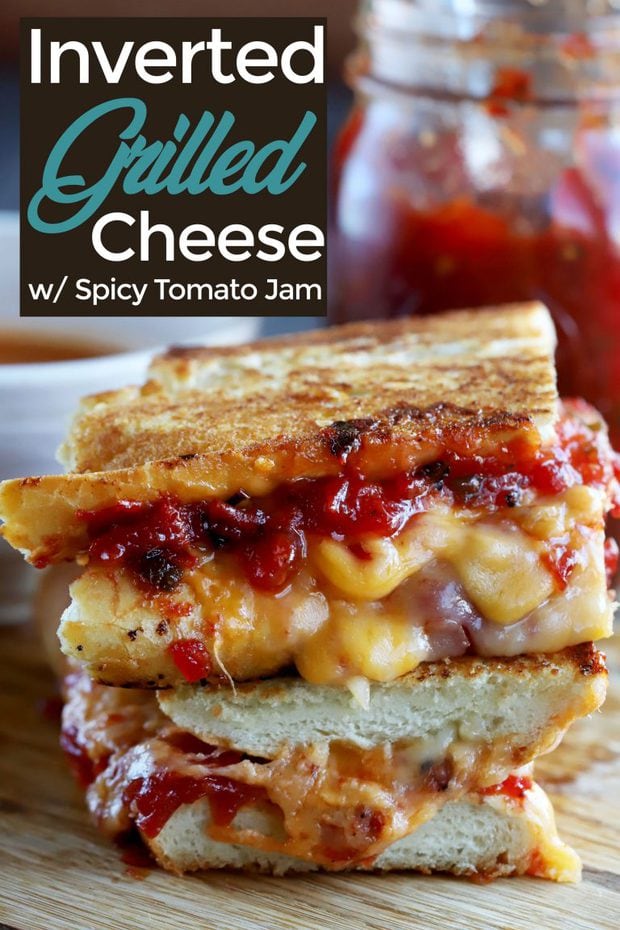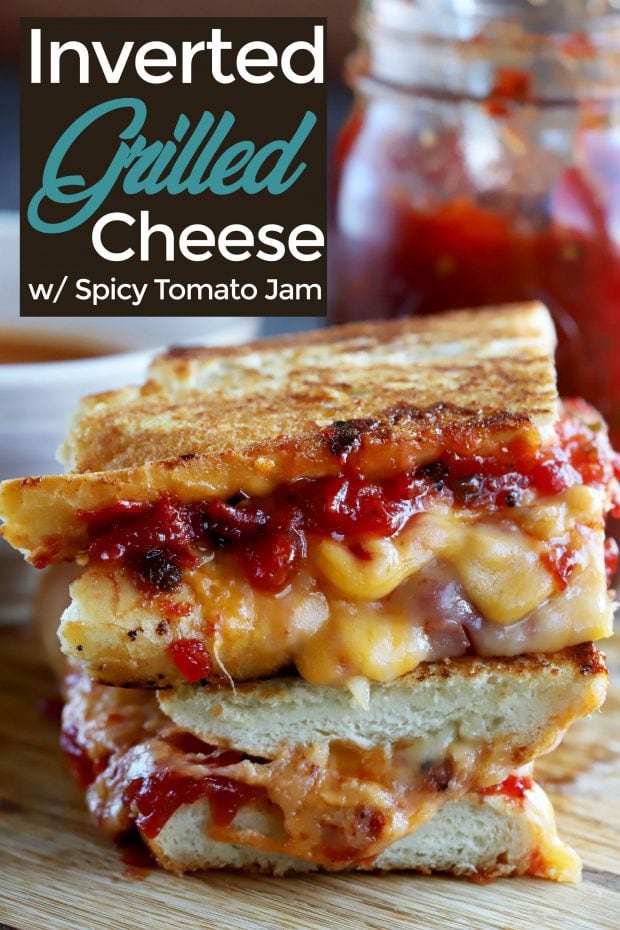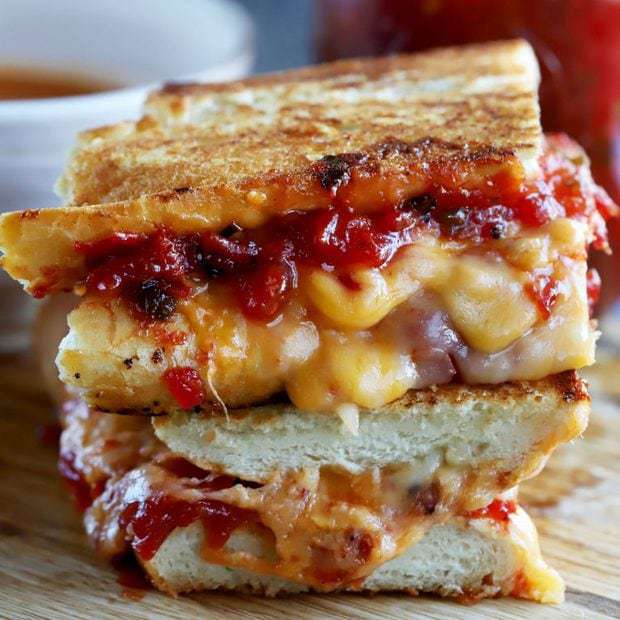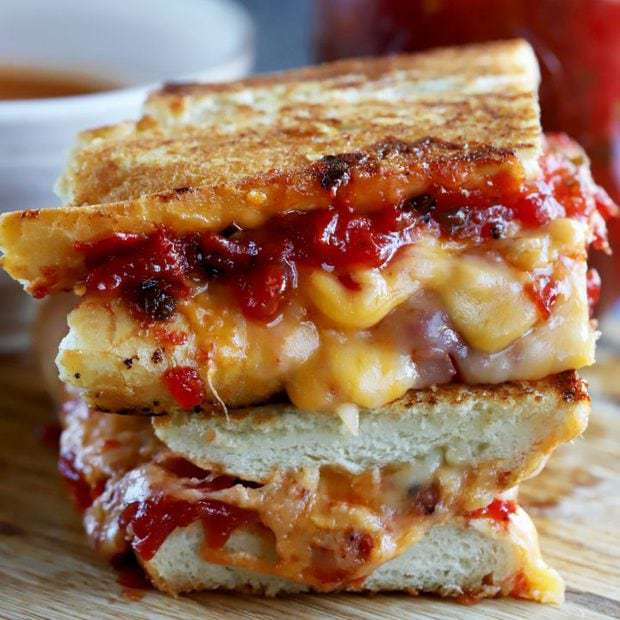 Inverted French Baguette Grilled Cheese with Chunky Tomato Jalapeño Jam
Yield:
Serves 2 + extra tomato jalapeño jam
This is the best way to make grilled cheese, from now until forever. You'll never make it another way again!
Ingredients
GRILLED CHEESE
One French Baguette
6 oz sliced monterey jack cheese
6 oz sliced sharp cheddar cheese
4 Tbsp unsalted butter, softened
TOMATO JALAPENO JAM
1 ½ pounds ripe tomatoes, cored and chopped
1 cup sugar
2 Tbsp freshly squeezed lime juice
1 Tbsp fresh grated ginger
1 tsp garlic powder
1/2 tsp onion powder
1 1/2 tsp salt
1 jalapeño, stemmed, seeded and minced
Instructions
To make the tomato jam, add all ingredients for the jam to a medium saucepan. Bring to a boil, stirring often.
Once boiling, reduce to a simmer. Cook until the mixture is thickened to jam consistency, about 1 hour 15 minutes. Stir occasionally to make sure nothing sticks to the bottom. Season with salt to taste. Transfer to an airtight container and cool in the refrigerator until ready to use.
To make the grilled cheese, cut the baguette into two 7-inch pieces. Slice the pieces in half horizontally. Butter the sliced sides with 1 Tbsp each. Heat a large skillet over medium heat.
Spread 1 to 2 Tbsp of the tomato jam on the crusty side of two pieces of bread each. I like to start with the bottom piece that has the flatter outside to begin with. Stack cheese on the top of the crusty side of the bread.
Top with the other half of the bread. Cook the grilled cheese as normal. I like to weigh mine down with another pan to form a sort of press as it cooks. It'll take about 2 to 3 minutes per side, or until the cheese is melted and the outside of the bread is golden brown.
Serve immediately with a side of tomato soup, if desired.
Recommended Products
As an Amazon Associate and member of other affiliate programs, I earn from qualifying purchases.