You know those days you can't stop eating? That was this entire week for me.
These fries were one of the primary problems.
As soon as these came out of the oven, despite completely burning my mouth, I shoved them in my face.
I think I am having a terrible reaction to the time change. Now that we have turned back the clocks an hour, I feel like my entire world is collapsing around me. Do you KNOW how dark it is when I drive home now? PITCH BLACK. It feels like it is 10pm when I come home every night. I used to be able to watch the sunset out of our front window every night. Now I leave the office and the sun has almost dipped below the mountains as soon as I reach my car.
It is totally freaking me out.
But really, these fries are a freaking revelation. I think they may be the only thing that will get me through this tumultuous time change.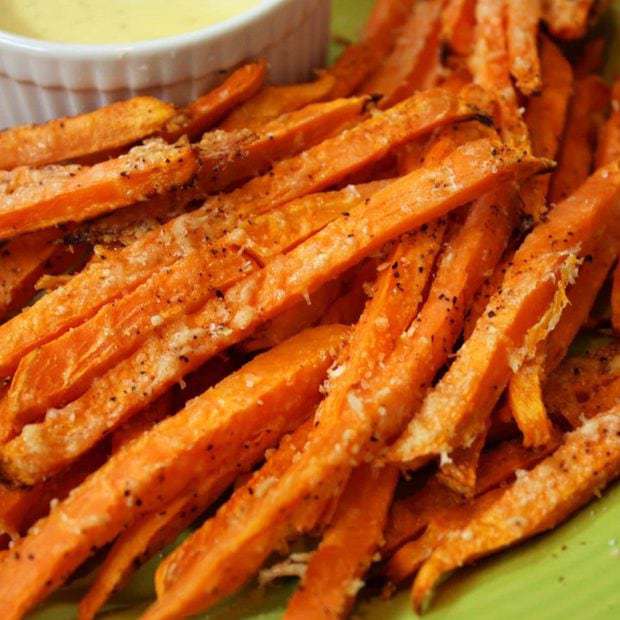 Sweet Potato Parmesan Fries & Garlic Aioli
Additional Time:
5 minutes
Crispy fries made out of sweet potatoes served with a garlic dipping sauce.
Ingredients
Sweet Potato Fries
1 lb of medium sweet potatoes (approx 3 medium potatoes)
1 1/2 Tbsp olive oil
1/4 tsp dried thyme
1/4 tsp dried oregano
1/8 tsp dried rosemary
1/4 tsp garlic powder
1/4 cup grated Parmesan cheese
Garlic Aioli
3 garlic cloves, chopped
1 large egg
1 Tbsp freshly squeezed lemon juice
1/2 tsp salt
Freshly ground black pepper
1/2 cup olive oil
Instructions
Preheat oven to 425 degrees
Wash and cut potatoes into long fries.
In a large bowl, toss fries with olive oil, thyme, oregano, rosemary, garlic powder and Parmesan.
Place in an even layer on a cookie sheet that has been lined with foil or lightly greased with cooking spray in a single layer.
Bake 30-45 minutes or until tender and lightly brown. Keep warm until ready to serve.
Combine the garlic, egg, lemon juice, parsley, salt and pepper in a food processor or blender and puree. Add the oil in a slow stream and continue to puree until the mixture has formed a thick emulsion.