Chocolate Mini Donuts with Peanut Butter Glaze
Remember that time I promised you donuts?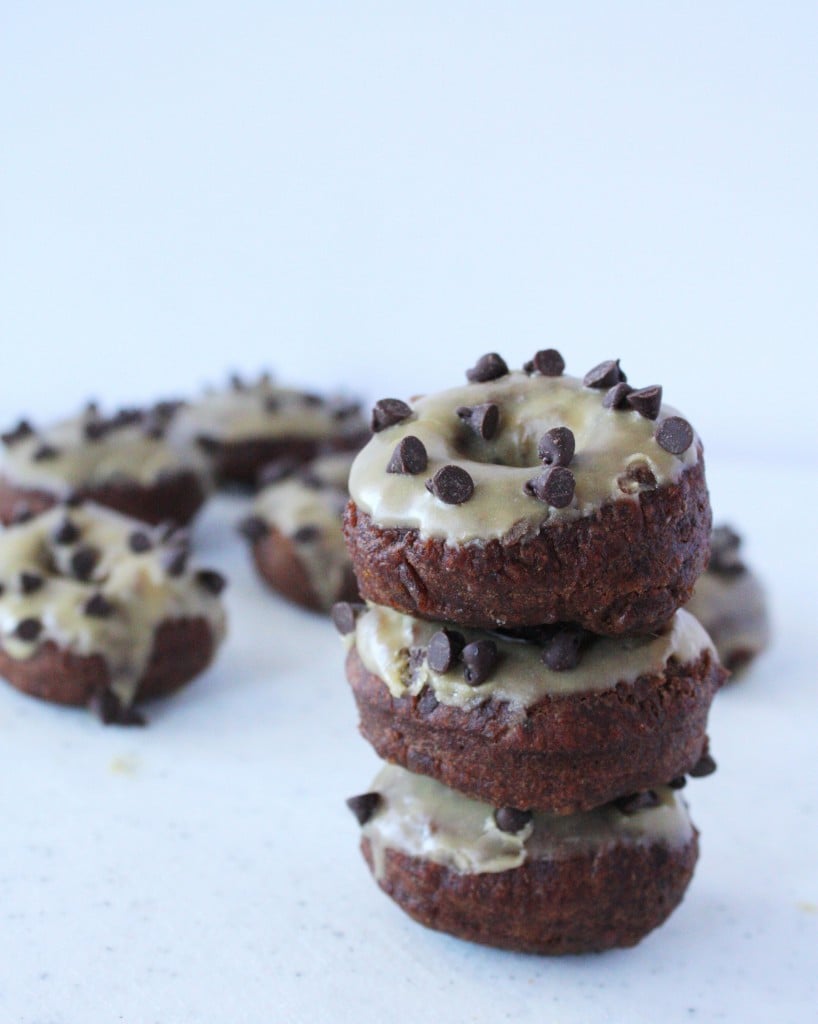 I could never disappoint you, so here they are! Little bites of chocolate with a sweet and creamy peanut butter glaze that essentially make you feel like you are eating a peanut butter cup – except with more carbs.
Just so you know chocolate and peanut butter = my weakness. It's the one combination that I can never turn down.
Like ketchup and fries. Or peaches and goat cheese.
To quote one of my oh-so-fabulous cousins who was one of the many chowing down on these little guys at our Mother's Day brunch – "these are ADDICTING". The fact that this statement came out of a nine year-old's mouth basically made my entire day.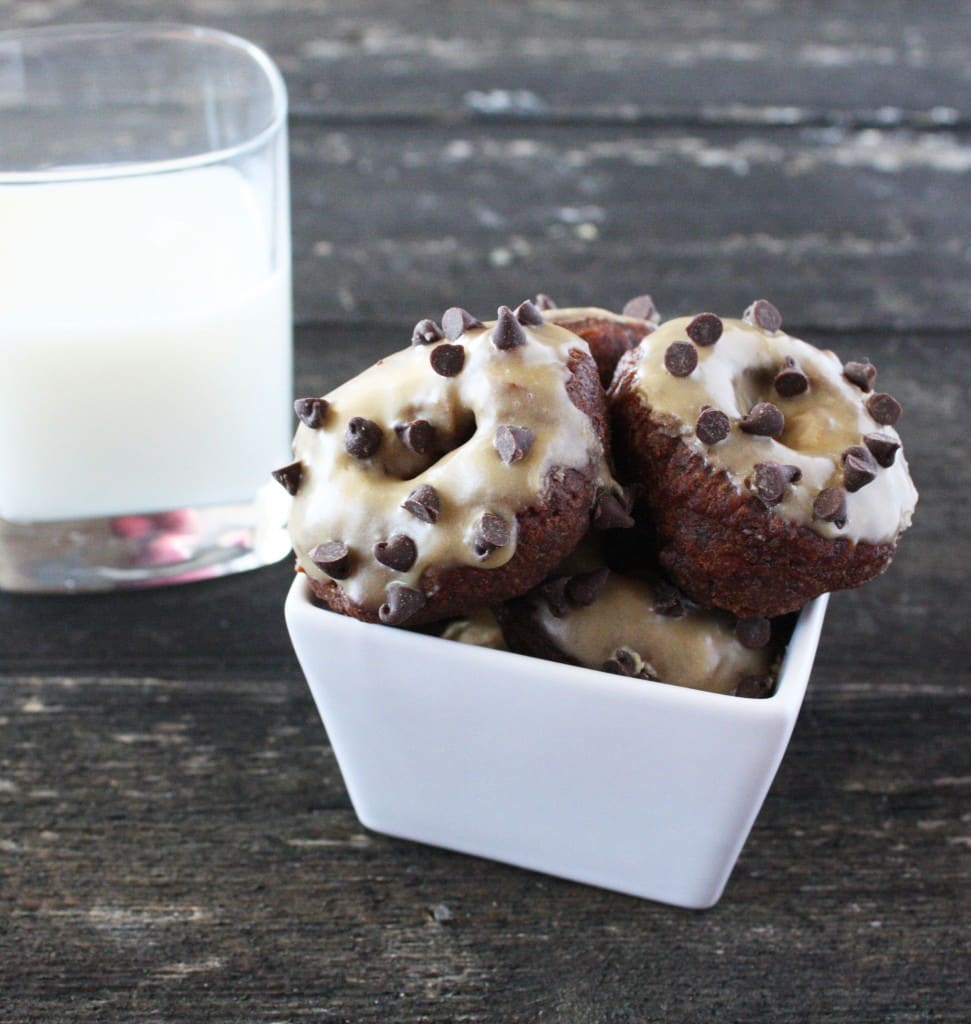 Can we just talk about how much I miss being a kid for a moment? Because I do. I really do. Especially during the summer. I mean, let's set aside the fact that you have an entire 3 months off school (if I had 3 months off work, I don't know what I would do with myself. Actually I do. I would eat cake. For every meal. Now I think I understand why adults don't get 3 months off every summer…). Remember when you had the freedom to run around the playground with your friends or to roll down one of those gorgeous green hills shrieking at the top of your lungs until you come to a stop at the bottom?
Those were the days…
At least now as an adult I can eat these mini donuts for dinner without getting grounded for a week. And I totally would already have.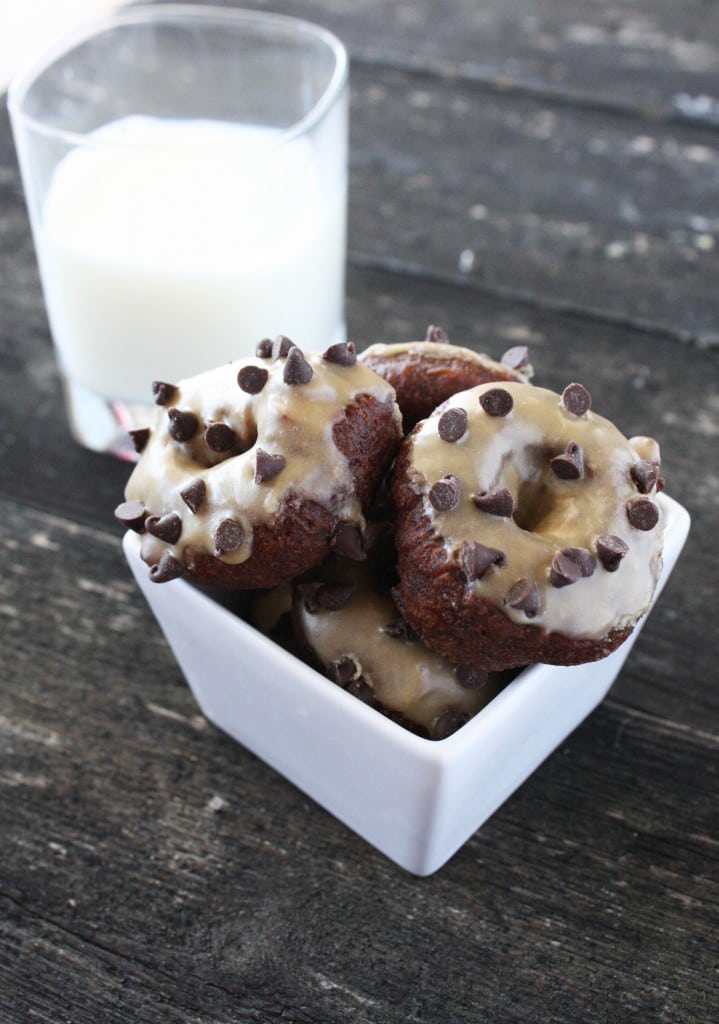 I suppose there are some perks to being an adult, huh?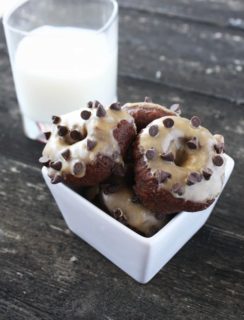 Chocolate Mini Donuts with Peanut Butter Glaze
Yield: 2 dozen mini donuts
Prep Time: 10 minutes
Cook Time: 15 minutes
Total Time: 1 hour 35 minutes
Mini bites of chocolate and peanut butter goodness.
Ingredients:
Donuts
2 1/2 cups all-purpose flour
1/2 cup cocoa powder
1/3 cup granulated sugar
1 Tbsp baking powder
1/3 tsp cinnamon
1/8 tsp salt
1 cup milk
1 large egg, lightly beaten
5 Tbsp unsalted butter, melted and cooled
1 1/2 tsp vanilla extract
Oil for frying
Peanut Butter Glaze
1/2 cup powdered sugar
2 Tbsp creamy peanut butter
1 1/2 Tbsp milk
1/2 tsp vanilla
1/4 cup mini semisweet chocolate chips
Directions:
Whisk together flour, cocoa powder, sugar, baking powder, salt and cinnamon in a large bowl.
In a small bowl, whisk together milk, egg, butter and vanilla. Pour the mixture into the flour mixture and stir together until combined, making sure not to overmix. Cover with plastic wrap and set in the refrigerator for 1 hour to rest.
Remove dough from the refrigerator and turn out onto a floured surface. Roll out until it's approximately 1/2" thick. Using a donut cutter or biscuit cutter, cut circles into the dough. Then use a small circular object to cut out the center - I used the wide end of a frosting tip.
In a large saucepan over medium heat, heat approximately 2 to 3" deep of oil until it reaches 365 degrees. Fry the donuts 2 to 3 at a time for approximately 2 minutes per side, until puffed and golden brown. Remove to a paper towel lined plate to drain. Repeat with remaining dough circles.
Stir together the powdered sugar, peanut butter, 1 Tbsp milk and 1/2 tsp vanilla for glaze in a small bowl until smooth.
Dunk each donut in the glaze, then cover with mini chocolate chips. Let set for about 10 to 15 minutes.