Please note this post contains affiliate links.
I don't think I could live without tacos in my life for more than a couple of weeks. Initially my affinity for tacos started as another way to eat guacamole (not that I ever get tired of chips and guacamole). Now it has morphed into a love for all types of tacos, really anything I can get my hands on.
Even when I am undecided and don't know what I want to eat, if someone offers me tacos, I'll always say YES.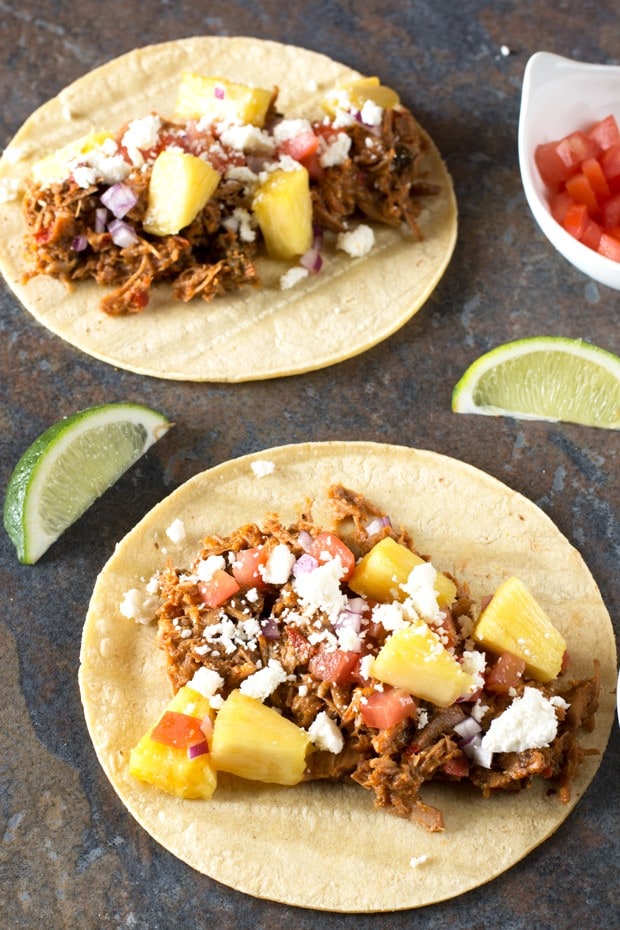 Tacos al pastor has been a recent discovery for me. Talk about flavor. There are notes of spicy, sweet, savory and citrus with every bite. It's like my mouth is at an intense rave where all of my senses are heightened and I am in some sort of taco trance (do they even have raves anymore?).
The pork absorbs the flavors of the sauce made from chiles, pineapple, onion and other spices while it slowly cooks, becoming so tender you can't even stab a cube of meat with a fork to pull it out of the slow cooker; it just falls apart and practically melts in your mouth.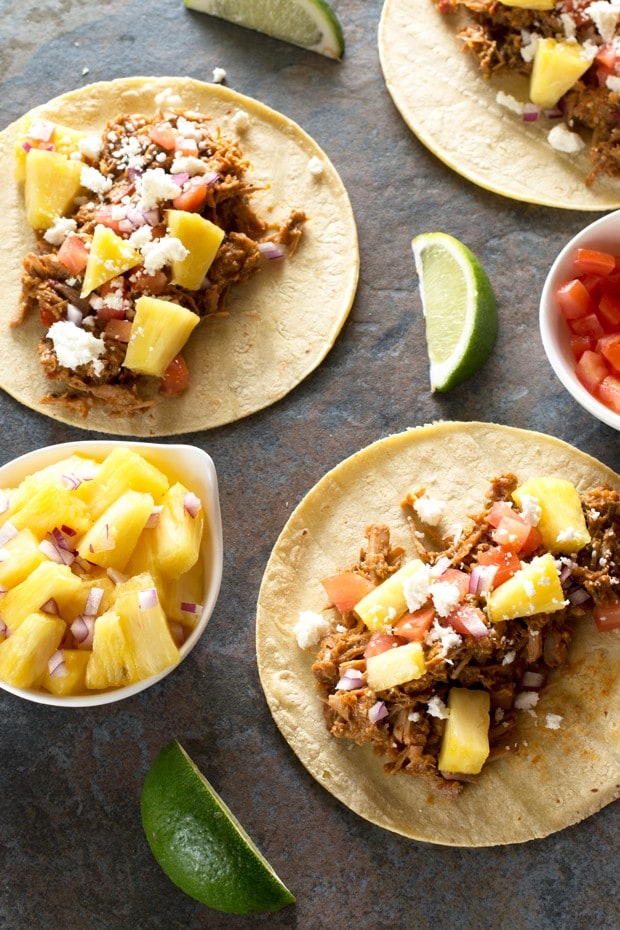 Building flavors like this is something that I love to do in a slow cooker and this slow cooker tacos al pastor recipe does not disappoint. It requires not active cooking time and fills your house with the most intoxicating scent. As soon as you walk in the door after a day of work, you'll feel like the slow cooker is beckoning you over, just begging you to dig in.
Not a bad way to be welcomed home, amIright?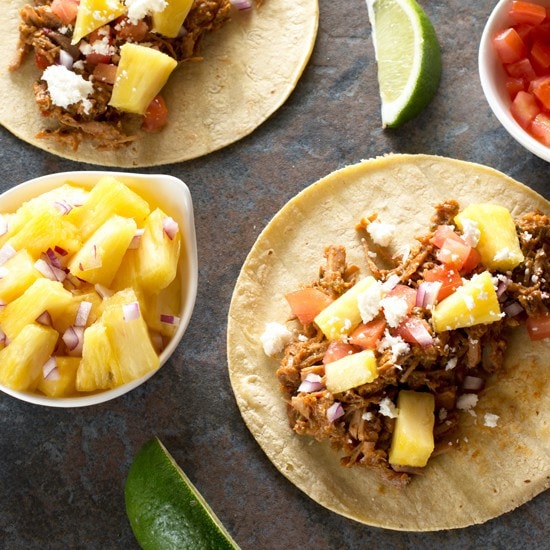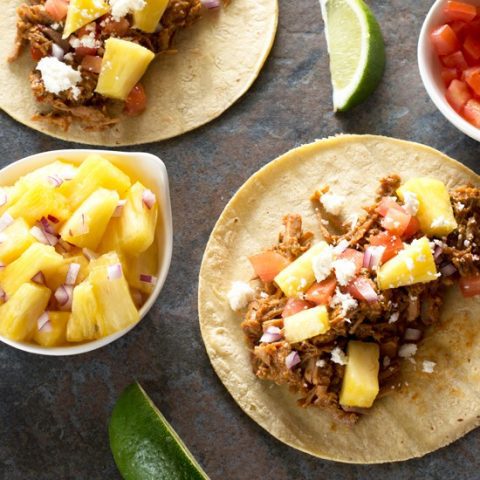 Slow Cooker Tacos Al Pastor
Total Time:
8 hours
20 minutes
Deep, rich and flavorful pork tacos al pastor with tender meat made in the slow cooker.
Ingredients
2 dried guajilo chiles
2 dried ancho chiles
2 lbs pork shoulder or butt, cut into 2" chunks
1 pineapple, peeled, cored and cut into 1" chunks
1 red onion, diced
1 Tbsp adobo sauce
1 chipotle chile in adobo sauce
3 cloves garlic, diced
1 Tbsp lime juice
1 tsp salt
1 tsp oregano
1/2 tsp ground cumin
1/2 tsp black pepper
Pinch red pepper flakes
1 tsp bacon grease
12 small corn tortillas
Lime wedges
Queso fresco
Chopped tomato
Instructions
Fill a large bowl with hot water and submerge the guajilo and ancho chiles in the water to rehydrate them. Let them rest in the water for approximately 10 minutes. Remove from water, pat dry and remove the stems and seeds.
Add the pork pieces to the bowl of a slow cooker.
Puree guajilo chiles, ancho chiles, 1/2 of the pineapple chunks, 1/2 of the red onion, adobo sauce, chipotle in adobo, garlic, lime juice, salt, oregano, cumin, black pepper, red pepper flakes and bacon grease until well-combined. Pour the sauce over the pork in the slow cooker and stir to coat.
Cook on medium for 8 to 10 hours or on high for approximately 5 to 6 hours. Remove the lid and using two forks, shred the meat. Be sure to stir it up with the sauce to get all that flavor!
In a medium bowl, combine the remaining pineapple and red onion to create a quick pineapple salsa.
Warm corn tortillas in the microwave between two damp paper towels for approximately 2 to 3 minutes. Fill the tacos with al pastor pork. Top with pineapple salsa, queso fresco and tomato. Serve with lime wedges.