Pumpkin Bang is a fun fall twist on the classic Bang beer cocktail. The combination of dry cider, pumpkin ale and whiskey is surprisingly rich and flavorful, without being too heavy. Plus it's got a killer kick…
Hi guys!! Welcome to my first beer cocktail! I'm irrationally excited about this cocktail because I've been meaning to create a beer cocktail for some time. I've had a few good ones and it always mystifies me as to how beer mixed with liquor can actually taste delicious.
This cocktail is going to be your new favorite drink for the rest of the fall months. It's got pumpkin ale ('tis the season for pumpkin!), dry cider AND whiskey in it.
Yea, when I say it's going to knock you on your ass, it will.
I've only recently really gotten into beer and trying new kinds in the past 6 months or so. Remember way back when I wouldn't NEVER touch the stuff? Now all my guy friends are so proud of me when I reach for a beer instead of wrinkling my nose and running away (yes, I was really this ridiculous at one point in my life… Let's move on shall we?).
This year I've been trying allllll the pumpkin beers – to the detriment of my diet and my waistline. There have been so many highlights I'd have to consult that dang Untappd app to remember them all, but there was one that I tried and just knew I would need to put it in a beer cocktail. The pumpkin ale I used here is Eddyline Brewing's Pumpkin Patch Ale. It's just the right punch of pumpkin when paired with the dry cider and whiskey to hold up the flavor without being insanely heavy.
So this one is dedicated to all my beer lovin', whiskey drinkin', cider sippin' peeps. Cheers!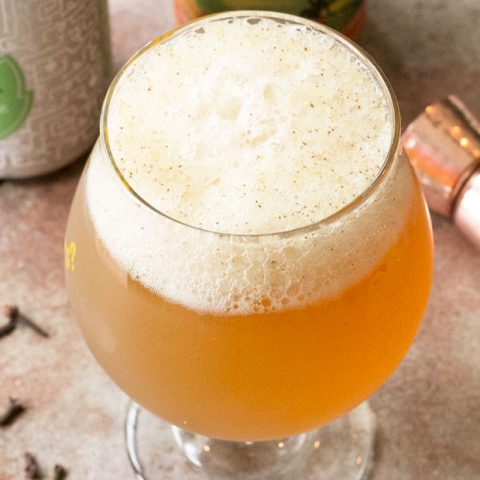 Pumpkin Bang
Yield:
1 cocktail (or 'beertail')
A little spice, a little pumpkin and some whiskey make the world go round...
Ingredients
2 oz whiskey
1/2 tsp grated ginger
1/8 tsp ground cloves
6 oz pumpkin ale
6 oz dry cider
Instructions
Add whiskey, ginger, and clove to a large beer glass. Stir.
Top with pumpkin ale and dry cider. Stir gently once more. Serve.
What You'll Need to Make This Recipe:
Stemmed Pilsner Glasses
Stainless Steel Mixing Spoon
Pin this Pumpkin Bang recipe for later!