As you all know, I am in the constant pursuit for good food. While I may put out some crazy recipes on this site, I am the first to admit that there is a whole world of food that I still need to explore. Literally, a whole world.
After thinking about this whole world of food I am missing out on, I decided that I was going to start tackling it head on. You know what the best part is? I am taking ALL OF YOU with me!
That's the inspiration for the new series I am starting called Mastering Global Cooking. Every month I am going to feature a different cuisine from around the globe that you can try to master at home! And with each new cuisine and each new recipe I try, I will be sharing the entire experience – both successes and failures. I am already unfiltered so why try to filter myself now right?
And don't you worry; I will still have my crazy recipes sprinkled in between (I couldn't deny you those now could I?)!
So which cuisine did I decide to tackle first? ITALIAN. Naturally. Now this is kind of cheating since I spent time in Rome and am a huge pasta-obsessed freak. However, I figured I would start off a little easier with classic Italian recipes that I haven't made myself.
Oh and I still haven't told you one of the best parts of this series! For each cuisine we try, I am going to feature an interview with a fabulous expert food blogger to help us (and by us, I mean ME) learn all about what makes each cuisine so special.
Thankfully, I have the lovely and talented Paula from bell'almiento to talk Italian food to kick off the Italian month!
To kick things off, please tell us a little about yourself and your blog:
I love to cook (obviously) but hate to do dishes. I am a Nutella-holic. I am a social butterfly (read it's hard to shut me up). I don't like making left hand turns. I have a thing for all things Italian. Yes, I am fluent in Italian. I grew up as an Air Force brat traveling the country, world (go Blue.) I met my husband in college and we have 3 very active and awesome kids.
How would you describe your cooking style?
Simple and satisfying.
I have been a long-time follower of your blog and I would say you are definitely an expert in Italian cuisine. In your opinion, what is so special about Italian food?
What's NOT to love about pasta? : )
Do you think Italian cooking is difficult to master?
As with anything, practice makes perfect. Food should be fun and about feeding yourself and the people you love. Worse case scenario you burn something and have to make a sandwich so get in there and give it a go!
Are there any secrets to help master Italian cooking?
Quality ingredients.
I have to admit, I am having trouble narrowing down which recipes to highlight for the Italian section of this series – lasagna, gnocchi, tiramisu, ravioli, the list goes on and on! What are the top three dishes that you consider to be Italian staples?
Pasta, Risotto, and Pizza!
If you had to choose, what would be your ultimate full course Italian meal?
Spaghetti alla Carbonara is my all time, hands down favorite dish. I would top it off with Tiramisu and of course a nice wine.
Well I simply had to take Paula up on her favorite dish. So without further ado, I give you Spaghetti alla Carbonara!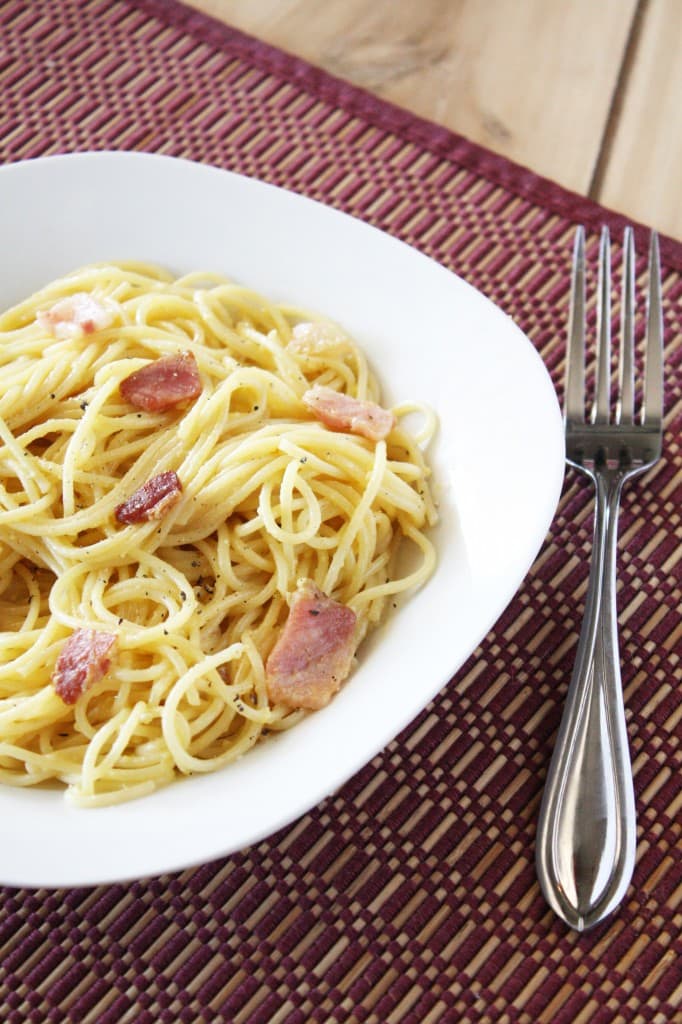 Though I couldn't track down the traditional guanciale, I happen to live close to an Italian market run by an incredible group of folks who helped me pick a pancetta that, in their opinion, would be even better than if I had guanciale. Great way to start off a new dish, right??
Now I searched high and low for an amazing recipe and then I found this one. I loved all of the opinions and tweets that you can read through about what a true Spaghetti alla Carbonara is! So I went with it, and it was sooooo good.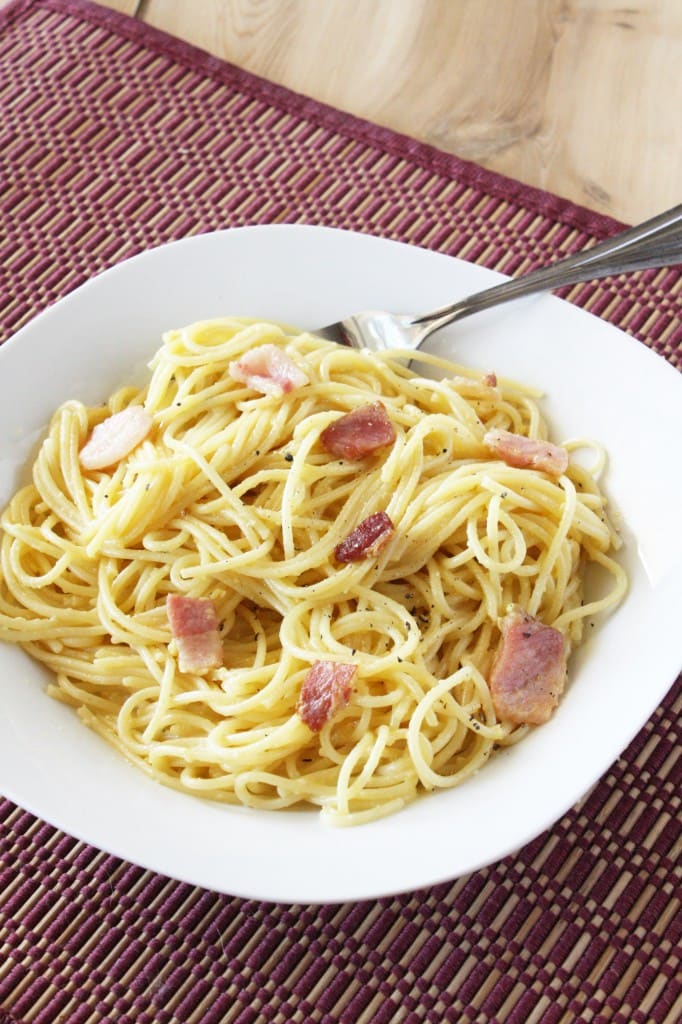 Luckily I happened to have a friend over when I tested it the first time and I am happy to say I had her going back for seconds and thirds.
So get in the kitchen and get cooking!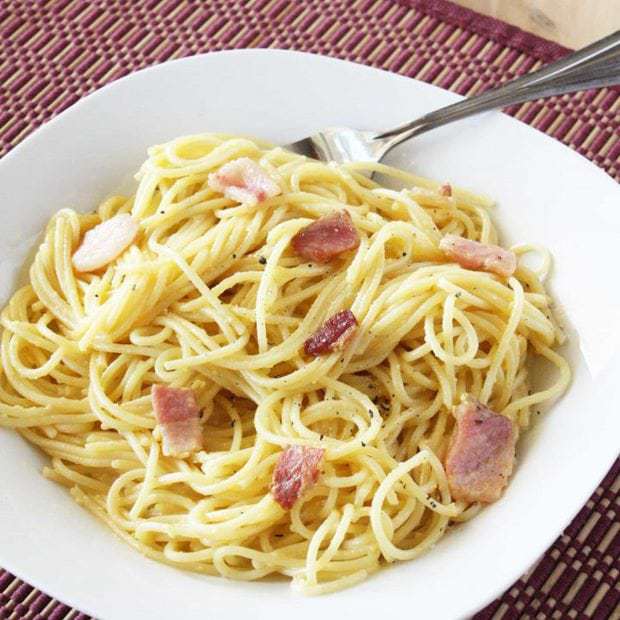 Spaghetti alla Carbonara
A classic Italian dish that has simple quality ingredients and is so easy to master.
Ingredients
1 pound dry spaghetti
4 fresh large eggs
8 ounces pancetta, cut into squares
1/3 cup freshly grated Parmigiano-Reggiano
1/2 cup freshly grated Pecorino
Freshly cracked black pepper
Sea salt
Instructions
Fill a large pot with water and salt generously. Bring the water to a boil, add spaghetti and cook for approximately 8 to 10 minutes or until al dente. Reserve 1/2 cup of water, then drain the pasta.
While the pasta is cooking, heat a large skillet over medium heat. Add the pancetta and sauté for about 2 minutes, or until the meat is crispy. Remove from heat
In a small bowl,whisk the eggs and the cheeses to combine.
Return the pancetta pan to the stove over medium heat. Add in 1/4 cup of the reserved pasta water. Add the spaghetti and toss for a few seconds. Allow most of the water to evaporate.
Remove pan from heat and quickly stir in the egg mixture until it thickens. Work quickly to prevent the eggs from scrambling.
Season with salt and pepper and serve immediately.