Candied bacon… on a maple glaze… over a lightly spiced baked donut…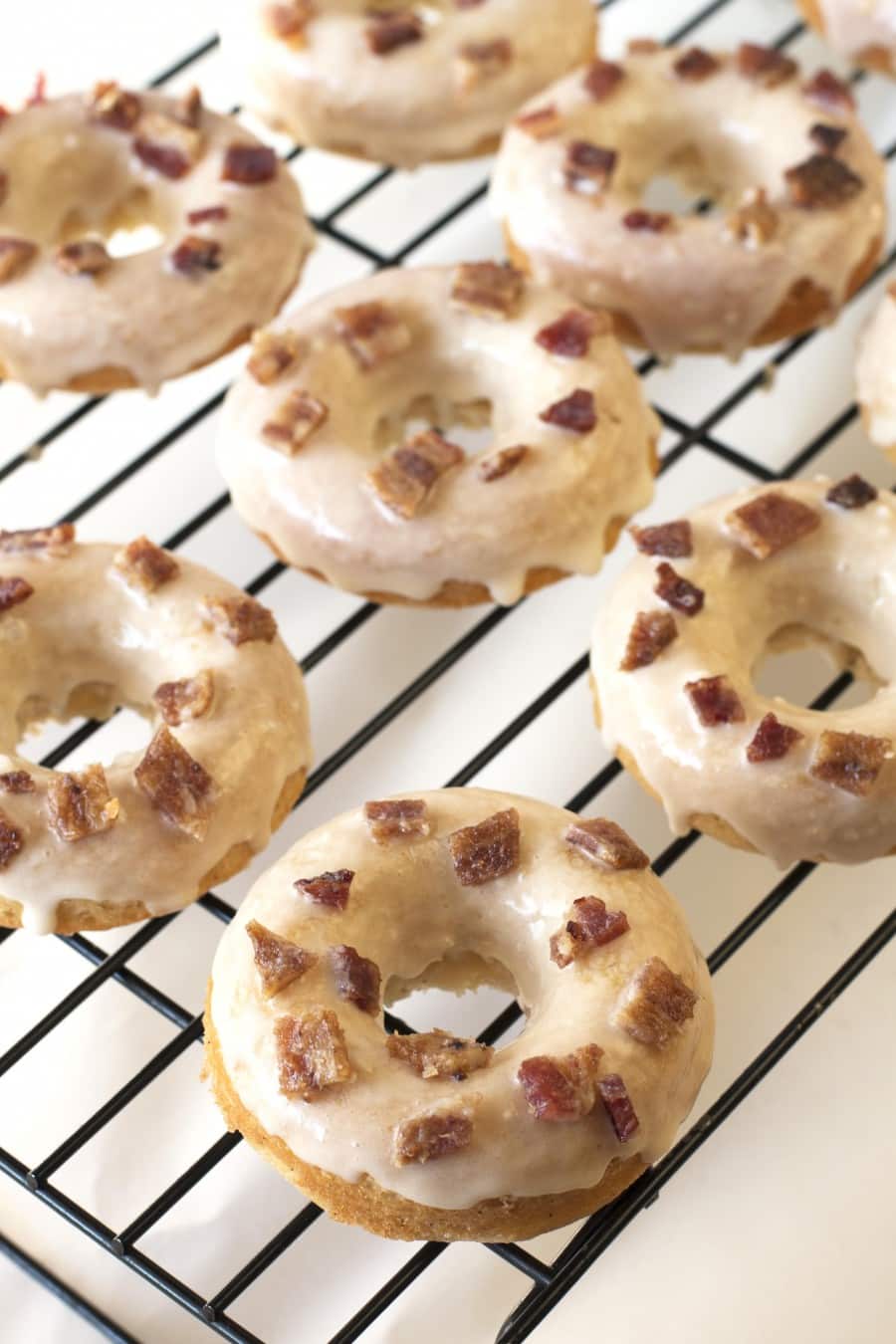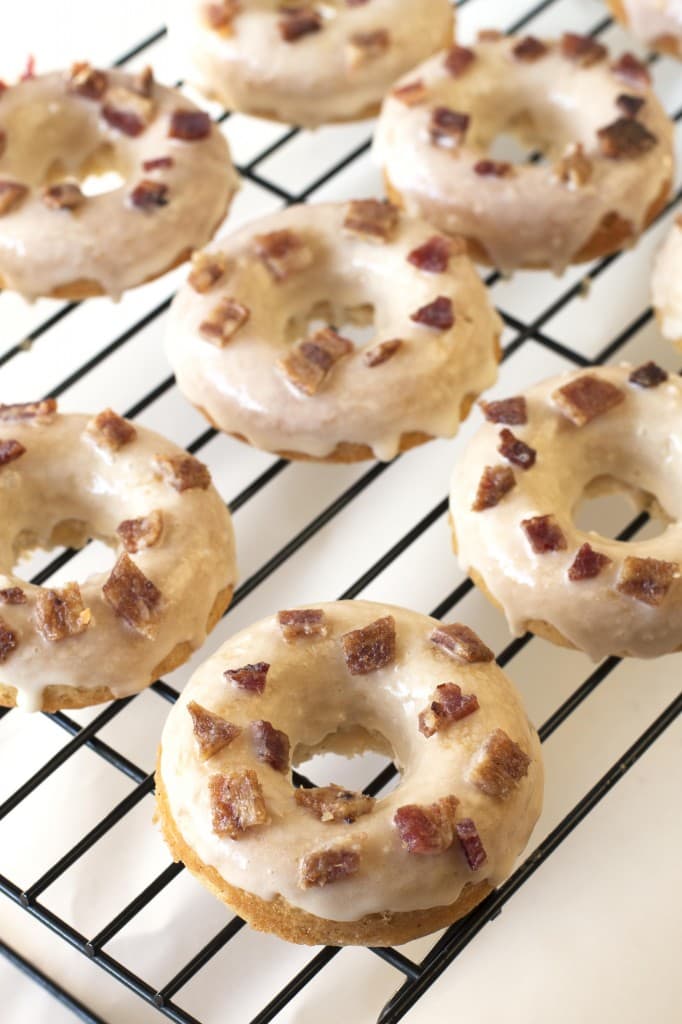 Yea, I know. Dreams really do come true!!
Voodoo Doughnut opened here in Denver months ago and I hate to admit, I still have yet to try their maple bacon doughnut. I have heard about it so much and have tried other flavors, but there's only so long I can wait for a donut in line (and there's always a line… rightly so but still… I am impatient!). So instead of waiting, I made my own baked version.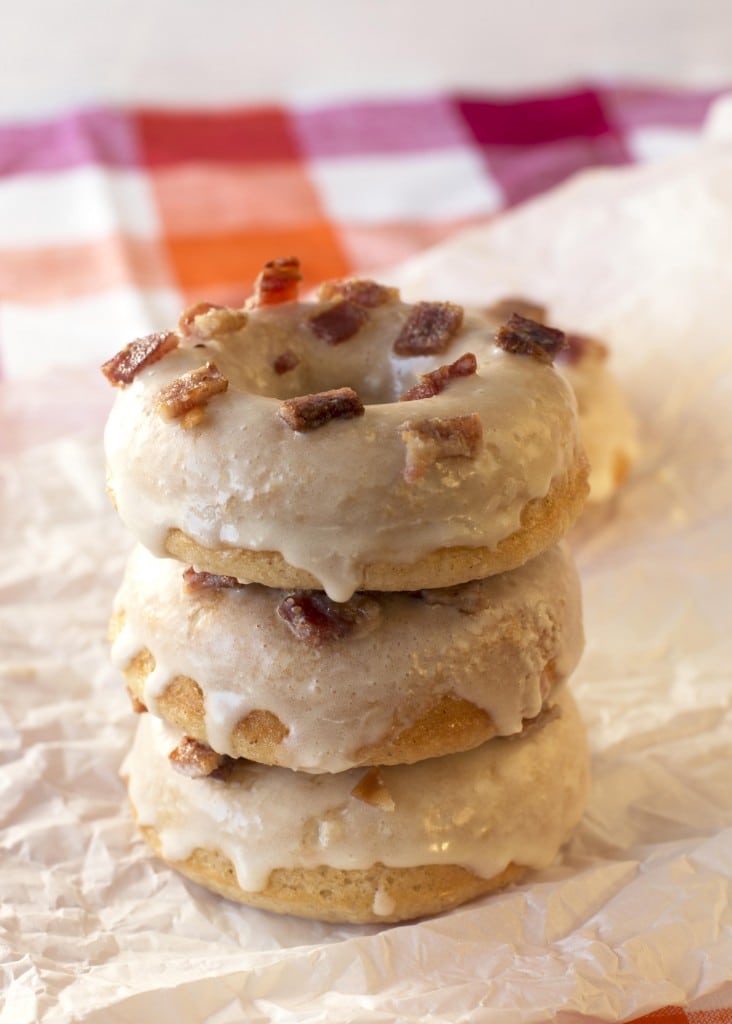 Oh and yes, I am aware that I have both used "doughnut" and "donut" within one post… They are both right (at least so the internet says though I suspect "doughnut" is the true correct term since they are in fact made out of "dough"), and I can't decide which one I prefer to use…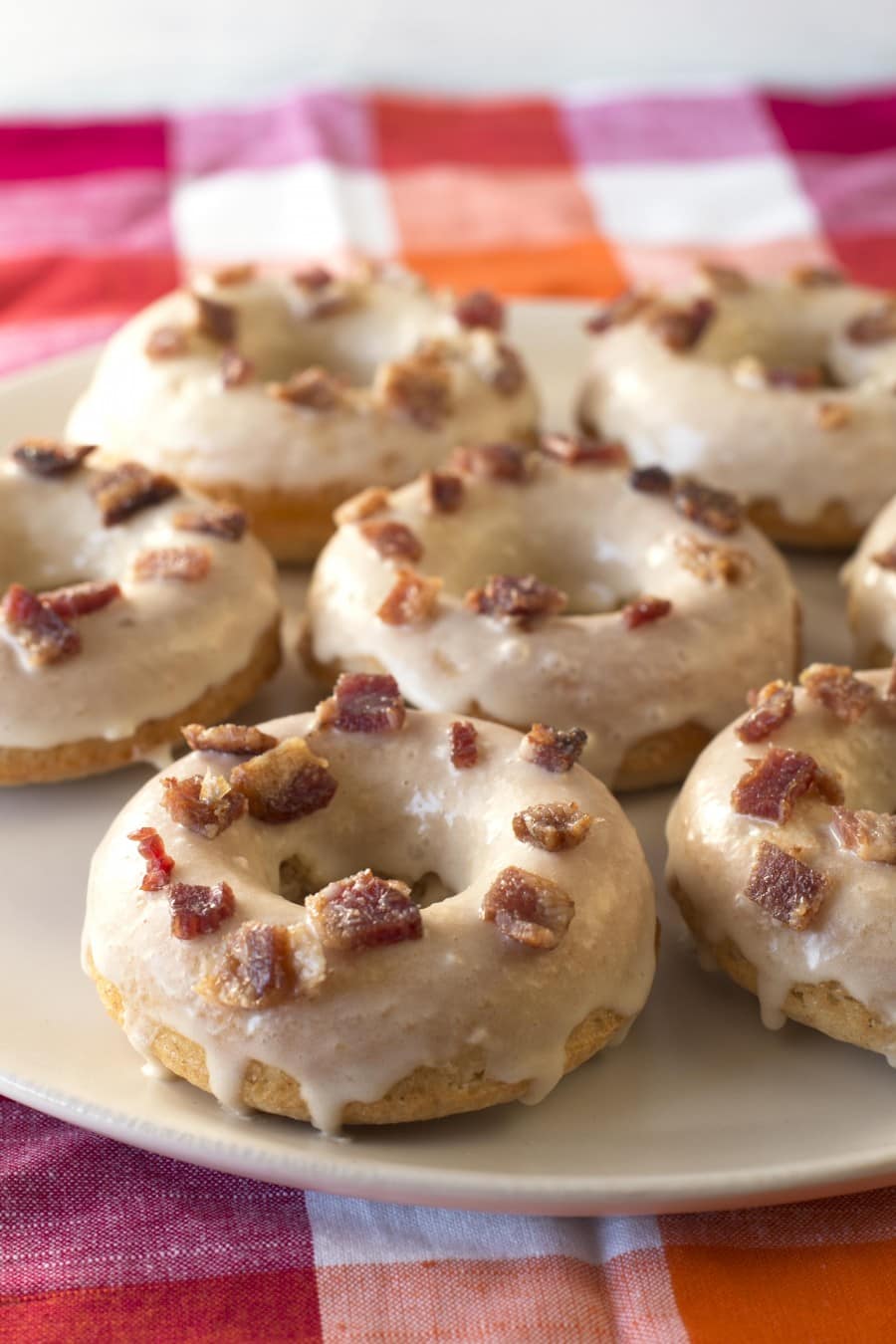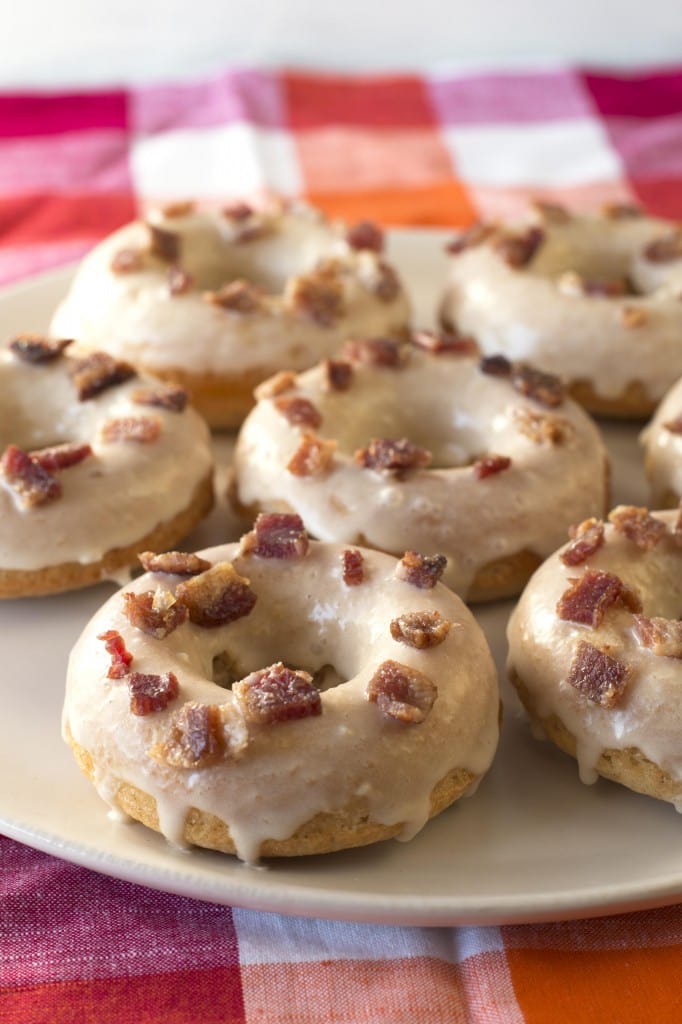 Candied bacon, if you haven't had it, should be the first thing you make when you finish reading this post. It is GAH so incredible and brings the perfect amount of saltiness to these light and fluffy maple-syrup-glaze-coated baked donuts. You are getting all the best parts of breakfast with every mouthful!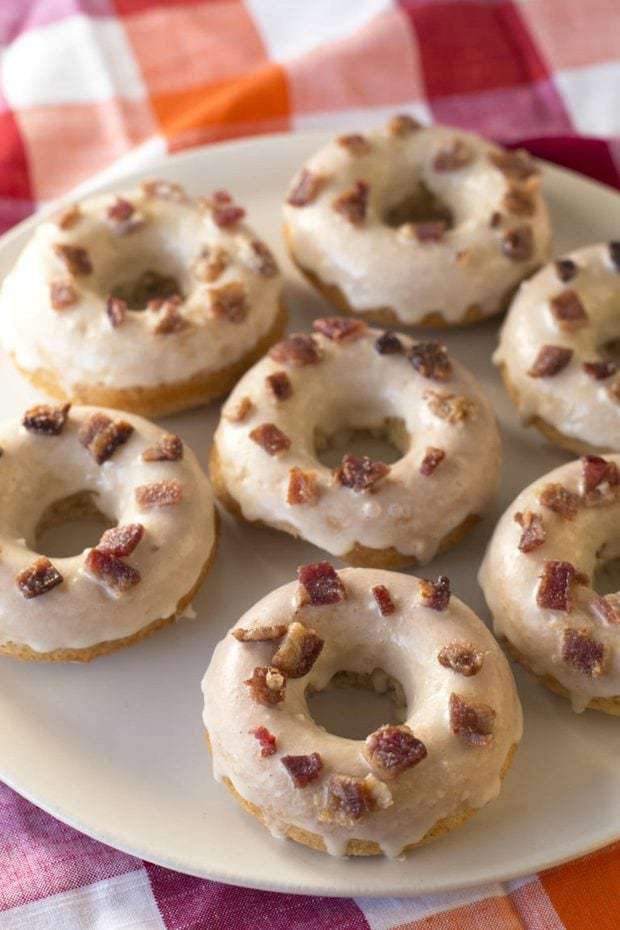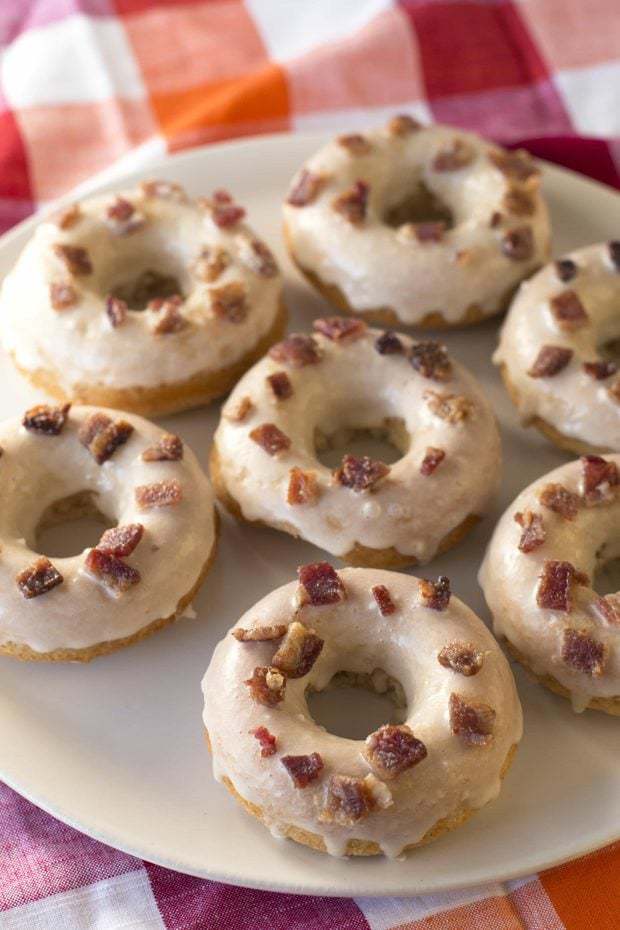 Maple Bacon Donuts
Additional Time:
10 minutes
Total Time:
1 hour
20 minutes
Candied bacon brings the perfect salty kick to these delicious, light baked donuts.
Ingredients
Donuts
2 cups all-purpose flour
1 1/2 cups sugar
2 tsp baking powder
1/2 tsp ground cinnamon
1/2 tsp salt
1 large egg
1 1/4 cups milk
2 Tbsp unsalted butter, melted
2 tsp vanilla extract
Glaze
2 cups confectioner's sugar
1/3 cup maple syrup
1/4 cup heavy cream
1/8 tsp salt
Candied Bacon
4-5 slices of bacon
1/4 cup brown sugar
Instructions
Preheat oven to 325 degrees. Line a rimmed baking sheet with a silpat or aluminum foil.
In a small bowl, combine the bacon and brown sugar. Using your hands, make sure each piece of bacon gets coated in sugar. Lay the bacon slices flat on the baking sheet and sprinkle any leftover sugar on top.
Bake for 20 minutes until crispy. Remove from oven and allow to cool. Once cool, roughly chop the bacon and set it aside.
Increase the oven temperature to 350 degrees. Spray two donut pans with nonstick cooking spray.
Sift the flour, sugar, baking powder, cinnamon, and salt into a large bowl. In a small bowl, beat the egg with the butter, milk, and vanilla. Add the wet ingredients into the dry ingredients and stir to combine.
Spoon the batter into each donut space in the baking pan until just about 3/4 full. Bake for 17 to 20 minutes, or until just golden brown on the edges. Cool for approximately 3-5 minutes until tapping the donuts out onto a wire cooling rack.
For the glaze, whisk together the ingredients until well-combined.
To glaze each donut, hold the donut and dip into the glaze. Place the glazed donuts back on the wire cooling rack. Top with chopped candied bacon.