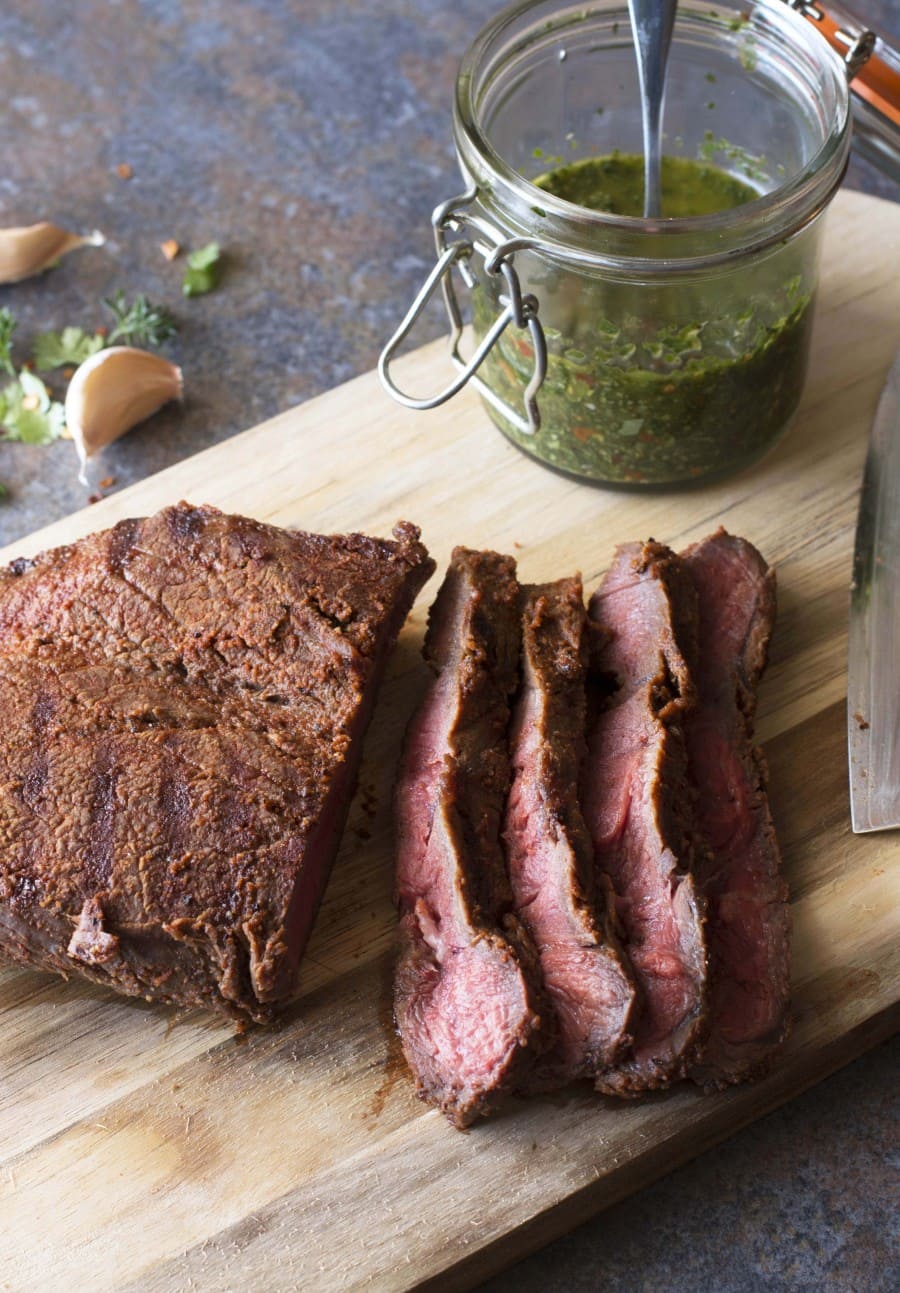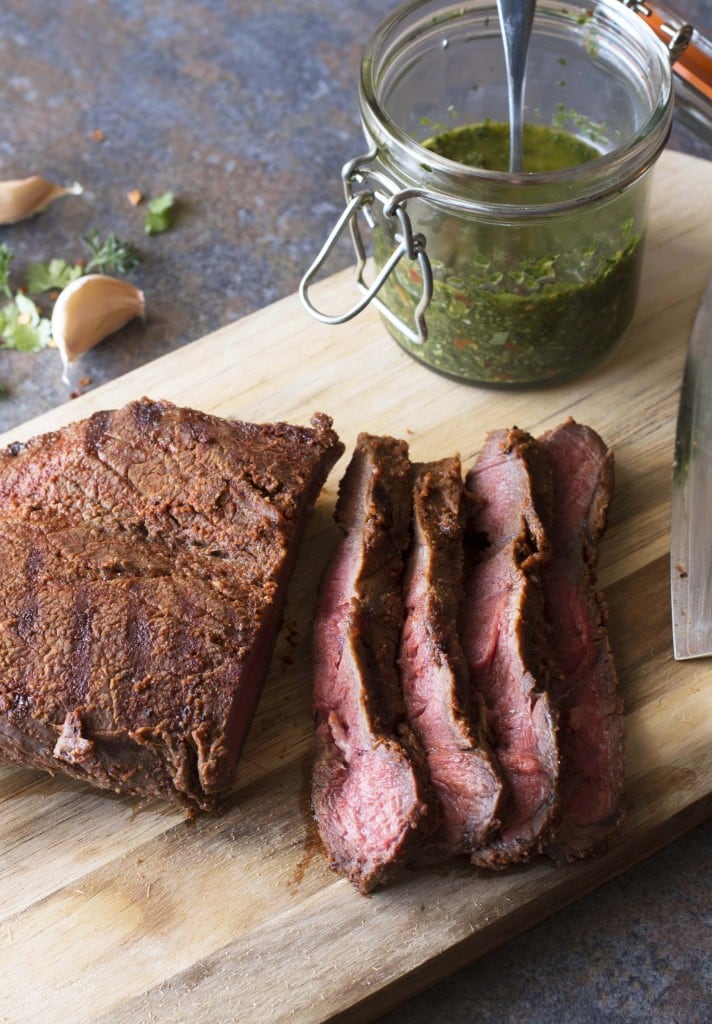 I am battling exhaustion this week. I can barely keep my eyes open, let alone figure out how to function. The past two months are definitely catching up with me. Oh and it's basically November now – where did this year go?!
I have to apologize; I am a bit all over the place today. It's tragic how bad it's gotten. I could barely write a happy birthday note yesterday. I swear I stared at the blank card for about 10 minutes before putting pen to paper and writing an extremely short, poorly worded note…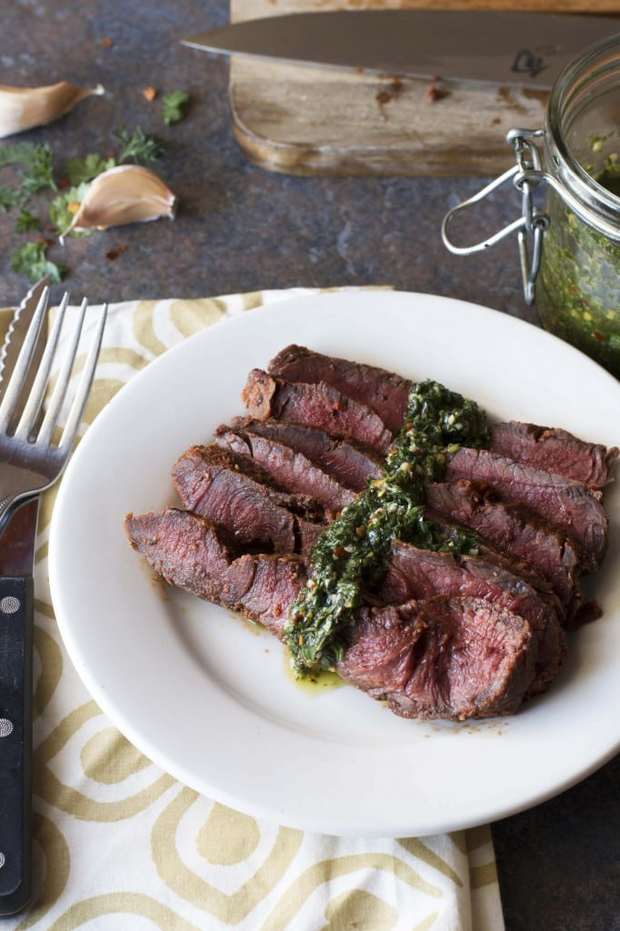 But let me tell you about this steak. If you need a go-to steak rub, this is the one you'll want to use time and time again. It's just the right balance of smoky and sweet flavors. As soon as you add in the spicy chimichurri, you get smacked in the taste buds with FLAVOR. I love to combine different smoky, sweet, and spicy flavors into one bite – it makes every meal an adventure!
I am really trying to up my game on sauces right now and this chimichurri is a direct product of that effort. Sauces are so simple to make and they add so much to a dish! I know I am going to be whipping up this chimichurri and keeping it in my refrigerator for those nights I come home completely exhausted with no desire to cook a complicated meal. Just cook up some chicken, steak, or shrimp and top with the sauce.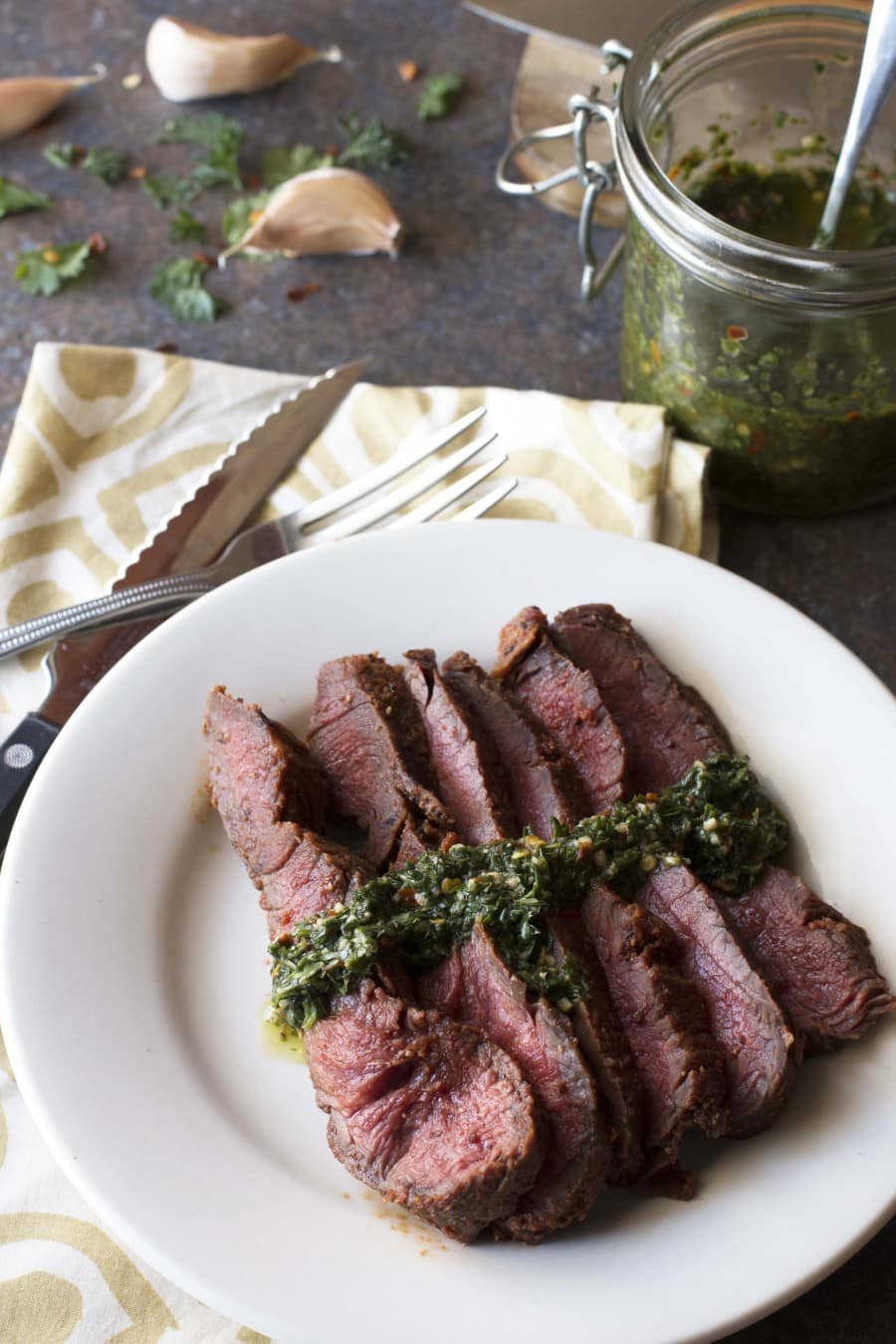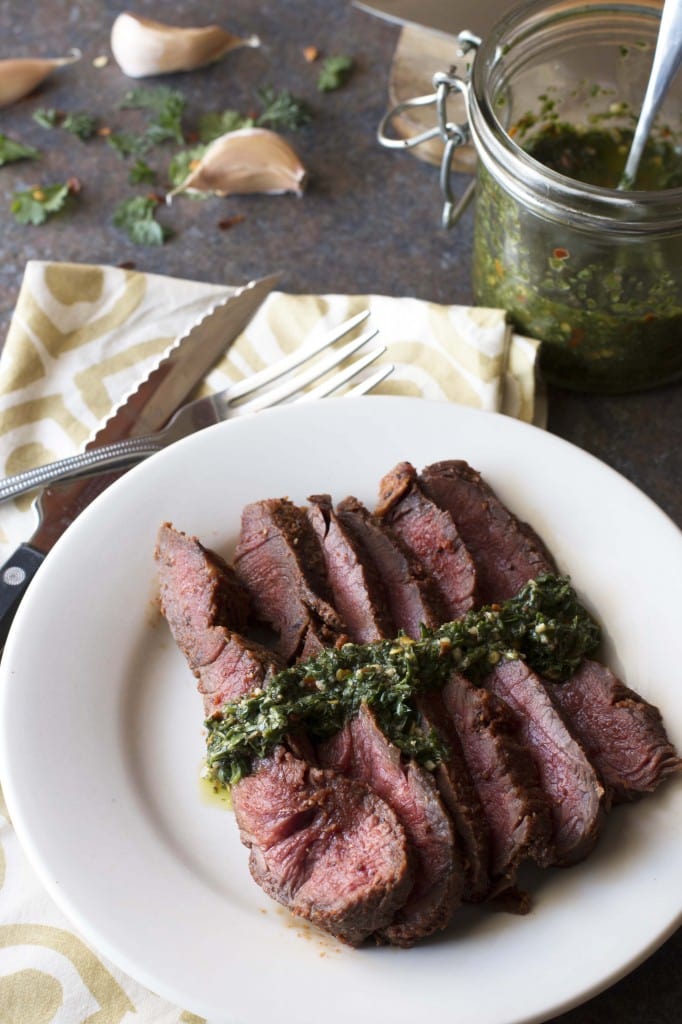 Voila! Delicious, flavorful dinner in a flash!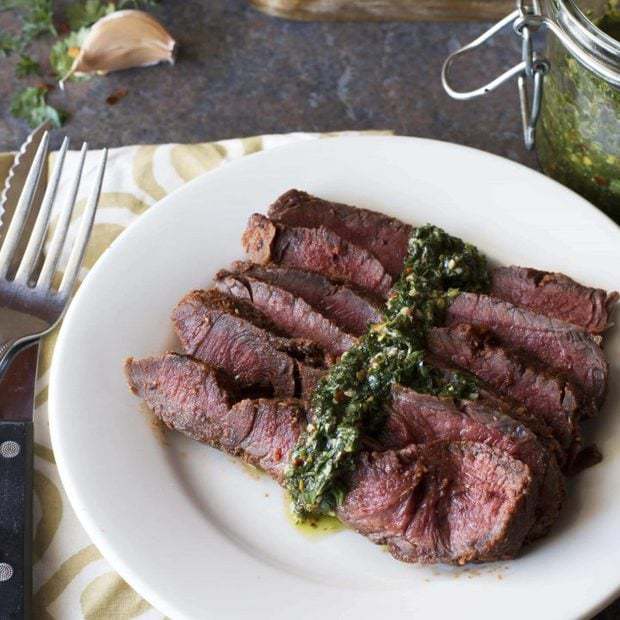 Smoky Sweet Dry Rub Flank Steak with Spicy Chimichurri
Yield:
Serves 4 + extra chimichurri sauce
Prep Time:
3 hours
15 minutes
Total Time:
3 hours
25 minutes
This smoky sweet dry rub packs the steak with flavor and is the perfect compliment to the spicy chimichurri sauce.
Ingredients
Steak
2lb flank steak
1/2 Tbsp garlic powder
1/2 Tbsp onion powder
1/4 Tbsp paprika
1/2 Tbsp salt
1/2 Tbsp pepper
1/2 Tbsp brown sugar
Chimichurri
1 cup fresh parsley
1 cup fresh cilantro
4 cloves garlic, chopped
1/2 tsp salt
1 tsp pepper
2 tsp red pepper flakes
1 Tbsp red wine vinegar
1 Tbsp fresh lemon juice
1/3 cup olive oil
Instructions
In a small bowl, combine all the spices for the dry rub. Cover the flank steak on all sides evenly with the dry rub. Place steak in a Ziploc bag and marinade in the refrigerator for at least 3 hours but overnight is ideal!
Add all the ingredients, except the olive oil, for the chimichurri sauce to the bowl of a food processor. Turn the food processor on and slowly add in the olive oil through the opening of the food processor lid. Process until the mixture is well combined, approximately 30 seconds. Remove from processor and store in an airtight container in the refrigerator until ready to serve.
When you are ready to cook the steak, heat the grill or a grill pan over medium-high heat. Remove the steak from the bag. Add the steak to the hot grill or grill pan, and cook on each side for approximately 2-3 minutes for medium-rare to medium doneness.
Remove steak from grill to a cutting board. Cover in foil and allow to rest for at least 10 minutes. Slice and serve with the chimichurri.