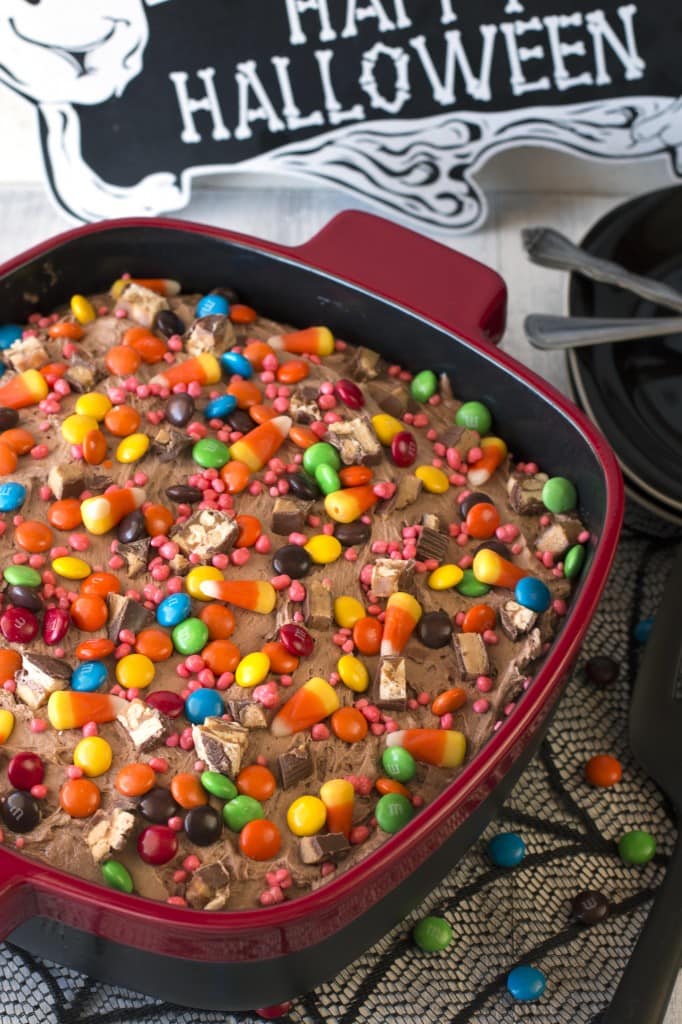 With Halloween at the end of the week, I am already thinking about what I am going to do with all the leftover candy I inevitably end up with. Generally it will sit in a bowl for months as my husband and I pick at it, until we eventually throw it out with our yearly resolution to lose weight after the holidays.
Instead of being plagued with leftover Halloween candy for months (possibly until next Halloween… I hate to admit it, but it's happened in our house before…), why not use it all in one big candy cake? No one can say no to cake, especially when it's covered in candy! And today, we're cooking with KitchenAid® Streamline Ceramic!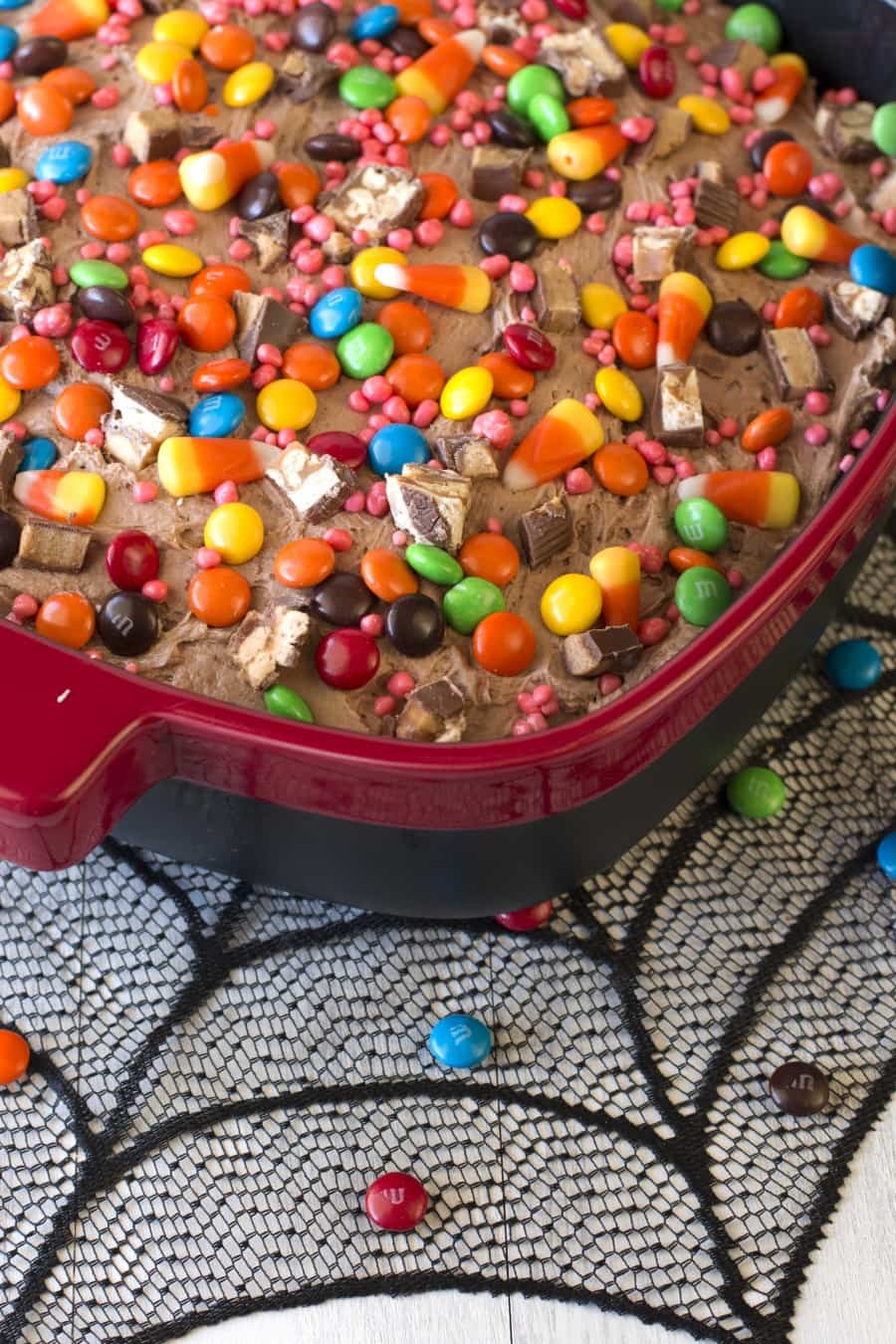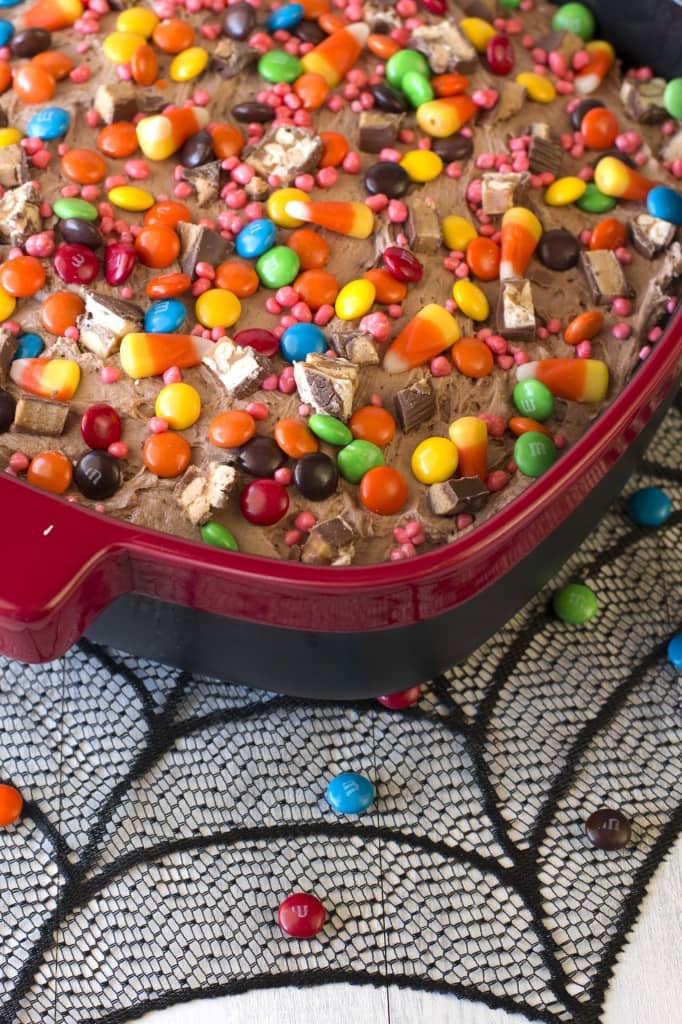 You might think that's it's borderline insane to combine all these candies together, but seriously it's addictively delicious. The candy and frosting form what I like to call "the glorious layer of surprise" – you never know what you're going to get in each bite but each bite will transport you to Willy Wonka's Chocolate Room. I bet you'll start to hear Gene Wilder singing "Pure Imagination"…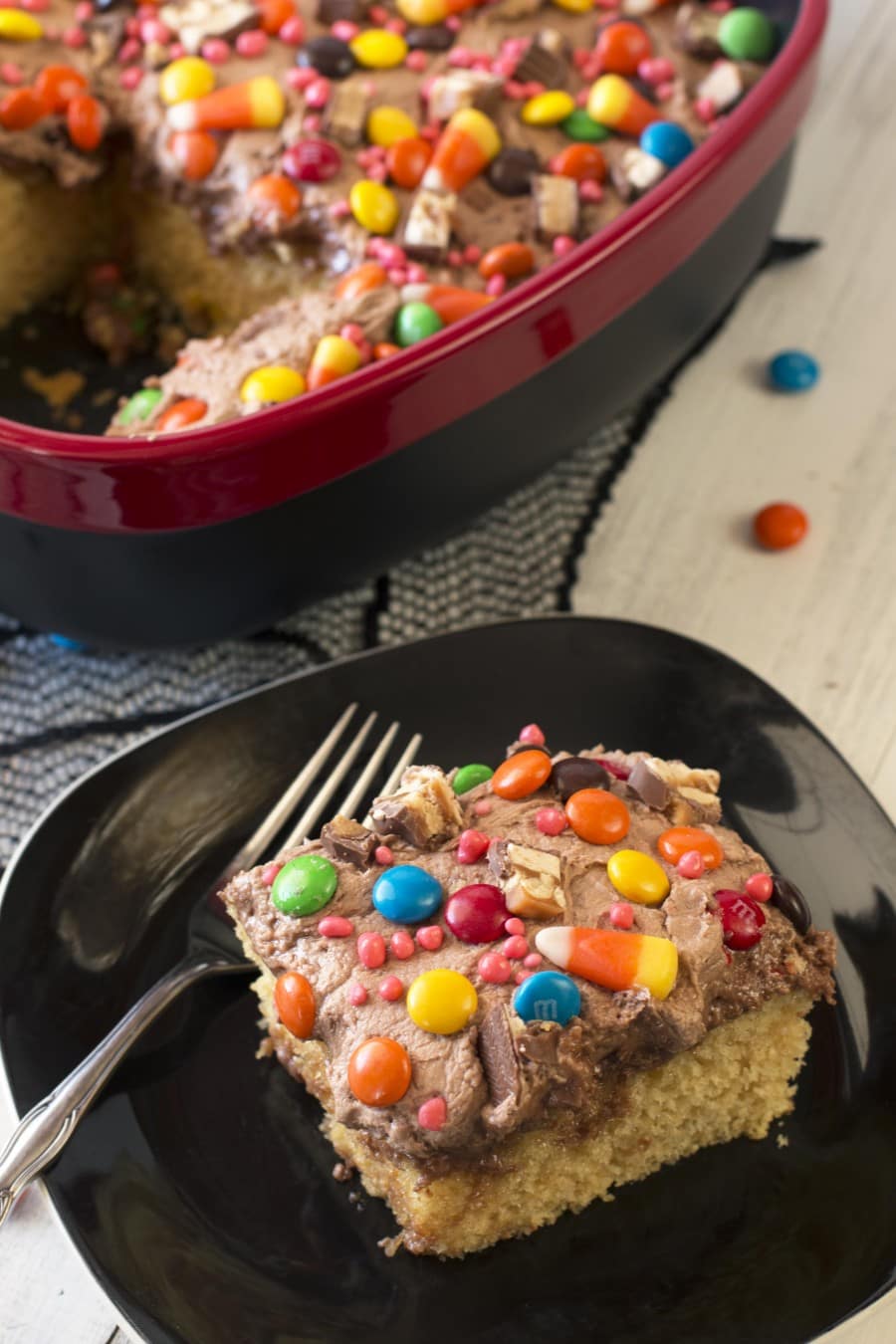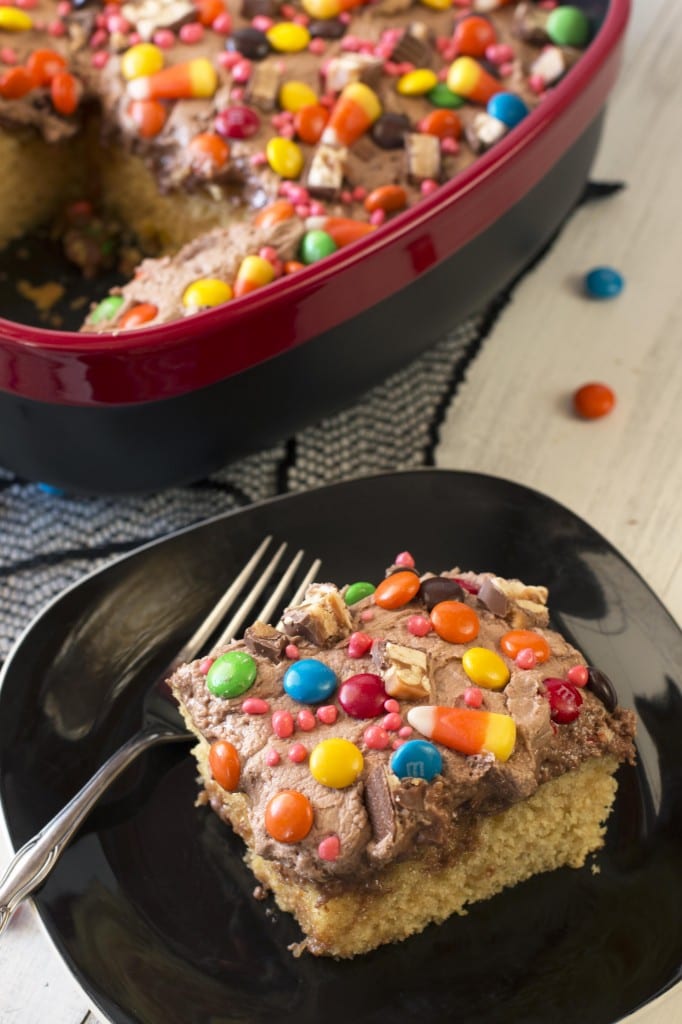 But enough about this cake, because I have to tell you about the amazing dish it's baked in. Of course I adore the color of this dish – black and red is essentially my entire kitchen thanks to all the red KitchenAid® appliances I have – but the real beauty is in the ceramic. It resists cracking, chipping, and staining which is a godsend for a clumsy cook such as myself. You can bake anything in this gorgeous dish and if you have leftovers, save yourself the extra tupperware to wash later. You can leave it in this dish and microwave it later. GAH how amazing is that?!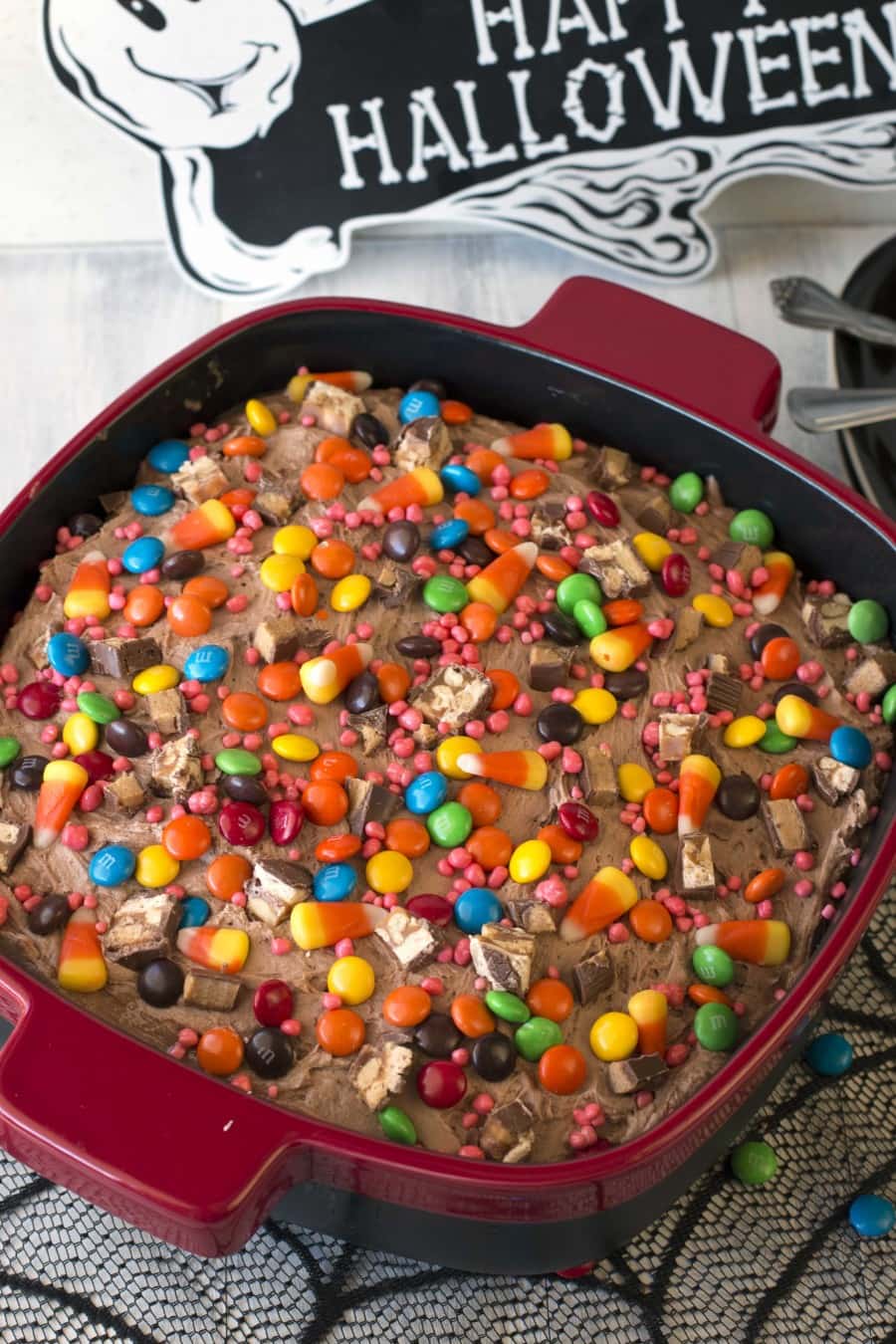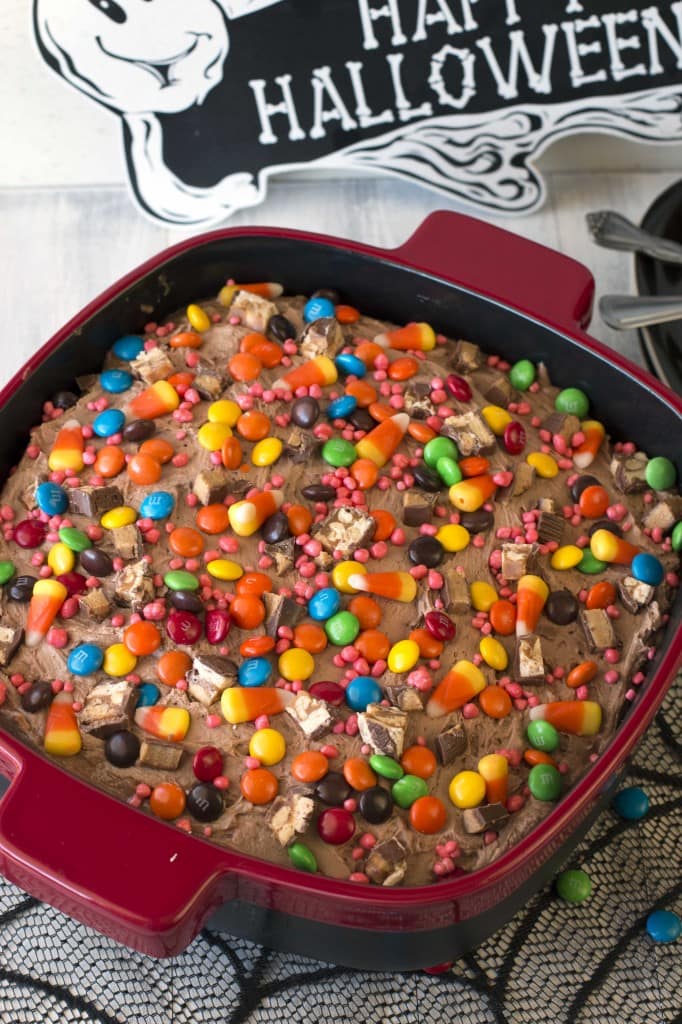 I just love that it doesn't pick up any odors or tastes from previous dishes. I made this cake and immediately after made a test batch of stuffing (it's never too early to prep for Thanksgiving right?!) without anything carrying over.
Now go lose yourself in a slice of this cake, and when Thanksgiving rolls around, you are going to be so thankful to have this baking dish in your kitchen!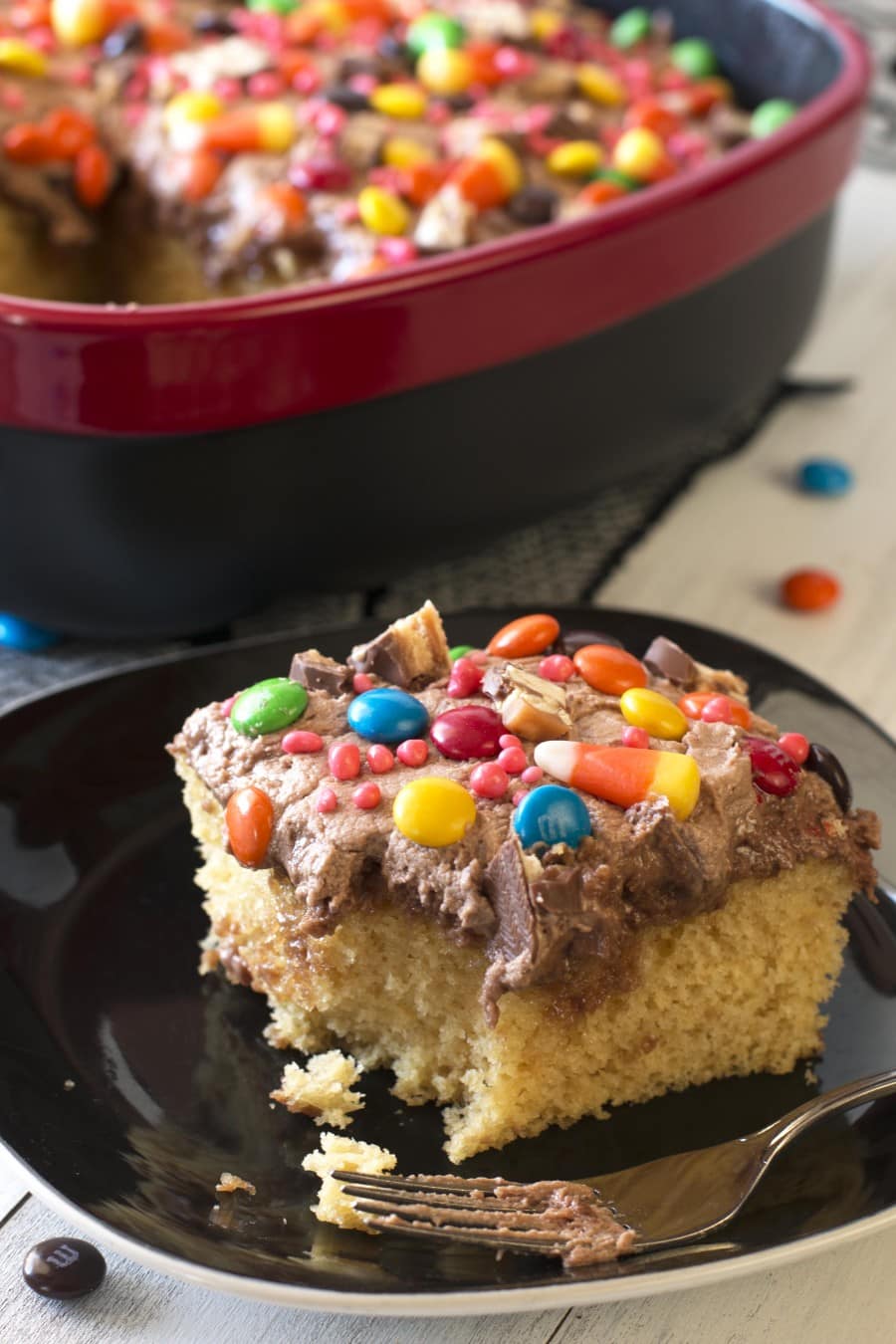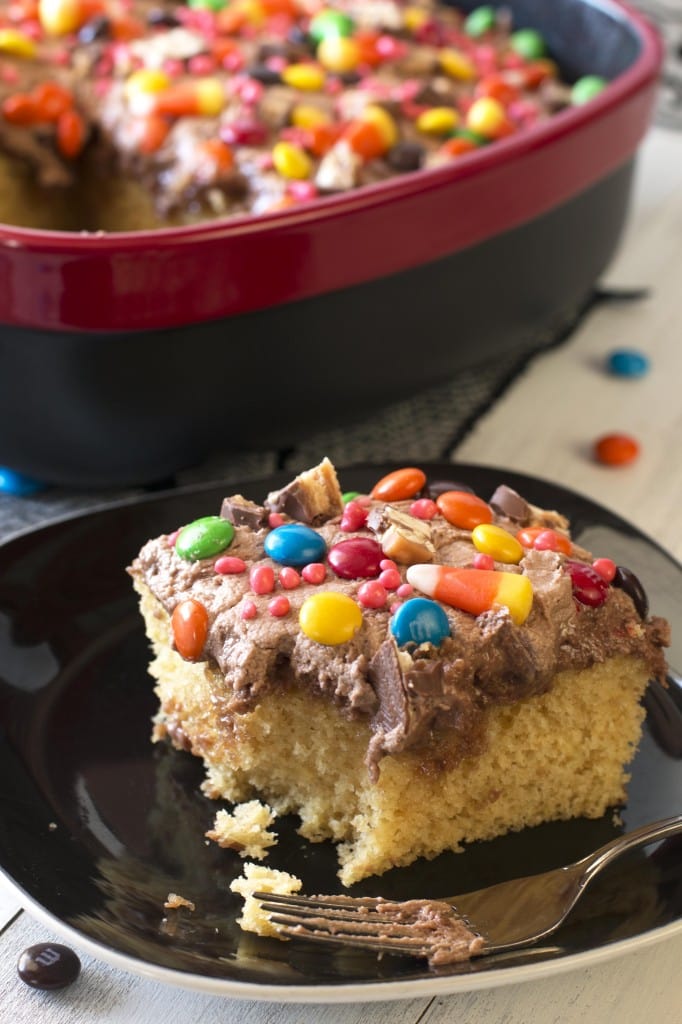 Disclosure: Thank you to KitchenAid® for the opportunity to provide a product review. While I have been compensated with the product, all opinions written are purely my own.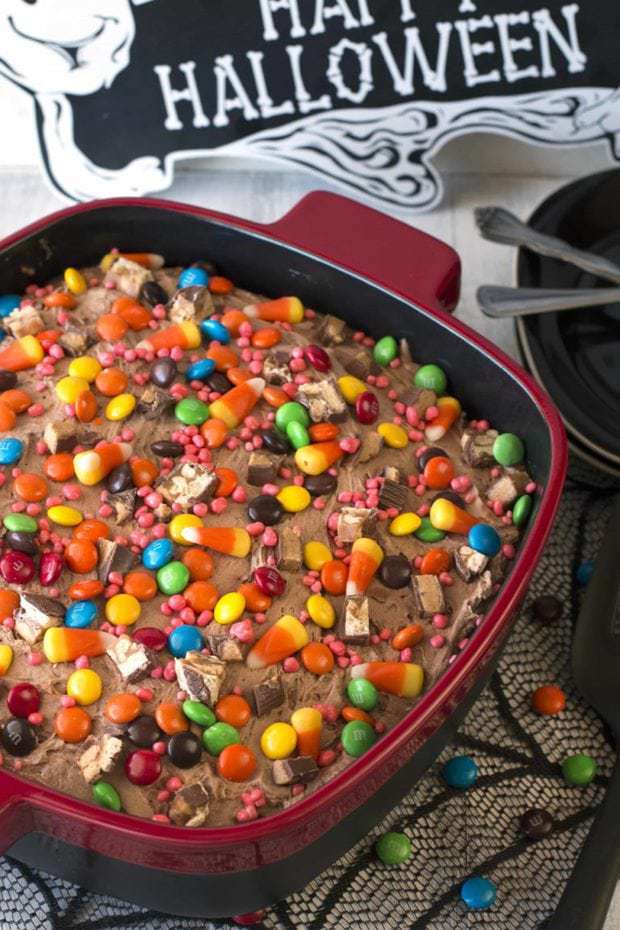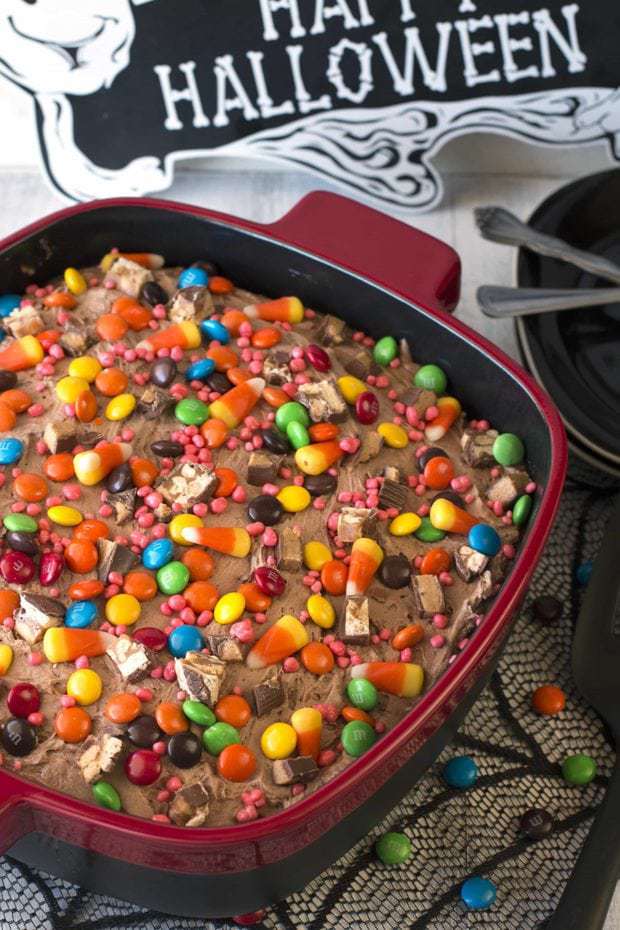 Leftover Halloween Candy Cake
A delicious way to get rid of extra Halloween candy every year!
Ingredients
Cake
2 1/2 cups all purpose flour, sifted
3 tsp baking powder
1/4 tsp salt
1 1/4 cups granulated sugar
3/4 cup unsalted butter
8 egg yolks, beaten
3/4 cup milk
2 tsp vanilla
Frosting
3 cups confectioners sugar
1 cup butter
2 Tbsp cocoa powder
1-2 Tbsp heavy whipping cream
Candy
1 Snickers bar, chopped
2 Reese's peanut butter cups, chopped
1 package M&Ms
1 package Reese's Pieces
1 package Nerds
1/4 cup candy corn
Instructions
To make the cake, preheat oven to 350 degrees. Lightly spray the KitchenAid® Streamline Ceramic (4.2 qt) baking dish with cooking spray.
In a bowl, combine flour, baking powder, and salt; set aside.
Cream butter and sugar together in the bowl of a stand mixer fitted with the paddle attachment. Beat in the egg yolks until just combined. Slowly add the dry ingredients to the wet ingredients in small increments until the batter is well combined. Add vanilla and mix until combined.
Pour batter into the prepared ceramic baking dish. Bake for approximately 20-25 minutes, until a toothpick comes out clean when stuck in the center. Remove from oven and cool.
To make the frosting, combine sugar and butter in the bowl of a stand mixer fitted with the whisk attachment. Mix on low speed until well combined, then increase speed to medium and beat for an additional 3 minutes. Add cocoa powder and cream and continue to beat on medium speed for 1 minute.
Once cake is cool, frost the cake and top with candy. Serve with a big glass of milk!