Chorizo Egg Rolls with Spicy Queso Dipping Sauce are the one snack you've been craving, even if you didn't know it until now. Spicy, crispy, and dunked in endless amounts of cheeeeese.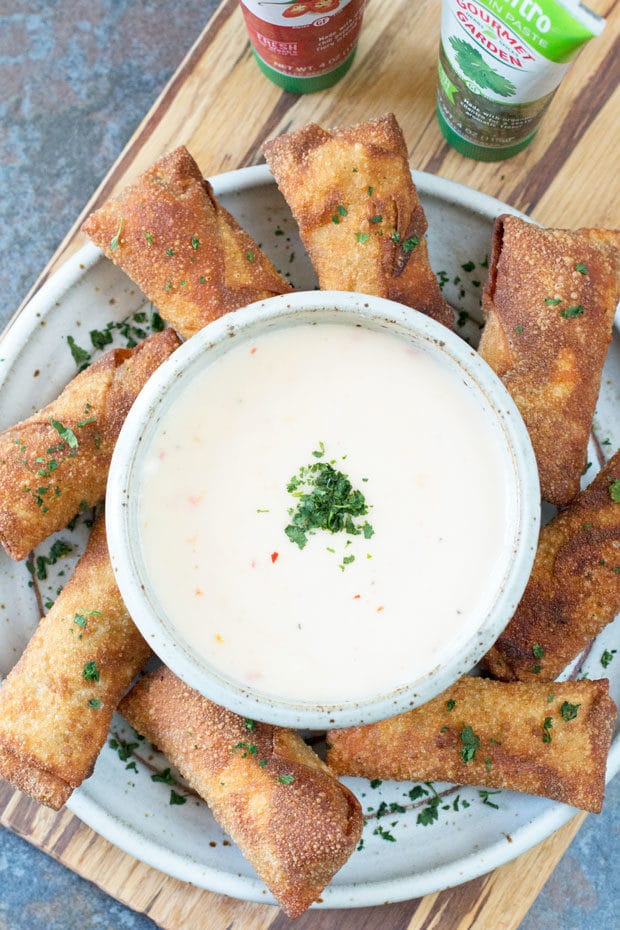 So I am just coming out of a comatose stage of recovering from an amazing weekend. Two of my best friends got married and it was just as magical as I hoped it would be. Somewhere in all the chaos, overwhelming emotion, and pure joy I managed to log a measly 8 hours of sleep over 48hrs…
Oops.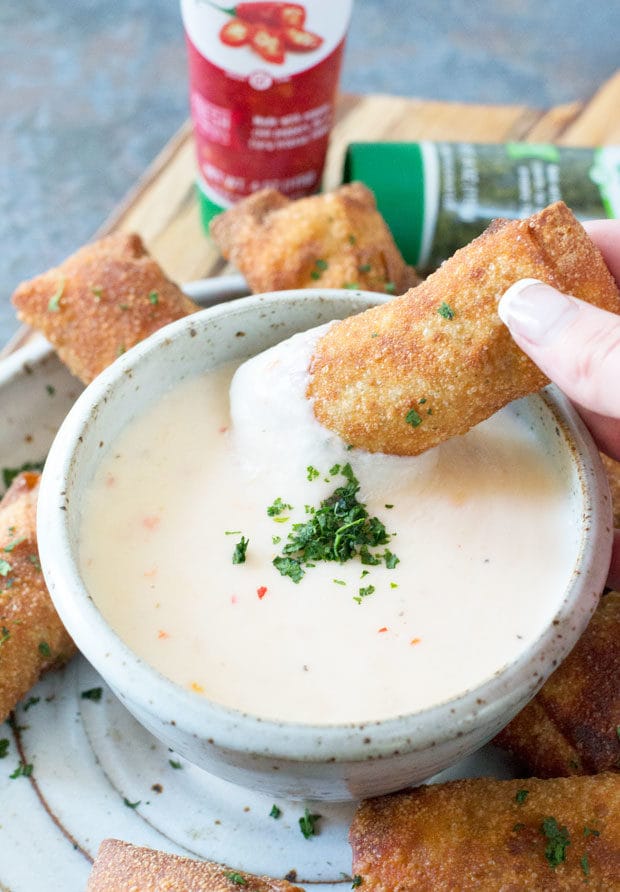 Yesterday I was on the struggle bus, but it's finally pulling off the highway into Normalville.
You know what also helps you get back to normal? Queso. Spicy, rich, creamy queso.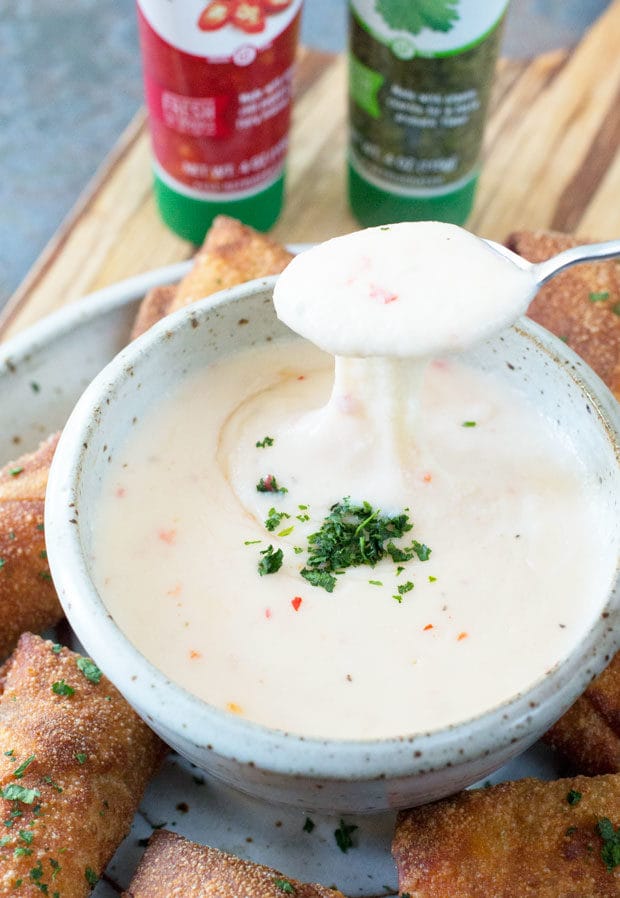 Instead of just making a chorizo queso for you guys, I wanted to get some crunch in there that wasn't from a tortilla chip. So I stuffed chorizo into an egg roll – you only live once, right?
What I LOVE about this whole dish is using my new favorite product, Gourmet Garden pastes and fresh herbs. Obviously I love to cook, but my god I am not the biggest fan of chopping up ten million different herbs. Especially cilantro.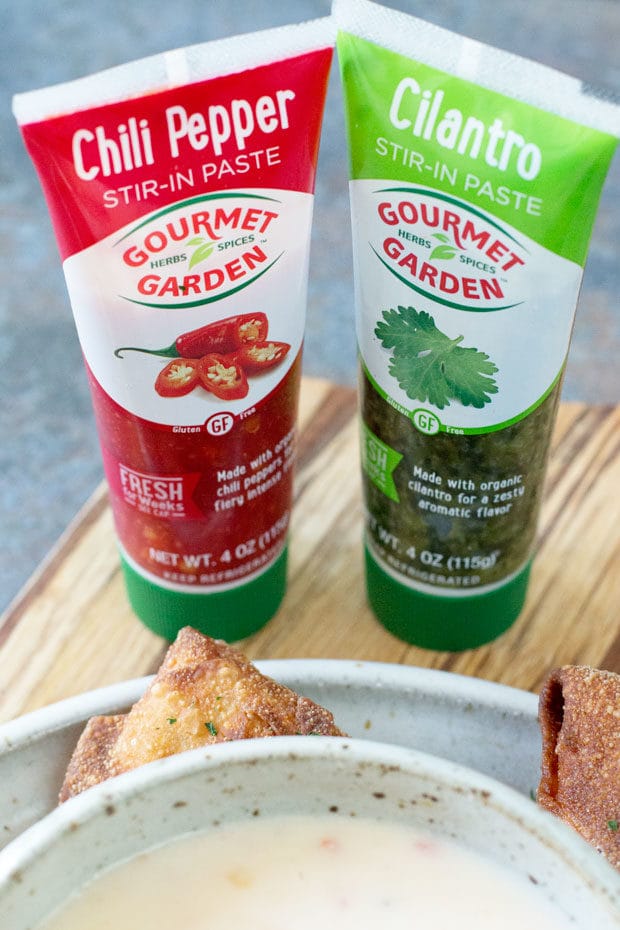 Does anyone else struggle with chopping it well? Is that just me? Someone please back me up here.
This is why I am totally in the Gourmet Garden camp. The chopped herbs and the pastes will totally change the way you cook. It just makes everything so much easier to have everything chopped up right there, or to have a ridiculously flavorful paste to reach for.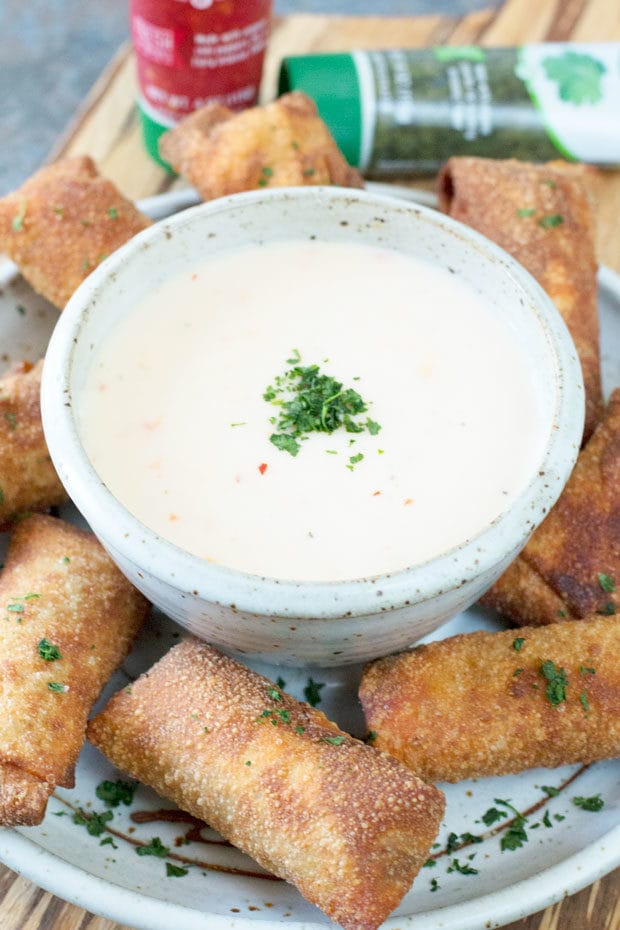 I've found myself trying to find ways to use it more in random dishes, even in cocktails and dessert (like the raspberry basil concoction I have coming later this week for you…). Life. Changing.
Just sayin'.
Disclosure: I received free product from Gourmet Garden and was compensated for my time as part of this post. As always, all opinions and recipe are my own. Thanks for supporting the brands that support Cake 'n Knife!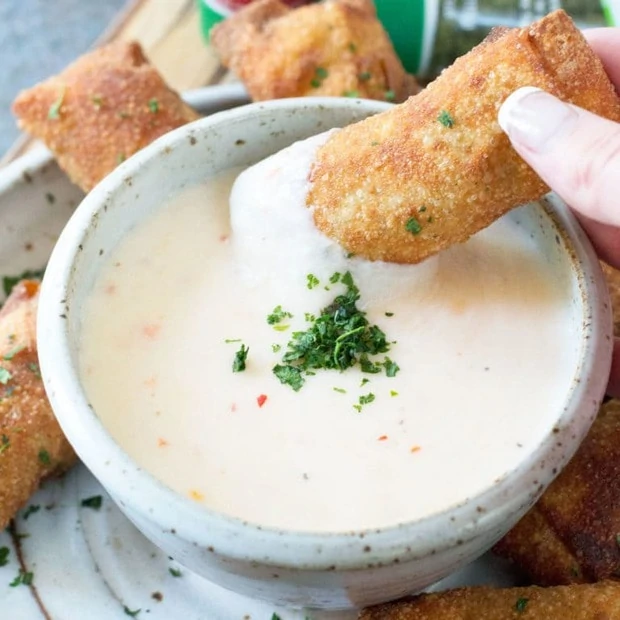 Chorizo Egg Rolls with Spicy Queso Dipping Sauce
Spicy, crispy and cheesy. Can you ask for anything better?
Ingredients
6 oz cooked chorizo
1 cups crumbled queso fresco
1/4 cup enchilada sauce
1/2 Tbsp Gourmet Garden cilantro paste
12 to 14 egg roll wrappers
Oil for frying
3/4 cup milk
1 1/2 cup shredded Monterrey Jack
1 1/2 cup shredded white American cheese
1 Tbsp chili garlic paste (sambal)
1/2 tsp cumin
1/2 tsp garlic powder
1/4 tsp salt
1/4 tsp pepper
Garnish: Gourmet Garden Cilantro
Instructions
In a medium saucepan, heat milk over medium heat until simmering. Stir in cheeses, chile paste, cumin, garlic powder, salt and pepper. Cook over medium heat until the cheese is melted. Keep warm over low heat until ready to serve.
In a medium bowl, add chorizo, queso fresco, enchilada sauce, and cilantro paste. Stir to combine.
In a small bowl, whisk together water and cornstarch until well combined.
To wrap your egg rolls, start with a clean, flat surface. Lay one wrapper so one of the corners is facing you (like a diamond). Dip your fingers in the cornstarch water and spread on each edge of the egg roll wrapper. In the corner closest to you, spoon 1 ½ to 2Tbsp of the chorizo filling into the center. Lift the bottom corner up and begin to roll away from you, making sure you tuck the corner under as you roll. Once you are halfway up the wrapper, fold in the left side and then the right side towards the center. Continue rolling away from you until only the final corner is ready to roll. Dip your fingers in the cornstarch and water mixture you made earlier and brush it over the final corner. Finish the roll, brush a little more of the cornstarch mixture along the seam, and place seam-side down. Make sure you roll the egg rolls tightly. If they are too loose, they will fall apart when you fry them.
To fry the egg rolls, fill a pot with 4-5 inches of cooking oil. Heat the oil to 350 degrees. Gently add the egg rolls to the hot oil, frying no more than 3 or 4 at a time, turning occasionally. Fry until the egg rolls are golden brown on all sides, approximately 2 minutes. Place on paper towels to drain and cool.
Serve immediately with queso dipping sauce.
Notes
*Gourmet Garden chile paste has been discontinued so there is a substitute listed in the ingredients list as shown.