Chicken Shawarma Sliders are bold, flavorful mini sandwiches that'll blow everyone away. Whether you're serving them up at your next party or grabbing a couple for lunch, your taste buds will be doing their happy dance with every bite.
There is one thing on this planet that is more stressful than anything else. Moving.
I am currently in the middle of prepping for my next move and my head is approaching the point of implosion. I would say explosion, but it's all just caving inwards and my brain might just turn to mush by the time this is all said and done with. Granted this move is much less stressful than last year (most of my crap is in storage), but it's insane how much you actually accumulate in the course of one year.
And by insane, I mean disgusting.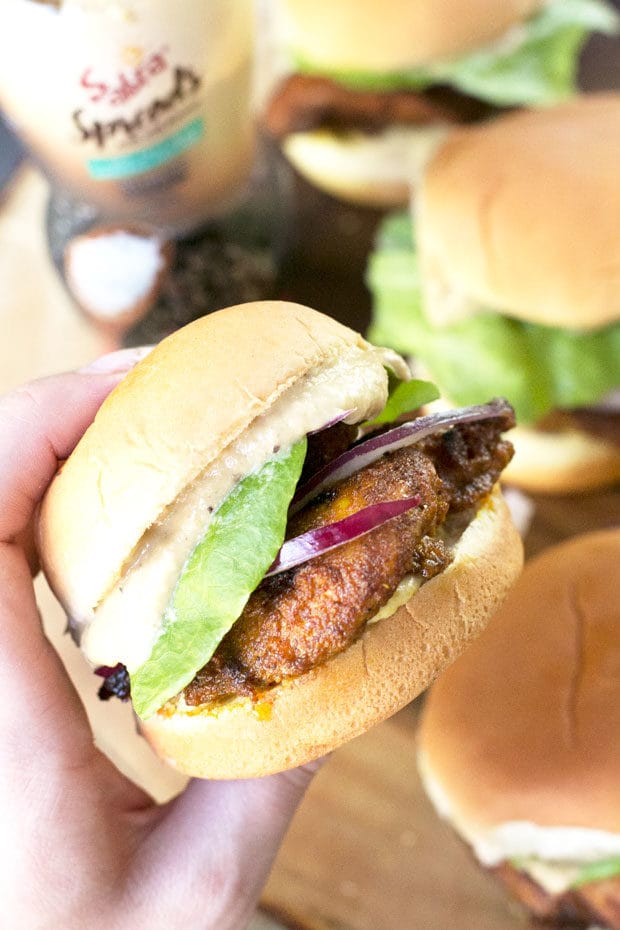 So I'm currently in the "eat my feelings and stress away" state of mind. I can assure you I have grown out of mindlessly shoveling junk food into my face though. I now shove classy stuff in my face, thank you very much.
Yes, I do consider chicken shawarma sliders classy. 50% of this is attributed to the complex flavors in the spice rub and 50% is attributed to the fancy new Sabra Spreads I topped it all off with.
You read that right. SABRA SPREADS. As in hummus that comes in a squeeze bottle. Say goodbye to the mayonnaise people, these spreads are the only spread you need to amp up your sandwiches from this point on.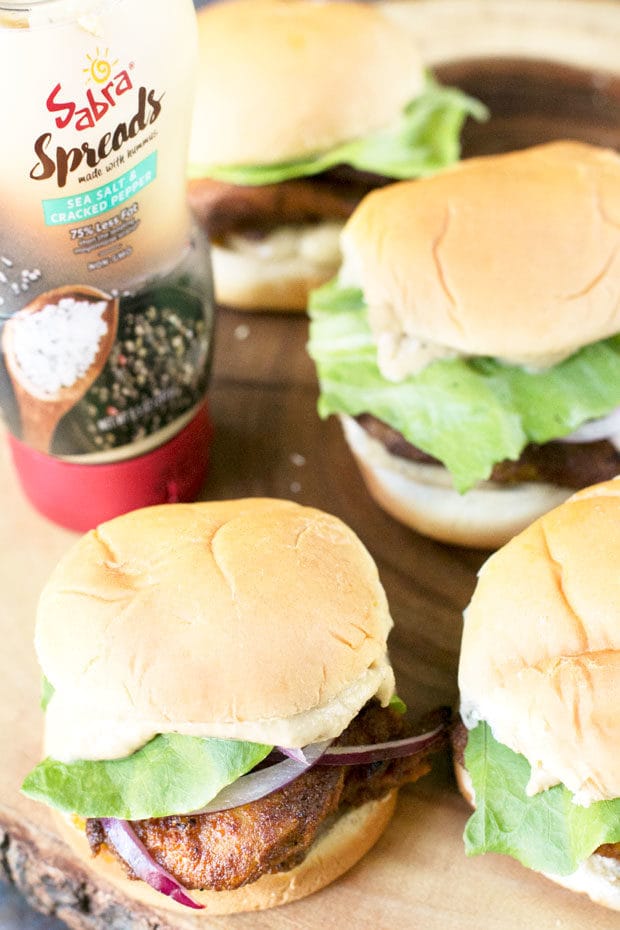 I was a little doubtful of the whole squeezable hummus idea – well that is until I tried them. Holy crap, talk about a flavor explosion in your mouth. They come in three flavors (sea salt and cracked pepper are used on these bad boys, but there's also honey mustard and garlic herb) and they are perfect for sandwiches! The taste is on point for each one, the ingredients are all fresh, and the bold flavors are outta this world (am I dating myself by using that phrase?).
Plus, Sabra Spreads are so much healthier than mayonnaise (which is super convenient for me considering my new soon-to-be roomies hates mayo).
Get ready to have your world rocked…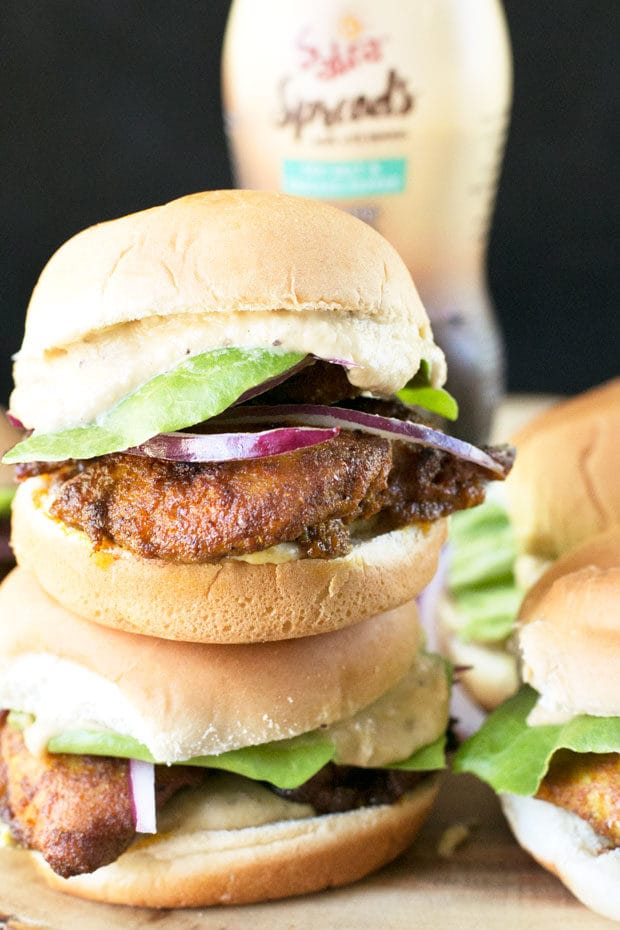 Keep up with all the other delicious ways to use Sabra Spreads with #SabraSpreads on Twitter and Instagram!
Disclosure: I received free product from Sabra and was compensated for my time as part of this post. As always, all opinions and recipe are my own. Thanks for supporting the brands that support Cake 'n Knife!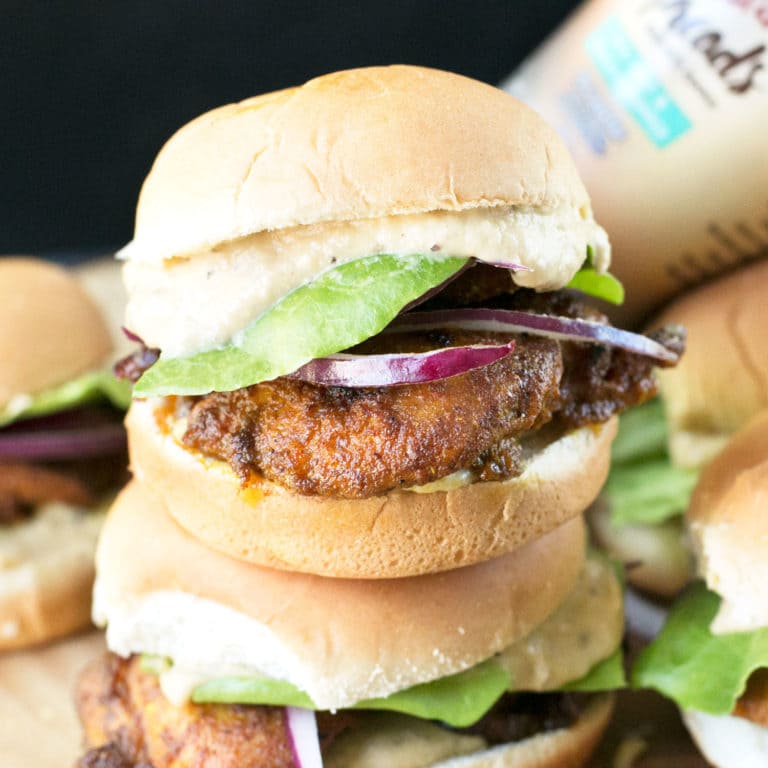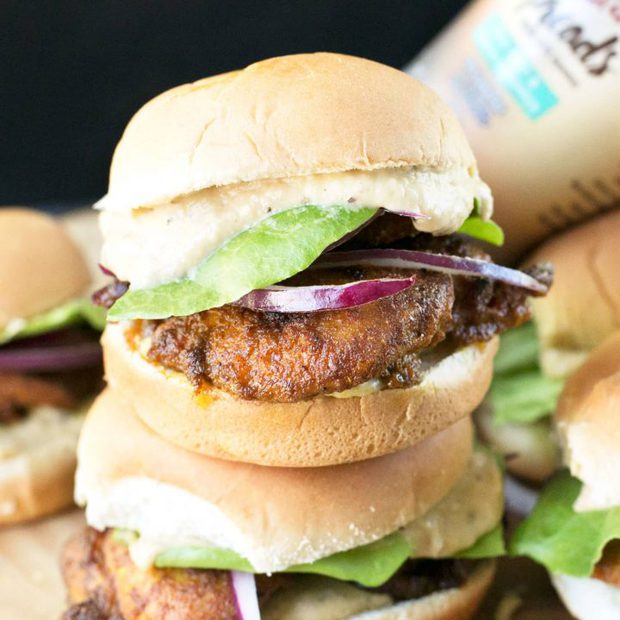 Chicken Shawarma Sliders
Total Time:
3 hours
35 minutes
Chicken Shawarma with Sabra Salt & Pepper Spread is a match made in heaven! Spicy, bold and anything but forgettable.
Ingredients
1/2 Tbsp ground cumin
1/2 Tbsp ground turmeric
1/2 Tbsp ground coriander
1/2 Tbsp ground garlic powder
1/2 Tbsp ground paprika
1/4 tsp cloves
1/2 tsp cayenne
8 boneless, skinless chicken thighs
1/2 red onion, thinly sliced
2 Tbsp lemon juice
1/3 cup olive oil
8 slider buns
Sabra Spreads Sea Salt & Cracked Pepper
Butter lettuce
Instructions
In a small bowl, stir together cumin, turmeric, coriander, garlic powder, paprika, cloves and cayenne. Pat the thighs with the seasoning mixture and add the seasoned thighs to a large bowl.
Add lemon juice, half of the sliced red onion, and olive oil to the chicken thighs, tossing to coat. Cover tightly with plastic wrap and marinade for 3 hours (or overnight).
When ready to cook, preheat over to 425 degrees.
Remove chicken from the marinade with a slotted spoon to a large lined, rimmed baking sheet in a single layer. Bake for 30 minutes. Move the baking sheet to the top rack and broil on low until crispy, approximately 3 to 5 minutes (keep an eye on it!).
To assemble the sliders. add Sabra Spreads to both the top and bottom halves of the slider buns. Top the bottom halves with the chicken pieces, then add red onion slices and butter lettuce. Top with the other halves of the buns. Serve immediately.
Pin this Chicken Shawarma Sliders recipe for later!